Best Outdoor Playhouses Reviewed & Rated for Quality
In a Hurry? Editors choice: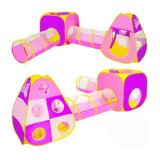 Test Winner: Playz 4 pc Children's

While swings and
slides are fun
, having a castle they can imagine journeying to through everything else would only
complete that imaginary adventure
. This used to be an extremely expensive endeavor, and every kid who wanted one usually admired those who were able to get one. Today, thankfully playhouses are seemingly unlimited in size, shape and where they can be used- not to mention much less expensive than they used to be in some instances! Why trade off one for the other, though? Scroll through the top 10 Outdoor playhouses and find the one that will bring your child's dreams just that much closer to reality.
Standout Picks
Criteria Used for Evaluation
Durability
This is extremely important with any outdoor equipment that children will be playing with. As with any toy, we wanted to make sure that any playhouse you purchased would last a long while when being used as intended. Of course, children never play completely as intended, so we have to take the extra time to check just how long each design can last with the typical child.
All of these playhouses when used and cared for before and after play tends to last and are even able to handle the roughness of a child longer than one might expect. We want to make sure that each playhouse can be purchased in the knowledge that it is fun while it lasts and that it lasts long enough to truly be a memory you and your child will hold dear long after it's been outgrown.
Value
Is the house fun? What does it come with? How long will your little one be able to enjoy it before they are too big, or it's been worn out through use? Can they have friends join them, or is it only built for one?
These are all part of the overall value of such a toy and part of how we decide if the cost is worth it. A product of this type should be able to at least fit two or three little ones and should be big enough to enjoy for at least a year or two if not longer to be worth more than a small amount of pocket change. That being said, if we felt the value outweighed the cost of the toy, we kept it on our list for you.
Ease of Use
Some toys are just outdoor only, others are just for indoors. Some of these products can be played by only a couple at once, others can handle a playgroup all enjoying the inside at once. We picked the top ten products in this line up that we felt offered the most or best for what they intended.
If the playhouse was meant to be outdoor only we wanted to know if it could stand up to the elements and how many kids could enjoy it. If it could be used both inside as well as out, we wanted to know exactly how much room it would take, and if it could safely be set up either place and still be fully usable. With all ten we found that no matter what it was intended for, it far exceeded any drawbacks in use to supply the most fun and memories for the longest amount of time that it should.
10 Best Outdoor Playhouses


If you are looking for something you can use outdoor for your toddler and still be able to keep an eye on them this is a good pick. It is just the right size for the little one beginning to branch out but small enough to keep them out of trouble. Read below to get the nitty-gritty on this tiny cottage.
Working features
For those of us with kids, we understand a child's need to explore and generally do things to drive their parents crazy. Playing with things that make noise is one of those drives. The nice thing about this is that it is meant to go outside so yes, the phone dials and makes noise, yes, the doorbell rings, and yes, the door can be slammed shut. However, the whole building is open enough to watch them from across the yard, so you don't have to hear it. YAY!
Drainage
A lot of outdoor play areas have either no flooring and are open to the ground or require you to fill them with sand. This little cottage has a molded-in floor to look like wood that keeps the kids off the ground and out of the mud. It also had little channels molded in that lead to drain holes keeping it water and thus mildew free for you little one.
Cost and Value
If you are seeking something for your smaller children to play in that will offer some shade and allow them to use their imagination this is a good choice. The price isn't bad, and it offers a few items to help keep the kiddos interested while allowing you the freedom to add whatever you think appropriate for your little one. Durable and easy to set up are two more marks in the positive column when looking to make this kind of purchase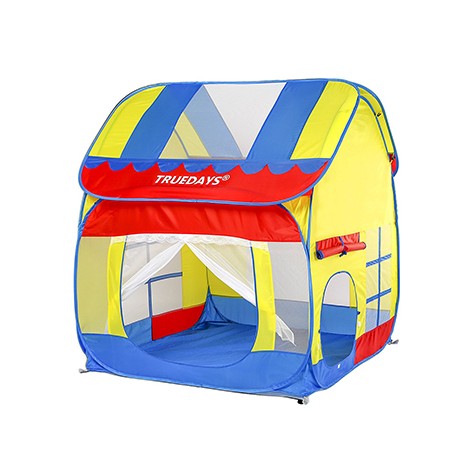 Seeking an easy to set up easy to transport way to entertain the kiddos? Look no further we have found the solution for you. Now there are a few things we feel the need to point out which we do down below, but this is a nice portable option for some fun in the sun.
Easy setup
Unlike a lot of the playsets today this one doesn't require a power screwdriver or a lot of patience. It's just like a pop-up tent, unhook the ties and pop it's open. Unfold the roof and it sets on top with a couple of toggles to hold it on. Easy breezy, now that we have said that we would also like to point out that this would easily become a flyaway playground. So please bring it inside at the end of the day or at least make sure it is folded away or else someone else will be able to let their kids play with it.
Cost
This is one of the most affordable options out there. With the money you save buying this, you could easily afford to buy some balls and turn it into an indoor ball pit if you wanted. We understand that not everyone is interested in a hardcore outdoor fort, especially with smaller children. This is a nice option to keep them partially shaded and when they fall in love it is easy to transport as well.
Cost and Value
This is a nice affordable choice for some outdoor some indoor use. Since it pops up and folds down fairly easily you can put it away if your using it outside and the wind picks up keeping it from leaving or being torn up. Of course, if your adventuress you might try tying it down but if the wind is strong enough you may just have to chase it singing the "Let's go Fly a Kite" song. Overall this is a cute choice for a growing child that just needs a little shade.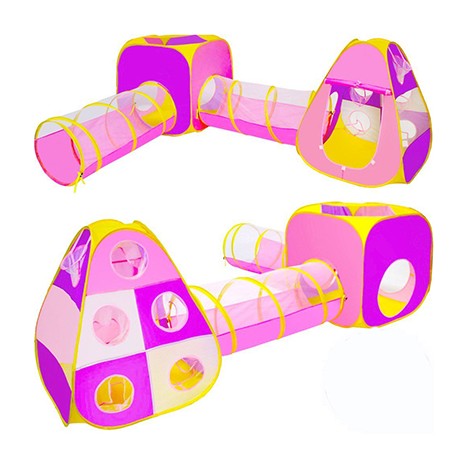 Coming in at number three on our list is the Playz 4pc Children's Playhouse pop-up tent. This is a nifty contraption that allows you to connect various tunnels to upright structures for your child to climb and play through. It seems to be a very cute example of how to distract children but still teach them to use that energy and imagination.
Cubby Holes
Most of us remember the joys of being able to fit into areas that adults couldn't get into. A child needs to establish a sense of independence and still be able to access the outside world. The little tents and tubes that make up this playhouse certainly provide amble places for your little one to hide and play while still being easy to find. There are even places to look out and reach or to pass something through from the outside giving it a unique playhouse feel.
Easy to Transport
All four pieces of this set fold down into smallish hoops that can be put into the included carrying bag for transport. This is a very nice feature that means you don't have to worry about keeping track of the individual sections on their own. You can just fold them up and pop them in the bag. No muss no fuss, which is a nice change of pace from the more typical, do we have all the pieces.
Cost and Value
We liked this product. It does seem to be aimed a bit more at girls but at the age, this seems to attract the kids don't mind so why should we. In fact, we were a bit jealous that we couldn't fit in even when we knew the password. Other than that, though it is a nice lightweight option and can give you kids something fun to play and hide in without taking your favorite blanket and the couch cushions. Nice price nice product.

4

. Kiddey Childrens Dual Play Tent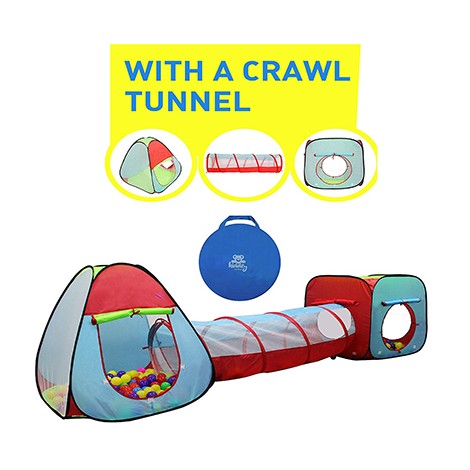 Ok, we once again come upon the option of outside or not outside. This 3-piece tent is stated to be used either way. We put it to the test and of course, are prepared to tell you exactly what we think of this little playhouse. I mean we aren't going to tell you here, you have to read it below but hey, glad you were looking for it.
Enhanced Durability
This is made of polyester fabric, which is waterproof and less easy to tear. This can be of importance as kids can be very rough on this style of product and although you can always return it who wants to go through the time and energy to do it. We would much prefer a product that works as intended which this one seems to do.
Satisfaction Guaranteed
Believe it or not, we found that this indoor/outdoor children's product comes with a 100% satisfaction guarantee. If you are not happy with it simply contact the manufacturer and they will give your money back. We keep pointing little things like this out, but it really is less and less common for a company to show that kind of faith in themselves and we like making it known.
Cost and Value
This three-piece kit is a nice middle of the road option for smaller kids. It's waterproof so something like a minor spill or set grass won't ruin it which is a nice touch. Kids are free to horse around and play in the tunnels and tents without the worry of something breaking too easily or not working. We had the kids really go to town on this thing and it never failed to pop back up. The cost isn't bad and overall with the money-back guarantee we feel this could be a good purchase for your mini-me.

5

. Air Fort Build an Inflatable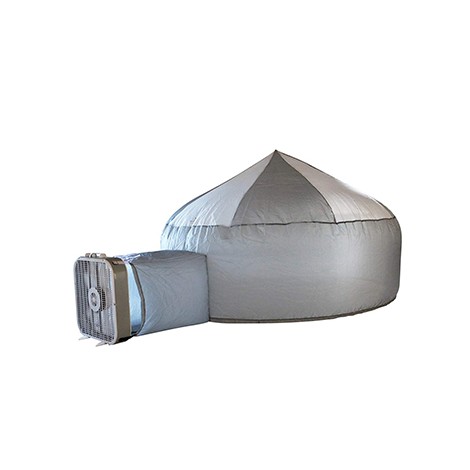 So, we have discovered that the downside of building the typical blanket fort is the lack of light and the lack of air. We also found a way around that, that also allows for plenty of room and if done appropriately you still can't get in without the password. Fred is still upset that we won't tell him, but if you read what we had to say below we may tell you.
Airflow
So, remember coming out of your fort with sweat rolling down your head because it got so hot? That is no longer an issue my friends. What we have here is a huge fort that inflates just from putting a standard box fan at one end and turning it on. That is all it takes to expand this 77" wide and 50" tall floorless construction. There is a mess screen that prevents the kids from getting to the fan from the inside and there is a window, so you can look in to be sure things are running smooth.
Color Options
This is one of those moments when it really shouldn't matter what something looks like but it kind of does. Yes, we know as a rule kids don't really care about stuff like that but if you have a child that overly fond of pink or blue or even a print it's nice to know they have options. While this is mainly shown in the gray color it also comes in pink, digital camo, and beach ball blue. All nifty options to have and we found our little ones like having the ability to pick out their favorite.
Cost and Value
While this seems to be about mid-range price-wise we can't really complain about it. Larger overall than most of the other options we found this is truly a one of a kind item. It would especially be appreciated on those warm days when a little air circulation can go a long way to keeping kids stuck inside due to the heat more comfortable. It would also take very little effort to set this up with some cushions and have some family reading time inside. All in all, this seems to be a great buy.

6

. ECR4Kids Bucaneer Boat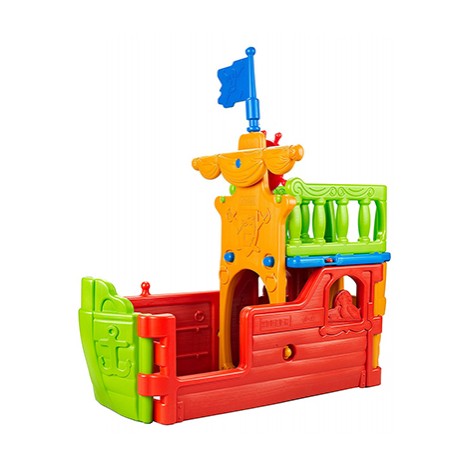 Ok, so this one is pretty cool we have to say. If you have a brave buccaneer or a pretty pirate looking to explore the great open sea we found a boat. We think you may like this one with its molded touches and moving steering wheel. Arrrrre ya ready?
Easy to put together
This is not as hard as you may think. This gets put together simply by clicking the parts into place. There are anchors that come with it if you think it will add another dimension of sturdiness, but you may decide you don't need it. Totally up to you but nice to know you have it. Otherwise, a few quick and simple clicks and you're all set to sail.
Nautical Details
A lot of what we miss out on, as adults, is the ability to believe what we imagine to be. Kids don't lack that level of imagination and are able to turn the simplest things into the extraordinary. ECR4Kids uses that to their advantage while still manages to give little touches your child can enjoy. A moveable steering wheel and flag for the captain to manage. A molded parrot in the window with a taste for crackers and of course the anchor.
Cost and Value
For something like this, we are going to end up towards the higher end of the price scale. It is sturdy in design and not overly big making it a good pick if you're looking for something to fit in the house. This is not meant for larger children. Anyone over the age of 5 should not be on it so make sure your significant other doesn't' get any ideas about reliving their youth. It would not be cool for an adult to fall off this and end up really needing an eye patch. Well…maybe a little cool. However overall this seems like a decent deal but be aware you won't be getting more than a couple of years out of it before they are just too big.

7

. Pacific Play Tents Kids Club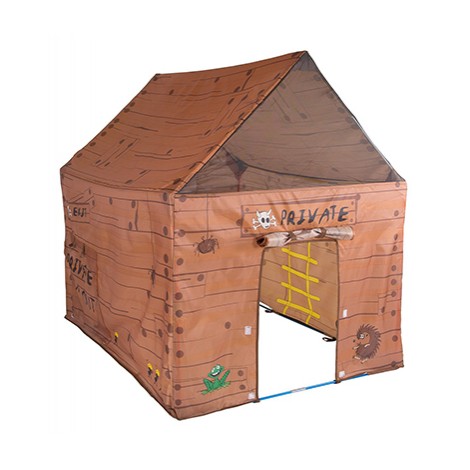 So, this one was interesting. It's a tent made to look like a clubhouse, but it's not actually either. Well, whatever it is we like it. It isn't as easy to set up as some of the others on our list, but it seems a bit more stable and able to handle the slightly bigger kids, which was a nice change. It also might be cool to use for that cowboy or girl scout sleepover. Regardless check out what we had to say and see what you think.
Tent or Clubhouse
Why not both you ask? Well, it is, sort of. While tents are something we think of for camping a lot of this list seems to have one version of them or another. This one has actual color-coded poles for easy assembly but, make no mistake, it does require assembly. This is not the standard kids pop up tent, and while no power tools are needed this is going to take more than a wrist flip to get set up. That said once up it is very stable and though light gives the look of a real clubhouse complete with misspelled sign painted on the front.
Easy to put away
The strong fiberglass poles are durable and able to take quite the beating. They are color-coded and shock-corded to provide easy setup and takedown. When you take this down it rolls into about the size of a small sleeping bag and can easily be tucked away. We suggest you do this if your using it outside but if your using it indoors keeping it up should be fine as long as it isn't taking all your free space.
Cost and Value
They say you can't buy happiness but apparently, that is not true for kids. We thoroughly enjoyed watching the total chaos that ensued within the confines of this device. For the price, you would be hard-pressed to find something that the slightly bigger kids can use. It had the adorable little details kids appreciate like printed animals and a ladder to pretend to sneak in the window, but the inside is big enough that when playing a wicked game of hide and seek even mom or dad might be able to squeeze in. Dollar for dollar we feel safe in saying this one is well worth the cost and will hold onto that value for a while.

8

. Little Tykes Princess Cape Cottage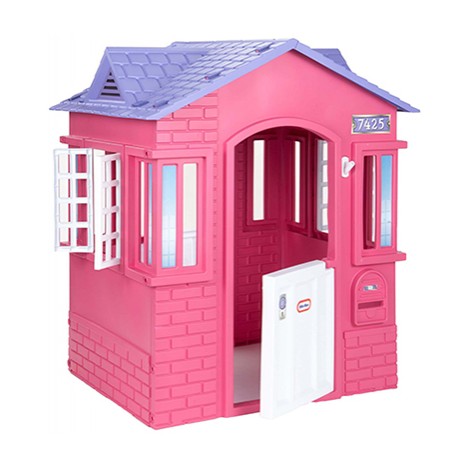 Now here this, the perfect house for the princess in training has been found. You have no need to continue the search as long as your princess is under the age of 6. Of course, if your princess is older than that feel free to continue your search. But seriously this is a cute little cottage. Check it out.
Two working Doors/Windows with Shutters
There are a lot of open-air playhouses out there that keep off the doors and shutters, so parents have the freedom to look in and be sure everyone is safe, and we get that. It is nice to find a company that managed to take that into consideration and work around it to a degree. What Little Tykes have done is place a half door on either side of the house and open latticed shutters on the windows. This allows the illusion of a closed-up house for the kiddies and the ability for parents to still keep an eye out on their little one. Smart huh?
One Year Warranty
Little Tykes offers a one year from date of purchase warranty against any defects or missing parts in your product. If something goes wrong or is found to be in some way defective they will either replace the part or the entire product for you. Now with that said you can always contact the, if you're having constant issues or if your unhappy and see what they can do for you. Just make sure you keep your receipt or proof of purchase, so you have that date for them.
Cost and Value
Little Tykes have proven over and over to be a quality provider in small children's products. The downside is your partially paying for that well-known name in our opinion. There are other similar products out there that may off what seems to be more for less but when it comes of quality we really don't have much here we can fuss about. At a slightly higher price range but a good stable product this one is worth a look and if easy for you a buy.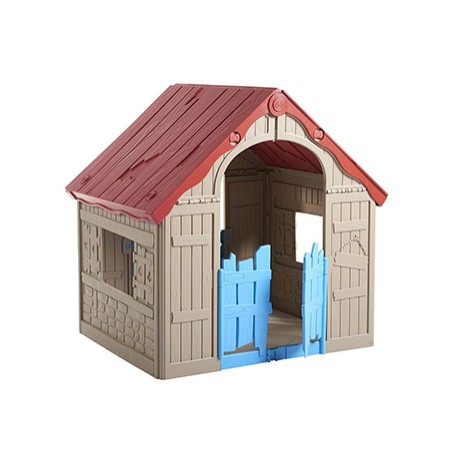 At number nine on our list comes something a little different. The claim to fame of this playhouse is its ability to fold down and be stored under the bed or inside the shed. It has a couple of neat features we mention below but overall, we were just kind of stunned when we found it. How come we had to build everything when we were kids?
Easy to set up
So, this is another one that is fairly simple to set up and break down which is nice. You set up the base by just snapping it into place the roof goes on the same way. When taking it down the roof comes off and lays down then the rest of the house folds into it. You close it up and slide it under the bed or into the shed and it is out of the way. This is easy for parents to deal with and requires very little in the way of actual work.
Good for indoors or outdoors
While this product is fairly lightweight and easy to put away that doesn't mean it can't handle life outdoors. We wouldn't recommend leaving this out all winter but other than that it seems plenty sturdy to be out in the yard to play in and if the weather doesn't cooperate just fold it up and bring it back in the house. It seems to us that is easy enough to do without breaking your back and it allows your child to keep playing with it regardless of the season.
Cost and Value
While we can appreciate the ease with which you move this around or put it away we aren't quite sure we would want to pay the going cost for it. There are other options out there that are a bit more or even a bit less and while they aren't as easy to deal with they seem to be a tad more durable. True this is meant for children under 6 but for the price, we think you may want to think very seriously about all your options before buying. Good product just not quite right for the price.

10

. Backyard Discovery Timberlake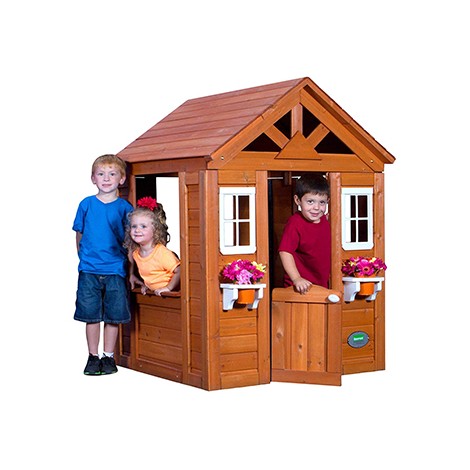 Last but certainly not least is the one we just could not pass up. We didn't want to go too far overboard with a ridiculously expensive option on this list, but we felt safe picking this one. There are a lot of things we liked about his one and a few that made us look again but we think you will appreciate our point of view.
Made from Cedarwood
While on the costly side cedar is known for its ability to weather time and well weather, ahem. It's durable and sturdy and is fully capable of sitting out year-round and as long as you take care of it with the occasional brush off you should be good to go. The kids will be able to play with it as long as they can fit into it, and unless you take it down the eventual grandkids may get to play with it too.
Open Windows and half door
As with some of the other option on our list we like the open model of this playhouse. The windows are open, and the doorway is only covered on the lower half, meaning parents can easily see or hear if they are needed. It also allows for the kids to play a wicked game of dodge, but you didn't hear that from us.
Cost and Value
While the cost of this one is on the high end we feel it is understandable. Unlike the plastic and polyester, these things are usually built from this one manages to be durable and not cost a ridiculous amount. We understand that not everyone can afford this kind of thing, and really for the average kid it isn't necessary but if you can afford it and want something that is much more likely to last then you could do much worse. While overall this ends up being a bit high on the hog for the standard consumer we think you may find it worth it in the long run.

Subscribe to our Newsletter