Best Raised Garden Beds Reviewed & Rated for Quality
In a Hurry? Editors choice: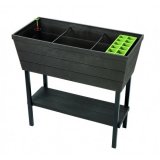 Test Winner: Keter Urban Bloomer

Do you love to garden, or maybe you want to start? But you aren't sure quite where to start? A lot of people would love to grow plants, herbs, and flowers but maybe you don't have a good space or maybe you don't want to be bending down on your knees all day? Well, either way, we have the perfect solution, the raised garden bed. They come in many different styles and varieties and offer a lot of great features and benefits that will be sure to help anyone grow the perfect garden. We did all the research, looked at the reviews and highlighted the benefits and pros and cons of each so you can pick out one as easy as you will be growing a garden.
Standout Picks
Criteria Used for Evaluation
Size
We're not able to grow in a place that's too small for us; why should we force our flowers to? Not only do flowers need lots of light, water, and nutrients, but they also need enough room to stretch out. Their roots are the reason they're alive and are also the most common reason for them to die. Too many roots packed into too small of a space means they're going to fight and struggle for space.
Many of these planters and raised garden beds have been chosen specifically because of their size, depth, and shape. Many of them are deep enough to handle a variety of plants. If they weren't deep enough, we were careful to pick ones that offer other options (like stackability). This ensures enough space (and enough versatility) to handle any and all plants.
We also considered a variety of sizes for these garden beds, as there's nothing worse than wading through a sea of full-size garden beds trying to find the token small one meant for a small patio space. A variety means you can pick and choose the one that works for your space. Depth and size are important criteria, but they still have to fit into your space.
Durability
One doesn't always think about the durability of outdoor products. Oftentimes we've thought about putting our couch outside, only to realize that that's a bad idea. Patio furniture is built with the elements in mind, while indoor furniture is built to bolster IKEA showrooms. The durability is an important thing to think about with anything that lives outside, which is why it was one of our top criteria for these products.
A durable raised garden bed (or planter) means happy plants. It means a neat and tidy garden for you, and the reassurance that the time you devoted to creating this amazing garden won't be wasted a year down the line when the garden beds' wooden panels rot. Durability equals peace of mind, and you deserve it.
We judged these garden beds not only on the durability of materials but the durability of their build. If garden bed materials aren't going to be able to withstand the rigors of heavy soil, rain, and various other potential issues, there's no point in getting it. If the screws holding the garden bed together aren't tight and secured, then the build of the garden bed isn't going to be durable enough to survive.
Durability is in both the materials and build. We've looked at both of these aspects in order to create a guide that places great emphasis on the durability of your garden bed. As one of the most important criteria, it's important that it's kept front and centre when reviewing the products. We believe we've managed to do just that, by finding items that are both made of durable products as well as durability of craftsmanship.
Value
Price is one of the touchiest subjects with many buyers. A product might be perfect, but if it's out of someone's price range they tend to pass it up. Likewise, if a product is too cheap, some people will automatically judge it as being not effective or low quality. While oftentimes that can be true, it's not always the case. Name brands can drive up prices, as well as limited availability.
Overall, we believe in offering a variety of price points to suit a multitude of people's needs. We don't believe in providing one price point, as that can exclude folks that might be looking in a higher or lower budget. Ultimately, our job is not to offer a limited view of a product. Our job is to provide a range of products in a fair way.  
Our list contains a varied price range, with options for every kind of budget. We've managed to find the highest quality of all price points, making it easy for you to choose a product that suits your needs. The rest of the job is up to you: will you go for the cheap and easy option, or are you looking for a more permanent raised garden bed solution? Luckily for you, we've thought of them all.
10 Best Raised Garden Beds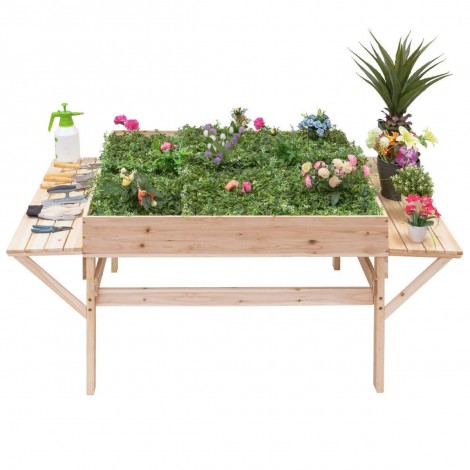 Starting off our list the right way, coming all the way from Giantex, we've got the Rolls Royce of raised garden beds. The most luxurious, beautifully crafted and complete yard fixture, the Giantex Elevated Garden Bed is just as much of a wonderful wooden workbench as it is a raised garden bed. And as any gardener worth their green thumb would tell you, having a workbench can make or break the ease at which you garden.
The Bench
You're not going to find many products on the market that are similar to the Giantex Bed and Workstation. The stiltedly raised wooden garden bed stands proud, and on two sides of the box live supported shelves that one can use for potting, soil work, infant transfer, and much much more. The added workspace makes the Giatex one of the best options for raised garden beds on the entire market.
Construction Space
The extra-high raised garden bed of this beautiful product stands nearly two and a half feet high, making it easy to use, but it's also extremely well made. Raised on four solid wood legs, the entire box is constructed with solid fir wood and a beautiful finish. This meticulous craftsmanship encompasses a well spaced out box that is big enough to plant a whole lot of living plants.
Cost and Value
The premium nature of the Giatex raised garden bed, with the attached workbench shelves, and the high-quality fir wood build means that the entire package doesn't come all that cheap, but it's chock full of value at a medium price point. You'd be hard-pressed to discover a raised garden bed this well made and this inexpensive.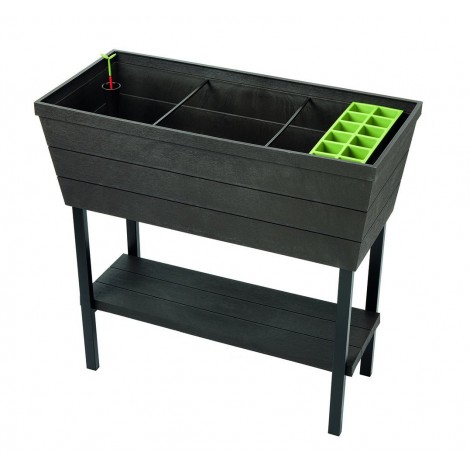 The country singing superstar might be the last name you expect to see when you begin your journey trying to find the best-raised garden beds on the market. Oh, wait. That says Keter Urban. Must be his slightly less famous younger brother. Regardless of family lineage, this gigantic twenty-two-gallon garden bed on high stilts is a force to be reckoned with. If it weren't for the majestic well-rounded Giatex bed and workbench, this bad boy would have found the top spot.
Smart Water
No, we're not talking about the Jennifer Aniston water -- why are there so many near celebrity connections with this garden bed? -- but rather the amazingly awesome self-watering system built right into this garden bed. The reservoir and the fountain poles across the top mix with equipped water gauge to keep all of your soil optimally moist, while avoiding rot or drowning.
The Rest
With extras that include an insanely deep potting room, and an extremely gorgeous outside aesthetic, the Keter Urban Bloomer Resin Plastic Gafavouriteser Planter is one of our favourites the entire market over. Best of all is that it comes with a budding plant holder. A tiny little sapling dish with multiple spots for your up-and-coming plants.
Cost and Value
At an under-average price, the Keter Urban Planter is an astounding set-up, especially at the hands of those that are stricken with limited space, say, an apartment balcony? It's one of the best options on the entire market, and there's truly nothing stopping you from getting more than one. It's perfect for the meticulous, and the planned plant parent.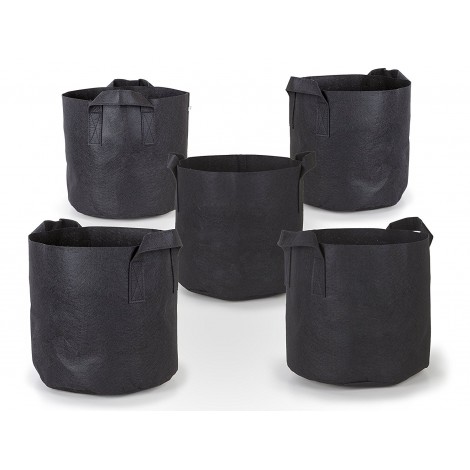 A little different than a traditional planter or garden bed, these fabric pots are actually essential for serious gardeners. Not only are they easy to work with, but they're incredibly good for the plants themselves. Ceramic pots can be difficult to carry and move around, especially when filled with dirt. The fabric material that these fabric pots are made out of doesn't add any weight. There are even handles, for easy carrying!
Controls Temperature
Okay, that might have been a bit of an exaggeration. The pot itself doesn't have magic, weather-controlling superpowers (we'd probably put it higher on the list if it did). The biggest positive to this planter is the fact that the fabric doesn't necessarily heat up or cool down with the external weather. Ceramic tends to heat up more and more as the sun beats down, making a very warm environment for your delicate plants. The fabric keeps your plants nice and cool.
Handles
Okay, let's pretend for a minute that we all live in large homes with big, beautiful gardens. There's tons of space, and we all have a plethora of plants that need to be shifted depending on the season. Trying to lift traditional pots is a very difficult task, especially when there's no lip or grip for hands. The handles make carrying these baskets easy, which means you can lug these around your huge backyard garden with no problems.
Cost and Value
These bags are an excellent cost for how great they are. While it might cost a pretty penny to outfit several dozen plants with these big bags, they actually work out to being much cheaper than purchasing multiple ceramic pots. The reviews go on and on about how great they are for plant growth as well. It's the perfect product for the gardener who wants a cheap but effective planter.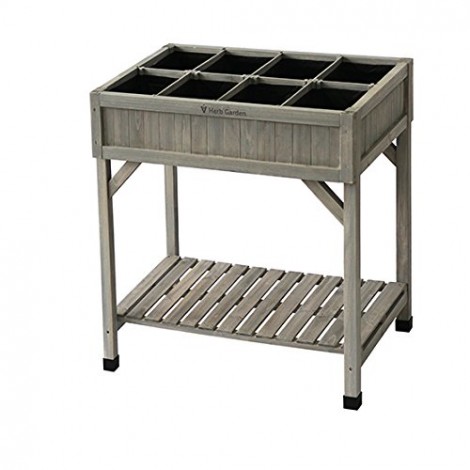 No home cooked dinner is complete without herbs. A quick and easy way to add some flavour to a dish, herbs are a practical plant that all home gardeners need to add to their leafy green arsenal. Plants are great, but herbs spice up our life. Herbs can easily get out of hand though, which is why this compartmentalized planter is perfect. Vegtrug has crafted not only an excellently sized planter but one that has perfectly sized squares too.
Individual Compartments
The more we have, the more inclined we are to just let them grow. Nothing stops herbs once they start, and it's so easy to look around one day and find that your kitchen is overloaded in herbs. We could drown in herbs if we're not careful. The individual compartments keep that from happening, as the herbs have a specific allotment of space that keeps them all neat and tidy. Plus, you're able to keep all your herbs in one spot. No more unlabeled mason jars full of clipped plants!
Accessible Height
Gardening usually takes place on the ground, which can be a big issue for people who have difficulty getting onto the ground. Bring life-changing up to them can be a life-changing experience for someone with limited mobility. Those that are wheelchair users can easily reach the herb compartments in this planter. It's not a bad height for those that are standing and cooking as well, making it possible to keep this planter in the kitchen.
Cost and Value
Many of the reviews said how sturdy this piece of plant furniture is. While some folks said they had to waterproof it themselves, we don't believe that that devalues the product at all. Many planters are built to last regardless of the waterproofing aspect. Plus, plastic liners can easily keep a planter from dripping. If you're looking for a herb planter that's durable and space-effective, this is the one. While the cost is a little higher than some of the others, you're definitely getting what you pay for.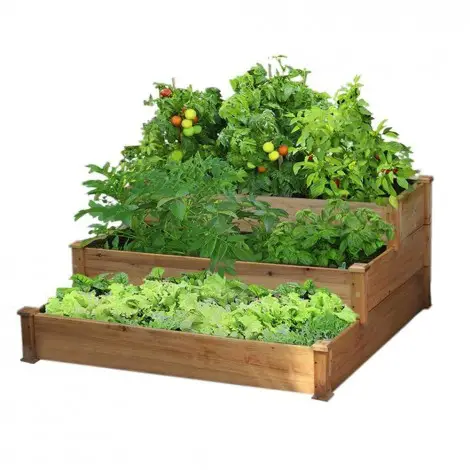 Remember those kitschy window box planters from the days of yore? Now seen almost solely in old character homes and 1950s themed movies, those little rectangular planters used to be all the rage. It is possible to find them again now, though there have been a few adjustments made to them. Take this planter for example it can't quite be classified as a window box, as it doesn't hang off the window. It's a comparable shape, though this little guy features two higher boxes tacked on as well the base.
Made Of Cedar
Garden beds take a beating. They live outside, they don't get any rest, and they're at the mercy of any raccoons or cats that take an interest. Cedar is one of the sturdiest woods, which is part of the reason this is such a big selling point. Cedar is strong, durable, and great for building. The wood looks gorgeous too, making it a great addition to any patio, yard, or back deck that's out there.
Easy Assembly
Let's face it: gardening and math don't really go hand in hand. Most of us who like to garden don't actually want to have to do math and measuring and logistics work in order to make it happen. We want to purchase a pre-made garden bed and go home. Trust us when we say that this garden bed will change your mind. It's so easy to assemble that you'll never go back to pre-made garden beds again.
Cost and Value
One of the reviewers of this product said it the best: for the design, ease of assembly, and the quality, this is a fantastic price. While it's not a great product for those that have limited space, serious gardeners will love the size and the effectiveness of this product. The wood quality is amazing, even if it does require a little elbow grease if you want it to be stained. Overall, we believe that the cost and the value is balanced.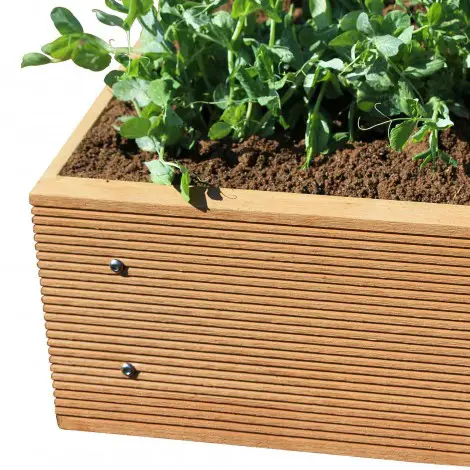 Not all garden boxes are created equal, despite the similar qualities that many of them share. This ECOGardener Premium Garden Bed is proof that quality can't be faked or compromised. A good garden bed is made of high quality materials and a weather-resistant durability. These things have to live outside, after all, and these ECOGardener garden beds are made just for that. They're not only good for your garden, but they're good for the rest of the world too.
Recycled Materials Only
This is the whole reason we decided to include this garden bed on the list. While that's not quite true (this product has a lot of good positives), it is one of the main reasons. We love making the world a better place, which is why we're always looking for ways to reduce, reuse, and recycle. The boards that these garden planters are made out of are made of 95% recycled materials. If you've got your own compost going, you're basically waste-free!
Stackable
The stackability of garden planter boxes can actually be a make or break quality for apartment dwellers and other patio gardeners. Some plants need a lot of depth in order to grow properly, which is why the fact that you can stack this planter is such a big benefit. Now you can add twenty, thirty, or even forty inches of height to your garden bed, raising it from ground level to standing height, depending on how deep your patio potatoes want to grow.
Cost and Value
Considering the fact that this garden bed is a little on the small side and doesn't have a bottom on it, the price is a little higher than what we'd be willing to pay. However, the recycled material and versatility of this planter might be enough for some to consider the value equal to the cost. This cost/value comparison ultimately comes down to your personal values; do you want to pay a little extra for eco-friendly materials?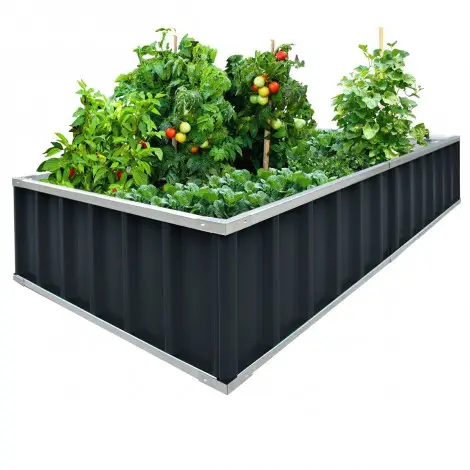 2-ply isn't just found in the toilet paper aisle anymore. It's also found in the garden bed section of Amazon. While some don't understand the reason for this double-walled technique, there are some real benefits. This garden bed is a quality product, and will certainly keep your plant babies' roots protected throughout their lives. The style is undeniably cool as well, making it the perfect addition for large, modern patios, gardens, and decks.
Special Paint For A Special Product
Ever heard of galvanized paint? Neither had we until we read this product description. It turns out galvanized paint is actually really good for garden beds, as it keeps the product from rusting. There's no chance of damage for this garden bed, which means there won't need to be any mid-season touch-ups. The paint will hold its lustre and beauty throughout the years, and will prevent any damage from happening.
2-Ply Sides
Seriously, we're not talking about personal paper products. We're talking about the sides of this garden bed, which are essentially doubled up. The planter itself is made of some pretty durable materials, double layering the sides adds an even greater stability and durability. 2-ply sides mean there's no chance of wobbling or leaning, as the weight is being held by double the siding.
Cost and Value
This garden bed is more of an average price, though there are still some differences between this product and the others that we should mention. While other planters that cost about this much might be durable, this is the only planter that truly focuses on durability. The design is also an element to consider, with the style being much more modern looking than some of the wooden planters that are out there. All in all, this is a great quality contemporary garden bed with a strong design.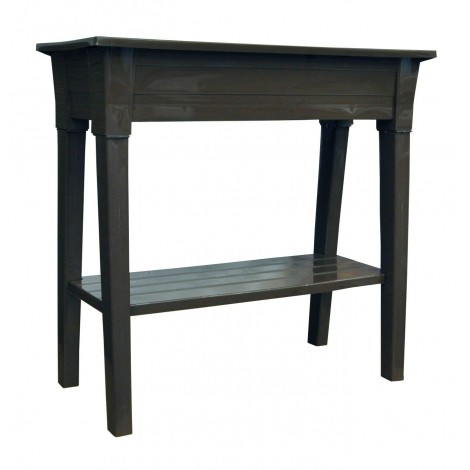 As we're coming to the end of our list we're starting to look at more and more options for garden beds. While the traditional garden bed typically sits on the ground, there are other options out there. There are tons of reasons as to why people might want super raised garden beds. More than anything it could be the space-saving qualities of them. Adams Manufacturing has figured out a way to not only offer extra space, but also a way to make raised planters look amazing.
A Storage Shelf
Sometimes we just need a little extra room. Even one shelf can make a big difference to the organization of a space. It's even true outside, where it feels like there's unlimited space. Making a garden look pretty while still staying practical is a tough job. By including a storage shelf on the bottom of this raised planter you're getting to use the space twice as effectively. Stuff it with gardening books, tools, or even more plants; the choice is yours!
Collapsible
Wait, what?! A raised planter that's collapsible? Believe it or not, it's true. This planter can hold 150 pounds and still break down easily for winter storage. Now your garden can truly change with the seasons. While it doesn't quite fold down, the legs and shelf are removable. This makes it just as sturdy as any other planter, while still giving it this unique feature.
Cost and Value
One of the cheaper options on our list, this planter is made of plastic. While it's not the prettiest aesthetically, it certainly cuts the cost on the product. We believe that it's a great budget option for those who are looking to clean up their garden without spending a whole bunch of money. Plus, it certainly will last for a few years… Just remember to pull it out of storage after the winter freeze.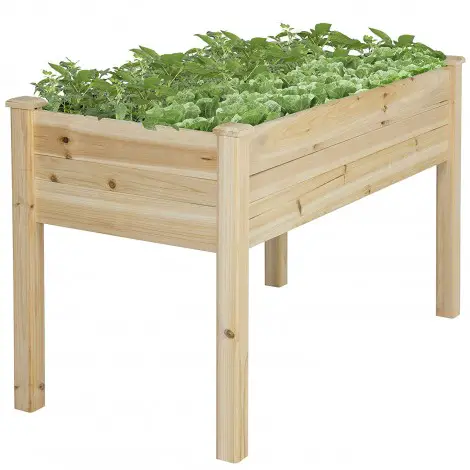 This is the option we had to include for those that want a nice, simple garden bed. For those that want the simplicity of a wooden garden bed but don't have the ground space to plant it on, this is the best option. The height makes it easy for everyone to garden, and also means you don't need to give up a huge plot of grass just to grow yourself some veggies.
No Screws Needed
We've mentioned the ease of assembly for a couple of these garden beds, but this one seriously takes the cake. There's no screws needed, as all of the pieces join together by sliding into grooves or locking together. The fact that no tools or small, fiddly bits are needed to secure this product is a huge asset for those that aren't able to work with them. The product boasts being able to build this right out of the box, and it's right!
Liner
We love when free stuff comes with a product. Not only does it make for a happy little surprise, but it also gives us an even greater appreciation for the company. This raised planter comes with liners, making it a great holistic purchase; no additional products are needed other than plants and dirt!
Cost and Value
This is one of the more expensive options, and we're not entirely sure it's worth it. Some of the reviews discuss the fact that their planters ended up arriving with broken parts, mildew, and water damage. Those reviews are far outweighed by the positive ones, but they're worth mentioning. If you're okay taking a bit of a chance on a planter (or have the time to possible request an exchange) we believe that this is a solid product for the price.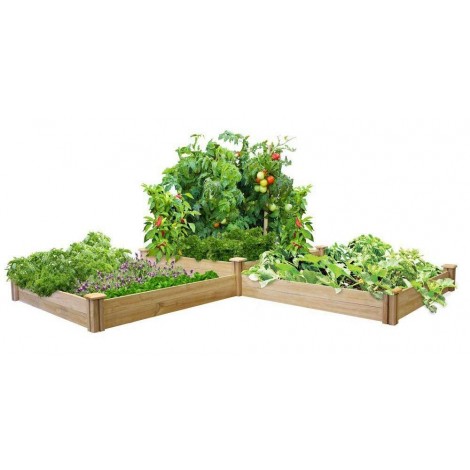 The last product spot is reserved for a real awe-inducing option. The Two Tiers Dovetail Raised Garden Bed by Greenes Fence makes for a beautiful addition to any spacious garden. The splay of the dovetailed beds are incredibly pretty and make for an eye-catching centrepiece to any large garden.
Visually Stunning
Sure, this is kind of a cop-out. Many of these garden beds are visually nice, and "stunning" is more of a subjective matter than an objective one. Regardless, we had to add it in for this product. The dovetail splays in a beautiful way and brings a satisfying balance to this garden bed. The centre platform is raised slightly, making it naturally the centre focus of any garden.
Chemical Free
Why does this matter? We'll tell you. This product boasts being insect repelling, as well as being rot resistant. The fact that they've managed to do this without any chemicals is incredible. While we believe it's due to the fact that the wood they've used is natural cedar, we aren't 100% sure how it's possible. All we know is that it's a huge benefit for you and your veggies that this product is chemical free.
Cost and Value
At a little less than what we'd classify as "expensive", is a beautiful garden bed for those that have the space. The fact that it's essentially three garden beds for the price of one is also a great benefit. While you'll need to devote a large chunk of your garden to this garden bed, we believe that it's worth it. The value is definitely a fair balance to the cost of this raised garden bed.

Subscribe to our Newsletter