Best Watering Systems Reviewed & Rated for Quality
In a Hurry? Editors choice: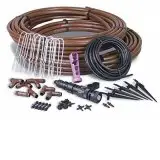 Test Winner: Rain Bird Drip Irrigation

Water
, water everywhere! That's the goal when it comes to hydration in general but for watering systems specifically when trying to grow anything, indoors or outdoors. Let's be honest, the memory being what it is who hasn't wandered past their favorite plant and been shocked to realize that it hasn't felt the touch of water in an embarrassingly long time. The same goes for the
lawn
. When hard summer sets in and there hasn't been a cloud in sight for days the lawn is going to need water as badly as the average homeowner when they venture out into the blazing sun. Maybe more because on most
lawns
shade is hard to come by. So dig through our list and then rest easy knowing your plant's health isn't dependent on remembering to fill the watering can!
Standout Picks
Criteria Used for Evaluation
Materials
If this is your first time picking out a watering system, you should know that the single most important aspect of a watering system that you must take into consideration is the actual quality of the design. The truth of the matter is – there are so many different brands and companies out there and, some of them, have made a less-than-decent product. In this, the watering systems are faulty, leak water from the pipes or tubes, and are not water or energy-efficient, costing the owner more money than the system itself.
With that being said, when we began this buying guide, we started off by looking at each product to understand how it was constructed. This entailed studying the materials used, the different durability mechanisms, and the technology used to help water plants. From here, we really took into account what previous customers said in their reviews regarding the quality of the design. We wanted to know if the tubes were designed from higher quality materials or how efficient the product actually was.
Effectiveness
Now, since these products really rely on your water pressure and water system in your home – we wanted to make sure that, no matter the product that you purchase, the manufacturer designed it to be water efficient. Today, many companies have gradually joined the energy-efficient model because it has become a trend among consumers. So, to gauge the energy efficiency of a watering system, we needed to really look at how the manufacturer talked about efficiency in their product description. Typically, the best companies out there are proud and share their insight into how they can help save a homeowner or garden guru some pennies when trying to water their favorite plants or flowers around their patio. Now, if we did not find any direct information, we did take the time to do some extra research to consult with other experts and previous customers in the review section.
Ease of Use
Let's be honest, are you looking for a watering system that is high-quality and difficult or challenging to install, or one that it's simpler and perhaps a one-two step kind of deal? This is more of a rhetorical question because no one wants to spend hours trying to read manuals or instructions. With that being said, when we were picking out the best watering systems for our readers, we made sure to look at how easy the system was to install, and whether or not the common garden guru could install it. Now, typically, when it comes to installation, manufacturers share some information for new customers to offer some insight. However, as we have learned from other experiences and buying guides, it's important to cross-reference this information. So, what we did was scan through a wealth of different customer reviews to secure that each water system that made our list was not challenging to install.
Durability
Have you ever purchased a product before and, after using it once, it just broke? It has happened to all of us, at least once, right? Well, when we were picking out the best watering systems for your consideration, we wanted to make sure that each product was designed to last. So, whether you went hiking, camping, or traveling – your plants could still prosper without fear or worry. To assess this, we looked at how manufacturers were assuring their consumer base. Typically, these companies would offer their new customers warranties or guarantees in case of a product malfunction or a piece breaks off. Additionally, companies might also take the time to use higher quality and more durable materials for the tubing or other parts where other companies may use only plastic materials. Whatever the case may be, we can say that each product that made our list today was designed for your peace of mind.
Value
The cost and value are one of the best and quickest ways for a consumer to figure out whether or not they are going to get their money's worth for a purchase. So, to measure the cost and value, we took the time to scan the entire market of watering systems to figure out what companies were charging for their products. From there, we took notes of different price points to notice any differences between brands, the highest and lowest price tags, and what the middle ground of the market was. Understanding this, we were able to draw some conclusions as to competition and pricing scale.
Now, to figure out the value aspect of the equation – we looked at each product and attempted to answer the question: what value does this specific watering system offer a consumer? As we drew different valuable aspects, we kept into consideration the price point for the product, in comparison to other competitors and their cost and value. In doing this for dozens of products, we were able to pick out the top 10 products that offered the most value for the best price tag.
BEST WATERING SYSTEMS REVIEWED & RATED FOR QUALITY
1

. Rain Bird Drip Irrigation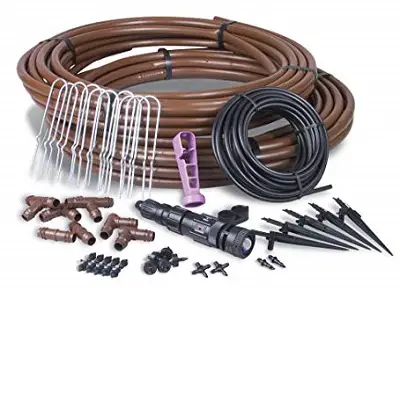 This is a great all-purpose kit that will provide directed water flow to between 15 and 25 plants. The big metal spike centers the hose and allows easy set up of the watering system that allows not only a few 360-degree watering spikes but also some localized drip spikes that will put water literally exactly where it's needed. There's a lot going on here and there is some assembly required but once in place, this is a top-notch product that will keep your plants healthy, wet and happy through the hottest summer days.
Set-it and Forget It
There is some assembly required but once in place simply turn on the water and let the Rain Bird do it's the thing, delivering water exactly where it's needed in a slow uniform way. The spikes throw water out in a 360-degree circle and the flow rate can be adjusted.
Expandable
As with most Rain Bird products, this can be part of a much larger system as these all work together. As a garden expands there's no need to pull up stakes and reset, simply buy some extenders and without any trouble expand the system to cover more ground.
Cost and Value
A bit on the high end when it comes to price but this is still a great bargain for anyone who wants to get out of the business of standing in the yard with a hose every afternoon. These easily placeable and precise spikes take all the guesswork out of watering and once in place will do what they do during the long hot summer.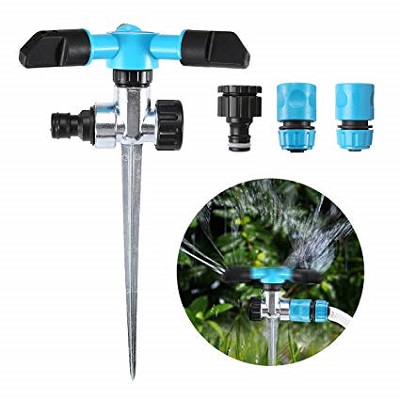 This is a great product if there's a need to extend a self-watering system and it comes to an incredibly low price. But this is not a system so there will be a need to supplement with tubing and an adaptor if this is your first go at setting up a watering system. But once it's set, there is 50 individual 360-degree watering spike, so it will easily cover a huge amount of space. The adjustable dripper also gives an element of control that other systems don't have.
Huge Coverage
50 individual drippers allow this system to cover a huge amount of ground. And once its set flow adjusters allow exact placement and that means that every bit of ground that needs water is going to get it.
Exact Placement
These spikes don't take up much space so it's possible to place individual spikes right next to individual plants that need some love. And the adjustable flow allows even more precise control over where and how much water is hitting plants.
Cost and Value
This won't put much of a dent in the wallet, but keep in mind that it's not a stand-alone product. There are add-ons that will have to be brought to the point where these spikes can actually do their work, including tubing and adaptors, and placeholders. But in its favor, we're talking 50 individual watering spikes, each one with a 360-degree watering range, and once they're up and running that's going to cover a whole lot of ground.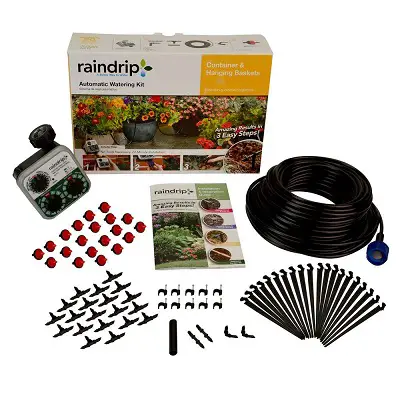 For the price, this is easily the watering system that gives you the most for your money. The Raindrip system has everything you need to water up to 20 plants exactly when you want to and saves water while doing it. It easily hooks up to an outside faucet comes with a digital timer and plenty of hosen to get just about anywhere there's a thirsty patch or potted plant looking for moisture.
Raindrip Manual Timer
This handy timer that comes included makes it easy to schedule not only the time and duration of watering but also includes a rain delay feature that easily allows users to take a day when the rainy weather makes watering unnecessary.
Easy Installation
Three of the greatest words in DIY history: "No Tools Required" make the Raindrop en even more attractive option in watering systems. There's plenty of tubing and 20 watering spouts that make hooking up and programming the timer possibly the most difficult part of installing this system.
Cost and Value
This is our choice for the best value and it lives up to the hype. There's a lot going on in this product and it comes with the kind of low price tag that seems like a mistake. This is a high-quality product with a lot of add-ons that make it a real get for the price.

4

. Blumat Watering Stakes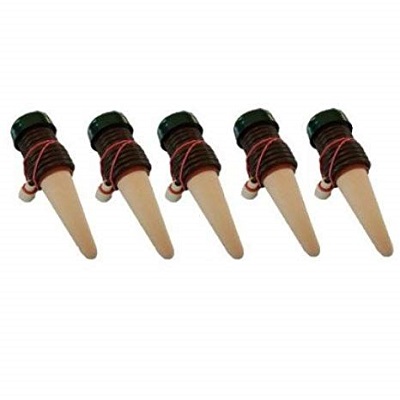 These ingenious little ceramic stakes will take great care of your indoor house plants without overwatering or underwatering for as long as a week. By drawing water slowly and steadily these stakes almost read the soil and apply water as needed, while slowly siphoning off water from a nearby supply. Each stake will last for up to a week and works by 'reading' the surrounding soil and never delivering more water than is needed.
Slow Steady Water Delivery
These stakes work very simply by delivering water to the soil until fully saturated and then it simply 'turns off' until the soil dries enough to start the process again. The stakes stay moist by siphoning water off of a supply placed near the stakes.
Quality Ceramic Construction
These ceramic spikes are manufactured in Austria of high-quality ceramic that will stick around for up to a week. A number of similar products can only be counted on to last 2 -3 days. They also come with a money-back guarantee if they don't work as advertised.
Cost and Value
For a pack of five, these spikes are actually won't take too much of a bite out of the wallet. They're easy to set up and as long as the water supply holds out these little workhorses will deliver water as advertised for a long week away.

5

. Orbit Hose-End Hanging Baske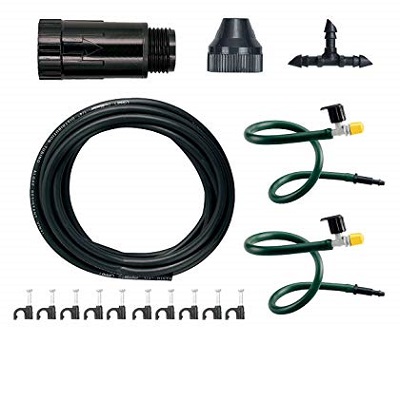 The second Orbit product on our list but without a lot of the extras on our first entry, this is a much simpler do it yourself watering kit for a couple of plants. It's easy to set up and place but doesn't come with a timer or any of the other extras but for an outdoor vegetable or herb garden, this is the perfect product.
Adaptable Placement
While it doesn't come with a timer this is a simple product for a gardener who's not looking to set up a farmers market stand but just wants to keep a few plants or herbs healthy without having to worry about working at it.
Extra Long Hose
Thirty feet of hose is a lot of line for a two plant watering system. It just adds to the whole ease of use elements of this Orbit product. There likely won't be any need to move your plants to the water and just adds to the "please make it easy" element of this drip watering kit.
Cost and Value
Hard to beat the cost of this product. For next to nothing, this drip kit will keep your tomatoes or herbs or flowering plants in good health with hardly any green thumbing. It does require a daily walk to the turn on and off the faucet but for the money that's hardly too much to ask.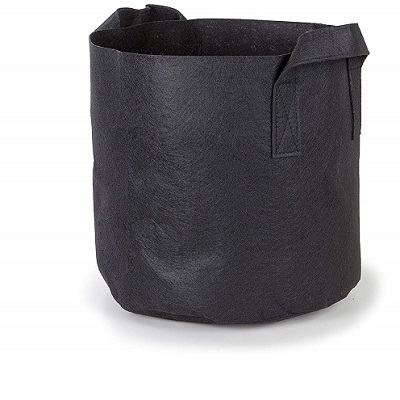 Most fabrics grow bags that last season after season? Skeptical? Well according to the reviews we've seen these bags work great and stand the test of time. Simply fill them with soil and whatever you're trying to grow and let the natural aeration and ease of us do the rest. They're tough, resilient and allow extra water out and lots of air in and that means healthier plants over the long term. Side handles also allow for easy movement. This is a great way to expand your garden without taking up much space.
Healthier Roots
Aeration bags keep roots from circling and also stop the mold that can seep into harder pots. This means healthier plants and higher yields
Built to Last
Despite their fabric construction these sturdy bags are designed to last. Simply clean them out and set them aside at the end of the growing season and they can last for years. The handles are also built to stick around and allow easy movement of plants.
Cost and Value
If the value is what you're looking for this is the way to go. Every order includes 5 bags and the price is next to nothing. And their resilience means they won't need replacing for quite some time. A lot of product for a little bit of money.

7

. Orbit 56318 Hanging Basket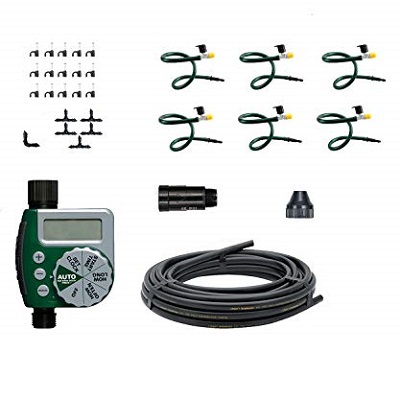 This full-service kit is the definition of set-it and forget-it and is truly a full-service watering system. A hook up to any hose? Check! 50 feet of tubing? Check. And the thing that puts this one over the top is the incredibly convenient timer that comes included with the kit. That makes this system the one you want if you want to make sure hanging baskets get the water they need, but without the overwatering that is somehow inevitable with systems that require manual starting and stopping.
Flexible Memory Tube
This special tubing holds its shape and allows precise placement of its six sprayers and then ensures that they stay where they're supposed to. Barbed tees also help to keep the tubes in place.
Digital Timer
This handy timer allows exact control of every element of a watering regimen. Once you set the date and time with a simple turn of the knob set the start and stop times, how often watering is needed and also has a handy rain delay setting that gives your plants a break.
Cost and Value
A bit higher on the pricing scale but this one has all the bells and whistles and the digital timer sets this product apart from a number of other competitors. The memory tubing and placement tees add to the value ensuring that the sprayers stay put.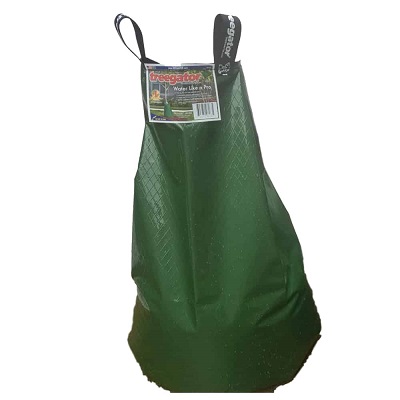 These watering bags are usually a fairly constant fixture anywhere there are newly planted trees trying to make their way in the world. Simply put there isn't any better product to keep young trees from feeling water deprived. The definition of Set-it and Forget-it simply wrap one of these bags around a small-ish (1-8 inches) trunk and fill it up with water. The bags deliver water directly to the root systems and generally will keep young trees moist for up to a week at a time. These bags hold a lot of water and they get it to the tree without any runoff or evaporation so it's a great green choice. The bags are tough and will last season after season.
Deep Water Saturation
Young trees need water at their roots to ensure long life and a sturdy attachment to the soil. That's why tree bags are important and in some areas nearly ubiquitous in public parks and in newly landscaped homes. Simply put they get the job done and give young trees the nourishment they need to survive and thrive.
Adaptable Capacity
One of these bags can handle a young tree with a 1-4 inch diameter trunk, but for bigger trees (up to 8 inches) simply zip two bags together and the Treegator is ready to go. Putting two bags together also doubles the amount of water these durable watering helpers can hold from a maximum of 15 gallons, two, the two bag capacity shoots up to 50 gallons.
Cost and Value
These may seem a bit pricey for only two bags but think of these tree gators as durable goods. They'll build to last so they're a one-off purchase that'll hold a long-term place in any gardening area even after your trees have outgrown these versatile tough tree bags.

9

. KINGSO Drip Irrigation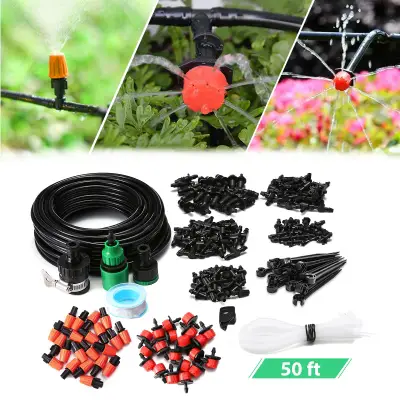 Perfect for big gardens the KINGSO line comes with all the bells and whistles you need to keep your vegetables, flowers or nearly anything you can imagine well-watered and flourishing. The system connects directly to a hose and 82 feet of hose ensures it will get water to where it's needed. The drip heads are fully adjustable and are also water savers.
Easy Installation
Each kit is designed to be custom assembled for each individual garden. Just cut the hose to any garden's exact measurements, attach the drip sprinklers and then adjust them to hit the exact spot the water needs to reach.
Effective Water usage
The 25 individual droppers carry water exactly where it's needed but do so while using 70 percent less water than other systems of its kind. Attach it to any hose or faucet and simply turn it on for a set-it-and-forget-it watering system.
Cost and Value
The KINGSO is a solid entry and quite affordable for the amount of square footage it will water. There is some assembly required but the price makes this a great option if there is lots of room to cover.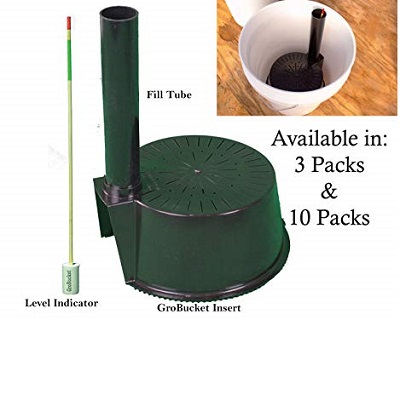 Sometimes it's all about keeping it simple. And if you just want an easy way to keep your young trees or single plant vegetable garden healthy and dame the Grobucket is what you're looking for. Simply install it at the bottom of your bucket before adding soil and your plants and then the water goes down the tube. The great thing about the Grobucket is that depending on your plant, this simple insert could mean not worrying about watering for weeks
Water Level Indicator
It's the little things sometimes that make the most difference. The water level indicator or float stick that drops into the watering tube takes all the guesswork out of wondering when it's time to refill the bucket.
Sub Irrigation Watering
Giving your plants water from the bottom up through wicking action makes it easy to extend the growing season almost year-round by easily allowing plants to move inside and allowing watering without drips or spills.
Cost and Value
The Grobucket comes in about midway on the price scale but the kit comes with three buckets so it is a good option for gardeners who want to keep an herb garden or tomato patch in the green for a long time.

Subscribe to our Newsletter