Best Macrame Plant Hangers Reviewed & Rated for Quality
In a Hurry? Editors choice: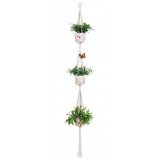 Test Winner: Aozita Classic

If you feel as though your house is kind of plain and boring, you can always add some decor with the
help of plants
. Plants come in all different shapes and sizes. Their lush appearance can liven up any of your home or office. Whether it is a small table top plant or a very large display living beauty, plants come in so many different shapes and size that it is not difficult to find one that works well for you. Plants improve your physical and mental health because they
freshen up the air
and reduce physical stress in your body. Plants will reduce noise as they absorb sound waves making an area more comfortable. They also simply make rooms feel extra inviting to both you and any guests. Additionally, if you want to enhance the smell in a particular room, plants might be a good alternative to unnatural smelling scented candles.
Standout Picks
Criteria Used for Evaluation
Style
Rope Design
At their core, macrame plant hangers are decoration, which means that appearance matters quite a lot. The aesthetic for macrame plant hangers can come from more than one place. They may have a vintage look, a 1970s counterculture look, or even a modern look. There is a wide variety of aesthetics you might want to go for. You may want to look for intricately braided ropes and baskets. You may want exciting patterns and knots. You may want to look for more simple options. You may want tightly woven baskets. You may want loser designs. You may want beads woven into the design. Whatever the case, the design of the rope is definitely going to be important. After all, the ropes are part of what makes macrame plant hangers so unique, so pay attention to the different designs out there, and you should find one that suits both you and your home.
Color
The best types of materials used for macrame plant hangers will be able to come in more than one different color. The more popular color options are going to be white, beige, and brown. Black is also pretty common, and it definitely makes a bit of a statement, especially if you hang it in a lighter room. You can also find funky colors if you want to make an even bolder statement. Red string is often used to be bold and to show off your style. In some cases, you should make sure that the color of the material matches well with both your style and with the color of pot that you choose to use. The type of plant may also make a difference. After all, you do not a plant that clashes with the ropes.
Size
Size
The size of your macrame plant hangers matter for three reasons. First of all, if you have a low ceiling, then you do not want your plant to hang too low. People might bang their heads or pets might jump up and try to rip it off the wall or ceiling. Second of all, you may have specific plant or pot that you want to hang, so you need to make sure the dimensions are of your macrame plant hanger work well the dimensions of the plant or pot that you are hanging. Third of all, you may want one that is big enough to hold more than one plant. Plenty of macrame plant hangers are designed for two or even three plants. They have multiple tiers, which is perfect if you want more than one plant hanging in the room. Make sure the plants that you choose do not look too awkward together.
Materials
Strength and Texture of Material
You will have a couple of different options when it comes to the material of the rope on the macrame plant hanger that you choose. Fibers such as cotton and jute are pretty popular. The poly cord is also common, and its main advantage is that it comes in many different colors. It is not particularly soft the way that cotton might be, but it does hold up well if you want to put to outside where your plant hangers might be exposed to some of the outdoor elements. Nylon also works well indoors and sometimes outdoors as well. When considering material, you must think about both strength and texture. Strength should be your main focus if you want a heavier plant to go inside your macrame plant hanger. Although most macrame plant hangers can take a huge amount of weight, they may wear down a little bit over time. The texture might be more important if you are willing to pick a lighter plant in order to ensure that your plant hanger has a feel to it that fits your style.
Versatility
Where You'll Hang It
You have three main options for the location of your macrame plant hanger. You can hang it from the ceiling, on the wall, or somewhere outside if you find a good place for a hook. Each location has its own advantages. Usually, macrame plant hangers are used indoors to brighten up the interior of the home. They are especially beneficial if you do not have enough room for a plant unless you have a way to hang it up. A wall is a good place for it if you do not have adequate wall decorations. You also know that it will not get in your way. With the ceiling, you might have more freedom, but you need to make sure that the plant is not going to get in anybody's way, especially if you have a low ceiling. Therefore, you might end up putting the hook close to the side of the room, so make sure it will not cover any wall decoration or block any windows. A good place for a ceiling hanger is going to be the corner of the room because corners do not often have decorations or windows. Therefore, plants are a great way to fill the space in the corner. If a macrame plant hanger looks good in the corner of your room, then you have definitely found a good option for you. However, the best macrame plant hangers will be able to look good anywhere. When it comes to outdoor macrame plant hangers, your main concern is finding a rope that can withstand the elements.
Durability
Durability
Macrame plant hangers need to be pretty strong. Otherwise, they are not going to be able to hold your plant up for long. Usually, the label will tell you how much weight it can withstand. However, over time, the amount of weight that your hanger can take might slowly decrease. Therefore, you want a macrame plant hanger that will be able to deal with a consistent weight for a prolonged period of time. Certain materials are better at holding weight. However, the design matters too. Extra support underneath the location of the plant will mean that your hanger will have an easier time with managing the weight. A thicker design on top is also important. Some macrame plant hangers come with added rope designs and decorations underneath the part of the hanger that holds the plant. These added decorations may weight down the hanger a little bit and make it wear out faster. If you like a design that is not necessarily going to maintain itself for a long time, then you definitely need to take the material into consideration. Cotton is usually not going to be particularly strong, especially if you have moths floating in or around your home. However, other materials might do a better job of ensuring that your macrame plant hanger is as durable as you need it to be.
Value
Cost
No matter what you are purchasing, you are going to want to get your money's worth. Some of the highly regarded macrame plant hangers might be on the pricey side. However, the best ones will all be worth the money that you pay. They have an almost universally appreciated aesthetic, they work well in any location of your home or property, they are good for most of the plants that you can possibly imagine, and they will last for a very long time. However, cheaper designs will also have their benefits. If you already know the exact aesthetic you are looking for, then you do not have to spend money on plant hangers that were designed for anyone. Additionally, if you think you can take good care of your macrame plant hanger, then you also do not have to spend money on more expensive materials. Regardless of how much you choose to pay, the best macrame plant hangers will be worth whatever the cost is.
Top 10 Picks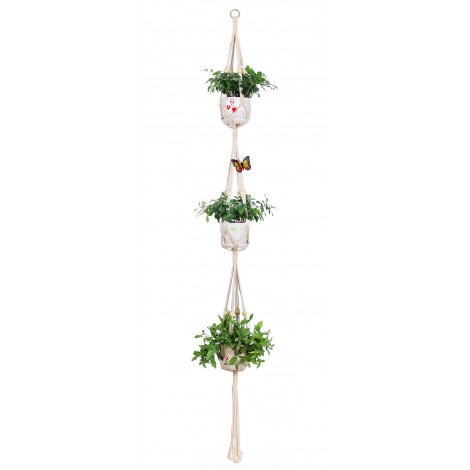 The Aozita Classic Macrame three-tier plant hanger is 70 inches long and made from white cotton. It is long and thin, so it is easy to fit in tight spaces closer to your walls.
Three Tier
Most macrame plant hangers only have one tier, which means they can only support one plant pot. With three tiers, this macrame plant hanger can support three different plant pots.
Seven Inch Diameter Pots
Each tier can fit a plant pot that is up to about seven inches in diameter, but you can probably stretch it out a little bit if you want to. It looks great if the largest pot is on the bottom and the smallest on top.
Cost and Value
The Aozita Class Macrame is definitely reasonable for something that is a full 70 inches of cotton cords to easily support three whole plants.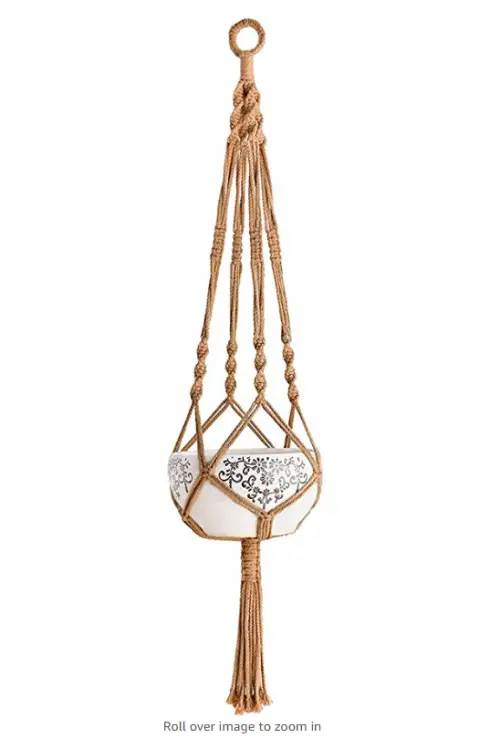 With four brown rope legs, the Mkono Colorful Macrame Plant Hanger has an elegant design that is a great product for decorating your home. It is 40 inches and made of cotton.
Five Inch Radius
The pots that fit in this macrame plant hanger are ideally about ten inches in diameter, but smaller pots will fit nicely as well. You can probably squeeze a bigger one into the hanger as well.
Versatile
The durable cords can work both indoors and outdoors. The versatile hook at the top can work with any wall nail or ceiling hook, so it is easy to find yourself a place where this plant hanger works.
Cost and Value
This macrame plant hanger is slightly more expensive than other options. However, it comes from a reputable brand, so it might be the extra few dollars.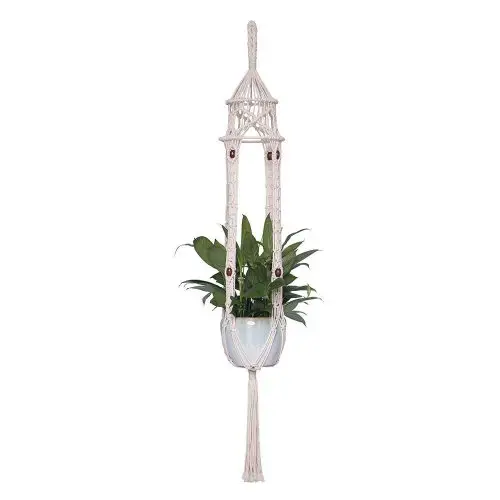 The YXMYH Macrame Plant Hanger has 41 inches of white cotton cords hanging from a wooden dowel comes in two slightly different intricate styles to brighten up any room in your home.
Wall Art
The wooden dowel at the top of this macrame plant hanger is approximately eight inches. It may limit this hanger to the wall, but it actually can work with a ceiling hook if you balance it well.
Many Pot Sizes
This macrame plant hanger has a very wide variety of pot sizes that it can maintain. Inside this hanger, you can fit anything from four inches in diameter to eight inches in diameter.
Cost and Value
This macrame plant hanger comes in at different price points depending on the style that you choose, which might be a little expensive. However, you can buy both styles for a relatively low price, which is definitely extremely reasonable.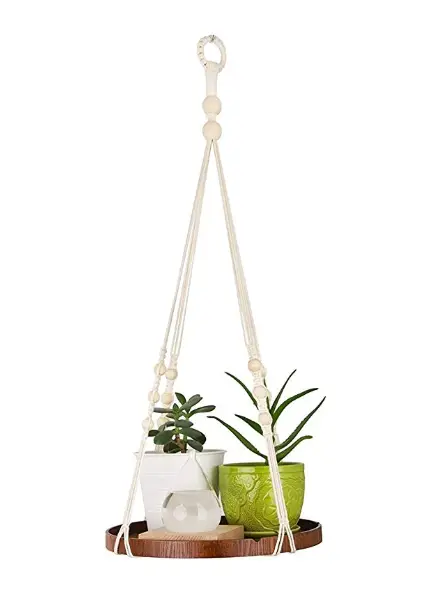 The TIMEYARD Macrame Plant Hanger is an indoor plant hanger with a unique design that holds a shelf that is perfect for holding up pots filled with whatever type of plant that you choose
Shelf
Normally, macrame plant hangers can hold a plant pot. However, this one actually balances a shelf with several white cotton cords. You can put your flower pot on the top of the shelf.
Beads
There are wooden beads woven into the each of the ropes to add style. They are subtle because they are the same color as the cords, but they do add a nice touch.
Cost and Value
This plant hanger costs over $23, which is definitely not cheap for a macrame plant hanger. However, if you like the unique design, then it might be worth the money.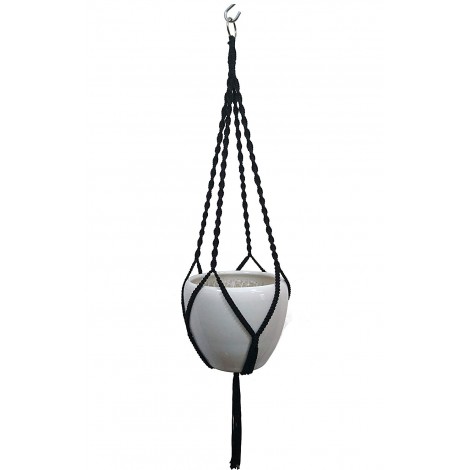 Made from a combination of brown and beige jute and cotton, the Hanpo Macrame Rope Plant Hanger has four legs of tightly woven cord that are each 48 inches long.
Jute
Most of the best macrame plant hangers are made from cotton, but this hanger is unique because it has some jute fibers woven into the ropes, which will give it a bit of a rougher and more exciting texture.
Dragonfly Pattern
The weaving pattern on this macrame plant hanger, which is a neat zig-zag design. It is very simple, and it goes well with the rough texture caused by the jute.
Cost and Value
This macrame plant hanger might seem slightly more expensive than other options, but it is definitely pretty reasonable for a hanger that is a full 52 inches long.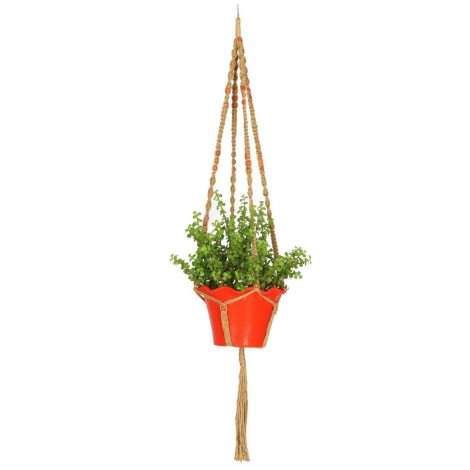 The AshmanOnline Plant Hanger comes with beads woven into the 48 inches of each of the four legs. It has a unique traditional design that looks great with more neutral pots.
Jute
The natural jute on this macrame plant hanger gives it a rough and retro look. It also makes a great piece to make a good statement if you like a more modern aesthetic.
Beads
The beads woven into the brown jute fiber on this macrame plant hanger are red and at a nice touch. It makes it shine and highlights the natural light that bounces off the plant that you choose.
Cost and Value
This macrame plant hanger is definitely going to be worth your money. It looks great and goes nicely with many different types of pots.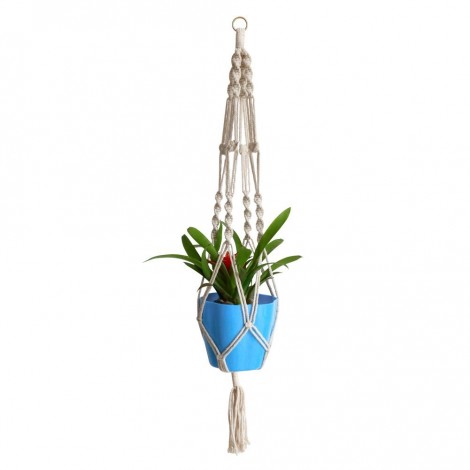 This handmade macrame plant hanger works as beautiful wall art. It is made from white cotton cords that are 42 inches long and can hold many different types of pots and flower baskets.
Large Ring
The big ring on top of this plant hanger is unique in that it is over five inches in diameter. Instead of being a small hook that only serves as a functional purpose, this hook also looks stylish.
Chinese Pure Weave
The simple and elegant pattern that is woven into the Accmor Macrame Plant Hanger is definitely an iconic look. The traditional aesthetic is definitely very appealing.
Cost and Value
This macrame plant hanger is about mid-range in terms of price. However, there is a deal to get two for one low price, which is definitely extremely reasonable for such a beautiful piece.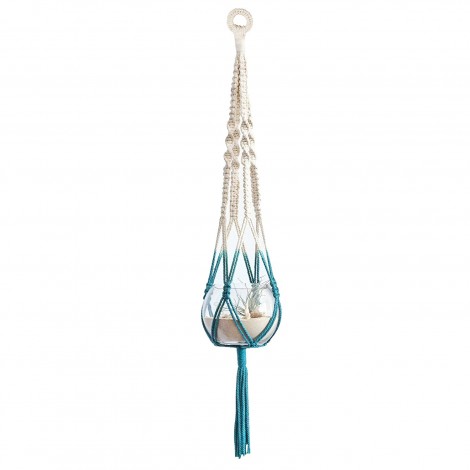 The Orino Cotton Rope Macrame Plant Holder is, as the name of the product suggests, made from cotton. Each of the four legs on this plant hanger is 40 inches long.
Colorful
The cotton on top of this macrame plant hanger is white. However, the bottom is blue, making it great for making a bold statement around your favorite plants and pots. The blue mixed with green plants is definitely an interesting and exciting touch.
Five Inch Radius Pot
Some hangers cannot hold bigger pots, but this plant hanger can. On average, it holds a pot that has a five-inch radius, which will be ten inches in diameter.
Cost and Value
The price for this smaller macrame plant hanger is not going to be the cheapest option. However, it does have some unique features.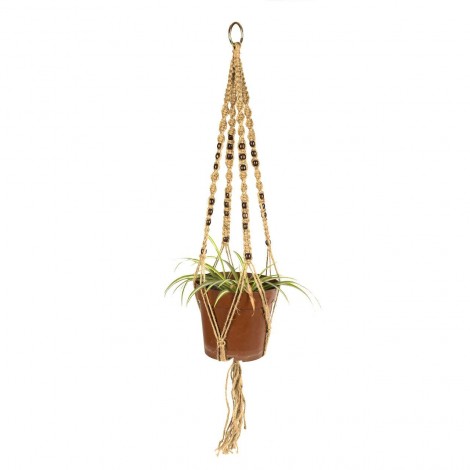 The Newcomdigi Macrame Plant Hanger has four legs made from jute that are each 40 inches long. Beads are woven into the jute to add a little bit more style.
No Slippage
This macrame plant hanger was specifically designed to minimize how often the plant pots and flower baskets will slip. The rough jute and beads are good at holding everything in place.
Versatile Ring
No matter where you want to hang your plants, this hanger has got you covered. The ring on the top of this macrame plant hanger works well on a nail on the wall or on a hook on the ceiling.
Cost and Value
This product is definitely a bargain. In fact, you can even buy one and get a second identical macrame plant hanger free.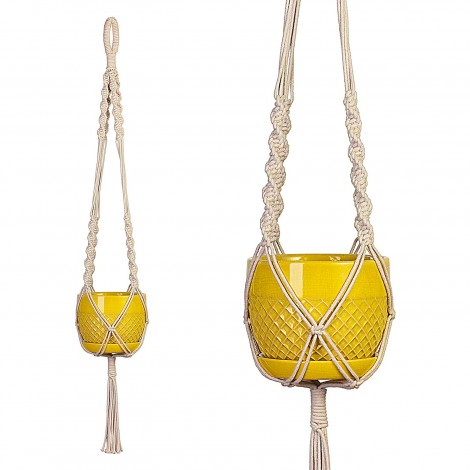 The Hathaspace Organic Macrame Hanging Planter is made from cotton cords that are each 42 inches long. It is able to hold anything from four to ten inches in diameter.
Steel Hook
Each purchase comes with a large steel vinyl wrapped hook, which means you do not have to go to the store to purchase your own hook or nail to hang your plants. The hooks do not look awkward with the rest of the plant and hanger.
Organic
The organic material that these cords are made from is designed to ensure that this macrame plant hanger is built to last. You will not have to buy a second because this one is not easy to break. Additionally, organic materials come from farms that deal with plants and fibers in a relatively environmentally sustainable fashion, so the plant in your home or garden will not be the only thing contributing to the environment.
Cost and Value
There are two different styles to choose from. The one with beads is going to cost under $10, and the one without beads will actually cost a little bit more. Either way, this cost is definitely extremely reasonable.

Subscribe to our Newsletter