Best Terrariums Reviewed & Rated for Quality
In a Hurry? Editors choice: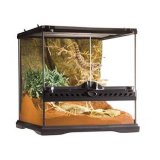 Test Winner: Exo Terra All Glass

Terrariums have made a big comeback in popularity the last several years. Whether they are in a central location in your home, a child's bedroom, or in your
office space at work
, terrariums can offer a feeling of the outdoors all year round, especially for individuals confined in a space without
windows
for very little expense. The terrarium creates an ecosystem that for the most part is maintenance free. The water in the system is recycled. The moisture collects on the surface of the terrarium through condensation, running back down into the soil where the plant roots absorb the water. If you think you might want to give one a try we've collected our favorites so come take a look.
Standout Picks
Criteria Used for Evaluation
Best Terrariums Reviewed & Rated for Quality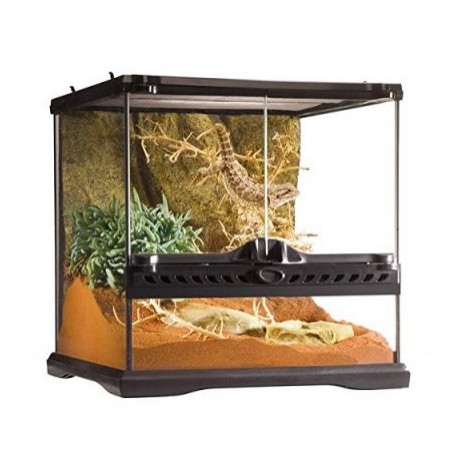 The Exo Terra All Glass is suitable for either plants or reptiles, it is offered in a variety of dimensions to cater for all needs and requirements. The versatile terrarium is offered with a waterproofed bottom so there is less risk of it leaking and leaving unsightly marks around the base. If used as a home for reptiles or amphibians there is a raised bottom to allow for the placement of a heater, and the sealed edges help to maintain both heat and moisture.
Functional
The terrarium has a patented front ventilation addition in the window for better heat regulation, and when it is home to amphibians or reptiles, the front benefits from lockable front doors that boast being escape proof so there is less worry of losing a pet.
Practical
The entire unit comes complete with full instructions and has a background accessory that aims to replicate natural rock forms, and the larger than the average base unit means that there is plenty of room for burrowing creatures or extra large plants.
Cost and Value
The varying sizes all have corresponding price differences, but when taken into consideration the full practicality and versatility of this, the multi-use possibilities it offers and the features like the waterproof base, make this unit excellent value for money.

2

. Exo Terra Glass Natural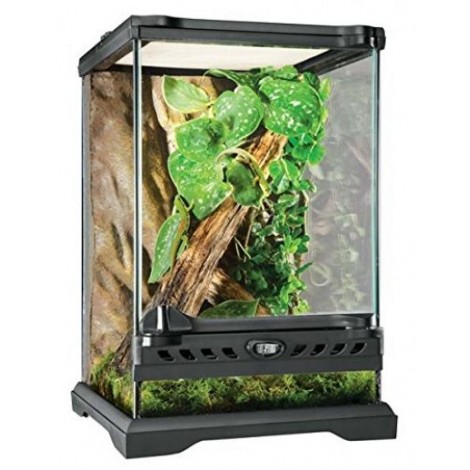 This versatile unit is designed for amphibians and reptiles, but can easily be used as a terrarium for plants. The bottom benefits from being waterproof so any excess moisture won't leave marks where the unit rests. The large terrarium measures in at eight by eight by twelve inches and are compact enough not to overwhelm a room. The base is deep so can be utilized to house a heater or a more substantial covering for larger plants or amphibians that like to burrow. The large front door is patented and also boasts being lockable to prevent any unfortunate escapes.
Useful
The terrarium has a full-screen top for ventilation and the lid is completely removable for access and for cleaning and maintenance purposes. The stainless steel cover allows both UVB and infrared penetration for increased practicality and functionality if used for amphibians.
Sealed
The sealed unit has five useful closable tube or wire inserts so even the smallest critter is safe within, the pivoting door is practical because it doesn't jam with soil or sand spillages. The lockable door helps to keep either creatures or plants safely contained reducing the risk of escape or heat loss.
Cost and Value
The Exo Terra Glass Natural is competitively priced, and both cost and value are well balanced and represented, the versatility it offers with the multiuse practicality means it is money well spent because its use can be changed from plant to creature terrarium.

3

. Mini Explorer Light Up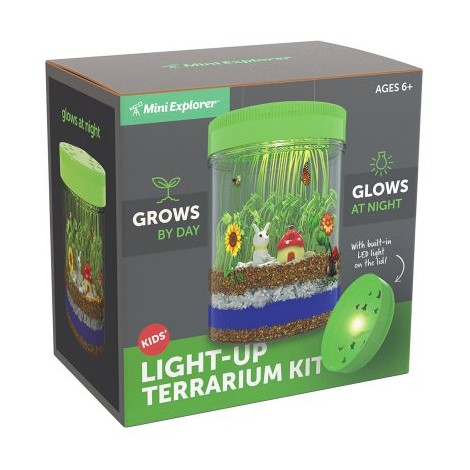 This Mini Explorer Light Up set is an ideal starter kit for kids aged six to one hundred, the ability to completely customize the terrarium gives it a creative edge. The educational value that is added with the creation of this terrarium is a real bonus, allowing a step by step, and rewarding journey of exploration. The kit boasts being glow in the dark which adds that little bit more inviting interest in the budding horticulturist in the family. It is an ideal gift for anybody of any age and requires no specific specialist knowledge to set up and maintain.
Complete
The kit comes as a complete set and comprises; a four by six-inch terrarium jar, micro USB charging cable, soil, colored sand, rocks, wheatgrass and chia seeds, planting sticks, spray bottle, stickers and a variety of miniature figures to decorate once planted.
Educational
The set has a comprehensive set of instructions included, and the step by step guide will encourage and entice any budding gardener to get involved. The pleasure of building a terrarium, planting it, maintaining it and watching it flourish is educational as well as a fun activity, and also involves knowledge building on independent ecosystems.
Cost and Value
When taking into consideration the entire kit contents, and combine that with the great mix of fun and educational benefits – the value represented in the mini explorer light up kit is reflected well in the overall cost.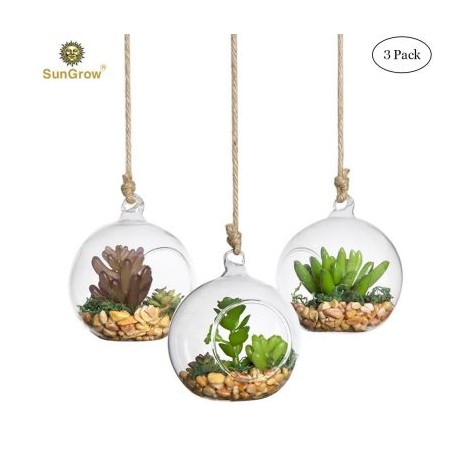 These Sun Grow globes come in packs of three allowing individual creativity by adding some nature to any space either at home or at work. They are available either as desk orbs or as hanging sky orbs that increase practicality and versatility. The mini terrariums offer the possibility of creating a bit of outside inside, and the easy access opening not only allows room to plant any desired plant but also helps the orbs to create their own eco watering system.
Functional
Each orb has a blown hanger on it so there is less chance of any hanging material sliding off the neck causing untold damage. The orbs are entirely glass and are a single piece – so water retention, moisture evaporation, and leakages are all dealt with adequately.
Practical
Each handmade orb is specially crafted and boasts being heat resistant so are ideal for hot climates or warmer interiors. The orbs are boosted with being able to cope with temperatures from minus four to three hundred two degrees Fahrenheit.
Cost and Value
When taking into consideration the packs of three these Sun Grow orbs are available in, and then combine that with the quality assured handmade glass, generous practical opening, and the tough hanger – these orbs represent good value and are a great purchase for the price.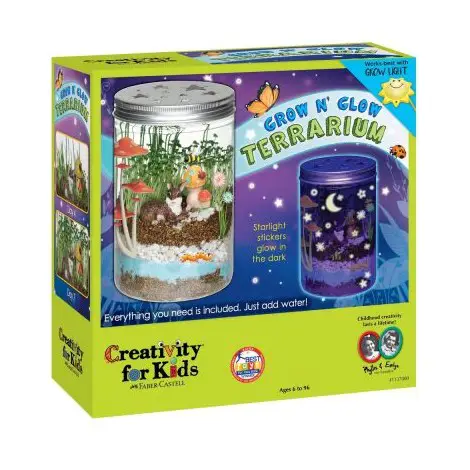 This innovative terrarium kit is an ideal way to encourage and start kids on a rewarding horticultural path. The kits come in three variations; sparkle 'n' grow butterfly terrarium, grow 'n' glow terrarium and an aquarium terrarium – so there should be one kit that suits most kids. The kits come complete with everything that is required for the budding gardener to get introduced to the green pleasures in life. It has a lidded jar, potting mix, seeds, figurines and more for an easy start.
Functional
The small but handy sized jar is easy to get growing with full instructions for setting up, growing and maintaining the terrarium. The addition of glow in the dark stickers adds that bit of magic to increase and hold a kids imagination.
Educational
The kit is practical, fun and educational. Not only does it give kids a taste of the life of plants, but allows knowledge foundations for ecosystems that the terrarium needs to survive. And the maintenance aspect is a good opportunity to show the real workings of growing.
Cost and Value
Based on the full benefits this creativity kit provides for kids both young and old, including the great features of having all the components to set up, the educational value is a real bonus too. Overall this product is great on both cost and value and worth the money.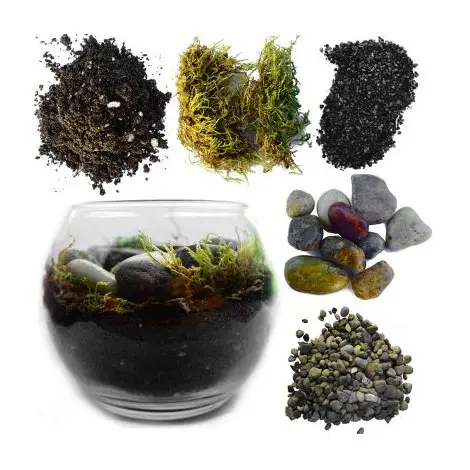 The Terra Green Creation kit arrives complete and ready to go with comprehensive instructions to help get started. It includes globe, soil, stones, charcoal and moss needed to plant and nurture. The glass globe is four inches high and five inches wide so provides a petite but manageable starter for the would-be gardener. The open-topped globe allows easy access to prepare, construct, and plant, another bonus is the easy maintenance that is also offered with this feature.
Versatile
The globes are available in small, medium and large sizes so enable multiple creations and a wider choice of different plants for a more stylish effect. The compact sizes allow them to be situated almost anywhere so if space is limited there are options for some of the outside inside.
Practical
The complete kit has full and easy to understand instructions, so it is good for any level of user. The kit has educational value too because it helps to learn about independent ecosystems and answers the how does it grow question that is often asked.
Cost and Value
The Terra Green Creation kit has everything included within it to start a terrarium when considering this aspect and combining that with the knowledge base and educational value it has to offer – it is nicely balanced on both cost and value and is excellent value for money.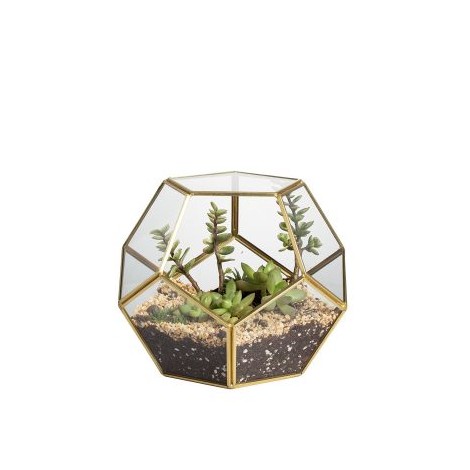 This beautifully styled terrarium is suitable for practically any space where a touch of the outside is desired, the geometric design is fashioned in glass and has a frame that is available in a choice of colors; gold, black, and silver. There is also an option to purchase the same but with gold feet and a door so there is versatility in choice and it can either be an open terrarium or closed terrarium depending on what plants are chosen. It is a perfect size to brighten up any dull desk or interior and won't take up too much room.
Stylish
The geometric design is made up of ultra clear sodium glass and is joined by a complementary frame that will serve as an attractive display in any setting. The choice of frame colors gives the terrarium the complimentary pleasure of a bit of the outside on the inside.
Decorative
Not only is this terrarium stylish, but the decorative aspect can make an ideal centerpiece or gift, the versatility it offers means that it can be used for a wide variety of plants, or even could be used to display fragile and precious personal effects.
Cost and Value
This NCYP Brass Glass terrarium is reasonably priced when considering the versatility it offers and the beautiful glass and brass effect framework. Both cost and value are well represented and the money spent on this product will be money well spent.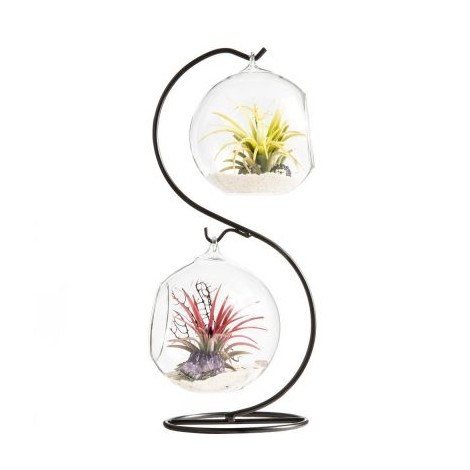 The Mkono Glass Vase is available as a set of two globes and comes complete with a metal stand capable of holding both globes to maximize decoration. The glass is hand blown and crystal clear and each globe has a suitably sized opening that is easily accessed to fill, plant and maintain the interior. The hanging loops are blown at the same time so there is less possibility of them fracturing on a sealed joint. The metal stand is set in an attractive 'S' shape and when two globes are hung together, the display is both attractive and compliments ant space.
Tough
The high-quality borosilicate glass boasts being tough, durable, drought resistant and allows full light penetration, as well as this the globes, proffer to be water resistant which may reduce spills of soil and water, and as a bonus- the glass will not flex or bend and is resistant to corrosion.
Compact
The overall size of the Mkono glass vase set is; the globes are four and three-quarter inches in diameter and they have a two and a half inch opening. The stand is a neat thirteen inches tall and easily, and comfortably holds and supports the two globes in a stable manner.
Cost and Value
The Mkono glass vase set is offered at a reasonable price and represents both great value and good economy, the availability of the two globes and the stand in one kit improves this further, both cost and value are equally adequate for the product on offer.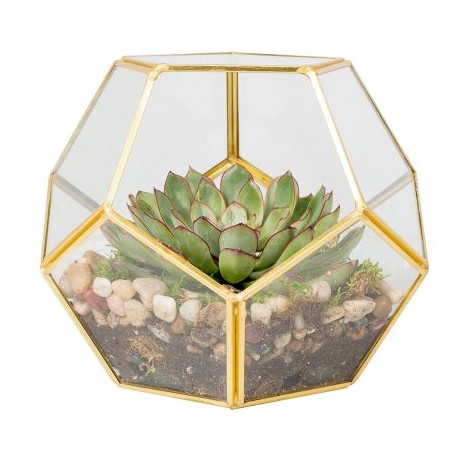 These beautifully designed and stylish terrariums come in a variety of shapes; sphere, teardrop, pyramid, hinged and tall. They are intended for air plants and succulents like cacti and are ready assembled and ready to go. The edges of these terrariums are welded and have gold brass enhancements to improve the decorative style. The units have a wide opening and have ample room for stones, charcoal, and soil to home a variety of small pleasing and easy care plants.
Practical
The smaller styles are better for areas with little space or can be brought together to create an alternative cluster of complimenting plant varieties. They are good for planting moss as well as cacti and air plants and benefit from being appealing when varied styles are together.
Stylish
The weight of this terrarium is a mere one pound, so no need for major concerns if the only space available is a shelf or other light piece of furniture, the modern geodesic design is both refreshingly contemporary and creates a bit of outside inside to brighten any room.
Cost and Value
The Deco Glass terrarium is offered as an accent feature that is beautifully designed with scope for creating fresh ideas, the practicality of the sizes and construction balance both cost and value and ensure these terrariums are a good value for money.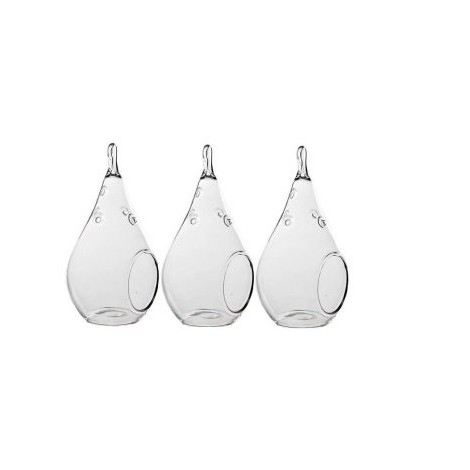 The Glass Home Gardens terrariums come in a practical set of three teardrop glass planters that allow for endless creativity and stylish displays of either terrarium plants or even precious personal objects. The teardrops are five and a half inches tall and have the hanging loop attachments for ease of use, they are three inches in diameter and have the benefit of a one point seven five inch opening to allow for easy access whilst building, planting and maintaining. The clear glass teardrop allows maximum light with proffers to assist in a healthy and productive terrarium.
Versatile
The added beauty of these teardrops coming in a set of three is the overall effect that can be created by varying the contents in each one when they are planted differently but with complimentary plants, the result can improve any space.
Compact
The teardrops are compact and this gives great and endless possibilities for decorative hanging options, the sets are light enough to be hung even with fishing wire for a special floating effect, and when they are hung together they can be a welcome distraction from dull interiors.
Cost and Value
The creative design of these teardrop terrariums is well represented with both cost and value, the multiuse and versatility they offer ensures that money spent on these terrariums is money well spent.

Subscribe to our Newsletter