Best Railing Planters Reviewed & Rated for Aesthetics
In a Hurry? Editors choice: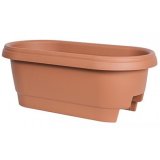 Test Winner: Bloem

Nothing's ever quite perfect. sometimes we get the perfect house, a large living room, nice kitchen, great bedrooms, and even a balcony- but no yard to speak of, and that means, no garden. But don't despair, whether it is flowers or home-grown food we want, there is a way to have that perfect home and the garden to go with it? That is why someone came along and invented the planters for your balcony railing. To help you assure that flowers or food have a great place to grow, we here at Gearhunt took the time to look for the ten best railing planters out on the market today. We're sure you'll find exactly what you need in this list.
Standout Picks
Criteria Used for Evaluation
Size
Secondly, the size of the pot or liner it can hold. While you may not need an oversized pot, nor desire a longer liner, you are likely looking for something that can hold more than a dandelion or two. Size makes a difference. In a similar line of thought, we do not want to be looking to plant or flower or food and find out that what we bought is only designed to hold a pot, but the pot is sold separately. That is not what we consider a "railing planter", that is just a shelf for holding things!
Ease of Use
Well first and foremost, where can it be properly used? Certain railing planters are built to hang on all types of rails, others require you to bolt them down somehow. There are even a few that require the railing to be a certain length and width. We suggest you look at the requirements for utilizing the planter of your choice. All of the planters we chose are easy to install and use.
Durability
Lastly, we consider just how much whether they can take before needing to be repaired or replaced. Obviously, when you are purchasing any type of outdoor planters you want them to be able to handle thunderstorm, downpours and heavy wind. You also want to know that a lot of heat or cold won't cause cracking in the merchandise. We chose the planters that were the most tolerable to changes in weather. If you are considering purchasing a planter that simply sits on a flat surface, moving them from the railing to the ground would be the best option for any type of heavy weather. If you do not have the planter outdoors, such as on a porch or patio, and do not have a place to set it on the ground or floor level, a flat sitting planter may not be the best choice.
Application
When choosing a planter one of the biggest things to consider is what type of plant you are looking for, and the second is where it can easily be placed. These two thoughts come hand in hand when truly thought out because some plants are heavier and/or larger and so smaller, lighter hanging style planters can't hold them. Instead, you would need the type of planters, and space, to set them on solid ground. There are many styles out there, and those on our list are the kinds that are usually best for those with patios or who live in apartments that have balcony's they can be set or hung from.
If you are looking for something to grow larger edible plants from, you might want to use the types of large containers that are sturdy and can be set on the ground. A hanging planter, even one made of metal that can be hung from a railing, might not be able to hold the weight of growing fruit or vegetables. Some of the smaller vegetables can be grown in solid planters that are large box-like containers which can either be set on wide, long banisters or on the ground, but even then, you will need to be sure the planter is designed to grow edible food in.
Due to the vast number of styles and looks a planter can be found in, they are versatile ways to add more décor to your apartment or home along with the plants you put in them Often they are also designed with ease of use in mind and have one or more holes in the bottom to allow drain and aeration so the plant lives longer and grows fuller.
Value
Whenever you purchase a product this is truly the first thing on your mind, whether you realize it or not, and it is always one of the first things we look at when supplying our top ten lists. The reason for this is to assure that the products we are suggesting are actually worth every penny if not more than what you are spending on the item. No one, including us, wants to buy something we are going to have to replace within days, and especially not the day, of receiving the merchandise. We want to know it will both fit our needs and supply a long-term use if taken care of and used as intended.
With products like these, it can mean the difference between a small garden that works, a useless or broken pile of pottery that just sits around and costs endless amounts of space or money to get what you wanted when you bought it. So, what makes a railing planter worth your money to us?
Bottom Line
Some planters are made for the use of flowers and decoration only, while others are intended to be used for both décor and edibles. We tried to make sure the majority of these planters can be used for any type of garden. When choosing which one you want to purchase, make sure that it is able to handle the plant you are considering putting in it.
10 Best Railing Planters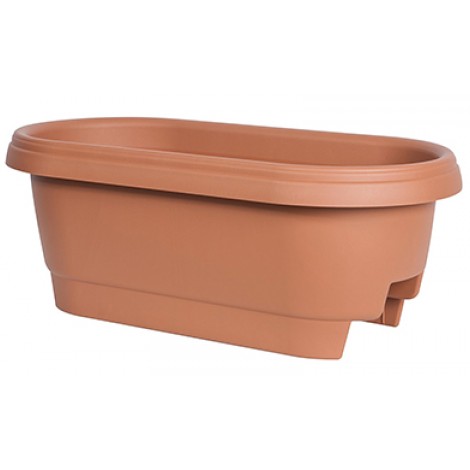 Anyone who appreciates having a small herb garden on their patio or deck will certainly appreciate these. We looked high and low to find the best of the best and Bloem has certainly outdone its self with these planters. All you have to do is read below to see what we found.
Drill your own irrigation
A lot of the planters we found came with the drainage holes already pre-drilled which is great for a lot of people but for those of us that live in apartments or want to use our planters indoors that doesn't really jive. We really liked having the option to drill our own drainage in these, so we could control exactly where the water would be pouring out. Much less likely to have those accidents that cause puddles or pour over onto your kitchen floor.
Comes with bolts
Most planters we looked at were to be mainly used in a rail box. Well, these beauties can be fitted into a rail then bolted down to secure the planters. That was when you have a storm with some wind you won't have to wave at your plants as they do their best kite impression or worse land on a neighbour's head.
Cost and Value
These are some of the best we found size wise. They are able to contain several plants without the worry of the roots strangling and as long as you drill the drainage holes as needed no fear of root rot. Cost wise they are well within acceptable range and seem very durable unlike some. We think overall as long as you pay attention to placement you would be very happy with these on your deck.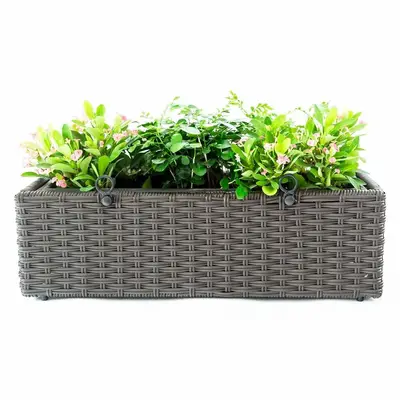 Designed for experienced planters and those that are interested in creating a solid garden filled with beautiful flowers or vegetables without having to have a full outdoor garden. This planter by C-Hopetree features a free-standing design allows you to have the ability to place your planter anywhere including; mounted on a wall, hanging from your railing, or simply having them free-standing anywhere outdoors. Having this quality allows you to be versatile with what you plant and what time of year you do so- a win-win for those that want to plant a little bit of everything.
Lightweight
Measuring at approximately 21 inches in width,9 inches in diameter, and 7 inches in height and constructed with a strong powder coated steel frame that has been woven with weather-resistant wicker to create a sturdy, yet lightweight planter that makes it easy to transport in different areas of your home. Additionally, it has protective silicone feet for extra support and stability outdoors.
Multiple Options
As stated above, this is a multipurpose planter. Therefore, you can plant different flowers, plants or even vegetables. Furthermore, you have the option of selecting how many planters you would like displayed at once. You have the option of choosing 1 pot, 3 pots or a half-round selection. Due to having the different options you could choose to mix and match your planters to create an indoor or outdoor garden of your dreams.
Cost and Value
This specific railing planter comes with 3 different options to choose from; therefore, pricing will change depending on your selection. However, the price point is pretty mid-range, there are more cost-effective selections on our guide, but they do not offer the versatility this planter does.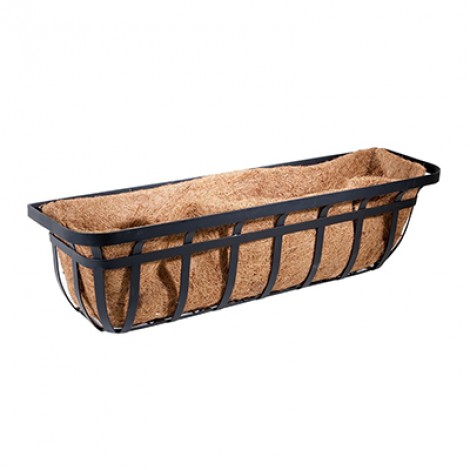 We looked at a lot of different repositories for our plants and this was one we thought was unique. If you like the black metal old-school look, this is a great place to start. These have a great finished look away from the plastic typical boxes most manufacturers produce.
Size options
Most of the containers we found were only available in one size. Panacea, however, has created various sizes from thirty inches to forty-eight inches all powder coated in a nice black color. It's very nice for various plants and flowers or even herbs. If you are looking for the perfect decorative addition to your balcony or sill this is a great investment.
Material
Almost every plant vessel we came across was made of plastic. A durable well-made plastic but plastic none-the-less. We were really appreciative of the steel frame this one was made off, and the coconut skin that you get with it to line the bottom. This allows the water to seep out when overfull preventing root rot and the need to drill holes.
Cost and Value
At number two on our list, we thought this was a great purchase. The price is not horribly high, and the classic look works with most houses. They can be mounted either to the railing or to the house its self which is a nice touch. This vessel is a great value on the whole and we think you will get a lot of enjoyment from it.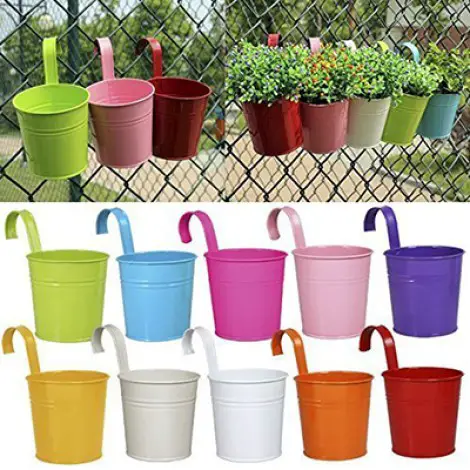 As you are surely aware if you read our reviews we are fond of having options be it color or style when it comes to the items we are looking at. What we found when checking out this particular set of vessels more than met our hopes and expectations. Not only are they good at what they are designed for, but they can be used for other things as well.
Colours
These pots are available in ten different colours. If you are someone that apricates having a rainbow in your house, garden, or hanging on your fence these are a great option. They are a bit smaller than most planters, but they have so many great uses we are willing to overlook it. You can order them by colour or in multi-coloured groups so if there are only a few colours you are looking for you can get them that way and maintain a certain colour in your décor.
Size
We found that a lot of the options under this category come in larger sizes. If you are looking to plant taller vegetables or flowers you may want to look at the deeper planters but for herbs or small decorative flowers, these are top notch. Not only that but because of their smaller size they are great to use in the house as well. Hang them over a headboard for that budding artist to keep their supplies or remove the handle and set them on an interior window sill to keep your herbs close.
Cost and Value
The fact that you can get ten of these for less than what you would pay for most single planters we think this is a heck of a deal. Yes, they are smaller and not really meant for the taller or large bush style plants, but we were able to find so many uses for these that we didn't even care about the size. A couple of our people found them especially great for a rock style planter with succulent style plants or as a desk holder for their bric-a-brac. Whatever you use them for they are a great buy and a nice colourful item.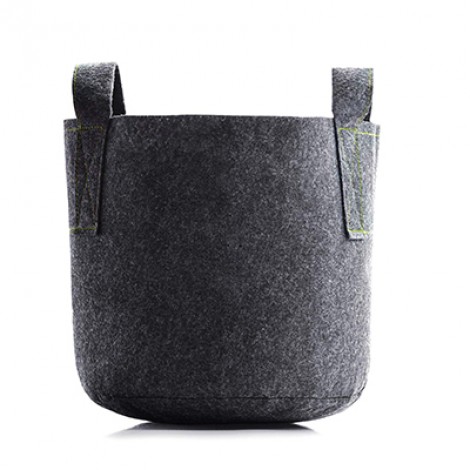 When we found these, we weren't sure what to think. After all railing planters are as a rule made out of solid materials that require mounting and drilling and very often upkeep. These were a unique find and considering what all we put them through we think you will enjoy the benefits of having a substantial potting option and interesting look to go with it.
Soft Breathable material
Unlike a lot of the caissons we have on this list these are not the standard. They are made of a soft felt like material that allows the roots of your plants to breathe and any excess water to drain without the need for drilling holes. This also makes them easy to store and when not in use you can flatten and fold them into almost any cabinet. These plant purses certainly seem to provide just the right kind of support for the plants you want to keep close at hand.
Handles
Pretty much every planting container we have listed on here is a hard substance that isn't meant to be moved one planted. These are not like the others in that they are not only made of the soft material we spoke of above, but the larger pouches have handles already attached. This makes it very easy to move them about if you want them to get more light or even to bring them inside once it starts to get chilly. A very nice addition to our mind.
Cost and Value
These range from one gallon up to twenty-five gallons and in one or five packs. The price even for the largest in size and number are well within our midrange for the cost. A lot of these kinds of products are either pricey or their quality is not the best. These seemed able to take everything we threw at them without any struggle. Some of our people even used them during the off season to carry things around or store other gardening supplies. If the idea of that doesn't interest you there is always the choice to fold them up and stash them away until needed again. They seem durable which is always a plus and since they are felt you could even decorate them easily with patches or fabric paint for an added touch. Well worth the cost of admission in our eyes, these bags are hard to beat.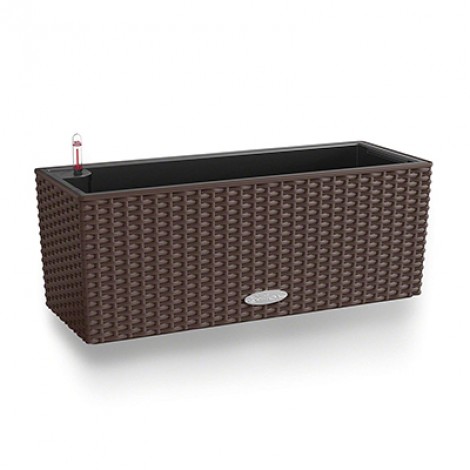 We found this to be another unique option when it came to a decorative planter box. This had an interesting water filtration system that prevents some of the common issues we tended to have when it came to boxes of similar style. If you think something like this might be for you and you like a wicker styled look check out what we had to say below.
Self-Watering system
This product applies an inorganic granulate compound system for draining and maintaining your water supply to any plants you wish to use them for. You put the liner inside the box as directed and add in the granulate then the potting soil. There is a water indicator that will let you know exactly where the moisture levels are and whether or not you need to add any. The best thing iplant's once your plants roots reach the water supply the reservoir will let you know if you need to refill or if you are in a region that had a lot of annual rain you can drain it by removing the bottom plug if needed.

Made of UV resistant plastic
The plastic used to make these containers is a really nice material on its own but its also coated with a UV-resistant material that will keep them from fading. A lot of the time we found that after that initial season particularly in sun heavy regions lost that beautiful finish. That was not the case with these boxes however and we were very happy with the way the look held up whether used inside or out.
Cost and Value
While these may end up on the high end of the price scale we feel that for the correct consumer they are a great asset. We wouldn't suggest them as much for veggies as they seem to be better for flowers in our opinion. That said you can absolutely use them for anything you choose, just keep in mind that a self-watering system like this may not be that great for something that needs a dryer atmosphere. Overall these are an attractive option when looking at planters and although they may not be for everyone they would make someone more interested in beautification very happy.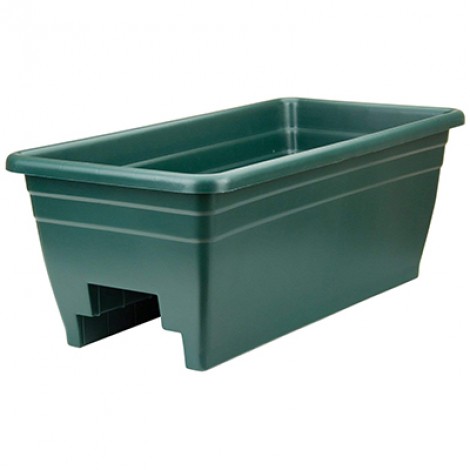 If you are looking for something that can be used either as a railing planter or as a simple planting box this may be what you are looking for. Akro Mils manages to create the best of the basic in both form and function. For those of us that want to keep with the tried and true look and use these are your best choice. Don't just take our word for it though, read below and see what our people had to say.
Durable
While there are several options out there when it comes to this kind of thing, Akro Mils seems to take their product more seriously than some. The thick green plastic can take quite some use and abuse and still manage to come out for the following season. You may have to drill your own drain holes, but we find that better anyway as not all placement is the same and we don't want to upset the downstairs neighbor when living in a condo or apartment
Green Color
We can appreciate as we have often stated the choices that come with more colorful decisions. Some of us though seemed to prefer the focus to be on the flowers in the box as opposed to the box itself as decoration. The green color of this ewer allows you to use it even as a standing box in the yard where it can blend in with your lawn instead of standing out like some. Some people appreciate that pop of color but for the ones that don't this is a good choice.
Cost and Value
We found this particular repository to be on the higher medium range price wise. It lacks some of the nifty options of its competition, but we didn't find a shortage of people who liked the way this can blend in when used appropriately. Durability is another nice feature and there is no risk of rust eating away at your plants either. Although this may not be ideal for some consumers if you do just a bit of research on your own you may find this to be just what you are looking for.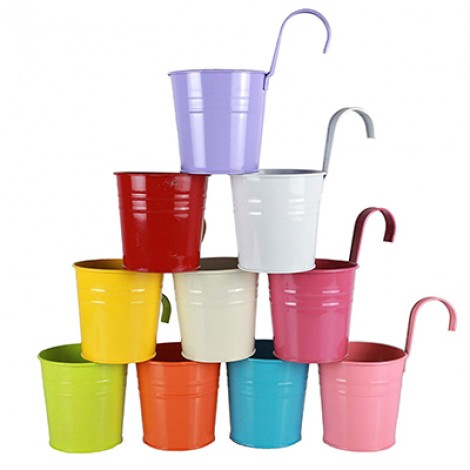 These little beauties are a lovely way to add some colour and cuteness to any area you deem appropriate. Good for various uses they would be decidedly useful for any number of operations. Inside or outside we are sure you can find a reason to make these a part of your collection.
Pre-existing hooks
We just loved the fact that these cute little kettles have hooks already attached and ready to go. You can hang them almost anywhere be it on a fence or lattice. They are small enough not to take up too much space and leave an area crowded which is also a nice touch.
Ten Pack
Based on the size of these small receptacles you wouldn't think they would be great at what they do but they are. All ten of them come in individual and different colours which is nice. It seems like a pretty way to spruce up just about any area you want to add colour too. The choices you are given with all ten of these at your disposal is almost unlimited and they are tough enough to use any number of ways even if you aren't prone to wanting flowers around.
Cost and Value
The cost of these pots is well placed when you consider how many you get in an order. Beautiful for a cosmetic touch of colour or to be used to gentrify a garden. We even liked using them to hold things on our desks without spending a fortune at an office supply store. We enjoyed adding some pebbles and planting a pretty cactus in it and it held up wonderfully. Overall this is a nice purchase for a pretty set of vessels.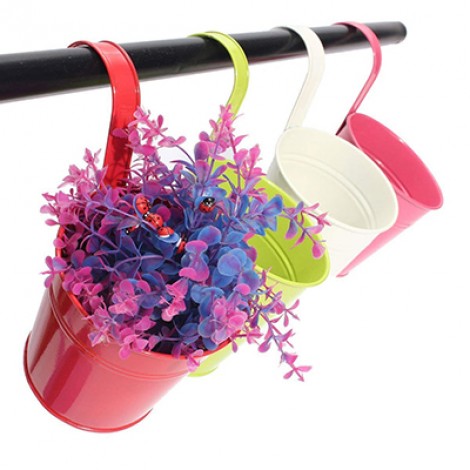 We know that these particular planters may look a lot like some of the other pots we have listed on here, but, trust us, there are some differences. Some have to do with the suggested use and some have to do with the cosmetic appearance but believe us they are worth checking out. If you want to see why just read below and decide for yourself.
Material options
Unlike some this particular brand not only had colour options but material as well. These pretty little chambers are available in metal or in plastic based off of your need. There are a variety of colour choices in both but if you would rather keep that metal look for outside and the softer plastic for inside you now have that option. These are also available in black which is a nice touch from the typical slate grey colour.
Number per order
You can order these in eight, ten, or twelve-piece sets. We found a lot of people would rather have several small decorative flowers or herbs as opposed to one or two larger ones. Now that said if you are looking to plant one tree these aren't for you, but darn near anything else can be worked around and that is saying something.
Cost and Value
While these are not the lowest on our list price wise they are not overly expensive. The options provided by the manufacturer, when it comes to make and colour, are nice and not everyone wants to put large flower boxes out. These are just the right size to hang up on a fence or wall for a touch of colour, and we really enjoyed having them at the kitchen window for fresh herbs at our fingertips. Overall these are a nice little hamper for a small decorative bunch of flowers or even succulents for inside the house. Keep in mind not every product is correct for every consumer, but we just loved these and we think you will too.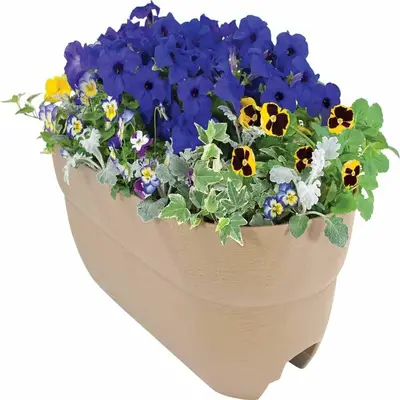 This specific railing planter comes with 3 different options to choose from; therefore, pricing will change depending on your selection. However, the price point is pretty mid-range, there are more cost-effective selections on our guide, but they do not offer the versatility this planter does.
Multi-Functional
No need to select what plant or vegetable you would like to have this planter is versatile enough that you can plant as much or as little as you would like. Additionally, there is the option of placing your planter anywhere you would like. They fit railings sized at about 1.25 inches or 3.875 inches wide this is almost twice the size other planters offer. Measuring at 24 inches lengthwise it can take about twice that amount in plants, flowers or vegetables.
Durable
When selecting a railing planter, you want to make sure you find one that will withstand the weather outdoors, particularly if you will mainly use it for growing your produce outside. This one is constructed out of durable, weatherproof resin that can take as much heat as possible without cracking. Additionally, it can withstand other temperature conditions through the four seasons.
Cost and Value
This railing planter is very affordable, you're getting a quality product that is perfect for those that are pros at gardening yet makes it easy for those that are just beginning to enjoy the beauty of nature. You might even want to consider purchasing multiple of these plants to create the perfect indoor or outdoor garden.

Subscribe to our Newsletter