Best Kiddie Pools Reviewed & Rated
In a Hurry? Editors choice: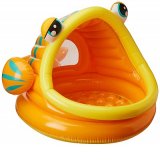 Test Winner: Intex Lazy Fish

Summer usually arrives before we are all prepared for it, and all too often we are caught off guard by the sudden wave of heat chasing us indoors to find cooler temps. When you don't want to have to run to the beach or pay the heavy seasonal price for an indoor swimming pool for the kids to be active, a great and often cheap solution is to purchase a kiddie pool for the kiddos to enjoy.

Keeping everyone in mind, from the beach-loving parent with a small bundle to the stay at home parent who wants to have a place outdoors where the kids can stay cool and play, we have constructed the top ten kiddie pools for your summer enjoyment.
Standout Picks
Criteria Used for Evaluation
Fit
One of the biggest concerns most parents have when choosing a kiddie pool is where they are going to store it when it isn't being used. This is very important for any family who has a smaller home and yard with no additional garage. We tried to make sure all of the products on our list were easy to store, but there were a few that were simply too good to not add to this list.
When it did claim to be easy to store, we wanted to know how and where, so we looked around at other buyers and sites to see if we could find that out for you. Most of these pools, when taken apart, are small enough to fit in a carrying case, but all those listed that can be taken down and folded up can be stored easily in a closet. This makes life a lot easier for any family who wants to keep a pool around for more than one year.
Durability
Of course, when you pay for anything, you want to know how long it will last, and so do we. The durability of the material is an important factor when considering a kiddie pool because it's there to hold water, so a small tear can make the pool useless. While some of the products on this list had material that ripped under high amounts of abuse (we read a lot to see what exactly could have caused tears) all of the pools, when used correctly, were very durable and lasted the family months if not years of use, making the product well worth purchasing.
Safety Hazards
We all want to keep our kids safe, indoors and out. Many people misuse the pools for other things and we wanted to make sure that the company approved of the uses being applied before taking any information that was said to heart. Several of these pools were listed for both indoor and outdoor use, either as a pool for water or as a play area such as a ball pit. They were safe in both instances and durable enough to handle both.
Another safety concern we had was if the pools were appropriate for certain age groups. Some pools are simply not meant to be used for older kids, and others are not meant for younger toddlers. We have listed either in their overall information or in the pros and cons when a pool is intended for a certain age group. We also wanted to make sure that with some of the larger pools we listed the dimensions when going over them.
We listed a couple of baby pools as well, and with these, we wanted to consider just how much safety these supplied, and what they were intended to supply. While they covered a lot of ground, we suggest further research to help you decide which shaded pool is best specifically for you. We try to supply all you need information wise, but there are always personal concerns in each region due to temperature and wildlife as well as other weather issues.
Value
We don't just look at the price, we also look at how well a product holds up under pressure. When we find what we need to know we are quick to put it out there for you to help you decide if what we have listed will help you in the buying process. If we have missed something, feel free to use the same principles and apply them to any other pool you may decide to take a look over. We can, however, let you know that we feel our top ten already has the pool that would be your perfect fit, both in the quality of it's make and the cost.
BEST KIDDIE POOLS REVIEWED & RATED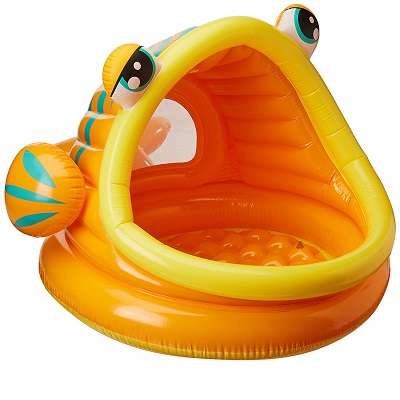 Intex is a well-known and trusted company as stated in the number one product, and this is yet another example of their great craftsmanship. This pool is perfect for babies and toddlers and can serve as either a pool or indoor ball pit.
Shade for the little one
With its fishy roof, it even helps to protect a little one's sensitive skin from the sun, allowing them to play outdoors and not worry about the sun as much. While you should never leave a baby alone even in your own front yard, the ability to set the little one down in a shaded pool for fun is a definite bonus vs. having to hover over and try to keep up on shade manually.
Multiple uses
This cute fish makes for a great ball pit as much as it does a small kiddie pool. Its dimensions are suited for indoor playtime and outdoor use so that play time doesn't need to stop when the season changes. Having multiple play styles for a child's entertainment is always a plus!
Cost and Value
Where you might think its fun design is going to cost you, happily the fish doesn't cost more than most other pools of similar variety's and in some cases it still costs less. The value doesn't go down either, as is true with any Intex product, you can trust quality is a top priority.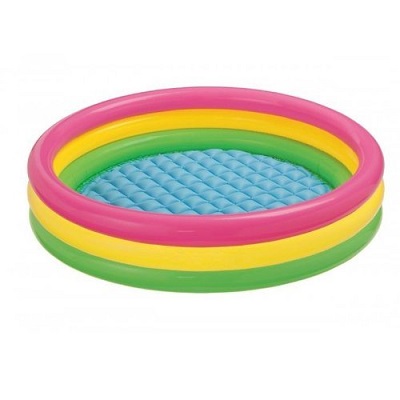 Looking for both affordable and easy to handle for a small living space? Intex has the solution for you in their Sunset Glow Baby Pool. Get ready for a fun summer and easy winter with your little one!
No hassle storage
One of the key features for any parent looking to purchase a kiddie pool is size and storage. You want the pool to be big enough for your child to have fun in, but not hard to put it away when it's done. With this inflatable pool, you get both! Easy to take down and fold up for a small closet and not too big to take out even on cold days and load up with balls for fun indoors, while still beg enough to fit two toddlers easily for fun in the sun playtime.

Just a little rough
Worried the little one might deflate the pool early? Intex thought of that possibility for you as well and sends their pool out to you with a repair patch just for the little ones who have to taste everything!
Cost and Value
When looking for a great value at a great price, you won't find a better purchase. With a trusted and known company like Intex, you can have the peace of mind that even at the cheapest item on the list, you will get the support and value of the best pools available.

3

. Banzai Sprinkle and Splash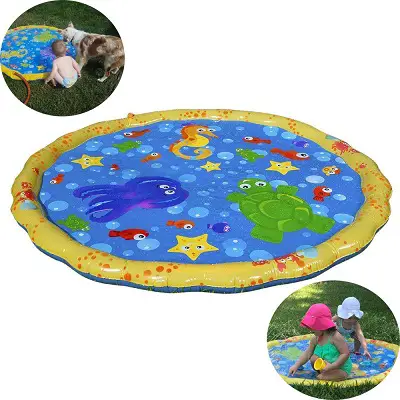 Tired of the setup time for a traditional inflatable kiddie pool, but still want easy storage? The Alanya Sprinkle and Splash Play Mat serve as a shallow pool and sprinkler that 'inflates' without all the extra effort!
Water is Better
Most inflatable kiddie pools require you to blow them up, either with a pump or via the old-fashioned balloon method. Alanya Sprinkle and Splash Playmat introduce a new method of setting up your pool, simply fill it up! The sides of the mat lift up as water fills them underneath and makes for an easy shallow pool to sit in, while the sprinklers add an extra feature of added water fun!
Satisfaction guaranteed!
While most pools are only guaranteed for the first month or two after purchase, the Anya Sinkle and Splash Play Mat offer a full year money back guarantee! If you aren't satisfied or your product has issues, you have a full year to return it for another one, or simply get your money back!
Cost and Value
While this may seem a bit repetitive, stressing the fact that this is the only pool on our list that offers one year to be sure you're satisfied with what you received just seems important. Add on top of this that the Alanya Sprinkle and Splash Play Mat isn't expensive, to begin with (is, in fact, one of the lowest costings) and yet offers a full built-in sprinkler system, makes it's cost to value that much more impressive!!

4

. Intex Swim Center Paradise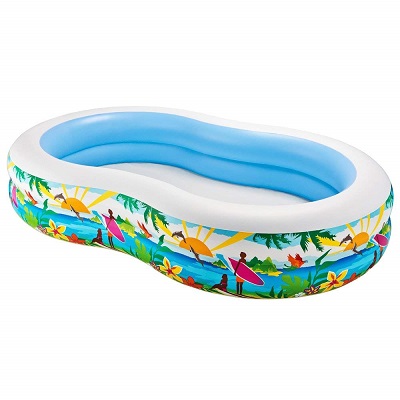 With inflatable kiddie pools, you are often giving up a good size for the ability to store it during the winter easily. With this pool, brought to you again by the trusted company Intex, you get both.
Great size!
Making enough room for two toddlers or young children to play easily is often the hardest part about selecting a good Kiddie page. You don't want to leave someone out, so you just keep looking and hoping you find something big enough. Well, now you don't have to! Intex Swim Center P103-inch offers a 103 inch length, a 63 inch width and an 18 inch depth for your kids to enjoy!
Easy storage!
With its larger room capacity, you might think that the Intel Swim Center Paradise will not fit easily in a small space for storage. Thankfully this pool still allows for small space storage when not in use. So enjoy a larger inflatable pool with the same comfort as the smaller ones!
Cost and value
We cannot say it enough: Intex offers a great product for a very reasonable cost! This shows in the fact that even their larger pool comes with about the same price tag as most smaller pools! Comfort, quality and ease of use, who could ask for more out of their product?

5

. Step2 Play and Shade Pool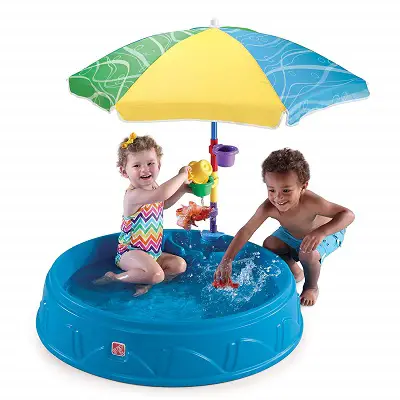 Want more than your average bundle when choosing a pool? Start out your summer right with the Step 2 Deluxe Pack Swimming Pool. This Step2 product comes complete with a small hard plastic swimming pool, the umbrella for shade, water cups, and toys!
Extra's!
The Step2 Deluxe Pack Swimming Pool offers your child hours of playtime fun with 2 built-in seats, an umbrella for shade with 3 water funnel cups, and a water spinning wheel for your child to enjoy. With all the activity an indoor toddler table can give and the added traction for standing while they play, this is perfect for any family with younger children
Durable material
If your concern is how long the toy will last, then you have the right product for your purchase right here. Made with heavier plastics, the Step2 Delux Pack is sure to survive your rough and tumble toddler better than most kiddie pools. With a company, most parents have come to love and trust, you can be assured that good quality is what you are getting.
Cost and Value
Step2 is a company that has been around for a while and knows what they are doing when building quality toys for younger children. While a little more on the expensive side when compared to other pools on this list, there is little that outlasts this brand, and with all the add-ons, you may want to consider just how much more play time you will get out of this pool set.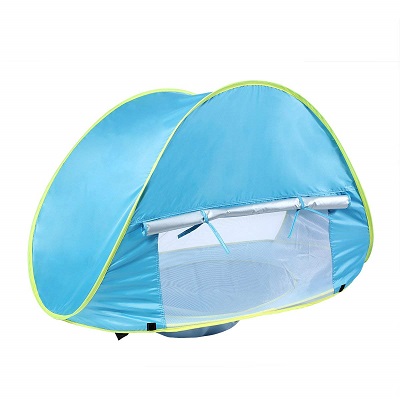 This is the perfect choice for a child under 2 years old. Built with a baby in mind, this pool is meant for use at the beach to allow a better, safer vacationing experience for both child and parent. When considering days on the beach, consider the Mono Baby Beach Tent for your little one!
Who needs an umbrella?
With the Mono Baby Beach tent, you get a built-in pop-up tent shade to use to help keep baby safe from the hot sun rays and keep the little one cook while they play. The shallow pool area allows for a much safer place for your little one to enjoy the water as well. A trip to the beach can still be fun, letting the baby be easily watched and play while you sit nearby!
That was fast!
The Mono Baby Beach tent also offers an auto pop up feature that makes setting up quick and easy. Allowing mommy to set up in only a few moments and both mommy and baby to get started with their fun in the sun quickly!
Cost and Value
In all truth, this baby pool for the beach isn't much more expensive than the rest of the pools on our list and the Mono Baby Beach Tent allows for a peace of mind on the beach where a normal at home Kiddie pool wouldn't. When you want to vacation during your summer and actually leave home, there are no dollar signs to match the comfort and ease of mind in knowing that your baby is safely next to you.

7

. Sunba Youth Baby Beach Tent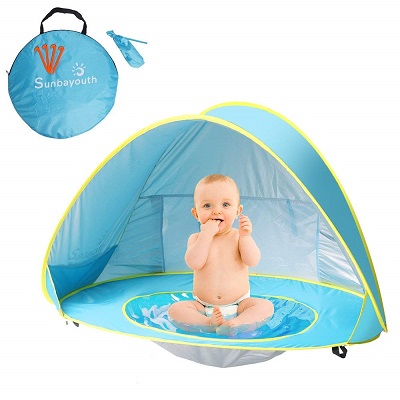 Want both the tent and extra UV protection to go with your baby's beach tent play time? Grab a Sunba Baby Beach Tent and discover quality and coverage for your little ones play time at the beach.
Protection in the sun
The Sunba Baby Beach Tent doesn't just offer your typical shade, its built-in top offers 50+UPF protection with its special lining to give your little one that extra little bit of coverage from the suns harmful rays. It keeps your child cooler and safer which can't be matched with most other pools like it.
Portable!
Take the Sunba Baby Beach Tent with you easily on vacation, using its carry-along case! Allowing for easy storage and the ability to slide it into a medium or large suitcase with ease the Sunba Baby Beach tent makes a vacation easy. With its carry-along case, it can also be taken on the quick beach trip as well, making it even easier on the mobile mommy.
Cost and Value
Comparatively, the Sunba Baby Beach Tent gives you a great deal for less than the main brands. With the added securities in the roof and the fact, your baby can sit next to you on the beach while still enjoying the water is something you just can't put a dollar sign on.

8

. Mickey Mouse Clubhouse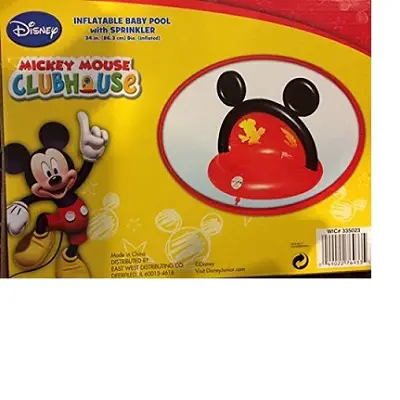 Mi-ska Mou-ska, Mickey Mouse! Fun in the sun doesn't have to be without your child's favorite character anymore with the Micky Mouse Clubhouse Inflatable Baby Pool. Bring in the fun with this pool for the summer and year-round!
Enjoy shade!
Mickey offers a shade roof connected to the pool itself to give baby protection from the sun while enjoying the water. Add a little less worry to your routine with playing in the water and give a boost to baby's sun lotion by keeping most of the rays off your little one under the inflatable connected shelter of his/her new swimmer's clubhouse.
Sprinkles!!
Even a young toddler can enjoy sitting in Mickey Mouse Clubhouse Inflatable Baby Pool with its built-in sprinkler! Now it's twice as much fun and twice as cool with the shade, sitting pool and water that rains down to keep everything equally wet!
Cost and Value
While a little more expensive than some of the baby/toddler inflatable pools on this list, the real value comes from knowing there is reduced chance of bad burns. Add in that the pool isn't just a pool but also has a built-in sprinkler and it can be noted that this is truly a two in one package. Overall this pool definitely is worth it's slightly higher price.

9

. Bestway Rectangular Splash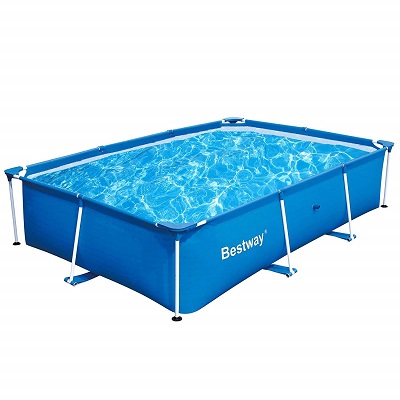 With all the kiddie pools available being best suited for small bodies, having one for bigger kids that even adults can enjoy is a plus. Bestway Rectangular Splash Frame Kids Swimming Pool offers just that!
Big enough?
Bestway Rectangular Splash Frame Kids Swimming Pool is small enough for kids to enjoy at only 2 feet deep, but large/long and wide enough for adults and larger kids to get in and be covered with enough water to cool off. Not only can your kids enjoy some time in the pool with mom and dad, but with its 94" length and 59" width they can even have several friends come over and still comfortably play in it.
Too big?
Not at all, with its easy drain features and ability to be easily disassembled, this pool is just as easy to store and takes up very little room when not in use. It's perfect for those with a small yard and small home to still have a great size pool and not have to worry about winter time upkeep, or having to climb in and out of the attic to store it.
Cost and Value
For its size and use, not to mention its ability to be easily assembled and disassembled for or during the season, you can't really beat the price. On top of being easily stored it is also durable and allows for multiple seasonal uses giving it that extra bang for your buck. So while it is more expensive than most on our list, if you want a pool that's good for all and still easily stored for return use, the Bestway Rectangular Splash Frame Kids Swimming Pool is just perfect for you.

10

. Bestway H2OGO! Color Wave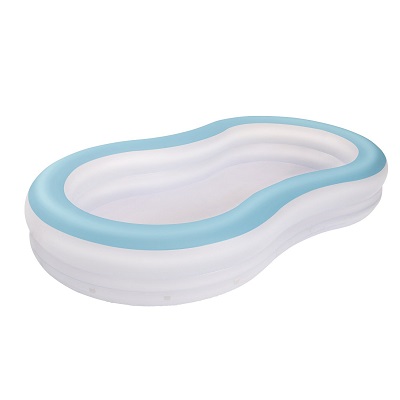 Want something with a little more flare to it? Light up the evening with your new H2OGO! Color Wave Pool. This inflatable pool is sure to light up any kids night!
Lights and Action!
Colorful LED lights are sure to set the stage for a fun and fantastical evening with the H2OGO! Color Wave Play Pool. With its unique design, this pool not only offers great daytime enjoyability in the water but a fun evening time activity for sleepovers. The built-in LED lights in the bottom ring of the pool allow you to enjoy a well-lit swimming pool big enough for an adult to comfortably sit in with their kids.
Great materials
If the LED lights make you uncomfortable and leave you thinking the pool won't last or be able to easily store, think again. The material is durable and the pool still deflates and stores easily in smaller spaces. So, enjoy your kid's slumber parties and help them make a bang with their friends!
Cost and Value
While this is the most expensive buy on our list, it is also the most unique in design. You aren't likely to find another kiddie pool with built-in lights to allow for early evening. If you're looking to avoid the heat all together and still play safely, this is the answer to that dilemma. The value of this pool is both in the fun and in the fact that it is durable enough to get multiple uses without worry.

Subscribe to our Newsletter