Best Garden Hoes Reviewed & Rated for Quality
In a Hurry? Editors choice: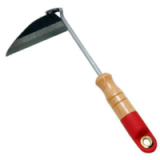 Test Winner: Nejiri

The modest garden hoe. There's more to this blade on a stick than is apparent at first glance. From turning the soil to help with harvesting root vegetables, to taking out the occasional smake these are invaluable tools. Controlling weeds is one of the most important tasks for any and every gardener. They all have their specific purposes, but ultimately, they can have the same results. The difference here is using the right tool for your particular job. Hoes are a well-liked and well used as a gardener's tool. We have focused mostly on long-handled hoes, but short-handled hoes have a place in smaller gardens and are just as important. Each of these hoes listed is an excellent choice.
Standout Picks
Criteria Used for Evaluation
Features
Perhaps the most significant part of a gardening tool is the blade, as it does practically the bulk of the work. The blade material is a critical component of any gardening hoe. Hoes are mostly made of stainless steel or carbon steel material. Ideally, a stainless steel hoe tends to exhibit minimum adherence to the soil. In addition, this material is very easy to clean. Simple wiping clean when done using can help remove dirt off the blade. In addition, stainless steel does not rust. Most people prefer hoes made of stainless steel material because they are tough and take only a few minutes to clean. In addition, the fact that they are rust resistant makes them the ideal hoes for the average homeowner.
In contrast, carbon steel material tends to be tougher and difficult to bend. It does not warp easily. For those who want to go for a tougher material that will withstand long hours of cultivation, they should consider carbon steel material for the blade. It is guaranteed to last for a lifetime while performing everyday heavy-duty tasks.
Heavy soil, grown weeds, and new gardens require a heavy wide-blade garden hoe. The blade material greatly determines the weight of the tool, and the heavier the tool the better the performance on heavy duty tasks.
Advanced Features
Just like the blade material, shaft material also determines the performance of a garden hoe. Wooden handles are somewhat the most popular because of their toughness and ability to absorb impact. In particular, hardwood handles have added strength and are generally more durable.
However, while hardwood material tends to be durable, it can rot if not taken care of properly. Hardwood generally needs to be stored properly to avoid moisture and possible rotting. However, hardwood can often be coated with a protective layer such as boiled linseed oil. This helps to protect the wood from numerous harsh elements.
On the hand, steel handles are generally heavier and add more mass to the gardening hoe. They are durable and will serve you for a long period before being damaged. Aluminum and fiberglass materials are lighter and reduce the overall weight of the tool. A gardening hoe made of any of these materials will allow the gardener to keep using the tool for longer without feelings of weariness.
The length of the handle also has a critical role to play as far as gardening is concerned. Long, sturdy handles are comfortable to work with, as less bending and straining is involved. People with back problems are often advised to consider long-handled hoes when shopping for their gardening tool. In contrast, short handles are more difficult to work with because they involve more bending and straining. In fact, avoid short handles at all cost if you are suffering from any lower back problem. You do not want to keep bending and working in the garden all day long with a sore back.
Unless you are toiling using a hand hoe, your hoe's handle should be about 60 inches in length. In fact, the taller you are the longer the handle should be. This is perhaps why each individual should have his or her own garden hoe to ensure that the handle is a perfect fit. A tool with the right handle length helps to balance the head and handle the weight, thereby preventing you from stooping too much while working.
However, handles can still be bought separately for use with existing rakes. It is generally more cost effective to buy blades and shafts separately, as you can choose what material you need for the shaft and for the blade. If your hoe's handle is broken you can also order the handle separately.
Terrain
Maintenance weeding can be quite taxing. Without the right hoe, it can be difficult to accomplish a task in less time. Wide-bladed hoes work well in open spaces. They also cover a large area in a relatively short period of time. However, they cannot work in limited spaces. Smaller spaces require narrow-bladed hoes to fit into those spaces. Regardless, three-sided hoes are ideal for working in these small spaces, as the narrow sides can be used to access and toil these small spaces. Instead of purchasing a hoe with a wide head and another with a narrow head for working in small spaces, you may opt for three-way sharpened blade hoes to allow you to tilt and use the narrow ends to work in between plants and remove weeds.
Comfort
Digging and weeding is a very monotonous gardening job. If you are working with an uncomfortable tool, the work can get too difficult to handle and might take longer than expected. You could also get easily discouraged with your gardening hobby. In fact, uncomfortable tools can cause your hands to develop blisters and it is nearly impossible to continue working with injuries on the palm of your hands. In this regard, a comfortable grip can help you hold the hoe and dig for several hours without your hands developing sores.
For the gardener who is so much concerned about the comfort that a garden tool provides, it might be useful to go for hoes with cushion end grips. Such tools allow you to use them for a prolonged period of time without feeling fatigued. On the other hand, long-handled hoes can be used while maintaining an upright posture, thereby eliminating strain from the back. Long handles are more comfortable because they allow tall people to work while standing.
Weight
Working with heavy garden tools can cause the body to start aching, especially the arms and back. Wood tends to be heavier than fiberglass and aluminum. If you cannot handle the extra weight that comes with hardwood handles then it is better to go for lightweight fiberglass or aluminum. Similarly, if you prefer lightweight tools, it is better to buy and use them than purchasing heavy tools that will only gather dust in your basement, garage or storeroom.
If you are working with a hand tool, it is important to have a lightweight tool that you can hold with one hand and leave your other hand free to grab the weeds and slice them from the roots. Most lightweight tools are designed to perform and complete light tasks very quickly without breaking a sweat. These are perhaps best for working on a small project that involves weeding a large garden with scattered weeds. You can easily slice through the weed plants and complete the job in a short time. However, such a light tool would not be suited for a garden that is densely populated with tough, fibrous and deeply rooted weeds. Such a garden would require a heavy-duty hoe to slice weeds from the roots and prevent new growths.
Durability
Gardening tools need regular maintenance too. Using a hoe on a regular basis cause some of its parts to be worn out. Keeping these tools where they are exposed to moisture makes them more susceptible to rust. In this regard, you may need to replace hoe handles or heads, as over time the handles may become broken and the heads rusted. Fortunately, many companies that specialize in the design and manufacture of small agricultural tools also tend to sell replacement parts.
You may have to spend some extra money on replacement parts if you fail to take good care of your gardening tool. It is often advisable to begin caring for your hoe as soon as you purchase and start using it. For a brand new hoe, always remember to rinse off the soil after use and store it in a cool dry place away from moisture. Some models of hoes feature self-sharpening blades. These blades will remain in great shape for a long period of time.
On the other hand, if your blade does not possess the self-sharpening ability, a quick swipe using a regular knife sharpener can help to maintain it in great shape. For the handles, you may have to sand and oil the wood to maintain the smoothness. However, broken wood handles can be replaced by purchasing another handle from an online store. Always repair or replace any cracked or broken handles to avoid causing unnecessary injury to yourself. In addition, you may have to consider that wooden handles are easy to maintain and can be repaired or replaced easily when cracked or broken.
10 Best Garden Hoes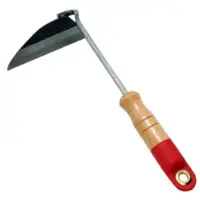 This is one of the most remarkable inventions of the Japanese people. The weeder has proven itself to be a must-have tool in any serious gardener's arsenal. It boasts a hardened steel blade for strength and durability. Many gardeners have found this gardening tool to be quite indispensable. It is strong and lightweight to make gardening work easier. This weeder works well on projects involving flower beds and is regarded as one of the best weeders.
Strong but Lightweight
The weeder's blade is carefully crafted from hardened steel and considered one of the best quality weeders. The weeder is less than 6oz. in weight and held by one hand during furrowing.
Designed for Slicing
This is a compact handheld hoe with a sleek design to handle weeding and slicing tasks effectively. The blade is well positioned for slicing weeds and getting rid of unwanted plants from the garden.
Cost and Value
The weeder is strong to accomplish gardening tasks more easily. It is also lightweight to hold in hand for longer while working on a gardening project. The hoe is very affordable.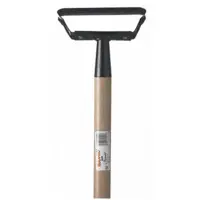 This is another powerful weeder tool by Flexrake to handle once most tiring and back-breaking home improvement and gardening projects. The tool helps to quickly prepare the soil or maintain the flowers in the garden to make the garden look incredibly beautiful. Gardeners can now weed, mulch, cultivate and even aerate their beautiful gardens, thanks to the Hula-Ho specialized weeder and cultivator with a 54-inch top-grade hardwood handle.
Heat-Treated Blade
The blade of this one-of-a-kind cultivator has been heat-treated to make it stronger and more durable. The blade is replaceable in case of loss or damage.
Self-Sharpening
The Hula-Ho blades have been designed to work under the surface of the soil to plow or toil soil. The original design weeder is self-sharpening to make it more useful and continue to perform gardening tasks more effectively.
Cost and Value
The Flexrake dependable weeder and cultivator feature heat treated blades for improved performance. The blades work beneath the soil surface to deliver impressive results. In addition, it is pocket-friendly.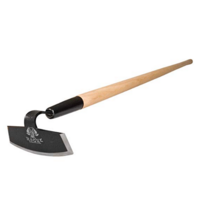 Prohoe's Rogue hoe line features yet another professional grade quality tool built through inspiration from recycled top-notch agricultural disc blades. This hoe has been built with durability in mind. With sharp edges, the tool can cut from all three sides. It is highly effective for cutting plants and moving dirt. The hoe is 1 3/8 inches wide with a long 60-inch handle.
Sharp Edges
The professional grade hoe features a 7-inch wide head used for cutting. All the three sides of this garden hoe are sharpened to cut from all angles.
High-Quality Blades
Prohoe rogue hoe's blades are made from top quality disc blades that are durable and long-lasting. They are also extremely sharp and effective in cutting.
Cost and Value
Prohoe's garden tools are designed from quality material to last a lifetime. The garden hoe is precision sharpened to make cutting as easy as possible and is very affordable.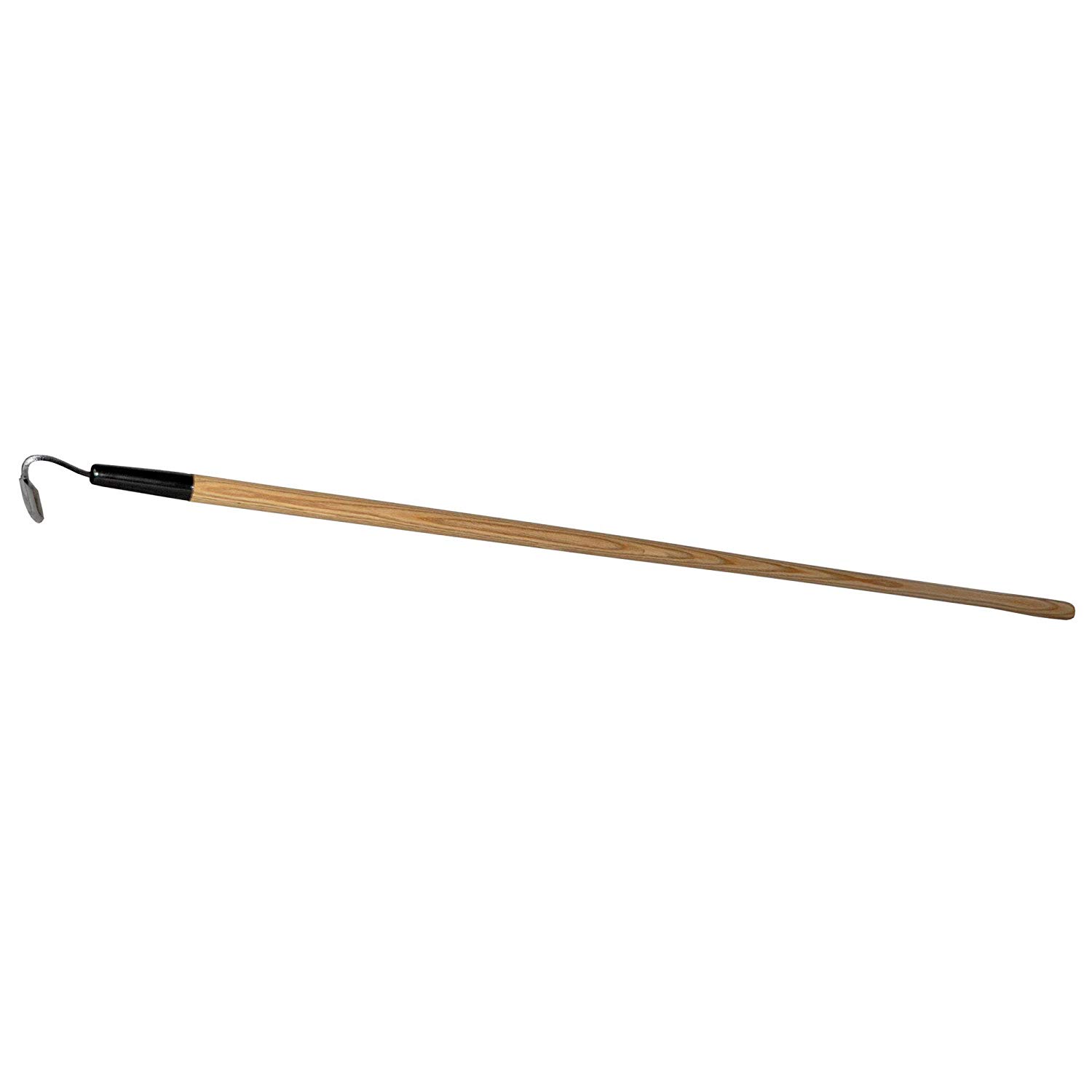 Prohoe's 575G is a dependable hoe. Based in the U.S., the company has specialized in making individually handcrafted tools from recycled agricultural machinery disc blades. These are strong top grade tempered steel that needs no sharpening, as the tools are sharpened on all three sides to deliver the same result regardless of which angle is used.
Cuts from Any Angle
This tough hoe is uniquely designed with ultra-sharp sides and is able to fit easily between plants when digging. To dig small spaces between plants, the hoe is tilted sideways.
Dirt Digging Machine
This hoe is 5.75 inches with tempered steel that can easily bust open new ground. It can turn over dirt and mix soil. It is a remarkable dirt digging machine.
Cost and Value
This hoe is quite affordable and can cut the ground from all of the three sides. It is also specialized in digging dirt and opening new ground without difficulties.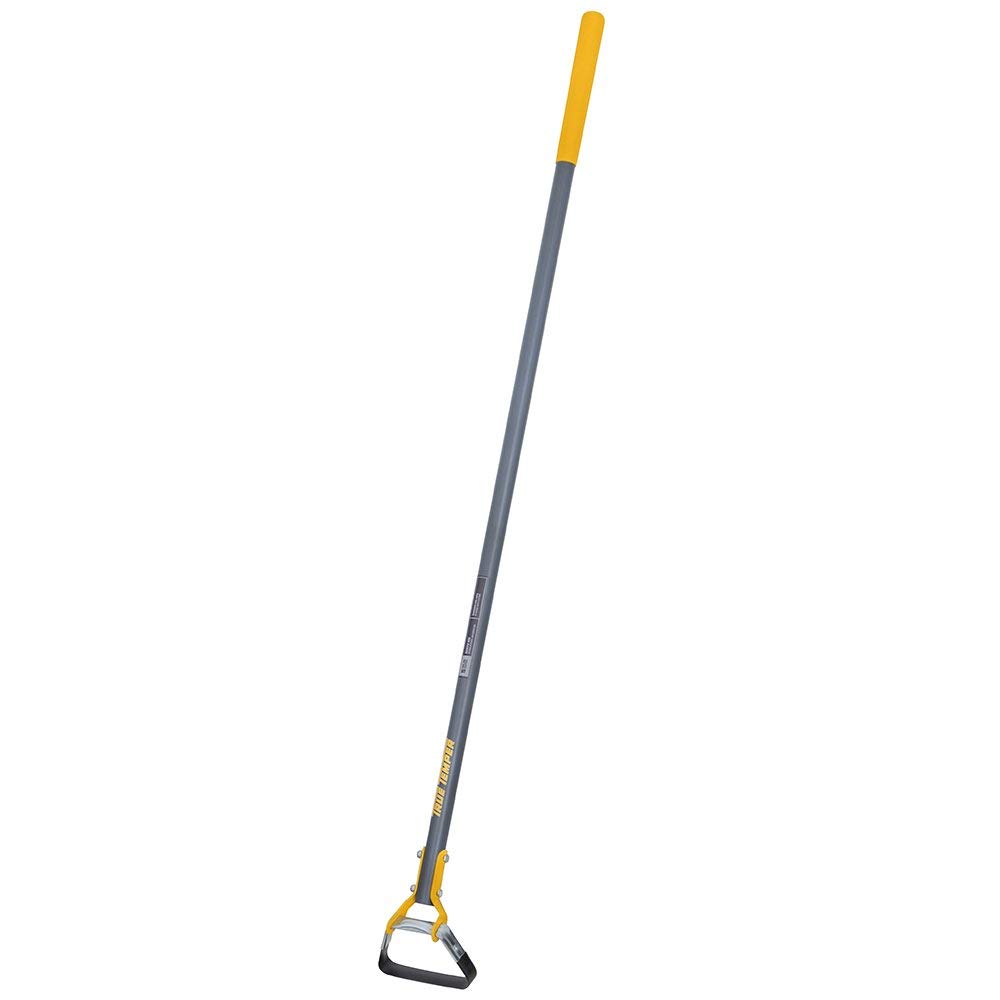 The AMES Companies, Inc. specializes in make state-of-the-art tools that can perform a range of gardening tasks with ease. The hoe is specially designed to remove weeds and cultivate the ground in preparation for planting or growing. Using push-pull motion, the gardener can use the tool to cut the roots of weeds from deep within the soil. The tool helps to cut weeds in a relatively shorter time than the average hoe.
Strong Fiberglass Handle
These temper action hoes comprise strong fiberglass handles for assured durability. The handle can manage heavy duty gardening tasks without breaking.
Comfortable Grip
The cushion end grip provides comfort, allowing the user much control. It is meant to allow the gardener to perform tasks for a long time without getting hand blisters.
Cost and Value
The hoe features a strong fiberglass handle to last long. The cushion end grip assures comfort for the user. In addition, the hoe costs only a few dollars.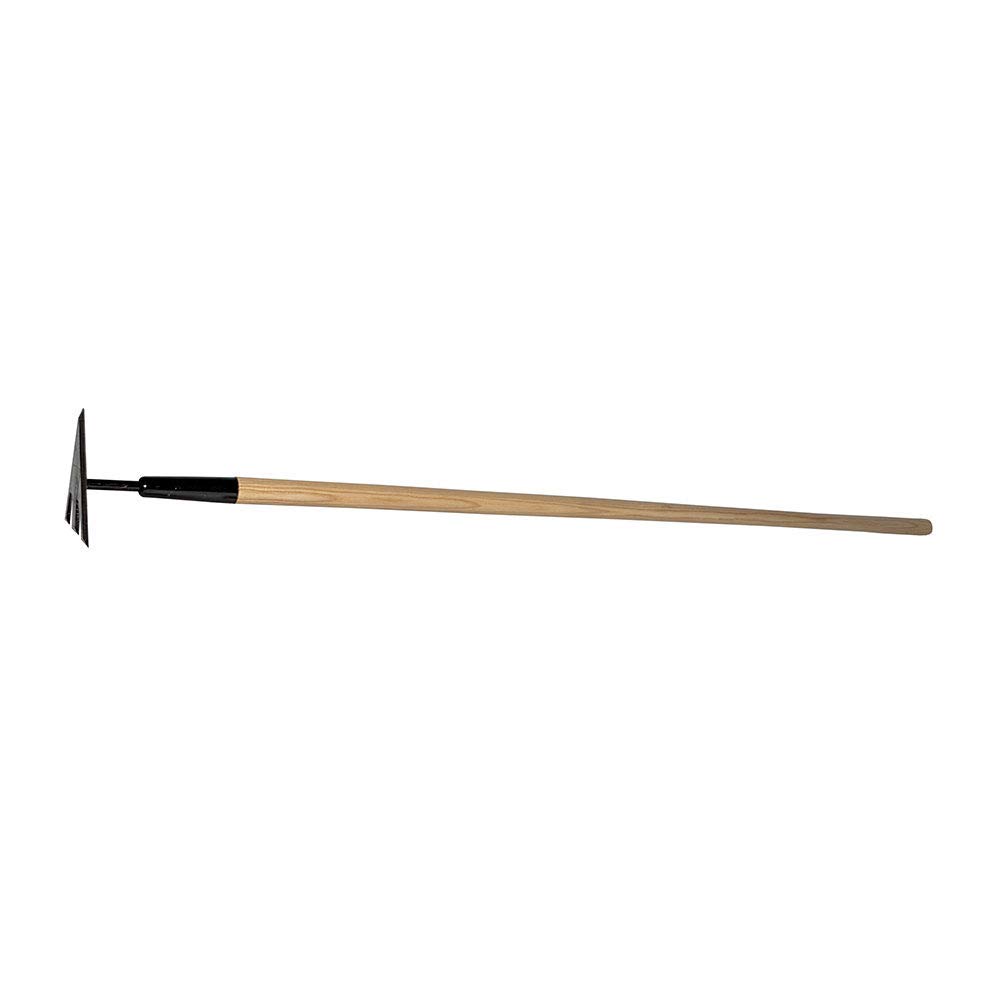 Backyard Garden Pros is a top rated 6.5-inch wide tempered garden hoe made of steel. It is designed for planting because of its ability to bust open new ground in preparation for sowing. It is also suitable for raking rocks and collecting dirt surrounding the plants in your garden. With three precision sharpened sides, the hoe is easy to work with when digging or weeding.
Giant All-Purpose Tool
The 6.5-inch tool features tempered steel to perform a wide range of gardening tasks. From digging to planting and raking rocks, there is no limit to what the tool can do to demonstrate its gardening prowess.
Precision Sharpened
All of the hoe's three sides are precision-sharpened to make work easier and accomplish weeding and digging in less time.
Cost and Value
This tool will do digging, weeding, planting, bust open new ground, and rake rocks. It combines all the features of a useful garden tool, but for a small affordable price.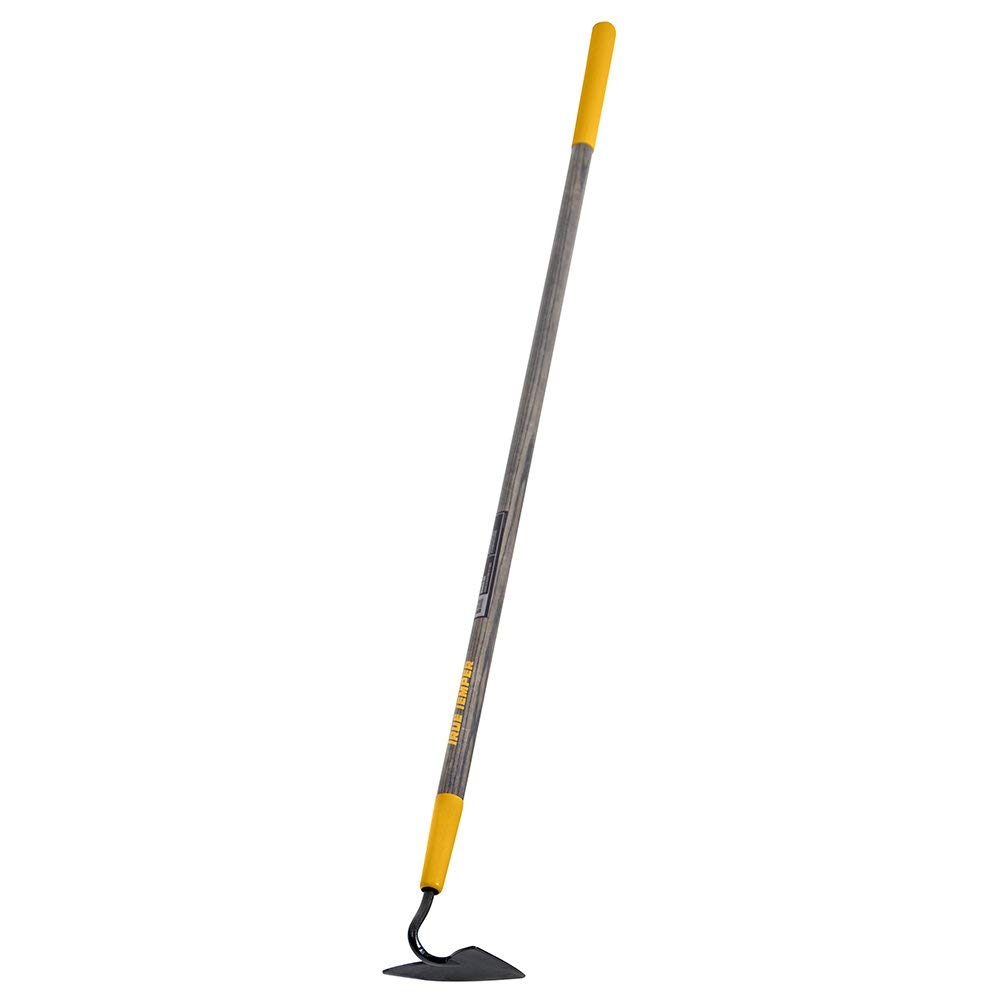 The True Temper warren garden hoe is designed with a triangular head for cultivating soil between plants easily. It can also create furrows in the ground in preparation for planting. The head has 'ears' on the back to pull the soil to rest on newly planted seeds. The True Temper hoe is effective for harvesting celery, asparagus, leeks, potatoes, and a wide range of other vegetables.
Forged Steel Blade
The tool features a forged steel blade to deliver maximum strength and durability. The blade is strong to dig through tough weeds and open new ground. This hoe can be used to plant just about any type of vegetable.
Comfortable Handle
The hoe provides cushion end grip to provide the user with comfort. The grip also provides maximum control to enable the user to perform gardening tasks.
Cost and Value
Pointed blade head is effective in cultivating the soil and creating furrows in the ground. In addition, the forged steel blade provides strength to the hoe when gardening. Moreover, it is relatively inexpensive.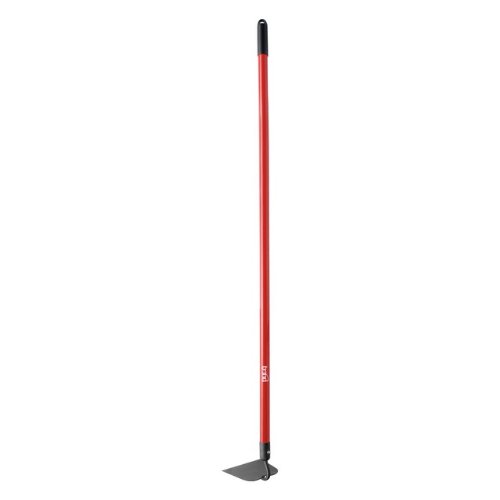 Bond Garden Hoe With 54 Inch fiberglass handle Long handle fiberglass tool. Tempered, heat treated steel head for greater strength and longer life. Sharpened edges penetrate tough ground with reduced effort.
Full Review
Sharpened edge is designed to cut through the toughest ground surface with minimal effort from the user, this means you get more work done in your garden with less sweat. This product is great for home use or professional gardeners. The features in this product are designed to make the job easier any time of the year. It has a red fiberglass handle which is very attractive and means it is easy to find this hoe if it is left in the corner of the garden or laying in the grass. In the constant war against weeds, this is the tool to make you a winner. For secure footing, this hoe features a step system that is forward turned. The overall length of the handle is 54 inches and it's very convenient to use.
Durability
This is a very durable garden tool favored by professional gardeners and home users because it is made from materials which are designed to last many years. The materials used to make this hoe are unlike wood which can rot and even give hands splinters, which means you get problem free gardening.
Construction
This garden tool had been made with a steel blade and fiberglass handle with the intention of this product being a long lasting garden tool.
Ease of Use
Because it has a long handle, you avoid bending down while you work and no problems with backache.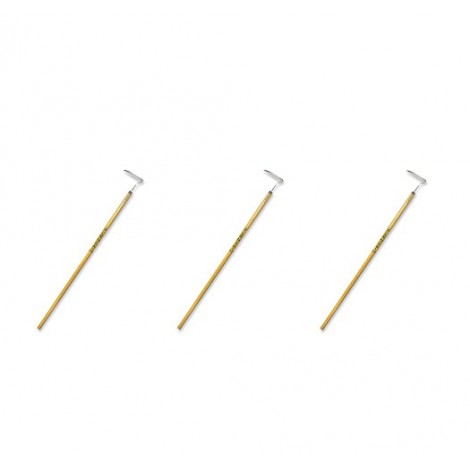 The Nisaku blade is stainless steel. The handle is long and sturdy. This tool would make a great addition to any gardener's collection of outdoor gardening tools. The stainless steel blade is strong and durable to withstand intensive labor work. The 41.5-inch long handle can easily reach far distances while allowing the user to maintain a straight posture and avoid straining the back.
Long Handle
The hoe's 41.5-inch long handle allows the user to reach for distances without straining the back. It is suitable for a gardener who wishes to toil the soil without bending too much.
Stainless Steel Blade
The Nisaku's commercial grade stainless steel blade represents one of Japan's finest gardening tools designed with the gardener and landscaper in mind. This ensures durability to handle most outdoor projects effectively.
Cost and Value
The Japanese technology stainless steel represents strength and durability. The tough tool is suitable for most outdoor activities. In addition, the gardening tool is pocket-friendly and you can add it to your collection of outdoor tools for a small price.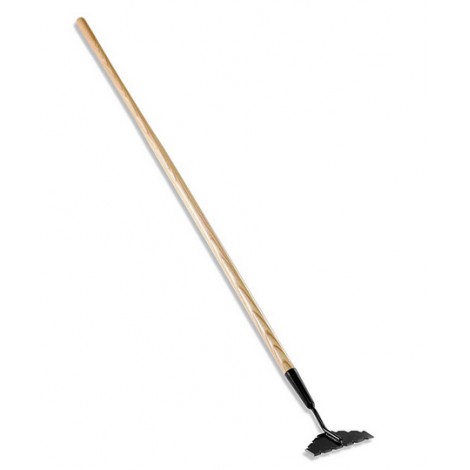 The Corona Clipper is a top-notch sharpened commercial-grade blade that works by push and pull action. This heavy-duty weeding hoe can easily slice through fibrous weeds. It is often used to cut down overgrown weeds. In fact, many gardeners prefer to use this tool to also cut wild mustard, thistles, clumping grass, and bindweed. The tempered steel blade is both tough and abrasion resistant.
Abrasion Resistant Steel Blade
The weeding hoe is tough and features tempered steel blade. The commercial grade steel blade is abrasion resistant and holds the edge longer. The steel blade is highly dependable to help perform heavy-duty weeding tasks.
Notched and Sharpened Blade
The Corona Clipper boasts notched and sharpened blade to slice weeds and clumping grass. The blade utilizes push-and-pull stroke to easily slice through weeds and wild mustard. It can be used to effectively tame wild overgrown weed.
Cost and Value
The tempered blade steel is tough and can hold the edge longer. It is also abrasion resistant and designed to slice through fibrous wild mustard, bindweed and more. The blade is available at an affordable price.

Subscribe to our Newsletter