Best Pocket Chainsaws Reviewed & Rated for Quality
last updated:
Apr 06, 2021
Pocket chainsaws are quite handy for anyone who needs to cut wood if they don't who have access to a gas-fueled chainsaw. Although they are not a replacement for a chainsaw, they are pretty versatile. They are terrific for yard work at home, outdoor enthusiasts, survivalists, hunters or really anyone who lives or spends much time in remote locations. They are an essential part of any bug out bag, emergency kit, camping pack, tackle box, or home toolbox. They are the perfect tool for building a shelter, cutting firewood, cutting overhead limbs or clearing obstructions in your path when you don't have access to a heavy chainsaw. They also do not require the use of fuel like a chainsaw, because your own personal strength and force are the fuel! For all these purposes and more, a pocket chainsaw is an essential tool for you to have.
This is the best product on our list that is currently in stock: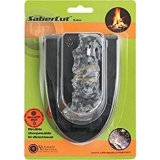 UST SaberCut
Why is it better?
Good quality for the price

Easy maintenance

Comfortable and strong grips

Light and easy to carry

Good performance
In a
Hurry? Editors choice: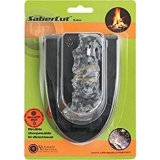 Test Winner: UST SaberCut

3
Researched Sources
12k
Reviews Considered
13
Hours Researching
10
Products Evaluated
Effectiveness
Ease of Use
Durability
Comfort
Accuracy
By Default
Top 10 Pocket Chainsaws
1

. Canadian Shield Camping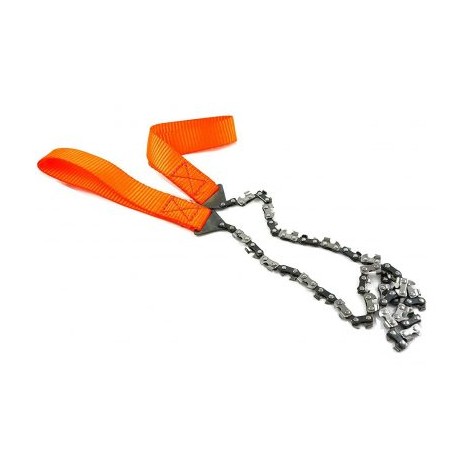 Cuts like a knife through butter

Easy to travel with and pack

Great design

Fast cutting ability

Dependable tool that any outdoors person needs
Chain length could be longer, shorter in real-life than what it looks like advertised

May need oil to improve performance
This well-designed saw has teeth on every link for faster, more efficient cutting. The bi-directional design of the teeth add to this tool's effective cutting ability. Quality nylon handles in orange will help you to easily locate it.
Dependable Saw
Sharp teeth on every link cut through wood with ease. This saw will make short work of anything you need to have cut up. This is the saw you can count on if you are a survivalist or out in the bush!
Improved Design
The chain has been altered to be narrow with bi-directional teeth. Super lightweight, so it is small enough to put in your pocket. It packs more than 30 flexible non-binding blades. Easy to clean, just put a dry cloth to it after each use.
Cost and Value
There's no room for error when you are out in a remote location and need a tactical tool that you can be confident in and count on to do the job. This saw will give you that. Higher in price than most of the other saws on this list, it's a reasonable amount to pay for a piece of mind.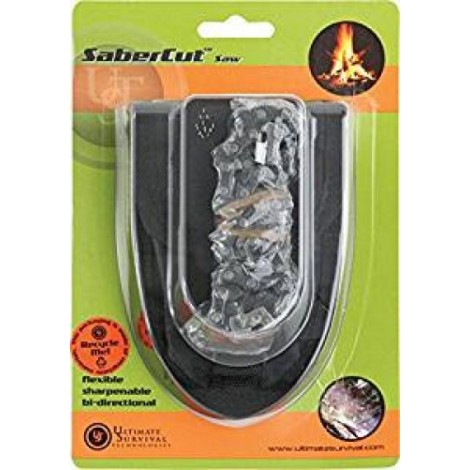 Good quality for the price

Easy maintenance

Comfortable and strong grips

Light and easy to carry

Good performance
Not as rugged as other pocket saws on the market

Teeth spacing farther apart which can cause binding
The UST SaberCut chainsaw is a fine tool, with an affordable price tag. It is perfect for a light bug-out bag or a comfortable hike in the woods. Its handles are comfortable as well as strong.
Sturdy and Practical Design
The triangle rings with the straps is a nice touch to this saw. The design allows for less stress on your forearms and wrists and there is plenty of room for wearing gloves to protect your hand. Nobody wants to have sore hands in the middle of nowhere!
Uses Actual Chainsaw
Maintenance is similar to actual saw. If your teeth become dull, it is incredibly easy to sharpen them and keep your tool in good condition. The blade is flexible and non-binding, that is all you need!
Cost and Value
This chainsaw will cut wood and is very light and easy to carry. It is a middle of the road, and you might need a friend to have it be most effective, but it is an affordable, compact and efficient tool that is worth a try.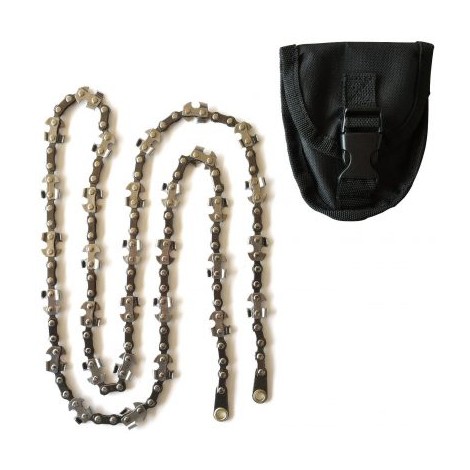 You can choose the rope you like as opposed to a kit

Light and durable

Doesn't require much pressure and glides to cut

Won't disappoint, PockeTech will meet your expectations

Sharp teeth cut easily through limbs
Pricey

It works with ease after you  learn how to use it and not work against it
A very practical solution for cutting high limbs. Lighter and more compact than its competitors, it boasts a 48-inch high carbon steel Bimatic chain blade. The blade wraps around the tree and uses its teeth, which it has on both sides, for sawing. It doesn't come with any other accessories, though, so it's up to you to purchase your own throwing weight and rope.
Practical
Double teeth with closer spacing allow this saw to cut faster. It is a very lightweight high limb pocket saw. It can be packed and traveled with no problems. It is fairly easy to use, and it works best if you don't apply as much pressure and you let it work those sharp, double-sided teeth.
No Additional Accessories
Why have an increase in price to accommodate a kit whose rope you don't like? Everybody has their preference when it comes to the type of line and weight to use for a high limb saw. Here you get exactly what you want, a high-quality and effective tool that you can customize with your choice in rope.
Cost and Value
This saw was the most expensive on our list but it was also the longest. It is specifically designed for high limbs and works exactly how it should for them. It is also versatile in that for the extra durable metal you are getting, it still is a lighter option that you can conveniently pack with you on trips.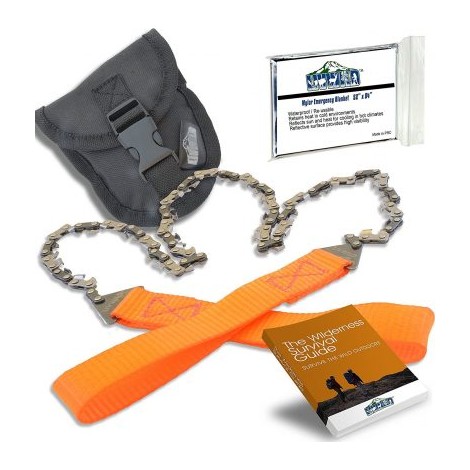 Valuable bonuses included in with the purchase of this saw

Ease of use for most people, even children

Made of tough, industrial-grade heat treated steel

Comfortable and rugged orange nylon handle

3x more teeth for 3x faster cutting
The belt loop stitching on the case leaves something to be desired, it can come loose
This pocket saw boasts the ability to cut 3x faster with sharp blades on every link. It offers a steady and flexible bi-directional motion for cutting. Easy to use for anyone, even children as young as 10 (with supervision of course). Products are hand-picked and this company is very engaged with customer concerns and feedback. Great multi-tool for outdoorsmen and at home.
Multi-Purpose Tool
This saw can be used with ease in many different situations from hiking and camping to emergency situations. It can be used for home chores too like yard work or even cutting high limbs from trees. Easily replaces other home tools like those heavy and bulky hand saws.
Made out of Durable Materials
This saw is made of industrial-grade heat treated steel. Its handles are made from heavy-duty nylon and are bright orange so you can easily locate it. It takes a 3/16 round chainsaw file for sharpening.
Cost and Value
This LivWild chainsaw is made of quality materials and the ease of use make it a bargain at its price point. You also get a bunch of bonuses when you purchase this saw including a compact belt loop pouch for storing your chainsaw, a Mylar emergency blanket and an eBook "The Wilderness Survival Guide." Your essentially buying a survival kit for the price of a pocket chainsaw!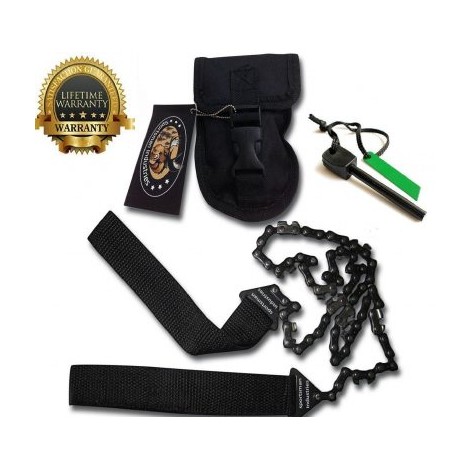 Incredibly fast cutting time with the bi-directional, razor sharp blades that cut 3 sides of a limb at once

Extremely customer service oriented company that offers a solid lifetime guarantee, no questions asked

Easily sharpened with a regular 5/32 round chainsaw file

Comes with a FREE firestarter
Heavy-duty tool, takes a fair amount of effort on the part of the user

Extra sharp blades on both sides make safety concern when unfolding the chain
Sportsman industries are highly focused on customer service and support. This is a lightweight saw that offers exceptional utility. Thoughtfully spaced and bi-directional teeth increase ease of use. 100% ironclad, lifetime guarantee supports this well-made, quality cutting tool.
Tough and Tested
This chainsaw is put to the test in the Canadian great white north. Offers heavy-duty rugged handles with metal brackets. The teeth are easily re-sharpened for a long life of use.
Material Quality and Strength
Equipped with a fuller, longer and thicker chain, made of 65mn high carbon heat-treated steel. The chain measures 36 inches, excluding the handles. The style of this chainsaw allows it to self-clean.
Cost and Value
This saw is very reasonably priced for the quality and value you get with this well-built tool. Cheaper saws have thinner chains and are known to break and not cut as well. You are going to be backed by a lifetime guarantee and superior customer support for this heavy-duty saw.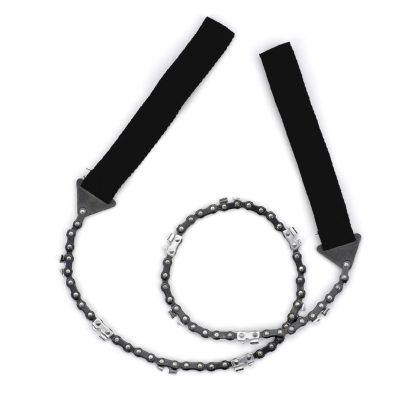 Rolls up and stores easily

Super sharp teeth

Durable plastic handles molded for easy grip

High quality and long lasting cutting ability
Has many blades so can get stuck during cuts

No bi-directional teeth
A tough and extremely durable saw that can easily be sharpened after heavy use. This saw is a great value at under $15. It is light-weight coming in at 6.69 oz (.4 lb) which is perfect for taking on the road. It can even be packed and carried in your back pocket! You can have confidence with this tool as it also comes with a 100% quality guarantee.
Tough and Durable
This saw boasts ripping through everything from thin branches to tree trunks in just seconds. It can easily cut overhead branches too. Perfect for hunters, campers, and even homeowners!
Easy to use
Weighting under one pound anyone can handle it. It is 39 inches long, with the handles. The saw blade is 19 inches. It is flexible and even younger kids (under adult supervision) can use it.
Cost and Value
With a 100% quality guarantee, this saw is worth a look. At under $15, it is easy on the wallet and it can do the job of cutting through wood, plastic, rubber, bones, and even soft metals. It is super versatile and easy to carry and operate. This tool also has a great reputation and buyer satisfaction rate so, more than likely, you won't go wrong with the Chainmate Survival Pocket Chainsaw!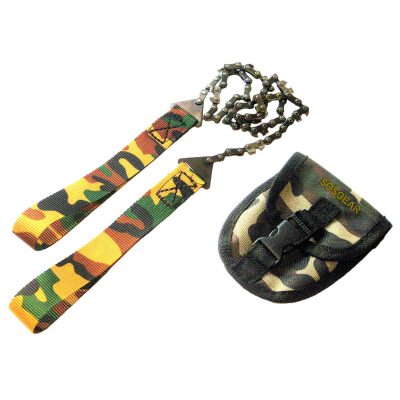 Full emergency survival kit

Top notch value

Tons of functionality with the whole kit

Fine quality, made well
Teeth design causes makes saw prone to snag while cutting

The saw works, but its not the best on the market
This highly functional saw works well for emergency situations and can easily work well with yard chores at home. You also get a magnesium fire rod for emergency fire starting, a built-in compass and whistle which helps rescuers see and you are you. This is more than a saw, it is a complete backpackers kit.
Excellent for Emergency Survival
The bi-directional teeth will reduce binding. Its chain is 24 inches in length and can cut easily if needed. The fire rod, compass, and whistle make a fine and necessary complement to the SOS pocket chainsaw.
Perfect for Outdoor Groups
Boy Scouts and Girl Scouts could learn a lot about survival using this kit. Offshore fishing, backpackers and hunters would also benefit well from the SOS Pocket Chainsaw.
Cost and Value
Affordable price for getting so much. You purchase this saw, which will cut well and you also get a full emergency survival kit included in the price. You can't find a better value than that.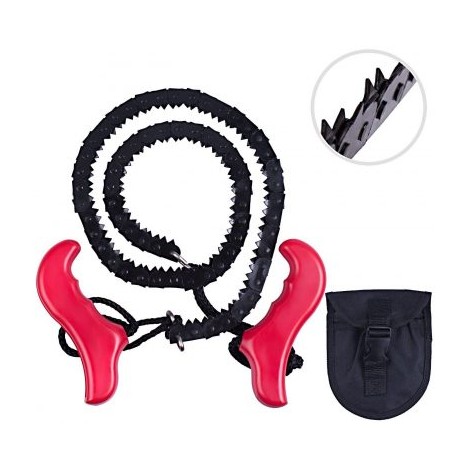 Great value

Light and easy to use

Shark teeth design makes for a sharp tool than can cut well

Fast shipping time

Perfect for survivalists, campers, kayakers and fishermen
Does have a tendency to bind up

Could have better designed/higher quality handles
This one is both affordable and effective at the same time. So much so that you can pack one in storage to have in the event it is ever needed.
Inexpensive
Maybe you only need a pocket chainsaw for a small job. Perhaps you don't have any job for it but you want one in your home emergency bag just in case. If you want a very affordable tool that is going to be effective at cutting wood as well, look no further.
Design
While we could make an argument for it being a bit longer, it's still very effective at 36-inches. The dense, shark tooth shape makes it very sharp and durable. It will cut wood fast.
Cost and Value
A true value is what you will get if you purchase the Joyoldelf Survival Pocket Saw. Don't be surprised if you buy more than one, this saw would make a great gift.


Price! Any budget can have this saw

Small and lightweight, easy packed and carried

Quick shipping

Can be used in emergency cases
Not very durable, plan on buying more than one

Does not use real saw teeth
The SciencePurchase mini chainsaw comes with a mini price tag to boot! Its a great replacement for a standard ring saw, and the handles won't hurt your fingers! This saw is perfect to pack away in first aid or emergency kit.
Tiny Design
The small design allows for cutting in tight spaces. It is still tough enough to cut through wood, bone, plastic, rubber and soft metal.
Terrific Customer Service
Nothing turns a good product into a poor one than poor customer support and back up. You won't have that here. Fast shipping and support professionals who want to talk with you and help in any way they can!
Cost and Value
There is not too much to sell a potential buyer on this tiny pocket chainsaw. It can cut, it's easy on the fingers, easy to carry and pack. Solid ratings. You certainly won't have second thoughts about the cost and overall value of this saw, you may end up buying 2!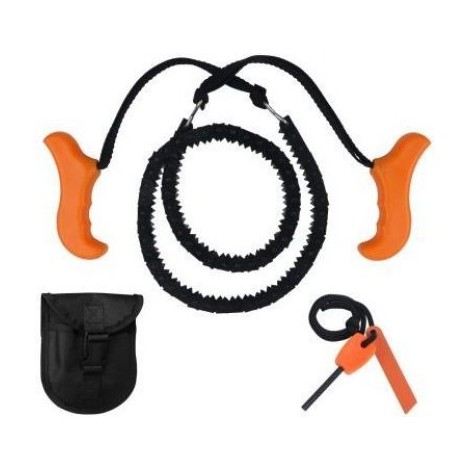 High quality carrying case

Ergonomic design

Safety design

Sharp teeth

Easy to use
Has some degree of difficulty cutting large logs

It may be easy to use, but you are gonna put in a significant effort
This is a nice little kit that comes with a pouch and fire starter. The high-quality carrying pouch easily attaches to a pack or to your waistband. Easy to store in your pocket, the Survival chainsaw is light and it folds. It will serve you well for a good long time if you keep up with the occasional maintenance of oiling and sharpening.
High Quality Pouch
Rugged material, put together well, this pouch will safely hold your saw and because it has a thick strap, you don't have to pack it away. You can easily it to anything and save space in your pack.
Great Design
Extra comfortable handles that are ergonomically correct make ease of grip and use of this saw superb. The handles come in a bright orange color so you can locate your saw without a problem. Anyone can use this tool, even kids (under supervision) and the handle keeps any sharp blades from coming close to your hands! That's a pretty nice safety feature.
Cost and Value
Great price, thoughtful design and sharp cutting teeth that will get the job done. The versatile and well-built carrying pouch is an added bonus and well you also get a firestarter. Not a bad kit at all, worth the money.
Criteria Used for Evaluation
Effectiveness
We looked at how effective pocket chainsaws are and chose ones for this list that are most effective. A lot of these cut in both directions, which makes the job much more effective and timely.
If you are an avid hiker, camper or general outdoors person/survivalist, having a pocket chainsaw on hand is a must. A pocket chainsaw is an extremely useful tool for cutting wood or other things for survival purposes. These things are an effective compact cutting tool.
For example, one effective use for a pocket chainsaw is if you are out camping and you need to cut down wood to make a campfire. Another use is if you are out on the trails and you come across a fallen tree in your way. Worst case scenario, if you find yourself in a disaster situation and need to survive, having this tool on hand will help you cut wood to create a fire until you are rescued or find your way to safety.
Regardless of your situation or expertise, a pocket saw is handy to have in your pack.

Ease of Use
All of these pocket chainsaws are easy to use and easy to pack up and take with you.
Because a pocket chainsaw is a manual tool, depending on the wood you are trying to cut through, the task itself can prove difficult if you do not have a great saw. Fortunately, these on our list should get the job done fairly seamlessly.
That said, pocket chainsaws are simple tools that are fairly easy to use. It's important to get help if you don't know what you are doing or how to use one. However, if you are in a pinch, you should be able to easily figure out how to use a pocket saw.

Durability
The quality of a pocket chainsaw is key. For one, you need a saw that can hold up to the job of cutting through tree limbs. Two, you cannot risk having the chain breaking mid-job. Not only is that frustrating and time-wasting, but it is also a safety concern for you as well.
A good pocket chain is durable. The quality of one of these saws definitely matters. So, when it comes down to saving money for a cheaper made saw...maybe think about the investment. You don't want to cheap-out on a product that could end up hurting you very badly if it breaks in the middle of using it. That, and also there's nothing more frustrating than trying to get a task done and getting held up by the tool breaking (sometimes without being able to retrieve it out again). This is especially important if you are in a life or death situation.

Comfort
Comfort is important when it comes to the grips on pocket chainsaws. If you are going to be cutting for a while, you don't want to be uncomfortable, having your hands hurt. Most kinds of these saws have heavy-duty, rugged handles. This is a good thing because you don't want them to rip or break. However, they can be tough on your hands. If they become too uncomfortable, wearing gloves can greatly help relieve any stress or blistering (not to mention, keep your hands protected and safe!).

Accuracy
Many of the pocket chainsaws on this list are bi-directional, meaning they have teeth that cut in both directions. While you can certainly use a saw with teeth going in one direction, it's much slower, less effective and your cutting accuracy is at risk.
When you are using a pocket chainsaw, you are likely using it for cutting down some wood to make a campfire or survival fire. In this case, the accuracy of a cut isn't important, since you just burning the wood anyways. So, when we say "accuracy" we are focused more along the lines of "effectiveness" and whether the saw can actually cut through the wood/materials that you need it to.
Expert Interviews & Opinions
Most Important Criteria
(According to our experts opinion)
Experts Opinion
Editors Opinion
Users Opinion
By Default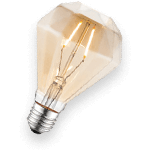 Good Grip is Important
It's important to have a chainsaw with a good grip when you are using it to keep safe. Likewise, whenever you are sharpening the chain teeth, making sure you have a solid grip on the chainsaw (likely by using a vice to keep it in place) is the way to go to ensure it is not moving all over the place, risking hurting yourself.
Frequently Asked Questions
q:

Can the steel on a pocket chainsaw be sharpened?

a:

Yes! You can sharpen the steel on a pocket chainsaw just like a regular chainsaw.
q:

Does it make a difference if my saw has more teeth than a shorter one?

a:

The biggest impact more teeth will have is that it can be less effective to cut with because more teeth make every stroke/pull longer. In other words, it could take longer to complete a task.
q:

How do you sharpen the chain without it slipping/keeping yourself safe?

a:

Great question! Safety is always key. One thing you can try is to place the chain saw in a vice on a workbench while sharpening it. This way it is not slipping around or unstable.
q:

How do they work?

a:

Pocket chainsaws work by taking a chain, one that is similar to a chainsaw and attaching handles to both ends, then using manual labor saw or cut wood. They may also be able to cut through other materials such as bone, plastic, rubber and soft metal. They can have sharp teeth that glide in one direction or use bi-directional teeth to tear through the wood.
q:

Why do I want one?

a:

A pocket chainsaw is an invaluable tool, and when buying make sure you are purchasing a quality tool that you can count for your next trip in the bush far away from the city lights.

You can find a wide variety of inexpensive pocket chainsaws at your local home improvement store, hunting store, or online. They are lightweight and compact which makes them convenient to pack and travel with to any location. While it takes a fair amount of energy and muscle to use most, they will do the job of cutting wood for you in a short amount of time. Maintenance is minimal, mostly keeping the chain oiled and sharpening the teeth when needed.
Subscribe to our Newsletter