Best Gifts for Hikers Reviewed & Compared
Hikers are not as hard to shop for as you might think, they simply want the right gear that fits their specific hiking adventures. This can include backpacks, water bottles, clothes, footwear, and general survival material for extreme cases. Since not all hikers perform at the same level, their needs may differ from one another. So having some knowledge about the products is a big plus.
Although finding the perfect gift can be a bit ambitious, many avid hikers are looking for the same set of features in hiking gear. They want their gear to be lightweight and resistant to the elements. This not only includes water-resistance but also the durability of the material and how it performs in nature. And of course, all hikers are looking for something that is comfortable as well. All these factors are important because it helps the hiker perform better while enjoying the outdoors.
Featured Recommendations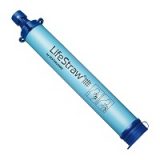 LifeStraw

Our rating
No Electrical Power
Price:

See Here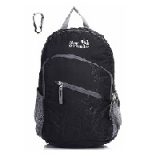 Outlander Hiking Backpack

Our rating
Ultra-light design
Price:

See Here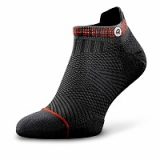 ROCKAY Accelerate

Our rating
Prevents Blisters
Price:

See Here

With so many different items and brands to choose from, you may feel overwhelmed. To better help with your search for the perfect gift, we went out and researched the best gift for hikers. Here are our top 15 choices.
15 Best Gifts For Hikers
1. LifeStraw Water Filter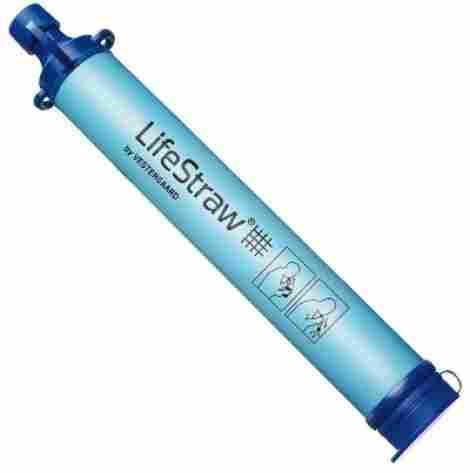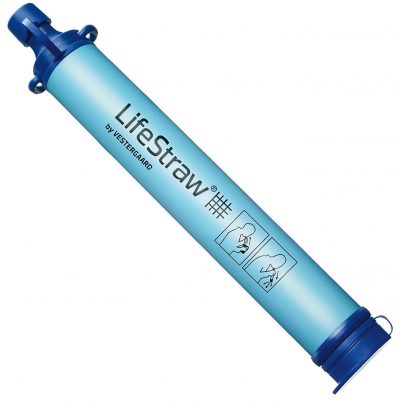 LifeStraw is an award-winning water filter that can turn the most contaminated water into secure drinking water. This product allows you to drink directly from a stream or lake making it a unique tool for hikers by avoiding clunky and large water bottles. Additionally, it becomes an excellent survival tool in extreme cases. The water that is consumed meets both US EPA standards and Drug Administration regulation by removing 99.999% of waterborne bacteria (including E. coli and salmonella).
Expand to see more
Requires No Electrical Power
The LifeStraw can filter this water without any electricity required. Acquiring gear that does not require electricity can better prepare you for a remote location and survival situations.

Portable
The LifeStraw is ultralight weighing in at only 2 ounces. Being only 1 inch in diameter and 9 inches long, it can fit in any backpack or oversized pocket. The LifeStraw is much more portable than alternatives such as iodine tablets and other large purifiers.

Cost and Value
LifeStraw is relatively cheap for its functionality. Providing clean water anywhere you go is more than enough value for the low cost. This makes it a great, unique gift for any hikers.
Filters 99.999% of water bacteria
Weighs 2 ounces and fits in any backpack
Does not require electricity
Allows you to drink from most water sources safely
Requires potable water to clean
2. Outlander Hiking Backpack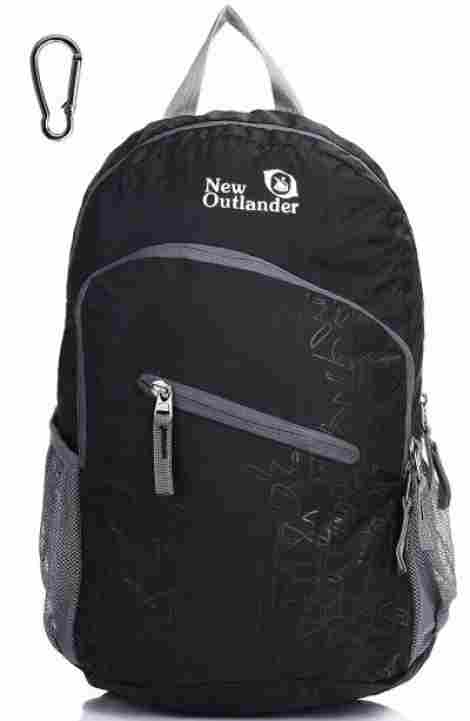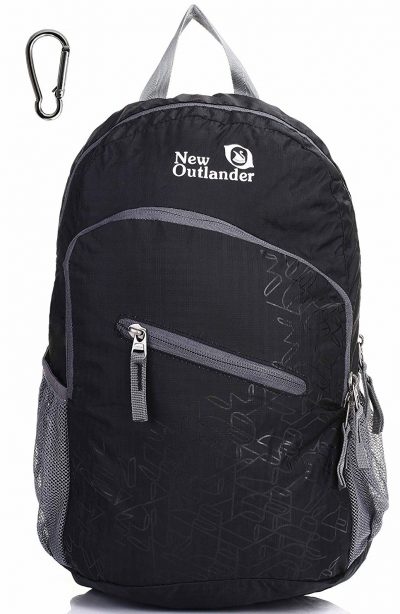 This backpack by Outlander is a perfect multi-functionality backpack for hikers. They offer multiple compartments and a mesh side pockets for maximum storage. With breathable, padded shoulder straps and nylon material, this backpack was built for comfort. Its adjustable straps allow it to fit any hiker, tall or short. Additionally, the daypack comes in 2 different sizes and 9 different colors allowing you to customize the experience.
Expand to see more
Lightweight
The Outlander Hiking Backpack weighs only 7 ounces by itself. This adds no unnecessary weight to a hiker which can help conserve energy on longer distances. Additionally, it can fit into its own pocket to become less cumbersome.

Weather Resistant
This product is made of water-resistant and rip-proof nylon material. Further, the zipper is made of SBS metal reinforcing its durability while protecting you from the elements.

Cost and Value
The Outlander Hiking Backpack is extremely cheap. With high-grade nylon material and its featured portability, you can not go wrong with this as a gift to any outdoor enthusiast.
Cost-effective
Weighs 7 ounces
Water-resistant nylon material
Comfortable shoulder straps
Made out of thin material
Can not support extremely heavy loads
3. ROCKAY Accelerate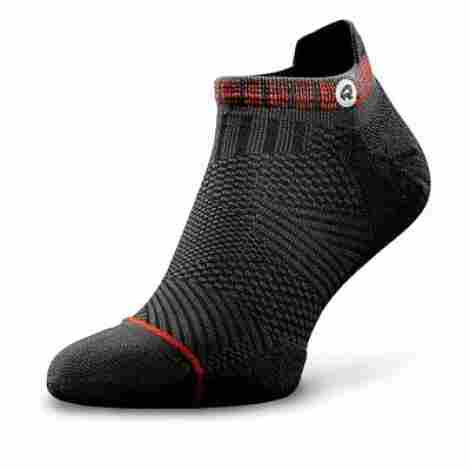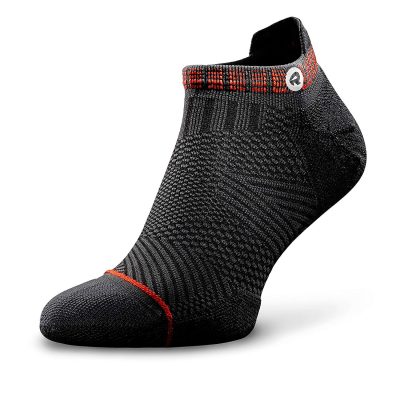 When it comes to hiking, your choice of socks should not be overlooked. What's worse than socks that ride down, or rip apart, or get damp and soggy as you're trying to hike? World hunger, maybe, but other than that, not much. These socks are made from 100% organic merino wool, which means that by their very nature, they offer qualities that are indispensable to any serious hiker.
Expand to see more
Wicks away moisture

The importance of this cannot be stressed enough. When you're hiking--or when you're performing any kind of physically taxing task--you're bound to sweat. This much is obvious. If you allow sweat to build up, not only will be feel uncomfortable, but it can even cause microbial growth. To combat this you need something that can wick away that sweat with ease. And that's exactly what these Rockay socks do.

Prevents blisters

If you're an avid hiker, you know how prone to blisters hiking can make you. After all, you're on your feet for long periods of time, and you're traversing some tough terrain. Blisters are bound to form if you're not wearing the right gear; chafing too. Prevent these causes of pain and discomfort by choosing Rockay socks.

Cost and Value

These socks are great not just for hiking, but for running, too, camping, too, and a wide array of activities. As such, you'd expect them to cost a ton--they have so many uses, it only makes sense that they cost many dollars too. This is one of those that are on the expensive side, but their value is second to none. They're a great buy.
4. Salomon Quest 4D 2 GTX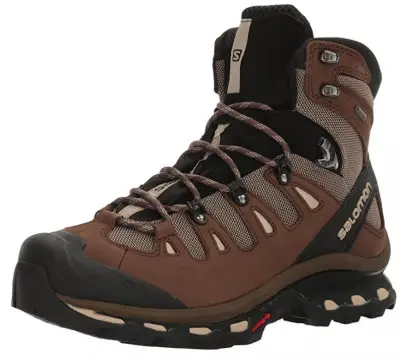 The Quest 4D 2 GTX by Salomon is an outstanding hiking boot. The model offers a rugged look while protecting you from the elements with its laces and toe cap. It comes with
GORE-TEX waterproof technology
that removes water and keeps your feet dry in both the rain and mud. Its gusseted tongue protects ankles from twisting while still being comfortable. Overall, this product is regarded as being extremely comfortable with padding and ortholite footbed.
Expand to see more
4D Chassis
The Solomon Quest 4d 2 GTX comes with foot control and protection through its 4 layered chassis. While together these layers add stability, the first layer provides comfort and the fourth layer maintains excellent traction.

Contragrip Technology
The Contragrip technology found in the Quest 4D is Salomon's branded grip. Its unique three geometric designs allow for the maximum grip strength making it great for all terrain and especially rock climbing.

Cost and Value
Although prices may change, the Quest 4D 2 GTX is on the expensive side for hiking boots. Even though this might be out of your price range, it will last long with durable, weather resistant leather material and contragrip technology all while maintaining a comfortable hold.
Contragrip technology
4D Chassis
GORE-TEX waterproof
Extremely comfortable with removable ortholite footbed
Less cost effective
On the more heavy side of hiking boots
5. Polar Insulated Bottle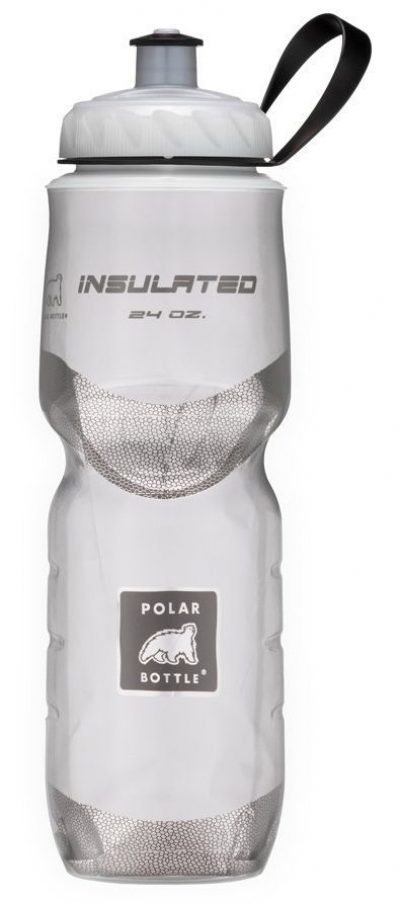 Polar Bottle has spent over 20 years perfecting water storage. This model is equipped with thermal properties and an insulated vaccum that can keep liquids clean and cool for over twice as long as its competitors. The water bottle is the first of its kind being both insulated and 100% BPA and phthalate-free. Additionally, it is built with durable polyethylene to last long in any outdoor adventure.
Expand to see more
36 Unique Designs
The Polar Bottle Water Bottle comes in 36 unique designs to allow for maximum customization. This includes not only colors, but designs for specific states, such as California, Arizona, and Texas, and amazing artistic compositions.

US Manufactured
The Polar Bottle Insulated Water Bottle is made in the USA in order to support local economies and reduce carbon footprints. Being located in the United States, Polar Bottle guarantees lifetime warranty for those within the states. This excellent customer service puts them in our number 5 slot.

Cost and Value
The Insulated Water Bottle is fairly cheap when looking at water storage. With its lifetime warranty, thermal insulation properties, and clean water, this product has exceptionally high value. This is a great small present for any hiker without breaking the bank.
Cost-effective
Insulated to keep water cool for twice as long
Durable polyethylene material
Made in the United States
Top can cause leakage after prolong use
Is prone to condensation
6. Venture Pal Hiking Backpack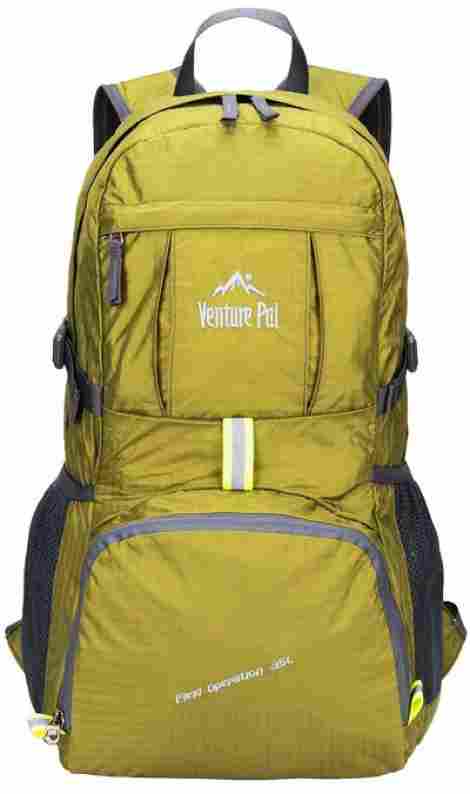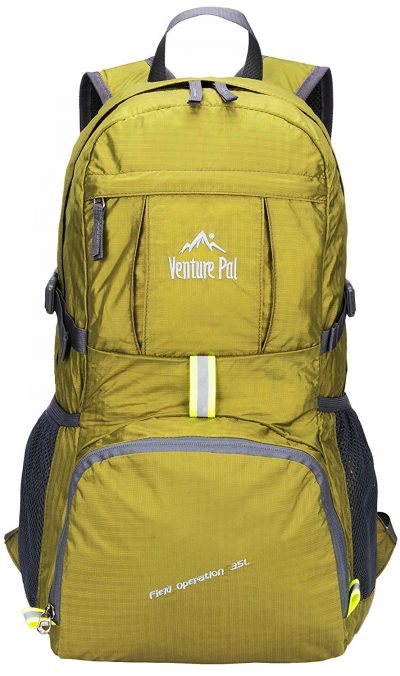 The Venture Pal Hiking Backpack is a
fantastic lightweight outdoors bag
. It was designed to be extremely comfortable with mesh shoulder straps and sponge padding. Further, it was built with heavy-duty zippers and long-lasting material to preform at heavy weights. The material is also water resistant to keep your gear from getting wet. This model was designed to fold into itself for maximum compatibility making it perfect for traveling.
Expand to see more
Storage
This product comes with multiple storage compartments including one main compartment, two front pockets, and two side pockets. In total, the backpack can carry 35 litters of storage making it perfect for any day hike or long weekend adventure.

Lightweight Backpack
The Venture Pal is popular because of it distributed weight evenly throughout the bag making it lightweight and easy to carry. The backpack only weighs in at 12 ounces while still being able to hold upwards of 35 liters of gear.

Cost and Value
The Venture Pal Hiking Backpack is less expensive than its competitors. With plenty of storage, lightweight attributes, comfortable features, and durability, there is no going wrong with this product. Any hiker would love this as a gift and it does not break the bank.
Able to Compact by folding into itself
Cost-effective
Weighs only 12 ounces
Can store up to 35 litters of gear
Material is noisy
Only 20 inches in height
7. CamelBak Chute Bottle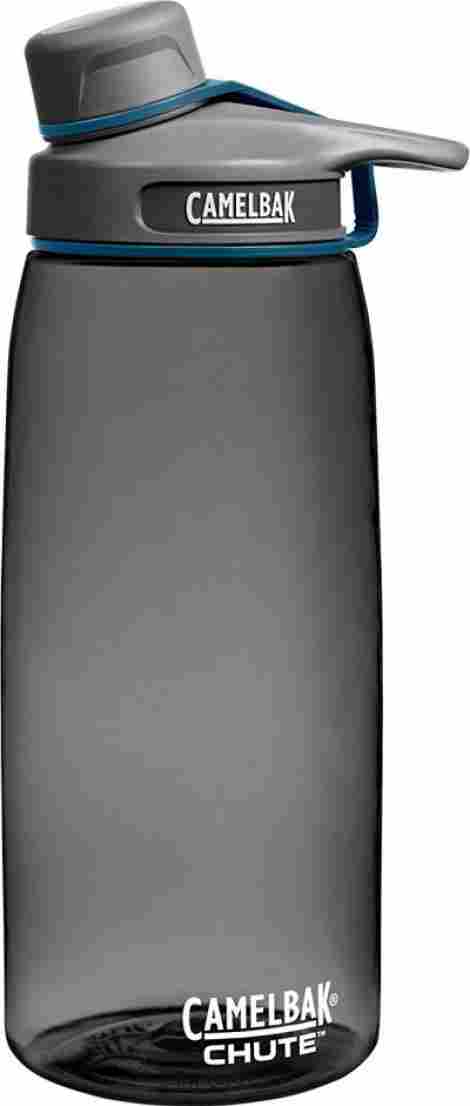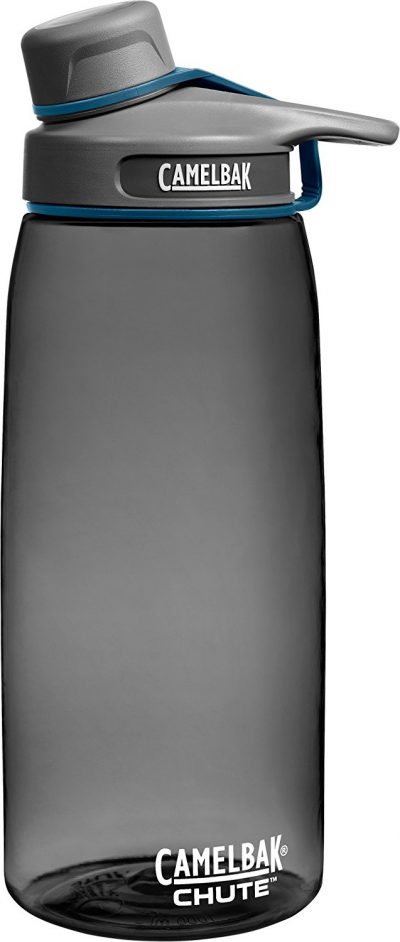 The Chute by CamelBak is an excellent water storage container. It is built with Eastman Tritan Co-polyester material which lets it withstand harsh environments and high falls. The Tritan makes the bottle clear so you can clearly tell when water is low. Further, this model is 100% BPA-free making it safe to use multiple times. With 1 liter of capacity, this is a great water bottle for long hikes and bike rides.
Expand to see more
Leak-Proof Cap
The CamelBak Chute Water Bottle comes with a half-turn cap design that provides little to no leaking. With durable material, this is meant to be leak-proof for a long period of time.

Angled Spout
The angled spout is a unique design by CamelBak that delivers water without sloshing or spilling. Additionally, it can maintain a high flow of water without you expelling extra energy.

Cost and Value
The Chute Water Bottle by CamelBak is a low cost. With its tritan co-polyester material, unique spot design, and leak-proof cap, this water bottle delivers everything a hiker needs at no additional cost. This is an easy gift for any outdoors person.
Cost-effective
Angled spout for maximum water delivery
leak-proof cap
Tritan co-polyester material
Susceptible to condensation
8. Vitchelo V800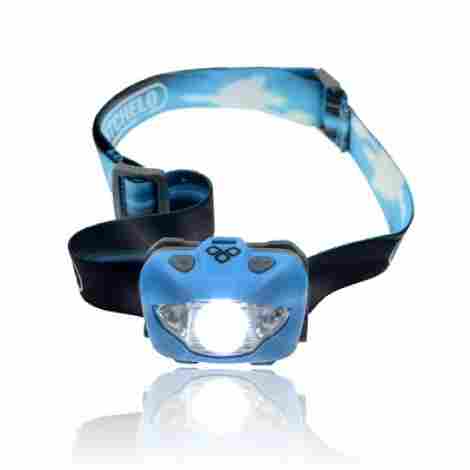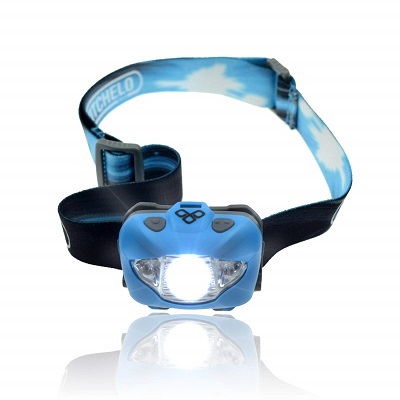 Vitchelo V800 headlamp is also a good option when looking for hands-free night visibility. As a hiker, you might get lost while the sunlight is fading. In this case, it's important to have a hands-free light because you may want to consult a map. Moreover, it won't let you down when you need it most thanks to its durability. Being waterproof, this headlamp is perfect to have with you, regardless the weather conditions.
Expand to see more
Low Energy Use

One of the best things about this headlamp is the low energy required. It works with AAA batteries and can light your way for up to 120 hours, without changing the batteries.

Adjustable Light Mode

Vitchelo V800 is equipped with 2 light colors: white and red, with each one providing their own benefits. The white light can help you see as far as 350 feet and the red light is great for signaling for help.

Cost and Value

This water-proof item is really affordable and easy to use. You can choose from 6 different color and they all include batteries. The elastic headband is very comfortable and allows for a variety of different uses.

Includes Duracell batteries
Provides light for up to 110 meters
Features red and white LED lights
Water and rust resistant
Some found the buttons too small
Red light may be too dim
9. Swiss Safe First Aid Kit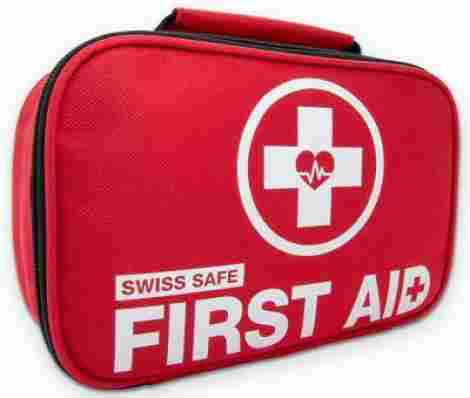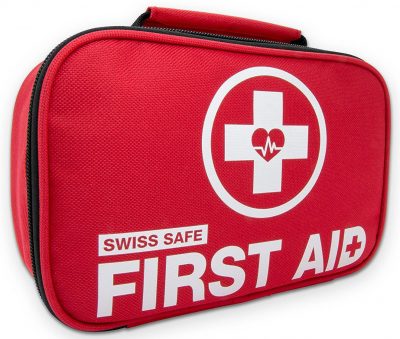 The Swiss First Aid Kit is a 120 piece
medical grade first aid kit
. This is on our best gift list because such an item is a perfect addition to any outdoor gear. Not only is it a great addition, but many
individuals lack such an important item
. With survival tools, ice packs, CPR kits, and trauma shears, this is a multi-functional tool. Further, the first aid kit only weighs in at 1.2 pounds. This makes it great for hiking adventures as it does not add weight and provides tons of value.
Expand to see more
Multipurpose
Apart from being prepared in the outdoors while hiking, this first aid kit can be used in many situations including sports, boating, fishing, biking, etc. With so much versatility for disaster preparedness in many situations, there is no going wrong with this as a gift for those who participate in risky activities.

Mini First Aid Kit
Within the 120 piece first aid kit is another 32 piece mini kit. This is the perfect extension for those who want something in a small purse, backpack, or over sized pocket. The 32 mini first aid kit comes with sting relief, gauze, alcohol pads, and CPR kit.

Cost and Value
When it comes to preparedness and first aid, this product has an exceptional amount of value. The Swiss Safe First Aid Kit comes with all that value at a low cost. This makes it perfect for any risky outdoor activity.
100% money back guarantee
Includes small 32 piece first aid kit
Multi-functional medical grade first aid kit
Only weighs 1.2 pounds
Initial bag is bulky
Items need to be replaced when used
10. Coleman Soft Cooler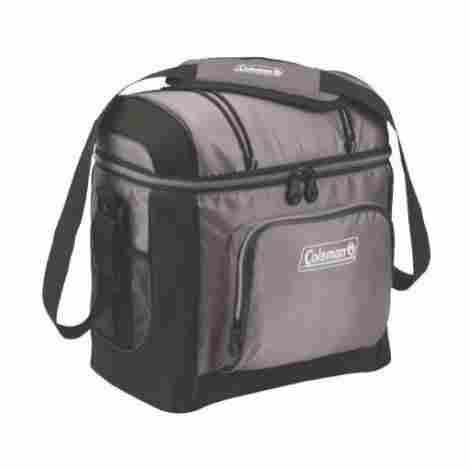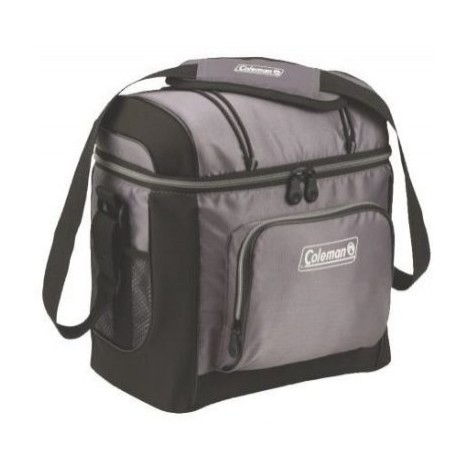 For those looking to have a lunch with their hike, the Soft Cooler
by Coleman is a great gift
. The cooler can hold up to 16 cans and features extra storage compartments. Additionally, the cooler has antimicrobial protection against odors and mold with heat-welded seams. This keeps your food and bag clean and odor free. With an adjustable strap, this product weighs in at only 3/4 a pound which makes it great for traveling.
Expand to see more
Easy-To-Clean Liner
The Coleman Soft Cooler comes with flexible and soft PEVA liner. This makes it easy to carry and clean when you come back from your adventure. The PEVA linear is FDA approved for food contact.

Added Storage
The inside of the Soft Cooler comes with two mesh pockets for organization and an outside zipper pocket for added storage. Further, the sides come with easy accessible mesh pockets for water bottles or other small gear.

Cost and Value
The Coleman Soft Cooler is relatively cheap for coolers. At a low cost you can get a great, easy to travel with cooler that protects food and hold up to 16 cans comfortably.
Heat-welded seams
Cost-effective
Extra storage space
Easy-to-clean liner
Not the best cooler for extreme temperatures
Best used with cooling packs instead of ice
11. Columbia Bora Booney II Hat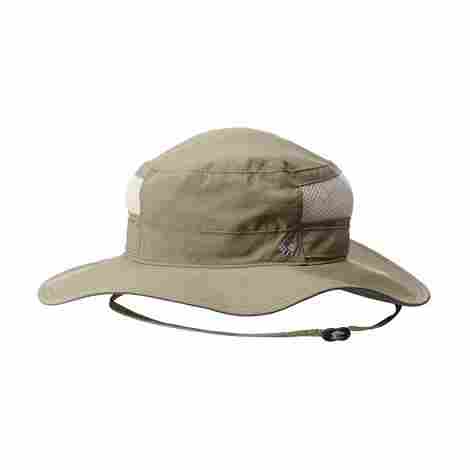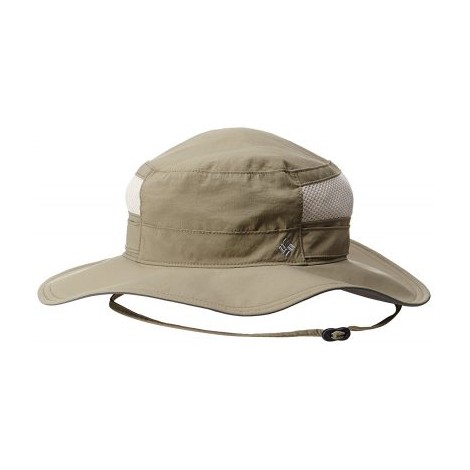 The Bora Bora Booney II by Columbia is
an exceptional hat
that keeps the sun out of your eyes and helps you stay cool when hiking. Built out of nylon, the hat is both durable and can go into water with ease. The model comes in 5 different colors allowing you to choose a style. The adjustable chin strap allows for maximum comfort and protection from the hat blowing off in strong winds.
Expand to see more
Omni-Wick Protection
The Bora Bora Booney II comes with omni-wick sweatband and mesh vent panel. This circulates air through the hat and minimizes sweat dripping into your eyes. The quick-wick protection also comes with quick-dry properties even when the hat is completely submerged in water.

Omni-Shade Technology
The omni-shade technology found in the Bora Bora Booney II blocks out 98% of harmful UVA and UVB rays. It features UPF of 50 and is Skin Cancer Foundation's number one choice for sun protection.

Cost and Value
The Bora Bora Booney II is around the average price for hats. With Omni shade and wick technology as well as multiple color designs, the hat is well worth the average cost and becomes a great addition to any hikers gear.
Multiple color options
Omni-shade technology is UPF 50
Omni-wick mesh keeps you dry and cool
Adjustable chin strap that keeps you protected from heavy winds
Bill is generally flimsy
Is not one size fits all but one size fits most
12. AS2 Paracord Bracelet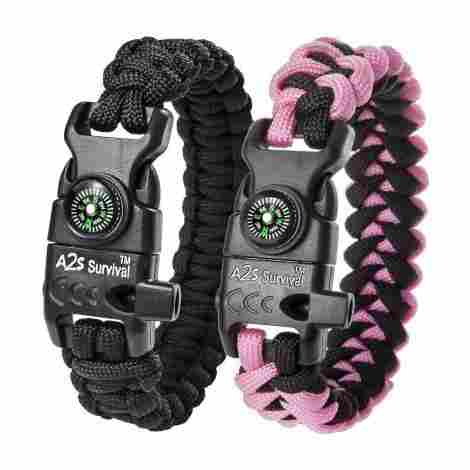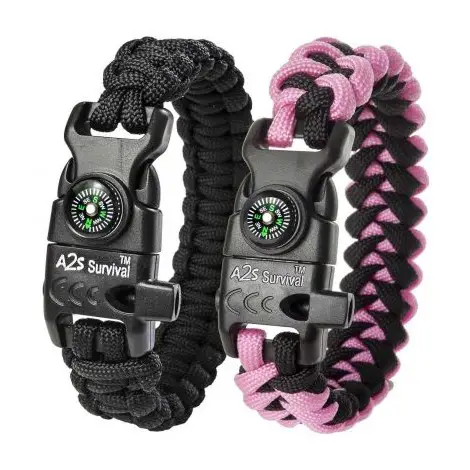 The AS2 Paracord Bracelet is a great small gift for those who like to hunt, camp, fish or hike. The bracelet comes with four fixed sizes and one adjustable size to accommodate the whole family. With tactical tools included, this is a great product for an extreme survival situation making it a great gift for hikers who go to remote locations. It was designed to be lightweight, versatile, and fashionable for anyone between the average hiker to the hardcore survivalist.
Expand to see more
5-In-1 Survival Tool
The AS2 Paracord Bracelet comes with survival tool kit which includes a compass, fire starter, fire scrapper, whistle, and knife. The bracelet also comes with a instruction manual on how to use each survival tool correctly and additional survival tips.

Military Grade Material
The AS2 Paracord Bracelet was built with military grade 550 parachute cords. The breaking point of the bracelet is 550 pounds of strength making it durable and long lasting.

Cost and Value
The Paracord Bracelet is extremely cheap. For such a low cost you can have a high grade military material and read-to-go survival tools. This makes it a perfect stocking stuffer for any outdoor enthusiast.
5-in-1 survival tool
Military grade 550 parachute cord
Extremely lightweight at only .15 pounds
Fire starter is not a reliable tool
13. Wigwam Merino Wool Socks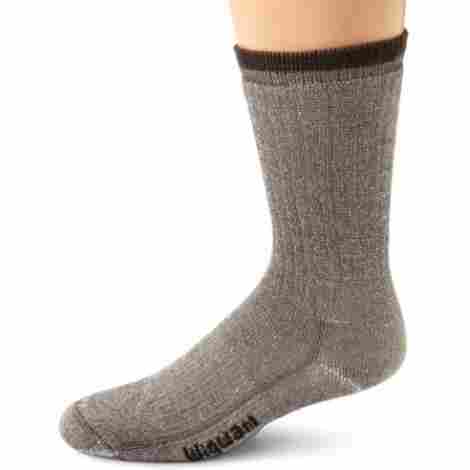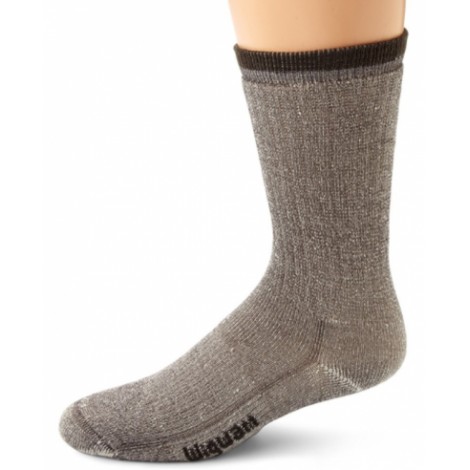 The Merino Wool Hiker Socks by Wigwam are a great sock for any outdoor adventurer. They provide warmth in cold weather with 67% merino wool. In hot temperatures the product can provide a ventilation channel through its elastic arch. Wigwam makes sure its products are reinforced with durability with natural synthetic fibers. This type of material also make its product life long-lasting. Wigwam also provides a lifetime guarantee upon purchase.
Expand to see more
Customization
For those looking to match the sock with the rest of the outfit, Wigwam offer over 18 unique colors of their Merino Wool Hiker Socks. Not only does it allow customization with style, but it comes in many different sizes for both men and women to obtain the right fit.

Comfortable and Secure Fit
Wigwam uses the optimal amount of elastic to keep the sock from falling down without squeezing the leg. Additionally, the sock was designed for comfort with full cushion throughout the foot and leg.

Cost and Value
The price for the Merino Wool Hiker Socks can vary depending on size. In some cases, they can be extremely expensive for a sock and in others they can be around the average price. Even with a lot of price variability, the sock provides a comfortable and secure fit that will keep the feet warm in cold weather or cool in hot weather. All together, this would be a great gift for a hiker making it last but certainty not least on our list.
Full cushion throughout the sock
Made in the US
Elasticized arch
Can keep the feet warm with 67% Merino wool
Only 92% fit as expected
Some sizes can be less cost effective
14. Columbia Glennaker Jacket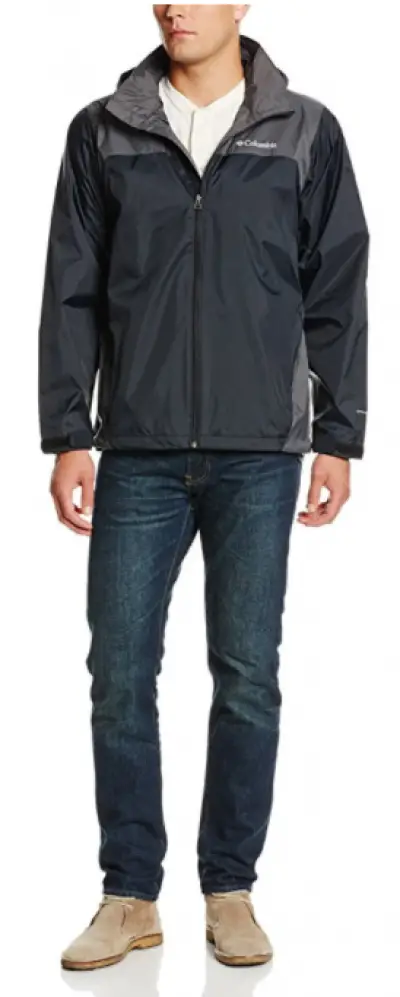 The Glennaker Lake Jacket by Columbia is an excellent water-resistant rain coat for any avid hiker. It comes with adjustable cuffs that tighten to keep cloths underneath clean and dry. Additionally, it comes with zippered pockets on the sides to keep small gear out of the elements. This model is extremely lightweight at only 12 ounces adding no unnecessary weight to your hike.
Expand to see more
Water-Repellent Fabric
The Glennaker Lake Jacket is made with water-repellent nylon fabric to keep you dry and out of the rain. Additionally, the model comes with a hideaway hood to protect your head from the rain when necessary.

17 Colors
Columbia offers this jacket in 17 colors allowing the ability to customize to your style. With so many colors, this product can be picked up for both men and women (although sized for men).

Cost and Value
The Glennaker Lake Jacket swings from cheap to expensive depending on the size. Overall, it is around the average price for a good rain jacket. With water resistant material, a hideaway hood, and zippered pockets, this model by Columbia is a great gift to pick up for any outdoors person.
100% water-resistant nylon
Hideaway hood
17 unique color designs
Zippered side-entry pockets
Sizing is different on Columbia products
Not breathable material
15. Bear Butt Double Hammock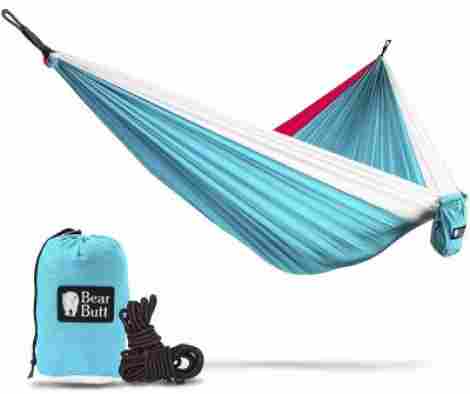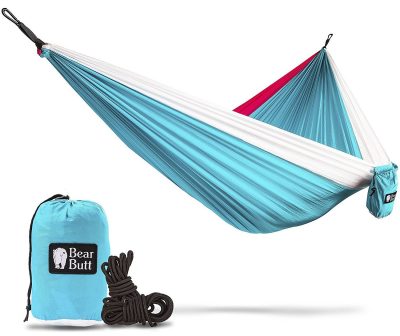 The Double Hammock by Bear Butt started not that long ago with a husband and wife team creating a lightweight, easy to travel
hammock
. The model can be stretched out and hooked onto various kinds of trees or rocks. With its easy to build feature, a hiker can have a hammock in seconds to rest or have a bite to eat. The Double Hammock was built with 75D nylon material for durability with a 210 thread count for comfortably. Together, this only weighs 1.5 pounds making it great to travel with for any hiker or camper.
Expand to see more
Lifetime Warranty
Bear Butt promises that it provides a lifetime warranty when purchased. This means they will replace your gear or give you a full refund if the hammock is damaged or you are not completely satisfied. This type of customer service put Bear Butt above and beyond its competitors.

Weight Requirements
The Bear Butt Double Hammock can hold 500 pounds comfortably and maxes out at upwards of 900 pounds. The nylon straps are extra durable making it a great hammock for up to two people while providing a great deal of functionality.

Cost and Value
The Double Hammock by Bear Butt has exceptional value with multiple colors, lifetime warranty, durable materials, and lightweight property. Together at a low cost makes it a great gift for any hiker.
Cost-effective
Lifetime warranty
Can hold upwards of 900 pounds
Only weighs 1.5 pounds
Thin material can tear with prolong use
can not be used like a rope hammock
Remember to get the most out of your hiking gear, you must take care of it. This includes where you store them, preferably not exposed to prolong rain or shine, and how you treat them. Depending on the type of hiker and what they already own will determine which hiking gift best fits their needs. While some products are better suited for those just getting into hiking, others are better for hiking enthusiasts. We believe that the products discussed today encompasses any type of hiking hobbyist. Ranging from Columbia jackets to LifeStraw, we are confident that one of these products can be the next best gift for the avid hiker friend or family member. With the holiday season right around the corner, don't stall any longer and pick up a present today!
How to Choose the Best Gift for Hikers
Now that you've read through our list of the best gifts for the hiker in your life, how do you choose one? There are several things that you need to take into consideration before making your purchase. Like any gift, you want this to be well thought out and appropriate for both you and the recipient of your gift. Choosing a gift for a specific niche can be both fun and challenging. You have a theme that will help guide you in your efforts to choose the best gift, but if you're not knowledgeable about that niche then it may be hard to choose something appropriate. Luckily, in addition to providing a list for you, we've broken down some of the things you need to consider before splurging.
Usability and Practicality
First off, the practical gift giver in me says that the most important consideration is usability. Will your gift actually get used? This may be gift giving 101, but is still an important concept to visit. You don't want to end up with a dud gift.
What type of things does your hiking friend already have? Do they have several pairs of shoes but lack in the jacket department? Or maybe they are looking to up their hiking game by going on longer hikes and now require something to help get clean water or socks to help keep their feet cozy and dry even after many logged miles.
Moral of the story: Don't get them something they already have – or have a lot of. Aim to buy a gift that they will want and use for many hikes to come. You want to get something that fits, is season/climate appropriate, and is actually something they will use.
Type of Hiking
What type of hiker are you buying a gift for? Is your friend or family member a hardcore hiker who goes for miles and miles or days and days at a time? If so, they likely need gear that is a little more intense and built around the ability to survive with nothing but what you can fit in your backpack and carry with you.
If this is the case, a water filter of some type is very high up on the list. As would be safety items – paracord, first aid kit, etc. Good shoes are obviously a must here as is appropriate clothing. There are even cool accessories – like hammocks – for taking a rest. Nobody wants to repeatedly sleep on the cold, hard ground, especially if there are bugs involved. There are lots of options and if you are attentive enough you can get something your friend will appreciate for a long time to come.
Or maybe, just maybe, your hiking buddy still needs a backpack? That's obviously right up at the top because you need something to hold all the things you need to carry with you.
Perhaps, on the other end of the spectrum, whomever you're buying a gift for only like hikes that are a couple hours at the most? Something like a cooler to keep drinks/food cold would be a great option. But things like shoes and hats are also big considerations here.
Element Proof
An important consideration when buying a gift for someone to use outdoors is what type of weather they will be dealing with. While many won't brave the extreme heat or several feet of snow, your friend might just be the crazy one that does. The good news here is that there is something on this list for everyone!
Perhaps they are going to be hiking somewhere that is wet, and in turn, muddy? There are hiking boots for that. Keeping your feet clean and dry is critical to the success of nearly any hike. There is also a jacket that will help keep the rain off of their shirt, keeping them dry underneath.
On the other end of the spectrum, maybe they will be hiking in the bright sunlight! A hat may be the best option if that is the case.
There are things for all situations, however. Wool socks, for example, will help to keep your feet cool when it's hot and warm when it's cold. They are good for either situation. There are also plenty of gifts that have nothing to do with the weather and might be a safer option if you're not sure the circumstances your hiking pall will be facing.
Price Range
Something that is always at the top of anyone's gift list considerations is how much they are going to spend. The gifts on this list range from cheap to expensive and anywhere in between. One of the first things you should do when setting out to buy a gift is to determine your price range. This will let you know what type of gift you are able to get, within reason.
Maybe you're only good for around a $20 gift? Perfect! Grab a first aid kit, Lifestraw, or a water bottle. These are all essential items that every single hiker needs. Perhaps you want to spend closer to $50 or more? Grab some shoes, a backpack, or jacket. Rest assured knowing that you can meet your friend's needs – whatever your budget may be.
FAQ
Frequently Asked Questions
Q: Why do hikers need backpacks?
A: Many choose to go for hikes that require more than what you can carry on your person. The easiest solution here is to have a backpack! You can fit the items that you need to go for hours, or even days if needed. A backpack may be one of the first things a hiker needs to have in their possession.
Q: What do hikers carry in their backpack?
A: Only essentials are carried. You need to be able to carry all of your needs or potential needs but not have too much because you don't want it to be heavy. Some examples include a first aid kit, sun protection, hydration and nutrition, and appropriate insulation.
Q: What do hikers wear?
A: Hikers wear a variety of clothing comprising base layers, shirts, shorts, pants, jackets, socks and shoes. Many companies make items specific for hiking. Find out where your hiker likes to hike and what the weather is like, find a company or brand that makes good items specifically for hikers choose appropriate items, and you should be set!
Q: What do hikers need?
A: Per the American Hiker's Society, hikers need the following: appropriate footwear, map/compass/GPS, extra water and a way to purify it, extra food, rain gear and extra clothing, safety items (fire, light, whistle), first aid kit, knife or multipurpose tool, sunscreen and sunglasses, and a backpack to carry it all in.
Q: Why do hikers wear wool socks?
A: They are comfortably padded throughout the sock, the natural blend of fibers allows for the best heat retention system and provides a layer of sun protection. Plus, they typically fit comfortably and securely.
Q: How do Hikers Carry Water?
A: Hikers can carry in their water in water bottles, but that will only go so far because water is HEAVY and weight is not a hikers friend. The next best option is to get water as you go (if in an acceptable environment to do so) but a filtering system is a must here to ensure that no unwanted contaminants are in your water (see the next question!).
Q: What causes hikers diarrhea?
A: It's usually in what they drink! Fix that problem by making sure the hiker in your life has a Lifestraw Personal Water Filter, or some means of filtering any water they intend to drink while they're out and about.
Q: Why are hikers the best?
A: They are the best because you love them! For whatever reason, you know someone who loves to live life outside, moving, and seeing all that nature has to offer. Embrace that and embrace them. Your life is likely better because they are in it.
Sources