Best Silky Saws Reviewed & Rated for Quality
In a
Hurry? Editors choice: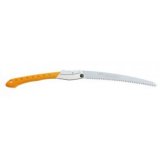 Test Winner: Bigboy 2000 XL 356-36

If you talk to anyone in the professional world of tree cutting, whether it be arborists, construction workers,
trail maintenance
workers, etc., you are likely to find out that Silky saws have had a long-standing reputation of providing ideal features to hold up to hard, technical work. This idea has spread like wildfire, now being just as common to find in the average household to perform a wide array of tasks. Before we get in to which model may be best for you, it's imperative to talk about what to look for, and what to keep in mind before purchasing one of your own. Silky has long been known to provide some of the sharpest and fastest-cutting saws on the market, so no matter which model you purchase you can be assured that you will get a
sharp and fast cutting experience
.
Standout Picks
Criteria Used for Evaluation
Durability
A special technique called impulse hardening is used to strengthen the teeth of each blade. This process will create an extremely tough, hardened edge. Hardness is achieved by the way the teeth are heated and then cooled in strategic time patterns. By only doing this process to the area with the teeth, the rest of the blade will retain the same amount of flexibility it originally had. It has been noted that blades treated in this fashion tend to last a lot longer than a saw blade not treated this way.
A unique blend of materials is used by the manufacturers to provide you with a handle that can be fully functional no matter what the conditions. This material blend gives you a superior grip, not allowing slippage, in those wet conditions. The handle style is also known for drastically reducing the amount of vibrating you will notice during the use of the saw. The materials and design for the handle were intended to provide you with the highest amount of comfort, allowing you to use the saw without getting tired out.
Model
Pole Saw
This saw is used to prune branches that are found deeper in the tree so that you can prune your tree with two feet planted safely on the ground. These can be harder to use as the weight of the saw can make them seem heavy, so be sure to find one that has the lowest weight possible, this will help combat the amount of fatigue these types of saws can cause.
Handheld Saw
This type of saw is the more popular choice because it is great for using indoors as well as outside. These can be used for cutting branches of all sizes, keep in mind the larger the branch, the longer it will take to cut through the branch. This type of saw is relatively smaller in size, making storage and transport easy. Handheld saws may come in a smaller package, but don't let that fool you, they definitely pack a punch in the durability department.
Handheld saws will also come in another option, that is the folding handheld saw. These were developed to be even more portable and space-saving compares to their counterparts the more traditional handheld saw. The folding saws are perfect for bringing along hiking, as they can easily fit into your pocket.
Style
Non-Set Teeth
This design is all about the taper of the saw blade, allowing for a much smoother, and relatively quick cutting experience. Blades for this design are made from special steel and tapered to be slightly thicker in the area of the teeth. While remaining thinner toward the back portion of the blade, this taper is what provides you with less resistance while cutting.
Mirai-Me Smooth Cutting
This technology gives the blade the ability to be used for three different cutting styles, this is due to how the blade has been ground. The extremely sharp teeth are intended to offer you four angles for cutting within the length of the teeth. This technology will make these blades a perfect match for thing such as pruning, as they reduce the amount of damage, making for a healthier tree.
Straight Blade
These saws will have a completely straight blade design but can be found with a curve to the handle for added handling comfort. The straight blade saws are a perfect match for pruning trees that need a more delicate touch, such as those for decoration or the more delicate fruit tree.
Curved Blade
This is the most commonly used blade for pruning, this is because of the ease you get from the blade design for cutting. The curved design allows the blade to more adequately grip the wood, therefore allowing you to make your cuts with more speed and ease.
Teeth
When it comes to the size of the teeth for your saw blade you will have several options to choose from. The decision you will make for the size of the teeth will typically depend on what you will want to cut most of the time. Saw blades with extra-large teeth typically provide you with a more aggressive style for cutting. Making them great for those larger cutting jobs. A saw blade containing large teeth are what you might find in most gardening sheds. That is for one simple reason, they work the best for your normal pruning and plant care needs. Blades with medium-sized teeth are better for softwood, such as cedar trees or bushes. Your last option will be a blade with fine teeth, these, unlike the medium tooth blade, are great for the hardwood like maple trees. Choose the size of teeth according to what you will use the saw for the most. In the event you have a mix of trees to prune, you may want to have more than one option for saws.
Size
When choosing the length of your saw blade here are a few things for you to consider:
Blades that are longer can assist you when trying to reach those branches slightly out of reach. With the length of these blades, you can make smoother cuts, due to the length of the cutting edge and the blade itself.
Shorter blades will typically carry a smaller price tag than that of the longer blade. It is said that with a shorter blade there seems to be more control over the saw while cutting.
Top 10 Picks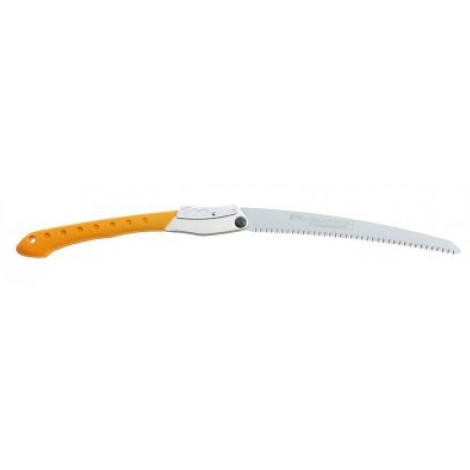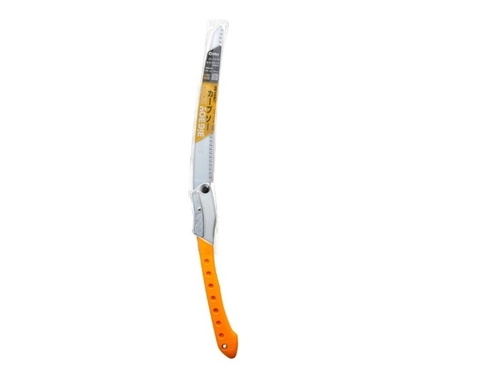 Drawing in the title of Editor's Choice, the Bigboy 2000 showcases all the features for a true multipurpose handsaw. Keep in mind that because of the long blade and the large tooth size, this is not a great handsaw for work such as pruning small branches as it can easily get caught up in other branches and because of an inadequate amount of wood to bite.
Curved Handle
Unlike, the small, medium, and large-toothed versions of the Bigboy 2000, which feature straight handles, the extra-large version of the Bigboy has a curved handle, offering what most people consider a more comfortable and effective cutting experience.
Size
At a blade length of 14.5" and a total reach of about 30", this saw can take on many challenges it is put up against. The extra-large teeth of the Bigboy cut through both green and dry wood seemingly equally well.
Cost and Value
Surprisingly, for coming in as Editor's Choice for being a truly multipurpose saw, the Bigboy 2000 holds a modest price tag compared to other silky saws mentioned here, making this a great purchase for those who only want purchase one saw to do most of their jobs.

2

. Katanaboy 500 XL 403-50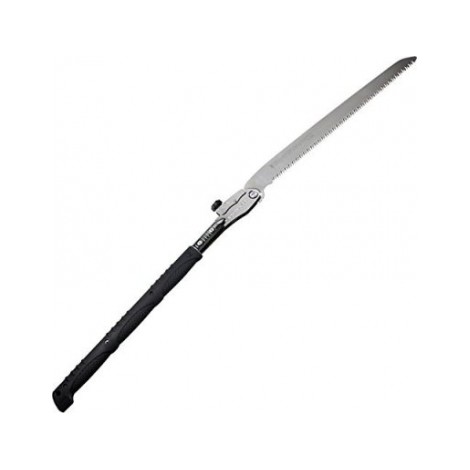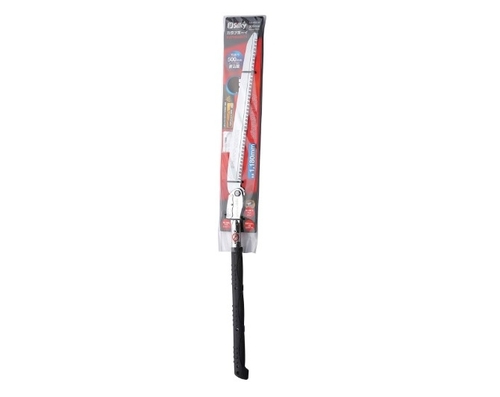 Dubbed as Silky's answer to a "man-powered" chainsaw, the Katanaboy boasts the second-longest blade and reach offered. With the ability to resharpen the blade, something you cannot do with most handsaws, it's no doubt with this was an easy runner up on the best-of list.
Can Resharpen Blade
As the only saw mentioned here that can be resharpened, this is a HUGE draw for those who have the knowledge and skills to do so. While the blade can be replaced, the ability to resharpen your blade will save you money in the long run.
Uses
With the ability to cut trees up to 10 inches, it's easy to see where it gets its name and has become the go-to choice for many trail workers, homeowners and construction workers to get a full reach and sharp cut. Due to the length, this is designed for double-handed use.
Cost and Value
The Katanaboy is the most expensive saw outlined, however with the unique ability to resharpen the blade and the longest reach of any other Silky on the market, the price is well worth it for those needing a big saw for a big job.

3

. Gomboy 240 Medium 121-24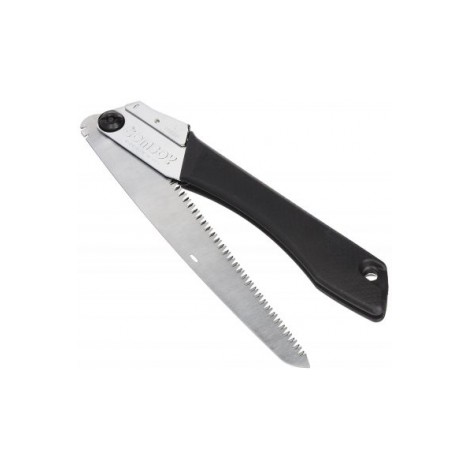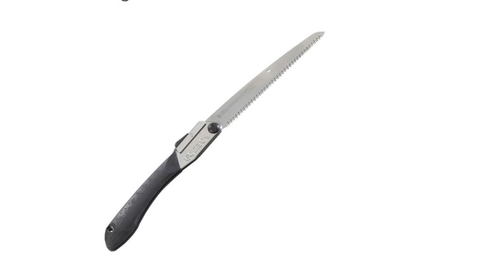 Weighing in at a mere 0.6 pounds, and while folded keeping a length of 10.6 inches, this is a versatile option for hikers, hunters, and backpackers without compromising as much cutting capacity as you do with the Pocketboy.
Durable Plastic Carry Case
The thick plastic used to create the accompanying carry case is durable enough to take with you in the woods and ensure your saw will be kept safe from the elements.
Portable
At a blade length of 9.5 inches, this is a great saw to keep on the side of your backpack for easy access while on the trail to cut just about any smaller tree or pesky branches in your way, or for around the yard. While it's too small to cut bigger trees and limbs, this works for smaller trees while also taking care of small branches.
Cost and Value
The Gomboy 240 holds one of the cheaper price tags in comparison to other models while still holding the classic powerful saw power of any Silky creation.

4

. Pocketboy 170 Large 346-17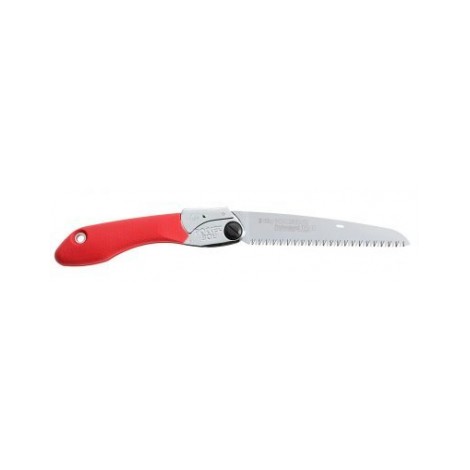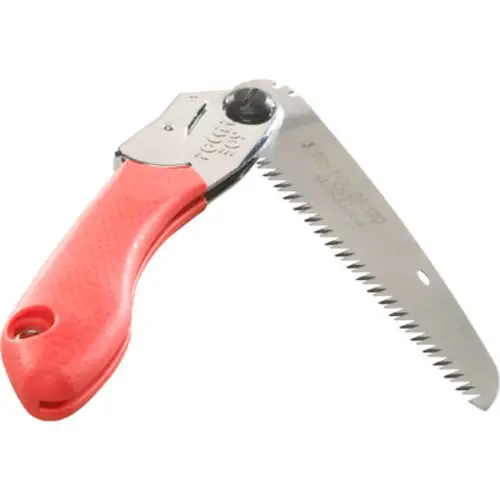 An extra inch of blade, meaning an extra inch of cutting capacity, larger teeth, and only 0.1 pounds heavier, this compact saw offers many features but with a little added security that you will be able to handle bigger wood. This a reliable locking mechanism and flip-top plastic carrying case for safe and dry transport, and are small enough to fit in your pocket or pack to take everywhere with you.
Extra Blade Length
Featuring the same great build of the Pocketboy 130, but offering an additional inch of blade, and in turn an extra inch of cutting capacity.
Rust-Resistant
Rusting is an issue for many types of tools. Cleaning and properly caring for your tools can prevent that from happening. But Silky has taken it one step further and added rust-resistance to this model.
Cost and Value
Sitting with the same theme so far, the Pocketboy 170 is slightly more expensive than the 130 due to the extra blade length and cutting capacity.

5

. Zubat 330 Large 270-33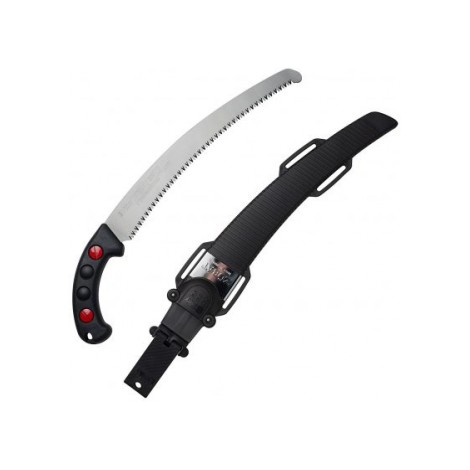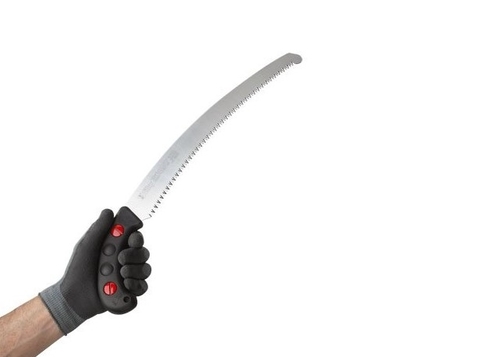 Being the most popular of the Zubat models, this large-toothed Zubat is a favorite for those who prefer fixed blade over folding saws. The included scabbard can be attached to your belt (on the right side) or held on the outside of your pack easily, for fast access while out on the trail or around the yard.
High-Quality Sheath
The sheath, coming with a detachable belt holder, can be easily attached to your belt, backpack, or carried inside your pack, giving you easy and quick access to cut whatever is in your way, and keeps the saw in place while on the move.
Blade
The modest 13" blade length has been found to be a reasonable compromise for those looking for a portable saw without losing too much cutting capacity, and the curved handle and blade is ergonomically appealing.
Cost and Value
The Zubat is comparable in price to the Bigboy 2000 but offers a fixed blade system preferred by some, a stiff carrying scabbard, and the same sharp cuts.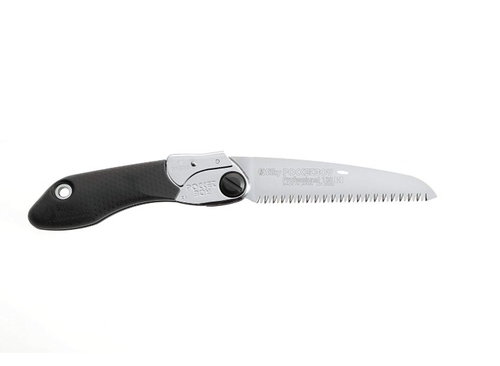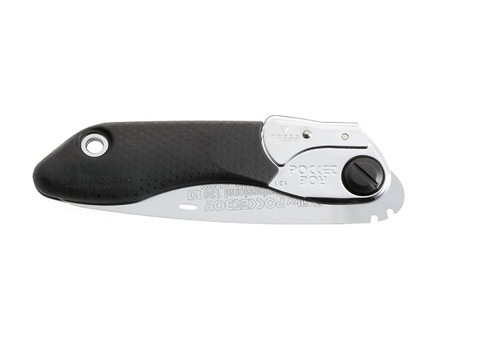 Finding a blade that is not only handy but gets the job done effectively, isn't the easiest thing to do. When it comes to finding a Silky saw there will get the job done effortlessly you are in luck as Silky products are top-notch. Measuring at 5.1 inches this saw gives you the power you need right in your hands. It enables you to feel prepared to cut anything down at any given moment.
Powerful
Working with a smaller saw means you have a larger capacity to work with. As previously stated the blade on this saw measures approximately 5.1 inches, while being extremely sharp. Thus meaning you have more room to work with and can achieve greater results. Having this feature enables you to cut furthermore with more precision as the strokes will be smaller but the effects are grander. Its all about getting the most out of what you are cutting without having too add additional pressure.
MIRAI-ME Technology
Unlike other options, this one comes with MIRAI-ME Technology integrated. Having this technology makes the teeth in the saw twice as sharp while delivering fasting cutting action. Having this feature enables the blade to cut cohesively while extending the longevity of the blade over. Having this technology weaved into the saw allows you to feel more comfortable when making precise cuts.
Cost and Value
When it comes to the price of this saw you are paying a higher price. However, you are getting a quality knife with all the bells and whistles you need to get the most use out of it. The quality of the saw speaks volumes, so you are getting a long-lasting product that works.

7

. Super Accel 210 Large 119-21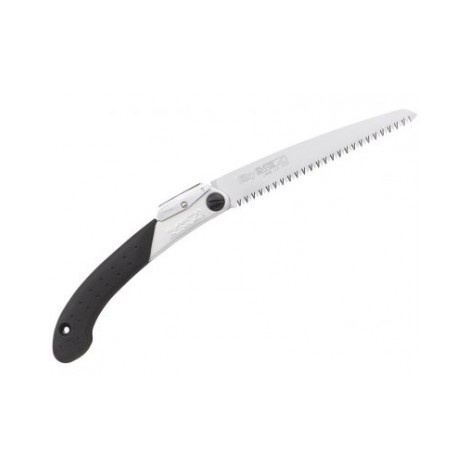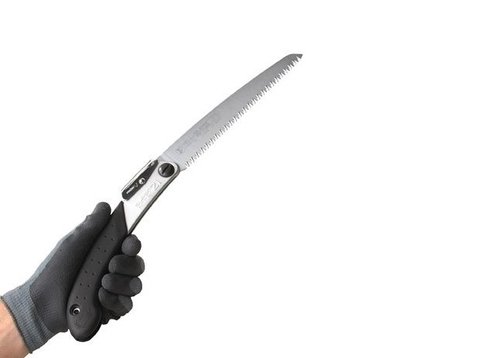 At this point, if you liked the compact nature of the Pocketboy 130 and 170 but still wanted something just a tiny bit longer, the Super Accel offers you that extra inch of cutting capacity than the 170 offers, coming in at 8.3" while maintaining the same weight. Featuring two locking positions for cutting in tight spaces through the same reliable locking mechanism, the Super Accel is a popular choice among arborists and gardeners.
Two Cutting Angles
The locking mechanism provides for four cutting angles with the saw, one straight out and one at an angle, proving invaluable when cutting in tight conditions and ensuring the saw does not close on your hand while in use.
Size
The Super Accel is the largest compact saw that you can get without going too big to fit in many pockets. This saw is specifically designed for aggressive cutting. It does not come with a carrying case.
Cost and Value
Being an inch longer than the Pocketboy 170 and the same weight, the Super Accel costs just slightly more than the 170, making it worth that extra inch if that's what you're looking for.

8

. New Professional Series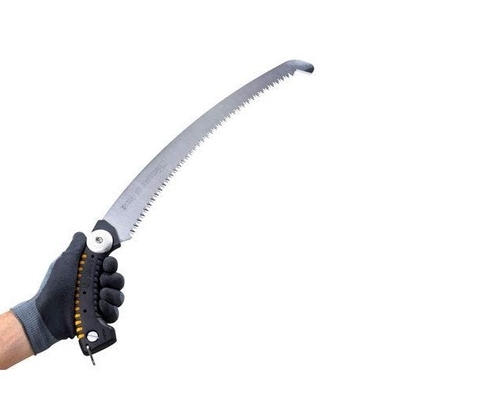 While most hand saws are created to be used for all intended purposes some are different, and this is one of them. Intended to be used for landscaping, outdoors cutting and tree trimming the Silky New Professional Series was designed specifically for the professional consumer. Though anyone can use it, its design works great for those that have years working with hand saws constantly. Featuring a curved blade this knife is intended to be used with a tougher force. Which is why the Silky professional series works great for those that want a lightweight product that has the power to get it right every time.
Sharp
Featuring a 14.2-inch blade, that has been paired with a cutting capacity of 7.1 inches; however, though it is powerful, as stated above it is also quite lightweight. Making it perfect for those that want to climb trees, travel, or even hunt away from home with a saw, its lightweight element enables you to do just that. Not only is it lightweight but its quite sharp. Having a sharp blend works in your favor as its more about cutting deep with minimal strokes. This works as it enables you to work less but cut more.
Leg Strap
By having a leg strap included this saw allows you to have the ability to take it with you anywhere you would like without being in anyone's face or being cumbersome to what you are carrying. Furthermore, you want to take into the notion that not all saws have this feature so you are truly getting a bonus element.
Cost and Value
When it comes to the cost and value of this item you will be paying a bit on the higher end. However, this is mainly due to this product to be a professionally constructed item. This means you are getting grade A quality, that allows you to have a lightweight product that is powerful and sleek all at once.

9

. Bigboy 360 Large 354-36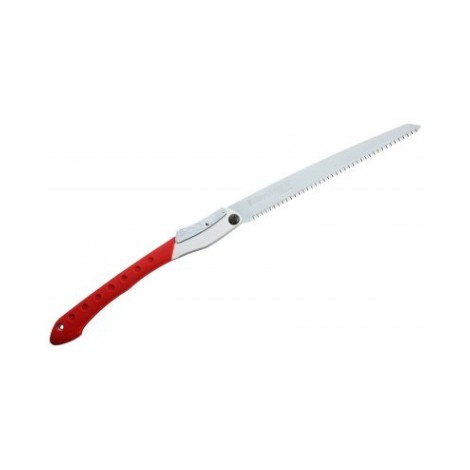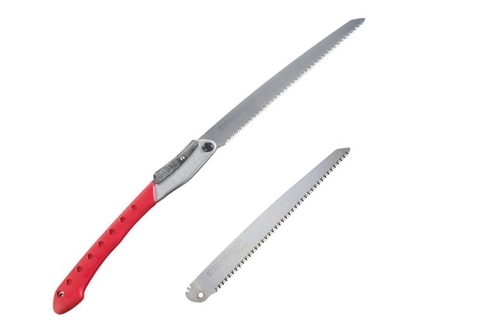 If you liked the Bigboy 2000 but wanted something with smaller teeth, the large teeth of the Bigboy 360 may be what you're looking for. This has pretty much all the same features, including blade length, full reach, and weight, just with smaller tooth size. The reliable locking mechanism will keep your saw locked open while in use. It does not come with a carrying case, although you can purchase one for an additional cost.
Bright Red Handle
While out in the woods, red is an easy color to find on the forest floor, so next time you accidentally set it down and forget where you placed it, you will easily find this bright saw.
Versatile
This straight-blade saw is another versatile choice for those looking to purchase one saw that will work for most jobs they have in mind, both around the yard and in the woods.
Cost and Value
The Bigboy 360 is virtually the same price as the Bigboy 2000, with smaller teeth but the same length blade and the same weight, and provides the same reliable cutting experience.

10

. HAYAUCHI 390, 21-Feet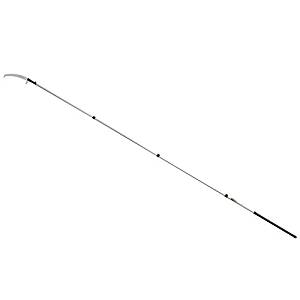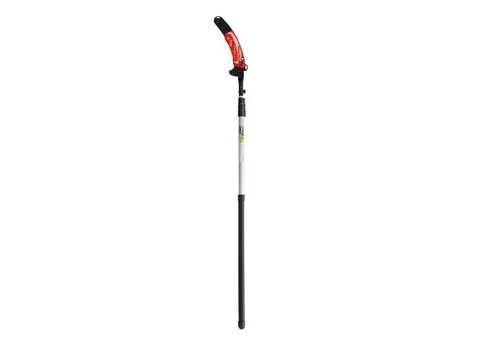 HAYAUCHI is among the finest telescope pole saws available. This Silky HAYAUCHI pole saw is the choice of many professionals. The pole saw is perfect for the toughest pruning jobs. It can be used for lawn and garden, arborist and forestry, trimming and pruning.
The Pole
The incorporation of two locking systems assures structural rigidity. It is an aluminum alloy extension pole that is oval-shaped, which provides precise control over the blade direction. Control is especially important when cutting high.
The Blades
Proprietary Silky 4-RETSUME Technology that has four rows of teeth is utilized in the curved blade. The blade is adjustable. Angle requirements for low and high cutting are different. The saw also features upper and lower sickles. An upper sickle cuts vines. The lower sickle is used to undercut bark. It provides a clean cut without causing damage to the tree. The upper sickle prevents the blade from slipping off the limb.
Cost and Value
The saw has changed the way some tree work is done. It makes the job smoother and faster. Bending is reduced to a minimum. The saw replaces a climber in some situations. No crazy limb walks or climbing small trees is necessary.

Subscribe to our Newsletter