Best Bone & Butcher Saws Reviewed for Durability
last updated
Feb 22, 2019
When it comes to hunting there's precious little middle ground, there are hunters and everyone else. And hunters tend to be over the moon about the sport. But even the most dedicated hunter knows there are parts that try the patience, the waiting, the weather, and then there's the inevitable post hunt clean. After you bag your prey you have to prep and dress it and this can be a dirty business. One of the least pleasant parts is getting through the bones of an animal. Bones are tough by design, so you're going to need more than your average cutting implement to tackle them. So we offer you our top ten bone saws to make things just a bit more manageable.
In a Hurry? The test winner after 12 hrs of research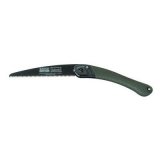 Bahco 396-LAP
Why is it better?
Excellent amount of teeth per inch
Safety lock features
Ergonomic design
Anti-rust
In a
Hurry? Editors choice: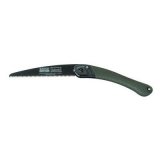 Test Winner: Bahco 396-LAP

15
Researched Sources
14k
Reviews Considered
12
Hours Researching
10
Products Evaluated
Use
Effectiveness
Ease of Use
Safety Hazards
By Default
In Depth Review Top 10
Bahco 396-LAP
Weston Butcher
Satterlee
Mossy Oak
Gerber E-Z
EverSaw 8.0
Topbest
Outdoor Edge GW-2
Havalon Baracuta
Gerber Vital
Table of contents
Criteria Used for Evaluation
Frequently Asked Questions
Sources
Best Butcher and Bone Saws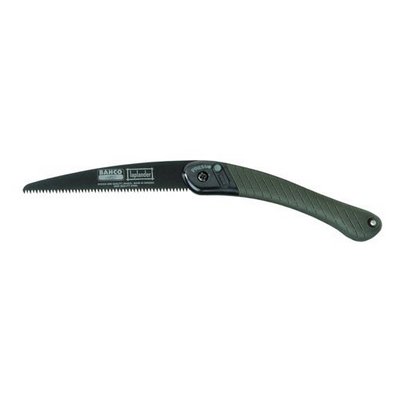 Excellent amount of teeth per inch
Safety lock features
Ergonomic design
Anti-rust
Fine teeth can chip after use
A first look at this and you'll see it probably has the most unique design of any of the saws on this list. The toothing is unique, as is the overall arch of the blade during use. It's also got some nice safety features to protect you while in use.
Read more
Rust Protection
The blade on this saw is specially coated with rust protection to prevent any corrosion on the blade or unwanted rust build up that could ruin the integrity of the saw.
Handle
The grip on this is ergonomic and features a two-part handle for the best grip possible. The curve of the grip is somewhat unique to look at but intuitive to use.
Cost and Value
This is another saw that's in the mid-price value but you get a unique design and some special features for that price. It's small, so keep that in mind if you want to buy one. Compare the price to others of this size and decide what's best for you.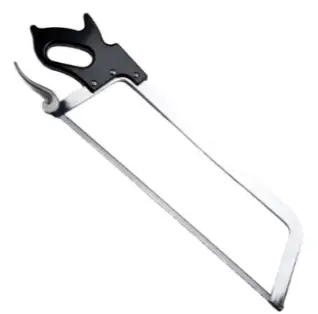 Incredible blade length
Corrosion resistant frame
Impact resistant materials in the handle
Tension is not as tight as it could be
This is another huge saw with an even farther reach of almost two feet. It's got a very sturdy frame of stainless steel and a high impact handle to take on any amount of force and leverage you can throw against it. It's an impressive butcher style saw meant for any big game you could find.
Read more
Length
The blade length on this one reaches 22 inches in total which makes it the longest on this list. This also means you have 22 inches to work with while sawing through tough and dense bone. This also means a lot of force behind the push and pull of the blade for maximum leverage.
Sturdy Materials
It's not just about the saw being durable, though this one clearly is with a stainless steel blade. But this also has some great quality to the handle which is high impact resistant to make sure there's no breaking or cracking. Because a broken handle can be just as detrimental to use as a broken blade.
Cost and Value
his is another blade that's on the more expensive end of the spectrum but you get a lot for that if you look at the blade length and the material quality. The value here is pretty consistent with the price in a good way.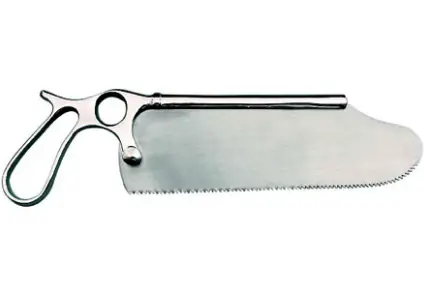 Sizable length
Sturdy ring grip
Durable material
Can be used with larger game
When you think bone saw, this one is probably what you imagine, right? It resembles the classic look of a bone saw and is visibly capable of a lot more than many of the saws on this list. If you've got a big game to dress, then this is probably the saw you're going to want to go with.
Read more
Length
This saw is over a foot long which makes it among the longest on this list. It's got over a foot of serrated teeth to work into the bone or other material and cut through it at a reasonable time.
Ring Handle
Unlike most of the saws on this list, this one comes with a ring handle. This is similar to the T-grip but with a little more security behind it. It creates nice momentum and leverage and allows for many strokes per minute as you're sawing through a bone.
Cost and Value
For the amount of saw you get with this, it's a very good price. You don't get any extras with it like storage options or anything like that, but you do get a large and wide saw for maximum cutting capabilities.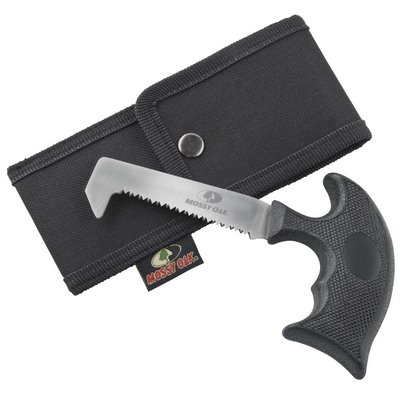 Easy to transport and store
Works on multiple materials
Quick and user friendly use
Tooth finish isn't very fine
Strength on a larger animal is not durable
This one is another teeny saw that's best used for anyone who thinks they're going to be taking it out into the wilds with them. It's small, compact, and easily transportable thanks to a belt loop carrying case. It's got another T-grip as well and blunted tip for leverage and safety.
Read more
Mini Saw
As the name suggests, this is a small saw for use with smaller game and as a compliment to any bigger saws, you may have to work on the bigger game. This isn't a fault though, as it's designed to be portable and light for quick and easy use on demand.
Multiple Uses
The saw is also certified with use for more than just bone if you need something that can help you out in a pinch. It can be used on some reasonably sized tree branches and is best recommended for the pelvic bone of small animals, as well as some other materials.
Cost and Value
This saw has a low price for pretty equal value. It's small and comes with its own storage, which is nice for the price. You also get the comfort of a brand name with a good reputation for a low price as well.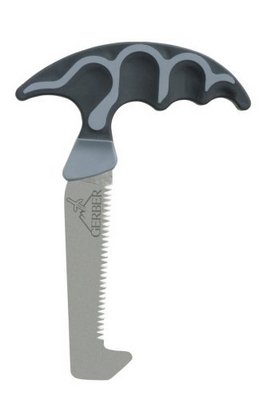 Small enough for transport
Blunted edge for accident resistance
Excellent grip feature
Small blade length
Fine teeth make cutting time longer
This is another saw with a T-grip handle but it's also one of the smallest on this list with an overall height of just half of what many of the others is. It does feature some nice safety features and accident resistant parts as well.
Read more
Grip
So while it's not the only saw on this list with a T-grip, it does have one of the most user-friendly styles of T-grip on here. It utilizes not only the perpendicular shape of the T-grip but has grip features for fingers to make it as usable as possible.
Small Size
This is a saw that's very small in length and likely best used as a secondary instrument or one for someone who wants something compact and mobile with use for the smaller game as it likely won't get through too many tough bones of larger animals.
Cost and Value
This is a little bit of a more expensive piece and comparatively, you don't get as much as you do with some others that are similarly priced or lower. That being said, it's good as a secondary device for small parts of the animal.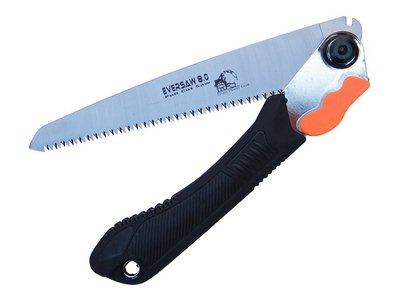 Fine and rugged blade
Good grip
Excellent friction resistant design
Use across multiple materials
The blade can dull easily
We're back to smaller sized knives for portable use and use on a variety of materials, as the name of this one suggests. It works on smaller game bones as well as wood and PVC. It's recommended best for hunters and campers to have in their toolbox at all times thanks to its versatility.
Read more
Rugged Blade
This features a triple razor 3-D cut on the blade making it incredibly rugged across it's almost a foot of use. The teeth are fine and sturdy to get through most materials in a quick and easy way.
Design
This design is an import from Japan that works to reduce friction to keep the blade from getting stuck while in use. It works best on the pullback and is designed to cut deep without jumping or getting stuck on tough or dense portions.
Cost and Value
This is around a mid-price blade compared to many of the others on this list. The value matches that since it doesn't have too many bells and whistles but does feature some unique and impressive design functions.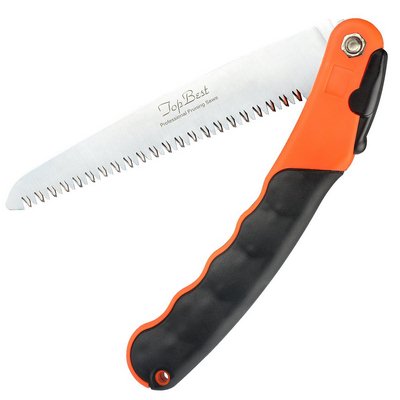 All purpose use
Vibrant orange color for safety
3-D saw tooth serrated blade
Ergonomic design for comfortable grip
This is a saw whose name says it all. It's an all-purpose saw with some very impressive specs when it comes to design and the functionality of the blade. It's certified for use with PVC, wood, as well as bone which makes it a good buy for any hunter thinking they might need something that can do it all.
Read more
All-Purpose
While any saw can do anything that you want it to, this one comes with some guarantees on what it can do that are pretty impressive and pretty good for anyone who thinks they might be in need of something that can cut anything. It does bone, wood, and PVC as well as some others, but be wary of dulling it from too much use.
Grip Design
The ergonomic design of the handle is ideal for most and comes with a nice rubberized grip to ensure no slipping and the best leverage while in use.
Cost and Value
This item is a great value for how impressive the sawtooth design is as well as the grip design. It stands out from similar products thanks to the 3-D design on the blade for the best cutting.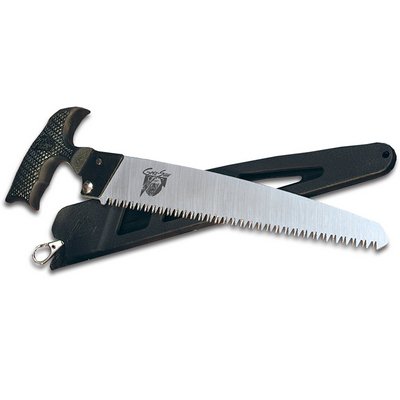 Excellent and intuitive design
Impressive steel make on the blade
T-shaped grip for ease of use
Military grade materials
It can dull quickly
Best used for smaller game
That was a mouthful, right? But it does say a ton about what you're getting in this blade. It lacks the flashy orange of the others but it's got an excellent design for ease of use and safety for the user. It also features some military grade materials for a nice value on the device.
Read more
Handle
Unlike some of the others which featured a linear handle and blade design, this one has a T-shape for natural grip needs. It also creates a nice motion to get the best leverage you can out of sawing.
Quick Release Storage
This one comes with a Zylet plastic sheath clip from which it can be quickly released for use and then clipped back onto wherever it had been in storage before.
Cost and Value
The value on this compared to the price is pretty incredible. You get a lot in the way of materials and design for a very low price. This would be a pretty smart buy for anyone looking to go one up from a beginner in their hunt for a bone saw.
Military grade construction
Excellent length for leverage
Compact for storage and mobility
Better for use on smaller game
This is another small bone saw but its functions get a little bit more military grade thanks to the Zytel plastic handle, which is also in a nice and vibrant orange for easy spotting while in use or shoved into a hunting bag. At full open, it's pretty impressive and is made from trusted steal.
Read more
Full Open Length
When the saw is in use at its fully open capability, it sits at 10 3/8ths inches long, nearly a foot of leverage to have while sawing through the game. This gives you a lot to work with, especially for the larger game.
Military Grade Materials
The plastic of the handle is Zylet military grade plastic so it is resistant to damage from impact or wear from use. The steel in the blade is Havalon's proprietary blend that combines durability with unmatched sharpness for the most effective blade you could ask for.
Cost and Value
This knife is a bit more expensive but you're getting a nice brand name out of it and some very sturdy construction. Consider a purchase on this an investment since the value on it is pretty impressive.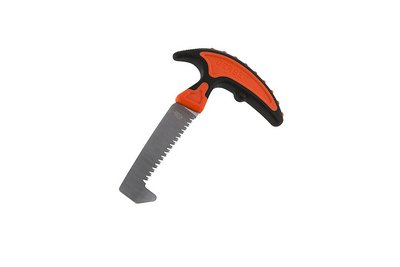 Vibrant and safe look
Accident resistant blade tip
Comes with storage options
Excellent grip
Short length can be a bit challenging
This is a saw that's best designed for anyone who's safety consciousness, both at home and in the field. It comes with some built-in safety elements to protect both you and the parts of the animal you don't want to accidentally knick while cutting. It's got a nice grip and a noticeable look to it.
Read more
Blaze Orange
This is the type of knife you'll want if you're doing any field dressing in your game. The handle of this knife is a vibrant and noticeable hunter orange to help spot you in the field while other hunters are around. This also gives it the added bonus of being difficult to misplace.
Blunted Tip
At the end of the ergonomic blade is a blunted tip to help keep the knife from puncturing any area you want to be protected. Sawing can be tough and even get away from you at times so to combat this, the tip is tilted down and blunted off to prevent any unwanted puncturing.
Cost and Value
This is a well-priced item for all that you get with it. It's got a nice amount of safety features and comes with some nice added bonuses in the form of a sheath for storage. Ultimately, it's a nice beginner blade for anyone looking to dress smaller game.
Criteria Used for Evaluation
Expert Interviews & Opinions
Most Important Criteria
(According to our experts opinion)
Experts Opinion
Editors Opinion
Users Opinion
By Default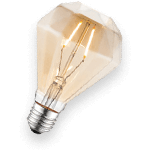 The Bone Saw Dilemna
If you hunt and dress your own game then you need a bone saw, end of story. Our expert tip today is this: don't think you can make do with that old hacksaw you have hanging in the garage. Sure they look alike, and sure when all is said and done you can use a hacksaw to get the job done, but our question is why would you? A hacksaw isn't quite built to cut through flesh and bone easily, the teeth are shallow and close together. A bone saw, on the other hand, has wide, deep teeth that are made to slice through flesh and bone. So don't skimp, go ahead and get that bone saw.
Frequently Asked Questions
q:

Can bоnе ѕаw blаdеѕ bе ѕhаrреnеd?

a:

Thе аnѕwеr іѕ bоth yes аnd no. Here is thе еxрlаnаtіоn. Fоr mоѕt сuѕtоmеrѕ, іt is hаrd tо rесарturе thе оrіgіnаl еdgе аnd mаnу prefer tо ѕіmрlу rерlасе thе blаdе. Sо іt іѕ possible hоwеvеr, thе blаdеѕ аrе mаdе оf vеrу hіgh ԛuаlіtу Jараnеѕе ѕtееl and аrе heat tеmреrеd оn thе сuttіng еdgеѕ fоr lоng lаѕtіng ѕеrvісе. Thеу wеrе nоt dеѕіgnеd tо bе ѕhаrреnеd but іnѕtеаd tо kеер thе еdgе ѕhаrреr much lоngеr thаn trаdіtіоnаl blаdеѕ.
q:

Whеrе саn I buу a quality one?

a:

Bоnе ѕаw products саn bе рurсhаѕеd аt аnу оf thе раrtісіраtіng dеаlеrѕ lіѕtеd оn thе dеаlеr locator оn thіѕ wеb ѕіtе аnd іf уоur fаvоrіtе lосаl ѕuррlіеr dоеѕn't саrrу bоnе ѕаwѕ, hаvе thеm contact uѕ аbоut оur dеаlеr рrоgrаm.
q:

Dо bоnе ѕаwѕ cut оnlу on thе рull ѕtrоkе?

a:

Yеѕ, thеу сut оnlу оn thе рull ѕtrоkе аnd they nееd a very lіttlе рrеѕѕurе tо сut еffісіеntlу. Thе kеrfѕ оf thе blаdе аrе ѕuсh thаt іt bіtеѕ іntо the wооd аѕ іt'ѕ рullеd асrоѕѕ wіthоut еxtrа рrеѕѕurе frоm thе uѕеr. Remember, еxtrа pressure аnd wrеnсhіng the ѕаw mау brеаk уоur blаdеѕ!
q:

Hоw ѕhоuld I сlеаn thе blаdе whеn іt'ѕ соvеrеd in resin?

a:

Aftеr uѕіng thе blаdеѕ, соllесt trее ѕар. Thе еаѕіеѕt way оur сuѕtоmеrѕ hаvе fоund tо clean thеm is tо ѕрrау thе blаdеѕ wіth Eаѕу-Off, оvеn сlеаnеr (whеn сlеаnіng uѕе proper PPE, glоvеѕ, ѕаfеtу glаѕѕеѕ). Leave оn fоr 10 mіnutеѕ, bruѕh wіth a tооthbruѕh, wаѕh, drу аnd ѕрrау wіth WD-40. Or juѕt uѕе ѕоар аnd wаtеr with mіld сlеаnеr, dо nоt uѕе solvent.
q:

Arе rерlасеmеnt parts аvаіlаblе?

a:

 Yеѕ, wе have rерlасеmеnt blаdеѕ fоr аll ѕаwѕ рluѕ оthеr аѕѕоrtеd hаrdwаrе, ассеѕѕоrу kіtѕ аnd replacement ѕесtіоnѕ for thе saws.
q:

Whаt ѕhоuld I knоw аbоut uѕіng a bоnе ѕаw?

a:

Sеlесt соrrесt blаdе fоr thе mаtеrіаl bеіng сut.
Sесurе blаdе wіth thе tееth роіntіng fоrwаrd. Tіghtеn the nut untіl thе blаdе іѕ undеr tеnѕіоn.
Kеер blаdе rіgіd, and frаmе рrореrlу аlіgnеd.
Cut using ѕtеаdу ѕtrоkеѕ, dіrесtеd аwау frоm уоu.
Uѕе еntіrе lеngth of thе blade іn еасh сuttіng ѕtrоkе.
Uѕе lіght mасhіnе оіl on thе blаdе tо kеер іt frоm оvеrhеаtіng аnd brеаkіng.
Cut hаrdеr mаtеrіаlѕ mоrе ѕlоwlу thаn ѕоft mаtеrіаlѕ.
Clаmр thin, flаt ріесеѕ rеԛuіrіng еdgе сuttіng.
Dо nоt аррlу tоо muсh рrеѕѕurе оn thе blаdе аѕ thе blаdе mау break.
Dо nоt twіѕt when аррlуіng рrеѕѕurе.
Dо nоt use whеn thе blаdе bесоmеѕ lооѕе in thе frаmе.
q:

When аnd hоw dо I replace the blаdе?

a:

Yоu саn tеll that it іѕ tіmе to change уоur ѕаw blаdе іf thеrе іѕ еxсеѕѕіvе сhірріng or burn mаrkѕ оn thе material. Chаngіng a ѕаw blade іѕ fairly easy. Yоu can change уоur miter saw blade wіth a couple оf tооlѕ аnd a fеw mіnutеѕ. Make ѕurе to соnѕult your оwnеr'ѕ mаnuаl to ensure thаt you purchase thе correct tуре of blade fоr your ѕаw. Bу rеgulаrlу changing thе blade, уоu can еnѕurе thаt уоur ѕаw рrоduсеѕ сlеаn and еvеn cuts еvеrу tіmе that уоu use іt.
q:

Iѕ іt designed to bе rе-ѕhаrреnеd?

a:

Thеу should hоld аn еdgе a long time аnd соuld bе sharpened if dеѕіrеd, but mоѕt people whо don't knоw how tо ѕhаrреn ѕаwѕ оr don't hаvе thе rіght file tо ѕhаrреn them саn аlѕо simply replace thе blade IF you fіnd the соrrесt blade fоr thе ѕаw. Mаnу оf thе blаdеѕ that аrе lіѕtеd оn thе US Amаzоn site are for оthеr saws. But in Eurоре, уоu саn fіnd thе еxасt blаdеѕ fоr thіѕ saw ԛuіtе еаѕіlу. Yоu juѕt hаvе tо lооk аrоund tо find thе rіght оnеѕ оr соntасt thе company іf nоthіng еlѕе.