Best Pendleton Shirts Reviewed & Rated for Quality
last updated:
Mar 06, 2019
Did you know that Pendleton has been a family owned company for over 150 years? Thomas Kay was an English weaver and the founder of Pendleton in 1863 when he began making woolen products in Oregon. In 1909 the company moved the Pendleton, Oregon (presumably where they got their name from) and in 1912 they acquired the mill in Washougal, Washington, that still weaves their custom woolen fabrics to this day. Known for rugged good looks and extreme durability, everything made by Pendleton is almost indestructible. Invest in something from the company and it will stay in the family for generations. There is a whole range of clothing for men and women also available. If a blanket is too pricey for you or you already own one and want more Pendleton greatness in your life, read our list for the best picks in shirts made from this company.
In a Hurry? The test winner after 247 hrs of research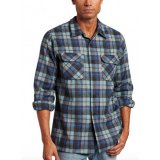 Fitted Board
Why is it better?
Two front pockets
Button up front
Best selling shirt for 50+ years
Odor, stain, and water resistant fabric
Made in the USA
In a
Hurry? Editors choice: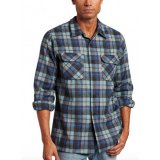 Test Winner: Fitted Board

14
Researched Sources
10k
Reviews Considered
247
Hours Researching
10
Products Evaluated
Style
Durability
Materials
Versatility
Color
By Default
10 Best Pendleton Shirts
Two front pockets
Button up front
Best selling shirt for 50+ years
Odor, stain, and water resistant fabric
Made in the USA
Too hot for really sunny days
The Fitted Board is perhaps the most iconic clothing item made by the Pendleton Company, and that is just one reason why it made number one on our list. It gained popularity in California in the 1960s amongst surfers and remains the best selling shirt to this day. The Beach Boys even wore Board Shirts on a cover of their 1962 album. The button down design and classic, pure virgin wool makes this shirt comfortable and long-lasting. Available in limitless color combinations including a whole slew of plaids, this is the top pick whether you are purchasing your first Pendleton or looking to invest in a new one.
Two Pockets
Many shirts from the Pendleton company have front pockets, and the Board Shirt is no exception. Having pockets on a shirt is really useful and can come in handy. Since the Board Shirt can be dressed up for a casual going out look or worn to work, the pockets will really be useful. There are dual pockets on the Board Shirt, so you will be able to store pens, tape measures or small work tools. The button-up style allows you to easily control your temperature as well as style the shirt in a variety of ways, such as over top of t-shirts or tanks.
Favorite Heritage Brand
Even if you aren't the type of person who is really driven by brand names, you certainly can appreciate the heritage and history behind the Pendleton name. Along with the iconic geometric patterns and plaids that have become synonymous with the name, Pendleton is also highly involved in philanthropic causes and donates to a variety of causes such as the National Park Foundation and the Native American Rehabilitation Foundation.
Cost and Value
This shirt offers a ton of value for the price. For one, Pendleton items are made to last. Reviewers have raved about how this shirt quickly became their favorite. One man said he waited almost 50 years, till he was in his 70's to invest in his first Pendleton, and he has no regrets! We love that this shirt comes in a ton of different prints, so you can easily find one that suits your tastes. The wool is sourced from Umatilla, Oregon and woven at the mill in Washougal, so you can feel good about buying a domestic made product. Bonus points that the shirts are also water, odor and stain-resistant!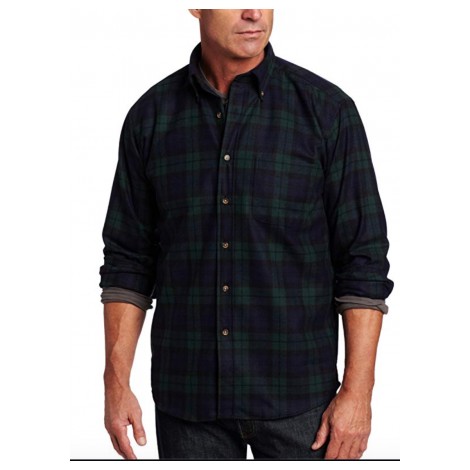 One hidden pocket
Button up front
Comes in Scottish-tartan plaids
Machine washable
Will last for generations
The Fireside is another classic button-down style shirt made by the Pendleton Company. Reviewers love this shirt because it will last almost forever if not abused. The woolen fabric is sourced from ranchers in Oregon and woven at the Pendleton Mill based in Washington. There is a ton of ways you can wear this shirt and the traditional Scottish-Tartan plaid patterns will never go out of style.
Pattern Matched Pocket
There is one front pocket on this Fireside shirt, but it is hard to spot with the naked eye. It is matched to the pattern of the shirt, so you almost can't really tell it is there. This gives the shirt a really simple look, as there is nothing on the front to distract the eye. You could easily style this shirt tucked in with a nice pair of khakis or dark jeans and it would look great for a casual evening out with friends or a date night at the cinema.
Pure Virgin Wool
All Pendleton items are made with pure virgin wool. This is a premium, natural fabric that is good for clothes for a number of reasons. Wool is naturally water and odor resistant, which helps you keep your shirt fresh, especially if you wear it for work. Wool is also lightweight and great for warmth, another reason we love this shirt.
Cost and Value
This is another classically styled shirt by Pendleton that you certainly won't regret investing in. The fabric is made from ethically sourced wool and comes from the West Coast of the USA. There are so many ways you can wear this shirt! It is rugged and durable enough for work, but can also look great if worn with more refined looks. Bonus points for the naturally odor and stain resistant properties of wool, two more reasons this shirt will be looking great for generations to come.
Fitted design is feminine
Merino wool is warm and lightweight
Naturally antibacterial and antimicrobial
Made in USA
Why should men be the only ones who get to enjoy a great Pendleton shirt? The Christina is made just for a womens smaller and curvier frame.There are nice feminine details and the product is made with a lightweight, premium merino wool. Manufactured in America since 1924, the Pendleton Company has long been synonymous with rugged good looks and quality long lasting woolen goods.
Merino Wool
We love merino wool for warm weather clothing for a ton of reasons. It is great at trapping heat which will help you stay toasty and warm even when the temperatures dip below zero. Merino wool is also renowned for being ultra light-weight, making this shirt perfect for layering or wearing under a coat. The wool is also naturally antibacterial and antimicrobial, which make your new shirt super resistant to sweat odors and bad smells.
Feminine Fit
This has been designed with women in mind. There is a shirttail hem, which will look good tucked in or out. Long sleeves will help keep you warm and two front pockets look good and can come in handy for storing smaller items like reading glasses. Bonus points that the pockets have button-up flaps, so nothing can fall out when you bend down. It is easy to style this shirt with your favorite jeans or leggings in the fall or winter and have an effortless casual outfit put together in no time.
Cost and Value
This is a great investment. It is machine washable, so you won't need to worry about expensive dry cleaner bills every time you wear it. Merino wool is a premium textile, that is renowned for its lightweight warmth. We give bonus points for the feminine fit of this shirt, you will feel great wearing it and won't look like you dipped into your boyfriends closet. The Christina shirt is the perfect solution for the woman who has always wanted an iconic Pendleton button-up of her own.
Made from pure virgin wool
Machine washable
Easy to wear
Durable and long lasting
Doesn't come in female sizes
For six generations, the family owned Pendleton company has been making durable and long lasting textile goods. Six generations is a long time to develop a reputation for extreme durability and products that are virtually indestructible. The Lodge shirt is another Pendleton classic that any man will love having in his wardrobe.
Versatile and Easy to Wear
One of the best things about a Pendleton button-up is they are super easy to wear and look great with almost everything. You can easily throw one on for casual days running errands, working outside in the yard, hiking, walking, or anytime it is a little chilly. One reviewer stated he loved how much better the Lodge Shirt held up to repeated washing and wear than the cheaper flannel versions he purchased from Target.
Machine Washable
Another huge plus about the products from Pendleton is they are generally machine washable. No one likes incurring costly dry cleaning bills. Plus, dry cleaning is bad for the environment and also highly inconvenient at times when you want to wear something that is dirty or needs to be picked up. The Lodge shirt can easily be tossed in the washing machine on a cold water setting, and then tumble dried on a low.
Cost and Value
There so many reasons the Lodge shirt is a worthwhile investment. Firstly, there is the Pendleton name and everything that stands behind it. Second, you can really feel good about buying from the company because they support so many philanthropic endeavours and only source their wool from happy sheep. Lastly, there is all the wear you can get out of the Lodge shirt. The simple, button-up style will be great for any outdoor activity you take on and can also be tucked in and worn with more formal looks.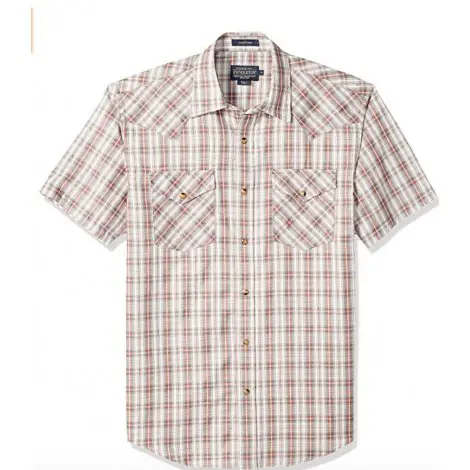 Short sleeves
Cotton & polyester blend
Button-up front
Wrinkle resistant and breathable
Easy to style
Maybe you live somewhere that doesn't experience climate change in the fall and winter. Or perhaps you love your long sleeve button up Pendleton shirts and are looking for a great garment to wear when the weather warms up a bit. Whatever the reason, the short sleeve Frontier will keep you sharply dressed and help you beat the heat at the same time.
Short Sleeves
We really like that this comes in a short sleeve version. In warmer months or hot climates, a long sleeve wool shirt wouldn't be the most appropriate choice for trying to stay cool. This shirt will look great for all sorts of activities, and can easily be dressed up down. Paired with khakis, the short-sleeve Frontier shirt would look great on the golf course or for a day out at the racetrack. You could also wear the Frontier shirt for your favorite outdoor activities like fishing, hiking, BBQing and hanging out on the deck.
Cotton Blend
Since the Frontier shirt was designed to be worn in warmer temperatures it isn't made from wool like many of the products from Pendleton. Instead, this shirt features a 60/40 cotton polyester blend. You get the breathability and softness of the natural fiber cotton, paired with the wrinkle and stain resistance offered by synthetic polyester. The fabric of this shirt makes it a winner in looks and functionality.
Cost and Value
This is another great shirt from Pendleton, and at a lower price point than some of the heavier weight options. The lower price can be attributed to the cotton/polyester fabric blend that is used, instead of heavier duty woven wool textiles which are more expensive. We love that this shirt has bias-cut front and back yokes, to add some interest to this shirt. There are also two front pockets for your convenience. Further adding value to this Pendleton product, is the fact that you can wash it at home in the machine, saving you time and money at the dry cleaner.
Vintage vibe elbow patches
Made from pure virgin wool
Machine washable
One front pocket with button
Doesn't come in short sleeve
Do you already own some classic Pendleton garments in plaid and geometric designs? Or maybe you are more of a quiet and understated guy who doesn't usually embrace patterns in his wardrobe. Over the years, Pendleton has branched out from wool textile products to offer a full line of year-round apparel. The Elbow Patch Trail is another great item from the heritage favorite Pendleton company.
Button Through Chest Pocket
There is one chest pocket on the Elbow-Patch Trail. It has a button through design, so you won't need to worry about any small items falling out when you bend down. Having a pocket on your shirt comes in handy for things like storing your pen or reading glasses. It is also a classic style of shirt that looks good on almost everyone.
Elbow Patches
The main feature of this shirt is trendy, vintage vibe elbow patches that are on both arms. The patches are made from a sand-colored microfiber suede. We love elbow patches as an easy way to add some visual interest to a plain button up. It is a great way to add a fun, vintage vibe to your wardrobe. The button down front of this Trail shirt also makes it super versatile and easy to dress up or down

Cost and Value
If you're looking for the great quality and workmanship that Pendleton is renowned for, you can't go wrong with the Elbow-Patch Trail. A variation on the classic Trail garment, there are two fun suede elbow patches on this version. We love that this is machine washable, and also that it is made from pure virgin wool that is woven in American mills.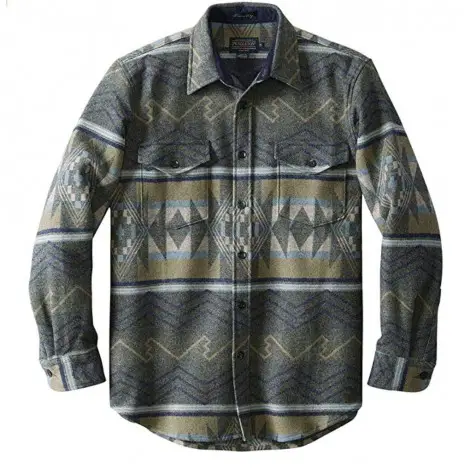 Machine washable
Geomtric pattern
Very durable and long-lasting
Dual button-up pockets
Not for people who dislike patterns
Have you been pining after a classic, geometric print Pendleton blanket but not quite sure about the price tag? Maybe the geometric prints that are synonymous with the brand are more your style than plaid and tartans patterns. This Classic Pinetop will get your noticed and keep you warm at the same time!
Corduroy Lined Collar
This is another option that is anything but plain or boring. The collar is lined in corduroy, which is nice attention to detail that many men can appreciate. There are also two pockets with button up flaps, to keep all your items safely stashed inside.
Geometric Pattern
This is made from pure virgin wool printed in the 'broken arrow' pattern, which is a classic pattern from the Pendleton archives. You won't blend into the background with this in your wardrobe. The eye-catching geometric pattern is reminiscent of tribal or native designs and the color palette is dusty blues and muted, forest greens.
Cost and Value
You can't go wrong investing in a Pinetop. The geometric pattern is super eye-catching and will certainly get you noticed. We love that this is made from pure virgin wool. This makes the Pinetop rugged and long lasting, you will be able to wear this shirt for decades if it is treated kindly! Another factor we love is the dual front pockets with buttons. Front pockets come in handy for storing smaller items such as reading glasses or tape measures and the buttons mean nothing will fall out when you bend over!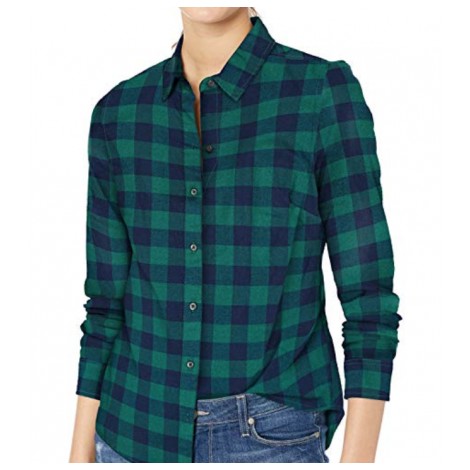 100% cotton
Lightweight and breathable
Good for layering
Fitted cut for women
Doesn't come in solid colors
Not as durable as wool
Here is another great option that is made for women! This is super easy to style and can be worn with so many different looks. You can't go wrong with this versatile garment in your wardrobe. This also makes a great gift as it is the style that almost anyone can wear and look good in. You can layer it for colder temperatures or wear it alone.
Fitted Style
Since the Audrey is made for women, it has a more fitted, streamlined cut to it than the men's garments. This is good for women because it accents their curves. Any woman who has tried on a men's button-down before will tell you it can have a very boxy, bulky look that isn't desired sometimes. We also love that there are bust darts on the Audrey, which further adds to the great fit. Reviewers loved the fitted style which they said was far from frumpy!
100% Cotton
Cotton is a natural fiber that has many benefits. It is breathable and great for moisture control. Cotton is also hypoallergenic, so it is the perfect pick for people with sensitive skin. This is lightweight enough that you could wear it year round. You could also layer the Audrey over top of a long sleeve or thermal and it would be warm enough to wear in the winter and colder months. There is so much versatility and ways to wear the Audrey!
Cost and Value
The Audrey is a little more budget-friendly than some of the other options on our list. It isn't made from wool like the more heavy duty shirts are. Instead, the Audrey is made from 100% cotton. This is a great pick if you want a Pendleton but don't want to spend a fortune. It is also good for people who live in warmer climates. Cotton is breathable and more lightweight than wool. We give a ton of bonus points for the fitter, feminine cut of the Audrey, It really completes a women's figure and doesn't look frumpy or boxy. Women will also love that this is 100% machine washable.
Snap down front
Two pockets with snap closure
Made from pure virgin wool
Fitted cut looks smart
This is another awesome option for men. The Fitted version of this gives it a more tailored look than the Original Canyon. This is great for more formal wear such as to the office for casual Fridays or evenings out in the winter. The fitted style will look great tucked into jeans or khakis.
Snap Down Front
This western-inspired garment has a snap down front. We love snaps for a bunch of reasons. One they are really easy to operate and take practically no time at all. Much quicker than doing up 12 buttons. Having snaps also allows you to weari it all the way done up, or layer it over a t-shirt and leave it half done or open. The choice is really up to you. If you overheat, open up the top snaps to get a temperature regulation.
Fitted Cut
There is some key difference between the Canyon and the Fitted Canyon. For one the armholes are slightly higher in the fitted version. There are narrower shoulders as well as slightly longer sleeves. The shirt is also made trimmer through the sides and back. This look is great for the man who wants to look polished and put together but still appreciates the quality and craftsmanship that goes into a great Pendleton.
Cost and Value
The Fitted Canyon is made from Pendletons signature pure virgin wool. Sourced from sheep that are farmed in Oregon, the fabrics are all woven in the USA in Pendleton's Washington textiles mill. We love how rugged and longlasting the woven textiles are. These last for generations, making them a great investment. Adding more value to the Fitted Canyon is dual pockets on the front that both have snaps. We also give a ton of points for the 'fitted' cut which gives a more streamlined and tailored look that many prefer.
Crew cut neckline is classic
Has one pocket
Stonewashed looks broken in
Very soft and comfortable
Have to layer it for colder temperatures
The final Pendleton on our list is the Deschutes Pocket. Pendleton is more than just woven textiles. They have expanded their product line to feature a whole range of apparel that can take you through every season. This long sleeve garment is sure to get a ton of wear once it is in your wardrobe.
Pull-Over Style
You will reach for this long-sleeved tee on the regular. The pullover style is super simple and hassle-free. We like the little details on this that make it more than just a basic long sleeve tee. For one, there are side slits which is a nice detail that gives a tailored fit. The front pocket has a small Pendleton logo patch affixed. The crew cut neckline is a classic look that will never go out of fashion.
Stonewashed
The Deschutes Pocket has been treated with a method called stone washing. This means the product has been treated to give it a worn, broken-in look and feel. Stonewashed items are known for being extra soft and comfy as well.
Cost and Value
This Deschutes Pocket Tee will be the casual garment you reach for time and time again, We love that the stone washing gives the shirt a worn-in feel, even the first time you wear it. The classic crew cut neckline will never be out of style. If you were looking to add more Pendleton gear to your wardrobe, this long sleeve tee is a great option to consider.
Criteria Used for Evaluation

Style
The style of your shirt will be important because you want to feel confident and comfortable while wearing it. The Original Pendleton shirt was a long sleeve button up made from a heavyweight woven wool textile. The brand has expanded over the years and now offer a full range of apparel for men and women to suit all seasons and needs. Since a Pendleton shirt is an investment that will last for many years, you want to select a style that you will get the most wear out of. There are shirts made specifically for females that offer a more tailored fit that better suit a woman's body. In the men's department, Pendleton has also branched out to offer more streamlined, tailored fits for the consumer who prefers a more polished look. A fitted shirt will look better tucked in if you plan to wear it for more formal occasions. Short sleeve styles will be best suited to spring or summer wear as they don't offer as much warmth and insulation as a longsleeved version.
If you are looking for a pullover shirt, Pendleton has those as well. Pull over shirts are perfect for layering during in-between seasons.

Durability
Pendleton shirts aren't cheap. Anyone investing in an expensive item would want peace of mind that they are buying an item of quality that won't fall apart in a few washes. The Pendleton name has been around for over 100 years and are known for making long-lasting, well made textile items that can be passed down for generations. Items made from woven wool textiles will have the most longevity because of the nature of the fabric. However, all shirts from this company are manufactured in the USA using the highest standards of workmanship and are built to last.

Materials
The materials for your new shirt will equal what type of fabric it is made from. There are pros and cons to the different textiles and your selection will be based on what you plan to wear your shirt for. 100% cotton is lightweight and breathable. This fabric is best for summer or spring items as it doesn't provide a ton of insulation and warmth. Cotton is good for warmer temperature as well because it absorbs sweat and dries quickly. Woven wool textiles are good for cooler temperatures. Wool is a natural fiber that has a number of benefits. Firstly, wool is great at trapping heat and keeping your toasty. Wool will still provide insulation even if it gets wet, which makes it ideal for outdoor winter clothing. Lastly, wool is durable and long lasting. It has natural water and stain repellant properties and also resists odors as well. The cons of wool is that it is a heavyweight material that would not be suited for hot temperatures. Wool can also be irritating to sensitive skin, so those people would need to wear a base layer first.

Versatility
Most people purchasing a new item of clothing will first ask themselves - how many outfits can I wear this piece with? For higher-ticket items, you want to be investing in something that can be worn with many looks and styles. Shirts in solid or muted colors may be easier to pair with a wider range of items that you already have in your wardrobe. Plaid is a pattern that has been around since the 1850s and isn't going out of style anytime soon. Geometric print shirts are great if you are looking for a statement piece that reflects your unique personality, however they may stand out too much to be worn for more formal occasions. A fitted shirt will look more polished when tucked into jeans or khaki's but it is good to keep in mind that this style won't be good for layering like an original cut.

Color
The color of your clothing is an important consideration. First, color can help us showcase our individual personality. Choosing pieces in colors or patterns that we enjoy gives us more confidence and we will be more keen to reach for these items in our wardrobe when getting dressed. The color is also important when you consider where you will be wearing your shirt. Dark colors, especially patterns are good at disguising stains and blemishes. If you will be wearing your Pendleton mostly for outdoor activities or working, you don't want to ruin it with unsightly stains.
Expert Interviews & Opinions
Most Important Criteria
(According to our experts opinion)
Experts Opinion
Editors Opinion
Users Opinion
By Default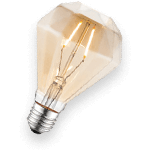 The Wonders of Wool
Did you ever wonder how wool manages to keep you warm, even after it gets wet? The secret is the natural fibers that wool is made from. Made from the coat of sheep, wool doesn't absorb heat or water, instead, it deflects it. Wool keeps you insulated using the body heat from your own foot. Since it does not absorb water the way cotton would, you don't have cold, wet fabric sitting directly against your feet causing you to lose body heat and insulating properties.
Let It Air Out
Since wool is naturally odor, stain and water resistant, it is not necessary to wash your wool Pendleton apparel every time you wear it. Simple hang your garmetn to allow it to air out, and use a lint brush to remove any fluffies. Spot remove any dirt or debris by using a damp cloth to blot the stain off.
Other Factors to Consider

Fit
Choosing a shirt that fits you well is important. No one feels comfortable of confident wearing ill-fitting clothing and you will avoid reaching for your Pendleton shirt when getting dressed if this is the case. Keep in mind if you plan to wear your new shirt over top of a base layer and size up accordingly if this is the case.

Comfort
Comfort is key when it comes to any piece of clothing. There are a number of factors that will influence the comfort of your new Pendleton shirt. Picking a style and color or pattern that you feel confident wearing is important. Selecting the right fabric for your climate will also be a factor that affects comfort.

Breathability
Cotton is far more breathable than a heavyweight woven wool. If you plan to wear your Pendleton shirt in the summer months, this is a good factor to consider.

Water Resistance
Wool is naturally water resistant, making it a great choice for outdoor winter gear. The structural make-up of the wool fibers is such that it repel water instead of absorbing it. This is ideal for snowy or rainy conditions, your woold Pendleton shirt will keep you comfortable for hours.
Frequently Asked Questions
q:

Are these all unisex?

a:

No. The Pendleton brand has a full range of apparel for men and women. While there is nothing wrong with purchasing a men's tee if you are female, it may be worth checking out the women's line for a more form-fitted, feminine option.
q:

How do I care for my new Pendleton apparel?

a:

It is best to check your tag to be sure of the specific instructions for your garment. Most Pendleton garments can go in the washing machine. Some are also able to go in the tumble dryer.
q:

These shirts are so expensive, why should I buy one?

a:

If you ask anyone who owns a Pendleton garment, they will tell you these items are made to last. Unless abused, a wool Pendleton shirt is virtually indestructible and will last for generations. The wool is sourced from Oregon ranchers and woven at a mill in Washington, two more factors that influence the price.
q:

I am tall. Will this even fit me?

a:

Pendleton sizes their products for an average height of 6'. The good news if you are on the taller side is that they also offer a 'tall' option for many of the styles available.
q:

How do I get stains out of wool?

a:

The good news is that wool is generally quite stain repellant, as long as you get to the stain before it has a chance to dry and set in. You first want to blot off or soak up any excess liquid or debris. Second, wait for the area to dry and then scrap off as much as you can with a blunt edge such as spoon or butter knife. The last step is to blot the remaining stain with a mixture of half vinegar and half gentle detergent. Linen clothes work best for this step as they don't leave any lint.
q:

Do I need to worry about moths?

a:

Moths usually damage wool items when they are in storage or not worn frequently. It is easy to avoid moth damage with a few steps. Only store items that are clean, as moths are attracted to the natural oils from your skin that can linger on even lightly worn garments. Second, invest in some good moth balls or crystals and try to store your woolen articles in airtight storage bags or containers if possible.
Subscribe to our Newsletter