Best Canada Goose Jackets Reviewed & Rated for Quality
In a
Hurry? Editors choice: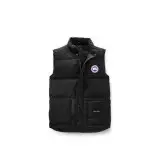 Test Winner: Freestyle Vest

When winter rolls around, warmth becomes the top priority of your wardrobe. Especially if you live in cities such as Chicago or New York, where recent years have seen record low temperatures, you want to stay as warm as you possibly can when you exit the house. However, just because you have to stay warm, doesn't mean you can't look absolutely stunning while you're doing it. Enter one of the top manufacturers in high class, higher quality, winter gear; Canada Goose. Here is our list of top ten styles on the market today!
Standout Picks
Criteria Used for Evaluation
Durability
Durability
If you paid the prices that these jackets ask of you, only for it to fall apart at the first sign of trouble, then you would be justified in declaring it to be a rip-off. Fortunately, with Canada Goose, that is very rarely the case, as their products are always made to be as durable as a jacket can conceivably be. Made from top quality materials and brought together with the best techniques, these jackets are guaranteed to last you years to come. However, when you judge the most durable jackets in the world, some will be better than others, so the general consensus from those who used each entry helped shape how far each entry got in this regard.
Materials
When you examine the materials that make up a jacket, then you have two fields you need to research to properly gauge the overall quality: the shell and the interior. The shell is a fancy term for the outer layer of the jacket, the part that people see when you wear it. Beneath that is the insulation, which we'll get into later, and finally you have the interior. This is the innermost layer, the part that you are actively touching when you put on the jacket. The materials used will be one of the deciding factors in how warm the jacket actually is when you put it on. The materials in the shell need to be able to deflect cold air and stiff winds when they hit you. And the materials in the interior need to be able to keep your body heat conserved to help keep you warm. In short, the materials used to make the coats is one of the most important criteria to consider when choosing the best one.
Features
Features
Each jacket on this list comes with a wide selection of features and gimmicks that set it apart from the others, and from the rest of their Canada Goose peers. Of course, however, there are some features that are standard issue:
Most Canada goose jackets have a longer lower area than other jackets. This is to help keep in the warm air and keep cold air from getting in through the bottom. However, some jackets on this list go a step further and make the back of the jacket longer than the front, even if by only an inch and a half, to keep cold air coming from behind getting into the jacket and sending a literal chill up your spine.
Another standard feature is a cinch strap or two that help reduce or expand the tightness of the jacket on your body to your liking, which is incredibly convenient for when you buy a jacket in your size, yet it's still too wide for your liking. However, some jackets put the strap on the outside of the jacket, while others put it on the inside. Either works, but the strap on the outside can be irritating to some.
The final example is that pretty much every jacket on this list that includes a hoodie allows it to be removed if the wearer wishes and the hood includes either one or two adjustable drawstrings which can be used to adjust the hoodie to your liking. However, as always, some go further than that, adding a third drawstring to make their hood as adjustable as possible.
How cleverly these features and others like them were implemented, was a big deciding criterion for this list.
Value
Price
We've made it abundantly clear that the prices for Canada Goose products are, quite frankly, insane. No one will blame you if the prices alone scare you off. But rest assured if you do manage to buy one, you're in for one of the best purchases in your entire wardrobe. They're pricey, incredibly so, but only because Canada Goose is dead set on using the absolute best materials possible in their work. So, while the prices are high, they're more than earned.
Top 10 Picks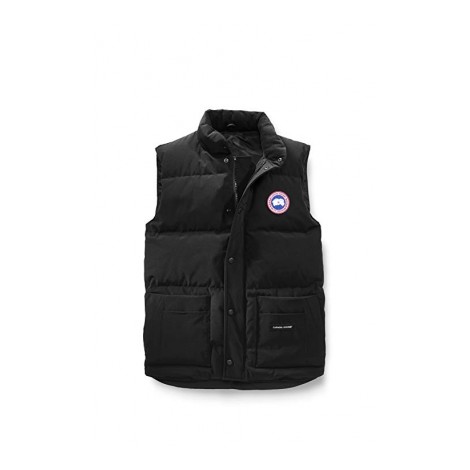 Coming in first place, we have the Canada Goose Freestyle Jacket. As you can tell from the lack of any sleeves, this jacket is meant to be worn in lighter climates. While still made from the same warm materials as a full CG jacket, this is more of what you'd wear on a cold early fall morning than the dead of winter.
Large inside pocket
You can't go wrong with more pockets. Well, all right, you can, but more pockets are still nice. And while this jacket does come with the standard exterior pockets for you to put your hands to warm them (complete with fleece interior lining) this jacket also has a much larger inside pocket. So now you can store larger items for safekeeping, thanks to the Velcro closure that the pocket utilizes.
Nylon lined interior
While this jacket isn't meant for the kinds of cold climates the heavier duty models on this list are meant to take on, that doesn't change the fact that this is a Canada Goose jacket, which means the interior is lined with Nylon. Making it 3X as warm as other jackets like it on the market
Cost and Value
As we said in the opening, Canada Goose products are expensive. So, it's perfectly reasonable if you look at the prices these jackets will ask of you and declare it highway robbery. However, there isn't a single jacket on this list or in CG's lineup that isn't utterly worth the price. These jackets will pay for themselves, guaranteed.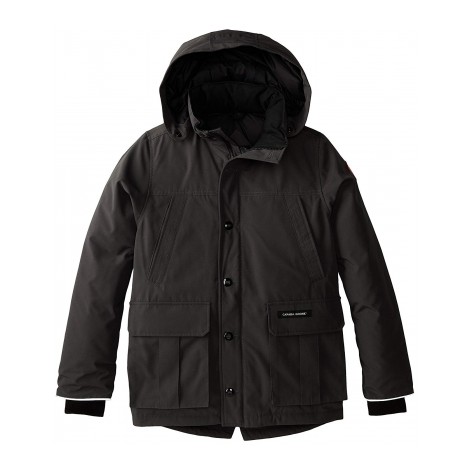 In our 2nd place spot, we have the Canada Goose Vernon Parka. This, in contrast to the previous entry, is a jacket that you wear for when the cold is really coming down hard. With a polyester/cotton outer shell and a thick one at that, this full sleeved parka will keep you nice and warm when the weather is doing everything in its power to make you anything but.
Gosling graduate system
This is meant more like a children's coat, but one nice benefit that comes with it is the Gosling graduate system. This allows the sleeves to lengthen automatically by up to 1 ½ inches. Meaning that when your kid has their growth spurt, you don't have to go shopping for a new coat.
Removable hood
Some people like their winter coats to have hoods, and some just prefer ear muffs. For both of those groups, this jacket allows the hood to be manually removed at a moment's notice. So now you can wear this hoodie anytime, even when wearing a hoodie may not be appropriate.
Cost and Value
Once again, very expensive, even more so than the previous entry, in fact. Since the Freestyle went for a vest style for its design, it had to shave off some features that would ratchet up the price. Which is why this parka is so expensive. But if you need to stay warm on those cold city days, then this is about as warm as you can get.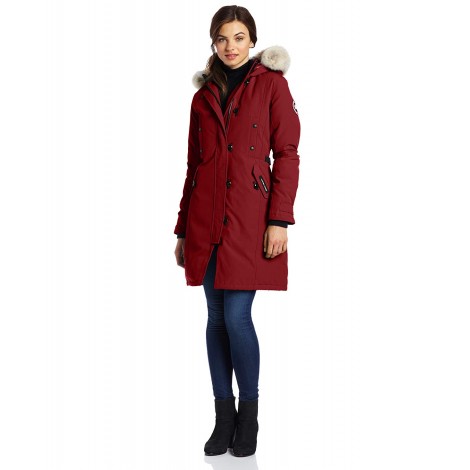 Finishing up our top 3 segment, we have the Canada Goose Kensington Parka Coat. This is the kind of jacket you wear when you not only want to stay warm but draw the eye of every guy and girl you pass on the street while doing it. It isn't just functional, it's classy and stylish. But that isn't the only reason to buy this coat.
Interior shoulder straps
Even when it's freezing outside, you don't have to always be wearing the coat. Whether you're making pit stops along the way or the place you're walking to actually has the heater on at full blast, there will be times when you need to take off your coat. Fortunately, you can save your hands the trouble, by using the interior shoulder straps to carry the coat like a backpack when you don't need to wear it.
Adjustable exterior straps
Even when a coat like this is in your size, it can feel a bit bulky, and sometimes you really do need that slimmer fit. Which is why this coat comes with adjustable exterior shoulder straps, which you can use to slim down or even extend the girth of the jacket.
Cost and Value
The thing about Canada Goose jackets is that they're all imported, so it's no wonder that they're expensive. However, the Kensington, in particular, is one of the priciest items on this list, more than twice the prices of the previous two.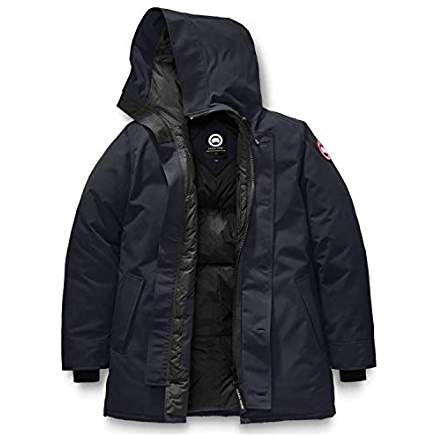 In our #4 slot, we have the Canada Goose Chateau Jacket. This jacket utilizes a slim fit with a modern look. The combination mid-thigh length and waistline drawcord is sure to keep you warm this winter.
Outstanding wind protection
This jacket is part of the Canada Goose's Arctic Down Collection. The jacket has a storm flap, which is secured with buttons is over a heavy duty front zipper. The sleeves are finished with recessed, heavy-duty cuffs. These things combined with mid-thigh length and a waistline drawcord all but assure the wind will not get to you.
Water Repellent Finish
The Artic-tech shell of this jacket is an 85/15 blend of polyester and cotton which is treated for a durable water repellent finish.
Coyote Fur Hood
The coyote fur ruff is removable off the two-way adjustable hood which gives you multiple options of style.
Cost and Value
This jacket has some very nice features for the price.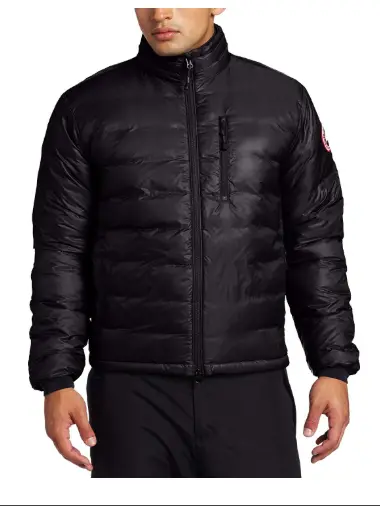 In our #5 spot, we have the Canada Goose Men's Lodge Jacket. The Lodge Jacket is lightweight and great for outdoor activities such as hiking or cross-country skiing. The compressible jacket allows for easy storage or packing.
Windproof
The Canada Goose Men's Lodge Jacket is constructed from with premium Canadian Hutterite down insulation which is covered by a windproof, quilted, rip-stop nylon shell. The two-way, reversible coil zipper is paired with a storm flap and covered with a tricot chin guard.
Extended Collar/Slim Fit
The down-filled collar has a draw-cord in order to keep the wind from blowing down your back. The brushed tricot material on the back of the collar adds to the comfort. This jacket is at hip length which allows for excellent movement while doing outdoor activities.
Price and Value
The Lodge Jacket is priced somewhat in the middle of the pack. It is a light-weight jacket design for vigorous activities allowing it to be compressed for storage or for packing while traveling.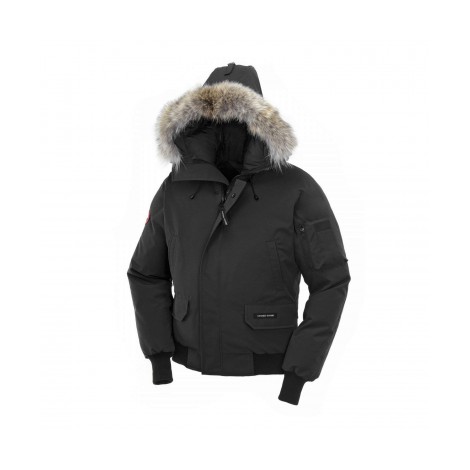 In our #6 spot, we have the Canada Goose Chilliwack Bomber Jacket. Bomber jackets, in general, have a reputation for being the more stylish cousin to a normal jacket as they are, but in the hands of Canada Goose, the Chilliwack Bomber jacket is a masterclass in style and substance.
Adjustable tunnel hood
The hoodie for this jacket is an adjustable tunnel hood, which can be adjusted from two ends, either vertically or from the hood's opening, making this one of the most versatile hoods on this list. The hood is also surrounded by genuine coyote fur, which itself has an adjustable bracing wire.
Bomber length
The main thing that separates a bomber jacket from a regular jacket is that bomber jackets are longer by default, usually going down to the middle of the hips. These jackets were originally worn by fighter pilots who didn't have any means of heating themselves up while they were in the stratosphere, so they needed as much coat as they could get.
Cost and Value
While not as expensive as the previous entry, it's still pretty far above the average price for a Canada Goose Jacket. However, this makes sense, as bomber jackets typically need more material than a normal coat.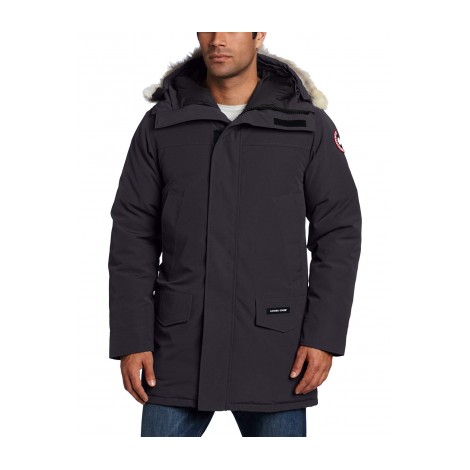 In 7th place goes the Canada Goose Langford Parka. Most people see this as one of their favorites, and while we don't quite think it's the best coat on this list, it's here for a very good reason. What are those reasons? Let's take a look.
Thicker and warmer
The reason that this one and others are referred to as parkas, while the others are coats, is that the latter is designed much more casually. While definitely fit for the cold, it was a good bit thinner than the regular parka model, so you wear it indoors. However, the regular Langford parka is thicker and meant for very cold climates, and while you'll toast like bread if you take it indoors, it will keep you nice and warm in the dead of winter.
Longer center back
Stiff, cold winds from any direction are chilling on their own, but it's definitely from the back where it gets particularly annoying. Especially if you're wearing a short jacket, because then you get a literal chill up your spine. Which is why the center back length of this parka is a bit longer than the front. Not too long, of course, but just long enough that any chill wind won't freeze your back solid.
Cost and Value
One thing this parka does share with its counterparts, though, is the incredibly high price. In fact, generally speaking, this parka is actually a bit more expensive than the other parkas we've showcased, because of the extra material used to make it.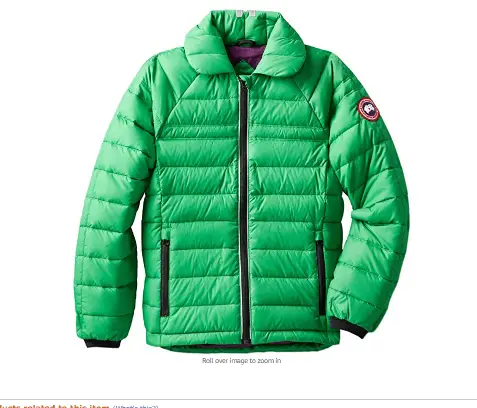 Starting off our final 3 entries, we have the Canada Goose Youth Charlotte Jacket. This jacket has a unique Gosling Graduate System which allows the sleeves to be adjusted out 1 ½" to compensate as your child grows. The outer shell consists of a water-repellent finish.
Warmth
The Charlotte has an extended back which will give greater protection from cold and wind. The collar and wrap over chin guard and lined with brushed tricot for warmth and softness. The fleece lined pockets aid in keeping hands warm.
Visibility and Easy Care
The collar and coil locking zipper both sport reflective piping to increase visibility. The Charlotte is easy care and machine washable.
Cost and Value
The Charlotte is on the upper end of the price scale for a youth jacket.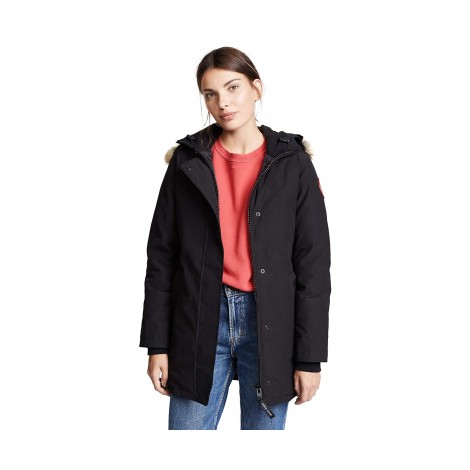 In our second to last entry, we have the Canada Goose Victoria Parka. Many people list this as being their personal favorite jacket in the entire Canada Goose line, and it really isn't hard to see why. So, what is it that makes this coat so special? A few things, actually.
Interior cinch straps
Other jackets on this list have straps which they can use to adjust the size and cinch of the coat to their needs. However, the straps on those coats were on the outside, which can become inconvenient sometimes. However, the Victoria's straps are kept on the inside, which makes them much more convenient to use.
White duck down insulation
This is one of the best-insulated jackets on this entire list, and definitely one of the most comfortable. And most of this has to do with the fact that unlike other coats like this one, the Victoria is insulated with white duck down, with a full power of 625. A lighter number compared to the heavier sets on this list, but this is a much more casual coat than those entries.
Cost and Value
But, of course, it doesn't matter how light the jacket is, it's still Canada Goose. And considering the choice of insulation, it's no wonder the price of this one is so high.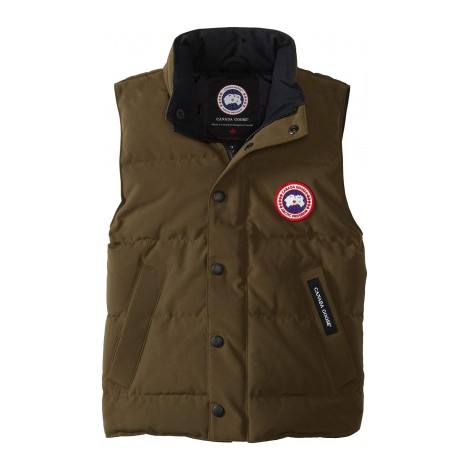 In our final entry, we award the #10 spot to the Canada Goose Vanier Vest. We started the list on a vest-like jacket, and we end it just the same. And since this jacket is meant more for young kids than grown adults like the ones we've showcased so far, it's a lot lighter and, thankfully, a lot cheaper than the previous entries. What else does it have going for it? Let's see.
Easy to care for
One drawback to the otherwise excellent clothes is that they demand high-quality care to go along with their high-quality materials. But this vest is not only machine washable, but it's also incredibly durable and requires no more than a single wash to get all the dirt out.
Hip length
Like all good coats out there, this one extends down to hip lengths in order to keep your entire torso nice and warm. But the back is a bit longer than that, which keeps stiff winds and cold air from getting up your back.
Cost and Value
This is, without question, the cheapest entry on the list. This should come as no surprise, given the fact that it's meant for children. But still, it's nice to showcase a Canada Goose jacket that doesn't make one's wallet burst into flames.

Subscribe to our Newsletter