Best Under Armour Shirts Reviewed & Rated for Quality
In a Hurry? Editors choice: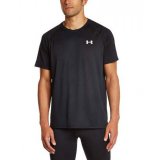 Test Winner: Tech Short Sleeve

Whether you're looking for a nice t-shirt to wear on your casual days or a classy outfit that you can wear when going to the
gym
, Under-Armour shirts are the best way to go. They are made from the best quality materials and are quite fashionable.
Unlike most gym shirts, they don't pack too much color or pomp which also makes them an excellent pick for a Saturday afternoon wear to the park or to beat the
summer
heat. Just because it's summer or casual wear doesn't mean you have to be a slouch. You have to carefully pick your shirts so that they not only fit but, they also represent your personality and help you stand out. We chose a few options for you that we felt would be great fits for different occasions and even reviewed them, so you don't have to decide without ample information.
Standout Picks
Criteria Used for Evaluation
Materials
Technology in the textile industry has come a long way. When choosing shirts, especially those made to manage the heat, checking on the materials is essential. You need to carefully weigh your options and see what the shirt has to offer. Not only in terms of quality but also in terms of functionality.
A good shirt made from suitable materials should dry fast and have excellent wicking abilities. Thanks to advancements in fabrics, shirts can now do more. If it is made from a UPF 30+ fabric, it means the shirt can do more than keep you cool under the hot weather. It's also a good idea to have some percentage of natural fabric worked into the shirt. It gives you better comfort, and the fabric feels softer to the skin.
Features
When buying any of these products, there's more you need to think about than how great the shirt looks. These are built to be functional and efficient. You should closely pay attention to the features and pick one that will serve your purpose best while keeping you comfortable and dry.
While it's impossible to find all feature cramped into one shirt, at least, the shirt should have excellent wicking abilities and should dry quickly. Additional features include the shirt not sticking to the body when wet and also, having additional ventilation panels and protection from ultraviolet rays.
Fit
You definitely don't want an ill-fitting shirt. If it's too small, it won't fit and it will probably rip depending on how little it is. If it's too big, you will look out of sorts with a baggy and loose shirt. It will also make it harder for you to move easily and will keep getting in your way. However, while fitting is important, it can be difficult.
Most shirts come with detailed measurements. You can take measurements and compare the results with what is available. This is the best way to pick out the best size for you. By buying the right size, you can enjoy comfort with unlimited movement because the shirt is not in your way. A better fit also allows you to look sharp.
Comfort
Even with t-shirts from this brand, comfort is paramount. You should be able to tell if a shirt is comfortable even before you spend on it. For instance, you can look at the fabric used to make the shirt. Polyester and a mixture of other fabrics usually have an ultra-soft feel on the skin which is quite comfortable.
A good t-shirt should help in keeping you dry. This is usually achieved by having wicking properties that help to get the sweat out of sensitive areas and quick dry features that help to dissipate as much moisture as possible in the shortest time possible. This way, you remain dry and comfortable longer.
Style
Picking the style of the shirt is not as serious but, just as important especially where fashion is at play. There are several options you can pick from depending on the application. It's vital to pick the right shirt for the right task so you can maximize on the investment and get the most out of it.
These t-shirts come in different styles which include short and long-sleeve shirts, sleeveless compression shirt and polo shirts. You can also choose from a wide range of sizes and fits depending on your preference and the results you're looking for. You can also choose to go with shirts that have a V-neck or a round neck or even varieties that are partially zipped.
10 Best Under Armour Shirts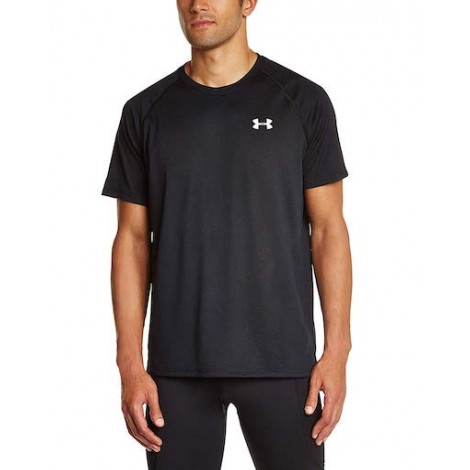 Our first pick is a nice fitting comfortable short sleeve t-shirt that is perfect for going to the gym or hanging out at the park on any given afternoon. It's dark finish makes it easy to pair, so you don't have to waste a lot of time trying to find something to go with the new shirt. What's more, it's not only a great looker. It also packs a variety of features to make sure you're comfortable at all times when you have the shirt on.
Made From Polyester
Even though polyester is not a natural fabric, it has plenty of benefits to offer which is why it's commonly preferred. Among the benefits it offers is the ability to dry fast and it's not a pain to wash. Stains don't stick easily on the materials which means you spend less time cleaning after you wear the shirt. It also allows you to enjoy a nice-looking stain-free shirt for longer.
Anti-odor Technology
If you're going to use the shirt to attend the gym or for your evening runs, the last thing you want is to come back reeking of sweat. The anti-odor technology used to make the shirt prevents the growth of odor-causing microbes, so you always smell fresh at all times no matter how hard you work out or sweat.
Cost and Value
You should expect to pay a little more for this option than you would for any other t-shirt. While the price is slightly higher, it's entirely warranted. You get a great, comfortable shirt made from high-quality materials with great performance.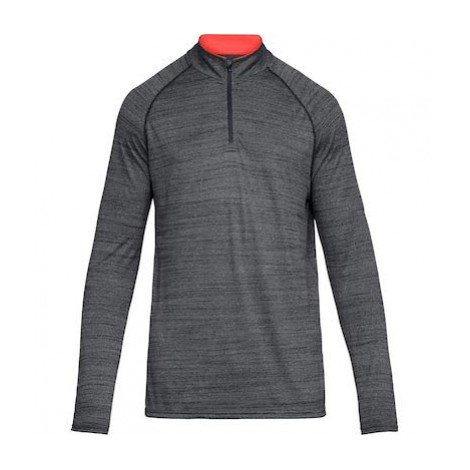 If you would prefer something a little warmer and gives you more flexibility without taking the casual look and feel away, this long-sleeve shirt fits the bill. It's perfect for grocery runs, gym sessions or even a day slacking on the couch which binge watching. Despite its casual appeal, a lot of serious work has gone into the design to make it comfortable and appealing to anyone who wears it.
Partial Front Zipper Closure
One of the biggest downsides with t-shirts is that they make it hard for you to adjust when it gets a little warm. Taking it off can also be a challenge since there's very little wiggle room around the neck. To counter that, this option offers a partial front zipper to make it easier to wear. Also, when it gets a little hot, you can slide the zipper down to get some fresh air.
Machine Wash
When you come back dripping sweat, you don't have to worry about having to sit down and hand wash the shirt. In addition to its impressive collection of features which include wicking, odor resistance and quick dry, the shirt is also machine washable which saves you time and effort.
Cost and Value
The shirt doesn't cost you an arm and a leg. In fact, when you weigh the benefits and qualities, it has to offer and the price, it's safe to say the amount is well thought out and reasonable. You get a multi-functional shirt that is comfortable to use with simple and quick maintenance. It can easily be your favorite weekend and after work wear.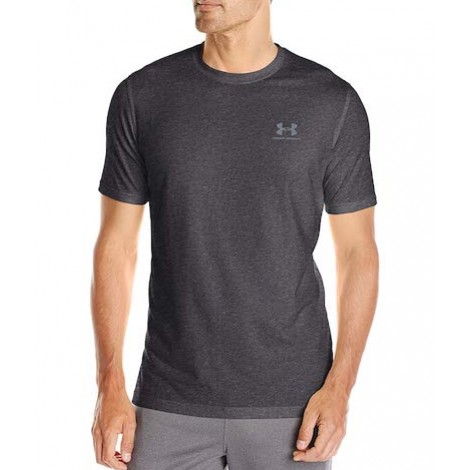 If you prefer to go for fitting shirts, this will be an appealing option for you. It comes in a plain black color with a subtle, nice emblem and it's super easy to pair. It has a nice comfortable feel to it thanks to the selection of materials used to make the shirt and offers a rich collection of features that guarantee your comfort at all times. With the innovative construction of the shirt, it's able to take more abuse without getting damaged giving you more service and value for money.
Materials
The shirt is made from a collection of materials which include, cotton, polyester and elastane. The collection of the three materials give the shirt its durable, quick dry and wicking properties. Because of the addition of cotton, the shirt has a more comfortable and soft feel which is gentle to the skin.
4-way Stretch Construction
If you intend to use the shirt for pick-up games or going to the gym, the 4-way stretch construction feature will come in handy. It allows the shirt to stretch in all directions when pulled which keeps it from tearing. After the stretch, it goes back to its normal shape. It will enable the shirt to serve you longer without getting ripped.
Cost and Value
Despite the high-quality build, the price of the shirt is quite affordable and reasonable. With its innovative features and impressive look, you will get a shirt that is aesthetically appealing and built to keep you comfortable even when you're sweating.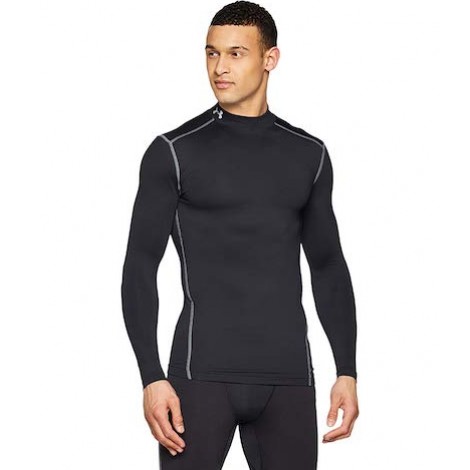 The ColdGear compression shirt is great for men looking for a chiseled body but also makes up for a great undergarment under the cold weather. It has a smooth flat seam construction that makes it unnoticeable when worn as an undergarment. It's perfect when you're working out in cold weather and you don't want your workout to be affected.
Dual-Layer Fabric
The compression shirt is built to serve two different call times which calls for some innovation. Its ability to keep you warm and comfortable without restricting your movement has been achieved by having a dual layer fabric that has an ultra-warm and brushed interior while the exterior is smooth and dries fast.
4-Way Stretch Construction
Even in the cold weather, you need to be able to move quickly and efficiently. To support these, the shirt has been built with 4-way stretch construction that gives you free range of movement while still keeping your warm and dry during your work out.
Cost and Value
Judging from the features and quality construction of the shirt, it's evident you should be ready to dig deep into your pockets to get this shirt. Luckily, it's not as expensive as you would expect and it still allows you to get total value for your money with a great, fashionable and functional shirt that will make it easier for you to brave the cold weather.

5

. Sportstyle Logo T-shirt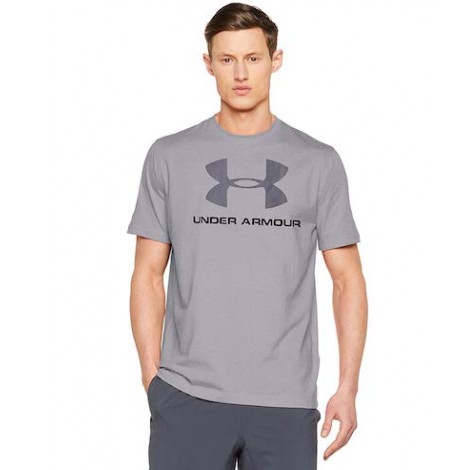 If you want to step out looking sporty and fashionable on the weekend or after work, this shirt is going to work perfectly, It's a single color which makes it easier to pair with practically any casual shorts or pants and its unique design will definitely get you noticed. It doubles up as a great t-shirt for light workouts and an evening walk with your dog or alone.
Made from Charged Cotton
Even though cotton is an extremely comfortable fabric, it soaks in a lot of water and it takes longer to dry. To counter this without affecting the good qualities of cotton, this t-shirt uses charged cotton which significantly reduces the time it takes for the shirt to dry without taking away the comfortable and smooth feel it offers to the skin.
Anti-odor Technology
Every time you sweat, odor-causing microbes can grow on your clothes making it stink. To avoid this, the shirt is made using anti-odor technology that keeps the odor microbes from growing. It keeps you smelling fresh for longer. Now you can put your mind to working out harder and longer without worrying about stinking when you get back home.
Cost and Value
Compared to other short sleeve shirts that we have already featured on this review, this one is more costly. But, that is justified by the selection of materials and quality construction. The design of the shirt is also quite appealing and makes for a great piece to wear even when you're stepping out into the great outdoors.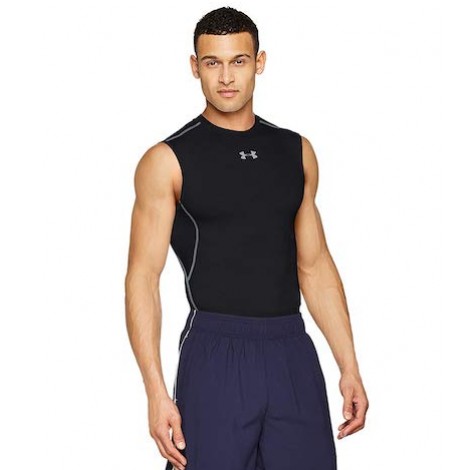 For those hot sunny days, you need a shirt that is comfortable, with enough protection for your skin but breathable. This sleeveless HeatGear Compression Shirt fits that description perfectly. It has plenty of features that will help you get through the summer heat with ease even when you would like to break a sweat.
Stretch Mesh Underarm Panels
To facilitate the flow of air and reduce sweating, the shirt has stretch mesh underarm panels that deliver strategic ventilation to your underarms and the rest of the body. This innovative design helps to improve the flow of fresh air into the body to counter sweating and dissipate heat.
UPF 30+ Fabric
The shirt will not only make the heat bearable. It also protects the skin. It is made from an Ultraviolet Protection Factor fabric of 30+ which lowers the amount of radiation that lands on your skin. With this and other factors, you have full protection to brave the summer conditions while staying fit and safe.
Cost and Value
For a high quality, carefully designed and functional sleeveless shirt, the price is quite considerate. It's slightly higher than average shirts but, given the benefits and features that you get to enjoy by buying this shirt, the price is absolutely worth it.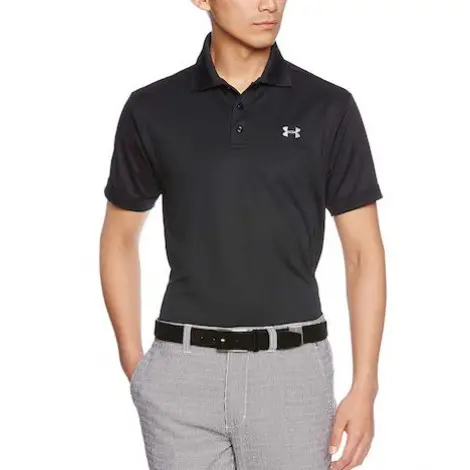 Polo shirts are a great way to look casual and sharp and this brand has a few options that you're going to like this being one of them. If you're the kind that is more interested in how you look even in casual clothes, this polo shirt that can be paired with anything from Khaki trousers, jeans and even shorts, will be a worthy addition to your wardrobe.
Durable Rib-knit Collar
You always want to keep your sharp look with a polo shirt and the collar is an integral part of your look. With the rib-knit design, the collar lasts longer and look great for a longer time. If it were not for the durable design and knit of the collar, it would become rugged in a short amount of time.
UPF30+ Fabric
The t-shirt not only looks and feels great. It also works great. In addition to the durability, it's built using UPF30+ fabric. It not only keeps you cool under the summer heat but also protects your skin from the dangerous UV rays.
Cost and Value
To enjoy the benefits that this shirt has to offer, you should be ready to stretch your budget thin. It is the costliest shirt on the list so far. It is a little expensive even with the features considering it does not have any natural fabric. Nonetheless, it does a great job of keeping you comfortable and cool.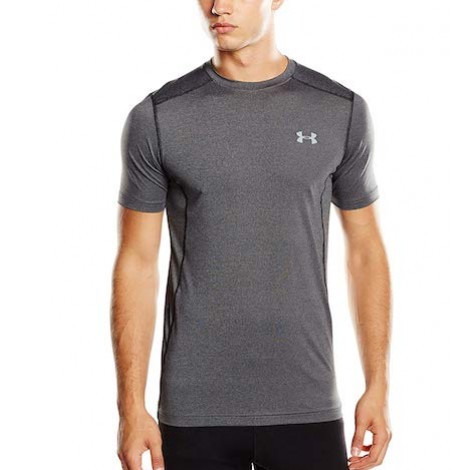 If you don't want to go for the sleeveless compression shirt to fight off the summer heat, this is a worthy alternative. It has a loose fit and short sleeves that are don't get in your way and are comfortable. The shirt offers a smooth and soft feel to your skin to keep you comfortable as you get on with your daily duties. It also makes a great gym and work out shirt.
Stretch-mesh Underarm and Back Panels
Ventilation is critical when dealing with heat. Having short sleeves is not enough. That is why the additional stretch mesh under arm and back panels makes it easier to get extra ventilation and improve the ventilation and make it more comfortable for you even while you work out.
Unique Fabric
Considering the shirt is made to excel in hot conditions, the fabric has to be unique. It is lightweight and offers a smooth and ultra-soft feel that is comfortable even when dealing with the hot summer conditions. The unique design of the fabric also provides a variety of other benefits like quick drying and wicking.
Cost and Value
Compared to other short sleeve shirts on this list, this one costs a little more mainly because of the unique design of the underarms and the back panels as well as the overall uniqueness of the material. Even if you have to pay a little more, you get a shirt that is tuned to help make the hot summers more comfortable and bearable.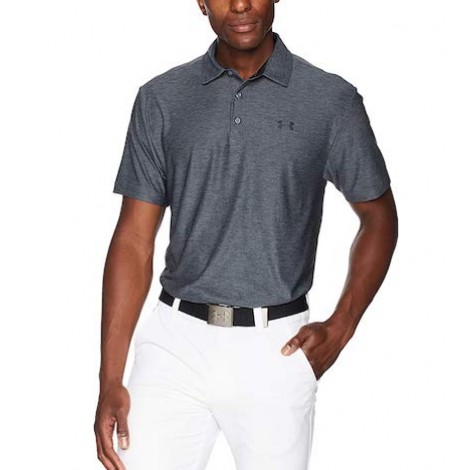 If you have a thing for polos, this is a great shirt for you to consider. It's not only easy on the eye but, it's also packed with various features that will keep you comfortable and pampered while you have the shirt on. It also has some others that allow you to enjoy the comfort and benefits of the shirts longer like better and high-quality build.
UPF30+ Fabric
Braving the scorching heat is only one part of the summer. You also have to find ways of protecting your skin against the UV rays. To help you make life easier under the sun, the shirt is made from a UPF30+ material that protects your skin against the UV rays so you can enjoy the sun longer without any worries.
Cleaner, Snag-Free Finish
Even on your casual wear, you want to have a sharp and neat look that. That's why this shirt packs a soft, anti-pick and anti-pill fabric that has a clean and snag-free finish. If you want to look smashing on your casual wear, this shirt will go a long way in helping you achieve that dream.
Cost and Value
For the quality and features the shirt has to offer, the price looks well thought out and worth it. If you're looking for a shirt that feels and looks great, this one fits the bill just right. What's more, you won't have to pay as much as you would have to pay for polo shirts of the same quality.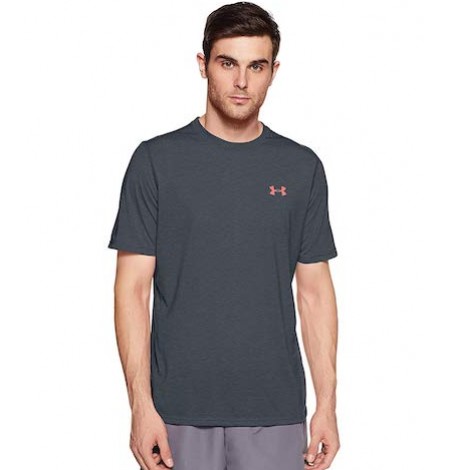 You don't have to be a gym buff to rock any clothing from this brand. You don't even have to have a chiseled upper body and this Threadbone Siro T-shirt is all the proof you need. It makes for great casual wear with all the comfort and wicking tec
Made from UA Siro Fabric
Even with casual T-shirts, you should always feel comfortable and have a shirt that feels soft against your skin. This particular one is made from UA Siro Fabric not only stretches and recovers better but also has a tremendous ultra-soft feel. It is even more breathable and offers better performance to keep you dry under the scorching heat. With this kind of fabric, you also don't have to worry about the fabric clinging to you when it gets wet.
Wicking Features
Whether you dread the feeling of sweat against your skin or you're hoping the shirt can be dry before you need for your next gym run, the wicking feature allows it to dry faster, so you're comfortable. It's also worth noting that it is made from anti-odor technology.
Cost and Value
The shirt is very affordable. It is worth every penny that you're going to pay for it and will greatly improve your time in the great outdoors. With the Threadbone Siro technology, you don't have to worry about the discomfort of wearing a wet shirt which is a great plus.

Subscribe to our Newsletter