Best Nightlights Reviewed & Rated for Quality
In a Hurry? Editors choice: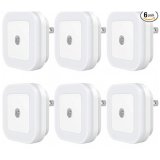 Test Winner: Sycees Plug-in LED

Anyone who has
kids
will tell you nightlights are essential. They keep monsters under the bed and the boogey man at bay. But kids aren't the only people who can benefit from having nightlights in the home. Are you tired of bumping your knee when you wake up to use the
bathroom
in the middle of the night? Sick of feeling frustrated rummaging through dark and dimly light closets? Worried about tripping on the basement stairs when you run down quickly to grab something and don't flick on the lights? Maybe you are aging or have elderly parents and don't see as well at night as you once did. Nightlights are the solution to all these problems and more. Read on for our top picks in nightlights for kids and adults alike.
Standout Picks
Criteria Used for Evaluation
Ease of Use
You're obviously purchasing night lights to make your life easier, not more complicated. The modern nightlights that exist now have made leaps and bounds from the old fashioned designs we saw in the '80s and 90s. Many of the products on our list have sensors to make using them a breeze. Motion sensors will sense when someone is moving in the room and activate the light. This is great for night time because it will not disturb your sleep. There is also dawn to dusk sensors. These work by sensing when the room has gotten dark, either because the sun has gone down or the lights turned out. These are great for places like children's rooms where you want the light on at night to help them feel less scared and settle into bed with ease. Another thing we love about modern nightlights is the switch to LED bulbs. Incandescent bulbs not only used more energy, but they heated up and became safety hazards. This was far from ideal for children's rooms or homes with pets.
Size
The size of your nightlight is important when making your selection. You want to look for products that can be positioned to keep the second outlet free, in case you need to plug something else in. Size is also important because you don't want your nightlight to become an eyesore and distract from the rest of the room. Many of the products on our list are super slim in design, so they sit quite flush to the wall and won't be noticeable.
Color
The color of your nightlight is also an important factor to consider. Do you like the calming effect of soft white or cool white, which is brighter but can also be more harsh. Salt lamps offer a relaxing amber hued glow which many people find relaxing and soothing to look at. There are also options that come with multiple colors to select from. These are great for kids, who will like being able to select a color that appeals to them. You can also choose to cycle through the colors for a rainbow effect which can be fun for children as well.
Features
The features you need will vary depending on where you want to use your nightlight, and for what purpose. Rechargeable nightlights are the perfect pick for kids. This is because they are portable and be moved around easily. You can take them with you when you travel, so your kids get a great sleep even when they are away from home. Stick-on options are perfect for use in cupboards, drawers or pantries. Anywhere that you don't have an outlet but would like the convenience of having extra light. Features like motion or daylight sensors help activate your light only when you need it. If changing colors is something that appeals to you or you are using your nightlight in children's room, look for options that offer this feature. You can select the color you wish to use or cycle through them all for a neat rainbow effect.
Adjustability
Nightlights with a dimmer switch allow you to custom pick the level of brightness you desire. Opt for more bright in areas like the hall or stairway and choose less bright for bedrooms. Dimmers are great for light sleepers as well as you can turn the light down to the minimum so as not to disturb your rest. Some products offer different modes, such as continuously on or off as well.
10 Best Nightlights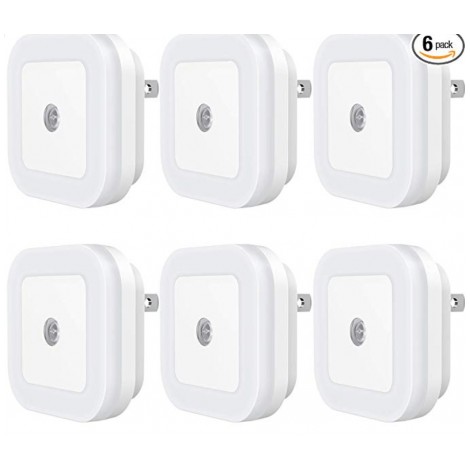 Are you looking for a way to safely illuminate dark hallways in the night? Sycees has a solution with these great LED nightlights. The unassuming, streamlined, white design will easily blend into your home and the dusk-to-dawn sensor will keep your lights off during the day when you don't need them.
Smart Light Sensor
The Sycees LED nightlights can sense when it is daylight outside. The light will automatically turn off when it is light in the room and turn on when it gets dark. This is convenient for you so you don't need to go around every day once the sun goes down and switch your nightlights on.
Offset Plug
Sycees has designed their nightlights to be streamlined enough to not block the second outlet. This is super convenient for the home. You will not need to remove the light every time you need to use an outlet. The streamlined design won't affect your existing decor, only make your house safer and more inviting at night.
Cost and Value
These come in a 6 or 8 pack which will definitely save you money versus buying just one. The price is so low you can easily afford to put a light in every room of your house. LED lights are known for being extremely energy efficient, and these nightlights from Sycees are no exception. It is estimated that the yearly cost of running one of the nightlights is less than $.25.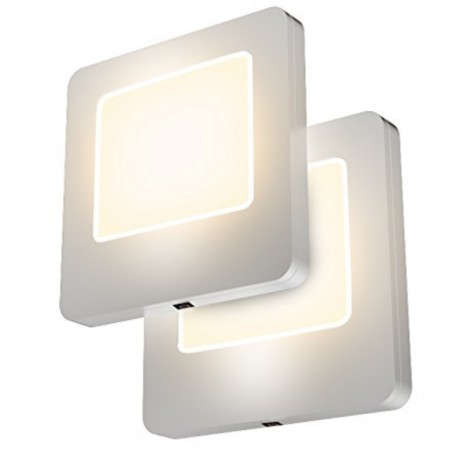 Reviewers love these compact, streamlined nightlights from LED concepts. Having some nightlights in your front hall can make your home feel more inviting when you get home late at night. They can make dark and scary basements more welcoming as well. There a ton of reasons why having some nightlights in your home will make it more enjoyable.
Ultra Slim Design
One great thing about the LED Concepts Nightlights is the ultra slim design. The product will blend in well, and not become an eyesore during the day when you might not want your nightlights to stand out. You won't need to worry about bumping your legs on the way by either, because the nightlights lay flat and flush against the wall. They measure only ¾" in depth! We give bonus points because these lights are Cool-Touch. So you can move them anytime, and you won't need to worry if you have children or pets in the home either.
Turns on Automatically
LED Concepts Night Light turns on automatically when the room gets dark. This is great for forgetful people or for somewhere like a kids bathroom that would be well served with a light at night. You will never need to worry about putting the nightlight on before you o to sleep again, because the product will know when the room gets dark and turn itself on.
Cost and Value
These lights come in a two pack, which will save you money from buying just one, and you can place a light in more than one room of the house. The price for the LED Concepts Night Lights is super reasonable so it will not break the bank. We love that these lights won't get hot to the touch, so no one will get burnt. Adding even more value to the price is the warm white light the product emits. It is bright enough to illuminate your path but not so dim that you could still or bump into something. Bonus points because LED lights are super energy efficient and only cost cents per year to operate, so you won't be incurring any extra costs on your electric bills every month.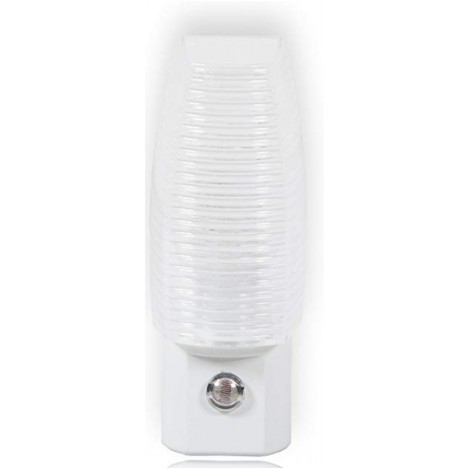 These look just like the old-fashioned nightlights that kids from the '80s and '90s will recall, with a few key changes! Maxxima has another great solution to the problem of nighttime darkness. A couple of these night lights placed around your home will make it much easier to navigate at night without switching all the lights on and risking waking anyone up. The perfect solution for roommate living situations or families with children!
No Bulb Replacement
We love LED bulbs for a number of reasons. Does anyone remember the old nightlights from back in the day that were powered by incandescent bulbs? The bulbs got hot and were not ideal for children's rooms, as they could easily burn curious little fingers. LED bulbs stay cool to the touch, so they are ideal for homes with children or pets. LED bulbs also last way longer than incandescent ones, so you will never need to worry about replacing them!
Low Energy Consumer
One more great feature of an LED light versus an incandescent, the great reduction in the amount of energy they ushaveEnergy prices has risen steeply over the past decades, and most people could always do with saving a few bucks. The cost of operating four of these Maxxima Night Lights is still less than a dollar a year!
Cost and Value
The Maxxima LED Night Light is sold in a pack of 4. We love that you will have more than one light, so you won't need to worry about what rooms need them most. The LED bulbs never need to be changed, and they only cost cents to operate because they are so energy efficient. Adding more value to the product is the fantastic price tag, that will leave you smiling at more than the great new nighttime lighting in your home. One more feature we love is that Maxxima Night Lights come with sensors, so they automatically turn on when the room gets dark and shut off when the sun rises or the lights go on.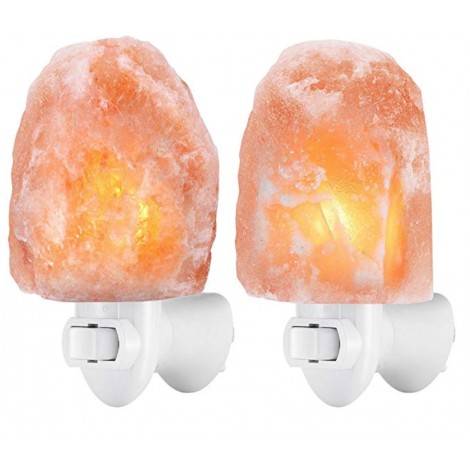 If you haven't heard all the rage about salt lamps and don't already have some in your home, this is a great cost effective way to introduce one! Or maybe you LOVE salt lamps, and already have one in almost every room. What would be better than more salt lamps, this time, cute little nightlight sized ones?! Whether you are a salt lamp virgin or junkie, this product from AMIR is certainly worth checking out!
Himalayan Salt
These wouldn't be described as average, standard or generic in any way. They are a super fun, hybrid salt lamp/night light combo! Get all the benefits of a salt lamp, paired with all the convenience and safety of a night light. This product is a great way to add a soft, illuminating glow to any room in your home. We love that the light from the salt lamp is more of a soft orange or amber color, so it won't be as harsh a cool or warm white can be. Many people find the soft, warming glow of salt lamps soothing and relaxing to be around.
Health Benefits
If you don't know about the benefits of salt lamps, there are many! They are said to neutralize positive ions in the air, leaving you with a negatively charged space. This promotes all sorts of things like improved concentration, increased serotonin and a reduction in allergies and asthma symptoms. Salt lamps can also reduce exposure to harmful electromagnetic radiation which is emitted from things in our home like TVs, computers and cell phones.
Cost and Value
If all the benefits we listed above weren't enough to convince you that you need a salt lamp in your home, we have a couple more. Salt lamps are also known to clean and purify the air. These night lights from AMIR are a great way to introduce salt lamps to your home, or add some more if you already have them. We love that this product is made from a natural material, Himalayan salt, so they are all individually shaped and the colors and patterns also vary. This product is a great way to add some good vibes into your space with the lovely amber glow and mood boosting benefits provided by salt lamps.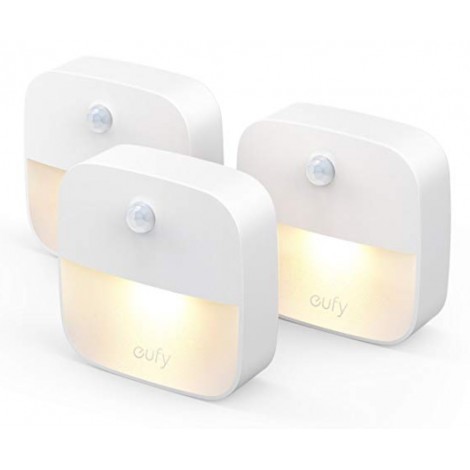 Eufy is the company taking the internet by storm with their robotic vacuum cleaners. With so much success, they branched out into other smart home products and offer this great night light called the Lumi! The eufy light made our list for a number of reasons, but the top one was the appeal of a stick-on product, versus one that has to be plugged into a socket.
Can Be Used Anywhere
The eufy Lumi lights come with a powerful adhesive on the back. This is perfect for affixing the lights in tricky areas such as closets, crawlspaces, in cupboards or under sinks, drawers, the list goes on and on. Basically anywhere you can do with a little help seeing, the eufy Lumi can be easily stuck-on to do just that. There is also the option to permanently fix the Lumi's to your wall, using the screw holes that are also provided.
Motion and Light Activated Sensor
We love that these lights from eufy don't just have a sensor for when it gets dark in the room, but they can also be set to motion activated mode as well. This is perfect for places such as closets and cupboards, that would usually be dark all the time unless you are in them. It would be silly to run the light in the closet all day long when no one needs to find anything!
Cost and Value
Eufy is known for creating affordable, smart home solutions and these Lumi lights do not disappoint. The price is super fair, so you won't need to worry about breaking the bank. The Lumi lights are sold in 3 packs, so you save more money than just buying one alone. We especially love that these lights have adhesive backings, so they can be literally stuck ANYWHERE! You aren't limited to locations with wall sockets like you are with a traditional plug-in type night light. It is worth mentioning that this product does require 3 AAA batteries, which aren't included. This is the only downside to using a stick-on versus plug-in version. However, eufy states the batteries will be enough to power the night light for up to a year under normal use!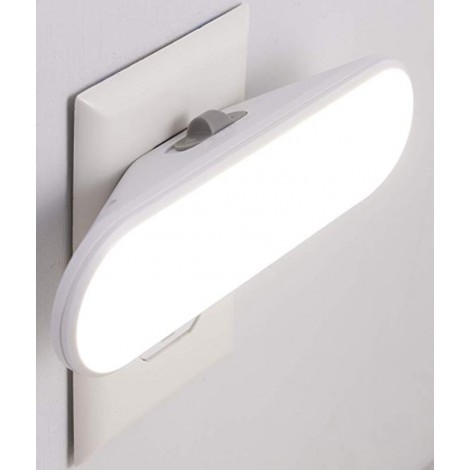 As far as this list goes, the GE Ultrabrite LED Bar is the floodlight in the group! It offers up an impressive amount of illumination, for areas where a soft, glow just won't cut it. Thanks to an energy efficient LED bulb, this super powerful night light powerhouse barely uses up any power either!
Ultra Bright Illumination
This is certainly the largest night light on our list. We wouldn't call it streamlined or sleek and it would be very misleading to say it sat flush or close to the wall like some of the other products that made our list. What the Ultrabrite Bar doesn't have in compact design, it makes up for in high wattage illuminating power. This is perfect for garages or front halls, anywhere you have a larger space that needs more light than a smaller product can provide. If you know anything about lumens (the units used to measure the power of LED bulbs) the Ultrabrite Bar comes in at an impressive 100!
Three Modes
There is no need to unplug the Ultrabrite Bar during the day thanks to the three unique modes it comes programmed with. You can turn the light to always on, always off or use the dusk to dawn sensor that will signal the light to kick in when the sun goes down or the room gets dark.
Cost and Value
There is a ton of reasons why this Ultrabrite LED Bar is a great pick to keep your hallways and rooms illuminated. For one, it doesn't block the second plug, so you can always access the outlet when you need power for an appliance or to charge your phone. Two, the LED bulb gives off an impressive 100 lumens of light! A typical, more compact night light would only give off closer to under 20.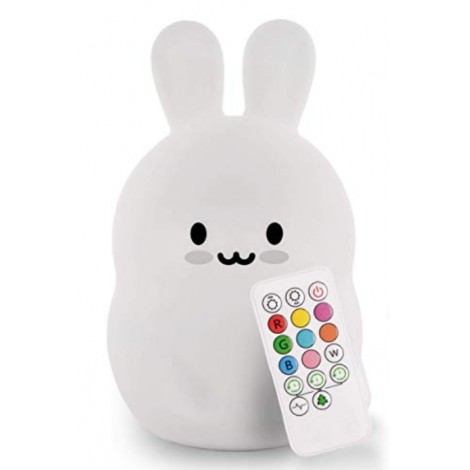 This great night light is made especially for kids (or adults who like to enjoy cute children's items as well). It is rechargeable, so you do not need to keep it plugged in. This is great for placing it near babies crib or your toddler's bed. Kids will love this night light for a ton of reasons and parents will like their children going to sleep without putting up a fuss!
Great For Kids
Kids will love that the LumiPets night light comes in a fun and cute bear or bunny shape! Made from non-toxic and kid-safe silicone that is also washable. Another great feature of this product is that it will never heat up and potentially burn your child either. There are 9 different colors that children are sure to love as well.
Portable
One of the best features of this night light is that is charged via a USB cord and is fully portable. You can easily move it from room to room or take it away with you when you travel. Getting your child to sleep in an unfamiliar place will be a lot easier if they have their trusted, favorite LumiPets night light in tow.
Cost and Value
The LumiPet is so cute, it is hard to resist not buying two, one bear and one bunny! And with such an affordable price tag, there is no reason why you couldn't. Adding to the value of this product is the fact that it comes with a handy remote. Parents can easily turn the light off without going in and disturbing a sleeping child. There is also a timer mode, which allows you to set the night light to turn out on its own after 15, 30 or 60-minute intervals. We give bonus points to the LumiPet night light for being made out of non-toxic materials, since kids have been known to put things in their mouths.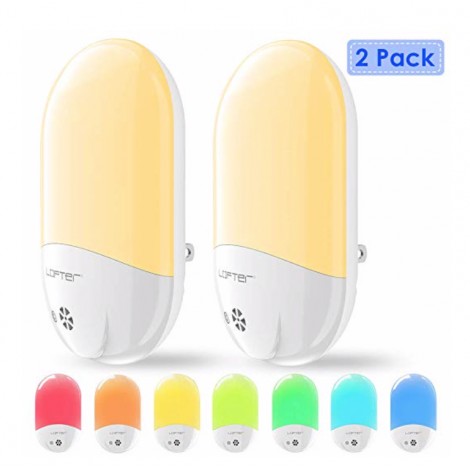 This nightlight made by Lofter is great for kids! The 9 colors are really fun and kids are sure to love it! This nightlight is perfect for kids bathrooms and playrooms as well as nurseries and bedrooms.
Color Changing
There are 9 different colors on the Lofter nightlight. You can choose to rotate between colors or select your favorite to stay on constantly. If you prefer just natural light there is an option for that as well. The illumination from this product isn't so bright that it will blind you or hurt your eyes. It is just enough to help you see safely in the dark, without being disruptive.
LED Bulb
We love LED bulbs for more than one reason. They are very energy-efficient, much more so than old fashioned incandescent bulbs. The price to operate an LED bulb night light would be less than $.25 a month! LED bulbs are also long-lasting, so you never need to worry about switching them or buying replacements.
Cost and Value
The Lofter nightlights are a great buy especially if you have kids! As we already mentioned, there are 9 different colors to select from. You can pick your favorite color to stay on continuously, or select to rotate between for a rainbow effect. The dawn to dusk sensor turns the lights on automatically when the room goes dark. This is handy so you don't need to remember to switch it on. The Lofter lights are sold in a two pack, another reason they have great value for money.

9

. GE Moroccan LED CoverLite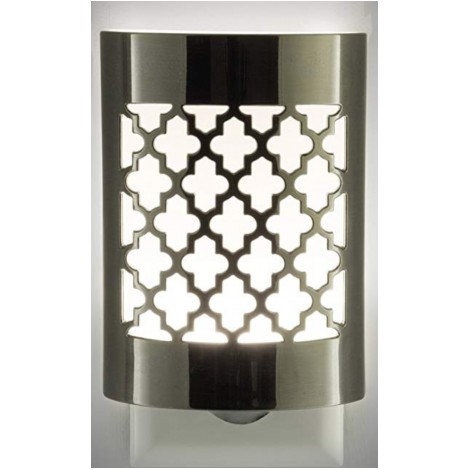 This GE Moroccan LED CoverLite is perfect for people who don't want to spoil the look of the room with a traditional night light. The sleek, brushed nickel of the piece is a great compliment to many types of decor. This product is an interior decorators dream!
Elegant Design
Do you want to safety and convenience of having night lights installed in your front hall or stairway but not sure about how white plastic will look with your existing color palette? The CoverLite is a perfect solution! During the day it could barely even be noticed as a night light. The front has a Moroccan inspired cut-out pattern that is paired with brushed nickel. The look is elegant and refined and very grown up.
Light Sensing Technology
The CoverLite has light sensing technology. This means you won't have to turn it on every night when the sun goes down. We like this feature for use in front halls especially, since you may go out during the day and return at night. Your light will turn on automatically while you are gone, to make your entranceway safe and inviting for your return! Reviewers stated that the lumens of this product were ample enough to illuminate even medium-sized rooms.
Cost and Value
The CoverLite uses an LED bulb. LED bulbs are very energy efficient and cost less than $5 a year to operate! The other plus to LED bulbs is the longevity! They last much longer than incandescent bulbs, so you do not need to worry about buying replacements. Many reviewers raved about the beautiful design of this CoverLite. They loved how it didn't become an eyesore when they placed it in a room. Adding value to this product is the fact that is has a dawn to dusk sensor. This will automatically turn on when it gets dark in the room. One reviewer stated that the CoverLite was great for covering two sockets at once when they weren't in use.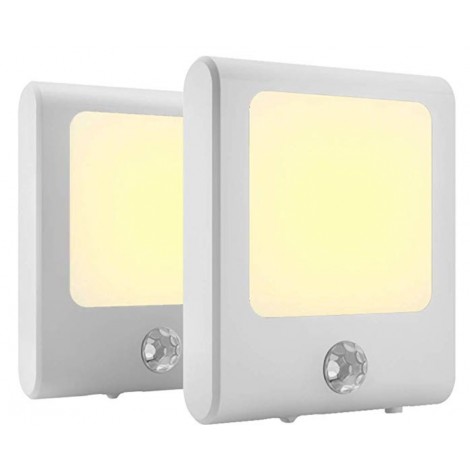 The final nightlight to make the list was this pick, made by MAZ-TEK. Another great way to put an end to painful toe stubbing in the night. Warm white light is peaceful for the eyes, and the MAZ-TEK lights offer an adjustable setting to control the brightness for custom illumination.
Dimmers
We really love that you can select a custom level of brightness with the MAZ-TEK nightlights. Simply slide your finger to adjust the level according to your needs. Reviewers loved that they could dim the MAZ-TEK low enough to keep their rooms comfortable for sleeping! Bright lights at night can affect your rest, which in turn would make you grumpy, tired and irritable the next day. You will never need to worry about ruining your sleep with the MAZ-TEK Nightlight.
Motion Sensors
Another great feature we love on the MAZ-TEK Nightlights is motion sensors! These lights are activated by movement if you select that mode. There is also a continuous on or off mode to select from. One review stated his wife loved the MAZ-TEK nightlights because since they bought them she hadn't tripped over their family dog in the night once! The dog must appreciate that as well we think!
Cost and Value
These lights come in a pack of two, which is great because you won't need to stress about what room you need to put it in most. There are a lot of features that add value to the MAZ-TEK lights. First, they have dimmers. This will allow you to adjust the brightness to your particular needs, and will not disrupt light sleepers. Motion sensors activate the lights when there is movement in the room. This is a great feature for stairways or halls. People may be disturbed with the lights shining under their door from the hallway, but you wouldn't need to worry about that with MAZ-TEK Nightlights since they will stay off until someone wakes up and walks around!

Subscribe to our Newsletter