Best Convertible Cribs Reviewed & Rated for Quality
In a Hurry? Editors choice: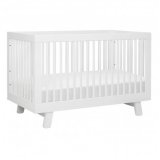 Test Winner: Babyletto Hudson

Being a new parent is enough of a high-stress role to taken on without worrying about purchasing the right gear! Babies require a lot of things that most households don't already have readily on hand (unless of course, you already have kids). Change tables, pushchairs, car seats, baby gates, jolly jumpers, the list goes on and on. The average newborn baby will typically spend 17-18 hours everyday
sleeping
. It is not surprising then that there a whole slew of cribs on the market. Many parents opt for the money saving convenience of a convertible crib, that can be reconfigured into a toddler bed later down the road. We've taken all the guesswork out of convertible crib shopping, read on for our top ten picks!
Standout Picks
Criteria Used for Evaluation
Adjustability
Clearly adjustability is the number one factor one would consider when buying a convertible crib. The whole idea behind a convertible piece is it will grow and transition along with your child, to save you money down the road. All of the cribs we feature will accommodate a child up until the toddler stage. Some of the products featured even go beyond toddler years and will convert into a full size bed that can be used for a school aged child, or moved into another room of the house is more appropriate.
Style
Everyone has their own personal style and selecting a crib that matches the existing decor of your home will obviously be important to any pair of new parents. Todays cribs are as stylish and beautiful as they are functional. With a whole range of colour choices from subdued and neutral to the most vibrant and bright, there really is something for everyone. A brightly coloured crib can be an eye catching focal point of a nursery. If your tastes are more classic and refined, there are a number of options in various wood and neutral finishes that will also look great in your new baby room. If your preferred crib model can convert into a full size bed, be sure to consider what style you would like to see in your home many years down the road. From elegant and refined, to fun and funky, the convertible crib market has endless possibilities to select from.
Durability
Babies are precious so its obvious why you would want to make sure you choose a durable crib that will keep your little one safe. No parent would feel safe knowing their child was sleeping a rickety contraption. Since convertible cribs are made to be taken apart and reconfigured, sturdy and strong pieces are a must.
Materials
The material used to manufacture your babies new crib will be an essential factor in picking the correct one. Babies love to suck and chew on things, especially when they get to the teething stage. The rails and rungs on cribs are super inviting for this activity, so it is imperative you know what materials your crib has been made from. Look for products that are free from lead and phthalates. A GreenGuard Gold certification is one thing you can look for to ensure your child will be safe and free from toxins.
Comfort
Babies will sleep sounder if they are comfortable in their environment. Parents will also be more comfortable if they know their child is safe, protected and getting a restful sleep. Cribs that are higher from the ground will save you bending every time you need to put the baby down, taking stress off your back.
10 Best Convertible Cribs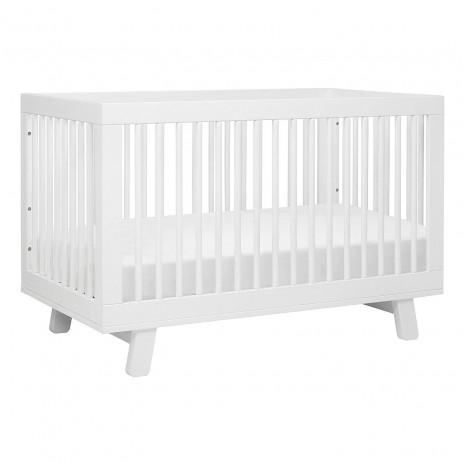 This crib is a top pick no matter how you slice it. It's a favorite of new moms and baby experts alike, and it is hard to find anyone who had bad words to say about it. Scour the internet for new baby advice, and you will find this recommended on almost every site available!
Classic Mid-Century Design
The round spindles and modern, classic style of this crib mean it will look great in any nursery. All the hardware is hidden, so the crib has a clean, sleek look to it. There are eight colors to select from, everything from contemporary baby pink to dark and rich espresso.
Greenguard Gold Certified
This crib has been rigorously tested for over 10,000 chemicals and screened for 360 VOCs (that stands for volatile organic compounds incase you were wondering). It is made out of sustainable pine wood that is sourced from New Zealand, which is a great selling point for new parents who are also concerned with being eco-friendly. The finish is lead and phthalate free as well as non-toxic which is crucial because many babies will suck on the bars before they know any better.
Cost and Value
This crib has three conversions so it will easily work for your child for many years. The toddler bed has a rail to prevent your child from rolling out while asleep. Remove the rail and you have a daybed perfect for the transition into big kid sleeping habits. For an additional price you can purchase a junior bed conversion kit which would keep your child sleeping happy well into their elementary school years. While still in the crib configuration, there are 3 mattress heights available. We love the open-concept design so you can see baby from any angle and extra points for the whole range of matching baby nursery furniture also available in the Hudson range.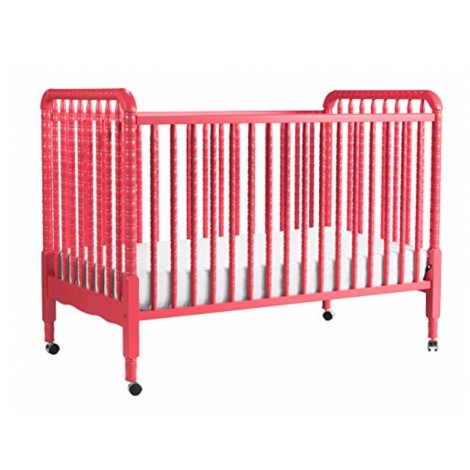 The Jenny Lind collection has been around for twenty years and was recently re-engineered to enhance safety and convenience. This crib will easily fit into any type of nursery decor and the great colour selection from basic to vibrant means there is something for everyone. Parents raved about how easy it was to assemble, which is an added plus on our list.
Comes with Wheels for Easy Rearranging
There are four castor wheels included with this crib. You can decide when assembling if you want to add the wheels or not. If you're the type who likes to rearrange rooms often or are really into feng shui, this may be something that appeals to you!
Vintage Baroque Vibes
The signature romantic, heirloom style of this crib is quite eye catching. The wooden spindles have a wonderful ridged texture to them that lends itself to classic, baroque styling. But that is about the only thing on this crib that is vintage! We love the selection of punchy, fun colors to select from. Baby blue, emerald green and coral red are some of our favorites. Who says nurseries need to be soft, pastel shades? Shake things up a bit and add a pop of color to make your crib the focal point of the room!
Cost and Value
We love the beautiful vintage design of this crib and the wonderful color palette to select from. The crib easily configures into a toddler bed once your children is ready for that stage. It is worth noting that the daybed conversion kit is an extra purchase, however the price tag on this crib is more than reasonable for what it offers. Extra points for being GreenGuard Gold Certified and made with 100% sustainable New Zealand Pine.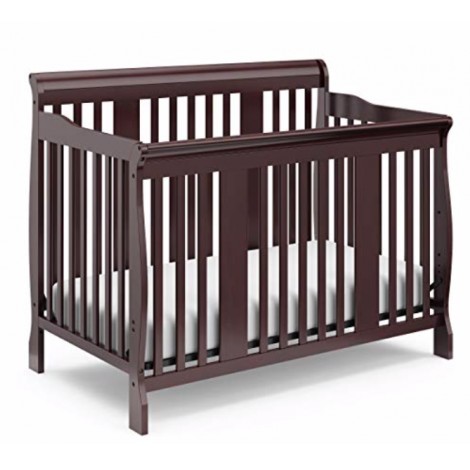 Storkcraft has been in the baby business for over 70 years! It is no surprise they have been voted America's Most Recommended Brand of Baby Furniture by the 2018 Womens Choice Awards. This clean design with appealing curvy lines has a whopping four configurations and parents loved how expensive and luxurious it looked. The Tuscany Crib is another top pick on our list for a variety of reasons.
Alluring Timeless Design
The curvy lines of this crib paired with the streamlined look make it an instant eye catcher. Available in five color selections, we especially like the rich espresso option for an extra dramatic look. This design reminds us of the classic sleigh bed style seen in many full size adult bed frames (more on that later).
Can Be Converted Into A Full Size Bed
With four configurations available, this is the only piece of furniture you need to take your child from newborn to adulthood! Start off in crib mode, with three adjustable mattress heights available. Next move onto to toddler bed when your little one out grows a crib. You can remove the guardrail for a toddler daybed style, and lastly this amazing multitasker can even be converted into a handsome, full size queen sleigh bed!
Cost and Value
Considering this crib can convert all the way into a full size adult sleigh bed we think you will agree it is a no brainer how much value there is! It is worth mentioning that you will need to purchase a seperate kit for the full size bed conversion and the toddler rail is also sold separately. However, if you add up the price of a sleigh bed, a crib and a toddler bed, it is really easy to see how much value there is here. You could even use the sleigh bed in another room of your house once your child has outgrown the toddler stage, another way this convertible crib is jam packed with value.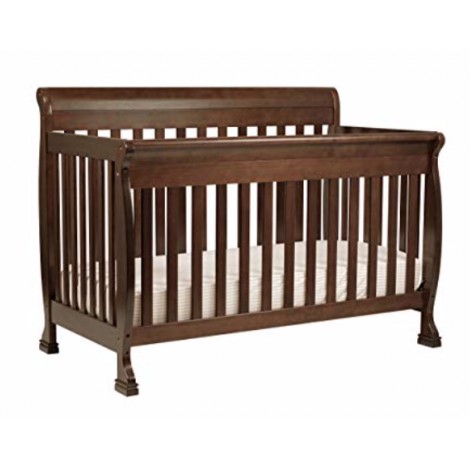 The Kalani model has been one of the best selling and highest rated cribs for over ten years and it is easy to see why. Modern, clean lines are paired with gentle curves, we think this crib can look great in any nursery.
Looks Like a Sleigh Bed
The curvy lines on this crib are reminiscent of the classic sleigh bed design. It has a baroque feel and there are 7 finishes to select from. Many parents have commented on how sturdy the construction is and the expensive look and feel it provides. One couple even stated that the husband was able to stand in the crib to hang curtains, it is that durable and strong. Please note that we don't recommend you do the same!
Four Configurations Available
We really love that this bed goes all the way from newborn well into adulthood. Start out in crib mode, and then transition to toddler bed, daybed and finally full size! We do want to mention that the full size and toddler size bed conversion kits are both sold separately.
Cost and Value
This crib checks a ton of boxes in the value department. With a budget friendly price tag, many parents have commented it is a great deal allowing you to keep your hard earned money for other costly child-related items. It looks great, is made from eco-friendly materials and has also been GreenGuard Gold certified, so you can have peace of mind knowing your child is protected.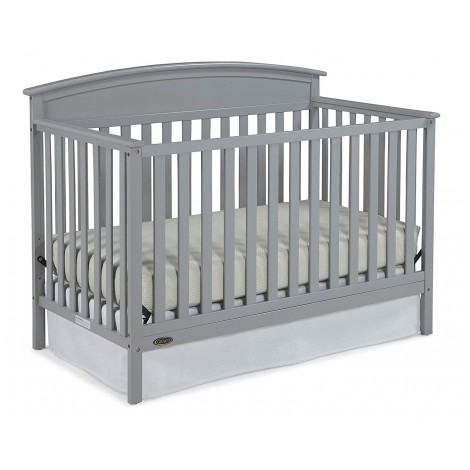 Graco has been in the baby business for over 60 years, is a trusted, household name when it comes to quality children's furniture. The Graco Benton has a strong, full headboard> design that lends drama to any room it is in. Looking for an eye catching crib that will put in work from the day you bring baby home from the hospital, this is fantastic selection to check out.
Curved Headboard Design
The arched lines of this full headboard crib make it an elegant and strong element to add to any room. It looks less like a conventional baby crib and more like a piece of actual furniture. The arched headboard style design will look great placed against a wall or in a corner.
Five in One Configurations
This crib can easily be made into a toddler bed, a day bed or a full sized bed with two variations. You can opt for a full size bed with or without a footboard, giving you endless possibilities when it comes to interior design. Four neutral finishes to choose from make this crib easy to pair with any room decor.
Cost and Value
Since this cribs can convert all the way to full size bed, it offers a ton of value for money. The conversion kits are sold separately, however you will still be saving a load of money versus purchasing an entire new bed frame. You could easily move this to a spare room at its full size configuration once your child grows out of the toddler bed.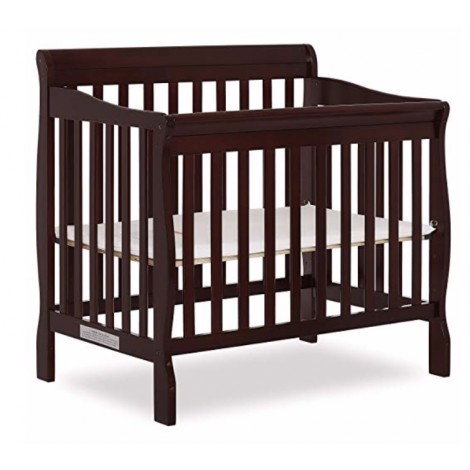 With robust good looks and a durable construction this a perfect choice for any parents who have a bun in the oven. The Mini crib size is cute and compact and will easily fit into the tiniest spare room. Seven finishes mean you can custom pick the best look for your home.
Sits Low to the Floor
Being a new parent is tough enough with breaking your back bending down to get baby in and out of his crib. The lower height of the Aden Mini crib makes for easy access which will be a sure bonus point for many parents. Add to that the fact that the mattress can be moved to three different heights, this crib is any parents dream.
Mini Crib Size is a Great Space Saver
We all know how hard it is to find space for anything these days. The tiny size of city condos can prove quit challenging when trying to select furniture. This Aden Mini Crib is a great choice for anyone living in tight quarters. It could easily fit into an office or den that may be too small to accommodate a full size crib. The space you save with a mini crib can be used for many other valuable baby related items. Many parents commented that is a perfect choice for co-sleepers, as it can easily fit inside the master bedroom, allowing you to keep baby in your bed or place him in the crib when necessary.
Cost and Value
This crib is super budget friendly without sacrificing looks or design. It has four configurations that will take your baby all the way into elementary school. Start out in crib mode, and then transition into toddler bed, daybed and finally twin size bed frame when your child is ready for independant sleeping For the price it offers superb value, and the extra small size gives it a ton of brownie points on our list.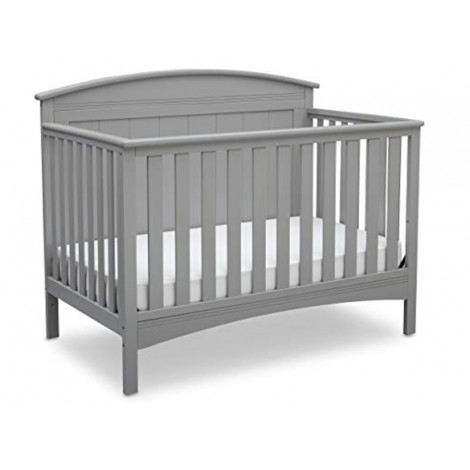 Delta is a family owned company that prides itself on making reliable and safe baby furniture for the past 50 years. This crib is no exception. Offering a full headboard design, we love the modern, airy look that the full size slats give to this 4-in-1 convertible product.
Solid Headboard
The back panel of this crib is a full, solid headboard design. This style looks strong and dramatic in any nursery you place it in. The arched line is clean and modern without being visually distracting. The solid headboard looks especially charming when the crib has been re-configured into a full size bed, so a nursery or baby room isn't the only place this product will look great!
Attention to Detail
The flat, airy look that the slats lend is a design element we love. The full back headboard will look great placed against a wall, and is strong and dramatic. The arched detailing on the bottom of the crib as well as the headboard continue to add to the expensive, refined look of this piece.
Cost and Value
With four configurations there is an abundance of ways this product will save you money. The solid headboard design looks expensive when made into a full size bed, and for the price, is way cheaper than purchasing a comparable bed frames. This full size frame is so exquisite, it is possible you may even want to move it into the master bedroom once baby has outgrown the toddler stage!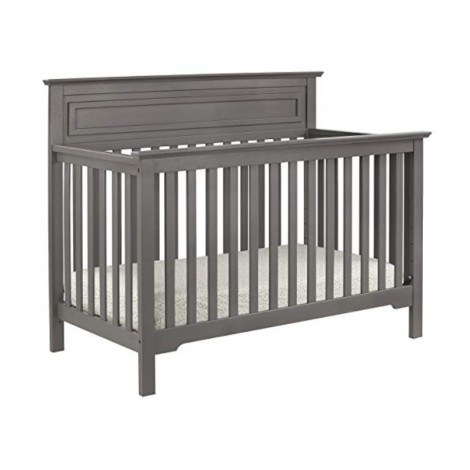 Are you going for a conservative yet regal feel in your new baby nursery? If so you may want to give this crib a glance. With refined moulding details on the dramatic headboard of this piece it is really eye-catching and will certainly get noticed.
Carved Details
Decorating babies room should be as much fun as decorating your whole home. The carved details on this headboard style crib are dramatic and elegant. This is the perfect piece to make your nursery feel warm and cosy.
Will Look Great as a Full Size Bed In Another Room
With such timeless good looks you can easily transition this bed into another room of your house once your child is ready for a twin size! The available conversion kit allows you to switch the crib into a full size adult bed!
Cost and Value
Not only does this crib convert into a full size bed, but there are options for toddler bed and daybed as well which increases the products value. Remember, toddlers sleep for up to 14 hours a day, so your child will still be getting a ton of use out of this purchase. We love that the DaVinci company uses only GreenGuard Gold certified products which have been rigorously tested for any chemicals that may harm baby. Further adding value, we think this will great in a guest room as a full size bed later down the line, saving your from purchasing a whole new bed frame which is costly.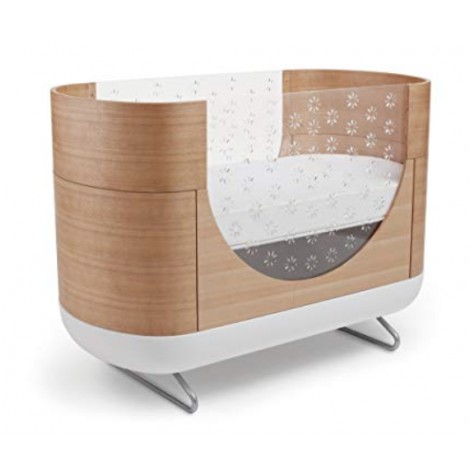 This super modern design may not be for everyone, but is the luxury pick on our list for discerning parents who appreciate the finer things in life. If you enjoy looking like a celebrity (more on that below) and love standout, unique, modern pieces than this crib is just for you.
Beyonce Used This Crib
When Jay-Z and Beyonce welcomed Blue Ivy, this is the crib they chose! While looking like a celebrity isn't for everyone, it is for some people and you can do that with the uber stylish and modern piece. Ubabub makes premium children's and nursery furniture and is based in Australia.
Ultra Modern Design
We love the clear lucite sides that allow you to easily see baby while they are asleep. The star shaped cut outs look great on this cocoon shaped modern sleeping pod. If the interior of your home is ultra modern, this piece will definitely fit in.
Cost to Value
This crib does convert to a toddler bed further extending its value. The price tag may be hefty for some people, but it costs to live like Beyonce guys! Its worth mentioning the custom shaped mattress is included with this product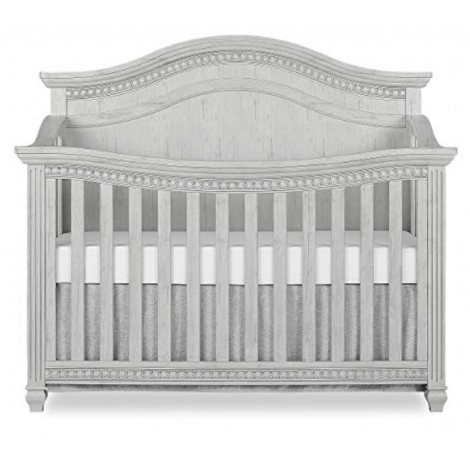 Are you looking for a standout crib to be the focal point of the nursery. Look no further than this dramatic option made by Evolur that is anything but plain and boring.
Dramatic Design
This crib will certainly be noticed in any room you place it in. It has a ton of moulded detail that adds to to the lavish, expensive look.
Made from Premium Hardwoods
This crib is built using kiln-dried hardwood. All real wood is sturdy and durable and hardwood has long been considered a premium product for furniture for its durability and impeccable strength.
Cost to Value
This crib does come with a price tag a little higher than some of the other ones, but its a quality, premium piece that is built to last. With eye-catching dramatic good looks this will look great in another room when converted to a full size bed. Hardwood is strong and long-lasting another element which adds value.

Subscribe to our Newsletter