Best Dog Harnesses Reviewed & Rated for Comfort
In a
Hurry? Editors choice: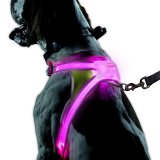 Test Winner: Noxgear LightHound

Doesn't the thought of running outside with your furry friend with the wind whipping through your hair as the warm sun radiates thrill or excite you? Hint, there is no answer, it's rhetorical! Walking your puppy is meant to be exciting; however, if you have a pet that pulls and tugs, it can make the entire experience unbearable. If you are tired or frustrated with walking your talk on a regular leash and collar, perhaps it's time you switch over to a harness. Some owners like to refer to harnesses as the "dog-walking savior" as it makes a complete difference for both the owner and the canine.
Standout Picks
Criteria Used for Evaluation
Style
When it comes to purchasing a harness, there are two types or variations that all consumers must be aware. Reason being, each type of harness has its specific benefits and uses. When evaluating different harnesses be sure that you can differentiate between the type it is. The benefits should be clearly stated.
Front-Clip Harnesses: These are the most common harnesses on the market today. Reason being, they are technically the best type out there. It's this type of harness that gives the owner control over the pet's behavior. So, if you have a pet that is a puller or tugger, the front-clip harness would be great to fix or adjust that behavior. However, these products can get confusing and also tangled beneath a pet's feet.
Back-Clip Harnesses: These products tend to be slightly more comfortable than front-clip harnesses. However, the comfortability is at the expense of being able to control its nature.
Durability
When you purchase a harness, you want it to last, right? Taking durability into serious consideration is critical. In this market, there are many different products that, the moment it's put on it, they will tug, and it will break.
To avoid these problems, you need to look at what type of materials companies are using to create the harness. Are they using cheap forms of nylon? Are they reinforcing it with double layers or anything?
Another creative way to evaluate the durability of a harness is to see if any reviewers are commenting about it. If you are noticing that owners are mentioning their harness breaking down after a short amount of time, you might not want to consider that one!
Comfort
One of the most important facets to take into consideration is the comfortability, not just for the pet but you too! Typically, many people that are switching from standard leashes and collars are upset or unhappy with how walking may be harming its neck or throat, or how the owner is repetitively getting leash burns.
With that being said, in evaluating and looking at different harnesses, it's important to look at what companies are doing to focus on the comfort of both pets and humans. Typically, companies are going to incorporate different forms of padding to support the areas that will continuously be hugging the animal's fur.
Additionally, manufacturers will try to create a product that is made from soft enough material that it would not irritate the pet's skin. The true test for learning about this is to read what previous owners have said. You can't forget to look at the comfort for you too. Is the company incorporating any padding on the handle? Did they include a unique and quality grip? The grip is a selling factor for many people.
Value
The harness market is saturated with options for consumers. While this is great on one end, it can be overwhelming, resulting in impulse purchases and mistakes. It's critical that owners take purchasing a harness seriously.
After all, this product is meant to help keep your pet safer on walks, and keep you comfortable and in control. With that being said, many different facets must be taken into consideration. In developing this guide, many different criteria were used for evaluation purposes.
Safety Properties
Once you can establish what type of harness you need, it's vital that, when evaluating different harnesses, you look at the safety properties. At the core, these products are designed to help keep your dog safer than a regular collar and leash.
So, it's important to make sure that the manufacturer is holding true to this notion and providing this and more. One critical safety property that many manufacturers are quickly beginning to include in their harnesses is reflective materials.
More and more, the owners are purchasing and preferring products that have some degree of reflective materials build into the product. Reflective materials ensure that it is safe at night and early in the morning. Be sure to look out for products that have this additive feature. Typically, it's built straight into the harness.
Easy to Clean
Like any other product on the market, we always like to evaluate how easy a product is to clean. No owner wants to purchase a harness that they need to spend hours cleaning; do you? Of course not!
So, when evaluating different harnesses, take a look at what the manufacturer says about the cleaning process and maintenance. Do keep in mind, since every single product is different, including materials, how you clean one harness will be different than another.
Many owners tend to pick out nylon harnesses because of the fact they are easier to clean and can be machine washed. However, you may also want to opt-into a leather harness, which then requires specific maintenance attention.
Color
Once many of the specifics have been sorted out, it's also important to consider design and color options. The truth is, do you want to purchase a harness that is a dull and boring color? Of course not! Today, more and more manufacturers are creating harnesses that are not only safe and sturdy but also stylish.
So, during the evaluation process, it's important to keep all options on the table. Since there are dozens of different options, it's important to see how companies are differentiating themselves and what previous customers and owners are saying about it.
15 Best Dog Harnesses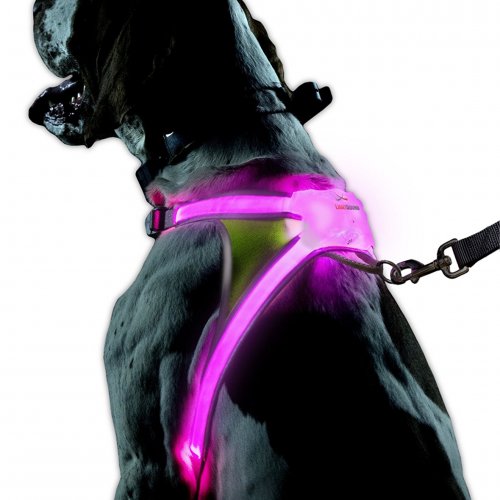 The Noxgear LightHound Harness is one unique harness. This product is known for it's illuminated and reflective features, all of which make this product literally stand out. This is directly attributed to the stellar multicolored LED fiber optics build into the material. The best part about this product is that whether rain or shine, this product will light up the night, and da
360 Degree Illumination
The biggest selling factor of this product is the 360-degree illumination features. The product was designed to maximize reflectivity by including flexible fiber optic cables and 3M reflective materials. This piece of innovation was designed and included in this product to make the harness more visually appealing and to keep your canine safe at night or early in the morning. Also, the product is rain-proof! So, rain or shine, this harness has you covered.
Adjustable Features
Whenever it comes to purchasing a harness, you should always pay close attention to how the product can be adjusted per puppy. This product maximizes comfort and security with simple clips, which can be adjusted to your needs. Additionally, the product was made from soft and comforting materials to make sure any pet does not experience chaffing or irritation from the harness rubbing against sensitive areas.
Cost and Value
If we can be honest, on our list, this harness is by far the priciest product we have come across. However, this product is literally a 5-star, premium harness. When you purchase this, you are investing in top-notch quality design and innovation. So, if you are seeking a harness that offers some of the best reflective and illumination technology for canines, this product is it. We should warn you, this product is hard to come by, given its quality and demand.

2

. Chai's Choice Front Range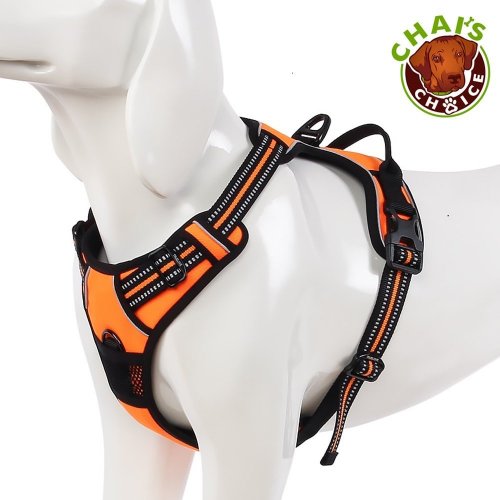 The Chai's Choice Front Range Harness is making noise in the industry as one of the best products because of it's unique safety features and high-quality build. The owners will have the option to pick from 9 different harness colors, ranging from black to orange to even teal blue. In efforts to make using a harness easier for owners, the manufacturer has created multiple videos to complement their products. Partner this with great reflective safety materials and an ergonomic design, you can't go wrong!
3M Reflective Material
One of the most notable features of this harness is the safety features that the company infused into the design. This product is made from strong and durable nylon webbing alongside 3M reflective material, making it easier and safer to walk your furry friend late at night, or early in the morning. In addition, the company created a sturdy handle for the owner so you can hold on your puppy without fear of it slipping or getting leash burn.
Easy-to-Use
When it comes to purchasing a harness, one of the biggest fears of an owner is the complexity of the product. Who wants a complex harness? This product was built with ease-of-use top of mind. Its ergonomic design makes it easy for owners to put on the harness, take off the harness, and to clean. It comes with adjustable straps to maximize the comfort of each puppy.
Cost and Value
As far as costs are concerned, this product comes at a higher price than other products on this list. Once you do consider the value put into this harness, you won't be too inclined to look at the price tag. This has received rave reviews from previous customers and experts alike. The manufacturer provides consumers with the opportunity to select from multiple different colors and it's built with safety in mind, which is most important.

3

. Ruffwear- All Day Adventure
Do you have a pet that loves to pull and tug? Is your pet stronger and tends to break through simple, small leashes and collars? This is where the Ruffwear – All Day Adventure Harness shines. This product is a hassle-free harness that is great for any pet that likes to tug, run, and pull when going for a simple walk. The manufacturer offers the product in 9 different colors, giving the consumers the option to purchase a harness to match its personality. On top of this, the product has a reflective trim built into the side, making it easier, and safer, to walk at night.
Reflective Trim
This harness is created to keep your it safe 24/7. Built into the harness itself, the manufacturer included reflective material around the trim to help keep your visible for those night time or early morning walks. Additionally, you can attach ID tags to the harness as well, which eliminates the need for a regular collar when walking.
Front Range Harness
What makes this product such a great harness is that it's considered front-range. If you did not know, this is the most preferred method as it gives more comfort to the pet, while also giving the owner more control to minimize pulling or tugging. Since this is a front range harness, it makes walks hassle free and easy to train.
Cost and Value
Out of every single product on our list, this harness is probably the most expensive. However, this product packs an incredible punch of value, ranging from comfortable design, adjustable options, padded interior, two-leash attachment, tag pocket storage, and even a reflective trim. This harness defines what a premium product should be and it most certainly matches its price tag. This is a great product for the owners seeking to invest in quality and premium products.
4

. EcoBark Comfort Harness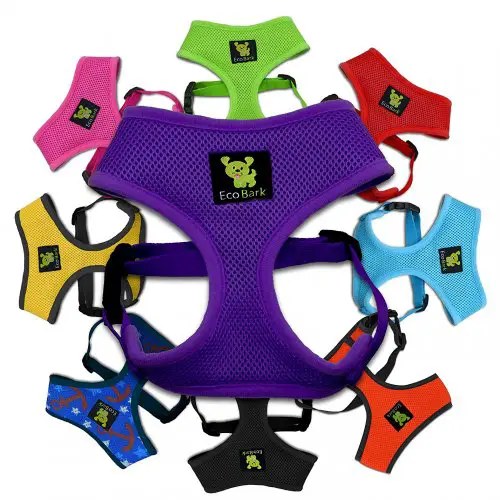 If you are looking for a harness that is customizable with beautiful and vibrant color options and also maintains the high-quality needed to be on this list, the EcoBark Pet Supplies Original EcoBark Comfort Harness is it! This product comes in over 10 different luxurious designs and multiple sizes to ensure everyone is covered. Given the build and nature of this harness, it's great for everyday adventures, including walking, running, or even hiking! So, if you are an adventurous person, this may be the best accessory for it.
Durable and Soft
When looking at harnesses, you should always look at the type of material that the company is using. This product is built for high-quality and ultra-soft materials to keep your pet comfortable and make the harness last longer. Additionally, this product has been tested and proven for comfort, given its padded mesh comfort webbing. With the adjustable belt feature, it makes it easy for you to enjoy walking without the discomfort or fear of chaffing.
Innovative No-Choke Design
What really sets this product and company aside from others is their unique and innovative no-choke design. As we have said before, there are many harnesses on the market that cause them to choke themselves, which makes the walking experience stressful. This product is designed to keep its throat and trachea intact and safe.
Cost and Value
As far as cost is concerned, this harness is priced around the same area that much of the competition is charging. What we like about this product are the 10 different vibrant color options that consumers can pick from. Additionally, this product boasts great value in terms of ultra-soft padding, comfortable materials, and even ROSH tested. It's evident that, for the price that you are paying, this product is definitely worth it. There is a reason why many owners call this harness the best one in its class.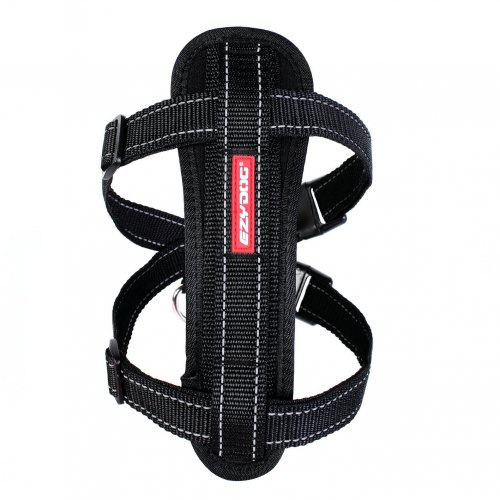 The EzyDog Chest Plate Custom Fit Harness is a popular product that has received enough attention to become an award-winning harness. What many people love about this product is its unique technology and innovation to balance comfort for the pet, control for the canine owner, and safety throughout the entire harness. With over 10 different color options to choose from, you can't go wrong with this harness.
EVA Foam Chest Plate
What set's this product aside from many others in its class is the EVA foam chest plate. For those that do not know, this type of material is a custom type of padding that will adjust to its chest and add an additional layer of comfort that other manufacturers exclude. It's here that has captured the attention of the experts, helping propel the product to win some awards.
Reflective Properties
As always, safety is an important characteristic to look out for. With this product, the manufacturer intertwined reflective properties throughout the entire harness to help boost visibility when walking it at night or early in the morning. The reflective properties are built into each of the color options as well at no added cost.
Cost and Value
If you consider the amount of value packed into this award-winning harness, you need to anticipate that it might cost a bit more than a few treats. Now, we are not talking about the entire treat jar; however, it's one of the costliest products on our list. Again, once you do consider the quality of padding and materials built in this product, alongside the free gift that comes with each standard purchase, the price does not hold as much weight.



The Juxzh Soft Front Harness is a simple and quality harness for owners that are not looking for the bells and whistles but rather a quality harness that can last. The product is made from quality nylon webbing that has been intertwined and stitched with reflective material to help improve the safety of the pet when walking at night. With seven different color options, the owners can get this simple and popular harness in their favorite colors.
Reflective Materials
This harness was designed with safety top of mind. In efforts to keep owners and their pet safe when walking in the dark, the manufacturer included reflective material in the base of the entire harness. So, when on an evening walk, passing cars will easily be able to recognize and see the canine.
Comfortable and Lightweight Build
What makes this product a favorite by owners is its comfortable and lightweight build. Many times, harnesses boast great features, but they are simply too heavy for a smaller puppy to wear. This product is built from lightweight materials with an ergonomic design to help maximize comfort when going for a walk. This specific model even has a handy close grip feature, should you need to hold on to it.
Cost and Value
As far as the competition goes, this harness is priced at a slightly higher point. Now, while this product does not boast a wealth of innovative features like the competition, this product does come with quality and safety infused materials – and that's most important, right? So, if you are looking for a product that focuses its value on quality and safety, then perhaps its time to consider this simple and fun harness. Don't forget, you can even pick your favorite color!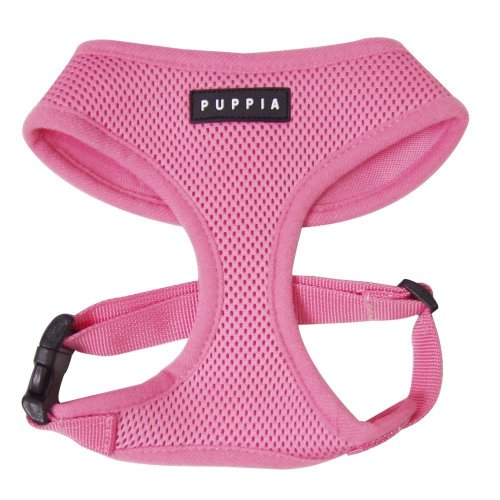 The Puppia Harness is making a name for itself in the industry because of its high-quality build, unique design, and over 12 different color variations for owners to choose from. This product is made from high-quality polyester and comes in six different sizes, ranging from extra-small to xx-large. The best part about this product is that it's very easy to take care of and clean. The last thing any owner wants to do is spend hours cleaning a mesh harness.
12 Different Color Options
One reason why this product has become a fan favorite among owners is the option to purchase from 11 different colors, all which are available in each size. You may choose from beige, black, brown, camouflage, green, orange, pink, purple, red, royal blue, sky blue, or yellow.
Adjustable Features
The biggest selling point of any major harness is the impressive adjustable features. This product comes with a high-quality chest belt that is adjustable with a padded neck opening. Additionally, since this product is made from polyester, it makes it even more comfortable and easier on the pet and the owner.
Cost and Value
Out of the many different harnesses in the industry, this product is probably one of the more affordable options. What is unique is that, given its price point, it comes with a wealth of features, including supportive neck features and over 12 different color options. Furthermore, it's evident that the value infused with this product is, without question, worth the price tag.

8

. Best Pet Supplies Inc. Voyager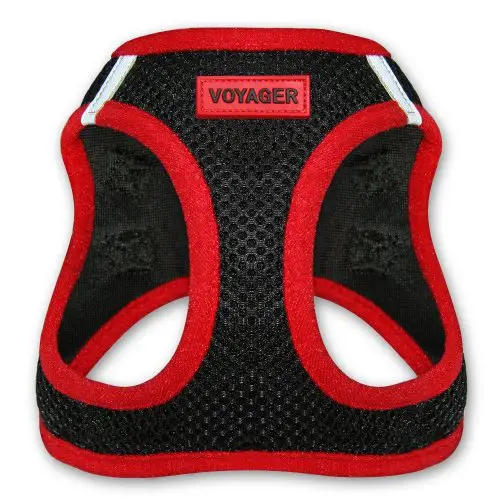 The Best Pet Supplies Inc. Voyager All-Weather Harness is quickly becoming a favorite amongst owners because of it's ability to handle whatever Mother Nature has in store. This is an all-weather harness that's built with double security measures to ensure that your canine is safe whenever you are walking. Additionally, this product is built with the strongest and most durable materials, all of which extend its life expectancy and make it a great accessory for any owner.
All Weather Materials
This product is built from a breathable mesh, making it great at handling whatever Mother Nature has in store outside. Whether it's rain or snow, this harness can handle it all without sacrificing the quality of the harness. In addition, due to the type of material, this harness fits nicely around any breed whether extra-small or extra-large.
15 Different Color Options
This is the one product on our list that offers consumers the most customization options, including over 15 different vibrant and bright colors. You can choose from the army base, baby blue base, black base, blue, blue base, fuchsia, gray, lime green, orange, pink, pink base, red, red base, turquoise, and yellow.
Cost and Value
When evaluating different harnesses, it's important to look at the cost of the product and how it compares to the value. As far as price is concerned, this product is quite cost-friendly, which may come as a surprise when you look at all the value put into this product. The manufacturer intended to create an affordable harness that is built with the same quality and expertise of more expensive brands. The best part about this product are the stress-free walks that owners get when walking their pet with it.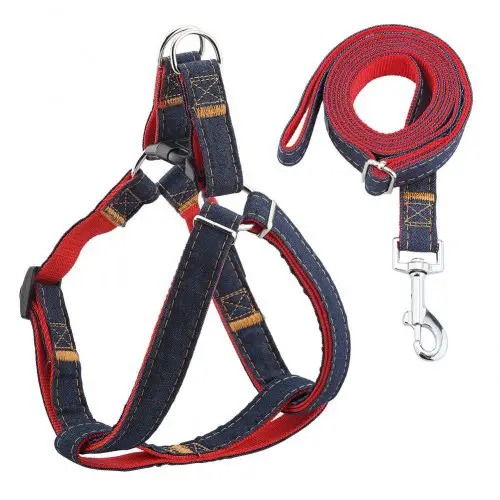 URPOWER Leash and Harness is one of the most popular harnesses on the market today and it secures a top spot on our list. This product touts it's heavy-duty construction and build, which can be attributed to the layering of both blue jeans and nylon. The product is currently offered in three different sizes (small, medium, and large) and is a great asset for owners seeking to train their pet to obey and stop tugging and pulling.
Great Construction and Build
The most notable reason why people are buying this harness is due to the heavy-duty construction and build. This product is made from a mixture of blue jeans and red nylon, which is why this product maintains it's stylish flair. The materials are soft in nature, which is great because it minimizes any chaffing that they typically ensure with a harness. In light of this, this product is built to last for many, many walks.
180 Day Guarantee
When consumers purchase this product, they will receive a limited 180-day guarantee on their purchase. This guarantee secures them that, should anything go wrong with the quality of the product, the manufacturer will repair/replace the harness. However, this guarantee is limited, and should it happen outside of the 180 days, the consumer is out of luck.
Cost and Value
When it comes to looking at the cost of this product, it's safe to say that it's cost-friendly and one of the most affordable harnesses on our list. Uniquely, this is a two-for-one combination where owners can purchase not only the harness but also the leash, which is an added value to the purchase. When you then add-on the features of the harness and benefits, this harness is certainly worth consideration!

10

. RABBITGOO Front Range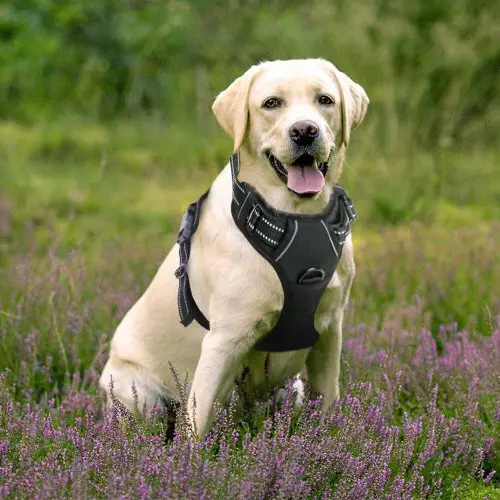 What do you get when you mix innovative safety features, high-quality build, and easy-to-use harness? The RABBITGOO Front Range Harness! This product is quickly building steam on the market today as a favorite among owners due to its multifaceted features. Here, owners can use this product for a wide range of outdoor activities and can even customize the color between black, green, and orange. The best part about this product is the strong reflective features.
Multiple Activities
If you are the type of owner that enjoys being in nature, this is a great harness for your pet. Whether you are seeking a regular walking experience or to take it hunting, hiking, or even fishing, this harness can handle it all! It's strong, durable and can resistant much of whatever mother nature has in store.
Reflective Features
The strongest selling point of this product is the impressive reflective features that the manufacturer built into the product. More and more harness companies are beginning to realize the importance of this feature. In this product specifically, the reflective materials are embedded into the physical harness, ensuring a safer and risk-free walk at night or early in the morning.
Cost and Value
In consideration of the costs of this product, the harness is one of the most expensive products on our list. Now, before anyone is quick to judge, it's always important to weigh in on the value of the product. Reason being, that is where this product truly shines. This harness boasts some of the best reflective features out of any other harness and offers great durability and comfortability.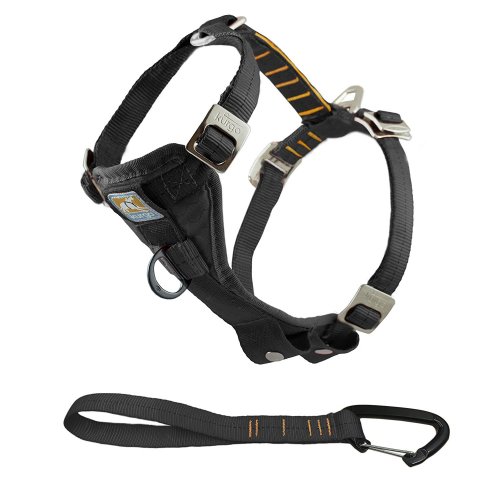 The Kurgo Tru-Fit Harness is a great product to help minimize a canine from pulling and also to keep a canine steady and calm during car rides. In accordance with the manufacturer, the harness has been crashed tested to prove effectiveness and durability. Additionally, they built this product to help maximize the comfort of the pet with 5 different adjustable options. If you are wondering, this product comes with the seat belt tether too!
Lifetime Warranty
When looking at different harnesses, we always look out for products that come with warranties. If you scan through the products on this list, not many companies offer lifetime warranties like this one. This is considered a hassle-free warranty. So, should there be any problems with the physical problem of the course of its use, consumers can contact the maker and seek a new one.
Adjusted for Comfort
The best part about this product is that it's built for comfort. It's crucial that a harness does not make a pet feel uncomfortable, or cause chaffing. This product comes with five different adjustable options for each harness size. In other words, this product can be a true-fit for nearly any pet.
Cost and Value
Out of the entire competition, this harness is relatively expensive. There are not many harnesses on the market that cost as much as this one; however, there are not many harnesses on the market that provide as much value you as this. This product is built from premium materials and really designed to keep your furry friend safe, whether walking or in the car.

12

. PetSafe Easy Walk Harness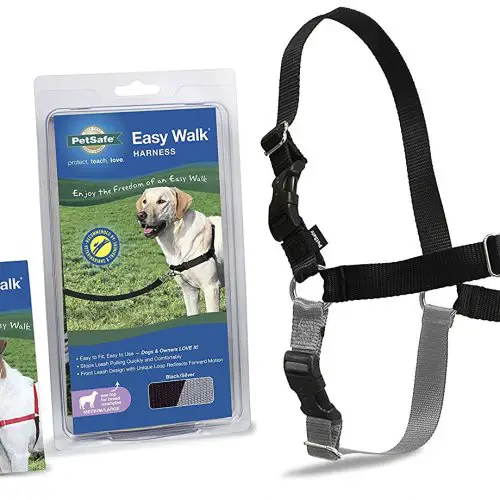 At the front of the race stands PetSafe Easy Walk Harness. This harness is made from one of the most infamous brands and manufacturers in the industry today. They offer a wealth of different harness sizes to ensure that your pet will be comfortable. What sets this product aside from many others is the seven different color variations, the deluxe and premium materials used, and adjustable features to maximize the comfort for your furry friend.
Deluxe No-Pull Harness
Walking a pet has never been easier than with this premium harness. If you are tired of your furry friend tugging or pulling, this product is designed to reduce the stress of pulling and tugging. To date, this product has been approved by numerous experts and training gurus, adding additional value and accreditation.
Comfortable for Canines and Humans
One of the most important factors to take into consideration when purchasing a harness is how comfortable the product will be for the pet and you. These products are different than a typical collar and, if you are not careful, can frustrate or anger it. This product comes with an adjustable option to ensure the fit is always perfect for your pet. Partner this with comfortable materials and you have a great harness.
Cost and Value
When it comes to the cost of this harness in comparison to other products mentioned on this list, it's priced fairly competitively. In other words, it's not too costly; however, it's more expensive than a few of the others on this list. With that being said, this product has received praise for being a high-quality and valued harness, which sort of deters from the costs as a whole. Additionally, this product comes in seven different colors, all which are at no cost to the consumer.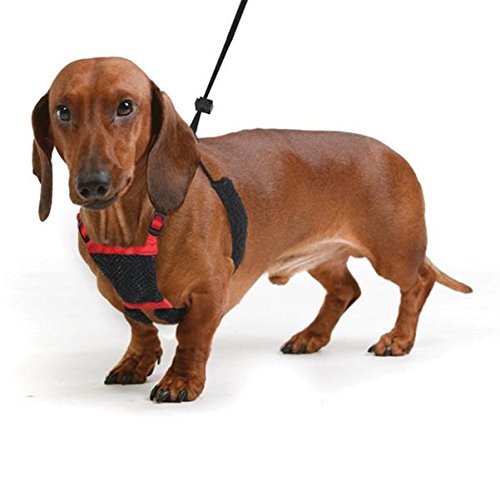 If you are looking for a simple harness that comes with some safety features, good material build, and easy to use, the Sporn Dog Harness may be worth your consideration. It's evident that the manufacturer of this product wanted to create a cost-friendly harness that is built with optimal materials for optimum comfort and safety. There are three different sizing options for this harness, including small, medium, and large/XL. With an easy-to-use system, this product is a cheap favorite!
Easy-to-Use
Out of many different harnesses, this product masters the idea of simplicity. There is nothing complex about this harness, making it easy to use, put on, and take off. It's a one-piece design that's comfortable, padded, and makes it easy for your pet to walk in style. The best part about this product is that it has the innate ability to balance control for the owner and comfort for the pet.
Comfortable and Safe
There are many different harnesses on the market that are not designed with comfortability in mind for the pet. This harness was specifically intended to minimize and eliminate any tension or choking. While the product is not the most expensive, it can handle larger breeds, tugging, and pulling, keeping both the owner and the pet comfortable and safe.
Cost and Value
We have mentioned already that this harness is relatively cheap. In fact, it might just be the most affordable harness on our list, which is why many people love it: it's affordable and boasts some great value! This is a simple harness that does not have many fancy features or loaded with the bells and whistles. The sole purpose of this is to provide safety, comfort, and an enjoyable walking experience.

14

. EXPAWLORER No Pull Harness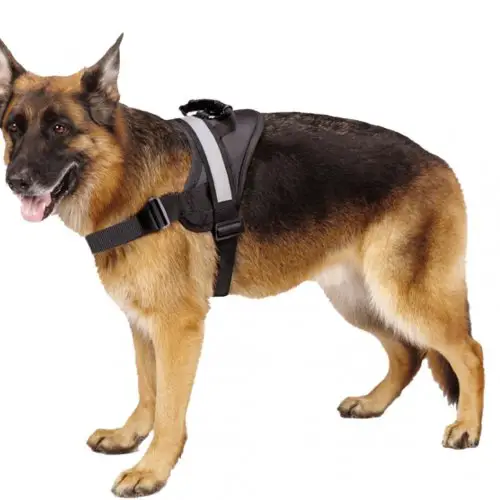 If you look at different harnesses, there are none like the EXPAWLORER Big Dog Soft Reflective No Pull Harness. This product is specifically created for larger breeds, which is rare! Today, this product is rated as one of the best choices for larger breeds as voted by consumers around the world. If you are looking to switch your large breed to a sturdy and comfortable harness this may just be the one!
Great for Large Dogs
Many harnesses on the market tend to be created for smaller breeds. This is one of the only ones that you will find that's great for large ones. In fact, as the name of the product implies – it was CREATED for big types. This harness only comes in three different sizes, medium, large, and extra-large. It's advised to consult with the size chart to ensure you purchase the right product. To top this off, it comes with over 7 different color options, all which are stylish and fun.
Reflective Materials
Many owners do not like walking their pet at night. With this harness, it eliminates the fear and risk due to its strong reflective strap that stretches across the pet's back. This is a great feature to help the owners keep track of their pet and for fellow drivers to see the canine and the owner at night or earlier in the morning.
Cost and Value
When looking at the value of this harness, you might think that this product would cost a lot of money. However, this harness is cost-friendly, and one of the most affordable on our list. When you consider the 7 different color options, high-quality and durable build, a great and comfortable handle for the owners, and a sturdy D-ring, this product is most certainly worth a try for large canine owners.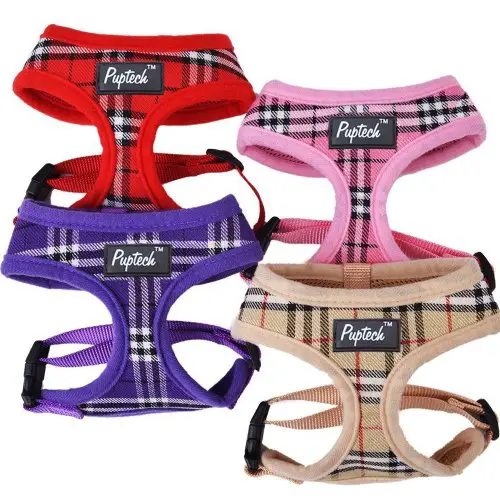 There are many different harnesses on the market, that's evident. You have the products that are built from high-quality materials, ones that are focused on pure safety features, and then you have ones that are redefining comfortability and fashion. The PUPTECK Soft Mesh Dog Harness is one of the most popular harnesses for smaller puppy owners due to it's comfortable and soft features and popular designer patterns.
Fashionable Designs
If you are wanting to take your pet to a whole new level, this harness is easily one of the most eye-appealing and fashionable products on the market. Today, the manufacturer offers customers six different designs and colors, all which are covered in 5 different sizes. You can choose from blue, cream, pink, pink new, purple, or red. Our only word of caution is to be sure to properly measure the pet before placing your order.
Safety Features
Aside from fashion, one area where this product has received rave reviews is from its safety features. After all, these products are meant to keep them safe while on a walk. The product comes with a unique back buckle and strap, both of which have been tested for security purposes. Due to this, the harness is a great fit for puppies and keeps them safe while doing normal walks.
Cost and Value
If you were to take one glimpse at this dog harness, chances are, you might assume it costs well over $30. Shockingly, this is one of the cheapest products on our list today! While this product's biggest selling point is its fashionable designs, it's simple in nature and does not come with the bells and whistles that other harnesses offer. With that being said, before purchasing this product, it's important to realize that this product is really more for show rather than serious and intense walking.

Subscribe to our Newsletter