Best Steam Mops Reviewed & Rated for Quality
In a Hurry? Editors choice: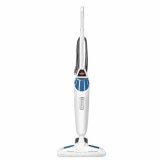 Test Winner: BISSELL Powerfresh

A steam mop might be your best bet to keeping a clean house with the least amount of effort possible. They are hardy pieces of equipment that every household can benefit from. Now there is only the consideration of what kind of mop you should get. When buying a traditional mop there is only really the matter of which one is closest to you at any given moment. However, a steam mop is quite a bit costlier, so you should make sure to buy the most suitable one possible. There are many different styles of steam mop, as well as there being many features you might want to have as part of your new mop. Here lies a list of ten of the best steam mops currently on the market. They all have something that might be what you are looking for, so come on down and give them a shot.
Standout Picks
Criteria Used for Evaluation
Effectiveness
It is important to buy a steam mop that is good at cleaning. Steam mops use hot steam to loosen harder to clean grime so you don't have to get on hand and knees to clean the dirt out. Using only steam to clean means that it is all about the effectiveness of the mop you are using. A good mop will use just the right amount of steam so that you aren't getting your floor too wet, while also getting to reap the benefits of the steam's wetness. You shouldn't have to put too much elbow grease into the stain to get it to lift off. The heat of the steam should be doing most of the work for you. The higher the rating in this category, the less you'll have to worry about tiring yourself out while you are cleaning.
Versatility
A steam mop is a useful tool for getting rid of hardy stains on your floor, but they can be even more useful if designed with some other uses also in mind. There are many modes among the these steam mops that could prove to be exactly what you are looking for. This includes such things as a carpet glider. A carpet glider allows you to use these steam mops on your carpet as well, without having to worry about the mop getting caught on the carpet. This is useful for many reasons. It is like having a carpet cleaner-lite in your home. There are also steam mops on this list that can detached and turned into a smaller, more portable version. This makes it easier to clean walls, ceilings, and shelves.
Capacity
You are going to have to fill your steam mop with water once in a while. Making sure that the steam mop that you buy does not need to be refilled very often is very useful for keeping your steam cleaning as simple as possible. Most of the steam mops on this list are designed to last for around an hour of cleaning. Having too large a tank will make the steam mop too bulky to be carried around. Cleaning the house should be as simple as possible, so having a good balance between size and portability is a must. As long as your steam mop can last for around an hour of work, then it should be okay. Remember that the different settings on the steam mop will all take up different amounts of water.
Adjustability
Not all stains are built the same. It helps to buy a steam mop that comes with multiple options for how you want to go about steaming away your problems. There are mops with many levels of cleaning. The more options, the better, but at least three should be good enough. Many of the mops on this list also come with a feature that allows you blast a quick spritz of heavy steam that makes cleaning even easier. Try to find one with that feature so you won't have to spend time running the steam mop over the stain over and over again.
Ease of Use
There are things like carpet gliders that you can attach to your steam mop so that they are easier to roll over carpet, but it is also important that the steam mop is easy to roll over all other surfaces as well. It can be a pain trying to move your mop over all of the areas you would like to. Nobody likes having to roll the mop back and forth trying to get it to go over that one tiny spot. Try to find a mop with an adjustable head. This will do you a large favor when you are trying to clean. The less that you have to lift the mop up and down to get it in the right spot, the happier you will be while you are cleaning.
10 Best Steam Mops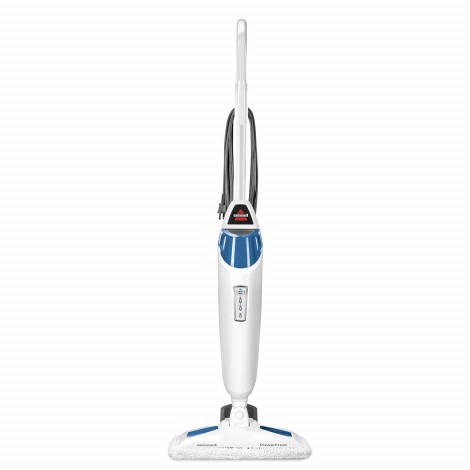 The BISSELL Powerfresh is a versatile and effective steam cleaning mop that will do a great job of keeing both hardwood floors and your carpets clean.
Versatile Cleaning
There are many options that you can choose with the BISSELL so that it is properly equipped to handle any messy situation. The mop has three different attachments that can be put on the bottom that all do a different job when cleaning your floors. There is one for gentle scrubbing, one for hard scrubbing, and a glider that allows you to move freely over carpeted floors. There are also three kinds of steaming options so you can use the right amount of power for the type of mess you are about to tackle.
Other Options and Features
This steam mop has other thoughtful additions that make cleaning the house as easy as possible. There is a flip down scrubber that you can use to better clean the house with a quick flick. This mop also has a swivel head that makes its easy for you to steer and power your way through the house with no annoying lifting and resetting of your mop's position. The cord for this mop is an extra-long twenty-three feet so you don't have to worry about how far you are going to need to go.
Cost and Value
This mop is a bit expensive, especially when compared to a traditional mop, but it does such a great job of quickly cleaning your house. The Powerfresh is a great choice when it comes to finding the right option for cleaning your home. These mops are also great because they can be set up with all kinds of extra additives like scent pads and cleaners so you can even more specifically choose the type of clean you want for your house.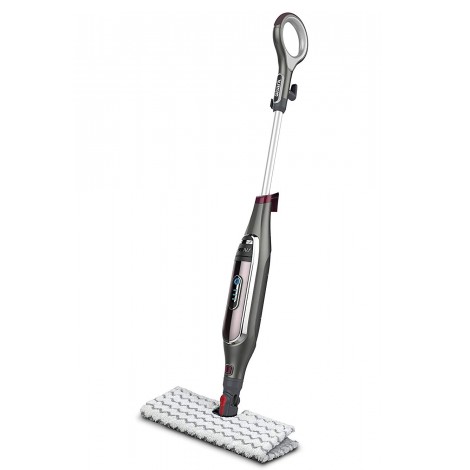 This powerful steam mop does a great job getting rid of the toughest messes and grime that you can find in your home and elsewhere.
Powerful Cleaning
The Shark Genius has been designed to be able to get rid of the hardest to clean messes. It does this thhrough two technologies designed by Shark. Firstly, there is the steam blaster, which gives you the ability to shoot powerful jets of steam at any extra tough clumps of grime stuck to your floor. The other important feature are the specific pads that come with the Shark Genius. These dirt grip pads are designed to be extra rough on dirty and other stains you might find on your hard wood floors.
Other Features
The Shark Genius is designed with some useful extra features that make cleaning up even easier for you. The cleaning pads are designed to be two-sided so you can get more use out of each one. This saves you a bit of cash so you don't need to keep buying new pads. This steam mop also comes with three different settings so you can choose the power of your cleaning, as well.
Cost and Value
This steam mop costs a little bit, but it does a great job on hardwood floors. This is a good pick if you get very dirty hard floors in your home. The Shark Genius is very powerful and can take care of the most stuck on messes in your home. It is also very easy t use because you don't even need to lean over to take the pad off of this steam mop. It has a release for the pads on top with the handle so you can just release the pad into the garbage when you are done with it.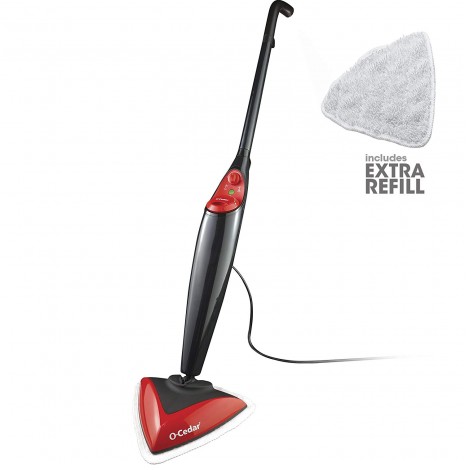 The O-Cedar is a cheap and lightweight option if you want your steam cleaning to be a quick and painless affair.
Quick and Easy
The O-Cedar is designed so that you can get to cleaning your home as soon as possible. This mop is designed to be incredibly lightweight. After you fill it up and plug it in, this mop will only take twenty seconds to be ready to clean your home. Another great thing about this mop is that it is so light. Other mops can feel a little unwieldy when you push them around your kitchen, but the O-Cedar weighs under five pounds, which makes it feel nimble as it cleans your home.
Other Features
This steam mop has some other handy features that make it a simple and quick affair to clean up your home. This mop has three different settings so you can adapt to the dirtiness that surrounds you. There is also an attachable glider so that you can steam clean your carpets as well as your harder floors. This makes the O-Cedar an all-in-one machine.
Cost and Value
The O-Cedar is a great choice for you if you are on a budget. It is quite a bit cheaper than the two top options on this list, and will do a great job for you. It is chiefly for those who want the cleaning process to be quick and painless. This mop will effectively sanitize all of your surfaces in such a way that you won't even have to worry about the work of cleaning your home.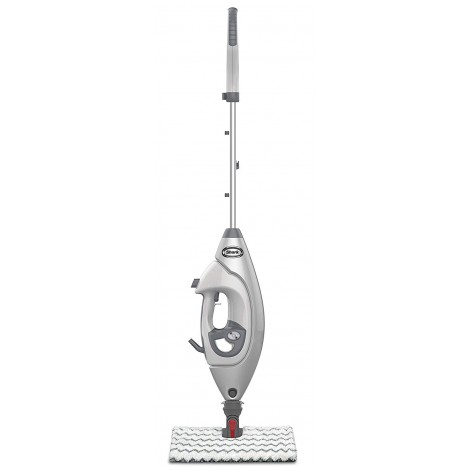 Shark's Lift-Away mop is great because it gives you multiple options so you can clean more than just your floors.
Multiple Modes
The Shark Lift-Away has a secondary mode that makes it especially useful to people who like to give their home a truly deep clean. The bottom of the mop can be detached and turned into a handhld mop. This gives you the ability to clean things other than your floor, such as shelves, walls, and ceilings. This makes this a great choice for those who want a cleaning product that can cover more bases at once.
Other Features
This mop has many other great features, such as customizable settings for its steam cleaning. This mop has three different levels of steam production so you can better choose how to tackle your problems. There is also a steam blasting ability so you can give a quick spurt of steam to an especially tough spot of grime. This mop also has a touchless pad removal system s you don;t have to get your hand on the gross pad when you are trying to dispose of it.
Cost and Value
This mop is more expensive than the other mops on this list, but it does give you many more options. A handheld steam mop opens a loof doors when it comes to cleaning your house, and that makes the Shark Lift-Away a great choice for those who want all of their cleaning tools in one place.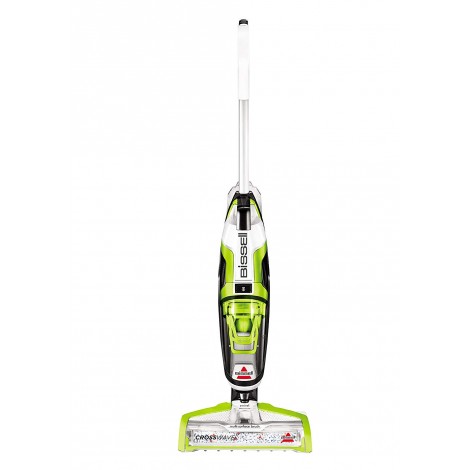 The Crosswave is the choice for you if you want to be able to effectively clean the entire house without needing to plug in multiple appliances.
Steam Mop and Vacuum
The Crosswave is great because it can be used as both a steam mop and as a vacuum cleaner. You can switch its settings on the fly as you switch from hardwood to carpet. It even does both things at the same time so you don't have to worry about where you're going at all. There's a brush and a jet that work in unison to effectively clean all of your floors at once.
Other Features
The Crosswave is great for more reasons than its versatility. This mop has two canisters. One of them holds the dirty water that you vacuum up so that it is only clean water being used to clean your floors at all times. It also gives you control over the situation and allows you to change the steam settings on your mop so that it can be switched from settings meant for hardwood, and can also be switched to settings for rugs as well.
Cost and Value
The Crosswave costs more than the other mops on this list, but it is also so diverse in its uses that the price is more than justified. This is a floor cleaner that does a little bit of everything. It uses steam cleaning to its maximum potential and will ensure that your entire home is kept clean with steam.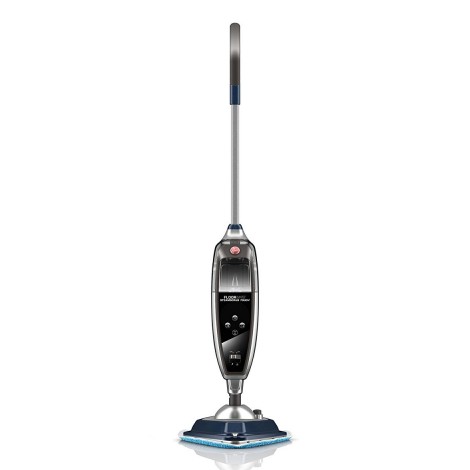 Hoover's steam mops has all of the options you might be looking for in a steam mop, but without the expensive price.
Effective Cleaning
The Floormate's claim to fame is that it does a good job of cleaning hard to reach places, such as grout and tile. The Floormate is a great choice for those who have tile in their homes and kitchens, but don;t want to lay down and do it by hand. The Floormate comes with a specific scrubbing pad that will clean those hard to reach indents out with ease.
Other Features
The Floormate has more than a few reasons for you to buy it beyond its tough cleaning ability. It is also very lightweight so you can carry it around with you from room to room very easily. It also has a carpet glider add-on that makes it easy to steam clean your carpets, as well. It is also designed with two tanks. One of them is filled with cleaning solution. This allows you to choose whether you want to use the solution or not so you can bust out the big guns with tough to clean areas, and just use plain steam for the easier parts of your home.
Cost and Value
The Floormate is a very cheap choice if you are looking for a steam mop. It is easy to use anywhere in your house, and has been designed with features that make it a capable cleaning tool in all the different areas of your home. The Floormate will do a great job for you if you want something simple and effectiv



The Oreck is a powerful steaming mop that's purpose is to get your hardwood and tiled floors clean. It is very simple and effective in this task.
Simple Cleaning
The Oreck effectively cleans for forty minutes on a single filling of water. You can use simple tap water and it will do a great job of getting rid of any frime you find around the house. The Oreck doesn't leak either. It has been sealed very well so you can use it to clean walls and ceiling without having to worry about the mop leaking water anywhere.
Other Features
The Oreck uses some bonus features that are also simple so you can keep cleaning. One of the best features of the Oreck is that it uses universal clips on its head so you can use any towel lying around the house to clean your floors with. This means you don't have to keep using the washing machine every time you run out of scrubbing pads, and can just use a dish towel to clean your floors instead.
Cost and Value
The Oreck is quite expensive for how simple it is. On the other hand, this mop does a great job of keeping your house clean. It can be used on any hard surface other than carpet, and it it very simple to use. If you have the room for another appliance, the Oreck is a great choice for its effectiveness and simplicity.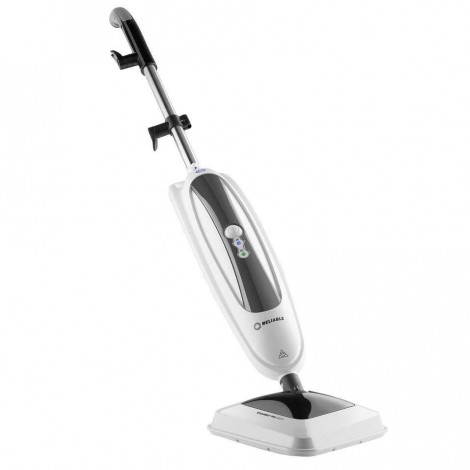 The Steamboy is a good steam mop that can be used in many kinds of situations. It has some useful features that make using it very easy as well.
Three in One Cleaning
The Steamboy Pro will effectively keep you home clean in three different ways. It comes with a scrubber brush that allows you to get at hard to clean tile and grout. This mop is effective at cleaning the tough stuff. It also has a gentler scrubbing head so it can be used on more fragile types of flooring, such as hardwood and linoleum as well. Finally, this steam mop has a carpet glider that can be used for carpets.
Other Features
The Steamboy has other features that make it a good steam mop to take a look at when thinking about buying one. It has a foot pedal that you can quickly tap to switch between the scrubbing setting and the steaming setting. It also has a totally rotatable head that makes it easy to get into hard to reach parts of your home.
Cost and Value
This steam mop is a little bit cheaper than other mops on this list, and it is a good mop to keep on your radar. It cleans very effectively, and is easy to use in all of its modes. This mop is also a good choice due to its ability to get anywhere in your house easily.

9

. SteamFast SF-295 3-in-1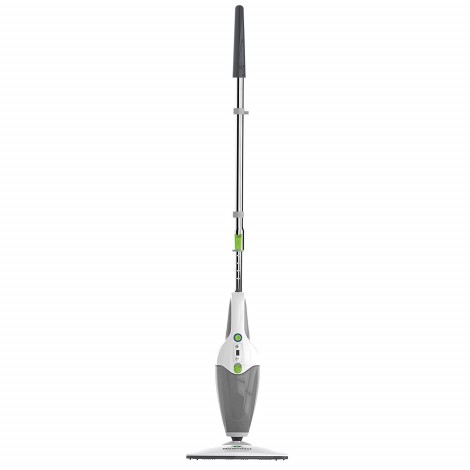 The SteamFast is a very effective and versatile mop that will do a good job of keeping your entire home clear of grime and dirt.
Three in One Cleaning
This mop has three different ways that it can be used so that your entire house can be cleaned in one fell swoop. The first is the steam mop, which will do a great job of keeping your hardwood floors and tiles nice and clean. Secondly, there is a handheld mop that you can detach from the longer handle so that you can easily clean your shelves, and other other dirty surfaces that are above the ground. Finally, this mop also works as a fabric steamer so you can take all of the wrinkes out of any clothing in your home.
Other Features
The SteamFast is very useful for other reasons as well. It will heat up in thirty seconds after it is plugged into the wall. The water tank is also removable so you can quickly refill it at any time without having to unplug your steamer. This can save a lot of time. The SteamFast is also deeply customizable and can be used with seven settings for different kinds of cleaning, as well as a multitude of attachments to better suit any situation you might come across.
Cost and Value
The SteamFast has many different uses, and does a great job in any of the roles you might be buying it for. It does all of this at a very reasonable price, which makes buying it an even easier choice to make. This mop is great for all of the variety in cleaning choices it brings to the table.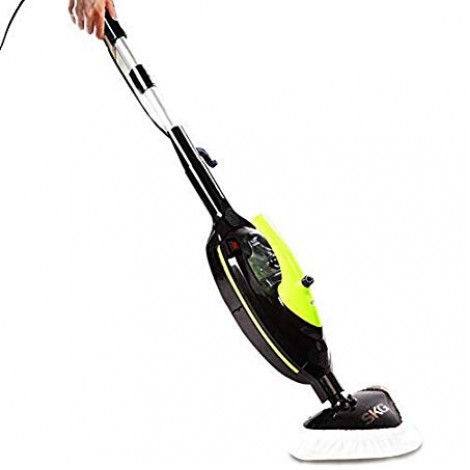 The SKG is an all in one cleaner that can do everything around the house for you. This mop will replace a lot of appliances for you and save you some space.
Six in One Mop
There are many accesories that come with the SKG that give you the ability to clean all kinds of things around the house. The SKG is effective at cleaning grout and tile. It also can clean windows with a squeegee attachment. It is effective at cleaning ovens if you get the right formula for it. It is also a great choice for cleaning upholstery and carpets as well.
Other Features
The SKG is decked out in other features to make sure that you are equipped for any job that you could think of. It comes with multiple scrubbing heads that are easy to clean and reuse. It has six different steaming settings so that you can chooses the right degree of power for the job. The SKG is also designed so that it makes a noise when it needs to be refilled with water. This makes it so you don't have to worry about running out of water when cleaning
Cost and Value
The SKG does a lot of different things. If you live in a smaller place, the SKG might be a good pick simply for the amount of space that it will save for you. This mop does all of this at a very low price point. Think about picking this up if you need to do a lot of cleaning, but don't have the money or space for a whole closet of supplies.

Subscribe to our Newsletter