Best Muck Boots Reviewed & Rated for Quality
In a
Hurry? Editors choice: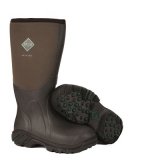 Test Winner: Arctic Pro Hunting

As any fan of the outdoors can tell you, footwear is everything. Whether you're camping or
hunting
, hiking or off-roading, protecting your feet is one of the most vitally overlooked necessities of spending time in the great outdoors. This is why a solid pair of muck
boots
is so important. Below are some of the very best boots on the market. All satisfy the basic essentials of the model: Tough, durable, and
waterproof
. Regardless of individual user needs, there are boots out there for you.
Standout Picks
Criteria Used for Evaluation
Materials
Although Muck is known to use the best quality materials for their boots, not all of them are at the same level of quality. For the most part, the boots are made from a Neoprene material that they've patented and worked great for protecting against the water and cold weather. However, not all boots provide the same level of protection against the cold. Check to see what material is used for the liner and interior as well. Of course, if you're going to be wearing your boots during warmer times, you should get something that is not as thick and allows more breathability.
Durability
These type of boots were designed for the outdoors, this means that they need to be able to withstand your active lifestyle and whatever Mother Nature throws at you. Keeping your feet warm and dry is very important for your survival, especially if you are caught in a storm. Your boots need to be able to protect your feet and allow you to keep going. Muck's boots are great when it comes to durability and protection against harsher weather, but some are better than others. The best way to find out how each performs over time is to check out reviews and find out what other customers have said about a specific model.
Fit
Considering how active you will be while wearing these boots, it is vital that they fit right. Whether you're hunting, hiking, or working outdoors, you will be moving a lot and your footwear needs to feel comfortable. Boots that don't fit can cause soreness and blisters, making it difficult to work or move around. Muck's size chart is pretty accurate and you can easily measure your foot with a ruler and find out the size that would fit you best. You should also take into consideration the style of the boot as well. Low cut boot and high cut boots offer different levels of comfort, mobility, and protection. Choose a style that will meet your needs.
Features
Muck's boots offer a lot of great features that make them one of the best buys on the market when it comes to footwear. They are made to be waterproof and many offer amazing protection against the cold as well. Other features you should look for include breathability. If your feet sweat a lot and don't have a way to air out and dry, then that can cause fungus and bad odors, among other problems. If you are going to be working outdoors with your boots, then you should look for steal toes features for extra protection.
Value
Above, we have looked at a sampling of some of the best muck boots on the market. Top of the line models can keep feet warm at temperatures of up to 50 below along with being water-resistant. Others simply offer top-notch water-resistance for the casual hiker. At the end of the day, all represent quality muck boots that will get the job done no matter where you take them. Regardless, the above choices should give you an array of options in choosing the right footwear for you. If you are on a budget, Muck offers a variety of different styles at different price ranges, ensuring that you'll find something perfect for your needs.
BEST MUCK BOOTS REVIEWED & RATED FOR QUALITY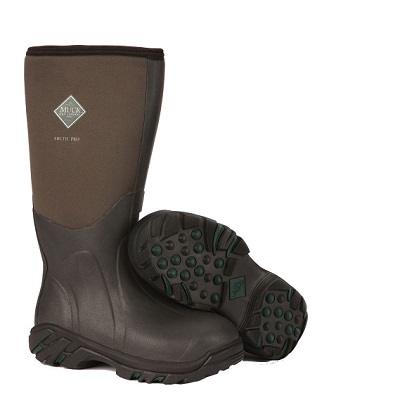 This is another example of a great cold weather boot. The Muck boots by Arctic Pro are tested at colder temperatures than most of the other footwear on this list, with a minimum temperature of 60 degrees below zero. Like many of the others, the key to warmth and insulation is a form-fit neoprene interior. The bark coloring and comfortable top-line fit make it perfect for hunters.
Thickness
Unlike other muck boots put out by the manufacturer, this model features an extra 2 millimeters of neoprene insulation in the liner. While it might sound like much, this provides an extra layer of warmth, making it essential for those who spend most of their days outdoors in the cold.
Height
Along with extra insulation, these boots also sit slightly higher on the calf. This is an important feature for activities that involve wading in deep snow or remaining stationary in one place for some time -- Such as sitting in a tree stand for hours on end while hunting.
Cost and Value
These boots are an investment. Definitely be prepared to fork over a little more cash for the extra protection offered by the Arctic Pro Muck boot. That said, their thickness, height, and durability make them a great choice for hunters and outdoorsmen (and women).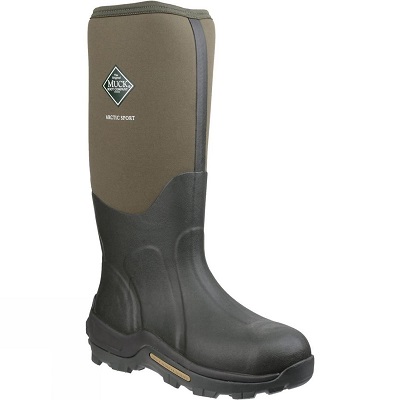 The Original Muckboots might be a cumbersome name for a company, but they're sure serious about boots. Several of their models are featured on this list. The Arctic Sport is made for extreme temperatures and the harshest of conditions. Outside, tough durable rubber forms a thick shell against the elements. Inside, neoprene foam molds to the contours of your foot for optimum comfort.
Holds in the Heat
The temperature rating on these goes down to a bone-chilling 40 degrees below zero. Inside the boot, layers of neoprene and fleece form a gentle cushion that seals in your natural body heat, ensuring that the elements won't come close to touching your feet when you wear them.
Tough
While your feet rest comfortably inside, outside is a different story. The boot is double-reinforced, with a hard rubber shell to hold everything together. Additionally, the outsole is reinforced so that it grips easily on ice and other slippery surfaces.
Cost and Value
While they aren't cheap, the Arctic Sports Muckboots more than makeup for the cost in durability and comfort. They're perfect for those who live and work in cold environments or plan to hike or camp in them.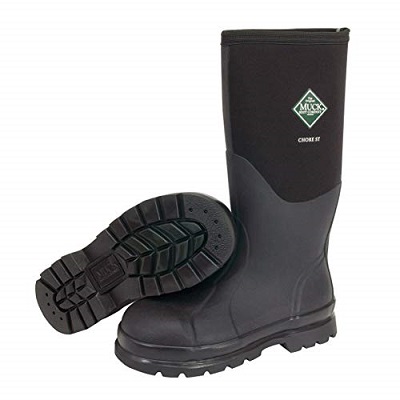 The Original Muck Boots have several different models on the market. This is their most rugged, a tough, quadruple reinforced steel-toed boot made for heavy work. It has the same comfortable neoprene foam interior of their other cold-weather boots, minus a bit of the cold weather lining. Meanwhile, the exterior has terrific shock protection, making it a perfect choice for farmers or construction workers.
Toe Protection
Both the toe and arch areas of the boot are reinforced with steel, so working in hazardous conditions isn't a problem with a pair of these. Impacts from above and below won't even register. This makes them an invaluable asset when walking on uneven ground or maneuvering through hazardous terrain.
Comfort
The extra cushioning in the interior goes a long way towards providing a comfortable fit for all users, regardless of shoe size and body type. Similarly, the fit around the calves is also snug yet loose enough to be comfortable. They form a tight seal, protecting users from moisture and the elements, yet not at the expense of circulation or comfort.
Cost and Value
These boots essentially add extra protection to an already expensive muck boot. Naturally, the result is a higher price point. For the casual hiker, this might be a bit much, but these boots are a worthwhile investment for landscapers, construction workers, or anyone who works a hazardous outdoor job.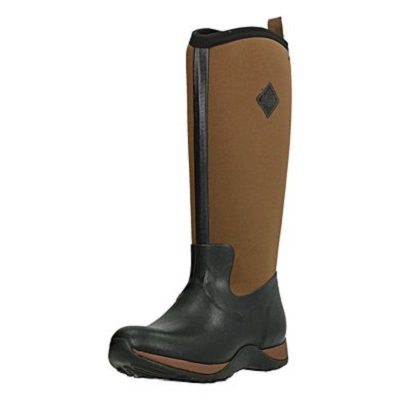 These tall winter boots for women are available in a variety of colors and prints. The boot itself is tall at just over two feet but comfortably designed so it that it fits nicely at the calves. The material is a 100% waterproof blend of rubber and neoprene and is suitable for cold weather use. A removable insole allows for greater comfort and uses at slightly higher temperatures.
Fit
The main selling point here is how comfortably it fits all different heights and body types. This is always a risk with thigh-high boots, but these comfortably mold themselves to the wearer without feeling too snug or loose at the top.
Variety
In addition to being durable and warm, these boots are a great addition to the wardrobe. A wide variety of colors and prints are available for order, making them appropriate for consumers in more populated areas trying to look sharp while they battle the elements.
Cost and Value
Standard sizes on this boot are in the mid-range compared to similar products. While they don't offer the greatest possible protection against the cold, they are more than enough for the casual user just looking for a solid pair of boots to make it through brutal winters.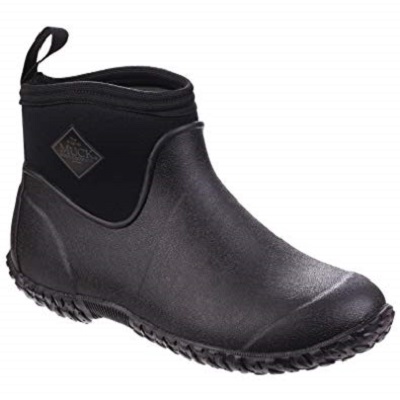 Looking for something a bit more active for a warmer environment? The Ankle Workboot by Muckster fits the bill. This ankle-high boot has the same neoprene protection as other thigh-high boots on the market, but with a breathable lining and several available patterns. This boot is a nice balance for users who don't expect to be wading into extreme temperatures on a daily basis.
Year Round Footwear
The Ankle Work Boot won't cause your feet to sweat if worn in temperatures that are just north of bone-chilling. This alone is a major factor that sets this boot apart from the competition. Its design and fit are far more comfortable for everyday active-wear.
Easy Access
These slip-on boots provide great traction for something that doesn't even come in laces. The boot goes on and off like a dream, so you're ready to go in seconds. This is a definite plus on those cold mornings at the campsite or tree stand
Cost and Value
With less insulation and material, this is a far more affordable boot than others on the market. As stated above, it is highly versatile and can be an invaluable asset for numerous outdoor activities. That said, use in extreme temperatures will not provide optimum results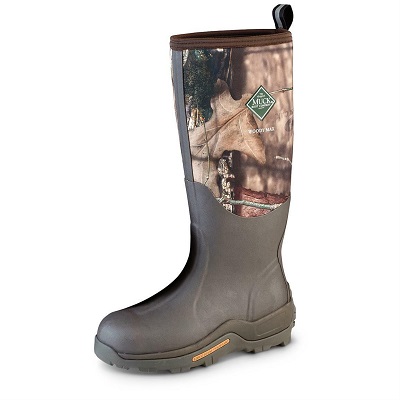 These hunting boots are a bit more specialized than other items on the list. For one, their exterior only comes in hunting camo - announcing their sole use up front. They are also especially lightweight at just over 2 pounds, allowing users to move quickly and quietly while tracking wild game. Meanwhile, the interior is lined with thermal foam and fleece to keep feet warm and dry.
Lightweight
The Woody Max Hunting Shoes really stand out when it comes to maneuverability. Many muck boots feature so much internal and external protection that they make movement over long distances difficult. Thanks to their lightweight design, these boots provide great mobility while they protect.
Added Protection
The sole of the boot is insulated with an extra 2 Millimeters of thermal foam, which helps keep the extremities nice and warm without shortchanging the lightweight factor of the boot. This added protection is especially welcome during long hours of remaining stationary on the ground or in tree stands.
Cost and Value
Once more we have a specialized boot for a specific task. As a result, the cost is relatively high compared to some of the more 'casual use' muck boots on the list. For avid late-season hunters, however, having a boot that is specially designed for them from top to bottom is a great selling point.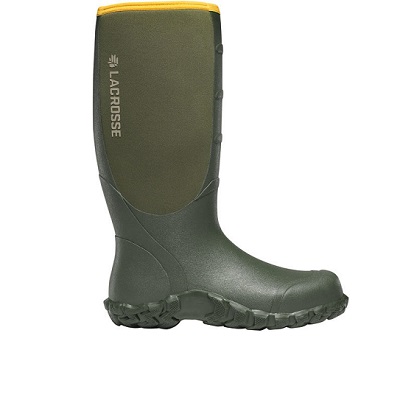 Lacrosse footwear is an American company that has been producing quality shoes and boots for over a century. These rubber and neoprene boots are no different. The exterior and sole are made from solid vulcanized rubber for superior grip and durability. Neoprene insulates and keeps the cold out. At 16 inches high, this boot provides great coverage for outdoor laboring or jobs that require wading or working in dirty outdoor conditions.
Built to Last
A common complaint about heavy muck boots is that the rubber exterior doesn't always hold up to long-term heavy use. Cracks can develop which can let cold and wet in. The Lacrosse rubber boot features vulcanized rubber. Vulcanization is a chemical process that increases durability and strength while keeping the rubber soft and pliable.
Easy to Clean
The black, non-patterned exterior is great for non-hunters who simply want a top of the line workboot. Solid rubber makes maintenance and cleaning easy. Just hose off after using and you're done!
Cost and Value
These are surprisingly affordable boots given their durability and comfort. They are just as effective as waders for the casual hiker as they are for an outdoor worker. Definitely a solid boot for the price.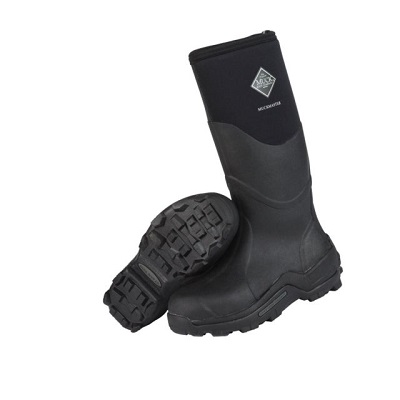 These extra-tall, puncture resistant muck boots are designed with the outdoor worker in mind. In addition to providing the thick neoprene lining and protection against the elements of a true cold-weather boot, these Hi Cut muck boots are also built to be breathable for use over an extended period of time.
Tough
In addition to withstanding extreme cold, the Muckmasters can also take a beating. The tough outer lining is puncture resistant from sole to the calf. This makes them a great choice for farmers, surveyors, and other outdoor workers who work in harsh environments.
Non-Seasonal
The breathable lining means that these aren't just 'Winter Boots'. The Muckmaster Hi-Cut is suitable year-round and won't make your feet sweat in temperatures above freezing. Once again, this is a factor that makes it ideal for those who need to be outside 360 days out of the year.
Cost and Value
This is on the more affordable side of the spectrum as far as thigh-high boots go. Others cost more due to the increased insulation needed for colder temperatures. Conversely, these are simply built to be tough and durable.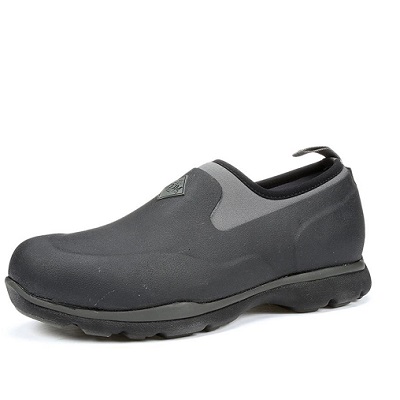 For the casual user looking for a boot for the garden or outdoor chores, you can't go wrong with an ankle-high boot. This low boot has the maneuverability of a sneaker and the protection of a traditional muck boot. They are completely waterproof and feature a tough EVA outsole for increased grip. Inside a flex foam, bootie provides terrific comfort.
Ease of Use
These laceless, slip-on boots are terrific for casual use. At just 2 pounds, they provide the waterproof, durable protection you need without skimping on comfort. Perfect for working in the garden or accomplishing various outdoor chores.
Breathe Easy
The interior of the boot is made up of a breathable material that keeps feet cool even after extended use. A sock liner reduces friction and the heat build-up that results while creating a snug, comfortable fit. This truly has the protection of a boot but the fit of a comfortable pair of sneakers.
Cost and Value
If you aren't looking to hike the Arctic anytime soon and don't find yourself dreaming of a career in farm work or construction, these are a great intermediate choice. The casual user is spared the sometimes constricting contours of a thigh-high boot but granted a durable waterproof seal for outdoor use.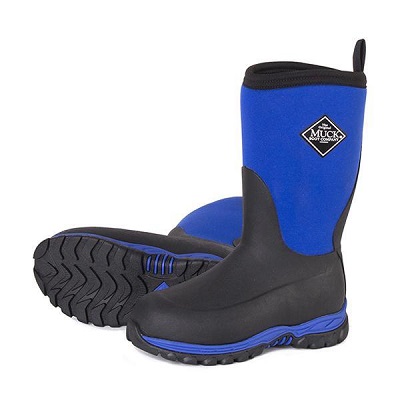 This rugged boot is built just for kids, a first on our list. The Rugged II provides all of the protection against the elements of other work boots on our list but in a smaller size. 5 Millimeters of neoprene on the inside along with fleece lining keeps feet warm and dry. Meanwhile, the tough rubber exterior stands up to repeated use. The boot comes in a variety of colors and patterns.
Versatility
Far from a one-size-fits-all child's model, the Kids Rugged II comes in several sizes by age: Toddler, Little Kid, and Big Kid. Along with the fun colors and patterns, there is more than enough variety to keep kids coming back to the model as they continue to grow.
Warranty
The Muck Boot company stands by all their products, which is especially important for these given how active kids can be. Every pair has a one year warranty against defects so you can rest easy with your purchase.
Cost and Value
The cost is what one might expect for a high-quality pair of mucks, though they are far from the most expensive kids' model on the market. They provide terrific protection and durability given the price.

Subscribe to our Newsletter