Best Hunting Blinds Reviewed
A patient hunter will find the use of hunting blinds to always exceed his expectations during the season. Finding the most compatible model is a must, especially if you're with a group of hunters. Choosing a bad model can lower the percentage of you landing a shot and lead to an unsuccessful season.
Our Top 3 Picks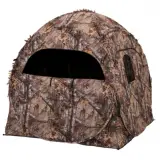 Evolved Ingenuity 1RX2S010

Our rating
Tough
Price:

See Here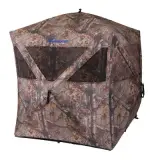 Ameristep Care Taker

Our rating
Insect Resistant
Price:

See Here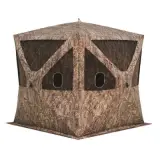 Big Cat 350 Hub Blind

Our rating
90 inches
Price:

See Here


Best Brands
There are no overwhelming favorites in the hunting blinds industry, which seems to separate itself a bit from the rest of the equipment sold worldwide. Hunting blinds aren't a niche product, but have a small enough reach to where no one company has really taken over as a dominant brand.
Maintenance and Cleaning Tips
Hunting blinds are built from the same materials as high end tents, so treat them the same. The most important parts are the areas that you shoot through which can get worn over time if you tend to put a lot of weight on it. Handle the openings with care and don't go beyond normal roughhousing, and if you have a hunting blind that needs cleaning, use a cloth with warm water. Never use any type of cleaning solution, since it would alert your prey the next time you're out.
10 Best Hunting Blinds
1. Ameristep 1RX2S010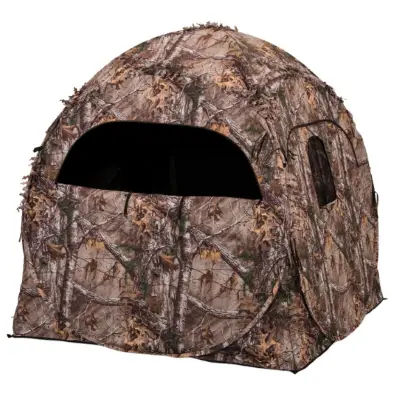 The #1 hunting blind is probably the biggest surprise on the list, and possibly in the entire industry. It is another Ameristep model, this time the 1RX2S010.


Expand to see more
Great Low Key Material

Hunters that run their hand across it for the first time will never guess that it is 100% polyester. The build is tough and durable, and will last for multiple seasons without issues.

Features and Specifications

Realtree Xtra Camo pattern
Shoot through mesh


Price/Value

Hunters can get this at a low price, which holds up to be a tremendous value if this is your main hunting blind. It's the best on the list and continues to impress hunters of all levels.

Decision Time

This is the hunting blind that all others should copy, with the only caveat being its lack of weather resistance. There are still a lot of features out of the box to recommend this as the best you can get, and ultimately money well spent.
Tough exterior with comfortable interior
Compact with a setup and takedown in mere seconds
Not waterproof or snowproof
2. Ameristep 1RX2H011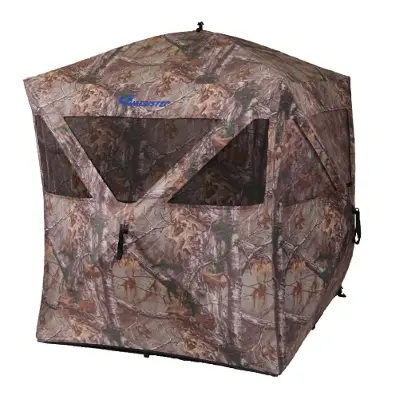 Hundreds of customers worldwide have weighed in on how useful this Ameristep hunting blind is. It hits the correct notes on
price and features
and just missed being the best on the list by one spot.
Expand to see more
Insect Resistant

Something that you wouldn't think to plan for can end up being a big pain when you're aiming. That is why the insect resistance of this model is so important, and vital to its overall function.

Features and Specifications

Durashell plus with Shadow guard
Shoot through mesh


Price/Value

Hunters can get their hands on this model in the mid-high price range. Even if it is not on sale it is a value that is too good to be missed.

Decision Time

At 69×66 this is a great size for one or two people to set up shop and wait for game to pass by. Between this and the #1 pick, you'll have some of the best choices in the industry.
Easy to take down and move to a new location
3 windows on 3 sides keeps you ready to shoot
There are no replacement windows that can be ordered
3. Big Cat 350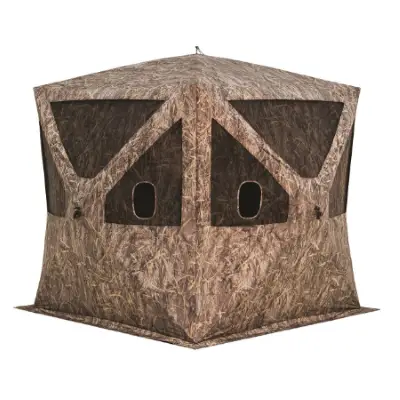 Now that the list is in the top three, the big hunting blinds are starting to show their worth. The Big Cat 350 is
huge
in every way possible, but goes far beyond just being another large model.
Expand to see more
Color Options

There are two main color options, blades camo and backwoods camo. They are different enough to fit in with the rest of your gear without clashing.

Features and Specifications

80 inches tall with a 70×70 footprint
Zipperless windows


Price/Value

Of course with the size of the Big Cat 350 the price is going to be high. It's still worth every penny in value, even if you don't plan on utilizing its multi-person capacity to the fullest.

Decision Time

The extra weight is expected from a hunting blind this big, so be prepared for a little heft. It landed high on the list for a reason and will continue to provide many customers with years of protection.
Can fit up to three hunters
90 inches from hub to hub
4. Barronett Blinds GR251BT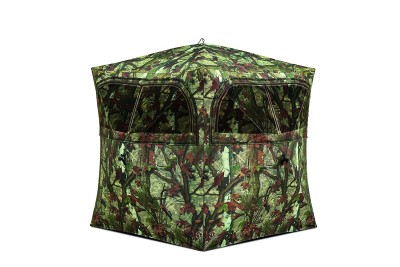 There are plenty of hunting blinds in the industry that tout multiple hunter capacities. But if you're specifically looking for a model that has a 2 person limit, then you're looking for quality over quantity.


Expand to see more
Just Enough Space

With the Grounder 250, you'll get a comfortable space for two people to set up and aim. It is true 2 hunter capacity with all of the dimensions of two people getting into position built into the core.

Features and Specifications

67 inches tall with 59×59 footprint
Weighs 16 pounds


Price/Value

Just hitting the mid-price point, this model is a fantastic value for a two person hunting blind. With all that it is offering the price is very much in line with the industry standard.

Decision Time

Hunters that want their own space when using a multi-person hub will find this model the most useful. It respects space and offers some pretty good features for two users.
75 inches hub to hub space
Pop up roof on each hub
5. Big Dog TSGB-100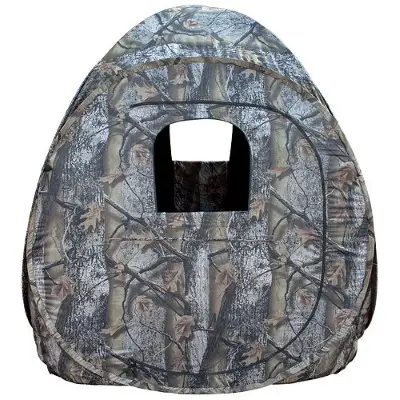 There is nothing particularly interesting about this model, except for one key thing: it is the most balanced on this best hunting blinds list. So it is fitting for it to land in the #5 spot with all of its customer friendly features.


Expand to see more
No Major Weaknesses
The size, design and even set up is great for this model. It is the most compatible hunting blind on the list for hunters that want a jack of all trades product.
Features and Specifications
Spring steel design
68 inch center ceiling height
Price/Value
Buyers are looking at a low price when making this purchase. Even with the low quality of the secondary accessories, this is still a major value for any hunter.
Decision Time
Balanced to be a great deal for all customers, this Big Dog
Treestands
hunting blinds model does everything right. You'll find little flaws in its execution or general materials used for construction.
Wide and tall for multiple people
Only weighs 9.5 pounds.
High wind ropes and ground stakes are low quality
6. Barronett HC250BT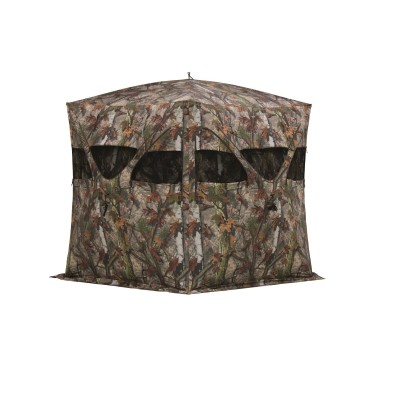 Comfort doesn't always mean
sitting down
or having room to move around constantly. Barronett took a different approach to hunting blinds and came out with a really good alternative.
Expand to see more
Taller Design

The dimensions of the hub cat 250 are 75x75x67. That means you can stand up and shoot rather than sitting, crouching or even laying down.

Features and Specifications

Replaceable shoot through windows
Five hub design


Price/Value

As another high price entry into the list the hub cat 250 makes its money by offering more headroom. That alone is worth the value for hunters that shoot better while standing up.

Decision Time

Buyers that want to stand and shoot will have favorable responses to this design. The only way it would be bad is if the height requirements were too low for your build.
Taller design without sacrificing moving room
Set up and take down takes seconds
Doesn't seal up all the way
7. Primos PS60075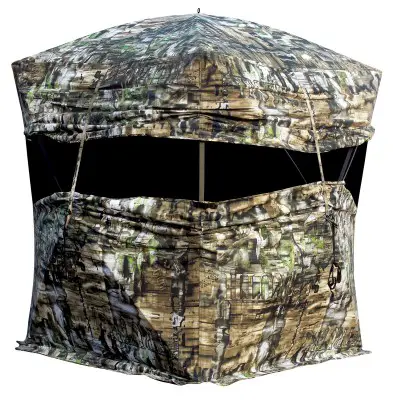 The Primos model enters the list as the first expensive hunting blind, and for good reason. It is one of their most sought after flagship models that stays within the price range of everyday consumers.


Expand to see more
A Great Price

Even with the expensive price tag this is still a great deal due to it being a 5 hub blind. It remains as one of the lowest priced on the market with a continually strong user base.

Features and Specifications

180 degree full frontal view
Patented double bull silent slide window system


Price/Value

As none of the highest priced hunting blinds in the industry, it still ranks at a lower cost than a lot of the bigger options. The value will depend heavily on whether you want this size or not.

Decision Time

The double bullpen ground blind has all of the right features with a lot of room. Hunters will be satisfied with how much visual freedom this model gives them.
Great size for multiple people
Solidly built construction from the ground up
8. Tangkula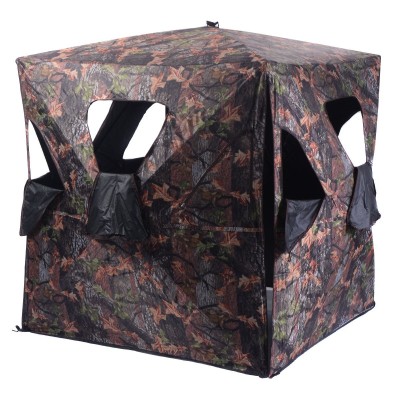 Now comes the first heavy duty hunting blind on the list with this Tangkula model. With the extreme hunter in mind, you could spend days in this without being detected.


Expand to see more
Built Like A Tank

Using 150D Oxford and PU Coating, it is built like a high end tent and is weather proof. Camping out in this is not out of the question and will give you prime position to take a shot when the opportunity arises.

Features and Specifications

Fits up to three people
Dimensions of 58x58x65


Price/Value

Hunters will be looking at midrange prices when it comes to this model. But the value is there since you are purchasing what is basically a small tent.

Decision Time

When you need a hardcore hunting blind for more than one person, this will definitely be one of the top choices. With the right setup this model could be a hunter's best friend in any season.
Spacious and can handle harsh elements
Included storage bag makes it easy to pack and go
9. Ameristep 1RX1C028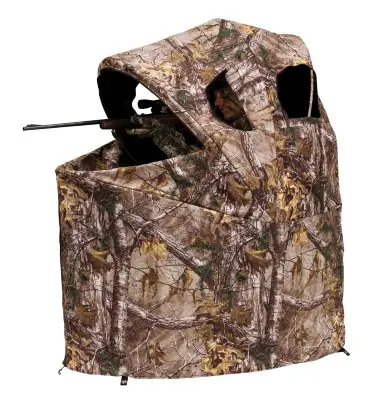 Combining comfort with great camouflage is the Ameristep tent chair blind, a model that is sure to make a lot of people happy. It's a pretty novel idea that is sure to catch on to a lot of hunters that spend hours on a trail.


Expand to see more
The Chair Makes A Difference

Including a built in chair with the package makes this a complete one stop solution for hunting blinds. You can perch yourself for hours while still being in a comfortable shooting position.

Features and Specifications

Zippered windows on the front and side
Realtree Xtra camo


Price/Value

Buyers will find this hovering at a low price and barely touching the mid-price range. With the included chair the value is pretty substantial if you hunt a lot.

Decision Time

This is a great all in one solution for hunting blinds and will please a lot of people. Ameristep showed great creativity with this model by adding a chair.
Chair and tent are easy to carry in one package
Folding chair is more comfortable than your average one
Windows are not shoot-through
10. Guidesman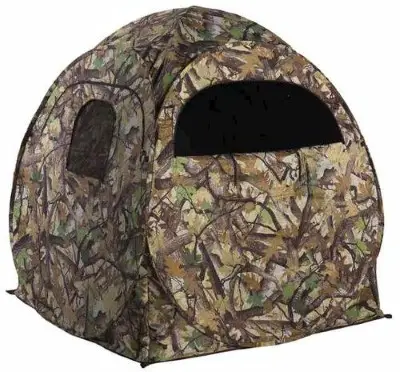 Setting up this hunting blind will become second nature after the first time. Guidesman made it as uncomplicated as possible to blend in with the environment while you're hunting.


Expand to see more
Easy Set Up

It really does function as a pop-up hunting blind, and can be in place with plenty of time to spare. There are no complicated directions needed to get this equipment up and running.

Features and Specifications

Four zipped shooting windows
Three larger zippered windows


Price/Value

The price is low, with a lot being offered upfront with the product. Because of the way it is built customers will be able to enjoy the benefits of it for years.

Decision Time

An interesting thing to point out with this model is that it is favored for not being overly packaged with useless features. So for hunters that need a hunting blind to just do its job, then this Guidesman model will do just the trick.
Uncomplicated setup that takes seconds
Good choice of small and large windows
Backpack straps on carrying case is uncomfortable
How To Make The Best Decision When Choosing A Hunting Blind
If you know for a fact how many people are going to be in your hunting blind, then you're already on the right track. Going over the capacity limit for your hunting blind is never a good idea, and can lead to some uncomfortable hours while hunting. Try buying a single unit and then a backup unit for multiple hunters so that you'll always be covered.
FAQs
Should I Only Buy Weatherproof Hunting Blinds?
No. But if you're the type of hunter that is often waiting in the rain or the snow for prey, then yes. And if you want an installation that you never have to move, then yes again.
What Are The Benefits Of A Multi-person Model?
The first is having your own dedicated space rather than having to share. The other is using a multi-person model as a single person unit in order to capitalize on the extra space.
Is It Better To Get A Tent Instead?
No, because hunting blinds provide better cover, and of course a place for you to aim without blowing your cover. Hunting blinds let you blend into your environment, weapon, scent and all.