Best Hunting Blinds Reviewed for Quality & Concealment
A patient hunter will find the use of hunting blinds to always exceed his expectations during the season. Finding the most compatible model is a must, especially if you're with a group of hunters. Choosing a bad model can lower the percentage of you landing a shot and lead to an unsuccessful season.
Featured Recommendations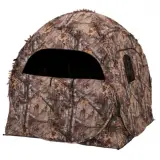 Evolved Ingenuity 1RX2S010

Our rating
Tough
Price:

See Here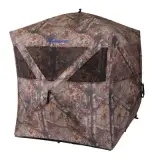 Ameristep Care Taker

Our rating
Insect Resistant
Price:

See Here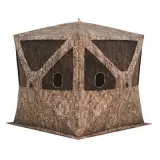 Big Cat 350 Hub Blind

Our rating
90 inches
Price:

See Here

Best Brands
There are no overwhelming favorites in the hunting blinds industry, which seems to separate itself a bit from the rest of the equipment sold worldwide. Hunting blinds aren't a niche product but have a small enough reach to where no one company has really taken over as a dominant brand.
Maintenance and Cleaning Tips
Hunting blinds are built from the same materials as high end tents, so treat them the same. The most important parts are the areas that you shoot through which can get worn over time if you tend to put a lot of weight on it. Handle the openings with care and don't go beyond normal roughhousing, and if you have a hunting blind that needs cleaning, use a cloth with warm water. Never use any type of cleaning solution, since it would alert your prey the next time you're out.
15 Best Hunting Blinds
1. Evolved Ingenuity 1RX2S010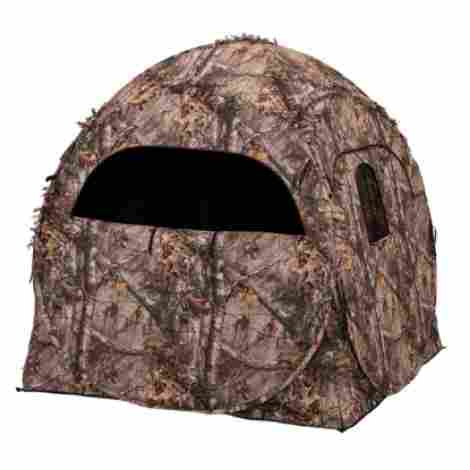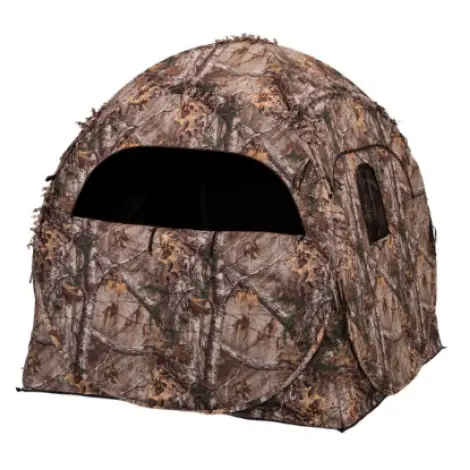 The #1 hunting blind is probably the biggest surprise on the list, and possibly in the entire industry. This offering is the Evolved Ingenuity 1RX2S010 Hunting Doghouse Ground Blind.


Expand to see more
Great Low Key Material

Hunters that run their hand across it for the first time will never guess that it is 100% polyester. The build is tough and durable, and will last for multiple seasons without issues.

Features and Specifications

Realtree Xtra Camo pattern
Shoot through mesh


Price/Value

Hunters can get this at a low price, which holds up to be a tremendous value if this is your main hunting blind. It's the best on the list and continues to impress hunters of all levels.

Decision Time

This is the hunting blind that all others should copy, with the only caveat being its lack of weather resistance. There are still a lot of features out of the box to recommend this as the best you can get, and ultimately money well spent.
Tough exterior with comfortable interior
Compact with a setup and takedown in mere seconds
Not waterproof or snowproof
2. Ameristep Care Taker Realtree Xtra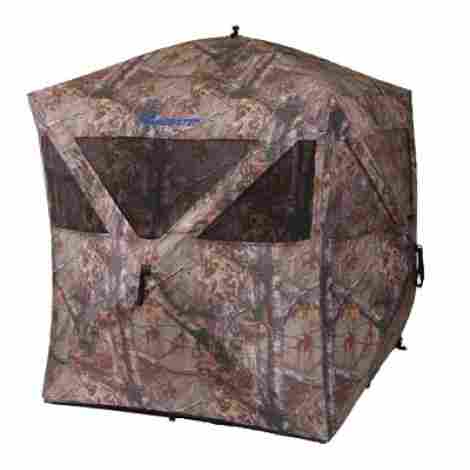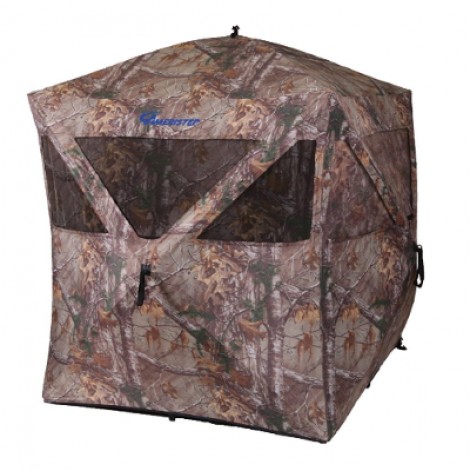 Hundreds of customers worldwide have weighed in on how useful this Ameristep hunting blind is. It hits the correct notes on
price and features
and just missed being the best on the list by one spot.
Expand to see more
Insect Resistant

Something that you wouldn't think to plan for can end up being a big pain when you're aiming. That is why the insect resistance of this model is so important and vital to its overall function.

Features and Specifications

Durashell plus with Shadow guard
Shoot through mesh


Price/Value

Hunters can get their hands on this model in the mid-high price range. Even if it is not on sale it is a value that is too good to be missed.

Decision Time

At 69×66 this is a great size for one or two people to set up shop and wait for the game to pass by. Between this and the #1 pick, you'll have some of the best choices in the industry.
Easy to take down and move to a new location
3 windows on 3 sides keeps you ready to shoot
There are no replacement windows that can be ordered
3. Big Cat 350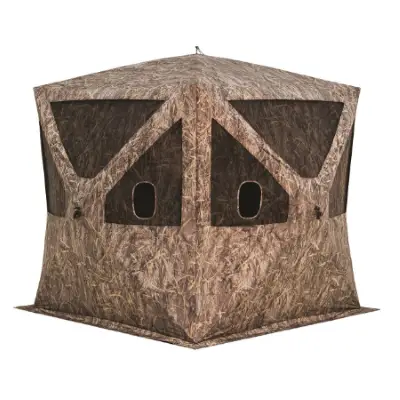 Now that the list is in the top three, the big hunting blinds are starting to show their worth. The Big Cat 350 is
huge
in every way possible, but goes far beyond just being another large model.
Expand to see more
Color Options

There are two main color options, blades camo, and backwoods camo. They are different enough to fit in with the rest of your gear without clashing.

Features and Specifications

80 inches tall with a 70×70 footprint
Zipperless windows


Price/Value

Of course with the size of the Big Cat 350, the price is going to be high. It's still worth every penny in value, even if you don't plan on utilizing its multi-person capacity to the fullest.

Decision Time

The extra weight is expected from a hunting blind this big, so be prepared for a little heft. It landed high on the list for a reason and will continue to provide many customers with years of protection.
Can fit up to three hunters
90 inches from hub to hub
4. Barronett Blinds GR251BT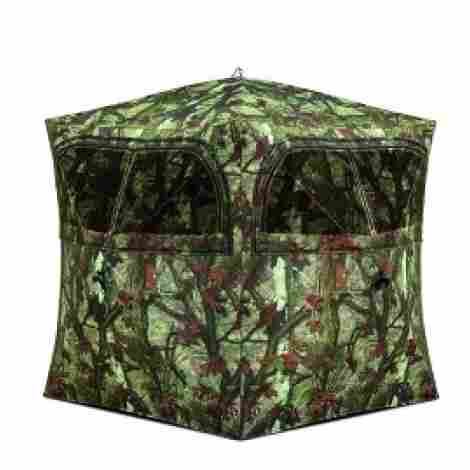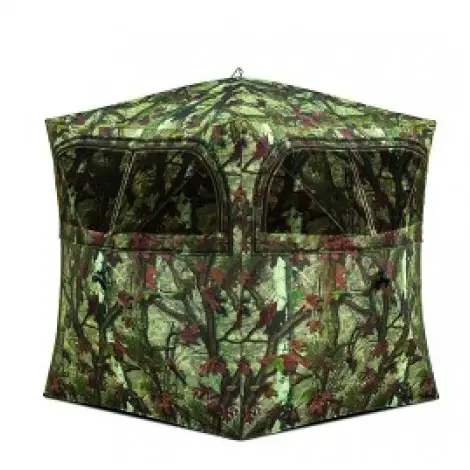 There are plenty of hunting blinds in the industry that tout multiple hunter capacities. But if you're specifically looking for a model that has a 2 person limit, then you're looking for quality over quantity.


Expand to see more
Just Enough Space

With the Grounder 250, you'll get a comfortable space for two people to set up and aim. It is true 2 hunter capacity with all of the dimensions of two people getting into position built into the core.

Features and Specifications

67 inches tall with 59×59 footprint
Weighs 16 pounds


Price/Value

Just hitting the mid-price point, this model is a fantastic value for a two person hunting blind. With all that it is offering the price is very much in line with the industry standard.

Decision Time

Hunters that want their own space when using a multi-person hub will find this model the most useful. It respects space and offers some pretty good features for two users.
75 inches hub to hub space
Pop up roof on each hub
5. Big Dog Treestands Pop Up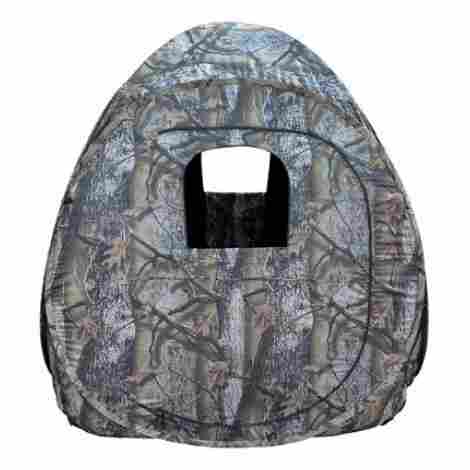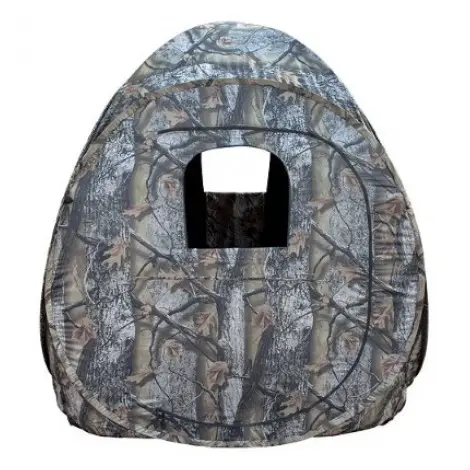 There is nothing particularly interesting about this model, except for one key thing: it is the most balanced on this best hunting blinds list. So it is fitting for it to land in the #5 spot with all of its customer-friendly features.


Expand to see more
No Major Weaknesses
The size, design and even set up is great for this model. It is the most compatible hunting blind on the list for hunters that want a jack of all trades product.
Features and Specifications
Spring steel design
68 inch center ceiling height
Price/Value
Buyers are looking at a low price when making this purchase. Even with the low quality of the secondary accessories, this is still a major value for any hunter.
Decision Time
Balanced to be a great deal for all customers, this Big Dog
Treestands
hunting blinds model does everything right. You'll find little flaws in its execution or general materials used for construction.
Wide and tall for multiple people
Only weighs 9.5 pounds.
High wind ropes and ground stakes are low quality
6. Barronett Blinds GR351BT Grounder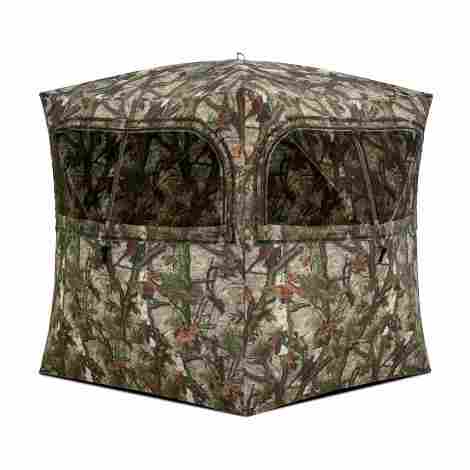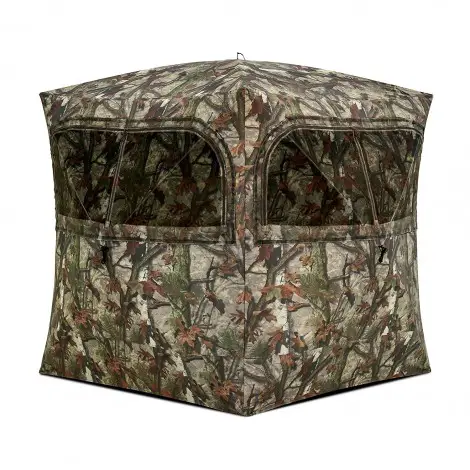 The Barronett Blinds GR351BT Grounder 350 Pop Up Portable Blind is essentially the deluxe model of the previously reviewed GR251BT. The 251 is a great, reliable blind, but the 351 just does things in a bigger way. It's quite a bit taller and wider in order to comfortably accommodate up to 3 fully grown hunters, yet only weighs a few more pounds, keeping its handy portability intact.
Expand to see more
Be very, very quiet
A nice little feature that I would never have thought of, this blind has noise free window adjustments, making sure that when you're opening it up to hone in on your target, it won't get spooked by the noise.

It's a party in here
That's a bit of an exaggeration, but the Barronett Blinds GR351BT Grounder 350 Pop Up Portable Blind has more than enough room for three grown hunters and all their gear, while still letting them stretch out.

Cost and Value
This is clearly one of the pricier models out there, but for that higher price, you are getting a lot in terms of roominess and comfort. And really, when you compare the price to its smaller cousin the 251 model, there isn't that much of an increase in what you get.

Easily fits three hunters

Waterproof

Lightweight and portable

Noise-free windows
Polyurethane shell tears

Stakes for grounding are quite small
7. Primos Double Bull Bullpen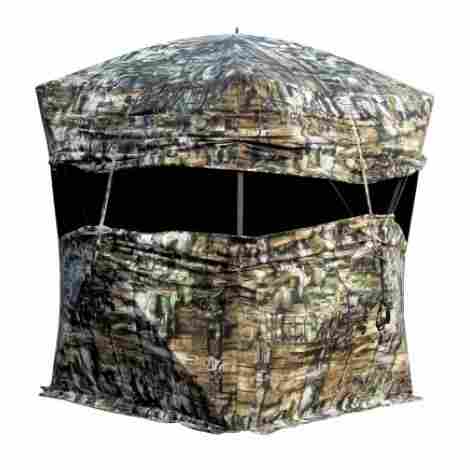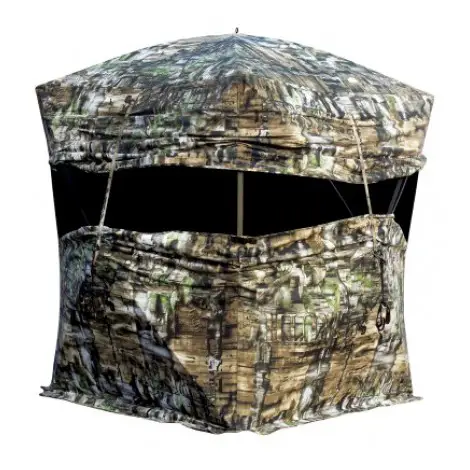 The Primos model enters the list as the first expensive hunting blind, and for good reason. It is one of their most sought after flagship models that stays within the price range of everyday consumers.


Expand to see more
A Great Price

Even with the expensive price tag, this is still a great deal due to it being a 5 hub blind. It remains as one of the lowest priced on the market with a continually strong user base.

Features and Specifications

180-degree full frontal view
Patented double bull silent slide window system


Price/Value

As none of the highest priced hunting blinds in the industry, it still ranks at a lower cost than a lot of the bigger options. The value will depend heavily on whether you want this size or not.

Decision Time

The double bullpen ground blind has all of the right features with a lot of room. Hunters will be satisfied with how much visual freedom this model gives them.
Great size for multiple people
Solidly built construction from the ground up
8. Tangkula Ground Hunting Blind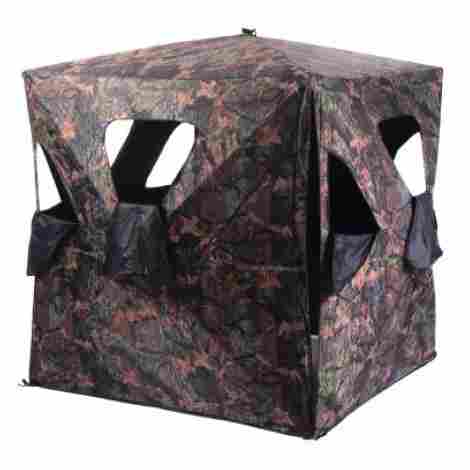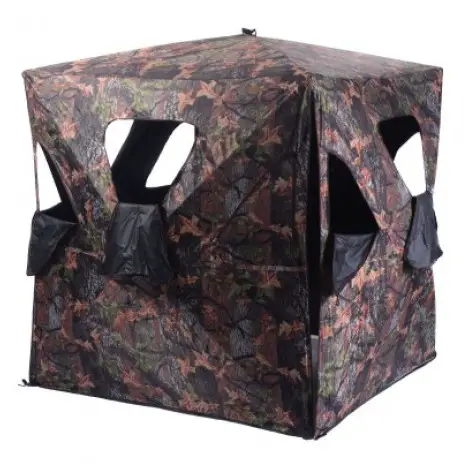 Now comes the first heavy-duty hunting blind on the list with this Tangkula model. With the extreme hunter in mind, you could spend days in this without being detected.


Expand to see more
Built Like A Tank

Using 150D Oxford and PU Coating, it is built like a high-end tent and is weatherproof. Camping out in this is not out of the question and will give you prime position to take a shot when the opportunity arises.

Features and Specifications

Fits up to three people
Dimensions of 58x58x65


Price/Value

Hunters will be looking at midrange prices when it comes to this model. But the value is there since you are purchasing what is basically a small tent.

Decision Time

When you need a hardcore hunting blind for more than one person, this will definitely be one of the top choices. With the right setup, this model could be a hunter's best friend in any season.
Spacious and can handle harsh elements
Included storage bag makes it easy to pack and go
9. Ameristep Tent Chair Blind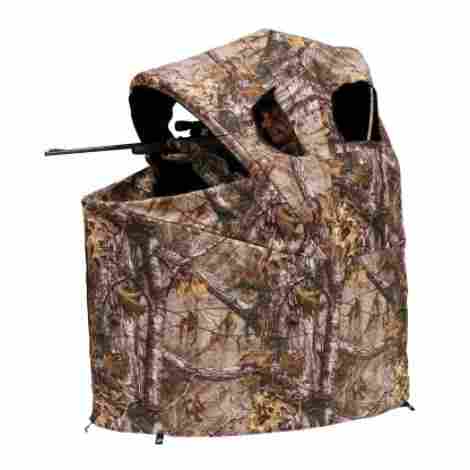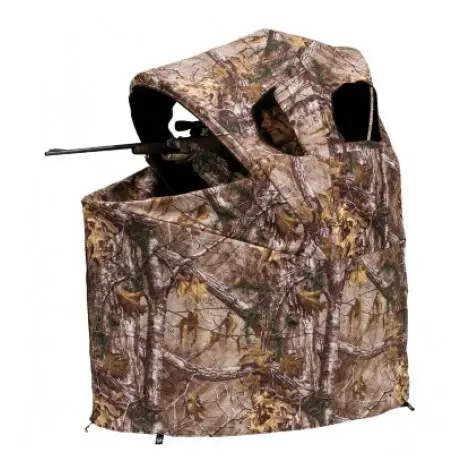 Combining comfort with great camouflage is the Ameristep tent chair blind, a model that is sure to make a lot of people happy. It's a pretty novel idea that is sure to catch on to a lot of hunters that spend hours on a trail.


Expand to see more
The Chair Makes A Difference

Including a built-in chair with the package makes this a complete one-stop solution for hunting blinds. You can perch yourself for hours while still being in a comfortable shooting position.

Features and Specifications

Zippered windows on the front and side
Realtree Xtra camo


Price/Value

Buyers will find this hovering at a low price and barely touching the mid-price range. With the included chair the value is pretty substantial if you hunt a lot.

Decision Time

This is a great all in one solution for hunting blinds and will please a lot of people. Ameristep showed great creativity with this model by adding a chair.
Chair and tent are easy to carry in one package
Folding chair is more comfortable than your average one
Windows are not shoot-through
10. Guidesman Pop-Up Hunting Blind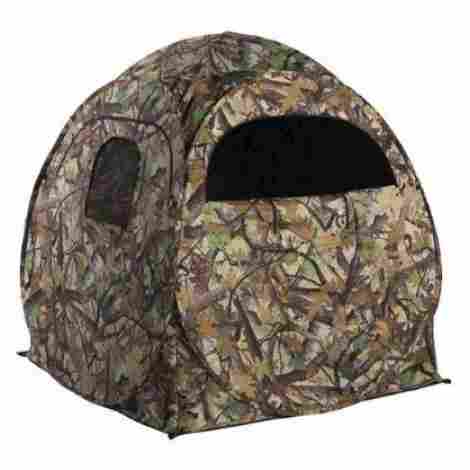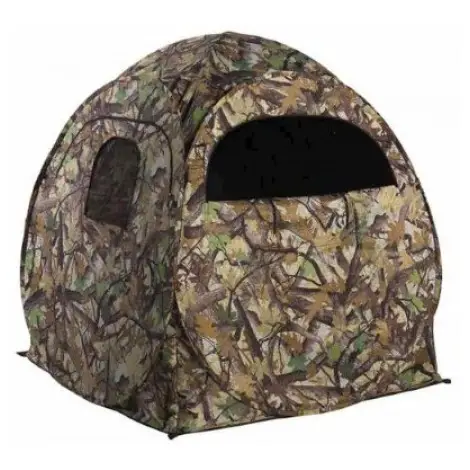 Setting up this hunting blind will become second nature after the first time. Guidesman made it as uncomplicated as possible to blend in with the environment while you're hunting.


Expand to see more
Easy Set Up

It really does function as a pop-up hunting blind, and can be in place with plenty of time to spare. There are no complicated directions needed to get this equipment up and running.

Features and Specifications

Four zipped shooting windows
Three larger zippered windows


Price/Value

The price is low, with a lot being offered upfront with the product. Because of the way it is built customers will be able to enjoy the benefits of it for years.

Decision Time

An interesting thing to point out with this model is that it is favored for not being overly packaged with useless features. So for hunters that need a hunting blind to just do its job, then this Guidesman model will do just the trick.
Uncomplicated setup that takes seconds
Good choice of small and large windows
Backpack straps on carrying case is uncomfortable
11. Tangkula Portable Hunting Enclosure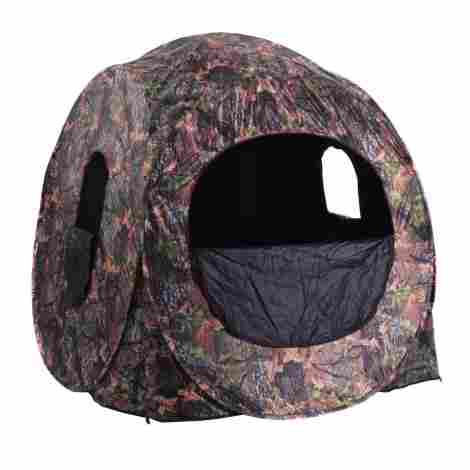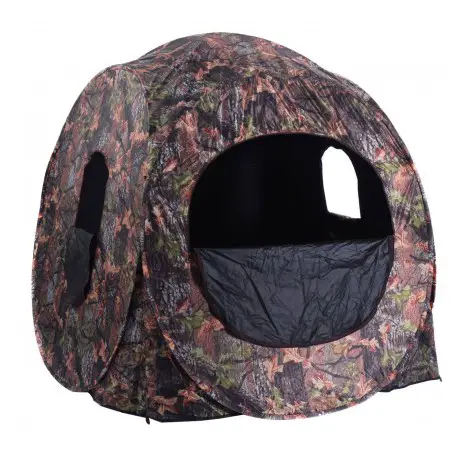 I think Tangkula just likes to make heavy-duty blinds that can withstand the most extreme conditions. This weatherproof blind can also be used as a hiking tent in the warmer months, giving it a versatility not seen very often. On top of that, it's breathable and has mesh windows to keep the insects out, meaning you can stay in as long as you like in comfort.
Expand to see more
Bug free
It's one thing for hunting blinds to conceal you and shield you from the elements, but that doesn't mean that you'll want to stay in there for long. In this case, with the tent being breathable and having mesh windows, you'll have no problems staying there for as long as YOU choose.

Take it anywhere
When you're ready to switch locations, this tent packs up into a handy carrying bag that's included, letting you slip it on to your shoulder and haul it out. At only nine pounds, that is a very simple task to achieve.

Cost and Value
For the time-saving convenience of a pop-up tent, this one is great. Easy to set up and transport, which is pretty critical during hunting season, it will go very easy on your wallet too.


Pop up design makes setup easy

Mesh windows keep bugs out

Multi-use

Easy to carry
Doesn't easily pack back up

Can tear
12. Leader Accessories Spring Steel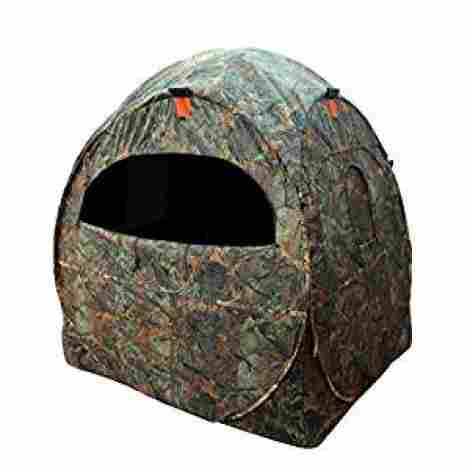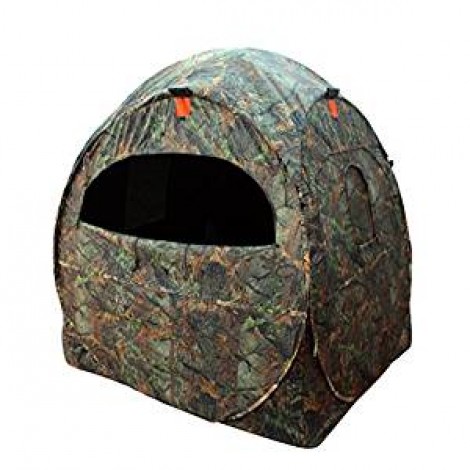 This is a sneaky little hunting blind, and trust me, that's a good thing. Used to easily conceal yourself from your prey when out in the bush, it makes the ideal hunting blind. Its waterproof too, so the avid sportsman can be out there from dawn until dusk without a second thought. Also, as an added safety measure, it has reflectors on four sides to help prevent tragic accidents.
Expand to see more
Where'd it go?
All of these blinds use patterns to conceal you from the animals, and all work to varying degrees. It just so happens, though, that this one has a camouflage pattern that can fool almost anything.

Tons of room
The Leader Accessories Spring Steel Doghouse Hunting Blind is deceptive. Viewed from the outside, it's clear that it's big. Step inside though, and you'll be taken aback by just how much room there really is.

Cost and Value
The Leader Accessories Spring Steel Doghouse Hunting Blinds is available in a range of sizes, all the way up to a four-person tent. Of course, you can expect to pay more for the bigger versions, but each size they offer gives way more value than the cost suggests.

Great camouflage

Easy to set up

Each size is very spacious

Very sturdy
Makes a lot of noise

Zippers are flimsy
13. Barronett Blinds PT550BW Pentagon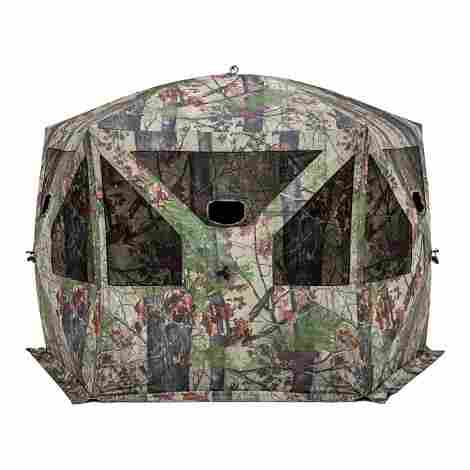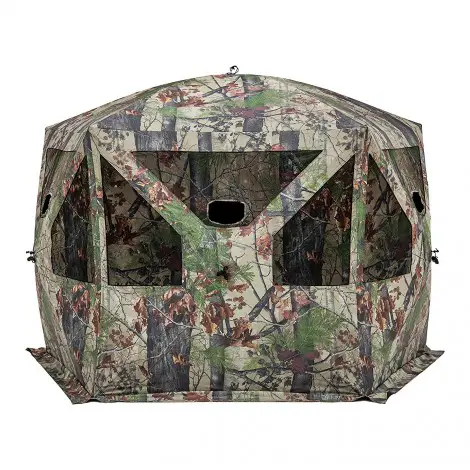 The people over at Barronett like making big blinds. They say so themselves. They came to the conclusion that a blind on the larger side of things made life easier while hunting, especially with a bow. So, the made a bigger blind, without making it overly large or cumbersome. This leaves you free to stretch out in there and relax until it's go time.
Expand to see more
What a view
This blind offers views that some real estate struggles to achieve. There are several very large windows on several sides of the blind that allow uninhibited viewing in order to pinpoint your next target.

Built tough
An important aspect of hunting blinds is the material that the shell is made from. Equally important, but less visible, is the frame construction. The Barronett Blinds PT550BW Pentagon Pop Up Portable Hunting Blind is made from solid steel and rugged fiberglass, creating a durable base to build on.


Cost and Value
Excellent value. That's really all I need to say about this blind. The price is comparable to many three-person blinds, but this one offer so much more than just roominess: it gives you peace of mind.

Several large windows

Noise free window adjustments

Easy to carry

Heavy duty fibreglass and metal frame
Unsealed seams

Poor tie down straps.
14. Primos Up-N-Down Stakeout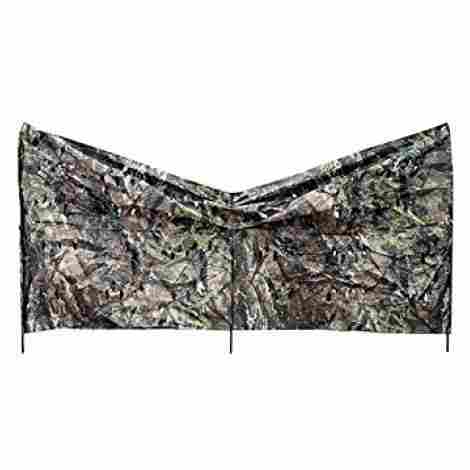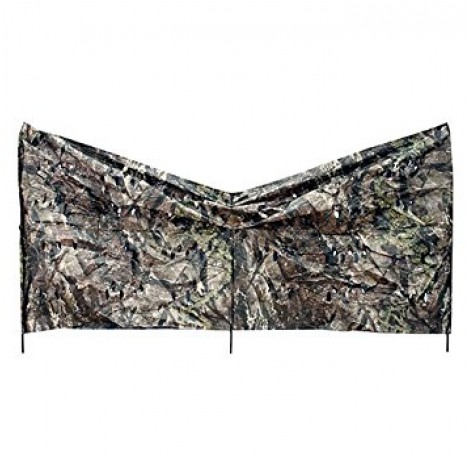 Up and down. That's about as straightforward as things get. In the case of a hunting blind, that's just what you want. The Primos Up-N-Down Stakeout Adjustable Blind is a bit different from the other one listed here because it's not a sit-in blind but rather acts as a wall of concealment. This is ideal for those that are less-stationary and take the hunt to their quarry.

Expand to see more
Goes anywhere
It literally does. Not only is it portable due to its size, but you can set it up any way you choose. From a one-sided wall to full 360-degree coverage, the versatility to use it any way you want is priceless.

Lightweight
Just by virtue of its design, the Primos Up-N-Down Stakeout Adjustable Ground Blind is incredibly light, weighing only a few pounds, you can set it up, take it down, and get to the nest stop with ease.



Cost and Value
It's not much in the way of materials, and given its nature, it doesn't need a bunch of features, and that allows it to be very easy on the wallet in terms of cost.

Extremely lightweight

Can be setup 360° for maximum concealment

Sturdy when setup

Easiest setup
Telescoping poles don't lock

On the small side
15. Guide Gear Silent Adrenaline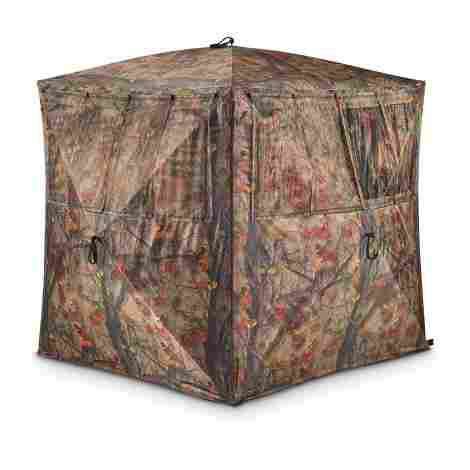 This big, blocky hunting blind really is a beautiful thing. Designed to let you quickly get the jump on your target, it's virtually silent and blends into the bush exceptionally well. What's even better still is it's a pop-up style tent, so getting you from starting your hunt to bagging your prize is as easy as it can be.
Expand to see more
Burn-proof
This is a feature that not many hunting blinds bothered with. Not entirely fireproof, it does instead contain fire retardant aspects that can help prevent any fire damage, keeping your blind intact.

Sneak out
It seems like a pointless feature, but giving this blind an oversized side flip-up door is very creative. It silently pushes away, giving you plenty of room to track and take down your quarry.

Cost and Value
Thanks to the shape of this blind, there's a lot of room for maneuverability. Add to that the solid construction, and the meager price tag quickly becomes a very strong selling point for this blind.

Easy to set up

Flip up side door

Great value

Features fire-retardant materials
Stakes don't secure the blind well

Fiberglass poles aren't sturdy
How To Make The Best Decision
If you know for a fact how many people are going to be in your hunting blind, then you're already on the right track. Going over the capacity limit for your hunting blind is never a good idea, and can lead to some uncomfortable hours while hunting. Try buying a single unit and then a backup unit for multiple hunters so that you'll always be covered.
Criteria used to Evaluate the Best Hunting Blinds
Weight
Weight is a very important factor to take into account when choosing a hunting blind, and it largely depends on how you plan to hunt. If you're the type of hunter who prefers to stake out a spot, set up shop, and stay mostly in that area for the day, then a doghouse style or similar enclosed blind is probably the one you'll choose. These ones are made to house one or more people plus gear, be waterproof, and comfortable for an extended period of time. They also need to be sturdy enough to stand up to whatever is thrown at them. That's all well and good, and they generally do a great job of this, but those needs will inherently require stronger parts, and more of them, and that will add unavoidable weight.
If, however, you like to be mobile during your hunt, taking the action to your quarry, so to speak, then a much more minimalist approach is your best option. This comes in the form of a stakeout ground blind. These aren't tents. They aren't much to speak of at all really, consisting of a long and wide sheet of camouflage material and some poles and stakes to pop into the ground. They are meant to act as a barrier between you and the target temporarily, and then pulled up put away until needed again. As such, their weight is essentially negligible.
Regardless of the type of blind suits you best, even the heaviest options are only going to weigh nine pounds or so, which isn't a lot, unless you're already hauling around a bunch of gear, and, if lucky, your prize. So it all depends on how many people are in your party, how much stuff you're all carrying, and how far you need to go.
Weather Resistance
I've mentioned weatherproofing a lot during this guide, and it makes sense. The biggest element you are going to encounter on your hunt is, well, the elements. A lot of hunting is done from the fall to the spring, and that's when the most extreme weather conditions tend to occur. From rain- and snowstorms, to gale force winds and biting snow, hunting blinds need to be able to hold up to the worst.
Not all blondes need to be resistant to everything. Most are only protected against one or two forces. This will depend on where you want to hunt.
How the blind gets its weatherproofing is usually determined by the type of material that makes up the shell. Polyurethane is the go-to choice when it comes to waterproofing a blind. The shell itself will be made of nylon or polyester, which are water resistant to begin with, and then a coating of polyurethane is applied to the outer surface, effectively sealing it.
Another reason that nylon or polyester are used for the shell brings us to our next element: wind. The fabrics are also naturally wind resistant. In terms of how wind resistant each fabric is, both have their strengths. Nylon has much more resistance, bordering on being virtually windproof, and a bonus to this is the more wind resistant a material is, then the more inhibiting it is. While it sounds like nylon is the hands down winner, consider this: Polyester, while offering less resistance, is actually much more breathable, and won't promote sweating. Nylon will cause sweating, and will actually trap that moisture in, which will in turn bring the temperatures down to uncomfortable and sometimes dangerous levels.
Durability
A good hunting blind is nothing if it's not durable. What's the use of having one that doesn't hold up to the elements for more than a season? Fortunately, hunting blinds are being made with strong, versatile materials meant to last.
Aside from having good weather resistance, the nylon and polyester being used to create the shell of the blind are also tear resistant. They are both lightweight and durable synthetic fabrics that won't shrink or stretch, and are very easy to care for, usually needing nothing more than a wipe down with a damp cloth. Nylon is softer and stronger, while polyester is faster drying, which is why manufacturers often go with a blend of both in order to maximize their strengths. Because of all these attributes, whether your blind is used every weekend, or spends months packed away waiting for the new season to begin, these high quality fabrics will keep it in fighting shape.
Now onto the frame. This is what is going to help the blind keep its shape and integrity, so strong and hardy materials are critical. The one most often used here is fibreglass, which nicely balances bring super strong with also being lightweight. Another bonus of fibreglass is it won't rust after so much exposure to the great outdoors.
The other widely used component is stainless steel. This is a good choice thanks to its superior strength and rigidity, meaning it's going to hold up to more abuse before giving out. Unfortunately, it's going to be heavier, and it is less flexible, making it just a bit more inconvenient, though no less useful for the frame.
Ultimately, hunting blind makers decided to incorporate both metal and fiberglass into their frames, thereby utilizing the individual strengths, much like nylon and polyester for the shell, into an incredibly strong and resilient frame.
Capacity
This is very self explanatory. It's up to you how many hunters you'll need your blind to hold, and every maker will have a wealth of options in all sizes. The trick when choosing the right blind comes down to what else it can hold.
Being able to hold four people is one thing, but how comfortable can it do that? Can you hold these people and all your gear? Can you bow hunt from within the blind? The ideal hunting blind will be large enough to yourself and a couple buddies with gear. It will be tall enough to allow you to stand to shoot, which is huge, because it increases your shot options, and maximizes your kill zone. Lastly, the perfect hunting blind is spacious enough (usually achieved by different shape configurations) to let you draw back a bow for the ultimate in silent hunting.
With so many options, it all comes down to the needs of the hunting party.
Concealment
All hunting blinds are going to incorporate a form of camouflage into their design, that's just fact. It's how they allow you to get the drop on your trophy of choice. They are not all going to be equally effective, however, especially in different situations and environments.
There are camo patterns made for virtually every imaginable scenario. From night hunting in deep woods, to early morning deer hunting in a hidden clearing, the chances are pretty good that you'll be able to find a blind to suit your needs. The problem then becomes finding one single hunting blind with just the right pattern to be used effectively in multiple hunts. That's why more companies are working toward a more generalized design so that if you can't blend into your surroundings every time, at least you won't stand apart from them.
Regardless of which option you chose, the general consensus is that camo is camo. At the end of the day, the best camo is going to be what you make yourself. This means during setup, try to incorporate your surrounds onto your blind. Cover the opening with long grass, for example. The more you conceal your intentions, the better the hunt will be.
Terminology
Weatherproof – This covers several features, with waterproof and windproof being the most common. This indicates that the particular hunting blind is especially resistant to these elements.
Pop-up – A style of tent or blind that sets up instantly by quite literally popping up when placed on the ground.
Blind – An enclosure meant to obstruct both sight and light, preventing the user from being spotted.
Camouflage – A specific design used on clothing or other materials to allow them to blend into the surroundings, thus reducing visibility.
Hub – A style of blind built in a certain shape, giving more room and increased stability.
Doghouse – Like the name implies, the shape is reminiscent of the traditional dog house design.
Tips
Using a ground blind is a great way to set up for a successful hunting season, but you have to make sure that you are going about it in the best way. They are especially helpful to hunters that do not have an option for a tree stand. They are quick and portable and a great way to keep covered from the elements, to block your scent and to stay hidden from your target. You can find them beneficial whether you are hunting with a rifle, a crossbow or bow.
Like with anything when it comes to hunting, paying attention to the details will help you have a more successful season. Here are some things to consider when setting up your blind.
Pre-season scouting – Knowing the area that you plan to set up your blind is super beneficial in preparing you for a successful hunting season. Scouting the area, walking the trails and studying the activity during different times of day and/or night using things like trail cameras will ultimately help you figure out where the best positioning is for your blind. Remember that conditions change. The best way to prepare yourself is to get out and refresh yourself with the area instead of relying on previous experiences
Give yourself time – Setting up your blind well in advanced is something else that will help maximize your hunting effectiveness. Deer tend to avoid new objects in the area, so the longer time your blind is in the area prior to hunting season, the more familiar and less bothered your target will become time to hunt. With enough time, new smells will dissipate and become part of the natural surroundings.
Blend in – This is a bit of a no-brainer, but make sure that your blind is camouflaged. Don't just set up your blind along a fence. Make sure that it is incorporated into the surroundings to maximize your chances of success. Most quality blinds have natural camouflage and scent blockers to help blend in. Over time, it will become part of the environment.
Use the elements – No matter what, deer can pretty much pinpoint your scent. No matter how hard you try to cover it up, they will most likely smell it. Especially if it is a windy day, the scent will carry. Using sprays and scent blockers can help immensely, though. It is important to keep aware of the elements and use them to your advantage. For example, in the early-morning sunlight, you may attract glare even from within your blind. It is important to notice these things and adjust to these conditions. Perhaps that means setting up different blinds in different areas according to the time of day.
Don't seclude yourself – In a blind, you are already pigeon-holed into one enclosure, so don't set yourself up for failure by secluding yourself to an area that is limited with wildlife travel and lifestyle. By this, we mean that it is much more beneficial to you to set up your blind in a path that deer, for example, will travel up and down, so that you have multiple opportunities and wide vision of their activity to get off a shot.
Different Kinds of Blinds
There are different kinds of hunting blinds to choose from. Here is a list of some and their functions:
First off, there are portable and permanent blinds. The name is pretty explanatory, but a portable blind can be moved about easily and a permanent blind is set in place. Typically a permanent blind is built on stilts and takes tools to assemble whereas a portable one can be easily popped up.
Tree Stand Blinds
This style is often not much more than a type of "skirt" that fits around a hunting chair or platform that is built into the tree. The benefit of this type is that it provides an elevated viewing and shooting area.
Deer Hunting Blinds
Usually these are ground blinds that blend into an environment that deer thrive in. They are easily popped up, portable and camouflaged to set up in a field. You typically get a decent sized shooting window with these blinds.
Duck Hunting Blinds
This style is similar to deer hunting blinds except that it is specifically designed for waterside landscapes. They are often designed to look like tall reeds or other plant life that waterfowl are familiar with and thrive in. They often have wider shooting holes that run along the length of the tent.
FAQ
Frequently Asked Questions
Q: Should I Only Buy Weatherproof Hunting Blinds?
A: No. But if you're the type of hunter that is often waiting in the rain or the snow for prey, then yes. And if you want an installation that you never have to move, then yes again.
Q: What Are The Benefits Of A Multi-person Model?
A: The first is having your own dedicated space rather than having to share. The other is using a multi-person model as a single person unit in order to capitalize on the extra space.
Q: Is It Better To Get A Tent Instead?
A: No, because hunting blinds provide better cover, and of course a place for you to aim without blowing your cover. Hunting blinds let you blend into your environment, weapon, scent and all.
Q: Can all blinds be used for bow hunting?
A: No. Not all blinds are designed with enough room to fully draw back the bow.
Q: Are hunting blinds insulated?
A: No. Hunting blinds are designed to be easily portable, and adding insulation would make them too bulky.
Q: What are blinds made out of?
A: In most cases, the outer shell is made from polyurethane, while the frame is built from either fiberglass or steel, or both.
Q: Will the wind blow them away?
A: Well, not while you're inside it. When you away though, all hunting blinds are secured to the ground by metal stakes.
Q: Are blinds hard to set up?
A: As a rule of thumb, hunting blinds are very simple to set up. This is necessitated by the need to be as discreet as possible so as to not frighten away animals. Some blinds are even made in a pop up style, making set up even easier.
Q: How many people do they fit?
A: This varies by blind, ranging from a single person to four or more. Some hunting blinds are also meant to hold a set amount of people plus gear. While these can probably hold more than the stated number, it would be cramped and possibly impede shooting.
Sources