Best Canon Camera Lenses Reviewed & Rated
In a Hurry? Editors choice: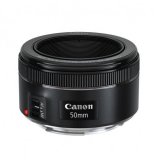 Test Winner: Canon EF 50mm f/1.8 STM Lens

Every professional or hobbyist photographer remembers their very first digital single-lens reflex (DSLR) camera. Buying your first DSLR camera is a vital first step in pursuing your love for photography and to start honing your skills. Canon DSLR cameras have become a well-loved favorite among photographers thanks to these devices' performance, durability, and Canon's own commitment to excellence and customer service. But also, your selection of lenses and the quality of the lens will have a more pronounced determining effect on the quality of your photos than your camera itself. Despite their importance, photographers are often reluctant to invest in additional lenses. So here it is in the nutshell: all the most important bits of information to help you decide which additional Canon camera lenses suit your photography needs the best.
Standout Picks
Criteria Used for Evaluation
Ease of Use
The intended use will depend primarily on two things: your experience level as well as the kind of photography that you are interested in.
Intended Use
Before buying an additional lens for your camera, make sure to be very specific as to what you're looking for in a lens. All lenses feature very detailed specifications making them ideal for a certain function. However, if you're not entirely clear what your intended use of your new lens is, you may have a hard time selecting the correct lens and getting the most out of it.
The intended use will depend primarily on two things: your experience level as well as the kind of photography that you are interested in.
Professional photographers often require very expensive, specialized equipment and niche lenses. They often will not mind lugging around heavy gear since it is part of their job. However, a beginner or hobbyist photographer may prefer lighter and more versatile equipment.
The world of photography is incredibly varied. Different kinds of photography require vastly different lenses. This is why its vital that you already know what kind of photography you're purchasing the lens for. For example, event photographer might need a light lens that has a quick autofocus function. Wildlife photographers would likely prefer a lens that has a quick and accurate zoom function.
Therefore it is worthwhile sitting down and thinking about why you're purchasing a new lens so that you know exactly what kind of lens you need.
Value
Camera equipment is notoriously expensive which is why your budget is such an important consideration.
Camera equipment is notoriously expensive which is why your budget is such an important consideration.
However, most experts agree that a good quality lens is more essential than the quality of your camera itself. This is because your lens' light filtering capability and other specifications have a much bigger impact on the quality of your picture than the camera itself.
Professional photographers will likely be more willing to shell out thousands for the perfect lens while hobbyists and beginners might look for something that is cheaper. The rule of thumb when it comes to lenses is to always buy the best you can afford.
Ensure that your lenses are always bought from reputable manufacturers and has a good build. This will greatly enhance your photography and will be in your camera kit for years to come.
Adjustability
The ideal lens should feel good in your hands
Size and weight can be hugely determining factors in selecting your ideal lens since they do tend to be quite bulky. The bigger your lens' aperture and focal length are, the bigger it will be. While some photographers have no concerns with carrying around heavy equipment, it may be a deterring factor for others.
When purchasing a lens, carefully look at the dimensions and weight of the lens. This will give you an idea of what you're dealing with and can help you decide whether you feel comfortable with yielding the lens.
The ideal lens should feel good in your hands and be easy to manipulate. You should also consider other things like whether you'll be able to comfortably travel with your lens.
Adjustability
Zoom lenses are undeniably convenient.
The difference between a zoom and a prime lens is that the zoom lens allows you to choose your focal length, while a prime lens features a fixed focal length. Both definitely have their own appeal.
Zoom lenses are undeniably convenient. They offer incredible shooting versatility and often offer a superzoom of up to 12x. Newbies often prefer zoom lenses because of this convenience and many photographers complain that a fixed focal length feels limiting.
However, prime lenses often perform somewhat better than their zoom counterparts. A prime lens often performs better in low-light areas and offers a more crisp photo quality overall.
The choice between a zoom or a prime lens will essentially depend on your intended use, budget, and general preference.
Compatibility
Generally speaking, Canon manufactured lenses only fit on Canon devices.
Once you've found your ideal lens, it's vital that you ensure that the selected lens has a mount that is compatible with your Canon device. Generally speaking, Canon manufactured lenses only fit on Canon devices. However, there are certain third-party manufacturers that also create lenses for Canon devices.
Full frame or cropped body cameras feature different lens mounts so that the lens may fit comfortably over the camera's sensor. The different lens types are usually indicated as either EF, EF-S, or EF-M.
While this may sound complicated, it's quite easy to determine which lenses are suited to your device. On the camera's lens mount you will see either a red circle or a red circle and a white square.
The red circle indicates that your device is compatible with EF lenses, while the white square indicates that your device is compatible with both EF and EF-S
Effectiveness
The focal length will determine how much you can see in a frame.
Focal length is essentially the term photographers use when describing a lens' zoom capability. Focal length is indicated in millimetres and the higher this amount, the more your lens can zoom in on a subject.
The focal length will determine how much you can see in a frame. There is a large variety of focal ranges available that all produce a different kind of photo: ultra wide angle (14-24mm), wide-angle (24-35mm), standard (35-70mm), mild telephoto (70-105mm), and telephoto (105-300mm).
Your ideal focal range will be in line with your photography requirements. For example, a landscape photographer may require an ultra wide angle or wide angle lens while a portrait photographer can get away with a standard lens.
Flexibility
Large apertures are essential for photographers who often work in low-light settings.
Aperture is an essential consideration when selecting a new lens because it can affect so many aspects of your overall photo. The right amount of aperture can greatly enhance your photos by giving it a depth, exposure, and overall vibrancy.
The term aperture essentially refers to a hole in the lens itself that allows light to travel through it. The amount of light that is filtered through the lens can greatly affect the exposure of your pictures. The larger the aperture the more light will be allowed into your picture, giving it a bright effect. Conversely, the smaller the aperture, the less light will be filtered through the lens, making it look somewhat darker.
Large apertures are essential for photographers who often work in low-light settings. Aperture is usually expressed as the number following the F of your lens. The smaller the number, the larger the aperture. For example, F/1.8 has a much larger aperture than F/2.8.
Top 10 Canon Camera Lenses
1

. Canon EF 50mm f/1.8 STM Lens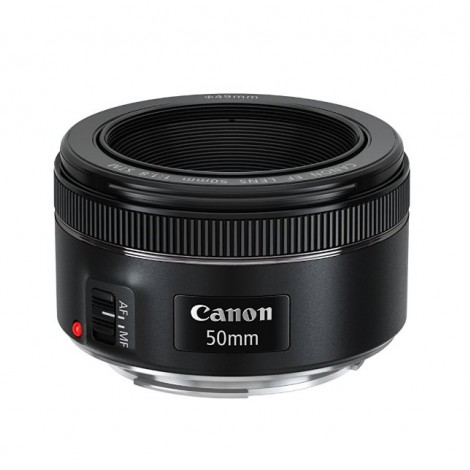 The EF 50mm is Canon's best-selling lens of all time and in commemoration of this, Canon recently released an upgrade for this popular lens. From the get-go, it's easy to see why this lens has earned its impressive title. It offers powerful optics and great photo versatility all in a very small package. More importantly, this is a great lens for beginners thanks to versatility and ease of use.
Wide Aperture
The EF 50mm includes 7 rounded aperture blades that give it a significantly wide aperture of f/1.8. This ensures excellent performance even in low-light settings making it ideal for night-time photography.
STM Motor
The upgraded EF 50mm came with many upgrades including the addition of an STM Motor that ensures a quieter and smoother performance. Unlike its predecessor, you can now enjoy an ultra smooth and quiet focus system, making this ideal for both photos and videos.
Cost and Value
One of the things that make the EF 50mm truly stand out is its remarkably low price. This lens is one of the cheapest offered by Canon and yet offers such crisp and versatile performance that it has become a must-have in every photographer's lens kit.

2

. Canon EF 85mm f/1.8 USM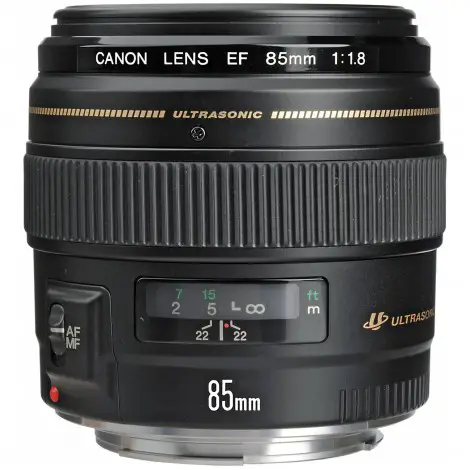 This product is a great well-performing all-rounder at a great price and has become well-loved among professional photographers. The EF 85mm is a fixed focal lens and is often touted as Canon's version of a low-budget portrait lens. However, thanks to its clear picture quality and incredibly quick autofocus function, this lens' performance is extremely satisfying and delivers excellent results.
Fast Focus
The EF 85mm boasts one of the quickest autofocus systems in any Canon lens. The focus is ultra fast, quiet, and smooth. This makes it ideal for photographers who intend to photograph quick-moving environments such as wedding photographers, sports photographers, photojournalists, or event photographers.
Sharp Image Quality
You would be hard-pressed to find a lens in this price range that offers such impeccable sharp image quality. Yet, this lens features a light optical glass that ensures that it's not overly bulky to use or travel with.
Cost and Value
In the world of camera equipment, the EF 85mm is considered an absolute bargain. Its relatively low price and excellent performance make it an excellent choice for beginners and professionals alike.

3

. Canon EF-S 24mm F/2.8 STM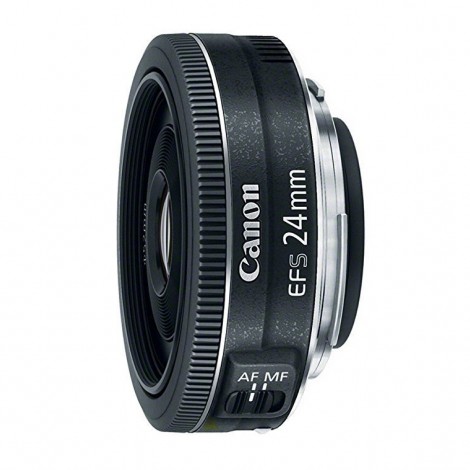 At 24mm, this Canon EF-S is the ideal solution for landscape photographers thanks to its wide-angle. This is one of the slimmest EF-S lenses that Canon has ever produced, making it incredibly easy to store away safely in your camera bag and travel with. The lens itself features a solid build and is enriched with superior optics such as an aspheric element for beautifully rich and crisp photos. This is definitely a must-have in any photographer's kit.
Pancake Lens
Pancake lenses get their name from being much smaller and resembling a stack of pancakes in shape. Even though it may be a prime lens, a pancake lens is an invaluable part of any photographer's kit thanks to their unobtrusive size, low price, and image quality.
Superior Optics
The EF-S 24mm boasts a unique lens placement that features an aspheric design. This ensures well-rounded compositions with a color balance that eliminate unsightly photographic effects such as flare or ghosting.
Cost and Value
Pancake lenses are cheaper than traditional lenses, and the EF-S 24mm is no exception. This is a great cost-effective solution that still offers plenty of versatility despite being a prime lens.

4

. Tamron 70-300mm F/4.0-5.6 Di LD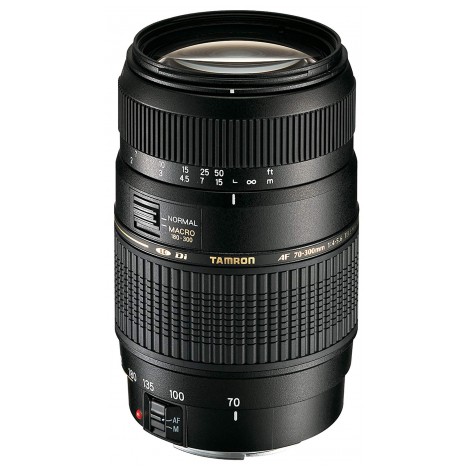 It's hard to not be impressed by Tamron's 70-300mm since it offers an incredible focal length range as well as a deceptively lightweight design. The 70-300mm is arguably one of the most lightweight lenses available that offer this kind of focal range. Moreover, it features Low Dispersion glass that allows for enhanced picture clarity. This lens is incredibly versatile and is an ideal choice for beginners and experts alike.
Versatile
The large focal range means that it can be used for anything from wildlife to sports photography. More importantly, this lens has a very smooth and quiet zoom and autofocus function making it ideal for flawless photography.
Low Dispersion Glass
The glass of this lens includes low dispersion technology that ensures sharper photos. Low dispersion focuses all the different colors being filtered through the lens which reduces chromatic aberration and gives a vibrant result.
Cost and Value
Despite its impressive focal range, the Tamron 70-300mm is one of the cheapest lenses currently available. It is constructed using high-quality and lightweight materials to combine powerful performance with convenience. The price and capabilities of this lens make it ideal for any kind of photographer on any skill level.

5

. Canon EF 40mm F/2.8 STM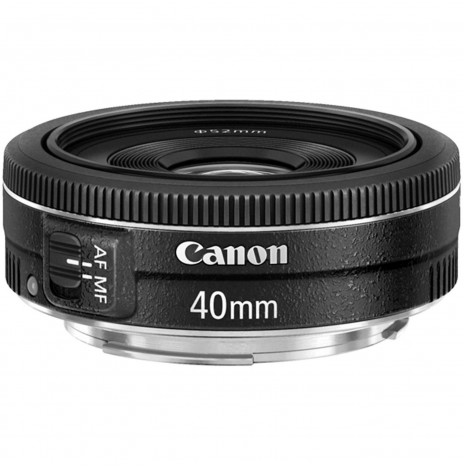 At 40mm, this lens hits the sweet spot of standard focal lengths and offers plenty of shooting versatility to beginners and experts alike. The EF 40mm features a pancake design, fixed focal length of 40mm, and maximum aperture of 2.8. Despite its slim and lightweight design, this lens features an impressively solid and durable build that will undoubtedly become a favourite among photographers in no time.
Stepping Motor
The EF 40mm is still a relatively new addition to the Canon family and as such, offers users the latest in photographic technology. This lens specifically boasts a stepping motor that provides an ultra-smooth, quick, and accurate autofocus.
Discreet Shooting
Thanks to its pancake design, the 40mm is ideal for unobtrusive shooting. You no longer have to overwhelm your subjects with overly large lenses. This lens allows you to shoot more discreetly. This makes it ideal for photographing kids or candid photography.
Cost and Value
Considering its slim build and fixed focal length, the 40mm is definitely more cost-effective compared to other Canon lenses. Its 40mm focal length makes it incredibly versatile and its fast performance is ideal for high-action photography.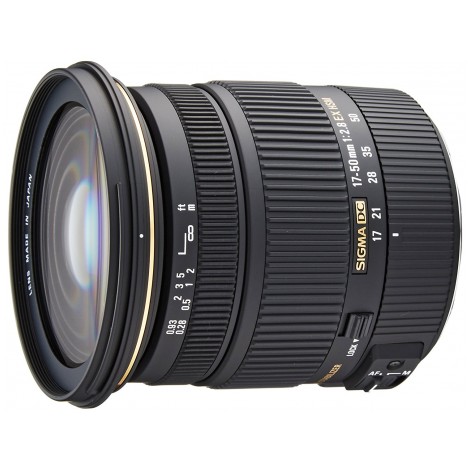 Few lenses offer such a versatile general purpose focal range such as the Sigma 17-50mm. This great focal range gives it both a wide angle and standard range. It is compatible with a wide variety of APS-C DSLR cameras. This model offers up to 4-stop image stabilization making it ideal for handheld photos and videos. This model offers overall great performance and is the ideal all-purpose lens for beginners.
Optic Stabilisation
The Sigma 17-50mm offers perhaps one of the most impressive automatic image stabilisation function than any other lens in this price range. This ensures ultimate photo clarity even in handheld photography.
Hyper-Sonic Motor
The internal hypersonic motor has been designed for its autofocus function. This motor ensures extremely quick, accurate, and quiet auto-focus making it ideal for videos or any high-action photography.
Cost and Value
The Sigma 17-50mm has a price that is almost as impressive as its features. This lens is very moderately priced. The price becomes even more attractive when you consider this lens' sheer versatility and added optical enhancements.

7

. Canon EF-S 10-18mm F/4.5-5.6 IS STM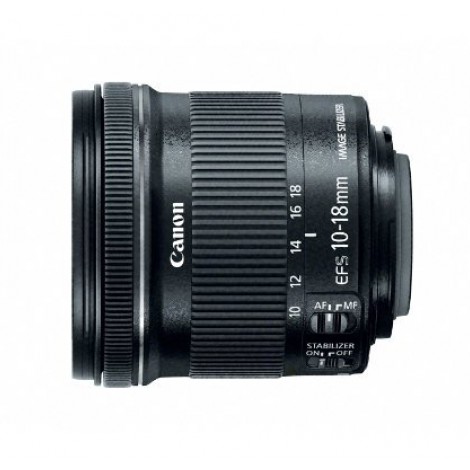 The release of the EF-S 10-18mm saw many photographers jump for joy as it finally offered a viable solution for an inexpensive wide-angle zoom lens. This lens features a lightweight design that houses powerful photographic performance. The EF-S is perhaps the only in its focal range to offer image stabilization which makes it ideal for subject motion. This lens is a must-have for any landscape or architectural photography.
Wide Angle Lens
The EF-S boasts one of the most cost-effective options when it comes to wide-angle photography. With a focal range of 10-18mm, this lens really includes every detail of the landscape in a single crisp image. This is ideal for landscape, interior, or architectural photography.
Image Stabilization
The EF-S 10-18mm is perhaps one of the only lenses in its price range that has an image stabilising function. While it may seem unnecessary for a lens that is best suited for landscape photography, it proves incredibly useful in the event of your landscape moving, e.g. strong winds, etc.
Cost and Value
The EF-S 10-18mm is one of the most competitively priced lenses in its class. It offers a cheap and viable solution to more expensive wide-angle lenses without compromising your photos' quality.

8

. Canon EF 100mm F/2.8L IS USM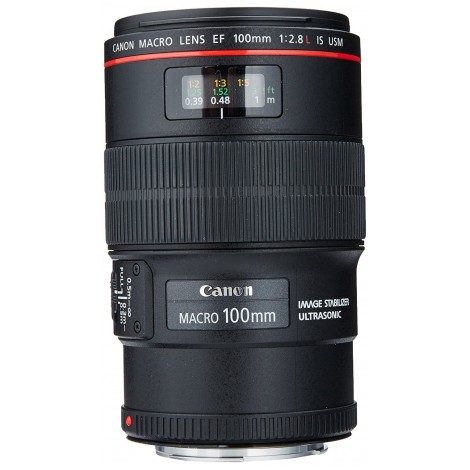 This L-series macro lens offers the excellent performance that is expected from this prestigious range. More importantly, is the fact that this lens is sheer bliss to use. It offers a satisfying feel in the hand and provides ultra crisp close-ups. With its robust build and incredible performance, this product is perhaps better suited for professional photographers but is fun enough for beginners and experts alike.
USM Motor
Smooth performance is of the utmost importance when it comes to macro photography, as the slightest disturbance or irregularity can affect your subject. The EF 100mm's included USM motor ensures that focusing is quick, smooth, and quiet.
Hybrid Image Stabilisation
The EF 100mm is a historical lens since it is the very first that incorporates Canon's unique hybrid image stabilization. This technology offers next level image stabilisation that compensates for unwanted camera shakes or subject movement.
Cost and Value
Any lens in the L-series has been designed with the professional photographer in mind and the price definitely reflects that. However, for a macro lens, the EF 100mm is still fairly priced and will definitely offer immense value for money both because of its performance and sturdy build.

9

. Canon EF 70-200mm F/4L USM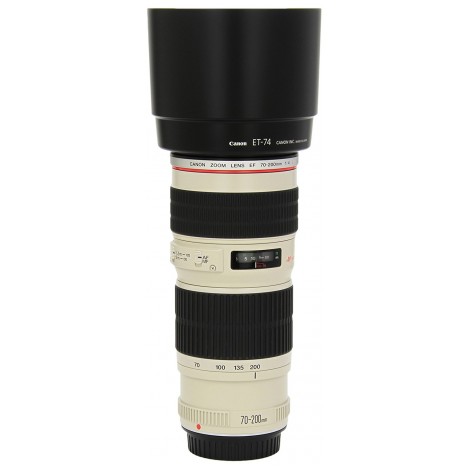 This telephoto lens differs from the EF 70-200mm F/2.8L IS II USM mostly in terms of size, aperture, and price. This lens is cheaper, smaller, and offers somewhat less aperture than its alternative. However, the picture quality still blows away anyone who uses this lens. It delivers incredibly sharp, high-contrasted pictures, beautiful bokeh effects, and an all-around incredible performance in any setting.
Lightweight
This model features the exact same focal range as the L-series, but at a fraction of the price and size. This lens is significantly easier to handle and travel with, making it ideal for intermediate photographers who'd like the L-series 70-200mm but are intimated by its sheer size.
Performance
It's hard to single out any one quality of the 70-200mm that makes it stand out because every single aspect of the lens makes it desirable. From its quick and smooth autofocus to wide focal range, image stabilization, and downright picture quality, this lens performs well across the board.
Cost and Value
While this lens may be more expensive than most other lenses, it remains very competitively priced when you consider that this is a telephoto lens. It's a much more cost-effective solution to the L-series 70-200mm and is great for intermediate photographers or professionals on a budget.

10

. Canon EF 70-200mm f/2.8L IS II USM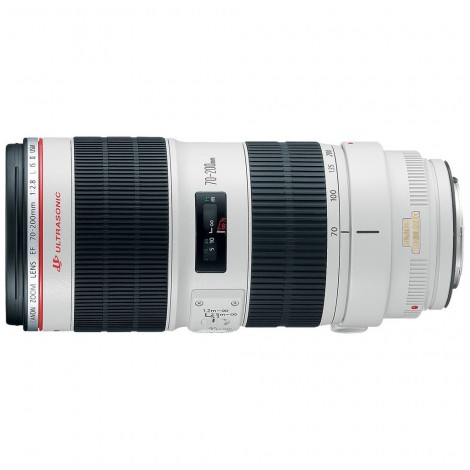 The EF 70-200mm is one of the most celebrated lenses among camera lovers and photography experts and with good reason. The performance of this top-of-the-line lens is equal to none. It features an immensely wide focal range and an unbeatable smooth and sharp zoom. Despite being a tele zoom lens, the EF 70-200mm offers quick performance with significantly less distortion than any other lens in this focal range.
Image Stabiliser
Improving on the previous version of this lens, Canon has added a next-generation image stabilizing function to the EF 70-200mm. This powerful function provides up to 3.5 stops of stabilization at any given focal length.
Enhanced Optical Quality
The EF 70-200mm boasts a single fluorite and 5 UD elements. Together, these elements function to increase your image and to reduce any flaws commonly found in photographs such as flare, ghosting, vignettes, etc.
Cost and Value
There's no denying that the EF 70-200mm is incredibly expensive. This product is definitely more suited for professional photographers due to its price. However, its incredible performance and satisfying feel will likely appeal to photographers of all skill levels.

Subscribe to our Newsletter