Best Sony DSLR Cameras Reviewed & Rated for Quality
In a Hurry? Editors choice: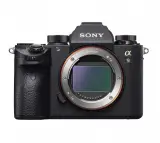 Test Winner: a9 Full Frame

In the latter half of 2006, the merged duet of Minolta (a historic imaging company) and Konica, tapped out of the fight within the camera marketplace. They sold off all of their remaining businesses to Sony, a Japanese technology giant whom, back in the mid-nineties, launched an unexciting line-up of point-and-shoot cameras. Sony took what was the well-established history of amazing
photography
technology they just acquired, and re-invented themselves as the new, hip, and extensively innovative younger brother in the camera universe. Having established themselves as one of the best camera companies on earth today here are our picks for
10 best Sony DSLR cameras
.
Standout Picks
Criteria Used for Evaluation
Advanced Features
Straight out of the gate, it's easy to get bogged down by specs and stats splayed all over the shopping aisles. Camera equipment, or technology as a whole, can be a real pain for that reason. Everywhere you go, and everyone you talk to will spout specs until their faces turn blue because it's easy to sell someone on the bigger or the better if there are numbers to easily convey how much better they truly are.
In attempting to make this list for more than just those looking for a high-end professional camera, we tried to have a really decent spread of specs. This turned out to be a little bit more difficult, as Sony hasn't been one for mediocre or bottom-line specs for quite some time. So you're pretty much guaranteed a spec-juggernaut of a camera at any level if it says Sony on the front of it.
We chose some cameras that would be fantastic bodies to start off with. For those of you looking to break into photography or videography as a hobby, or a pastime. Then there's the mid-range stuff. These cameras are a little beefier in the stat sheets department but ultimately are best suited for the early-professional or the serious hobbyist. The top end of this conversations comes in with the "do I buy a small car or a new camera" type of crowd.
The peak of the spec mountain is truly only justifiable by those whose sole job is capturing images or video. The price at the top of the mountain is far too staggering to play that kind of game if you're not going to be taking your job extremely seriously.
When shopping for digital cameras, it's important to note the megapixel count of the sensor (though this is probably the most overrated of all the specifications, it's just a nice sounding pitch item, so it has become a standard measuring stick). It's also key to be aware of the frames per second continuous shooting — because you don't want to miss a moment simply because your camera doesn't fire fast enough. Other things to note would be sensor size (full or cropped), as well as the video recording resolution, and weight.
Application
When it comes to technology as a whole, there's usually an extremely good argument for focusing on specifications and capabilities. But there's also a very good argument for paying a bit of attention to the quality of life features that come with said technology that might improve your work-flow or just the love you have for using it.
In the world of camera gear, a universe flooded with specs and measuring against one another, there's an entire side of the industry that is normally overlooked, and that's the quality of life stuff.
On or in cameras, the quality of life features usually include things like flipping or tilting display screens, digitally reproduced viewfinders or prism viewfinders, or even stuff like grip sizes, placements, and materials.
One of the biggest features to look out for in the twenty-first century is the addition of NFC, Wi-Fi, or Bluetooth communication. This extra transfer ability truly brings digital imaging into the current generation and can make the work-flow between capturing, editing, and publishing go over so much smoother.
Value
Obviously, there's a price tag on all of these things, and as it does with most technology, the price you pay for your camera gear is often going to directly affect the quality of camera you walk away with.
If you're just starting out, you're going to want to spend a few hundred dollars on your entry-level box kit, but if you do this for a living, and need the cutting edge so that nothing is holding you back from your ultimate vision, then you're going to be spending thousands. And this is just a conversation about cameras. We're not even going to get started on how much money you're going to need if you want a world-class selection of glass (a "cool" term for lenses).
Heading into the camera shopping experience with a firm understanding of both your budget, and your goals, will greatly increase your chances of success, and retention of your sanity. It's a deep, and dizzying marketplace. Opening the doors with the narrowest of search criteria will make a huge difference.
At the end of the day, you get what you pay for. Sort of. Sony has a vast history of out-pacing it's competition without going grossly over in the price department. So you're in good hands when it comes to cameras here.
In piecing together our list, we attempted to snag the best of the best at all three of the major price-points, the entry-level, the amateur, and the professional.
Our Top Picks for Best Sony DSLR Cameras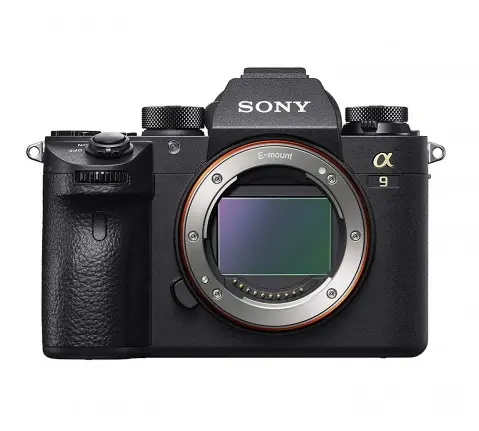 Obviously, after all of the buttering up, we did regarding Sony and their advancements of the mirrorless camera industry, we're going to put their top-of-the-line mirrorless full-frame digital camera at the top spot on our top ten list. But what lives at the top of the market when it comes to the unrivaled specialty of Sony's mirrorless digital imaging game? Well, that's the brand new Sony a9 of course. This full-frame beauty currently sits on the throne of Sony's lineup and packs a beauty of a punch.
Shutter Sounds
One thing that Sony cameras and the glass they are accompanied by has to offer the world of photographers is the sound of the shutter. Or, the apparent lack thereof sound. It's a huge reason why street photographers and all those that take stills in an environment where spooking your subject can result in poor images, choose Sony mirrorless over most other options. Silent photography can be key in many situations.
Auto-Focus Covered
Many digital cameras these days have a pretty brilliant, and whip-sharp auto-focusing system that will include up to a dozen dots or squares near the center of the rangefinder (be it artificial rangefinder or actual). These dots are the auto-focus points (or AF points). What Sony boasts, and have been pioneers of in consumer to professional markets for over a decade, is exemplary coverage for AF. The a9 full-frame camera has an impressive 693 phase detection AF points, with a staggering 93% frame coverage.
Cost and Value
Digital cameras aren't cheap. Good analog cameras aren't either. Which is a little disconcerting for the everyman, attempting to get into still photography or video capture. Being the best mirrorless on offer currently from Sony, you're looking at one of the greatest cameras ever made, in one of the smallest bodies manufactured. But the top-end of the market will always scare away a lot of folks when it comes to the price tags on the best things out there.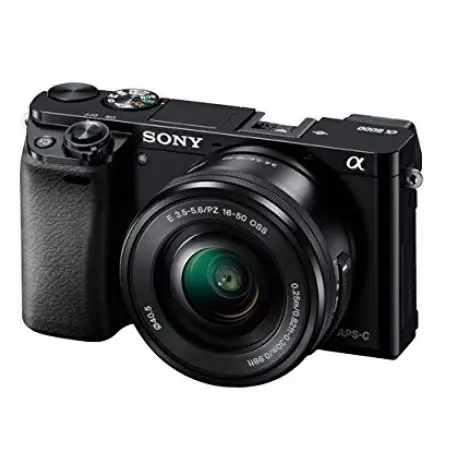 Before we get into some of the other magnificent pro-level digital cameras we'd like to introduce you to one of Sony's best, and one of the greatest consumer-level cameras on the market. The Alpha "'a' thousand" series is one of the most powerful, nearly pocket-sized digital cameras available for purchase across every single brand, on every single continent. Sure, it's not a full-frame camera like the majority of Sony's amazing lineup, but it is a powerhouse in regards to quality.
E Mount
With the swallowing of imaging companies like Pentax and Konica, it's not really a surprise that Sony is known for having some amazing glass (that's camera lingo for the lenses available for your camera). Which is why the Alpha a6000 is an astounding place to start because it has an "e" mount which can house any of Sony's main line of camera lenses. With the E Mount, there is a near endless list of possible combinations and uses for this tiny little strongman of a camera.
Sensory Values
There's one thing that usually gets the chop right away when a camera manufacturer goes to make a powerful, but small digital camera, and that is the sensor. Being one of the largest parts of the internal system within a camera, the size of the sensor usually corresponds with the size of the camera. This is the exact reason why full-frame Sony cameras are the bee's knees. The Alpha a6000 has an enormous sensor, with 24 active megapixels.
Cost and Value
This is not a professional camera. Its sole purpose is to give consumers, travelers, those looking for a lighter bit of gear, so you can bet that you won't be ganked at the checkout for the Alpha a6000, regardless of how amazing this tiny workhorse is. It's not quite a budget camera, but if you're looking for a super crisp, and amazingly versatile small camera, there's almost no better option the world over.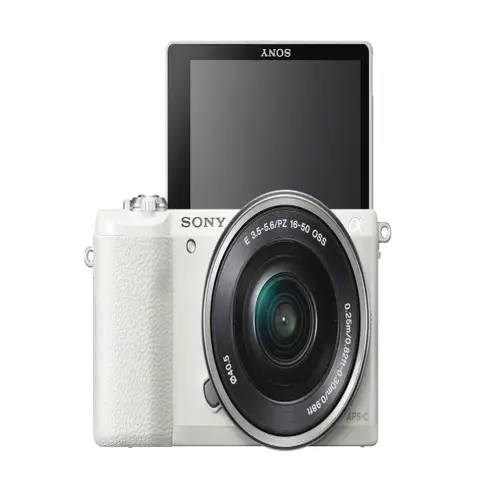 When purchasing electronics to want to make sure you're getting a quality product from a valid authorized seller. With this camera, you're not only getting an excellent product but in addition, you will be receiving a full Sony USA warranty, to ensure you're making a smart purchase. So, if you're interested in purchasing a camera that will not only take images but great videos as well, without getting into a hefty price tag this is an excellent option.
Comes with a Bundle
Whether you decide you need a good video and photograph camera, or you need all the bells and whistles, having the option is always a good idea. This camera allows you to do just that. Not only do you receive your Sony a5100 Mirrorless Camera, but thanks to this bundle you're receiving an AC charger, lens cap, shoulder strap, and a Micro USB cable. Having all of these accessories ensure you get what you want with all the much-needed bells and whistles.
Ultra-fast Auto Focus
Having a DSLR camera ensures you never miss a beat when taking images. This camera allows you to never miss a beat due to its ultra-fast autofocus. Designed to capture an image with 179 AF points and within 0.07 seconds this camera makes all your images look their best without missing anything. Furthermore, the images are crisp and clear every time.
Cost and Value
Now, that we have discussed the perks you're getting let's speak on the value and cost. This bundle is priced exceptionally well. You're receiving a great camera paired with all the essentials you will need in one single purchase. Due to that, you're getting a bargain.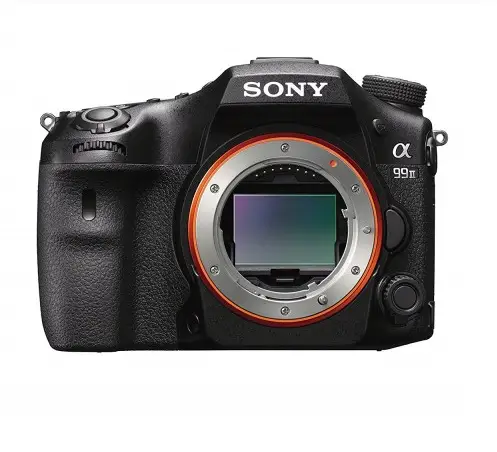 We've finally reached the point in the list where the first "big kid" sized camera lands, and it's all the way down at number four. If that doesn't say something about how epic and awesome these smaller Sony cameras are, then we don't know what will. This isn't to say that number four isn't a heck of a spot to land. The Sony a99II is one of the finest large body cameras, before getting into the conversation of tall. Sony puts a lot of technology to the test in their a99 lineup.
Four Kay
It's no secret that a lot of filmmakers across the globe can better afford to reach for a large DSLR for their video recording needs, over the grotesquely sized camera set-ups designed specifically for video, and nothing else. DSLRs are the present, and the future for independent film, for vloggers, for cinematic types of all sorts. Which is why Sony prioritizes this when it comes to the a99II and ensures that it films video at an uncompromised 4k resolution.
Transfer With Ease
Another addition to many cameras across the board is the exceptional, and oddly extremely useful wi-fi and NFC connection. In the days of modern social media and content creation, having instant access to the photographs or clips you've made is an alarmingly convenient way to share and upload things without hassle. Use either an internet connection or NFC wireless transfer to access everything on your camera, directly on your mobile device or laptop.
Cost and Value
There's no shaking around the bush with the expense of the Sony a99II. But you must know going into it that the Alpha 99 II is a premium camera with ample abilities to both take still photographs, and record high-fidelity video. This is a serious piece of kit, worthy of anyone's time, and if you've got a slew of Sony lenses, this is a great choice.
PROS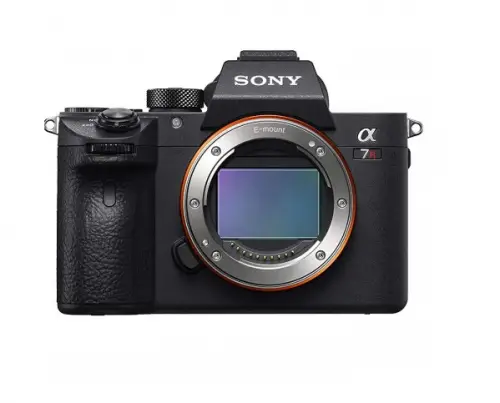 Before Sony decided to up and announce then launch the a9 cameras, the Sony a7's were all the world could talk about. It wasn't easy plucking a conversation from anywhere on earth in regards to mirrorless cameras where any number of Sony's a7 lineup weren't of high mentions. These are the true shapechangers that have completely manipulated the market into the beastly form it is taking.
See More
We could sit you down at a table, let you hold this tiny mirrorless camera, and offer you a million bucks to guess how large the sensor is, or how many true megapixels it can capture. You'd probably never guess. Some of today's best cameras have sensors around the twenty to the thirty-megapixel range, but this, the Sony a7R III has a dizzying 42.4-megapixel sensor to capture truly wondrous images.
Accurat FPS
Fast shutter speeds and frame capture speeds are one thing -- a rather big thing in a lot of professional photography cases -- but what the Sony a7R III does that most don't, is have 10 frames per second speed with continuous auto-focus. This mode is also available in both standard or silent shutter modes. These are unheard of combinations of skills that don't ever (until now) come in a package of this size.
Cost and Value
It's the most recent of the Alpha 7 series, the third in the lineage. It's an astounding piece of kit, and something that is almost unrivaled in today's market across the entire board, let alone when you narrow down the marketplace to mirrorless, and full-frame on top of it all. It's just by far one of the greatest cameras made since the turn of the century. The extensive capabilities of the a7R III make it extremely premium, and the price reflects that somewhat.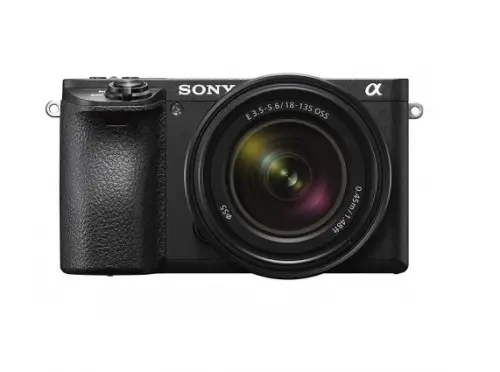 Two years after the introduction and mindblowing release of the Sony a6000 in 2014, the folks at Sony launched their follow-up in the form of the a6500. We put both of these cameras on our list, and right next to each other to boot, because they are the cream of the tiny crop, with amazing capabilities, but are listed far enough apart on the price scale that they both belong here. If you're looking for the new, and the updated, then the a6500 is for you. If you've got a tight budget, then the number two on our list is the best out there.
Stable Body
We know what you're thinking, how could image stabilization be a selling point in modern digital photography? Well, the Sony a6500 has a 5-Axis stabilization system within the body of the camera. Which means that all of those Sony lenses that do not come equipped with image stabilization in the lens itself, will be stable using this in-body system. It's a true work of art, the capabilities that this stabilizer possesses.
It's Not A Phase
Unlike the biggest Sony digital cameras, the Alpha series doesn't come with a full-frame sensor, but that doesn't mean it's no good. It's bonkers amazing. But where the 6500 truly shines is in the staggering 425 points of au0.05-secondtection points, with a 0.05-second focus timing. It's by far one of the largest coverages for auto-focus in such a small package. You'd be hard-pressed to find something similar from a different brand.
Cost and Value
Being the newer kid on the block, and somehow the bigger brother -- yeah, we know, this analogy doesn't really make much sense chronologically -- the a6500 is a bit more of a premium camera, what with the updated auto-focus, and the slightly faster shutter burst rate. But the price speaks volumes when you consider the power in this tiny package.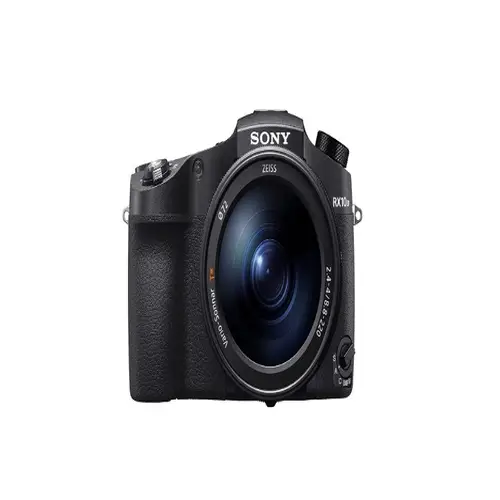 Sony brings to the forefront of the world's fastest AF acquisition time of 0.03 seconds paired with up to 24 fps4 continuous shooting with full AF/AE tracking. Due to having these features you're getting a camera that will get the job done on a larger scale with an abundance of additional characteristics to play around with every time an image or video is shot.
Anti-Distortion Shutter
In order to capture the clearest images, this camera offers an anti-distortion shutter. The anti-distortion shutter is a maximum super speed function that speeds up to up to 1/32000 seconds. Helping avoid the rolling shutter effect that happens when you're taking continuous images. Furthermore, it helps capture crystal clear pictures and videos at a rapid speed without having to stop and recalibrate the camera itself.
Optical SteadyShot
Just like other features on this camera, this one helps keep blurriness out. The optical SteadyShot characteristic helps bring forth a clear take on whatever moving object you're trying to capture. Furthermore, it has high magnification so you can zoom as much as possible without breaking the pixels.
Cost and Value
This camera is a bit on the pricier end. However, when you have just high-quality material and features the product should/would be a bit higher. The value of this camera is exceptional which makes purchasing it a win-win situation.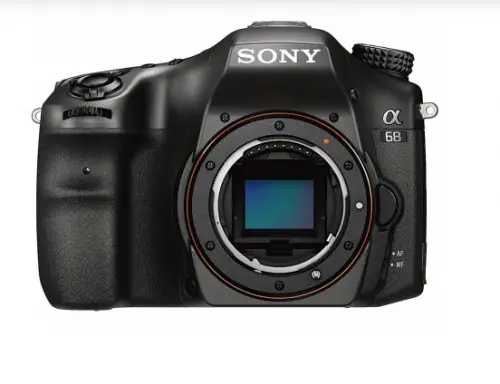 A step up from the Five-Eight, Sony's next stop on the flagship large-bodied DSLR wound up here, with the a68 or "Six-Eight" as it's effectively known. Looking at it, you'd expect nothing more than the standards of starter kits when it comes to getting into the door of the DSLR game, but that shouldn't dissuade you, because what you see here is a magnificent example of doing all the right things well, and leaving the fluff to someone else.
Auto-Focus Master
Now, you should note that Sony has a lot of cameras that are ranked above this one in almost every way, but they're much higher in price. Which is why the auto-focus glory that is built into this budget-friendly DSLR camera is astounding. With a "4d focus" af system that produces 8 frames per second capture with lossless and continuous auto-focus, the Six-Eight just brings far more to the table than most others.
Sharp
It doesn't matter whether you're getting into the full-bodied DSR game in order to capture stills or capture video -- in fact, a lot of photographers and videographers use DSLRs that have a fine mix of both, just to avoid carrying around more than one camera. The video capture on the Six-Eight is a wonder 1080p at 30 frames per second, running with 79-point auto-focus, while the imaging sensor is a brisk and sharp 24.2 megapixel APS crop sensor, achieving extreme performance all the way up to ISO 25,600. Now that's some astonishing low-light performance on an "entry-level" DSLR.
Cost and Value
It'll run you a few hundred dollars. A handful even. But if you were to take a look at the same price range on all of the other major manufacturers, you wouldn't find anything that could outright beat it. In fact, one of its closest competitors is the little brother Five-Eight we mentioned earlier for a few hundred dollars less. These are amazing pieces of gear for beginners.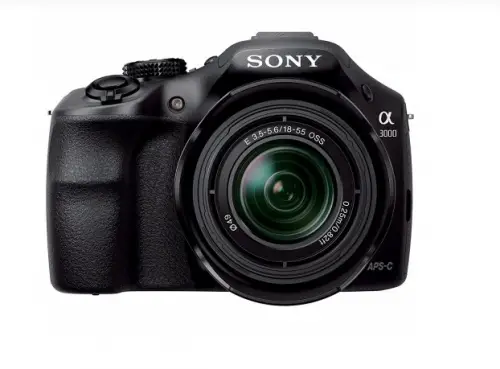 The last camera on our list in the "entry-level" area of the market is the wonderful A3000, the full-bodied sibling of the Alpha 6k lineup that we have already mentioned twice on this list. This bad boy fits just underneath the Five-Eight on the scale of price and the scale of internal goods, so you know you're getting an exemplary starter kit for a shockingly laughable price.
That Alpha Sensor
Sony totes around their sensors everywhere they go. It's a huge selling and pitching point for their teams. And even their entry-level gear gets the same treatment. In the same level of care for detail that they put in all of their Alpha series sensors, the A3000 full-body has a beautiful 20.1 megapixel APS cropped sensor that is a fantastic starting place -- scratch better-starting better-starting place than most of us had when we got into still imaging -- to start your journey into capturing amazing photographs.
E Mounts
The more modern of the Sony mounts, their "E" mounting system, isn't something they're going to shy away from anytime soon. Which means that above many other entry-level cameras on the market, you can pick up this hilariously cheap 20+ megapixel camera for beginners, and walk down a nearly endless road of top-tier award-winning camera lenses. The combinations are nearly infinite here.
Cost and Value
If you hop back and hunt down my list of camera bags, posted a few months ago on TheGearHunt, then you'll understand when I say that if you buy the Sony A3000 DSLR, you're getting an astounding package for less than the price of half the bags on that list. Remember, it doesn't always matter what camera you have on you, only that you have one. The A3000 from Sony is a wonderful place to start.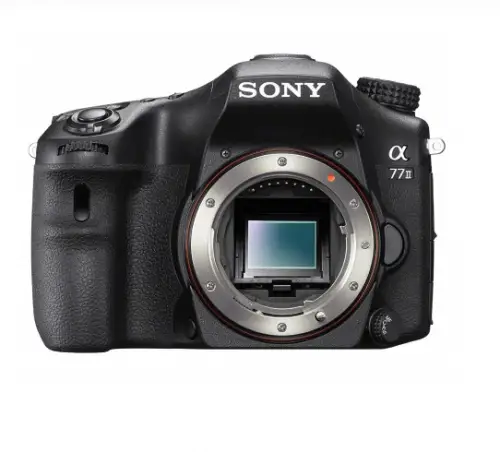 We spoke a big game in regards to how and why Sony has made a gigantic crater in the center of the camera market since acquiring Pentax Konika in the mid-2000s, and that's why the top of this list is rife with full-frame mirrorless goodness. So we thought it right to end off the top ten with one of Sony's best hobbyist to pro level full-bodied DSLRs, instead of snatching up another one of their mirrorless babies.
Speed Demon
The sensor might be a little bit different, and with that so is the auto-focus capabilities, but Sony managed to put the exact same image processor from their full-frame models into the a77II body, making this one of the fastest image processing DSLRs on the entire market. It's lightning quick from shutter close to image completion, making it sharp, and whip-quick to shoot with.
Fighter of Weather
It's not often that one finds themselves amidst the absolute perfect conditions to go outside and shoot without disruption. Unless you live in Los Angeles -- so those that do, you can ignore this part. The a77II is one of the nicest, lightest, and surprisingly weather resistant cameras that one can acquire at its price range. With a rugged seal around mechanical switches and buttons, as well as internal seals, it can take a bit of rain or dust, though we still suggest you do your best to protect it.
CostintoValue
Some might say the a77II comes into the title fight weighing in around the entry-level price. And that's definitely the case if you're an amateur or pro looking to get in on the ground floor. There's no denying that the a77II knocks everything around it out of the water, if you compare similar offerings from the big names, making this an ideal choice for those looking to get into photographing a little bit more seriously.

Subscribe to our Newsletter