Best Dancing Water Speakers Reviewed & Rated for Quality
In a Hurry? Editors choice: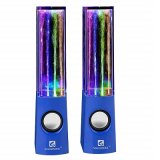 Test Winner: SoundSOUL

In my initial research of these devices, I kept thinking how much they look like the old "lava lamps" from my teenage days! It was a beautiful to watch and I remember being mesmerized for hours. Dancing water devices have the same effect while also serving a purpose, playing your favorite music. ! Now you can watch water dance in the light through the sound systems to whatever music is playing!
Standout Picks
Criteria Used for Evaluation
Effectiveness
There are several things to consider before making this purchase. We will discuss several of these things in more detail, but you do need to be aware of the size, sound, volume, and purpose of these devices. If you're looking to play for the house or entertain a large crowd, you may want to keep looking. These small, portable ones are made more for your personal enjoyment and for the few people who may enter your space. They are meant to be fascinating, relaxing, and enjoyable. They likely will not blast the windows in your room. Let's look into some of the specifics here.
Application
These are ideally set up next to your computer or on a shelf for your entertainment. They are small and compact but provide a fancy and modern feel for your room. They would be perfect in an office setting, in a bedroom, or kitchen. Remember that they are small and will not shake the windows in your house, so don't be shocked at that. The water lights will bounce higher when the music is played louder, but typically you will still be able to talk to each other over the sound.
Sound Quality
Most of these speakers have the LED light display set up in direct correlation with the volume of the music. If you are in a library or somewhere that needs to be relatively quiet, you may not get the maximum viewing from the dancing lights. If you are somewhere that the music can be played a little more loudly you will be more pleased with the dancing lights. You do need to consider all of those places before making your purchase.
Connectivity
In this day and age, most people will be able to sync with a Bluetooth compatible device. That is ideal and will allow you the best, most uninterrupted music and play available. However, if that is not an option for you, you will need to make sure you have the proper audio connection jack. Most of these connect with a 3.5 mm jack and is quite standard for most types of cell phones, music players, computers, and laptops.
Power Source
While it is easy (and mostly safe) to assume that the system will be charged by whichever device you have them attached, that is not always the case! Some of them require a separate plug-in for the wall, while some require a battery. Please be aware of these requirements as well, whether using for your own or giving as a gift, as you will want to plan accordingly and have all the items needed in order to start the music play and water fountain show quickly and easily.
BEST DANCING WATER SPEAKERS REVIEWED & RATED FOR QUALITY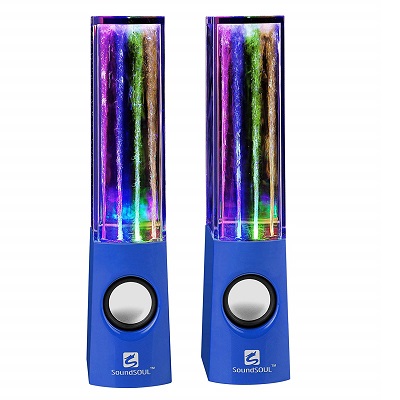 These SoundSOUL devices are a light show water fountain device with LED sound system and four colored LED lights. It is made of acrylic which makes it very lightweight. The transparent part of the device is polished which makes it easy to watch. All the materials used are non-toxic, so you can rest assured no harm will come when you are handling these devices. The fountain of water soars higher the louder the music is playing. The four different colors LED lights dance and jump in rhythm to whatever music you are playing. It is pretty cool to watch and enjoy. It is adaptable to most kinds of iPhones, iPads, iPods, Mac, Android phones, and other audio devices. You can literally enjoy this device anywhere you are!
Color Variety LED Lights
LED lights do not burn as hot as regular lighting, so they are much more cost efficient than the others, as well as reduced risk of combustion or burning your fingers. They are also made of an epoxy lens, as opposed to glass, so it takes a lot more to break them than your regular light bulbs. Add all of these benefits to the fact that the lights in this device come in four different colors, and you will find yourself a safe, non-toxic, energy efficient form of water dancing lights. The lights dance higher as the music is played louder, so you're never disappointed in the light and fountain display action.
Lightweight and Nice Texture
These sound systems are made of acrylic, are quite small at just 9 inches tall, and are very lightweight. All the material used in manufacturing is non-toxic so you can rest assured that you're getting the highest quality product for the price. The transparent part of these devices is polished to a shine, making viewing an enjoyable experience. The built-in amplifiers bring a bright and clear surround sound. The benefit of having a pair of those (as these come in a set of two) ensures you'll be hearing and watching the music from wherever you are in the room.
Cost and Value
These devices are a relatively low cost. They come with all the necessary cords and plugs. The LED lighting of the four different colors will last a very long time, and the fountains are solidly built so barring any accidents, they will be break resistant and hold the water inside for as long as you own the devices. They are great for a gift or to keep for yourself, they are compact and portable and work together very nicely. If you're looking for an enjoyable, fun, and relaxing display, look no further. You've found it!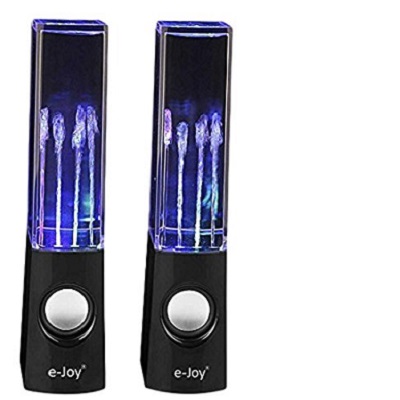 This is a fun, new product from e-Joy that combines the quality you've come to expect from the e-Joy brand with a trendy fashion of dancing water devices. This pair features 4 multi-colored LED lights that will produce a magnificent light show! The water jets dance to the beat of the music. The devices themselves measure in at 9 inches tall, and are compatible with any device that has a 3.5 mm audio jack connection, including your iPhone, iPad, iPod, PC, Mac, MP3 or MP 4, home computer, or Android device.
Compatible with Many Audio Devices
One of the great things about these systems is that they are compatible with many devices to which you have easy access. If you have a 3.5 mm audio jack, this pair will be a delight. You can connect them to your headphones and enjoy their water play while being the only one listening, or you can hook them up to your iPhone, iPad, iPod, PC, Mac, MP3, 4, and 5, your PC, Samsung, or Android device.
Variety of Colored LED Lights
This pair comes in a set of two and each one has 4 different colored LED lights to perform at maximum enjoyment to the beat of whichever music you choose. The colored lights dance and bounce in the water, jumping higher as the music plays more loudly. Having the option of plugging into several outlets gives you the freedom of keeping them together, or placing them apart from each other in order for your whole party to enjoy them. It is mesmerizing to watch the colored lights move in sync with the music and each other.
Cost and Value
These ones are a little on the steep end of the price spectrum, compared to some of the others on this list. However, you get the e-Joy brand name, a variety of base colors, high quality LED lights and good quality system. When you look at the big picture I think this is one of the best water systems out there. Cheap is not always better and in this case I think you'd be better off by spending a little more up front. These play loudly, have a vivid, sharp image and will not disappoint when you want to pound that bass.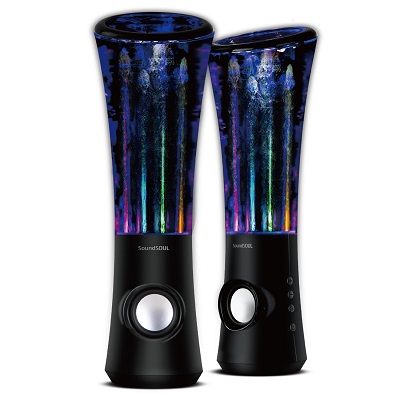 This water system has an interesting and unique dimensional design which makes them stand out from rest. They are sleek and black with an electric blue main color enhanced by yellow, green, and purple LED lights which dance to the volume and beat of your music. They can be used at home or at the office and are a perfect fit for boys, girls, children, adults, students, and friends. They come equipped with a 3.5 mm audio input jack so can be used with any computer, laptop, MP player, iPhone, iPad, PC, or any other device with a 3.5 mm audio output jack. They have a standard USB power plug with no need of a battery power supply.
12-Month Quality Related Warranty
Sound Original is proud of their quality assurance and backs their policy with a 12-month quality related warranty. They strictly check their products three different times to ensure proper performance and packaging. Obviously they cannot guarantee any damage caused during shipping, but they strongly back the quality of their product. If for any quality reason, you are not completely satisfied with this product you can return it for either a replacement product or a full refund of your purchase. I always appreciate a money-back warranty!
Sleek 3-Dimensional Design
Just looking at this device without them performing is pleasing to the eye! They are tall and slender in a glossy black, 3-dimensional design which is quite appealing. The first color you'll see when they start dancing is a beautifully contrasted electric blue. Accent colors are yellow, green, and purple, and they all bounce and dance to the beat and volume level of your music. Very classy design and nicely put together to give you the optimal performance and sound.
Cost and Value
These devices will be some of the most eye-pleasing speakers you'll own. The lights dance higher and faster with the volume of the music and have an incredible 3D light show. The cost is very reasonable and the 12-month quality related warranty seals the deal for me. I appreciate a company who is willing to back their products and seeing this warranty provides me with the assurance I need in order to push the purchase button. Beautiful systems at the right price and a warranty. Hurry and get yours before I buy the last set!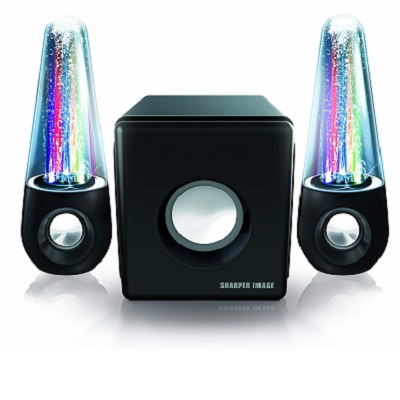 This is the one you've been waiting for! This is a beautiful set of devices that creates a dazzling light show also has bluetooth streaming and a subwoofer. Now we're talking! These also have a built-in AC power cord to plug in to any outlet. Just sync the subwoofer to any bluetooth enabled device then connect your devices to hear some great sound to your music and it'll put on a captivating light show for everyone around. The subwoofer is incredibly powerful and has adjustable bass levels, so you can choose your favorite levels and fine-tune your listening and viewing enjoyment.
That Subwoofer, Though!
The subwoofer enhances your listening experience so much, these devices should probably be in their own category. It has adjustable bass levels, so you can enjoy your ultimate listening experience. It has a built-in AC plug so it easily plugs into the wall and easily syncs to any Bluetooth enabled device. The power, the sound, and the ease of this subwoofer make this set of devices a must have!
Multicolored LED Lights
The actual device stands that connect to the subwoofer have 4 different colors of LED lights which will dance and groove to the beat of the music. Similar to the other water devices on this list, the lights will appear to bounce higher when the music is louder, so don't be surprised that with this set you'll need to be pumping the music in order to fully appreciate the dazzling light show. There is adjustable bass so you can choose your listening pleasure.
Cost and Value
At first glance, you may think that this set is a little more expensive than some others. However, keep in mind that you also get the subwoofer which greatly increases the sound and provides the capability to connect to any Bluetooth enabled device. The light show, the portability, easy pairing capability, and water fountain effect is definitely worth the little bit of extra money to get started. You do need to make sure all connections are secure in order to fully benefit from the excitement of this remarkable set.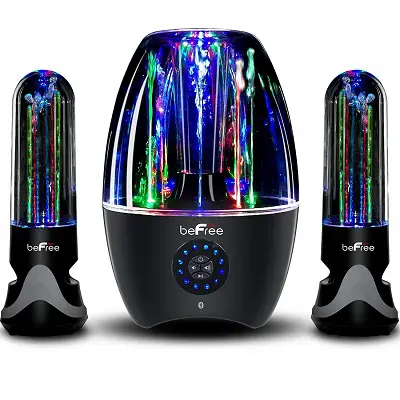 This is one of the best novelty gifts you can get. Kids love it, sound enthusiasts love it, and it makes a great conversation piece. The bright lights moving to the sound of your music or TV through the water is mesmerizing and will catch the attention of even your pets.
Connection Options
If you aren't really sure how you plan on connecting this device or to what you're going to connect it, you have options here. This will Bluetooth in or connect via aux cord. That gives you the ability to use it with just about anything that will make noise - your TV, car stereo, even your phone or iPad.
LED Lights
You know that the lighting is likely to be better when it involves the letters LED. The dark backdrop makes the bright colors just that much more vibrant and they will truly shine and dance in the water environment found here. It will have everyone enchanted while listening - or watching as may actually be the case.
Cost and Value
This dancing water light set is a little more expensive than others found on the list here, but not by much. The quality, size, and brilliance of the LED lights make it worth every penny though. This unit will bring an element of beauty and excitement to your home and you will be happy you bought it.



My look Crazy Look Magic water devices are sure to dazzle your guests and provide a cool display to your beats.
USB Rechargeable
.
Those devices are powered by rechargeable batteries that will allow you to keep the music going non-stop off any USB compatible device. The batteries allow up to 2 hours of continuous play allowing you to take your tunes on the move.
LED
The distinctive LED lights display an amazing fountain show that erupts with the beats of your tunes. The Bluetooth pair is made of quality materials to last.
Cost and Value
This pair is priced a little on the high side when compared to other ones of similar size and quality.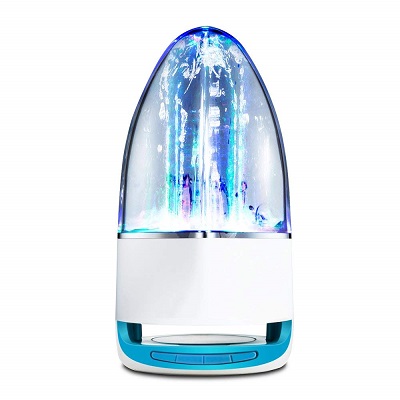 When you purchase this dancing water device you will get a bluetooth enhanced pair with a charge cable, auxiliary line, and instruction manual, and a full 1-year warranty. It is made of high quality material to create firm, normal impact resistance. The advanced audio delivers 360 degrees of clarity and is easily portable to inside and out. You can enjoy your dancing water music anywhere you are. This product uses unique LED lighting and provides a fantastic, colorful, and vivid world of a dancing fountain. This upgraded version allows you to add purified water to the top of the device, so you never need to worry about leakage.
Do-it-Yourself Water Version
There is no concern with this pair that it will leak the water during the shipping process. When you receive this pair you will simply fill it with purified water, using the dropper provided before you start using it. There will also be no concern that it may leak on your counters or audio devices because the small hole is at the top of the device and there is nowhere for it to leak out of the bottom. You'll be able to fully enjoy the light show in the water without the worry of a liquid mess!
Bluetooth Compatible
This device is made of high-quality material to create firm, normal impact resistance, easily portable, and advanced audio with 360 degrees of clarity. You can enjoy your LED water fountain display from any direction you look. The Bluetooth compatible connection allows you to sync with any Bluetooth device, and also comes with two additional micro SD cards and a 3.5 mm audio input port. You'll have the ability to listen to your music even when you're unable to connect with Bluetooth. Even in the best of conditions, sometimes you need the cord, in case!
Cost and Value
This is a reasonably priced devices and is worth every penny. It has delightful lighting and fountains, a solid build with exceptional sound quality and the lights dance to the beat of the music without cranking up the volume. The sound level will easily fill a medium sized room, but will also work well at a lower volume. The company provides great customer service, is very prompt on answering and are very polite. Add all of that with the one year full warranty and the purchase of this pair is a done deal.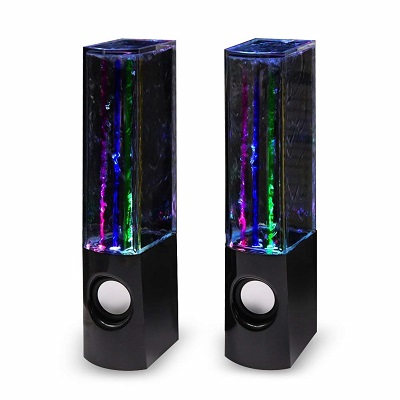 These awesome music fountain mini amplifier dancing devices provide an exceptional LED lighting show and will connect with your cell phone, iPod, MP3/4/5, Laptop, and PC. They are a sleek, black design and have multi-colored lights that shoot up and dance with the beat of the music. They are compatible with any audio device with a 3.5 mm audio jack connection, run without a battery, and have a USB port power supply. These sound systems will provide just the entertainment you're hoping for and provide more sound than you would think!
Bluetooth Compatibility
With this device, you will have the ease and ability to connect with any Bluetooth compatible device. You can sync with your iPhone, iPad, iPod, MP3/4, or MP5 players, laptop, PC, Samsung, Android, or Kindle. Just in case you have a hard time syncing your device you will also receive a 3.5 mm audio jack connector cord so you'll never have to be without your dancing system music. The convenience of this is a great asset to have!
Variety of Colors
The sleek, black design of these systems really makes the variety of colors pop against the background. Electric blue, orange, green and purple will bounce and dance to the beat of your favorite music. You'll be able to enjoy this fountain show from anywhere in the room while relaxing to your choice of music. The contrast of colors will be mesmerizing for you and your friends, especially when you watch it in the dark.
Cost and Value
These ones are small and fun! They stand just over 9 inches tall and provide sound for the entire room. The light display is phenomenal and the water bounces with the beat of the music, note for note. The lights are vibrant and can be seen from each side of the device which will enhance your viewing pleasure. The cost is right, the product is backed by the manufacturer, so you can't go wrong in purchasing these!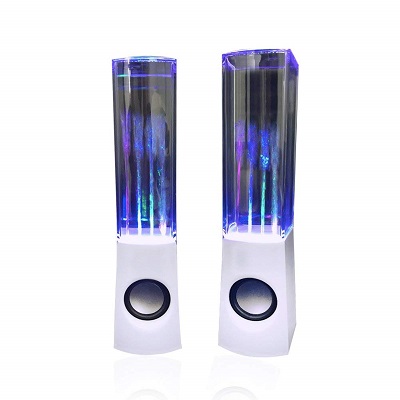 This is another fun set of water devices! This set has an exclusive loudspeaker box which sets beneath the LED water dancing fountain display and shows a fantastic colorful blend of light. The fountain jets are controlled by your devices and will dance higher in the box with louder music. The amplifier systems bring a crisp, clear sound and you'll have an amazing visual effect with the multi-colored LED lights.
Compatible With a Variety of Devices
One of the great things about most of these pairs is that they are compatible with a wide variety of devices. This particular set is not Bluetooth compatible, but will connect with anything that has a 3.5 mm audio jack including iPhone, iPad, iPad, MP3/4/5 Players, laptop, desktop, and Androids. It will also connect with your PC and Kindle. The opportunities are seemingly endless with these beautiful and portable pairs.
Beautiful Array of Colors
The clear glass top above the sleek black loudspeaker box shows a vivid blend of color in the unique LED water dancing design. The jets are controlled by your devices and will dance higher with your volume control set higher. You can really enjoy the light display and block out the world around you during this relaxing time.
Cost and Value
This is one of the least expensive pair sets on our list. The reviews are all positive and everyone is seemingly impressed with the surround sound of the amplifier pair. That is always a plus when you're looking to give your home or office a facelift and get some nice sound as well. These hold up well and have very few problems in shipping. I would recommend this set for you, or for a nice gift for children or friends!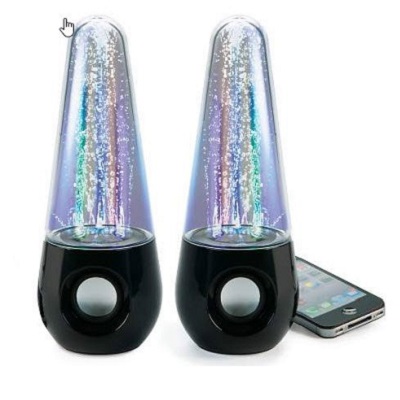 This set of speakers caught my eye because they are a slightly different shape from most the rest. While all the others in this list have been rectangular in shape, with slight variations in the dancing light box, these are more cone-shaped and round on the top. Still a black speaker box which seems to be the norm, but the top display is clear and round so as to push all the colors together at the top, making a more vibrant and impressive light show.
Compatible With Several Devices
These systems are also a little bit taller than most on this list, coming in at almost 10 inches tall. They are Bluetooth compatible and will also connect to anything that has a 3.5 mm audio input jack, including all types of cell phones, iPads, MP players, and computers. It has just a small cord so will need to set quite close to whichever device you choose to use. It does require one lithium-ion battery for proper use.
Full Range of Light Display
The clear display box allows for the light show to be viewed from any angle. The lights will dance the highest when the volume is louder, so be aware of that. You will need to set these in a room or office that allows the music to be loud enough to watch the water fountain display. The variety of colors and the oblong display box will create a vivid color light show that will please all.
Cost and Value
These devices settle right about in the middle of the price chart on this list. They do have some perks that make them worth a little more money and have seemingly few problems in shipping, so that helps make them worth the money. They seem to last a long time when used properly and will be a purchase to be pleased with for years to come.

Subscribe to our Newsletter