Best Monopods Reviewed & Rated for Quality
In a
Hurry? Editors choice: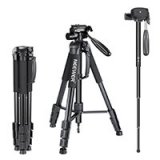 Test Winner: Neewer Aluminum Alloy

Still photography is a game of a million "toys." There is always a new piece of gear to buy, whether it's a lens,  flash,  bag, or strap. But for keeping your camera steady tripods have always been one of the more common accessories for camera-toting photogs. The problem with tripods is that they tend to be bulky and don't move easily.
Monopods, on the other hand, are stands with a single leg.

These were probably conceived by someone who decided to only extend a single leg from a tripod in order to ground your camera for a split second, rather than a while. But whoever invented them they're mobile and have quickly become a vital tool for anyone who shoots on the go.
Standout Picks
Criteria Used for Evaluation
Brand
Propping up thousands of dollars worth of your money-making camera equipment is no easy task, and you shouldn't leave it up to some unknown random brand to uphold. It's important to consider the type of materials used to build these contraptions, and the quality of said building materials prior to attaching your beautiful gear to the top of them. Regardless of where you go in the world, most of the monopods available globally are not going to be detrimental to your gear, but you might not make it through some trials of shooting with the cheaper versions.
Premium builds will include things like Carbon Fiber body materials, that will greatly decrease the carry weight of the monopod, and also things like flip lock sliders -- the twist to lock ones never stay put, regardless of when premium companies put them on their monopods.
Advanced Features
Though some of our options might be paired down versions of monopods -- often the simplest things in life make everything way easier to deal with -- there are plenty of brands and models that add a little bit more to the monopod game. Like everything else, it's important to discuss, and boil down all of the things you might need on your photography adventures. Do you need the flashy external quirks that a base unit might not have? Then there are definitely some quality options for you here. Otherwise, it's perfectly acceptable (more so in some circles) to take the road smoother paved.
When it comes to tripods, and monopods alike, the only real variety you should shop around for is the head of the mount. Everything else isn't going to make your job any easier, and plenty of astounding monopods come with very little in the bells and or whistles department. However, it was important for us to go through the marketplace and find exemplary monopods that display both the extraordinary additions and ones that do a wonderful job at the ordinary.
Value
As with every product segment, there's a median price for a generally awesome monopod. If you're heading along the average path, you'll be looking at a price point around the sixty to one hundred dollar range. Budget monopods, be careful here, because, once again, you do not want to go too cheap here considering the amount of money you're going to be attaching to the top, can go as low as fifteen dollars. We suggest not going much lower than twenty dollars, as you will very quickly get into the realization that everything is made of plastic, and all of that plastic can easily break.
On the premium end of the scale, you're looking at a few hundred dollars. These monopods will be of utterly perfect build, with the types of materials that improve carry weight, secure your camera or lens better, or give you the ability to do a little extra with your time.
There is a wide range of viable options, far more in the reasonable sense than a lot of other types of accessories, so if you're just starting to shop for a monopod, you have a bit of research in front of you. Luckily, we're here for you.
10 Best Monopods
1

. AmazonBasics Carbon Fiber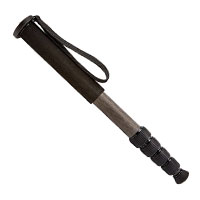 Back at it with the astoundingly simple, but perfectly capable AmazonBasics products. Sitting here atop our list is an exclusively wondrous monopod that -- while on the basics of its skin, it is rather simple -- can do the exact job you're after without weighing you down, and without floating about with a dozen and a half features that you probably didn't ask for. We don't normally put the basics at the top of our buying guides, but we assure you, the AmazonBasics Carbon Fiber Monopod is an exemplary accessory.
Not Bogged Down
There's no need to continue to lug around accessories for your shoots that simply weight you down. If you've never been to an event and seen that one camera operator that brought their entire kit, dragging themselves across the ground, because their bag is a shocking one hundred plus pounds, the Carbon Fiber monopod by AmazonBasics is hardly a handful of feathers. Weighing in at under a single pound, this monopod will be the versatile tool you need, and you'll barely even notice it's there when you're not using it.
Five and Dime
Most consumers think that having a name like AmazonBasics, and a history as an authority of the cheap and flashless, means that their products can't reign supreme. But the Carbon Fiber Monopod by AmazonBasics is truly neither of those things. It might surprise you that an inexpensive monopod has the ability to extend fully up to five feet high. It's unheard of. But it's true here. A fairly inexpensive product that goes beyond the expectations those have when shopping on that end of the price scale.
Cost and Value
The AmazonBasics Carbon Fiber Monopod could either sit at the child's table in the room with extremely premium and over the top monopods. Or, it can sit upon the throne among the budget or the simplified perfection. At around fifty dollars, this is the lightest, and best monopod on the market today. Basic or otherwise. Period.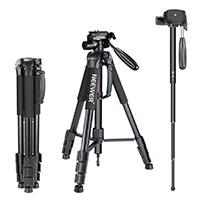 Woah, woah, woah! I know what you're saying. "Hey, this looks like a tripod. All that incessant rambling in your intro about the avoidance of tripods, and now you've got one on your list only two items in?!" But I'm here to tell you that this is more than a tripod. It's also a monopod. No, you don't just extend a single leg, rather, the camera head, and center pole of the tripod slip out of the entire fixture in a single moment, and this very well built tri, becomes a mono worthy of ascension.
Holy Trident
Is it weird that after introducing this list with a bit of smack talk about tripods, and then following that up with a bit of overly defensive dance against said thing at the beginning of this list entry, that we would then jump right into the fact that this product is also a tripod? Yeah, sure it does. Because that's kind of counterproductive. However, the fact that this monopod can slide right into a tripod and become a stand-still tool is amazing. Two in one tools will also oust those with a single function.
Three Way Swivel
Tilting upwards, downwards, left, right, and even turning its own horizon is the only way to shoot. There's something about shooting in the twenty-first century that shocks me when a tripod or camera mount doesn't swivel in three ways. It makes for far easier shooting, and can work up to some beautiful shots from the head of a mount. Most wouldn't think about the swivel capacity of a mount when considering their options, but it makes a huge difference, and you deserve the best tool.
Cost and Value
Two items into this list and we've already designed an average price. The price tag of the Neewer Portable Tripod Monopod, means that you get far more than the AmazonBasics option -- for the same price. Does it do that much more, at the same speed or quality? Not in the slightest. But you get a more functional set of tools here.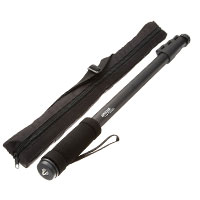 Now, this is the AmazonBasics product you were expecting. There's nothing flashy or fancy about this monopod. It doesn't even collapse very far down, so it's far less easy to store or take with you. But it is nearly nothing in price, and you will find everything you need to have in order to take still images or video while lovingly depending on the solid balance of the ground.
Simplistic Elegance
There's something beautiful about simplifying a process or piece of equipment to the point where the task at hand is easily completed, without all of the fuss of a million things that you might not need potentially getting in your way. Like me, when I travel, I just like to keep things simple. Unlike me when I travel, you should definitely plan (and don't forget) to bring this monopod along when you leave your abode.
Indoors and Out
It's not very often that we take a look at and sit in awe of the little feet of a product. Especially when it's a monopod and there is only one little circle of rubber (usually) to softly connect your monopod to the ground. But with the AmazonBasics 67-inch Monopod, you get a soft rubber foot for the indoors, and hidden spikes below the rubber for the more rugged terrain of the grand outdoors. Potentially, this might even just be a great walking stick for those expert hikers looking for a pole to walk with.
Cost and Value
The 67-inch Monopod from AmazonBasics is the budget option to end all conversations about budget complaints. Sure, it's not as compact, and the load max taps out at just over six and a half pounds, but it's all the monopod you would need if you're seeking for a steady arm to snap some stills.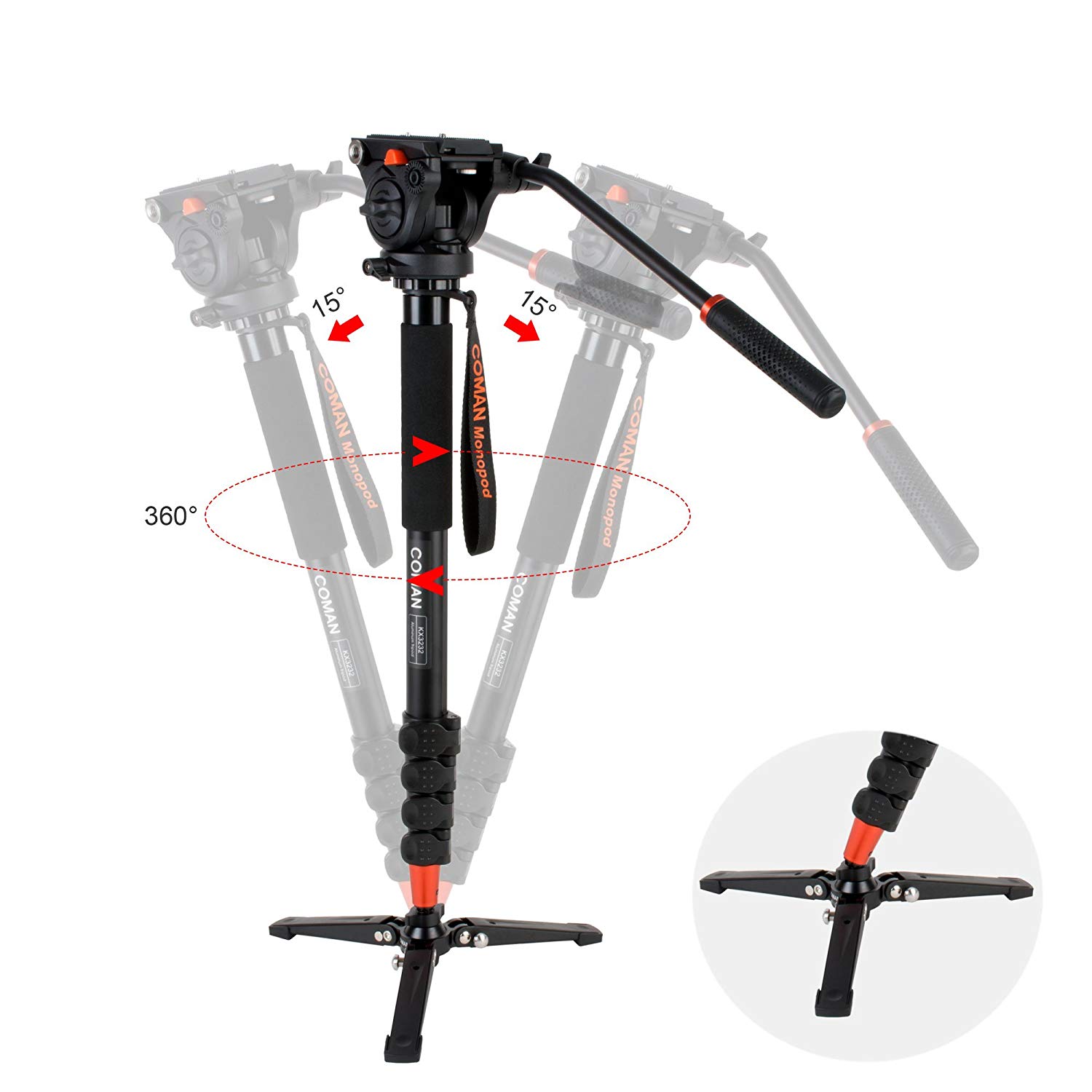 We're back to our regularly price-pointed programming with this monopod, which actually comes as a full-blown kit! While other monopods are going to be spending a lot of money picking the shiniest and priciest materials, COMAN has decided to put their money (which is, by extension, your money) into versatility, stability, and a really great monopod. Not only do they give you a monopod with this purchase, but you get a whole kit of items that will make your monopod able to take on even the trickiest panoramas.
Adjustable
And we don't mean "adjustable" like the way a one-size-fits-all halter dress is "adjustable". We mean so adjustable that you're able to not only attach/detach the pan bar, but you're also able to choose whatever height you want. While you need to choose between 26" - 73", we think that that's more than enough range for a monopod.
Vertical Lock
Continuing on the adjustable train, this monopod features both swivel capacities, pan capacities, and revolve capacities. COMAN has included on this monopod a patent vertical lock, which will let the monopod stay in place even if it's revolved somewhere funky around the fulcrum. This is also a great time to mention that this monopod holds up to 13 lbs of weight. This makes the vertical lock a huge asset, as weaker monopods (or heavier cameras) might end in a lot of tears, broken camera lenses, and regret.
Cost and Value
This monopod is definitely a pricier piece of equipment, but we think it's absolutely worth it. Not only do you end up getting a monopod, but you also end up getting several add-ons to the monopod that will make even the most well-equipped camera buffs green with envy. This monopod also comes with a carrying bag, which means you don't need to spend the time fussing with your current equipment carrying set up. All that's to say that we feel the benefits far outweigh the cost of this piece of gear. You're definitely getting a good value with this one.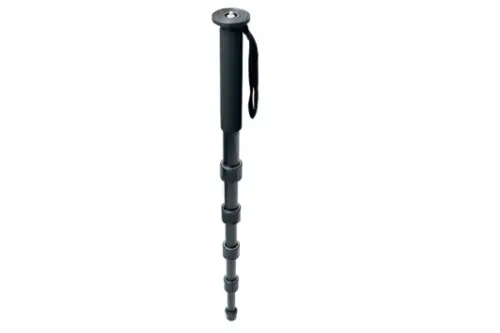 Wait! Hold up. Are you serious? A budget monopod this high on the list. Yup! Let's knock off the bickering between you, the reader, and myself as I try to whip up something fierce. The Opteka CFM 300 Photo Camera Monopod is an astounding product and at such a low price, it stands in front of a lot of other options that might be more expensive. Considering we're looking at both the price as well as the quality, it's fair to put something on here that gives you a little more bang for your buck.
Durability
Whether you think you need it or not, a monopod is going to really change your photography game. While some monopods feature a camera attachment that is sturdy, strong, and immovable, this one allows for a little wiggle room. Dual mounting screw allows you to attach any camera or any head directly to the monopod to hold your particular camera. You're going to be able to take all the smooth panoramas you want when you purchase this durable piece of equipment.
Wrist Strap
Whether you're a professional portrait photographer or a tourist looking to up your Insta-game, this monopod is going to be easy to grab and go with. Many monopods require you to be constantly holding on to them, leaving you scrambling to find a free hand to hold that much needed between-appointments coffee. By giving you a wrist strap, Opteka has also given you the gift of a helping hand. Literally! You don't need to hold on to this monopod, nor do you need to worry about strapping it securely to the outside of your camera bag. It fits safely around your wrist!
Cost and Value
This monopod is absolutely one of the cheaper ones on our list. While some photographers might be shocked that a monopod under $60 would make it into a top ten discussion, we respectfully disagree. This is a product that's going to upgrade even the most seasoned photographer's photos. While it's not as indestructible as other monopods, it certainly will get the job done. We feel that this is a great choice if you want to test out a monopod and see if it's for you.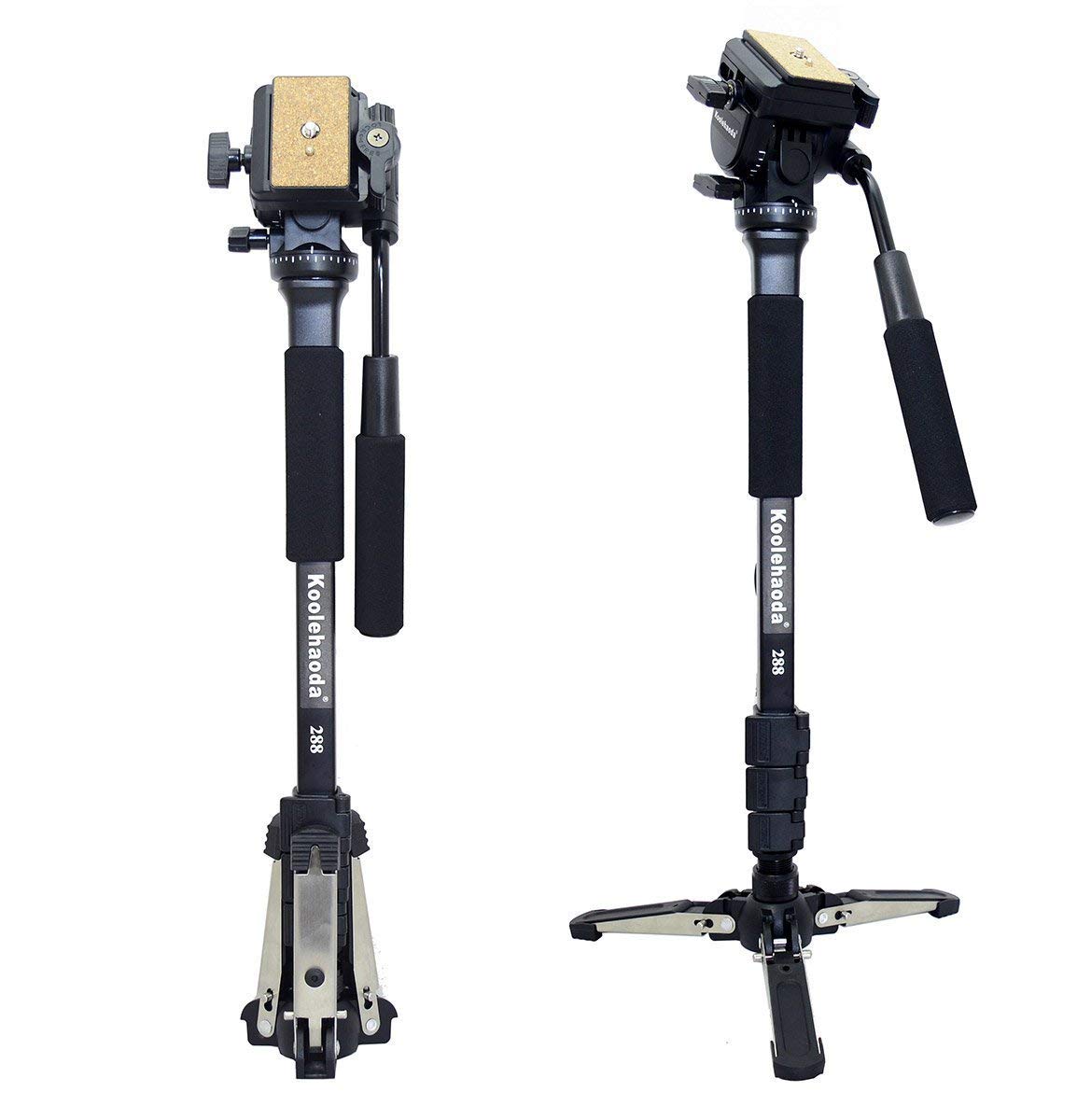 This monopod is unique compared to some of the other packages and kits we've seen. As a photographer, you want to rest assured that you're getting the smoothest possible picture. If you're a wildlife photographer who happens to be afraid of heights, you don't want your shaky hands to keep you from getting a clear horizon shot taken from off the edge of a cliff. This monopod will be your saving grace, as it's its own support.
Stabilizing Legs
We can all do with a helping hand sometimes. Support systems are necessary to succeed, but we so often end up getting them pulled out from under us due to unforeseen circumstances. When this happens to your monopod, it could mean camera death. Luckily for you, there's no chance of this monopod coming out from underneath your sweaty, shaking palms. This monopod's support system is built into it, and all you need to do is pop it open! The stabilizing legs keep it from wobbling or slipping, which means you're ultimately getting a more stable photo.
Unobtrusive
Customers are always right, which is why we had to take a look at some of the reviews for this monopod. When a product looks great in the write-up, the next step is to always look at other people's experiences. When we looked for this product, we found overwhelming positivity. One review stuck out, where it mentioned how one of the biggest assets of this monopod is that it's totally unobtrusive. The reviewer mentions how they bring it to their son's basketball games and are able to record right there in the stands. It's as steady as a tripod, but without infringing on anyone else's bench space.
Cost and Value
This monopod is an excellent product. It's perfect for the home videographer who wants to capture their kids' big moments. While the price tag might be a little high for some, we feel this is a fair price for a parent who's wanting to invest. The compact nature of it means you'll use it much more than a full tripod, which means you're going to get more bang for your buck out of using it in the long run.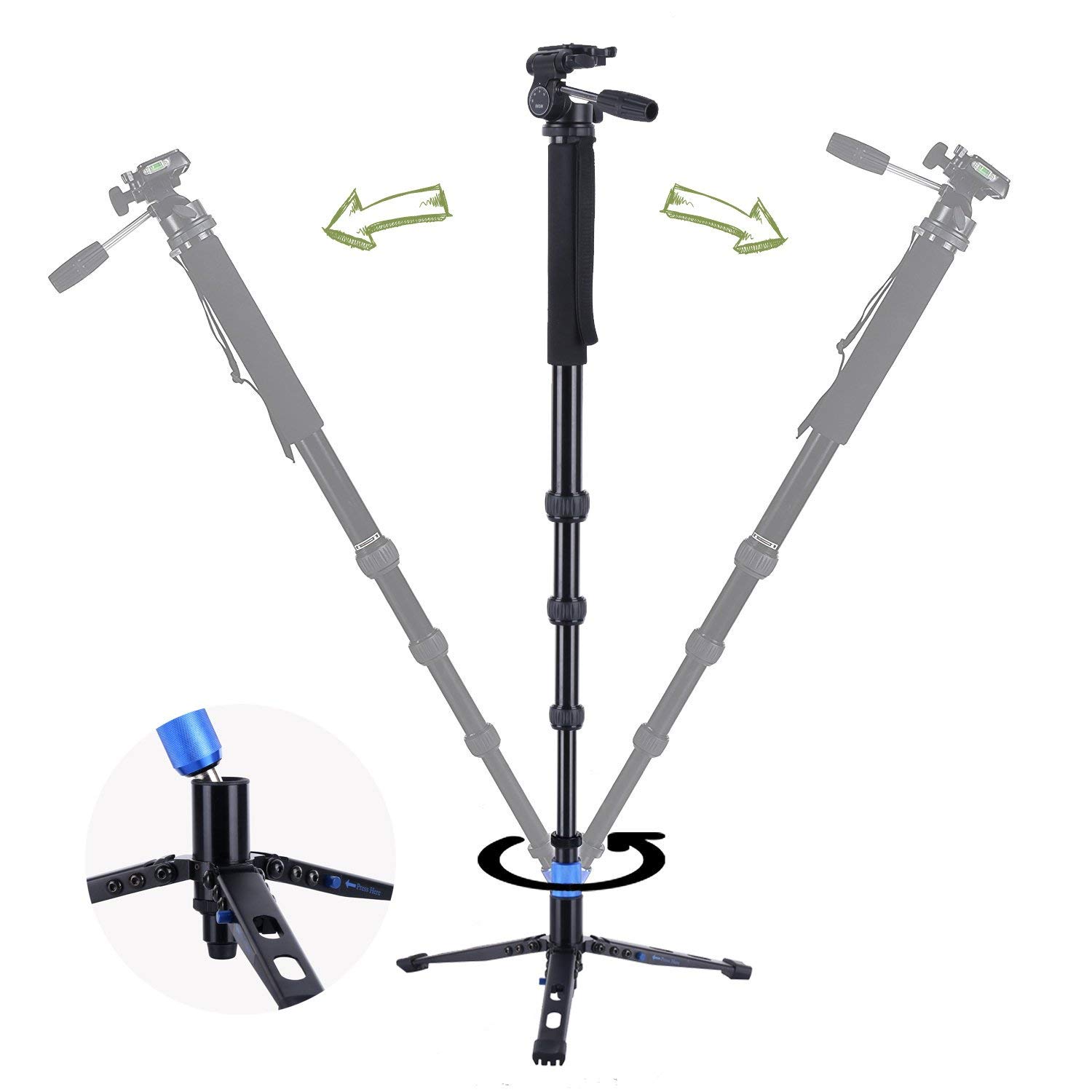 This monopod feels like a 2-for-1 deal. Not only does the monopod work independently, but DIGIANT gives you the choice of using it as a tripod as well. While you might think it's impossible for a monopod to magically become a tripod, we say… Where's your imagination? Where's your faith in DIGIANT? These veteran monopod builders have crafted an agile monopod that's able to lock, swivel, and tilt both as a monopod and as a tripod. The panning capacities are just as fluid as some of the other supremely high-end monopods as well, making this monopod a great, versatile choice.
Telescoping
What, you thought we wouldn't talk about one of the main words in the title? Think again! We had to save this feature to give it a full section all on its own. There are as many monopods out there as there are photographers, which is why it's important to give many options. By offering a telescoping monopod, DIGIANT is able to bring you a monopod that shrinks down to something super compact, while still being able to extend swiftly and easily. Plus, you don't necessarily need to pull it out from the bottom. You can pull up on this monopod and it'll extend that way as well!
Swiveling tripod
We've talked about monopods being able to swivel before, but that's usually done by moving your feet in a tight circle around the monopod and hoping it doesn't kick out from underneath the camera. All those moments of fear are going to disappear when you get your hands on this monopod. While swiveling the head of the monopod is a common practice, it's less common to find a base that swivels. The swiveling base is a benefit because you're able to capture full, smooth panoramas that go all the way around, rather than just the size of your arm span.
Cost and Value
So many monopods are prone to breaking, which is usually mentioned in the reviews. While we found a few that discussed the telescoping capacity slipping or jamming, overall the response was incredibly high. We're willing to believe that those were merely a few faulty products rather than indicators of the quality of the monopod. What we really like about the price of this monopod is that you can choose to purchase accident protection when you're purchasing the product. As any wildlife photographer knows, accident protection insurance can literally save your career. Or, at least it could get you a new monopod! We believe that that alone is worth it.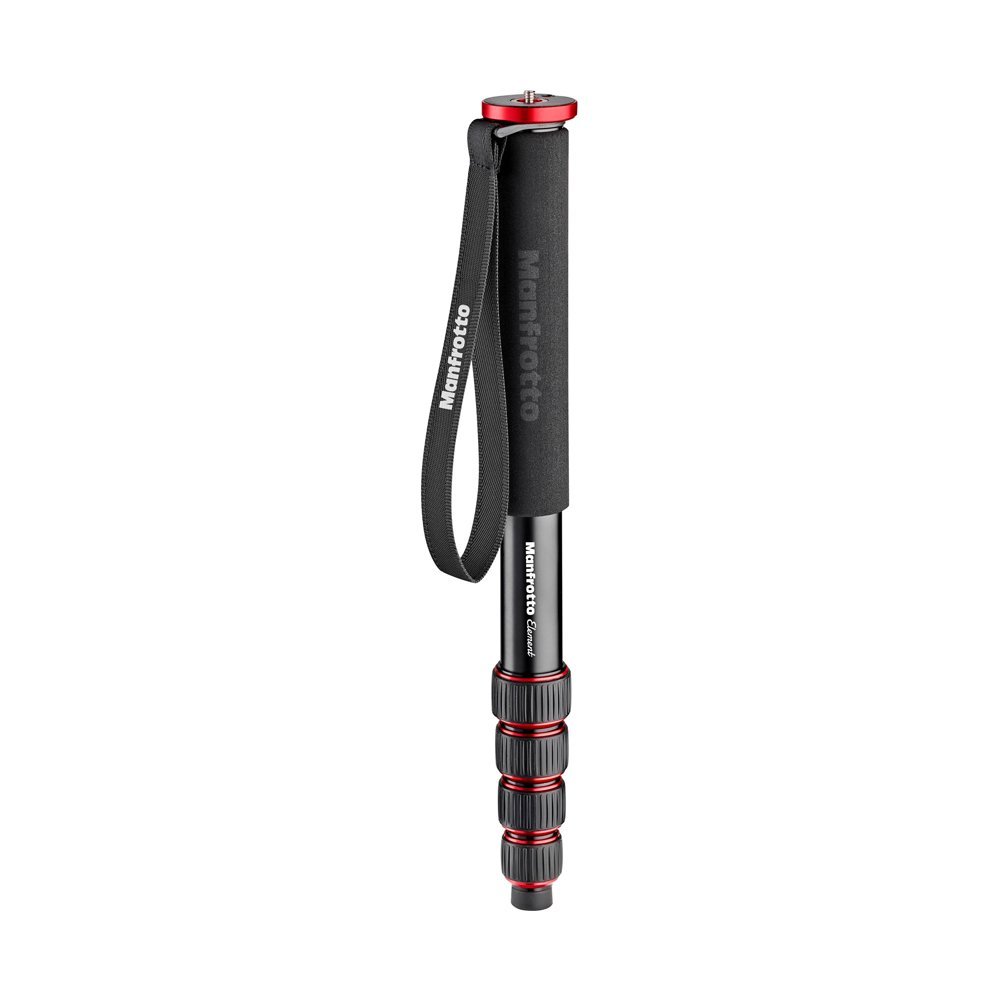 If the beautifully exuberant Italian car manufacturer Ferrari made an affordable stripped down version without all of the bells and whistles, sold it for a fifth of the price of their normal line-up, do you think people would buy one? The answer is yes. Manfrotto has taken all of the things that make their products in the upper echelon of quality, simplified the offering, and put a price tag on it near or below that of the average market price.
Hot Wheels
If there is one thing that Manfrotto is extremely well known for, it's their abundance of high-quality additions for all of their camera monopods and tripods. So, as this stands, the Element Monopod is pretty bare bones, but if you can save by buying the paired down version of the car, then you can definitely afford all sorts of upgrades as time passes. It's truly a wonderfully smart route to take. Eventually, you can get to the end set-up you desire most with all of the additions on offer from Manfrotto, but with a cheaper price of entry here.
Featherlight
The thing about race cars is … I've milked this car thing too long haven't I? Okay. Well, the thing about sports cars is, they have to be light. The Manfrotto Element Monopod is near the top of its class within the weight category at just over one pound. The Aluminum body provides an extremely sturdy shaft while adding very little to your overall carrying load.
Cost and Value
A premium grade monopod for less than the average price of a monopod? That's how you spell value. Manfrotto is often considered one of the best brands on the market, and for them to attempt to make an introductory monopod with the express purpose of finding an entry-level price is much more than they would ever have to. This is a model built for you. Not for them.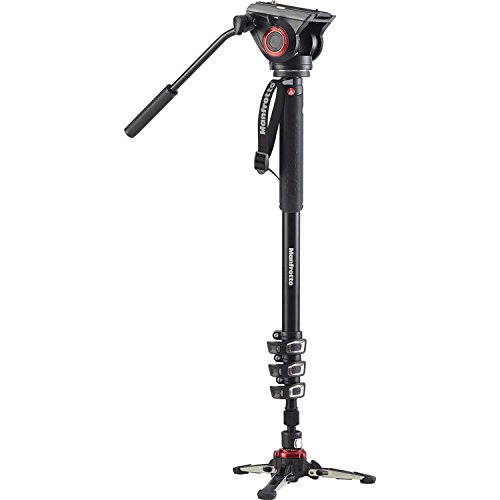 Manfrotto (no, not the little furry-footed ring bearer from the Lord of the Rings story) is a brand with an insanely long-standing history for producing amazingly advanced accessories for many things, photography included. The Ferrari of camera equipment and accessories spares no expense here with the Xpro Aluminum Video Monopod.
Fluidtech
Did you just flinch a little bit? That's okay. Most photographers will wince at the word "fluid" in conjunction with cameras regardless of the reason it is said. And rightfully so. Nothing spells sadness quite like a wet camera body. The Fluidtech here, however, is something you'll love, and soon won't want to live without. The claw-footed base of the Manfrotto Xpro Monopod has a hinge where it connects to the pole, meaning that even when grounded, the monopod can tilt smoothly in all directions, making for some fabulous shots without sacrificing the stability of the ground.
Video Head
Unlike most tripods, monopods, or camera mounts that have a single pin located near the center of a square head, the Manfrotto Xpro Video Monopod is equipped with the Manfrotto 500PLONG Video Camera Plate atop the art. This means that the head is perfect for mounting video cameras, or camcorders that have an uneven distribution of weight. The long rectangular mounting plate will make fixing those longer recording devices on top.
Cost and Value
Remember that time, only a few seconds ago (assuming you're reading this in sequential order) when it was mentioned that Manfrotto is historically a luxury accessory manufacturer? Yeah, well the price tag reflects the quality of materials, the design, and the pedigree. A fairly hefty price take will net you one of, if not the most, premium monopods on the entire planet.

10

. The Dolica WT 67" 1003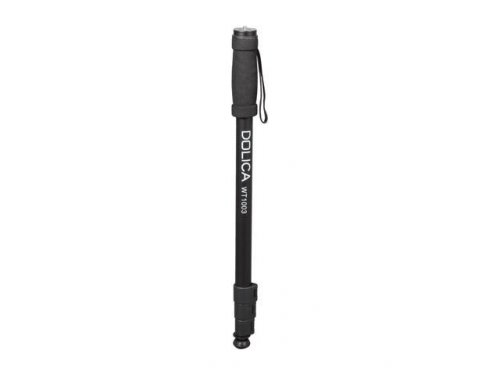 For a single leg, the Dolica's 67" model 1003 is a budget conscious, professional grade, lightweight monopod that can be easily be used outdoors or in. It's a perfect addition to any photographer's gear bag. Designed for special events, sports, or high angle shots, it can hold 6.7 pounds of 35mm camera, smaller cameras, or a video camera. It helps you capture that one shot that everyone loves.
The Dolica 67" 1003 is a great monopod for any photographer looking for a quick and easy support system. It will help you take better photos than before. Its light-weight and easy extend legs with non-slip rubber feet and adjustable foot spike makes it a breeze to work with. A handy addition is the wrist strap so you can secure the monopod, and the comfortable NBR handle for ease of carrying. Some people have called this the best monopod for any photographer.

Subscribe to our Newsletter