Best Handgun & Pistol Cases
last updated
May 16, 2019
During a long road trip you might not want to have your gun strapped to you the whole time, or perhaps you just can't carry it on you because of restrictions or other specific circumstances. Additionally, you may simply need to carry more than one gun or carry them in a much safer manner than a holster. Under these circumstances (and many more), handgun and pistol cases are by far the most adequate way to transport your gun. These cases provide the most protection and safety for both the gun, the user, and the environment in general, such as the people around you. It's also the preferred (and recommended) method to carry a handgun if you won't require drawing it in the way. Check out our list and find your new case today!
In a Hurry? The test winner after 15 hrs of research

Pelican 1170
Why is it better?
Lightweight for what it offers
Lifetime replacement guarantee
Trusted and used by the U.S. military
Absolute protection from the elements
Meets all TSA regulations
In a
Hurry? Editors choice:

Test Winner: Pelican 1170

18
Researched Sources
12500
Reviews Considered
15
Hours Researching
17
Products Evaluated
Durability
Protection
Capacity
Portability
Ease of Use
By Default
In Depth Review Top 10
Pelican 1170
MTM 807
Plano 1404
MTM Pocket Case
Plano 108031
Case Club 4
Case Club 15
Seahorse SE 630
MTM Dual
NcStar Discreet
Table of contents
Criteria Used for Evaluation
Other Factors to Consider
Frequently Asked Questions
Sources
10 Best Handgun & Pistol Cases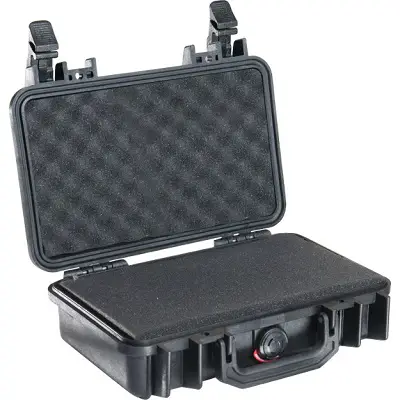 Lightweight for what it offers
Lifetime replacement guarantee
Trusted and used by the U.S. military
Absolute protection from the elements
Meets all TSA regulations
If the foam is pre-cut to the size of your gun you may lack space for multiple magazines
Pelican is one of the most reliable brands when it comes to protecting your goods in a case, especially handguns and other firearms. Their technology focuses on lightweight protection, preventing a large list of accidents that would normally ruin your gun as well as any other contents in the case. The 1970 Case particularly is a trusted brand by the military from all around the globe, including the US.
Read more
Hard as stone
Pelican's 1970 case looks pretty much unbreakable at first sight, and that's because it is. This case will endure big amounts of impact force and pressure and the contents will remain in the exact same condition they were when introduced. Its ultra-high impact polycarbonate frame makes it possibly the toughest case out there.
Waterproof seal
Water should not be a threat to your handgun, and it no longer is thanks to the waterproof protection offered by Pelican. The waterproofing rates IP-67, which is decent depth and durability under water. The neoprene O-ring technology fastens and seals the case completely, and an internal valve regulates equalization after changes in atmospheric pressure.
Cost and Value
The Pelican 1970 is so tough that it will even work as a survival case, as it's fit for the most extreme circumstances. The case is protected against dust and debris, assuring absolutely nothing penetrates or filters into the case.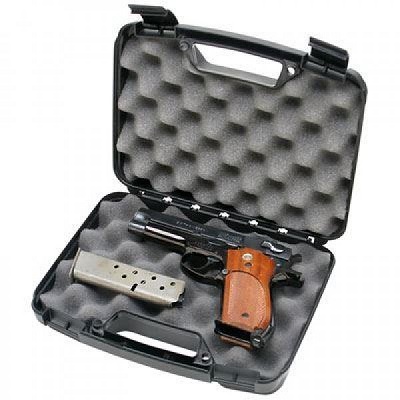 Compact and light
Meets TSA transport regulations
Smooth and comfy handle
Texturized finish and rugger material
Supports scoped revolvers
Lacks physical protection (budget case)
Great for keeping kids away, but won't stop a burglar
If the barrel of your revolver lengths 6" or less, MTM's revolver case is a simple solution. The inner structure is spacious and it allows users to fit a trigger lock in the case. The case is pad lockable and meets all the transportation regulations. This case is ideal for automatics and revolvers with a scope, with the only condition of the barrel measuring 6 inches or less.
Read more
Polypropylene build
MTM applies a polypropylene compound that is highly functional for its cost, the accessibility of this material makes the case much easier to afford. This material prevents simple impact damage from affecting the stored goods, and it assures a stable ride. The finish consists of an attractive texturized layer and the materials of the case are rugged.
Snap latch and EZ handle
The case is secured by the traditional snap latch system that clamps tightly and is not affected by impact, meaning your case won't open even when dropped. A large and comfortable handle makes carrying much easier thanks to the intuitive weight distribution and the finger rests.
Cost and Value
The MTM Revolver case is made of a material that is very light. Despite being a roomier design that fits a 6" revolver, the space is optimized as much as possible allowing users to carry more within less space, keeping a minimalist and easy to carry build.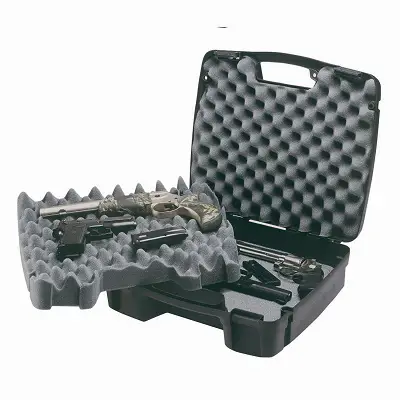 Light and protective
Great optimization of internal space
Compact and ideal for traveling
Meets TSA regulations
The material doesn't offer a superior level of protection, but rather an intermediate one
The frame is slightly flexible and may be broken into
Running out of space isn't a possible problem when you own Plano's extra-large 1404 Protector Four handgun case. As suggested by the name, this case supports up to four different handguns including revolvers. The Plano 1404 counts with three different layers for storage without any specific limitations, also supporting scoped guns and other attachments. Plano's lifetime guarantee assures a durable product and free replacements in case of malfunctioning or easy deterioration.
Read more
Heavy-duty locking
The latches and hinges tighten the case in a way that prevents the contents from scrambling around, compressing them firmly and securely. The security clamps prevent the case from opening under almost any circumstances including impact and shock. The case is more likely to break under pressure than the clamps failing to lock.
High-density internal foam
The foam layers consist of a compound with increased density, meaning there's more foam within the same space. At the same time, the foam is compressible and will adapt to the contents of the case – not necessarily limiting the case to just gun carriage. The foam inserts are backed up by additional security straps.
Cost and Value
Although slightly heavier than its individual gun counterpart, the Plano 1404 Four has a considerably light approach for its capacity and dimensions. The comfortable handle is designed to comfort the fingers and increase the carrying ease. It also counts with a natural weight distribution that prevents the case from inclining to a particular side.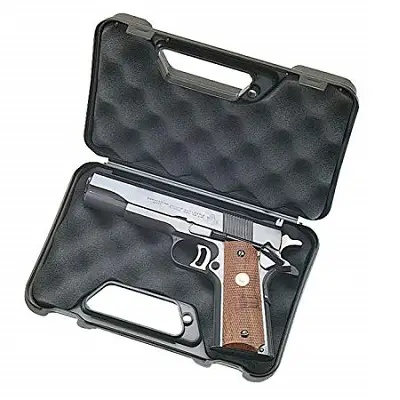 Utterly compact and convenient
Secure locking tabs
Scratch resistant and durable in general
Fits absolutely all pocket handguns
Does not support scoped handguns or any attachments
Fits nothing but a small, unmodified model
MTM are experts when it comes to creating compact and protective products. Their pocket handgun case is no exception; being the most compact case on this list. This pocket case fits a natural Colt .45 Caliber 1911-A1 (meaning it supports no attachments or modifications). You'll never need a big case for a small gun, which is why MTM's pocket case is the ideal option for convenient and compact gun carriage.
Read more
Omni-fitting engineering
This pocket case will support absolutely every handgun that has a barrel length of 3 inches or less. The optimization of space creates an excellent fit for the gun, making it easy to transport in a secure manner. When traveling, the gun may have to go unloaded (and no ammo in the case) due to space.
Padlock tabs
The padlock locking system consists of tight grips that prevent the case from opening or loosening upon usage or impact. This won't stay true to high falls or overly strong impacts due to the size of the case. One thing is for granted; there's no undesired opening during normal carriage.
Cost and Value
Two layers of foam padding are carefully designed to fit each other and compress the handgun much more efficiently. Additionally, the foam contours the content of the case, delivering greater stability for your handgun and magazines.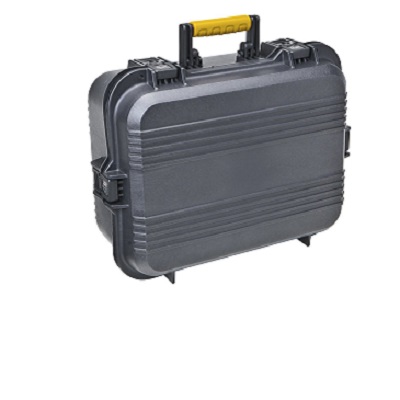 Light and protective
Great optimization of internal space
Compact and ideal for traveling
Meets TSA regulations
The material doesn't offer a superior level of protection, but rather an intermediate one
The frame is slightly flexible and may be broken into
Plano makes some of the most convenient handgun cases out there. The hard plastic case barely takes up any space, has a low weight and meets all traveling regulations demanded by the TSA and security agencies in general. The inner foam cover makes the Plano Molding adapt to a variety of weapons and accessories, also allowing you to store them in the position that is the most convenient for you.
Read more
Compression foam
The internal foam will mold itself around the handgun and any other items stored in the case. The upper layer compresses the elements against the bottom layer and acquires the shape of anything in between; this not only optimizes the space but also snugs the handgun and its components.
Lightweight protection
The hard plastic case is considerably resistant taking into consideration its thinness and low weight. While the hard plastic isn't the most protective compound in the market, it sure offers a very efficient weight-to-protection ratio, meaning that it offers decent protection at little weight. Furthermore, the material is very accessible.
Cost and Value
Thanks to the compression foam and the thin hard plastic, Plano's handgun case allows you to make use of pretty much every square inch within the case. The foam is not pre-molded or cut, allowing you to store the handgun and magazines in the position you find the most convenient.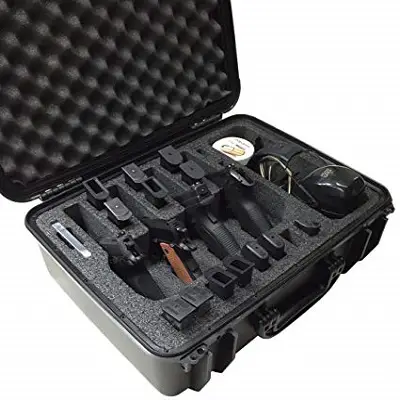 Approved for airline transportation and checked luggage
Very spacious
Lockable pads and absolute protection (rust, dust, water, humidity)
Silica hydro absorbent gel
Lifetime guarantee for unlimited replacements
Costly and heavy (but nothing you wouldn't expect from a case this big)
Handgun cases rarely get any more complete than Case Club products. The capacity of this case not only allows 4 individual handguns but also a variety of accessories and attachments for each gun separately. The foam mold fits regular handguns of almost any size, with the exception of extended barrels, overly-large guns, and most revolvers. The max length is 8 5/8", the case is not intended for revolvers even if they fit within the handgun gaps.
Read more
Enhanced mag capacity
The quadruple Case Club design fits up to 3 magazines per individual gun, amounting to a total of 12 magazines within the case. Depending on the size of the handguns, they may be stored diagonally barrel first instead of horizontally in order to make better use of the space (you may be able to fit an additional magazine per gun slot this way).
Silica gel
A patented gel technology is hydro absorbent and will prevent the case from rusting. This allows you to take your case with you anywhere without experiencing deterioration of the case (both internally and externally) caused by the elements.
Cost and Value
When you're carrying multiple handguns, you want to make sure they count with as much protection as possible – which is exactly what happens inside the Case Club 4. The case is absolutely waterproof, preventing any form of leakage while sealed. It's also dustproof, crushproof and shockproof.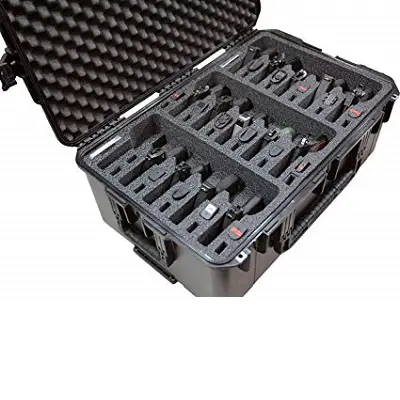 Extremely resistant and durable
Unique space optimization
Military grade polyethylene
Airline approved for checked luggage
Not meant for revolvers or snub nose models
Troublesome to maneuver and carry around
Case Club once again displays who runs the massive weapon storage market with its 15-handgun capacity case. As usual, Case Club's product will endure the harshest circumstances you could possibly put them up to when carrying your handguns. The extra-large spacing supports gun up to 8 5/8", just like its 4 gun counterpart – except it counts with 15 slots. As if that wasn't enough, the case also includes enough spacing for 32 magazines.
Read more
Signature maximum protection
When we're talking about fifteen different handguns that you're carrying, the last thing you want to lack is protection. Case Club knows this, and they've applied every protective technology under their patent (and not under their patent too) to secure your handguns. This includes rustproof, waterproof, dustproof, and crushproof protection.
Military grade polyethylene
You would normally think that a compound like polyethylene (the most common plastic) wouldn't find an appliance in such a protective case. In reality, the foam insert is closed cell polyethylene that is not only convenient but also easily cleanable.
Cost and Value
The foam is molded in a manner that fits all guns and magazines in the most optimal manner. Furthermore, the spaces for the guns may be used for carrying further accessories attachments, although they won't be as secure as the ones in their special pocket.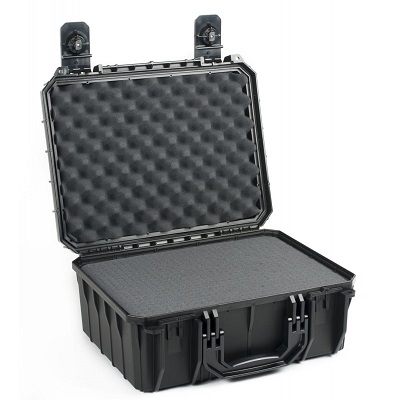 Spacious inner with additional pocket
Protected against the elements (water, rust, dust, air)
Supports 9.25" handguns and 4" revolver barrels (or shorter guns)
Lifetime replacement guarantee
Hard to carry and operate in general
Will not work on 9mm subcompacts
Seahorse design their cases to last a whole lifetime. The durable materials are not your average combination of plastics and foams, but rather a combination of a thermoplastic interior molded cover and rubber cushioned trim. The Quick Draw series has a capacity of 4 handguns with additional room for 16 extra magazines, including a removable hold that represents 6 of the 16 magazine slots.
Read more
Ideal capacity
The design not only makes good use of the space in general, allowing you to not only carry multiple handguns and mags but also to supports handguns longer than usual. The maximum length is 9.25" which is larger than the average case capacity, and also supports revolvers with a 4" barrel length or less.
Attachment and accessory support
An additional side pocket (within the case, not external) allows you to carry any accessory or attachment that wouldn't naturally fit in the handgun slots. Space supports anything from scope to suppressors, lasers, or even accessories unrelated to the handguns.
Cost and Value
This case protects your guns and accessories from pretty much any obstacle you could encounter when carrying the case. The protective technologies keep your handguns safe from water, air, dust, rust, and impact. Technologies include a pressure equalization valve, O-ring seal, and top-notch latches.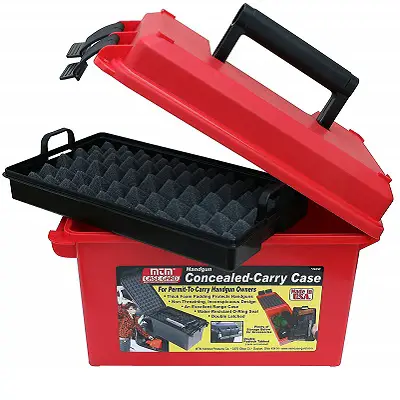 Pretty light
No predetermined position – place items as you see fit
Great space optimization
Good performance for its value
The polymer of the case is not too resistant in comparison to top-notch materials
Once you get to know revolvers, it's hard to get your hands away from buying a second one. We know this, and we included the MTM Dual Revolver Case for those people. Don't get us wrong – MTM's case is ideal to accompany your revolver with another handgun perfectly, with a capacity for two 8.5" revolvers or below. Furthermore, the MTM Dual Revolver Case counts with enough space to support scoped handguns.
Read more
Reliable latches
The locking system consists of snapping latches that are applied strategically in areas where the snapping pressure is more efficient. This not only guarantees a strong sealing, but it also prevents the case from busting open whenever it receives a certain degree of impact. The latches can be tightened securely and will open with much less effort.
Signature polypropylene construction
MTM's Dual Revolver Case counts with their signature rugged thermoplastic polymer, polypropylene. Despite its thin profile, the thermoplastic compound is possibly the most resistant of its category offering a considerable amount of protection for what it weights. As usual, the surface is finished with a textured look.
Cost and Value
The inner padding consists of a compressible foam without any predetermined shape. The surface of both the lower and upper layer allows you to fit the contents in any position you like, and the compressing foam will create a mold for the items within providing a secure hold.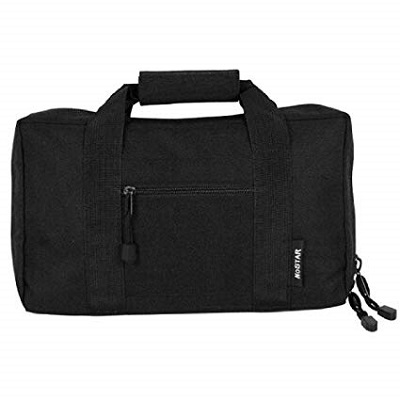 Considerably light
Ideal for concealed carry
Large magazine capacity
Anti-debris zippers
Lacks protection in comparison to the rest of the products
The handguns and accessories may not be secured tightly depending on their size
Carrying a gun hardly gets any more discreet than NcStar's VISM handgun case. The design of the case is very casual and goes through as a normal bag (don't forget to indicate it's a handgun case at any transport or traveling check). The VISM allows you to conceal two full-size handguns in individual compartments along with a spacious inner for magazines and accessories.
Read more
Elastic loops
The inner space of the case includes six elastic loops that work as expandable straps that will fit one double stack magazine or one single stack magazine individually. This amounts a capacity for 12 single stack magazines or 6 double mags. Additionally, the elasticity of the loops makes them suitable for handgun attachments too.
Reinforced wraps
he wrap-around handles are designed to facilitate carrying the handgun case in a stable manner. The lack of an aluminum structure affects the balance of the case, but the accommodated handles are specifically designed to distribute the weight of the pockets equally.
Cost and Value
A dual zipping system prevents dust and debris from breaching into the case and potentially affecting the gun and/or accessories. The double zippers make the case more durable in general and it also secures the contents further.
Criteria Used for Evaluation


Durability
The weight is a critical factor in anything you could possibly carry. You'll always want to go as light as possible when looking for a handgun case. That is, of course, within a certain range of quality where the lack of weight won't affect the other aspects of the product such as durability.
However, the weight is not only related to the carrying ease of a handgun case. The heavier the case, the greater the force it will generate upon impact. If you've ever owned a handgun case, you'll know that there's no escape when it comes to hitting your case – you can try as hard as you can, but it will happen eventually. If you drop it, for example, and the overly-heavy case will generate a much stronger impact than a lightweight case. This not only would affect the case itself, but it may also damage the contents of it.
Decent weight for a handgun case is around 1 kilogram (2.2 pounds). Keep in mind that the model of your gun, as well as other accessories you may want to include in the case, will have an impact on its weight. We're giving you a generic reference overall, having some more weight in your case doesn't necessarily mean it's worse.
For instance, if you require carrying all of your gun accessories or simply a second handgun you'll require more space. A bigger case translates into a heavier case indeed, but at the same time, it's allowing you to do something you wouldn't be able to do with a lighter case (carrying accessories or a second gun). In this scenario, the bigger case would be heavier, but also more convenient for the situation.


Protection
Handgun cases have two main purposes; the first one is transporting your gun efficiently, and the second one is protecting your handgun. Handgun cases are meant to keep your gun still and secured even during impact or shock. At the same time, it's important to meet safety measures on the user's end, such as unloading the gun before placing it in the case.
Securing the gun not only protects it, but it also makes it safer for everyone around the environment. Additionally, as the owner and responsible person for the gun, it protects you from potential troubles that may be caused by the unsecured handgun. When it comes to firearms, too much protection isn't a thing; you would normally want to get as much of it as you possibly can.
At the same time, you want to make sure that protection doesn't interfere with the functionality of the case. The best handgun cases are able to protect your gun while having an acceptable way and without obstructing the accessibility of the gun when it's needed. However, the elements that threaten your case are not only external; you also want to worry about the inner of your case.


Capacity
The internal space is one of the main factors to evaluate when looking for the best handgun cases. However, the internal capacity of a handgun case isn't just evaluated based on the amount of space it contains. Multiple factors together determine the convenience and usefulness of the space within the case.
You want the space of your handgun case to be optimized as possible, meaning you want to get the most out of as little space as possible. A certain combination of elements determines how much of the internal space is actually useful and what proportion of that space has no practical use.
The first element that has an impact on the usage of the space is the foam or cushioning material. In cases where the cushioning foam is previously cut to a fixed position, the design and alignment of each space opened in the foam are crucial. The way in which the foam is cut can increase the number of guns and magazines you can carry, just as much as it can reduce it.
Traditional cases would only be able to transport a gun in a completely horizontal position, meaning the gun lies flat on the cushioning material. However, cases designed to store multiple handguns normally apply a different approach. In most of these cases, the handguns are meant to be stored vertically or diagonally into the case, which is why this kind of cases have a deeper spacing.


Portability
Handgun cases are designed to protect and store your weapon, but the main purpose is to transport them effectively. Thus, we evaluated with detail the portability, carrying ease and compactness of each case before determining the product ranking. Obviously, products that are more compact and easier to carry represent an advantage to users who're looking to carry their gun in a safe manner.
Normally, a handgun case isn't something you hold in your hand while walking through town. Yet, this doesn't mean that you'll never have to carry it around; it will happen eventually, and when it does, you want a case that is as light as functionally possible. Lighter cases are not only easier to handle, but they also represent a smaller expense when traveling or transporting your gun through weight-based services.
We kept in mind that portability and compactness alone don't determine the quality of a handgun case; while it has a direct impact on its convenience, it ultimately depends on what the user is trying to achieve. In scenarios where portability and carrying ease are paramount, a pocket handgun case is unquestionably the best way to go. But, as you can probably guess some users may want to take more than just a pocket handgun with them.


Ease of Use
If you're a gun owner, you know that controlling the access to your gun is paramount when carrying it anywhere. Storing a gun in a handgun case doesn't necessarily mean that the user doesn't want to (or won't need to) draw it anytime soon. When traveling, people normally won't be handling the contents of their handgun case. However, handgun cases are not limited to transporting your gun when traveling.
A large list of handgun case owners uses their cases casually as well, whether it's to take their handgun and equipment to the firing range or competition. The fact that they store it in the case doesn't indicate that they won't want to access it. In general, you'll always want to be able to reach your gun as quickly and efficiently as possible unless certain restrictions or circumstances simply don't allow you to do so.
At the same time, it's important that every handgun case locks the gun away securely. The closing systems should not be too basic nor too complex. A basic closure certainly is the fastest one to operate, but it also is the less protective; your case may open upon impact or when handling it if closed improperly. The more complex the closure gets, the more difficult it is to open the case, but the more unlikely it is to open accidentally.
When looking for the best handgun cases, you want to get your hands on a case that features an intermediate level of closure complexity. One that allows you to comfortably access your gun without too many obstacles while still preventing it from opening unknowingly.
Expert Interviews & Opinions
Most Important Criteria
(According to our experts opinion)
Experts Opinion
Editors Opinion
Users Opinion
By Default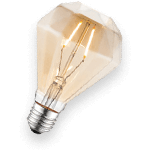 Why Do I Need A Gun Case?
The best handgun cases are the most reliable way to transport a gun, protecting the gun not only from the exterior but also protecting it internally. It's also unquestionably the best way to carry more than two guns at the same time along with all of its accessories. In general, handgun cases will provide you with all the space you'll need when carrying your gun anywhere.
However, a handgun case is not necessarily limited to the carriage; it's also very useful when it comes to storage. If you don't own a safe box, owning a secured handgun case is a great option to prevent other members of your family from accessing your handguns, especially children.
How do I know if my handgun case needs replacement?
Handgun cases may need replacement or fixing before their life has ended, generally due to deformity after a strong impact or misusage. Replacement is necessary once the case fails to seal properly or the smaller pieces, such as the security clamps, stop fitting adequately in their corresponding space or receiver. Rust is also a sign of a necessary replacement, preferably replaced with a rust-proof case.
Other Factors to Consider


Materials
Hard Shell
The more popular choice amongst consumers is the hard shell cases made from plastic or plastic type materials. These are normally more affordable than the metal hard shell cases. While they still give you the protection inside and out.
Soft Shell
Soft cases are usually made from nylon or materials similar to nylon. These types of cases are easily maneuvered because they are the most lightweight case offered at this time. Most soft cases come foam lined on the inside, with either velcro straps or elastic looping systems to secure your firearm. The outside of these cases will normally have wraparound handles for easy transport. Along with one or more pockets for carrying extra ammo or accessories.
Standard Polyurethane Foam
Polyurethane foam is the foam that is typically used when a case says foam included. This type of foam can provide flexibility as well as being dense to provide cushion inside the case. One particular downfall to polyurethane foam, over time this foam can become saturated with oils from your firearm. Polyurethane foam acts like a sponge as it will absorb moisture.
Standard Polyethylene Foam
Polyethylene foam is a closed cell foam that will not absorb moisture. A good example that comes to mind, those pool noodles you see children swimming with. Polyethylene foam is considered more durable than its counterpart polyurethane foam. Polyethylene foam provides cushion under heavy weight materials and can be easily wiped down to maintain cleanliness.


Safety Hazards
The most important aspect of being a gun owner is safety. When purchasing a case it is recommended that you be sure that it can be locked. This is not only for your firearms safety but for the safety of others as well. There are several hard cases on the market that can be purchased with the locking mechanism already on the case. Most soft shell cases with zippers can be padlocked to keep people out. There are also a few soft cases on the market that offer locks already installed.


Versatility
Classes Of Gun Cases
Gun owners sometimes spend a substantial amount of money when purchasing a gun. So protecting it becomes a must for many gun owners. The type of protection needed will depend on several factors. The amount of protection a gun that mainly stays in storage will be considerably less than one that gets transported all over the place. Another factor that comes into play is whether this gun will typically be indoors while shooting, such as at a gun club. Or will your gun see the elements year-round and need more means of protection. Whichever your situation might be, there are several classes of cases each offering their own types of protection.
Military And Law Enforcement
Cases that are used in the military or for law enforcement are designed to provide top-notch protection in even the harshest environments. This means they are normally waterproof and basically impossible to destroy. This class of gun case can be expensive, but if you are one of those gun owners that has made that substantial purchase your going to want to spend the extra for the extra protection.
A little piece of advice, there is a subclass of the military class cases, these are called tactical class cases. Although they offer a huge amount of durability while being more lightweight, they are not meant for wet conditions. They will however to a fine job for those who don't intend to take their gun outdoors.
Hunter Gun Cases
Any hunter knows that they will need a high level of protection for their gun. The constant transporting and exposure to the elements will take its toll on a firearm if left unprotected. This class of case is known to take a good amount of abuse, but are not always waterproof. So if you live in an area that has a lot of rain or snow during your hunting times, you will want to be sure that the case you choose is indeed waterproof.
Sportsman Gun Case
This class of gun case best suits gun owners who shoot more for sport. Such as gun club members, skeet shooting, or those who just enjoy target shooting. Although the sportsmen style cases will protect your gun on the inside, these are typically made more for a show, as they are not as durable as that of the hunter or military class cases.
Personal Gun Cases
Personal gun cases can come with both a hard or soft shell. These cases are meant for the gun owner who rarely transports their firearm. These cases work well for storing your gun in a safe, closet or under the bed.
Frequently Asked Questions
q:

How much do handgun cases weigh?

a:

That depends on a variety of factors, including the size of the case, the materials it's made of, the number of guns it's designed for as well as the respective magazines. But, a generic single-gun case should weigh no more than 5 pounds for weight optimization and comfortability purposes. A well-branded handgun case with an efficient design normally weighs around 2-3 pounds.
q:

Will these products meet the TSA regulations?

a:

Yes. These cases should pose no obstacles to TSA verification given that you have the adequate documentation and follow the procedures correctly. Normally, the cases themselves violate no terms, regulations or safety measures, but rather the contents. We recommend you have multiple copies of the required documentation at hand when traveling. If the product is advertised as TSA-approved, the manufacturer may have printable certificates on their website.
q:

If I own two or more handguns, is it better to have individual cases or a joint one?

a:

This will be determined by the likeness of the two models you own. If the guns are identical or have similar calibers and dimensions, a joint case would be our recommended option to carry both guns (generically speaking, assuming there's no specific reason to carry two individual cases). However, if one of the guns isn't supported by a joint case, acquiring separate cases may be your only choice for simultaneous transportation.
q:

Where to buy handgun cases?

a:

If you already know which specific case you want, and where to find it, both retail stores and Amazon are suitable options. If you haven't decided yet, then Amazon will provide you with a much wider variety of products than a retail store, also with a variety of price ranges. Lastly, e-shopping usually leads to lower costs and more consistent discounts as you have access to much more sellers who all want to get to you.
q:

How long do handgun cases normally last?

a:

Depending on the materials of the handgun as well as its degree of protection, a handgun case can endure a pair of years just like it can endure a whole lifetime. Manufacturers of top-notch cases offer a lifetime replacement guarantee for their products, meaning that you will get a free replacement of their product at any point in your life when you may need it. That should give you an idea of the durability of those products.
q:

Which handgun cases are the most protective?

a:

Military-grade cases are unquestionably the most efficient in terms of absolute protection. Pelican engineers some of the best protective technology for firearm cases in general, with a unique extent of shielding. Their products (and other military-grade manufacturers) offer protection from rust damage, sand, debris, dust, water, air pressure, crushing, cold, heat, chemical corrosion, impact, and more.
q:

How much do handgun cases cost?

a:

Handgun cases are very varied when it comes to the level of protection, the storage capacity, and the materials they feature. Thus, the price range goes up and down a lot depending on what you look for. A single-gun case made of a simple thermoplastic compound may go as low as 8 bucks, whereas a top-notch handgun case can go as high as $125. Lastly, multi-gun cases increase gradually according to their capacity.