Best Handgun & Pistol Cases
In a Hurry? Editors choice:
Test Winner: Pelican 1170

When you have to go, you have to go, and if it's time to travel but you want to bring your handgun than you're going to have to get a really nice gun case that will let you
safely check your gun
and then make sure it gets to where you're going safely as well. There are lots of these kinds of cases out on the market so as we set out to find the best we looked for a few things. We looked for accessories that will allow you to carry not only your gun but the accessories that you need to make sure it stays in good order. We're also looking for carved or shaped foam cases that will make sure you're gun sits safely. So here are some of our favorites all in one place. We think you'll find something you like.
Standout Picks
Criteria Used for Evaluation
Durability
The weight is a critical factor in anything you could possibly carry. You'll always want to go as light as possible when looking for a handgun case. That is, of course, within a certain range of quality where the lack of weight won't affect the other aspects of the product such as durability.
However, the weight is not only related to the carrying ease of a handgun case. The heavier the case, the greater the force it will generate upon impact. If you've ever owned a handgun case, you'll know that there's no escape when it comes to hitting your case – you can try as hard as you can, but it will happen eventually. If you drop it, for example, and the overly-heavy case will generate a much stronger impact than a lightweight case. This not only would affect the case itself, but it may also damage the contents of it.
Decent weight for a handgun case is around 1 kilogram (2.2 pounds). Keep in mind that the model of your gun, as well as other accessories you may want to include in the case, will have an impact on its weight. We're giving you a generic reference overall, having some more weight in your case doesn't necessarily mean it's worse.
For instance, if you require carrying all of your gun accessories or simply a second handgun you'll require more space. A bigger case translates into a heavier case indeed, but at the same time, it's allowing you to do something you wouldn't be able to do with a lighter case (carrying accessories or a second gun). In this scenario, the bigger case would be heavier, but also more convenient for the situation.
Protection
Handgun cases have two main purposes; the first one is transporting your gun efficiently, and the second one is protecting your handgun. Handgun cases are meant to keep your gun still and secured even during impact or shock. At the same time, it's important to meet safety measures on the user's end, such as unloading the gun before placing it in the case.
Securing the gun not only protects it, but it also makes it safer for everyone around the environment. Additionally, as the owner and responsible person for the gun, it protects you from potential troubles that may be caused by the unsecured handgun. When it comes to firearms, too much protection isn't a thing; you would normally want to get as much of it as you possibly can.
At the same time, you want to make sure that protection doesn't interfere with the functionality of the case. The best handgun cases are able to protect your gun while having an acceptable way and without obstructing the accessibility of the gun when it's needed. However, the elements that threaten your case are not only external; you also want to worry about the inner of your case.
Capacity
The internal space is one of the main factors to evaluate when looking for the best handgun cases. However, the internal capacity of a handgun case isn't just evaluated based on the amount of space it contains. Multiple factors together determine the convenience and usefulness of the space within the case.
You want the space of your handgun case to be optimized as possible, meaning you want to get the most out of as little space as possible. A certain combination of elements determines how much of the internal space is actually useful and what proportion of that space has no practical use.
The first element that has an impact on the usage of the space is the foam or cushioning material. In cases where the cushioning foam is previously cut to a fixed position, the design and alignment of each space opened in the foam are crucial. The way in which the foam is cut can increase the number of guns and magazines you can carry, just as much as it can reduce it.
Traditional cases would only be able to transport a gun in a completely horizontal position, meaning the gun lies flat on the cushioning material. However, cases designed to store multiple handguns normally apply a different approach. In most of these cases, the handguns are meant to be stored vertically or diagonally into the case, which is why these kinds of cases have a deeper spacing.
Portability
Handgun cases are designed to protect and store your weapon, but the main purpose is to transport them effectively. Thus, we evaluated with detail the portability, carrying ease and compactness of each case before determining the product ranking. Obviously, products that are more compact and easier to carry represent an advantage to users who're looking to carry their guns in a safe manner.
Normally, a handgun case isn't something you hold in your hand while walking through town. Yet, this doesn't mean that you'll never have to carry it around; it will happen eventually, and when it does, you want a case that is as light as functionally possible. Lighter cases are not only easier to handle, but they also represent a smaller expense when traveling or transporting your gun through weight-based services.
We kept in mind that portability and compactness alone don't determine the quality of a handgun case; while it has a direct impact on its convenience, it ultimately depends on what the user is trying to achieve. In scenarios where portability and carrying ease are paramount, a pocket handgun case is unquestionably the best way to go. But, as you can probably guess some users may want to take more than just a pocket handgun with them.
Ease of Use
If you're a gun owner, you know that controlling access to your gun is paramount when carrying it anywhere. Storing a gun in a handgun case doesn't necessarily mean that the user doesn't want to (or won't need to) draw it anytime soon. When traveling, people normally won't be handling the contents of their handgun cases. However, handgun cases are not limited to transporting your gun when traveling.
A large list of handgun case owners uses their cases casually as well, whether it's to take their handgun and equipment to the firing range or competition. The fact that they store it in the case doesn't indicate that they won't want to access it. In general, you'll always want to be able to reach your gun as quickly and efficiently as possible unless certain restrictions or circumstances simply don't allow you to do so.
At the same time, it's important that every handgun case locks the gun away securely. The closing systems should not be too basic nor too complex. A basic closure certainly is the fastest one to operate, but it also is the less protective; your case may open upon impact or when handling it if closed improperly. The more complex the closure gets, the more difficult it is to open the case, but the more unlikely it is to open accidentally.
When looking for the best handgun cases, you want to get your hands on a case that features an intermediate level of closure complexity. One that allows you to comfortably access your gun without too many obstacles while still preventing it from opening unknowingly.
10 Best Handgun & Pistol Cases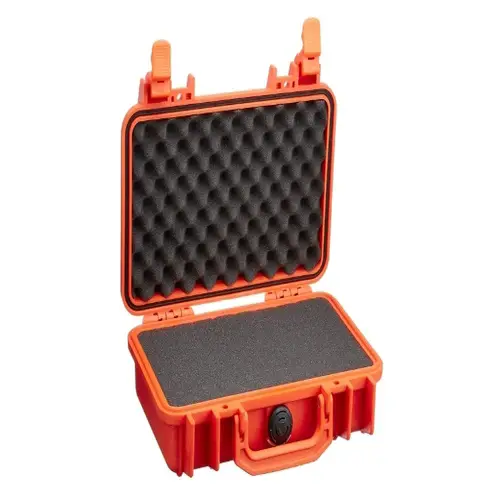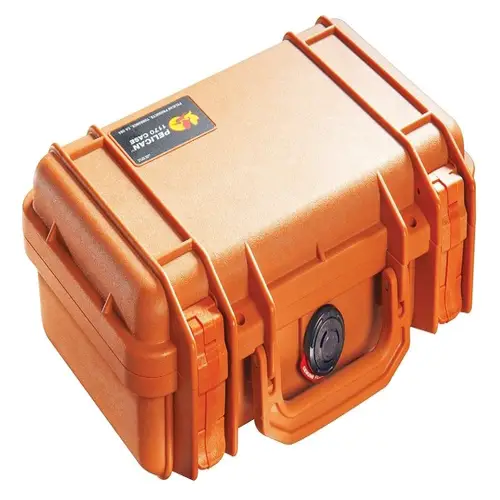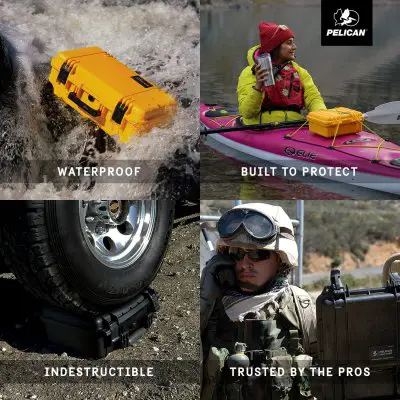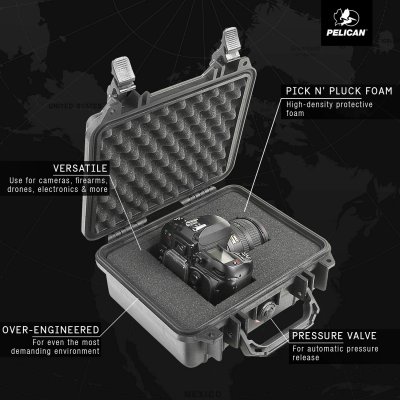 Pelican is one of the most reliable brands when it comes to protecting your goods in a case, especially handguns and other firearms. Their technology focuses on lightweight protection, preventing a large list of accidents that would normally ruin your gun as well as any other contents in the case. The 1970 Case particularly is a trusted brand by the military from all around the globe, including the US.
Hard as stone
Pelican's 1970 case looks pretty much unbreakable at first sight, and that's because it is. This case will endure big amounts of impact force and pressure and the contents will remain in the exact same condition they were when introduced. Its ultra-high impact polycarbonate frame makes it possibly the toughest case out there.
Waterproof seal
Water should not be a threat to your handgun, and it no longer is thanks to the waterproof protection offered by Pelican. The waterproofing rates IP-67, which is decent depth and durability underwater. The neoprene O-ring technology fastens and seals the case completely, and an internal valve regulates equalization after changes in atmospheric pressure.
Cost and Value
The Pelican 1970 is so tough that it will even work as a survival case, as it's fit for the most extreme circumstances. The case is protected against dust and debris, assuring absolutely nothing penetrates or filters into the case.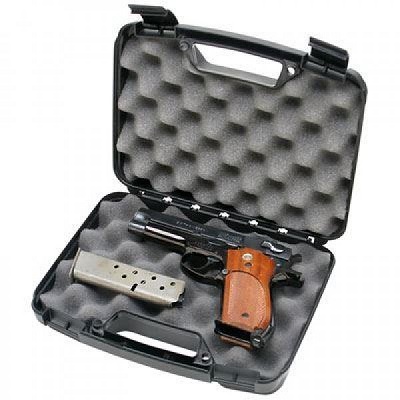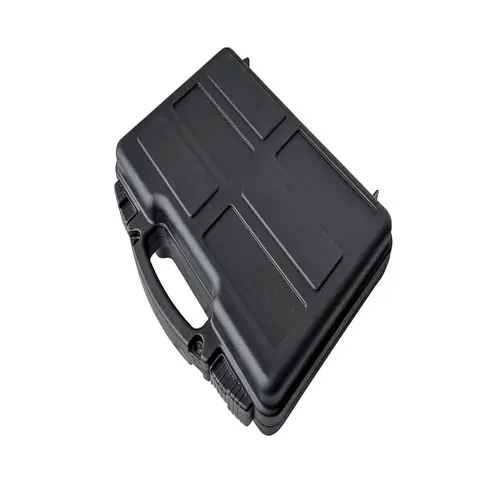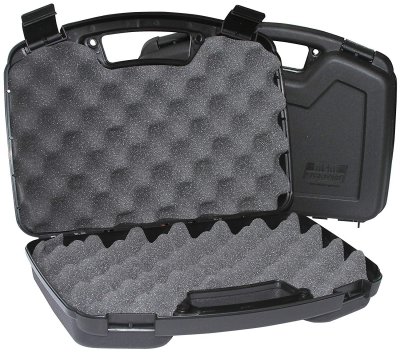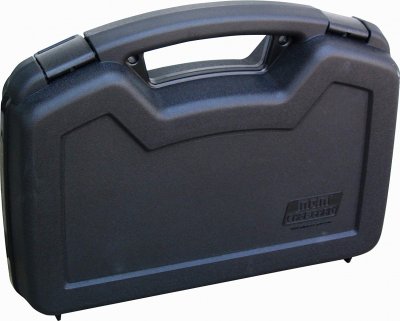 If the barrel of your revolver lengths 6" or less, MTM's revolver case is a simple solution. The inner structure is spacious and it allows users to fit a trigger lock in the case. The case is pad-lockable and meets all the transportation regulations. This case is ideal for automatics and revolvers with a scope, with the only condition of the barrel measuring 6 inches or less.
Polypropylene build
MTM applies a polypropylene compound that is highly functional for its cost, the accessibility of this material makes the case much easier to afford. This material prevents simple impact damage from affecting the stored goods, and it assures a stable ride. The finish consists of an attractive texturized layer and the materials of the case are rugged.
Snap latch and EZ handle
The case is secured by the traditional snap latch system that clamps tightly and is not affected by impact, meaning your case won't open even when dropped. A large and comfortable handle makes carrying much easier thanks to the intuitive weight distribution and the finger rests.
Cost and Value
The MTM Revolver case is made of a material that is very light. Despite being a roomier design that fits a 6" revolver, space is optimized as much as possible allowing users to carry more within less space, keeping a minimalist and easy to carry build.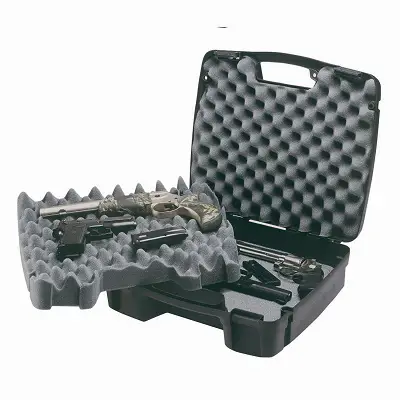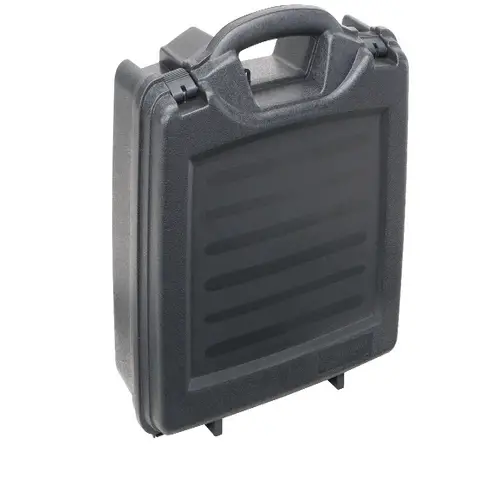 Running out of space isn't a possible problem when you own Plano's extra-large 1404 Protector Four handgun case. As suggested by the name, this case supports up to four different handguns including revolvers. The Plano 1404 counts with three different layers for storage without any specific limitations, also supporting scoped guns and other attachments. Plano's lifetime guarantee assures a durable product and free replacements in case of malfunctioning or easy deterioration.
Heavy-duty locking
The latches and hinges tighten the case in a way that prevents the contents from scrambling around, compressing them firmly and securely. The security clamps prevent the case from opening under almost any circumstances including impact and shock. The case is more likely to break under pressure than the clamps failing to lock.
High-density internal foam
The foam layers consist of a compound with increased density, meaning there's more foam within the same space. At the same time, the foam is compressible and will adapt to the contents of the case – not necessarily limiting the case to just gun carriage. The foam inserts are backed up by additional security straps.
Cost and Value
Although slightly heavier than its individual gun counterpart, the Plano 1404 has a considerably light approach for its capacity and dimensions. The comfortable handle is designed to comfort the fingers and increase the carrying ease. It also counts with a natural weight distribution that prevents the case from inclining to a particular side.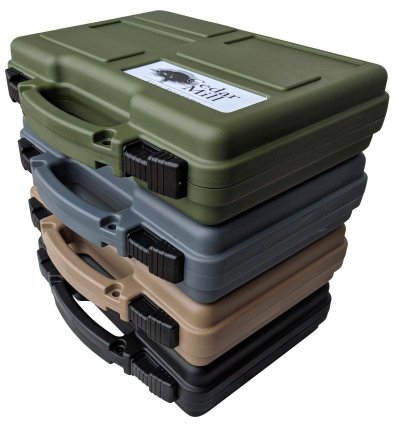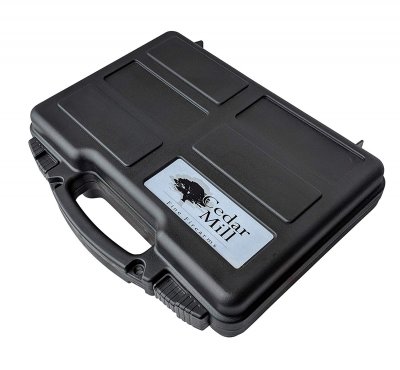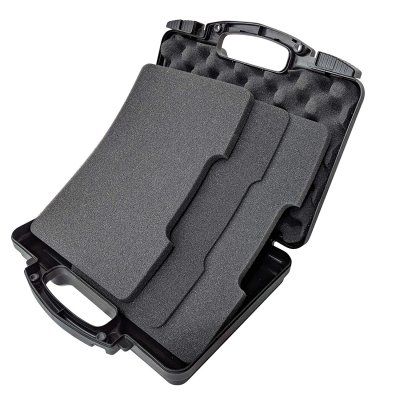 Here are a few of the things that we're looking for in a gun case that the Cedar Mill has in spades. It has two locks and it's completely airline compliant so it's not going to be any problem to check this at the airport. The other thing that we really like is that the case is made of tough non-crack propylene. This is good for you as you can rest comfortably knowing your gun is safe even if it's buried under that family who brought every piece of luggage they own on vacation.
Airline Compliant.
What this means is that the case locks tight and solid and has been rigorously tested to make sure it's okay to travel. To get there it offers two locking points and a case that won't crack and is nearly impossible to get into. So not only can you check this without any hassle but you can relax while you fly knowing that it's strong enough to endure even the harshest flight.
Seals Tight
This is something that a lot of other cases will overlook. But not only does this case keep out prying people but it will also keep out dust and water. This is a big deal because you're going to want to arrive at your destination and not have to instantly clean your gun from any water or dust that may have been floating through the luggage compartment.
Cost and Value
This case comes in at a great price. For little or no money you'll get a case with a form-fitting foam bed. You'll get a case that's airline compliant and comes with two locks and one that will safely keep out the elements.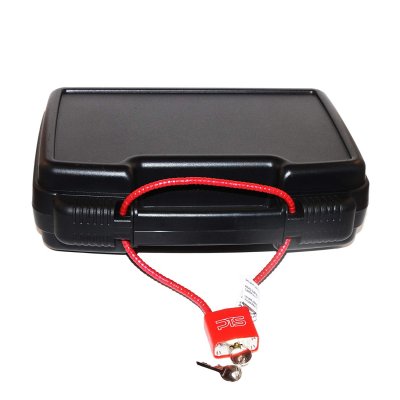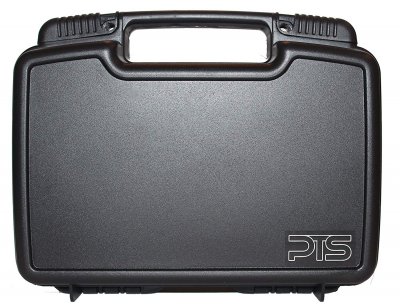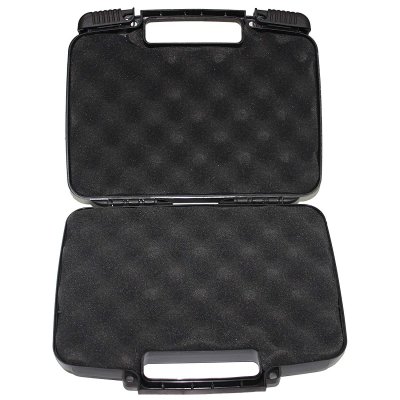 We like this case as well because it's designed not only to keep your gun case but to get it safely on and off a plane. It comes with a hard plastic unbreakable outer shell build to take a padlock so no one will be able to get into this case. It's designed to fit one full-size gun and ammo so it's an easily travelable case.
ASA Compliant
This case licks up tight. It has two lock points and it seals tight against wind and weather. It's also small and so won't take up much room in the plane or in your car for that matter. It also comes with extra foam to make sure that once it gets on the plane it's going to sit tight and not slide around in the case and get damaged.
Cable Lock Holes
This is an interesting add-on that allows you to put a cable lock through the handle and close it with a padlock of your choosing. It just adds a special layer of protection to make sure that nobody but you ever handles your gun.
Cost and Value
Another really well-priced case. This one comes in low and we think it's a great value based on everything you get with it. The extra foam and the double locks the ASA compliance and the waterproof features make this a steal at the price point.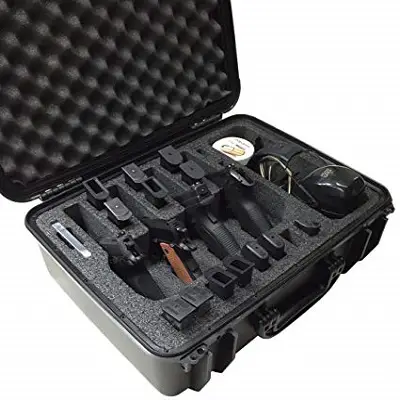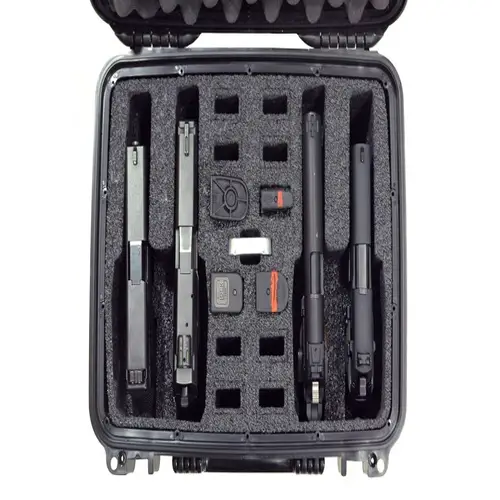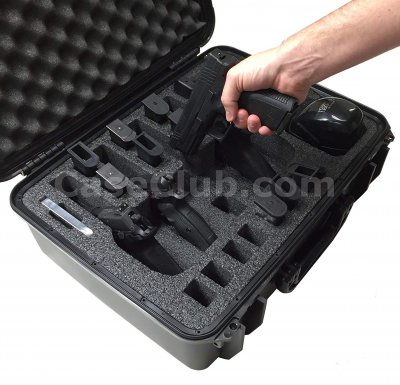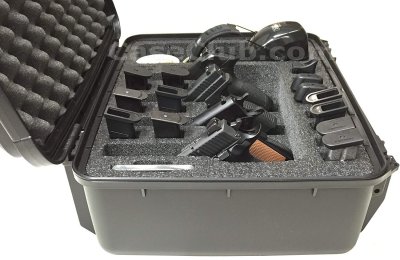 Handgun cases rarely get any more complete than Case Club products. The capacity of this case not only allows 4 individual handguns but also a variety of accessories and attachments for each gun separately. The foam mold fits regular handguns of almost any size, with the exception of extended barrels, overly-large guns, and most revolvers. The max length is 8 5/8", the case is not intended for revolvers even if they fit within the handgun gaps.
Enhanced mag capacity
The quadruple Case Club design fits up to 3 magazines per individual gun, amounting to a total of 12 magazines within the case. Depending on the size of the handguns, they may be stored diagonally barrel first instead of horizontally in order to make better use of the space (you may be able to fit an additional magazine per gun slot this way).
Silica gel
Patented gel technology is hydro absorbent and will prevent the case from rusting. This allows you to take your case with you anywhere without experiencing deterioration of the case (both internally and externally) caused by the elements.
Cost and Value
When you're carrying multiple handguns, you want to make sure they count with as much protection as possible – which is exactly what happens inside the Case Club 4. The case is absolutely waterproof, preventing any form of leakage while sealed. It's also dustproof, crushproof and shockproof.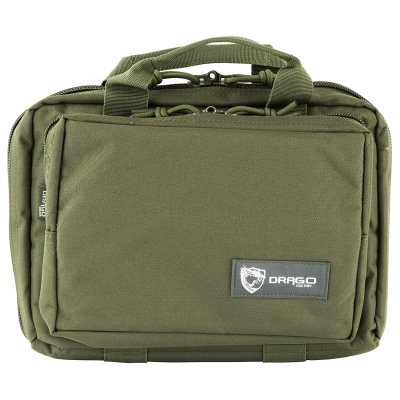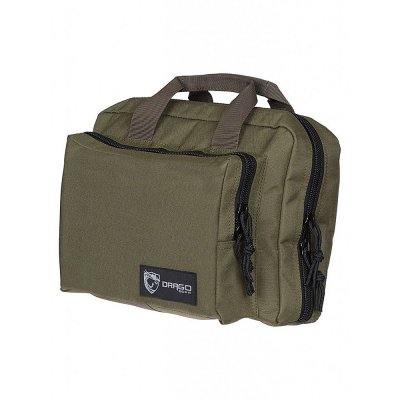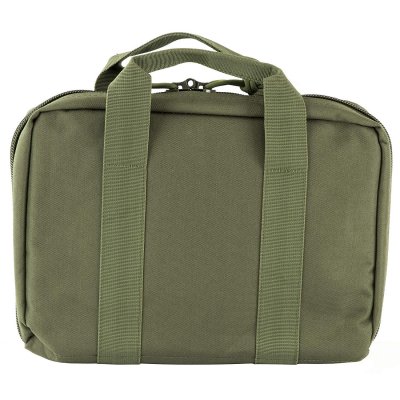 This is a simple case and while we like it because it's an easy way to carry your gun we would not recommend letting it out of your sight or your hands. This case is simply for storing your gun in the house or in the trunk. Don't try to get it on a plane or anywhere it's out of your sight or might get banged around.
Lightweight
This one comes in light but that's because it's just meant to keep your gun case. It's not really meant for travel or to keep your gun protected.
Easy to Carry
The two handle straps make this one easy to carry around easy to stow.
Cost and Value
One of the cheapest on our list and we just like the look of this case. Like we said it's not ASA compliant but it's a great way to store your gun safely.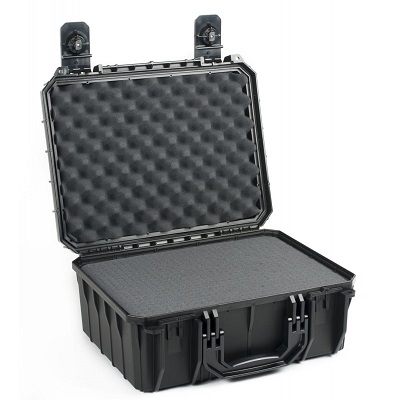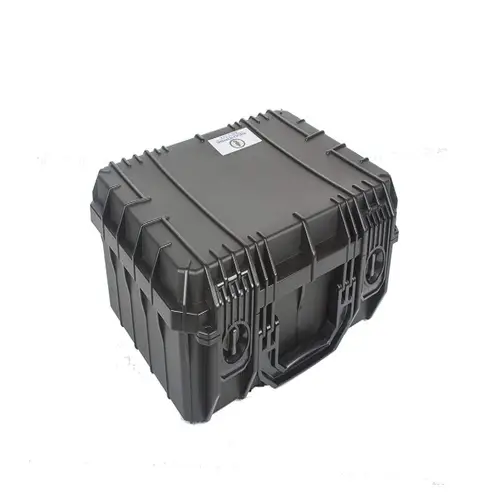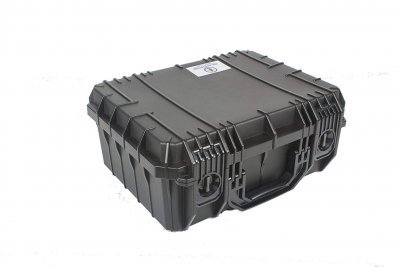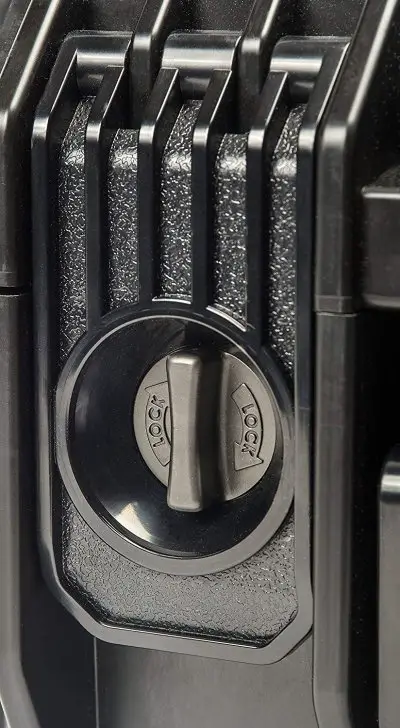 Seahorse design their cases to last a whole lifetime. The durable materials are not your average combination of plastics and foams, but rather a combination of a thermoplastic interior molded cover and rubber cushioned trim. The Quick Draw series has a capacity of 4 handguns with additional room for 16 extra magazines, including a removable hold that represents 6 of the 16 magazine slots.
Ideal capacity
The design not only makes good use of the space in general, allowing you to not only carry multiple handguns and mags but also to supports handguns longer than usual. The maximum length is 9.25" which is larger than the average case capacity, and also supports revolvers with a 4" barrel length or less.
Attachment and accessory support
An additional side pocket (within the case, not external) allows you to carry any accessory or attachment that wouldn't naturally fit in the handgun slots. Space supports anything from scope to suppressors, lasers, or even accessories unrelated to the handguns.
Cost and Value
This case protects your guns and accessories from pretty much any obstacle you could encounter when carrying the case. The protective technologies keep your handguns safe from water, air, dust, rust, and impact. Technologies include a pressure equalization valve, O-ring seal, and top-notch latches.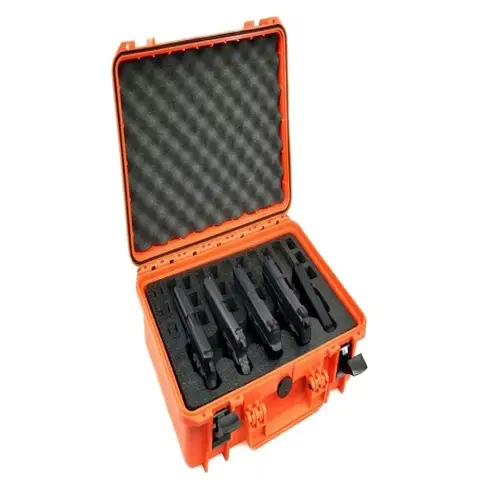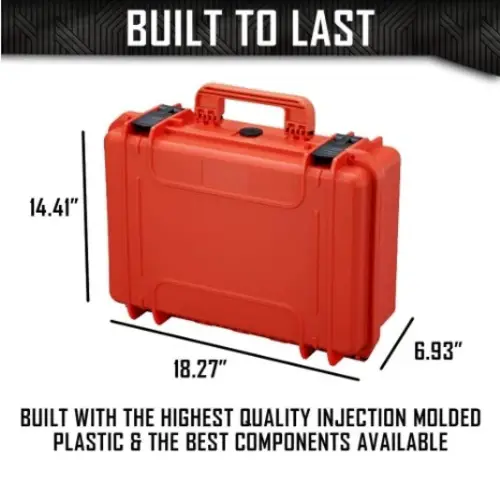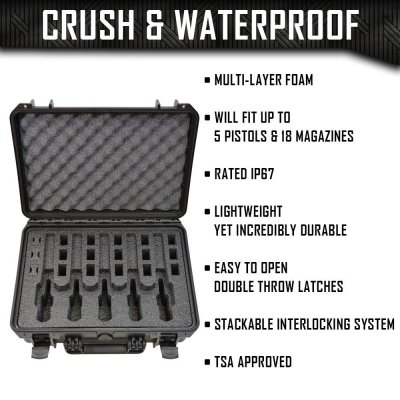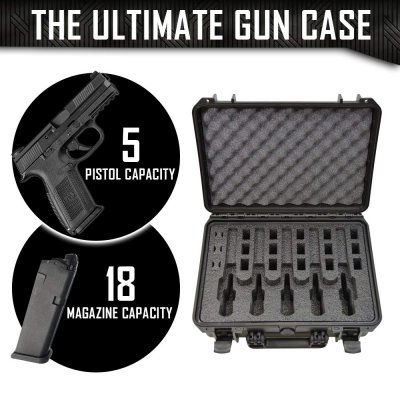 When it comes to finding a pistol case you want to get your hands on something versatile enough to hold your pistol and a magazine or two. The MyCaseBuilder pistol case can not only safely hold your pistols but it can hold your magazines as well. It can hold 5 pistols and 18 magazines comfortably at once. Its all about convenience and this one provides just that.
Customized Foam
In the interior of this case, it is perfectly lined with military-grade foam, that has been strategically crafted to be chemical and oil resistant. Though having this feature is great, the interior foam takes it a step further by having a custom feature to it. What this means is you can easily readjust and reorganize the foam to fit the interior according to your personal needs. Having this feature ensures you can have your pistols and magazine perfectly laid.
Waterproof, Dustproof and Crush resistant
One of the reasons most of us invest in a pistol case is to have a safe place to store our smaller guns while keeping them protected from the elements. This case allows you to do just that and more. It's waterproof, dustproof and crashproof; therefore, when your pistols are inside of your case they are extremely protected from most of the elements. Having this feature will extend their longevity while giving you peace of mind, that your products are fully protected even while flying.
Cost and Value
When it comes to the cost and value of the product, it is a bit on the pricey side. However, when you take into consideration how modern the case is, all the features you are getting and that this case is TSA approved the price doesn't seem as high. Furthermore, the case comes in 3 different colors to choose from.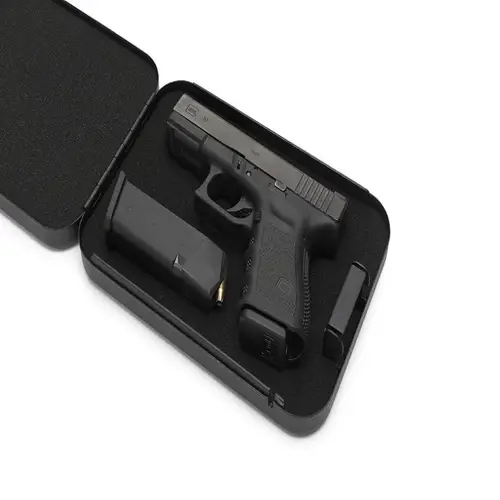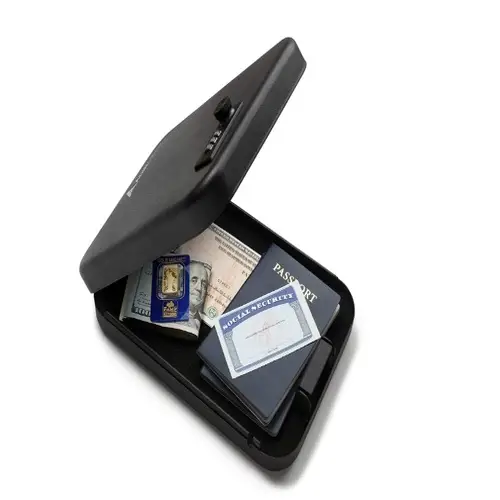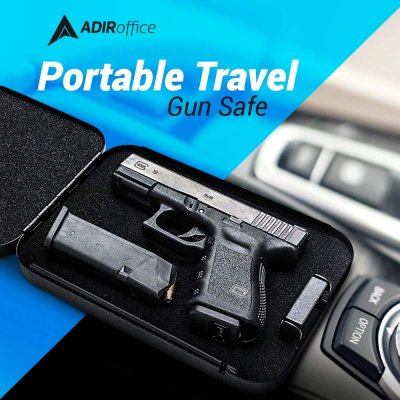 If you are looking for something small that will hold your handgun and keep it safe from prying hands, a smaller portable case is the way to go. Measuring at 9.4 inches in diameter, 6.5 inches in width and 2 inches in height the AdirOffice Portable travel gun case is an excellent option when it comes to having something smart that will produce your gun and any other valuables.
Versatile
Referring to my previous statement this case is quite versatile. This means you can not only store your handgun but if you have any valuables that need to travel with you, or you simply want to keep safe, this is perfect for you. It comes in smaller sizes which means it's easy to travel with and store in tight places.
4-layer Foam
In order to keep your gun secure from any damage, this case comes with 4 layers of foam. Not only will this ensure you have an added dose of safety but having these four layers add an adjustable touch. The adjustable feature comes into play when you want to remove the foam and customize its sizing. With this one, you can do just that. Allowing you to size it according to how big or small you need it to be.
Cost and Value
This is a straight forward gun case, and the price proves just. Being extremely affordable, this case keeps all of your items safely without having to worry about the price tag. Furthermore, its affordability enables you to get more than one item.

Subscribe to our Newsletter