Best Guinea Pig Tunnels Reviewed & Rated for Quality
last updated:
Apr 09, 2020
Did you know that guinea pigs have been a popular "pocket pet" in Western culture since European traders brought them back from South American in the 16th century? Their widespread popularity isn't hard to understand when you consider how loveable and easy they are to handle.
Because of their nature, families find guinea pigs to be great "starter pets." They don't have to be walked like a dog (though you can put them on a harness!), and they don't take up tons of space. But they still need all of the love, attention, and stimulation that a dog or cat require.
All animals need to be stimulated and need to feel safe to thrive and a guinea pig is no different. So the guinea pig tunnels we feature on this Ten Best List provide both entertainment and a cozy place to hide for your furry little rodent friend.
In a Hurry? The test winner after 10 hrs of research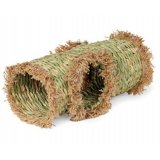 Prevue Hendryx
Why is it better?
Handmade
Made from 100% natural couch grass
Smells sweet
4 openings
Great for play and nesting
In a
Hurry? Editors choice: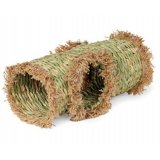 Test Winner: Prevue Hendryx

14
Researched Sources
1500
Reviews Considered
10
Hours Researching
10
Products Evaluated
Materials
Size
Flexibility
Taste
Value
By Default
10 Best Guinea Pig Tunnels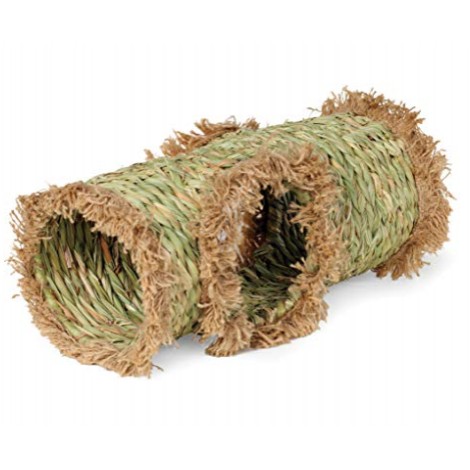 Handmade
Made from 100% natural couch grass
Smells sweet
4 openings
Great for play and nesting
The Prevue Hendryx Grass Tunnel Toy is the first item to make our list because it is handmade from all natural materials and it is designed to stimulate your furry friend's natural rooting and tunneling instincts.
Made from 100% Natural Couch Grass
The Prevue Hendryx Grass Toy is handmade by folks who really care about your furry friend. It is made from 100% natural couch grass with other natural grasses mixed in. Having natural toys in your pet's environment is key to giving them a fulfilling life. It even gives off a sweet smell with is great for stimulating your fuzz ball's senses and for masking some other unpleasant smells that they might make.
The tunnel measures about 13 and a half inches long with a 6-inch circumference. The tunnel has a hole at each end and 2 other entry holes at different points on each side.
Great for Play and Nesting
Not only is the Prevue Hendryx Grass Toy great for play, but it is also wonderful at stimulating your pet's natural desire to burrow and nest. With multiple entry points, your pet can create a nest and have many exits and entries so that they feel safe.
We suggest placing the tunnel with at least one hole against a wall of the cage so it can have a closed-in, safe feeling.
Cost and Value
The Prevue Hendryx Grass Toy rings up at the bottom of our price range and we love its value because it is handmade from natural materials and designed to stimulate your pet and to give them a safe place to nest.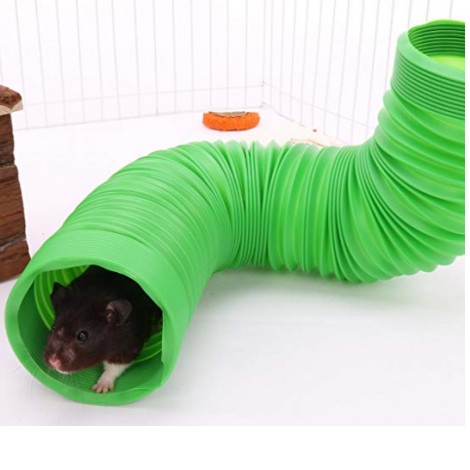 Bendable/stretchable like a bendy straw
Durable plastic
Longer than other tubes
Easy to clean
2 different size and color options
Medium too small for some guineas
The Ware Manufacturing Fun Play Tube is a great way to get your pets wheels turning. You can configure it to be almost any shape and you can shrink and stretch it on command. Plus, it's stain resistant and can stand up to a hungry rodent's teeth.
Built Like a Bendy Straw
The Ware Manufacturing Fun Play Tube is built and designed like a bendy straw. It features accordion folds which allow you to stretch and compress the tube with ease. You can also bend the tube into different shapes to keep your pet interested and engaged.
30 Inches Long
The Ware Manufacturing Fun Play Tube measures 30 inches long when stretched out to its full length. That's way longer than most of the other products on our list. Plus, you can purchase this item in 2 different sizes. If your pet is a larger lady, go with the large size (8 inches in diameter), but if she's a regular sized gal, the medium should be fine (4 inches in diameter).
The plastic that the tube is made of is durable, but more importantly, it's stain resistant. That means you can pull it out of the cage and clean it in a jiffy without it looking soiled. Simply use a gentle soap and warm water. Please do not put in the dishwasher.
The medium size comes in green while the large size comes in purple.
Cost and Value
The Ware Manufacturing Fun Play Tube rings up at the bottom of our price range and we love its value because it can be stretched and twisted into fun shapes and because it's durable and easy to clean.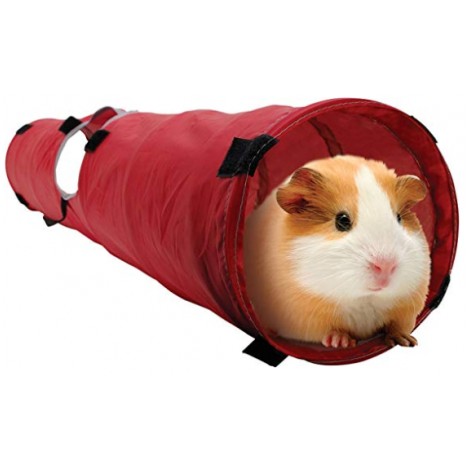 Extra long
Comes in multiple sizes
Easy to clean and store
Attaches to accessories
Encourage exploration and exercise
The Living World Hagen Pet tube is a great product for encouraging your pet's exploration and play. It's long and flexible, as well as easy to clean and store. That makes it as great for playtime as it is to have in your pet's cage around the clock.
Tons of Accessories
The Living World Hagen Pet tube is designed specifically to attach to the tent from Living World and other Living World tubes, but it works just fine on its own. With loops attachments everywhere, it can be suspended from string or chains from any part of the cage, or it can rest on the ground.
It features holes at both ends, as well as an opening in the middle that is designed to attach to another Living World tube. Doing so literally doubles the fun! Using this product encourage exploration, play, and adventure. It's also a nice place to chill out and take a nap or nest.
Pops Out and In
The Living World Hagen Pet tube spirals in on itself so it's easy to store (and it comes with a handy storage case). When you're ready to use it, it springs out into action. It measures 35 and a half inches long and has a 5.9-inch diameter.
This product is easy to wipe clean. The fabric is a polyester blend and the frame is made from sturdy wire. For guinea pigs, the large size is suggested, though we picture the medium size with a 5.9-inch diameter, so you be the judge.
Cost and Value
The Living World Hagen Pet tube rings up in the middle of our price range and we love its value because it is extra long, easy to clean, and easy to store, and because it can accompany other items to make playtime even more fun.
4

. Ware Manufacturing Willow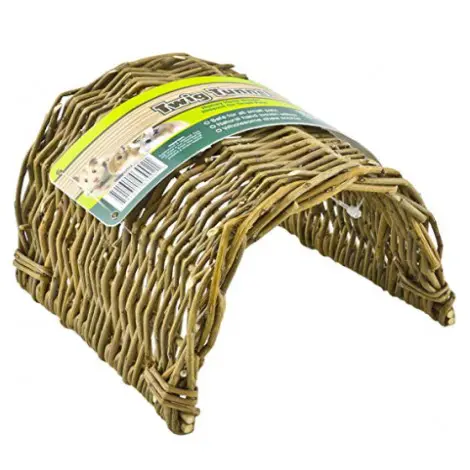 Handmade from natural materials
Safely eaten
Encourages chewing behaviors that are safe
Great for play and nesting
Low cost
The Ware Manufacturing Willow Twig Tunnel is the second Ware Manufacturing product to make our list and we love it because it's made from sources that are renewable and because it is handmade. This is a great, durable addition for your pet's cage, and it looks really nice too.
Hand-Woven Willow
The Ware Manufacturing Twig tube is made by hand. The tube is woven from willow and is super sturdy and resilient. While your pets are bound to munch on anything (especially the natural stuff) that you put in their cages, this will stand up for some time (at least a couple of months).
And to that point, when considering items to place in your pet's cage, it's important to remember that they are going to try to eat them. That's why we value these natural products so much. Yes, you have to replace them, but it's worth it for your pet's safety. Getting a natural product encourages healthy munching habits so your pets don't end up eating things that they shouldn't.
Bridge and Tunnel
No--we're not talking about the folks who commute into the city. This product actually functions as both a bridge and tunnel. It's just big enough for piggies to get exercise and run through, but also cozy enough for them to set up shop and nest in. And if and when they nest, they can still get active use from the bridge's top because it won't roll.
The large size (which we suggest for piggies) is 10 inches long, 7 inches tall, and 8 inches wide. If you think this is too big for your pet, there is a smaller size.
Cost and Value
The Ware Manufacturing Willow Twig Tunnel rings up towards the bottom of our price range and we love its value because it doubles as a tasty treat and a cozy home. It's also handmade from all natural materials and you can't beat that quality.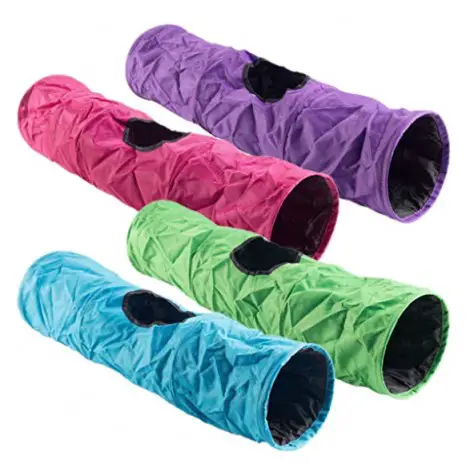 Great size
Machine washable
Multiple openings
Can attach other tubes to it
Makes crinkly noise
Too soft and loose--pets eat it
The Kaytee Crinkle Tunnel is a delightful little toy that will have your fuzzy friend running laps. It makes a pleasing noise and is has multiple entry points. Plus, it's nice and long. And to top it off, you can wash it in the washing machine.
Machine Washable
The Kaytee Crinkle Tunnel is made from a polyester and cotton blend that creates this lovely little crinkle material. While this noise is appealing for play, we will mention that it can be noisy (especially at night when critters really like to rouse about).
What's great is that you can throw this guy in the washing machine when it's dirty. We recommend washing alone and with gentle detergents.
Some reviewers believe that the material is too soft and accessible, encouraging chewing. These reviewers suggested the Living World Pet Tunnel instead.
Long but Cozy
This product is the perfect size. It measures 23 inches long and 6 inches in diameter. It's cozy but your pet will still be able to run through it. It features 3 openings and your pet will love running in and out. Plus, you can attach other tunnels to make the fun last even longer.
Cost and Value
The Kaytee Crinkle Tunnel rings up towards the bottom of our price range and we love its value because it's a great size and because it's machine washable. Plus, you can pair it with additional tubes to get even more fun.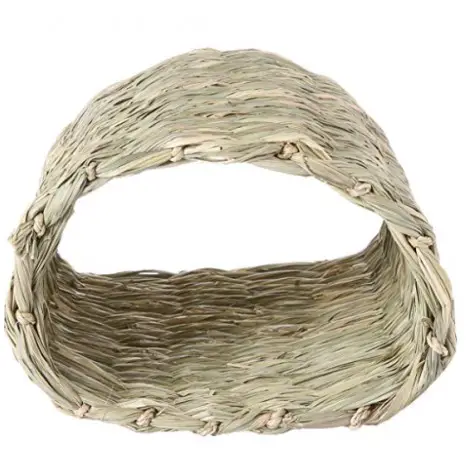 Designed to be eaten
High in fiber
Handmade from all natural materials
Nice size
Functions as food, home, and gym
The Oxbow Timothy Tunnel is more of a treat than a play toy, but it certainly fulfills both roles. Your pet will love this nutritious toy and they will likely get some play time in with it as well. Plus, you'll be thrilled to be giving your pet something that they find so totally yummy.
100% Advisable to Eat
While other products on the market say that they are "ok" to eat, this product is actually designed to be eaten. It is made of 100% Timothy hay and your pet will absolutely love it. It's high in fiber for your fuzzy friend, and you can rest assured that no unnatural or harmful chemical reside inside. And no wires either.
Handmade
The Oxbow Timothy Tunnel is 100% handmade from natural materials. That means no wire and no thread. It is meant as a tasty treat but it will also function as a cozy abode and gym equipment. This handmade tube may vary in size a bit, but its basic measurements have it being 10 inches long with about a 7.5-inch circumference (it will show up a bit squished).
Cost and Value
The Oxbow Timothy Tunnel rings up in the middle of our price range and we love its value because it is handmade and designed to be eaten. That means it's made using natural materials that your fuzzy friend will love feasting on.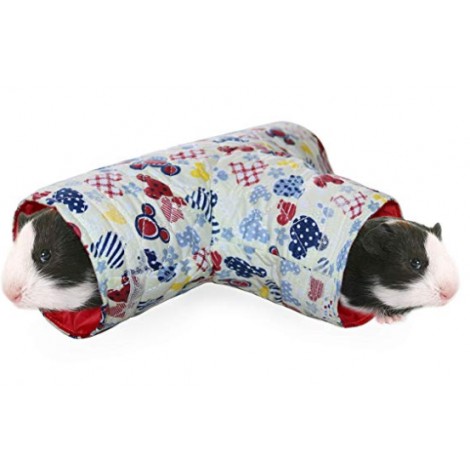 Multiple pets can use at a time
Cute quilted design
Dual layers for durability
Rings to keep tubes upright
The RYPET Animal Play Tunnel is a great 3-way tunnel that lets multiple pets play and exercise at the same time. It's made from durable fabric and it's nice and sturdy so the fun is endless.
Made from Sturdy Cotton
The RyPET Play tube is made from sturdy cotton and is lined with polyester to ensure that the fabric is absorbent and thick. This helps with messes and works to deter your pet from making this tube a snack. The fabric is flexible and smooth and features some fun design patterns for you to choose from.
Plastic Ring to Hold Shape
This tube is designed to be played in by multiple pets at once. It features 3 separate entrances. Each entrance is stabilized by a metal ring sewn into the fabric. This ring keeps the tunnel upright and erect as many animals go in and out.
This product is 11.8 inches long tube to tube, and the middle tube extends 7.9 inches. Each tube diameter is about 4 inches, so this is best for smaller piggies.
Cost and Value
The RYPET Animal Play Tunnel rings up in the middle of our price range and we love its value because it has a cutsie design and was made to sustain play from multiple pets at the same time.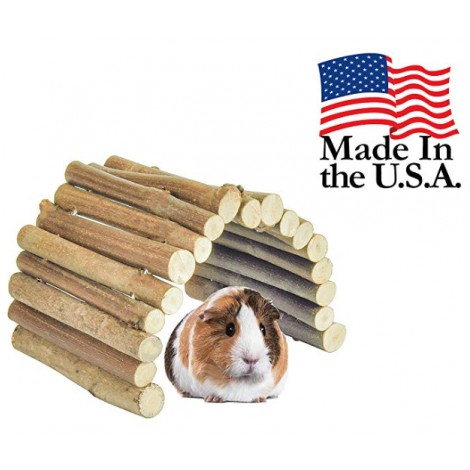 Made of real wood
Handmade in the USA
Yummy snack and hideaway
Bend into different shapes
Takes time to chew through
The Pulse Brands Tunnel and Hideout is the most premium product on our list. It's great because it is more durable than other products on the market, despite being a natural option, and it will take your little piggies quite a while to get through this hideout.
Made from Real Wood
This product is made from 100% real wood sticks. These sticks are 100% safe to eat and because they are thicker than other natural products on our list, they will take your pet longer to chew through.
The Hideout is held together with 2 pieces of wire, however. You should check to make sure your pet is only eating the wood parts and is staying clear of the wire. If they get too curious, you can pull the wire out and leave the wood pieces for them to chew on.
Bends and Moves
The Pulse Brands Hideout is made in the USA with real wood pieces. Because it is held together with wire, you can bend and shape this product to fit your pet's needs. If they prefer tunnels and bridges to burrow in, you can round out the product. If they already have a cozy nest, you can turn the Hideout into a play ramp.
Cost and Value
The Pulse Brands Tunnel and Hideout rings up at the very top of our price range but we love it because it is handmade in the USA. It is comprised of real pieces of wood that your pet will enjoy as a yummy snack, and it can be molded into different shapes for your pet to play on.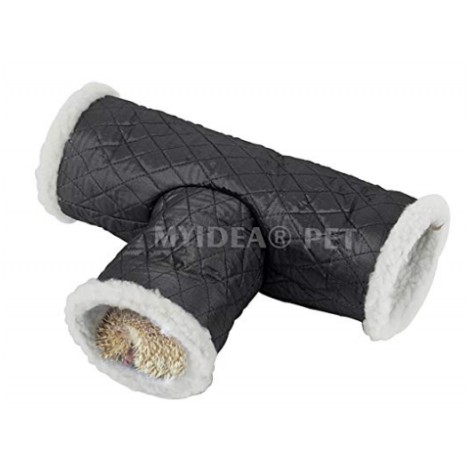 Great insulation for smaller pets
Made with lambswool lining
Machine washable
Real, quality materials
Becomes misshapen in wash
The MYIDEA tube is a great product that is bound to keep your furry friend cozy and warm. It features multiple entrances and super soft fabric that is safe to be thrown into the washing machine so it can stay clean and comfortable for longer.
Great Quality Fabric
The MYIDEA Guinea Pig tube is made from double-stitched cotton. It is meant to look and feel like a quilt. Lamb down lines the tube and adds a nice fuzzy layer. Plus, lamb's wool is known to have antimicrobial and anti-insect properties.
If you live in colder climates where the winter can be unfriendly, then this is a must for your smaller furry friends. The rule of thumb is this: if you are cold, your pets are cold. And the rule grows the smaller the animals are. While they are genetically designed to withstand a large range of temperatures, that doesn't mean they're comfortable in them!
So get one of these lambswool lined cozy quilts to keep your furry friends toasty all winter long.
Machine Washable
We know how our little furry friends can be, and boy are they poopers. That's one of the reasons we love this product so much. It is super easy to wash (on the gentle cycle) and can even be tumble dried. We recommend washing alone as you don't want your other clothes coming into contact with these messies.
Cost and Value
The MYIDEA Guinea Pig tube rings up in the middle of our price range and we like its value because it's a great option for those living in colder climates where their furry friends need a bit of extra insulation to stay warm. And we love that it's easy to clean.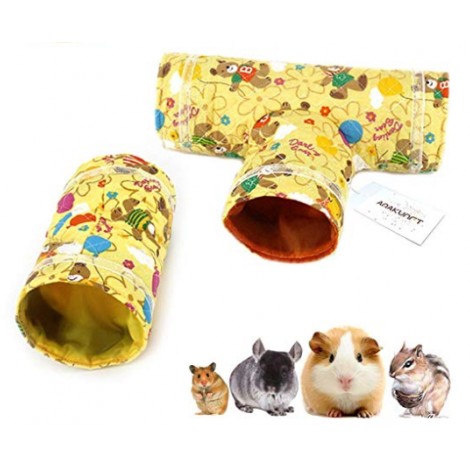 2 tunnels for 1
Easy to clean
Metal rings mean it doesn't collapse
Cute design
The HongYH Guinea Pig Hideaway is a wonderfully playful option for your little friends. It's durable, retains its shape, and can be thrown in the wash. Plus, it's a two-for-one packaged deal. That's right! When you buy one hideaway, you get another tunnel for free.
Two-For-One Deal
When you purchase this hideaway, you're really getting 2-for-1. The main tunnel features 3 entrances (2 at each end and one in the middle). It measures 7 and a half inches long and just about 4 inches in diameter. The bonus tube measures about 4 inches in diameter and about 6 inches long.
This hideaway features sewn-in rings at each entrance to help the product retain its shape and structure.
Easy-to-Clean Fabric
The HongYH Hideaway is made to resemble a quilt. The top layer is comprised of soft cotton while the inner layer is made from polyester. This helps the fabric to remain absorbent, soft, and flexible. Plus, the fabric is super easy to clean. Shake out loose particles and then throw it in the washing machine for a clean feel all the time.
Cost and Value
The HongYH Guinea Pig Hideaway rings up in the middle of our price range and we like its value because it comes with 2 tunnels and because it doesn't collapse on your furry buddies.
Criteria Used for Evaluation


Materials
When making this Ten Best List, the materials that each product is made out of were among our most important considerations because we know you want to give your pet the best care possible.
Because these furry rodents will chew just about everything, you have to be purposeful and careful about what you put in their cages. That's right. You furry friend has teeth that will absolutely amaze you (or maybe not, if you're old friends). And sometimes rather than just chewing through, your pet will actually consume some of their toys.
So we worked to bring you a good balance of toys that are actually meant to be edible along with toys that stand up well to your pet's chewy habits. As always, we recommend keeping an eye on your pet any time you introduce a new toy into their environment. This will ensure that your pet stays safe and doesn't consume anything they're not supposed to.


Size
While we all would like to think that our pets are dainty little ballerinas, that's just not the case. And if truth be told, guinea pigs can be among the heftiest of pet store pets. So here's the deal: Many pet companies make products that are intended for all small(ish) rodents. But as you and I both know, they vary greatly in size.
Most of the products on our list feature multiple size options. Smaller options are intended for small rats and mice, while larger options are intended for guinea pigs and ferrets.
Thinking about size can be tricky for our little friends. We want a toy that's big enough but not a toy that is huge. True, rodents are extraordinary creatures and can squeeze themselves into some pretty tight places, but they can get stuck. So take a look at our Expert Tips.
In our tips, we explain how to get the right sized tunnel for your little piggie. It won't take long and it's not hard. In fact, it's kind of like buying a piece of furniture for yourself.


Flexibility
Your furry friends love toys that bend and move. That's why we worked to bring you products that bend and move with them. Plus, the more flexible a product is, the longer it will last.
We love products that are designed to be twisted into different shapes. We also love products that can be stretched for even more enjoyment.


Taste
When considering taste, we're not talking about the wallpaper at your mother in law's house. We mean the actual taste of the products. Let's not forget, your little piggies will likely be taking more than one bite out of them.
Products that are made from natural materials and that are meant to be eaten score highly in this category. Yes, products made from natural materials will be eaten more readily. But all products that you put in your pet's cage will be chewed apart eventually. Why not let them enjoy the meal?


Value
Our main goal is to bring you products with the best value. Almost all of the products on this list are insanely affordable--even if they are meant to be eaten. And for those products, we think about it this way: You're investing in a super nice treat for your furry friend.
Sure, if you're buying a cage, you're going to want that thing to last. But these products are better intended for fun, play, and snacks.
Expert Interviews & Opinions
Most Important Criteria
(According to our experts opinion)
Experts Opinion
Editors Opinion
Users Opinion
By Default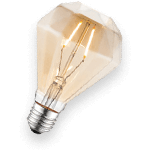 Natural Products are Best
Anything that you put into your pet's cage, it is going to try to eat. And this goes for rabbits, hamsters, mice, and ferrets as well. While they may not consume the whole thing, it is likely that they are going to consume part of it.
If you're putting plastic into your pet's cage, that's a problem.
Of course, many of the items on our list are meant as play-time toys. That means you pull them out when you pull your pet out to play on the floor under supervision. Supervision is key.
We highly suggest against putting plastic toys into your pets cage full time. Not only will they definitely chew them, but they might also ingest them as well. If you've ever rubbed your finger across broken plastic, you know why this is a major concern.
Ingesting small pieces of plastic can cause a dangerous blockage in your pet's stomach. It can also cut them internally. Either way, you're not looking at a happy ending--and this is so easy to prevent.
While you will have to replace natural toys because your pets consume them, at least you can feel confident that they aren't being harmed. We like to think of natural toys like dog bones. You know they're going to get eaten, but they're a special treat.
Go With a Bigger Size
It's true--guinea pigs (and all rodents) crave nests. It's a natural desire for them to tunnel, burrow, and nest. In fact, if you don't allow them to do this, they can become distressed. So creating an environment where they have small, dark places to nest is important.
But remember that guinea pigs are among the larger of the pet store rodents. And the more they eat and older they get, the rounder they get. So when purchasing a tunnel, please take a close look at the circumference of your piggie and at the tunnel.
We're not body shaming! We know it's important to get a tunnel that's small enough to make your piggie feel secure and cozy, but some of the small sizes of the tunnels we feature on this list will truly be too small for them to get in and out of. Some might even get stuck (eek!).
So grab your piggie by the middle with both hands and see where your thumbs and pointer fingers overlap. Or, if you have an especially patient piggie, you can even take their measurements with a cloth tape measure. By getting their circumference you can make the right size selection when you order.
Other Factors to Consider


Safety Hazards
Every time we make a Ten Best pet list, we want to ensure that the products we are listing are safe. All natural products on this list are totally safe to be consumed and should not cause any harm to your pet.
We work to highlight any potential dangers to your pet. As always, we advise you to monitor your pet when introducing a new item. Some items can cause anxiety, and some items can be downright dangerous. There are a few items on our list that are best intended for supervised playtime and not as full-time residents in your pet's cage.
Again, your pet is likely to chew and not ingest, but we like to be extra safe.


Versatility
Products that fulfill multiple functions always score highly on our list. We love tunnels that can be tunnels, bridges, and cozy little apartments. We also love products that can be eaten (eventually).
And though we love a long-lasting toy, we know this isn't likely to be the case. So the more we can get out of a toy, the better.
Frequently Asked Questions
q:

Can I use my tunnel with my rabbit?

a:

This totally depends on the size of your tunnel. As we said before, many pet companies make products for all rodents, even though we know all rodents are not the same size or configuration for that matter.

To best answer this question, we suggest you take a look at the size dimensions of your tunnel and of your other animals. In our Expert Tips, we explain a few ways to get the best size dimensions of your furry friends so that you can coordinate the two.
q:

Are the all natural tunnels food?

a:

Yes and no. Just like you wouldn't sustain your dog on treats alone, you cannot sustain your piggies on natural toys alone. Mammals have diverse appetites and nutritional needs. Especially for captive animals, various nutrients are required for a healthy life.

So you may be amazed at how quickly your piggie gets through their tasty treat, but they still need nutrients from their everyday food.
q:

How should I wash fabric tunnels?

a:

For tunnels that are machine washable, put them in the wash alone on a brief cycle. Use an unscented detergent and rinse well. Then tumble or air dry to prevent your product from becoming misshapen.

If your product is not machine washable, rinse with warm water and sponge off with mild soap. Make sure to rinse super well and then air or tumble dry just the same.
Subscribe to our Newsletter