Best Laundry Detergents Reviewed & Rated for Quality
In a Hurry? Editors choice: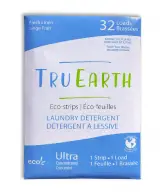 Test Winner: Tru Earth Eco-strips

Are you tired of buying laundry detergents that promise to get the job done only to leave you feeling awfully disappointed? There are many laundry detergents out there, however finding the perfect one to clean your clothes and ensure your overall safety is not a walk in the park. We understand that it can be exhausting trying to find the best product that will
suit your laundry needs
. If you are looking for a product that is perfect for your clothes, then, read on because in here we have carefully selected a list of ten best laundry detergents that will completely change your washing experience.
Standout Picks
Criteria Used for Evaluation
Effectiveness
When shopping for a laundry detergent the first thing on every shopper's mind is whether it will live to your expectations. There is so much hype when it comes to detergents promotions and advertisement. Some offers may be very tempting, and you may fall into temptation and buy any that crosses your path. But, has it ever occurred to you that some of these may not deliver as expected? It can be somewhat disappointing since all you want is a product that will not only do the job but do it perfectly. Let us take a moment and scrutinize briefly the kind of detergent that will suit your laundry needs. In an attempt to achieve a clean laundry, you need one that can deliver, perform efficiently and leave you overall satisfied.
How efficient is the detergent? Is it likely to remove stains at a single wash or will you be prompted to pretreat the stubborn stain first? Children's clothes usually have soups, juices, and dirt stains; therefore, the best detergent would be one that is capable of removing such stains with ease and fast without breaching or causing any damages. A detergent may not have your preferred fragrant but may be useful in getting rid of stubborn stains. High-efficiency detergent will allow you to use little water, produce fewer suds and makes the rinsing much easier while leaving no residue whatsoever. A high efficiency (HE) machine would be the ideal choice since most detergents will perform better in these types of washers.
Flavors
Every time we buy a detergent, we want one that will leave a long last fragrance and ensure your clothes smell fresh for long. Detergents come in different scents. Some scents may be too strong to the extent of irritating children. For instance, a strong aroma may cause irritable sneezing, cough and wheezing to those with asthmatic conditions. Even some adults react to strong scents and considering that we can't do without them, they, therefore, become an unavoidable and real nuisance. Can you Imagine going about your regular business in a crowded place only for people to reach for handkerchiefs to cover their noses just because your clothes have an un-favorable scent? Needless to say, it can be very embarrassing. Your most preferred fragrance may irritate other people. Go for a detergent that is mild, sometimes unnoticeable and which may be attractive not just to yourself but to everybody. Children's clothes should be washed in non-scented or mildly scented detergents to avoid any adverse reactions such as skin allergies. For adults who have allergic reactions to smell or are asthmatic, it would be advisable to use non-scented detergents or those that will not affect their medical condition.
Value
The best detergent is one that will live up to your expectation. There are some overpriced detergents out there on the market that may not deliver as expected. Most cleansers usually have 3 in 1 agent, as bleach agents, color brighteners and softeners. Your preferred one should make your whites white, brighten your colors and leave a warm, mild fragrance on your clothes. It may cost you a little more to have a detergent with all these properties, however, there is no need of picking a cheap detergent, only for it to leave residues and stains on your whites, fade your colored clothes and cause irritations on your skin.
Most importantly, shop for a detergent that is within your budget and also gentle on you, your children and the environment. It should give you value for money while still considering other factors. Budget packs are usually a better bargain since you will find detergents available in pods, tubes or tablet. These are often cost effective and economical since you only need one pac per laundry load and if you have a medium or large load, you can use two pods. They are expensive as compared to liquid or powder detergents; however, they minimize wastage since you don't have to measure the amount you need per every wash.
Safety Hazards
When shopping for detergent, ensure you read through the ingredients that constitute it to ensure the product you are picking, is safe to you, to your children or the environment. Some detergents may irritate your children's tender skin or even to the adults. Chose the suitable detergent that will not cause an allergic reaction to the family.
Avoid any detergent that will bring more harm than good to the kids and the family as a whole. It should also be free from synthetic chemicals which are both harmful to human beings and the environment. Always avoid such detergents. This is not only important for your health but the conservation of a healthy environment. Carefully study the label on the package as this will not only give you the name of the product but also educate you more on the product. Some of the highlights include how you should store it. You should keep away from children especially the pods which may appear as sweets and edibles. If you have pets in your house, ensure the detergents are kept away from their exposure.
Brand
While buying any product, it is essential to consider the brand. Some brands have existed for as long as we can remember and which have consistently provided the best detergents time and time again. There are some new brands too, whose products are equally good and deliver as expected. If you feel that you need to try out something new, you can pick a smaller quantity and compare the results with your old detergent. You can also check reviews on the internet before buying detergent and what other consumers are saying.
10 Best Laundry Detergents


If you feel bad about pitching a giant plastic bottle or container when you're done with your laundry detergent, then you might appreciate this on as much as we do. Tru Earth produces an eco-friendly detergent called Eco-strips. There is very little packaging to throw away, and they hit all of the needs on most people's list as far as we can tell.
Tru Earth's Eco-Strips are literally detergent impregnated strips that completely dissolve in the wash. The super concentrated formula even produces less suds than a lot of other laundry soaps. In fact, they are fine to use in both HE and standard washing machines.
If you're wondering about sensitive skin or allergies, they're good there as well. Their formula is hypoallergenic and will be okay for most sensitive skin. The big draw to these laundry strips is obviously their eco-friendly properties, but as far as stains and rubbed in dirt goes, the strips seem to do a good job getting all the dirt and odors out.
If you're worried about what kinds of chemicals and less than wonderful ingredients might be found in these, we can tell you what you won't find in these strips.
- No phospahtes
- No dyes added
- Paraben free
- No 1,4-dioxane
- No chlorine Bleach
And, they, as well as the suppliers of their ingredients, do not test on animals. You also won't find any animal based products in their ingredients. So vegan friendly!
As far as value goes, we think you're getting what you'll pay for this one. It also doesn't hurt that you'll be adding less trash to the pile.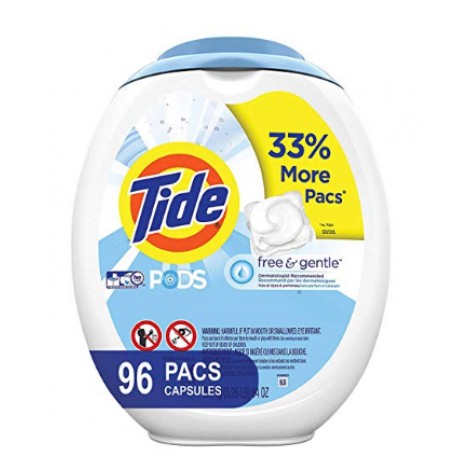 The Tide Free and Gentle detergent is safe to use and gentle on your skin and does not cause allergies. It has three unique properties as a stain remover, detergent and color protector. There are three different packages; 81, 96 and 162 pacs capsules with each offering a deep clean gently in the skin. NEA and NPF have approved it as a safe product.
Effectiveness
The Tide Free and Gentle detergent performs impeccably and keep your laundry sparkling clean while ensuring safety for your family. It effectively gets rid of all resides from stain, dirt, and food than any other detergent on the market since it has the power of ten different stubborn stains. It has a sweet smelling fragrance that will leave your clothes smelling clean and fresh. It prevents wastage of detergent since you only need to use one individual pod per wash.
Gentle on your skin
If you have sensitive skin, then you are awake to the fact that it may be challenging finding the perfect detergent that is gentle and won't react to your hands. The Tide Free and Gentle detergent is the answer to your frustration since it has no artificial dyes or perfumes and has been certified as safe. If you are a clean freak, then you will be amazed at how effective the product is and will definitely avoid future flare-ups.
Cost and Value
Tide Free and Gentle detergent is a budget bargain that is made to guarantee efficiency. The fact that it is a 3-in-1 technology means that you will save money instead of purchasing three different agents for your laundry. These are bleach, detergent and color protector. It is a good buy worth the price since you can select your preferred package.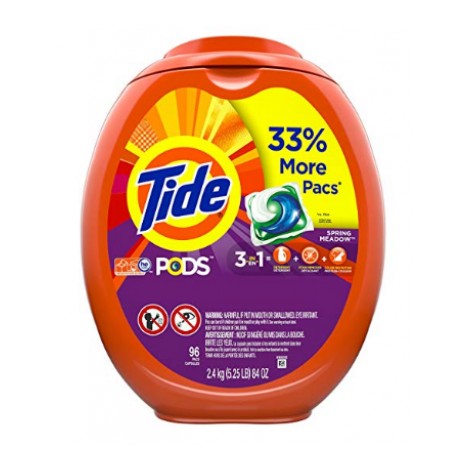 Washing detergents are available in many forms such as soap, gel packages, liquid, and powder. If you are used to cleaning powders, you may be skeptical at first if pods can do the same job perfectly. You don't have to worry since Tide Pods is a well-known brand preferred by most consumers and will do the trick by reaching even the most stubborn stains. The detergent has three in one properties, being a detergent, a stain remover, and a color protector. It consists of 90 % active ingredients and pods of cleaning powder which are easy to dissolve.
Keeps your clothes smelling clean and fresh
You can do a mountain of clothes by using one pod. It does magic to your laundry by leaving the sparkling clean, and the gel capsules ensure they come out smelling fresh. They are available in different fragrances the spring meadow, mystic forest, and ocean mist.
Convenience
You only need to grab a pod, throw it into your laundry and leave them to do the dirty work. These are extremely easy to use and you can take the opportunity to teach your kids how to do their laundry.
Cost and price
The price of the Tide Pods may be a little bit higher as compared to regular detergents, however, considering the load of clothes they can wash, I would consider them a good bargain. By picking this detergent, you will be deciding to pay for convenience and quality.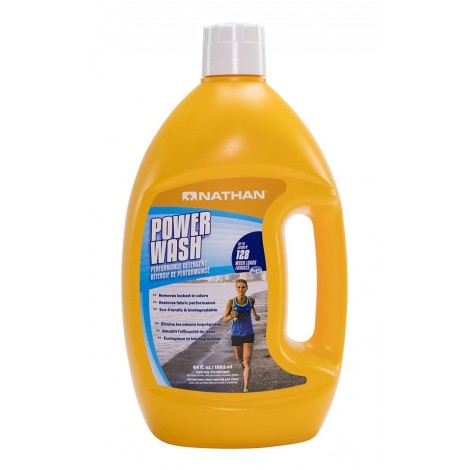 If you are looking for a detergent with a neutral PH formula that will remove all odor and tough stains on your clothes while retaining their vibrant colors, Nathan detergent will be the ideal choice. The new and improved cap ensures there is no mess and guarantees better performance. If you are an athlete, you would definitely pick this detergent since it is made from natural ingredients. You can use it to clean a variety of clothes such as sports gloves, braces, equipment, and protective pads.
Protects your fabric
This detergent does the job amazingly well by protecting and restoring the basic components that make up the best fabric such as water-repelling ability, moisture wicking, and breathability. It is bleach free, meaning it only brightens colors and is also a fabric softener with a sweet scent.
Safe to use
Nathan detergent is made from natural agents that restore your fabric to its originality while protecting your skin from allergens. It is not only gentle to you but the environment as well and eliminates all residues where bacteria and all unfavorable microorganisms would thrive.
Cost and value
Nathan detergent is just the ideal product that will dig deeper and remove any odor while providing dramatic results; it will get the job done and is available at different prices depending on your budget and preference. You will notice the results after just one wash, and I would definitely recommend this since it is also fairly priced.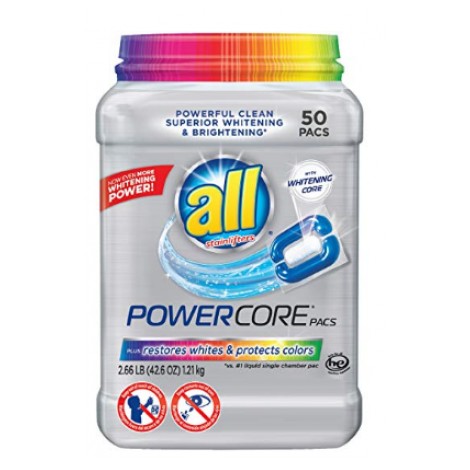 There are various detergents on the market that do not live up to the hype, however, none can match the All Powercore detergent. It will deliver excellent clean laundry with every wash since it combines both liquid and powder detergents in one Pac. If you have a small or medium load, you can use one Pac, however for a heavy load; you can use two Pacs. They dissolve in cold water; even so, for effective use and faster result, you can toss the Pac in warm water. Still, it is essential to refer to instructions on your clothes label before washing.
Effective with one wash
The All Powercore detergent is effective in brightening your colored clothes and also keeps your white clothes white. It does this by brightening dull whites and ensures your colored clothes do not fade. It will get rid of the toughest stains that have resisted other detergents. It has stain filter thus your clothes whiteness and protects all colors.
Safe to use
The All Powercore detergent is an exceptional product with stain removing properties yet absolutely safe to use. It is gentle on your skin and does not cause any allergies. It is also environment-friendly, and the power Pacs are biodegradable and can also be used with septic systems.
Cost and value
When it comes to dirty clothes, you will most likely pick a detergent that balance between performance and price. All Powercore is reasonably priced, yet it is capable of delivering a cleaner and fresher garment. It minimizes wastage, all that is needed is to fill your washer with water and toss one Pac inside. It is a bargain detergent that will give value for your money.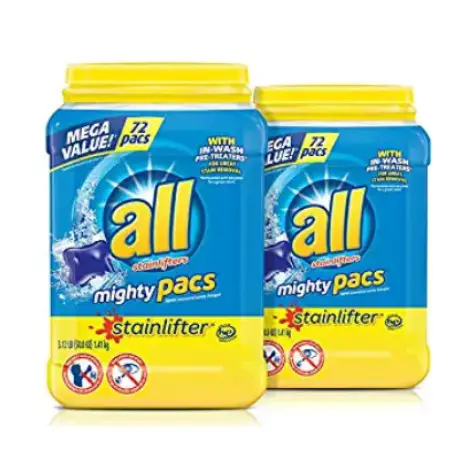 The All Mighty detergent gives your clothes powerful and instant results through using only one Pac for one load. Each Pac has in wash preheaters that are capable of delivering a mighty cleaning power and removing even the toughest stains. It leaves your clothes smelling fresh and clean with a sweet fragrance. These Pacs are safe to use in any washer and with both warm and cold water. The mighty Pac consists of two tubes with 72 Pacs each suitable for one laundry load. It is safe to use and gentle on your hands.
Sparkling clean clothes
If you are looking for a detergent that will leave your clothes looking brand-new, the All Mighty detergent is just what you need. It will leave your garments sparkling clean and brighter with one wash. It offers convenience and reduces wastage since you will just need one tube for your washing as compared to other liquid or powder detergents. If you have a large load, you can use two loads.
Easy to use
The detergent is packed well in simple Pac, and you will love them since it is easy to put them in the washing machine. They dissolve quite fast, especially in warm water. They also have a lovely fragrance that leaves your clothes smelling amazingly sweet. Gone are the days of pouring cleansers into your washer; these pacs reduce waste and are also good for your budget.
Cost and value
For the price, this detergent is great; you can use it for all your laundry wash to reduce the cost of laundry. They are effective and a good bargain since they are available in a pack of two. It is a good deal that is a 100% money back guarantee.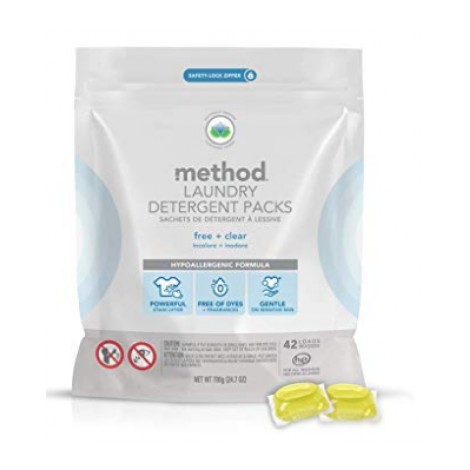 If you are tired of measuring liquid detergents or dragging along bottles of detergents or powder soaps, then you need to try this product. The two packs consist of 42 Pacs inside a safety lock zipper. It has 3 in 1 cleaning power that effectively gets rid of tough stains, whitens whites while brightening colors making your clothes look as good as new.
Gentle detergent
You will be hooked with Method laundry detergent since it has a genuine, kind and syrupy smell. It is a powerful detergent with mighty cleaning agents that fight stubborn stains, yet so gentle on your skin with no known allergens. It is made from nature's best ingredients with no harsh chemicals or toxins.
Performs effeciently
This alluring detergent cleans your clothes with one wash with no harsh fragrances or artificial dyes. All you need is toss one pod into your load of clothes and just like magic; it will dissolve pretty fast. You can do this in hot or cold water, and you can use it in washing machines. The pods can be recycled. It has been certified as safe to use.
Cost and Value
For the price, we would give it five stars since it is a good bargain worth every penny. It is effective in cleaning your clothes with less effort and leaving them smelling fresh and sweet. It will outperform all other detergents you ever used; This gem is a good buy that also minimizes on wastage.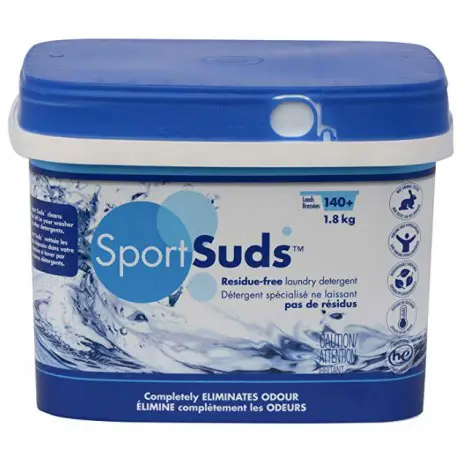 If you are an athlete, or if your spouse or child is, then you know the importance of having a detergent to clean clothes and eliminate any awful smells. The Sport Suds detergent eliminates any bad odor that would cause bacteria build-up and also removes any oil from clothes. It is compatible with most washing machines, and one pouch can wash over 140 machine loads. The packaging is quite flexible, and most of the plastic can be recycled. If you are traveling, no need to worry since it will fit well into your luggage.
Eliminates odors and bad smells
The Sport Suds detergent is residue free and washes thoroughly ensuring your clothes smell fresh for long. It is made for sports garments and leaves a lasting fragrance and performs better than ordinary detergents.
Safe to use
This detergent is made with the consumer in mind. It is free of any toxins, fragrance-free, no harsh chemicals and breach free. It does not cause any allergies since it is made from natural ingredients and does not have artificial dyes, breach, brighteners or perfumes.
Cost and value
The Sports Suds detergent comes in an elegant package and has 140 pouches to do your laundry for many days. It is a budget pack especially if you have a mountain of laundry. It strikes a balance between price and efficiency and of course, performance carries the day. It is a good purchase worth every penny.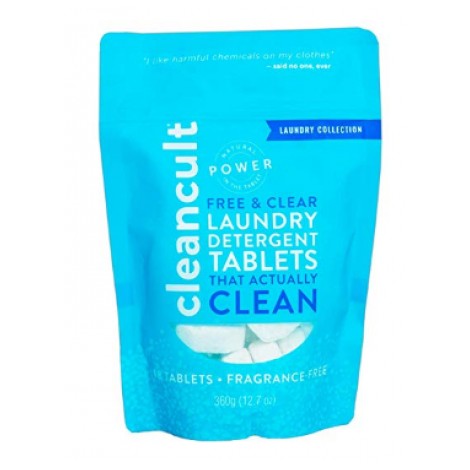 If you are passionate about preserving the environment for future generations, then you will be glad to know that Cleancult has a biodegradable detergent. It is not only friendly to your surroundings but will clean your clothes in an amazingly way while ensuring whites are whiter and colors brighter. Each pack has 18 tablets that can work on different levels of water temperature
Effective
The Cleancult detergent will deliver clean laundry in one wash; it is quite versatile since it has a formula that effectively removes all types of stains such as food, grass, wine, grease, and sauce. It also gets rid of any other tough stains and is gentle to your clothes while restoring their new look.
Gentle and 100% safe
If you have been looking for a cleanser for your baby's clothes, the Cleancult detergent is made from natural ingredients that are gentle to the skin. It is chemical free, eco-friendly and septic safe. It is free of fragrances and is the best for people prone to allergic reactions such as Eczema.
Cost and value
You will not believe when you check the price of Cleancult detergent. It is unbelievably low, yet remarkable in its performance. You can use one tablet per load; however, if you have a large load, you can use two. It thus effectively reduces wastage and saves you the cost of restocking your supplies.

10

. NORWEX Ultra Power Plus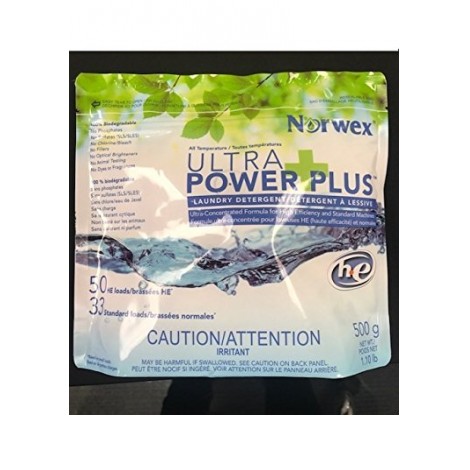 The NORWEX Ultra Power Plus comes in two pacs each weighing 1kg/2.2 pounds. It has a high concentration of stain removal powder that is also 100 % biodegradable and does not contain chemicals such as phosphates and fillers. You can use it in normal washing machines and high-efficiency washers.
Great for baby's laundry
If you have been searching for a detergent gentle on your baby's skin and that which does not irritate the skin, the Norwex is the perfect product since it does not leave any residues. It has a fantastic fragrance, not too strong for the baby, but calm and warm. You can also use it to clean washable diapers and any other laundry such as baby's beddings or towels.
Cleans perfectly
The Norwex consists of hand washable ingredients and microfiber that are safe on all types of fabrics. It cleans the clothes effectively with no traces of residue or strong fragrances. It does not fade colored clothes, and neither does it leave marks on white clothes. It brightens your colors and whitens your whites.
Cost and value
Well, you will dig deeper into your wallet when purchasing this product. Nevertheless, I would highly recommend it for your regular laundry washing. For a start, it comes in two packs each weighing 1kg, that's a whole lot of detergent to last for even months. When you view it from a long-term point of view, this is a super deal worth the price and will definitely give you value for money.

Subscribe to our Newsletter