Best Guinea Pigs Hideouts Reviewed & Rated for Quality
In a
Hurry? Editors choice: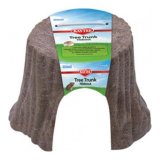 Test Winner: Kaytee Natural Tree Trunk

Have you been frantically looking for a hideout for your adorable guinea pigs and you are not sure which the best is? You are not alone; dozens of pet lovers are faced with such a predicament every time they want a solution for
bettering the lives of their pets
. These adorable critters love to play and hide, and if you could get them a little place to hide, then it would be an excellent idea. The market is overflowing with several options for ferrets, chinchillas, hamsters, dwarf rabbits, hamsters, and other similar pets and it can be difficult knowing what hideout you should choose. Luckily, we have rounded up ten gorgeous and cute shelters for your cute little piggy that will be the heart of comfort, luxury, and cuddling.
Standout Picks
Criteria Used for Evaluation
Durability
Do Guinea pigs need a hideaway? These small creatures like to burrow, play and hide, and a hideout is an essential structure for your piggy's cage. It is their instinct to hide from distractions and loud noises. They also run away from perceived danger and need a sanctuary where they can always retreat to and feel safe and protected. These places provide some luxury and a perfect way to pamper your adorable pet. They play around, jump, perch and do all sorts of things.
It is essential to ensure this structure is sturdy and robust to prevent them from falling and bruising their delicate bodies. Preferably, the material used in their construction should be natural such as wood which has been eco dried to prevent a buildup of pests and other insects. High-quality wood does not decay and is odorless thus will ensure this shelter lasts for many days to come.
Versatility
Versatility can take two forms; Pet lovers typically incline to one kind of animal. What little pet do you love? To answer this question, let's first have a look at the different types of burrowing animals. Guinea pigs fall into the category of animals who love to prey, burrow, play, hide, and nibble and are usually active all day long. A hideout for your piggy should accommodate other animals in the same category. These other adventurers animals include; the Chinchillas, dwarf rabbits, rats, hedgehogs, gerbils and hamsters and many more. These pets are animals of the wild and humans have for long disturbed their natural habitat.
A hideout should offer nature's instinct to these animals so that they can have the same experience as in the bush, such as burrowing, playing, adventure and fun. It should be a versatile shelter where the pets hang out, relax and play. Active play is what defines these little creatures, and after a long day of play, they want somewhere they can rest and probably eat their food and eventually take a nap. The hideout for your pet should thus be easy to convert into a bed and feeding area. You can spruce it up by putting some cushion and a mat for feeding. To sum it up it should provide a natural habitat for these charming friends.
Value
Hideouts for small pets are generally affordable, costing just a few dollars. However, their benefit is enormous. As a pet owner, why do you need this particular shelter? Chances are already you have a cage for your little buddies and would like to pimp it with a hideaway structure. When you decide to go on a search mission, you must have come into the realization that something is missing in the cage. Yes, your thoughts are justified. Guinea pigs and other small pets are adventurous animals, and they love burrow as if a search for something, play and hide somewhere as though escaping from perceived danger. They are quite active and keep on chewing. Hideouts are useful for satisfying the natural instincts of these animals.
The value you get by buying this product is doing what is right for your pet; you are showing them the love and appreciation. This abode reduces boredom because can you imagine staying in a cage the whole day with absolutely nothing to do? It can be very frustrating. Active pets are ordinarily healthy and their brains active too. A hideaway also encourages pets chewing behavior while promoting their general well-being. However, just as much they are vital structures, other factors come into play while looking at the value such as the quality of the materials used in their construction and the durability. A high-quality product will mean fewer trips to the store to replace and eventually to save some bucks.
Style
Just like any other product, a hideout should match to your style and preference. There are many types of these shelters out there; however, the ideal selection should be one that highlights the natural environment or habitat for the pets. For instance, a hideaway shaped like an abandoned old tree trunk presents the tropical forest where these animals have a field day adventuring, running around, burrowing, nibbling and searching without any restriction.
This description befits the type of style for a hideaway. Some structures are made of cotton with beautiful color mixes and cushioned for comfort and coziness. Woven fabrics are also ideal since they present life in the bush and encourage nibbling or chewing.
Materials
What's the best material for your hideout? Wood comes across as the best since for one; these pets are wild animals; however, we humans have found them to be gentle, warm and friendly and therefore brought them to our homes and made them part of our families. In the same breath, you want to be sure that the kind of shelter you chose is absolutely safe.
Natural wood is the best choice since it does not contain toxins or chemical additives. Unlike plastic, it is environmentally friendly and poses no risk whatsoever to your little buddy. Since these pets love to chew, it will be safe to them since they will be chewing safe wood. Woven grass is also absolutely safe for making nests or hideouts. Plastic materials are not safe to use and are not bio-degradable and thus not an ideal choice for a pet's structure.
10 Best Guinea Pig Hideouts
1

. Kaytee Natural Tree Trunk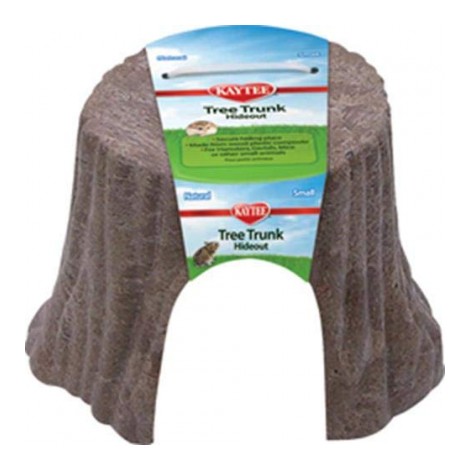 There is no denying the fact that guinea pigs are incredibly adorable, responsive, and warm with woolly bodies. They like hiding, and the Kaytee provides a natural hiding place since it is shaped like an abandoned tree trump in a tropical forest. Your pet can also chew in here and is a perfect shelter for hiding, hanging out or simply sleeping. They are available in different sizes, and you can pick one depending on your preference.
Large in size
If you adore these little creatures, then you want to ensure their abode is comfy with ample space for resting and this will ensure they stay happy, entertained and healthy. The Kaytee is quite large with its actual dimensions at 5-1/2-inch long, 5-inch wide and 3-3/4-inch high. The large size is ideal for small pets such as the hamsters, guinea pigs, chinchillas, gerbils, little rabbits, and rats. The large design makes it absolutely easy to use, and there is air circulation which is suitable for their well-being and mental simulation.
High quality
Your little buddy should fit in comfortably without getting stuck inside, boosting their exploration and burrowing just like it happens in the wild. It is therefore critical to pick a high-quality hideaway that will last for a long time. The Kaytee is a safe and secure hideout for your little piggy and is made from wood and some plastic compound.
Cost and value
If you have been searching for a hideout for your little piggy, the Kaytee is a super deal. It encourages the chewing behavior of these pets since it is made from natural wood thus satisfying their natural munching instincts. By any means, it is incredibly cheap costing just under Five dollars and is safe since they can nibble when bored, therefore good value for money.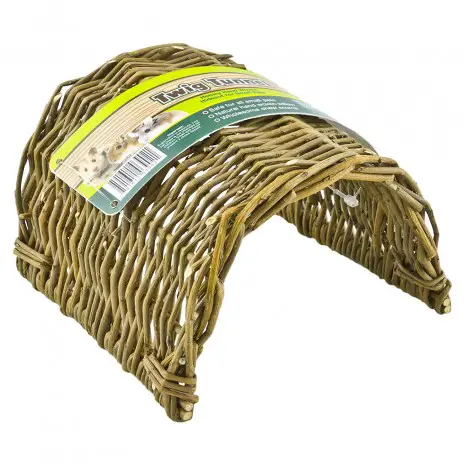 If you would love to watch your small pet squeal with excitement and jump over on top while running around, then you need to pick the Ware Manufacturing Hideout. This hidey-hole is suitable for small pet animals such as guinea pigs, chinchillas, ferrets, little rabbits and much more. It is quite small and shaped like a twig tunnel and pets play hide and seek and other games here, It is made of natural renewable materials and is 100% woven by hand to provide a lovely haven for your little piggy.
Ample space
In their natural habitat, small animals run around, jump, dance, and play and do so much more with little restriction. It is therefore essential to shop for a hideaway where they will feel comfortable. There is no denying that Ware Manufacturing is a small shelter; however, it is quite large for the pets. The dimensions are 8"X10" X7" with ample space for your pet to fit in comfortably.
Safe and secure
Guinea pigs need to be in a place where they feel protected. This willow tunnel is well made and quite sturdy; therefore it is a safe retreat for small pets and gives them a sense of security and belonging. It is made from natural, treated wicker, and they can chew and promotes their chewing behavior which is essential for their well-being and mental health.
Cost and value
This den is the best value for money you can ever get. It costs more than the Kaytee; however, it's perfect since it's naturally woven and your critters will love chewing just like they do in the woods. It is quite versatile since it can accommodate different kinds of small pets. You will not regret the purchase, and it is a 100% money back guarantee.



Critters love to climb, hide and chew and the Niteangel provides a unique hideaway for them while promoting exploration and active play. It's an all wooden structure made of natural and sturdy wood suitable for your guinea pig, dwarf rabbits, chinchillas, and other small pets. The wood is all natural and safe with no chemical additives which makes it absolutely safe for the small pets who love chewing, and they will definitely enjoy nibbling on the wood.
Beautiful design
Every pet needs a comfortable little house for playing, hiding, hanging out and sleeping. For your pet to be happy, healthy and mentally active, they need to experience the natural habitat right at home, and the first step is getting them a cozy hideout. This abode is perfect for snoozing and it will look beautiful in the habitat with the rooftop area for fun loving and adventuring critters to perch.
High quality
This charming hideaway is made from high-quality timber and has a rough surface to give it a natural look. It is quite large measuring 11.7 x 10.8 x 6.8 inches, Door Size - 3.7 x 5.2 inches and Window Size - 3.2 x 3.6 inches, Therefore, your little piggy will have ample space to play and hide. It is convertible to habitat, and you can add some clothes and cushions on the roof. You can also transform it into a dining area and put some food on the rooftop.
Cost value
The Niteangel is a premium hideaway made from high-quality natural wood. It is pretty expensive as compared to most hideouts for small pets. However, for the price, I would give it a five star and recommend it for pet lovers since it is an excellent value for money and definitely a deal breaker.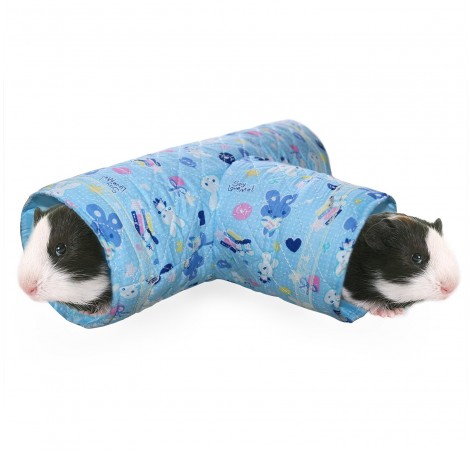 Guinea pigs and small pets enjoy walking around in a secure and comfortable place and hide when overwhelmed. If your cage does not have a special place to hide, we would recommend the RYPET as a separate hideout. It is quite small but spacious for small pets such as hamsters, chinchillas, guinea pigs, mice, rats and much more. It is a three dimensional small shelter with the long tunnel measuring 11.42" x 3.94"/29 x 10cm; while the short tunnel measures 3.94" x 3.94"/10 x 10cm. It is a sturdy frame with reinforced plastic rings at the exits of the tunnels to keep it in shape.
Cozy
It is essential to offer your pets a comfortable place to play, be happy and make them feel simulated and one of the best choices is the RYPET. It is a practical hideaway with various lace décor and pattern that makes it look beautiful and deluxe. Small pets will have countless hours of endless fun, self-amusement, and exercise. It is a luxurious hideaway made of high-quality cotton upper fabric, and the inner material is polyester filament. It can support three pets since it has three tunnels and therefore it's easy for pets to play, hide and rest comfortably.
Portable
If you are traveling and would like to bring your small pet along, this hideaway is small-sized and sturdy and moving it around is quite easy. There are times you may want to take your piggy outside in the garden for adventure; the RYPET will be a natural choice since they can hop, jump and play around.
Cost and value
This hideout is affordable and durable with safe fabric, and thus you don't have to worry about chemical exposure. Since it has an open design, the critters can play, hide and have so much fun. It is incredibly cheap and a good value for money.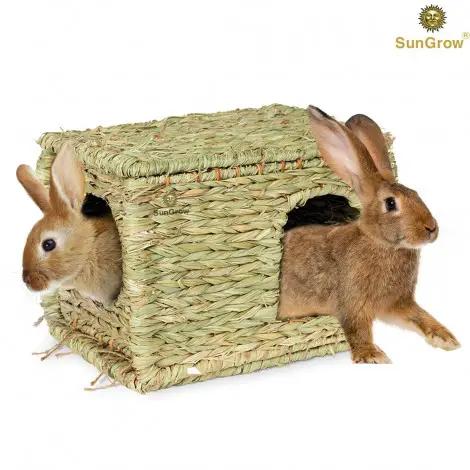 The SunGrow hideaway is ideal for guinea pigs, dwarf rabbits, bunnies, hamsters and many more. It is the epitome of comfort, luxury and security while satisfying natures habitat instincts of these small animals. Guinea pigs are naturally exploring and burrowing animals, and this structure will satisfy their instincts for adventure and exploration. The glass has a natural flavor and aroma that offers relaxation to the small pets.
Safe
The SunGrow is hand woven and made of woven grass which is 100% natural and environmentally friendly. Therefore it is absolutely safe for your pet and protects their delicate paws from the cage bottoms as they craw. It encourages chewing behavior in small animals which is good for their health and mental simulation. The glass is 100% safe, and your critters will nibble in peace thus keeping their teeth well-trimmed and quite healthy.
Ideal size
This adorable nest provides a safe and comfortable hideaway with dimensions at 11.8 x 7.8 x9 inches. It is made from natural glass thus is a warm place for your pet to relax, play and exercise. It has a compact design and is ideal for saving shelf space. It is foldable and quite versatile since it can also serve as a mat. You can hide some treats and watch as your adorable pets burrow as if searching for some hidden treasure.
Cost and value
Small pets such as Guinea pigs and bunnies love burrowing, and it's essential to ensure they are in a safe and healthy habitat. It is has a unique design with wide doorways that improves air circulation and breathability. For the price, this hideaway is an exceptional product and will give you value for money.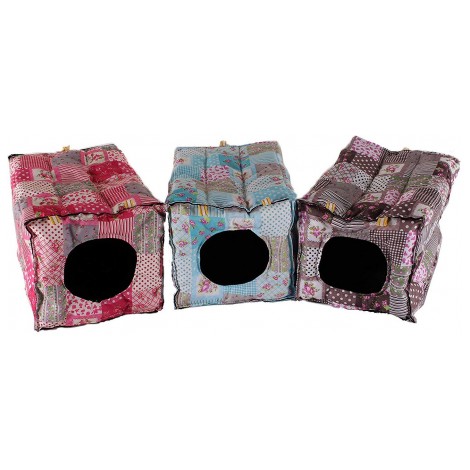 Guinea pigs love exploring and foraging, and they also like to rest in a cozy warm environment. Mkono hideout is a small sized shelter but quite large to fit in your little pets. It measures 7" L x 10" W x 7" H with an opening diameter of 4 inches. There are different sizes to choose from, and what you want will depend on the size of your pet; therefore it's vital to put this into consideration while shopping.
Comfortable
The Mkono offers a beautiful and comfy hideout for small pets such as Guinea pigs; rats ferret, chinchillas and hedgehogs and much more. It perfectly crafted and designed to give your adorable pet a beautiful place to have fun, rest and sleep. It is dark inside, so your little pet will slumber away in a small dark room that adds to their privacy.
High quality
This adorable retreat is made of high-quality soft cotton fabric on the upper side, and the interior is made of polyester filament; thus it is a comfy place to rest and easy to wash. The package comes with three clips that allow it to attach well to the pet cage thus increases your pets dwelling space.
Cost and value
We would highly recommend this shelter since it's comfortable, soft and a perfect place to run to and hide in the dark. It is also a beautiful addition to the pet cage, reasonably priced and will give a good value for money.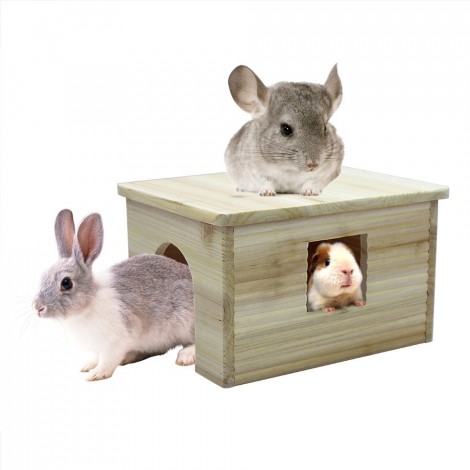 If you are looking for a safe and secure hideout for your little piggy, the Beaks and Paws is an ideal choice as it is quite large and a perfect place for exercising, playing and resting. It is made of natural wood thus is a safe haven for small pets. It measures 12.6x9.5x7.1in (32x24x18cm which is quite large for your little pets.
Large
The Break and Paws is a large and spacious hideout that can accommodate one to two adult rabbits and chinchillas. It is also ideal for; rabbits, guinea pigs, and other small pets at home. It is sturdy and beautiful and can even make small furniture. It is durable, easy to arch and the pets can jump over it without the risk of collapsing. It also has ventilation windows where the pets can pet can rest and have a view outside.
Safe to use
Guinea pigs love chewing, and the plank is absolutely safe to nibble with no risk of exposure to chemicals. The texture has a wood grain effect and gives the impression of wood in pets' natural habitats. The edges are finely polished thus will not bruise the pets as they play.
Cost and value
The Beaks and Paws shelter is a reasonably priced shelter, cute and safe for your little pet to chew, play, hide and rest. The top has a flat surface where they can relax and eat their food. The wood is smooth and will not splinter. It is an excellent product worth the money.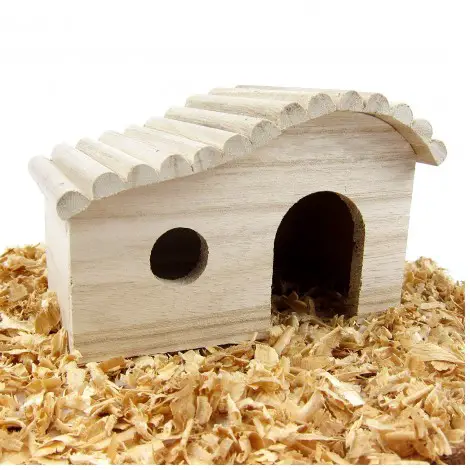 The Alfie Pet is made from 100% natural wood and is a big castle house for your little pig. It is perfect structure where the critters can exercise, play, hide and chew. It encourages chewing behavior in small pets which is suitable for their mental stimulation and general well-being. Its measurements are 5.25" W, 3.3" D and 3.15" H which makes it an ideal size for your pets and there's so much room for playing and hiding.
Multifunctional
The Alfie Pet hideout is quite versatile and can be a safe hideout for small furry pets. They can also use the roof as a habitat for jumping and perching. It increases the activities levels of your adorable pets while relieving boredom. It is easy to clean, more ventilation inside and resistant to odors.
Safe to use
This has a unique design and is a sturdy structure where your critters can climb and learn to climb and have so much fun. It is safe to use since the wood is 100% natural with no additives and thus the pets can chew or nibble. The wood is also naturally dried to ensure there is no buildup of pests.
Cost and value
This adorable hideout is ideal for small pets such as Guinea pigs, rats, hamster, dragon cats, chinchillas and many more. It is a good value for money, and your pets will have so much fun. It also multi-functional which you can convert to habitat for sleeping and having fun.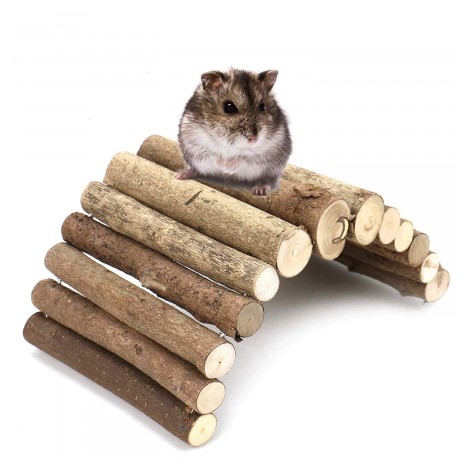 The AQUEENLY is made of neatly arranged small logs to resemble a bendable bridge. The wood is high quality, sturdy and durable. It encourages the exploration behavior of small pets and the inherent nature of burrowing and chewing. The wood is absolutely safe for nibbling; thus you don't have to worry about your pet's exposure to chemicals.
Adjustable
The AQUEENLY has a bendable design that looks like a bridge that guinea pigs and other small pets can play, rest and hide. You can easily adjust the structure to the shape you want and which will be comfortable for your little piggy.
Ideal for training
This unique structure is molded like a ladder and bend into an arch shape that will allow your pet to hide inside and climb on top for training. Various types of pets can use this hideout such as rats, guinea pigs, chinchilla, hamster, hedgehog and many more.
Cost and value
If you are looking for a cheap hideout for your little pet, the AQUEENLY is reasonably priced and a good value for money. It is a simple structure, and your pet will have endless fun as they burrow, jump, and climb. The benefits are numerous since your adorable pet will stay active the whole day and this kills boredom. It is also vital for the health and mental stimulation.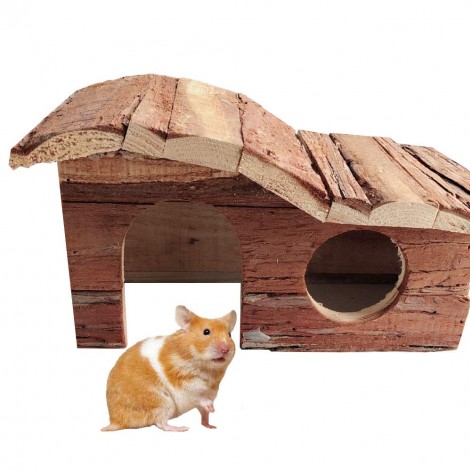 Hamiledyi is an adorable hideaway for small pets and is shaped like a small wooden house. It is made of high quality and durable wood that is 100% natural with no chemical additives. It has two holes, making it a perfect structure for playing, sleeping and hanging out. Your little buddy will have countless hours of fun and adventure.
Spacious
The Hamiledyi is a spacious abode for hamsters, mice, guinea pigs, chinchillas and many more. There is too much space inside for playing, hiding and sleeping. It measures (10"x5.9"x5.9") with a hole diameter of Size: 2.8" which is pretty large to fit your pets.
Sturdy
This adorable hideout is just what you need for your piggy. It is quite strong, and they even rest on top. You can convert it into a natural habitat by place a cushion where they can sleep. It is also a perfect place to eat their food, and it encourages chewing behavior which is essential for their health and mental well-being.
Cost and value
For the price, you will get value for money since this charming hideaway is high quality, sturdy and durable. It is a perfect place where your small pet can play, hide and sleep. It's also quite versatile since you can bring along beddings and convert into a natural habitat.

Subscribe to our Newsletter