Best Guinea Pig Cages Reviewed & Rated for Quality
In a Hurry? Editors choice: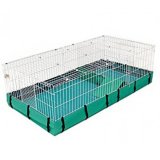 Test Winner: Guinea Habitat

Guinea pigs make for great pets. They are cute and compared to cats or dogs, they don't have as many responsibilities. They are easy to contain and are easy to keep safe. They make great companions for your kids.

For all the benefits that come with keeping a guinea pig, you owe it to the little furballs to provide them with a comfortable place for them to hang out as they keep your children busy. Buying a guinea pig is not something you should take lightly. If you haven't bought a guinea pig cage before or you're not sure of where to start, you're in the right place. We have selected the best guinea pig cages in the market complete with a comprehensive buying guide that will make it easier for you to make the right choice.
Standout Picks
Criteria Used for Evaluation
Durability
Durability is an important factor to consider not only when buying guinea pig cages but other appliances as well. No buyer wants to spend money buying low quality, a defective product that will break apart. You can tell if a guinea pig cage is a good quality by looking at the build and the materials that have been used in making the cage. In most cases, there are also brands that are dedicated to building quality pet cages and you can also check the brand to see if your preferred option is from any one of those brands.
Size
When it comes to guinea pigs, there's the recommended space that the pet should have in order to grow and exercise efficiently which is 8 sqft per guinea pig. For the safety and health of your pet, it's vital that you consider this sizing when making the purchase. When considering size, you also have to consider other factors like storage of the case or even traveling if you travel a lot. While buying a big cage can be beneficial to your guinea pig, it might affect storage and travel arrangement. Check if the option you settle for is foldable. It can help save on space and make travel arrangements easier.
Materials
Numerous materials can be used to make guinea pig cages. However, being rodents, they tend to chew on everything. Make sure the pet will not destroy the materials used to make the guinea pig cage you settle for. Also, it is advisable to get a heavy duty plastic base that will make it easier for you to clean. It also prevents urine and poop from making its way to the floor. If you opt for a cage with a plastic base, make sure you add beddings to keep the rodent from chewing the base.
Features
Critter cages come with many features. It's impossible to find one with all the features so you have to decide on what is most important for you and your furry friend. Some of the features include multiple floors with slanting ramps, carry handles, removable tops, and casters. As mentioned earlier, you will not find one cage with all these features, so you have to decide what is most important for you and pick a cage that offers those features. Most importantly, it should be easy to clean and maintain.
Ease of Use
Determining if a cage is easy to use is simple. All you have to do is check if it has carry handles and the size of the doors for the smaller cages. If the cage is large, you should check if it also has wheel casters which make it easier to move. Additional features like a removable base make the cage a lot easier clean as well as multiple doors which allow you to access the cage from different angles when carrying out maintenance procedures.
10 Best Guinea Pig Cages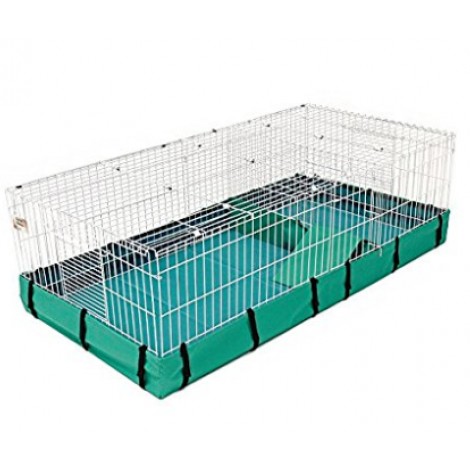 If you're looking to house only one guinea pig, this cage will work just fine. It has plenty of space with its 8-sqft of living space which is the ideal recommended area by vets. Other than offering plenty of room for its occupant, the cage also has plenty of features and benefits to offer which is why it is one of the most preferred cages by animal lovers.
Removable top
Guinea pigs are not the best jumpers and some cages have a removable top. But, in some cases, it might be a good idea to have a top especially when you want to take the guinea pig out. With a removable top, you can give the guinea pig the freedom it needs by removing the top and when outdoors, you can offer proper protection.
Washable and removable PVC Lining
Cleaning the squeezed spaces can be difficult and time-consuming. This guinea pig cage has a unique way of taking away the pain of cleaning the cage. It has a removable and washable PVC lining that you can easily remove for cleaning. It saves you time and ensures the pet always has a clean home.
Cost and Value
This guinea pig habitat is a perfect blend of quality build and price. It is ideal for a pet owner who is looking for an affordable cage without compromising on quality. It is affordable and does not hold back on the features and functionality or quality.

2

. Living World Deluxe Habitat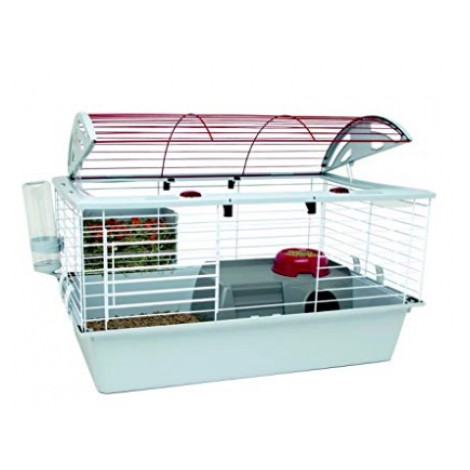 Even though this cage comes at a slightly higher price, it offers all the features and accessories that your guinea pig will need to be happy and comfortable. It's perfect for both outdoor and indoor use with an upper wire frame to make it easy to see the guinea pig and a plastic bottom. With plenty of features most of which act as aids to the comfort of the guinea pig, it's easy to see why this is a highly regarded home for most guinea pigs.
Tip-proof Food Dish
Guinea pigs are clumsy and without the right measures, they can easily tip their food and water containers. It makes their living environment dirty and requires cleaning more often. To avoid this, the Living World Deluxe Habitat has a tip-proof dish that ensures the food stays in the right place no matter how clumsy the pet becomes.
Tool Free Assembly
You don't have to worry about complicated assembly procedures when the cage arrives. The Living World Deluxe Habitat has a tool-free and straightforward assembly. You will have it set up and ready to use in a matter of minutes.
Cost and Value
The cost of this cage is slightly higher. But, that is justified by the build, the quality of materials and the design of the cage. It is a great cage for your guinea pig and has all the amenities to make it the next home for your little fur ball.

3

. Midwest Deluxe Critter Nation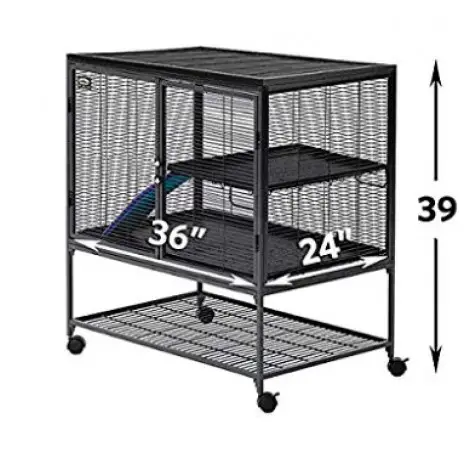 For pet lovers that are looking to go all out on size, this is a worthy candidate. It has plenty of room for the guinea pig and can also be used by other rodents. It comes with full-width double doors and a removable shelf that makes cleaning a breeze. Simply put, it makes the perfect home for your little rodent.
Four Wheel Casters
Considering its sheer size, having to drag it out when you want the pets to catch some fresh air can be difficult and will damage the floors. That's why it's fitted with four-wheel casters that improve mobility. For the sake of safety, the casters are lockable once the cage has gotten to its spot.
Full-Width Double Doors
No guinea pig cage can be big enough for you to easily clean. The cleaning process is usually cumbersome and involves you trying to squeeze yourself in tiny spaces. The doors are usually the most irritating but, this cage from Critter Nation has a solution to that. By having side full-width double doors, you have easy and unrestricted access to any part of the cage when cleaning. The top shelf is also removable to make cleaning even easier.
Cost and Value
Even the cost for this cage is even higher than that of the previous cage, it is reasonable and justified. Considering the size, build quality and design of this cage, for the price, you get a great home for your pet and one that won't be a pain for you to keep.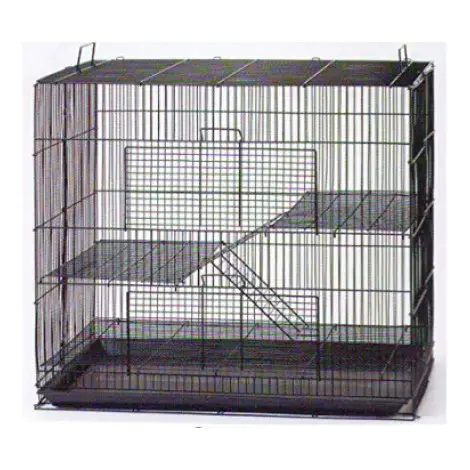 This is a highly diverse option and can house a variety of rodents including guinea pigs. Despite how humongous the cage is easy and straightforward to maintain and does not require a lot of work. A lot of thought has gone into making this the best home possible for your pets with all the features and amenities that they require.
Slide-out Bottom Pan
The greatest challenge with any guinea pig cage is cleaning. They are usually small and with space to manoeuvre. To solve that, this cage has a slide out bottom pan which catches all the dirt and urine. It makes it super easy for you to clean out the cage without having to worry about the spacing or how you will get the different corners.
Foldable Setup
Do you need to travel with your cage? Or perhaps you would like to keep it out of the way, but you're worried you don't have enough space? The foldable space-saving design ensures you never have to leave your loyal pet cage behind. It will fold down to make it easier for you to bring it with you on your trip or even store it in your home.
Cost and Value
If you're looking for a great cage without all the bells and whistles but one that provides a comfortable and fun environment for your rodent friends, this should be a great choice. It is very affordable even for buyers that are managing a tight budget and offers you value for money in terms of build quality and functionality.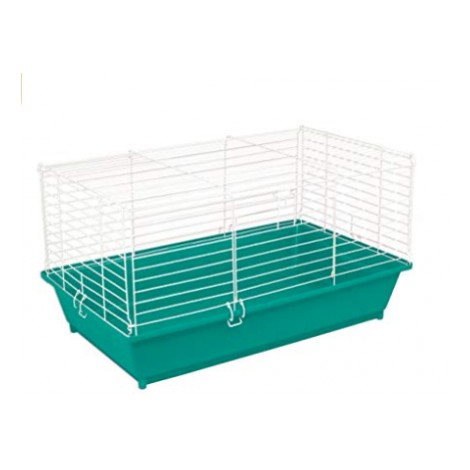 For smaller critters, the Ware Manufacturing Pet Cage is the perfect home. It is sizeable, affordable and made from high-quality stain and odor resistant materials. It is a basic cage that tends to every rodent pet without the additional features that can make it expensive. If you have to juggle a tight budget, this is a great option that balances value and functionality.
Simple to Clean
The cage is relatively easy to clean. Not only is it made from easy to clean materials that are odor and stain resistant, but it also has a large opening doorway that makes it very easy to stick your hands into the cage when cleaning. The plastic bottom can also be removed for easier and thorough cleaning.
Chew-proof Powder Coated Wire
Rodents are notorious for chewing just about anything that they can lay their teeth on. Without proper protection, they can easily dent the cage and make a run for it. The Ware Manufacturing Pet Cage is made from chew proof powder coated wire that guarantees long service and a haven for your pets.
Cost and Value
Even though the cage is well built and sound quality, the price is a little steep considering the space and features it has to offer. Unless you're particularly interested in this case, for a little less, you can land a cage with more space and features and with similar build quality.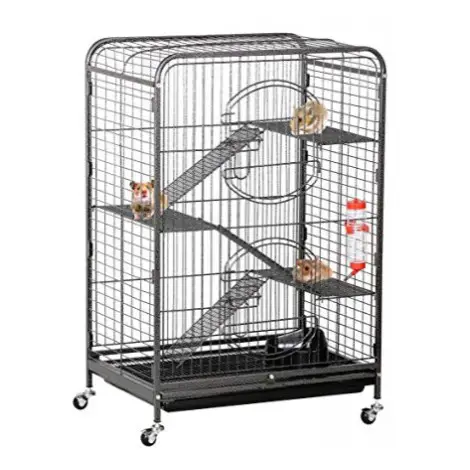 If you have more than one guinea pig and you prefer buying one cage for all your pets to enjoy each other's company, this cage offers the size and space that will house up to three guinea pigs. It has a four-layer structure with ramps to keep your little furry friends busy and happy and they enjoy their new abode.
Comes with Feeding Accessories
Buying a cage that comes with all the feeding accessories saves you the trouble and time of having to purchase the items separately. It also saves you money. The Yaheetech cage comes complete with 250ml water bottles and plastic feeding boxes for your new friends to make sure they don't lack anything.
Foldable, Portable Design
Given its sheer size, you must be worried about how you're going to move the cage from one place to the next. For this, it is fitted with four universal wheels to make it easier for you to move it around and provide the occupants with a smooth ride. It is also foldable to save up on space especially when you have to store the cage and you're short on space.
Cost and Value
The price of the Yaheetech cage is reasonable, practical and affordable. If you want to get value for your money while providing ample housing with all the amenities for your pets, this cage will offer you exactly that. For the price, you get everything you need including the feeding accessories. You don't have to worry about additional costs after.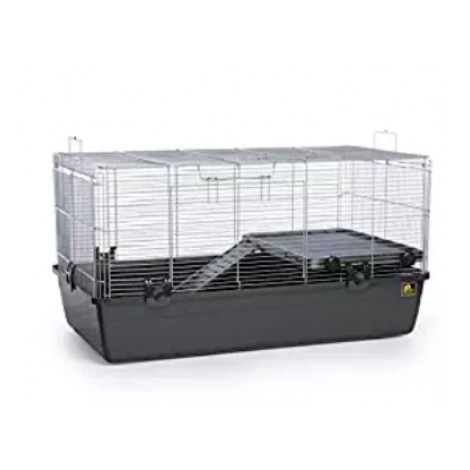 The Prevue Pet Cage is perfect if you have a loner guinea pig. It offers plenty of space for moving and playing and has a large tub base which is perfect for exercise. It doesn't pose any dangers to the pets tiny little paws, so you don't have to worry about the guinea pig getting caught up while running around.
Large Entry Doors
Even if the doors were small, you would still be able to tuck in your pet. The extra space makes it easy for you to replenish water and food supply inside the cage and conduct other activities like cleaning it up. The large doors offer you plenty of space to maneuver hence making the task at hand easier and more manageable.
Deep Tubby Base
There's always the concern that the paw of the guinea pig might get stuck between the spaces of a cage with a mesh base. That is why a roomy and deep tubby base is a great addition. It is not only safe for the pet but comfortable for their little feet too.
Cost and Value
The Prevue Pet Cage is offered at a very pocket-friendly price. It is quite the catch if you have only one guinea pig to worry. With its range of features and the high-quality build, you get total value for your money.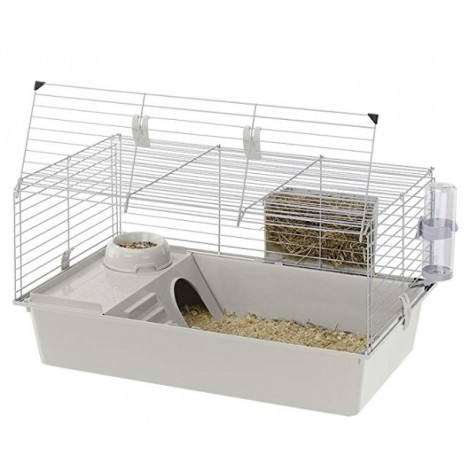 This is the best all-in-one habitat that you can get for your hamster. It is surprisingly affordable with a nice finish that will not only be a great addition for your guinea pig but also for your home. The Ferplast Cavie 80 offers a wide range of features that ensure your pig is comfortable and cozy as well as accessories that save you money.
Fully Accessorized Habitat
For the price, you not only get an excellent home for your guinea pig. You also get all the feeding equipment you need. These include a hay feeder, a bowl and a water bottle. The cage also comes with a quiet hideout where the pet can relax. The hideout partition comes with a set of steps that the pig can use to get to the bowl or work out.
Easy Maintenance
The cage is designed to make maintenance processes a breeze. It has a small door at the top and a wide one on the side that offers full and unrestricted access to all sides of the cage. You can easily reach all sides of the habitat without breaking a sweat and the plastic base can be easily separated by unlocking the hooks.
Cost and Value
You will need to dig a little deeper into your pockets to get this guinea pig cage. But, it's going to be for a good reason. It is well built with a rich collection of features that are ideal for you and your pet and it comes with all the feeding accessories you need. All factors considered, the price of this cage is a grand bargain.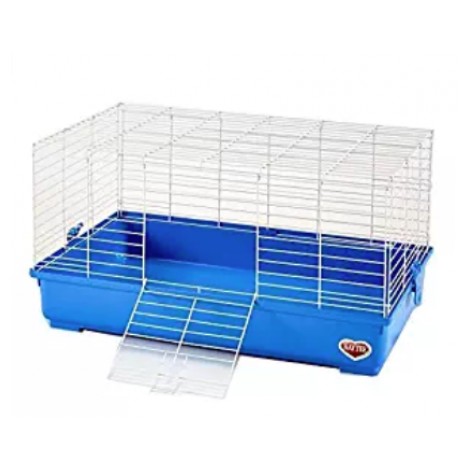 This little cage can easily be the new cozy small home for your guinea pig. It has a wide range of features dedicated to keeping your pet safe and comfortable in their new home. Made by a company that has built a reputation in the pet industry, the cage is properly designed to maximize on space and give the guinea pig the best possible experience in their new hideout.
Easy Assembly
You don't have to worry about buying a set of tools to put your new pig cage together once you make the purchase. While the cage does require a bit of assembly, it is very easy and straightforward and there are no tools required for it. You should have the cage ready to go in a few minutes.
Comes with Multiple Accessories
For the price, you not only get the cage. You get a variety of other handy accessories that will save you money and are vital to the existence of your pet. The accessories include a food dish, a water bottle and you even get a sample of guinea pig food from Kaytee Fiesta.
Cost and Value
For the quality of the cage and the accessories that you get, it's safe to say the price of the cage is reasonable and worth considering. You will part with a great cage and everything you need to have it set up and ready for your hamster including the bedding.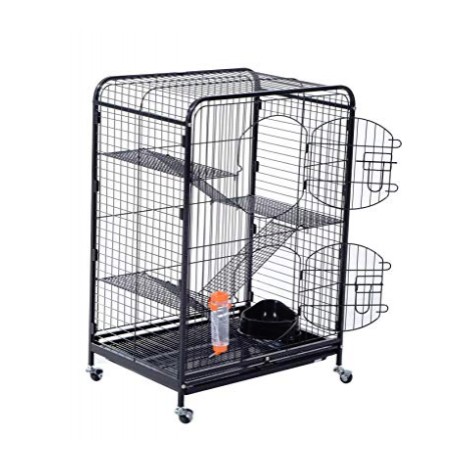 When you need to house more than one guinea pig, space can be an issue. With this multi-level critter cage with sturdy construction, you can easily get your pets the home they need without sacrificing a lot of space. It has a pet-friendly design that offers plenty for room to exercise and have fun without hurting the feet of the pet.
Has Caster Wheels
To make the cage easier to move and provide a smooth ride for your guinea pigs, the cage is fitted with four wheels. All you need to do is effortlessly pull it around to move it to your desired location.
Come with an Accessory Kit
If this is your first cage, it will come with almost everything you need to get your guinea pigs set up in their new home. With the cage, you get an easy to clean slide out tray, a plastic food box and a 250ml water bottle. Ideally, you would have to buy each of these add-ons separately which is costly and will require more time.
Cost and Value
This critter cage will set you back a handsome buck. But, in return, you will get a high quality, pet-friendly cage with plenty of accessories that you can use to set up the new home. Even though the price is a little out of reach for budget-buyers, it is worth the stretch especially when you have to house more than one guinea pig.

Subscribe to our Newsletter