Best Guinea Pig Treats Reviewed & Rated for Quality
In a Hurry? Editors choice: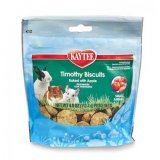 Test Winner: Kaytee Timothy Biscuits Baked Apple

Did you know that giving guinea pigs regular human goodies or biscuits are not good for their health? And offering them little tidbits fosters bonding and an intimate relationship between you? Also, that giving pleasurable refreshments is a way to enrich its diet?
Most will eat just about anything you give them. But, it is very important to maintain
a high quality and healthy diet for your pet
. In addition to supplementing their diet, you can use tidbits of nutrition to also serve as a means of training them and showing them how much you love them.
Having some knowledge of the best nutritional treat products will help you in choosing the one that suits your pet's health needs the most. We have put together a review of the top ten best guinea pig treats you can offer your loveable little pet. Read on for more information.
Standout Picks
Criteria Used for Evaluation
Product Purity
The first thing to look at before selecting a snack for your pet is the rate at which your guinea pig can adjust to it, and, how pure the product is. Guinea pigs have a special nutritional need, and their body cannot take in some foods. For instance, piggies love the taste of apples, and this is the reason most snacks are made with apples, fresh, or baked.
These animals like it when they eat what tastes natural. The purity of the product is a test of how much it resembles your piggie's natural diet.
In addition, it is important to make sure that the ingredients in the treats and the taste are one that can be easily adjusted too. Most especially if you are trying the treats out for the first time. Some of the ingredients to look out for, which may pose an issue to the purity of the product, include the following;
Chocolate
Corn
Seeds
Onions
Mushrooms
Peanut butter
Nuts
Dairy products
Cabbages
Potatoes
Avocados
Bok Choy
Bread
Meat
These foods should be avoided. They cause serious side effects, and may even kill the guinea pig when taken in high quantity. With these foods, the purity of the product is zero, because sooner or later, the body system will cave, posing serious health issues.
There is more to just selecting a treat, this is a factor to consider, and that is why it has been reviewed here. Therefore, determining your pet's taste preference, or, testing how it will respond to a treat when introduced to it, is essential, before you buy the product.
Comfort
Just like there are some foods or snacks that absolutely give you pleasure and comfort when you eat them. Likewise, your cavy derives comfort when they eat some treats. Being comfortable with a treat brand is everything, or what is the essence of purchasing a treat that your cuties will not like?
Measuring the level of comfort that is gotten from a treat is very important. You don't want to have gotten like 6 bags of treats, just to find out your cavy will not even come close. It is a common fact that hay constitutes about 70 percent of the guinea pig diet, and they love anything treat with Timothy Hay. So getting a product that contains this delectable product will definitely ignite love from your guinea pig.
Now, treats are only meant to supplement their diet or reward good behavior. In no way should it be the main part of their meal. Some domestic cavy gets addicted to treats, so much so, that when the product is replaced, they do not want to even hear of it. Sometimes, they find it difficult to eat normal food.
Comfort with a product is measured from the moment you buy it. Most domestic cavy, after a while, will tend to recognize the smell of the treat, and even from the sight of the pack, you can tell if they love it or not. How comfortable your pet is with eating a treat product goes a long way in determining how long you use the product, if you should use another brand, and if the price of the product is worth it.
Compatibility
The compatibility of this product does not just have to do with your cavy. It also deals with you. Is the price compatible with your budget? Can you afford to use it on a long term basis? Is it easily accessible?
All these questions will determine how well a product will do. Some treats are shipped from other countries, and on the way, the packaging gets damaged, or the treats grow moldy. If you do not mind all these, then you do not have a compatibility issue.
When a product is compatible with your piggies, it will fit all of their requirements, and needs. From nutritional to dentition, and even exercise. It will also help you bond! Now that is being compatible with a treat. If you know the treat can meet all these parameters without fail, you can go ahead to buy the treat. But, if you are not cool, then it is better to look at another product.
Responsiveness
Imagine buying a snack, and then you place it in your domestic cavy's feeding bowl, and immediately it jumps at it, nibbling it, and looking to you for more. The joy and the pleasure you feel at that point can be immeasurable.
On the other hand, what if they do not even draw close to it, at all? You keep trying to see if something changes, right? How your guinea pig will respond to any piece of food is very important. Most food products are made with ingredients which will stimulate the appetite of your pet.
Others are made with fruits and hay, which your cavy cannot resist. The way to check if your cavies will respond to a product is by making a checklist of what your guinea pig likes against the ingredient the products contain. If it tallies, then there is a chance that your cavies will like the treat.
Value
Another criterion to look at is if you are getting a high value for your money. Most of these products are packed with essential nutrients and minerals, which are important for its health and well-being. In addition to these supplements, others come with useful accessories that can be hung in the cage.
Furthermore, the relationship and bonding you get to build with your guinea pig in return for these snacks are priceless. Also, they are great for promoting dental health, urinary health, and gastrointestinal health. Besides all these, your cuties get to enjoy a delicious time with the crunchy and irresistible treats.
What else can you ask for? Although some are a bit on the high side, the value you get from them is absolutely golden and worth its price. But, if your budget does not afford the price, you can purchase a similar one, which is lesser in price.
10 Best Guinea Pig Treats
1

. Kaytee Timothy Biscuits Baked Apple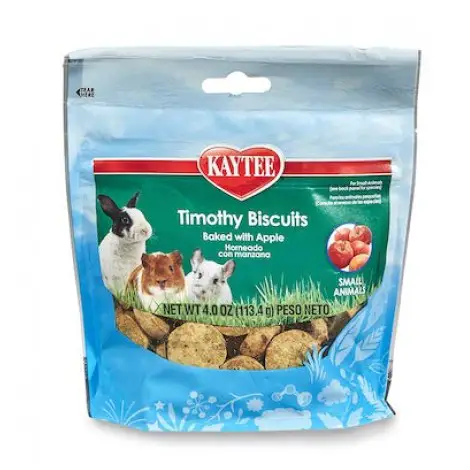 One morsel piggies love to eat is apples. These biscuits are made from real apples and fresh hay. In addition, it satisfies their need to chew on high fiber content, therefore helping your little one build strong dentition.
Nutritional Supplements
These baked apple treats are enriched with a high fiber content of the hay. It also contains a rich source of minerals and nutrients.
Bonding and Playtime
In addition, it is a wonderful playtime snack for your pet. It can be used to reward positive attitude, consequently building an intimate bond.
Cost and Value
This one will allow your pet to enjoy the natural flavors of fruits and grass. And you can get all these in a bag that contains 40 – 42 treats. Meaning for the price, you get the best value.

2

. Kaytee Natural Timothy Blend Cubes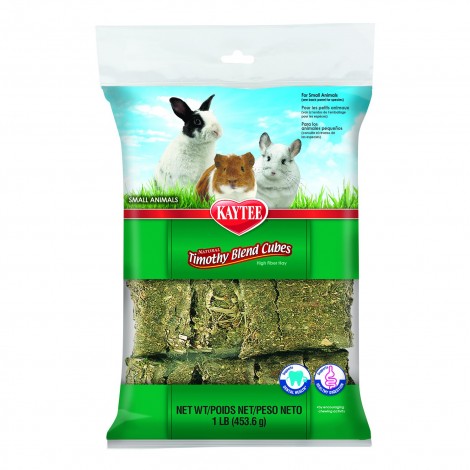 These natural blend cubes are made with a mix of nourishing alfalfa hay and Timothy hay, both sun-cured. The ingredients are rich in high-quality fiber, making it the best natural treatment. In addition, it also packs a variety of nutritious supplements.
Supports Urinary Health
The blend cubes are low in protein and calcium content, consequently supporting the urinary health of your guinea pig. So it is not only for fun, it helps them to stay healthy.
Blend of Nutritional Varieties
In addition, the natural blend cubes contain a rich content of sun-cured alfalfa hay, which provides the needed natural fiber for your little furry pig.
Cost and Value
It is cheaper, compared to other products on this list. It has a long shelf life and contains 10-12 cubes in a bag. And, your little piggies will absolutely love them, so no waste here.

3

. ULIGOTA Timothy Hay Chew Sticks Pet Chew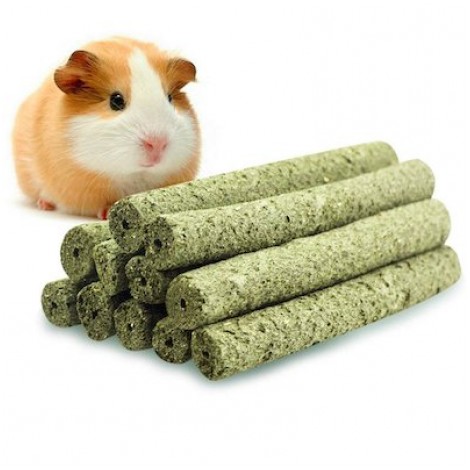 These hay chew sticks are made from Timothy grass, which is a needed ingredient for digestive health. Shaped like a chew stick, the crunchy nature of this treats supports wearing of growing teeth. This brand of hay chew sticks is the perfect treat for fostering bonding and relationship.
Long-term Storage
The low-temperature baking of these hay chew sticks is the reason it can be stored for a long time. The great thing about this is, although it has a long shelf life, this does not compromise its nutritional contents.
Perfect Chew Toys
In addition, hay chew sticks are the perfect and ideal chew tidbits and toys for your piggies and other small animals, including the rabbit, chinchilla, and hamster.
Cost and Value
A most interesting part about it is that it is not as messy as Timothy Hay. Meaning, your little pet can enjoy every part of the treat and take in all the essential nutrients. Plus you are not left with a messy cage after each meal. Also, it can double as a toy for your little pig. So you get to enjoy a 2-in-1 package, which is great value for a small price.

4

. Vitakraft Fruit & Honey Sticks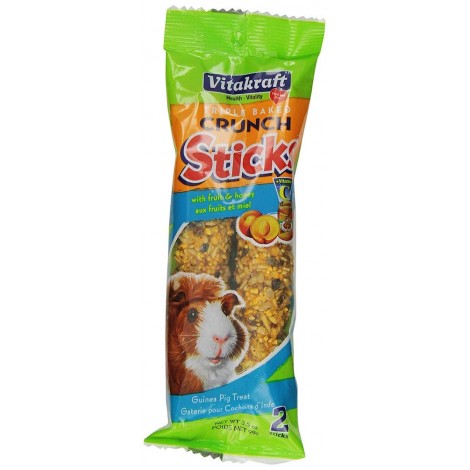 This natural fruit and honey sticks are made with high-quality ingredients. The nutritious morsels, also contain minerals and vitamins, which are an essential part of your guinea pig's diet. In addition, these sticks have an irresistible taste that your pet will love.
Accessories
This fruit and honey sticks come with a clip holder in its package. This clip holder can be attached to the cage for easy feeding.
Chewing Fun
The fruit and honey sticks are made with a natural wood center, which allows them to have fun while chewing. The wood center helps to stimulate the natural foraging and chewing instinct in your cuties, helping them to develop their teeth and jaw.
Cost and Value
These sticks contain vitamins and minerals, unlike other products in this list, giving it twice the value. This product also comes with nice and useful accessories. It is definitely worth its price.

5

. eCOTRITION Snak Shak Original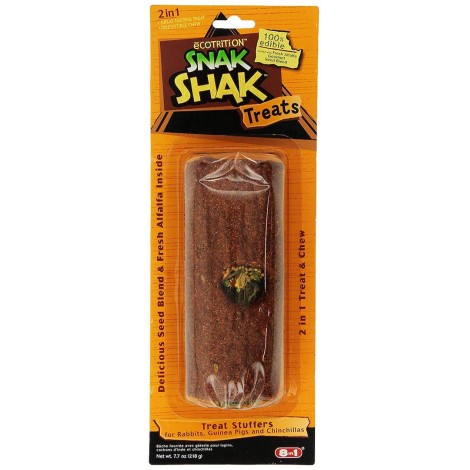 These delectable stuffers are made with Snak Shak logs, a blend of delicious seeds, and, fresh alfalfa hay. This gives it an irresistible taste. It is also available in different shapes and sizes, plus it comes with a great accessory for your piggie's cage.
2-in-1 Stuffed Treat
If you are hoping to buy 2-in-1 goodness, then this is for you. These stuffers provide a mouth-watering treat. Its outer log supports the chewing activity of your pet. In addition, the alfalfa hay and honey content pack a lot of nutrients.
Accessory
These stuffers also come with the perfect accessory for your pet's cage. The accessory is multifunctional too.
Cost and Value
These are perfect for a quick tidbit of pleasure, and although they come in a 1-pack container, you get a free accessory with the pack. In addition, they are very irresistible, and your furry little piggies love them.

6

. F.M. Brown's Tropical Carnival Farm Fresh Fixins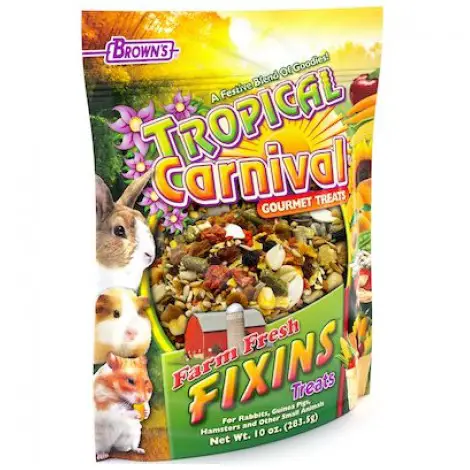 These Farm Fresh Fixins are to buy if you are looking for a combination of the palatable and nutritious blend for your pet pig. F.M. Brown's goodies are enriched with vitamins and they support healthy digestion.
Natural Timothy Hay
The farm fresh ones are just that, fresh off the farm. It contains a high fiber content of Timothy Hay. The Timothy hay used is processed under the best conditions and harvested fresh. In addition, it contains low protein and low calcium, which is crucial for a healthy gastrointestinal system.
Nutritious and Fun
F.M. Brown treats also have a high content of vitamins, minerals, and antioxidants. The fresh fruits and vegetables it is made of give an exciting mix of flavors, which are fun to explore.
Cost and Value
This treats gives you a healthy combination you may not get with other products. Your piggies enjoy the taste, and it provides a source of fiber. This makes it invaluable and worth its price.

7

. Wild Harvest Bake Shop Pretzel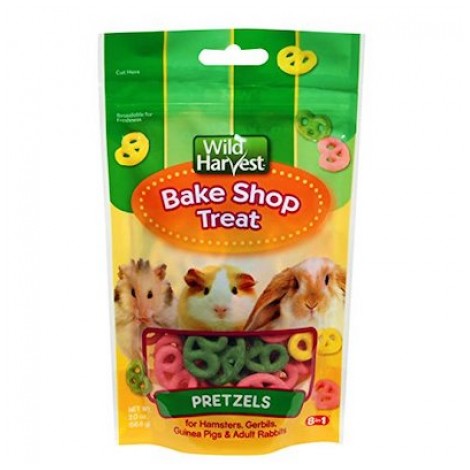 Perhaps you are looking for something more crunchy. This pretzel goodie is formulated with the best nutrients. The pretzel shape and crunchy texture promote the natural foraging instinct. It is also are great for wearing growing teeth.
Tasty Pretzel Treat
The Pretzel packs a rich and delectable taste, which your guinea pig cannot resist. The size of the pretzel makes it easy for your guinea pig to grab it and nibble on it.
Promotes Chewing and Dentition
The crunchy nature of the baked pretzel stimulates the craving to chew. This, in turn, promotes the dentition.
Cost and Value
It is definitely worth its price. The value lies in its great taste and its nutrient content. The cost is also great and unbeatable.

8

. William Craft Pet Snacks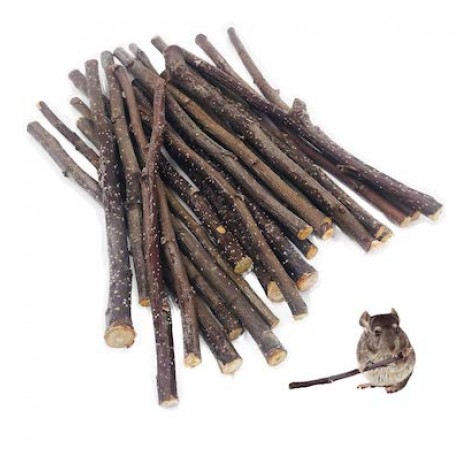 This nutrient filled apple sticks contain natural and organic apple sticks, which are rich supplements of vitamin C. In addition, they have a natural molar component that ensures the healthy growth and development of their dentition. And, they are the perfect chewing snack and toy.
Natural Vitamin C Supplement
The apple sticks can serve as a supplement for your pet's vitamin C deficiency. Vitamin C is one nutrient that is very essential for proper health, but the pet does not produce this vitamin naturally. The deficiency causes scurvy, which can be very serious.
Flavor and Color
These delicious apple sticks come in wonderful and irresistible flavors. They also have special colors, which are sure to spike the interest and taste buds of your cavy.
Cost and Value
The apple sticks provide your cuties with a nutritional supplement, vitamin C, which you may not get with other products. This makes this treat very invaluable, and great for its price.

9

. Living World Veggie Sticks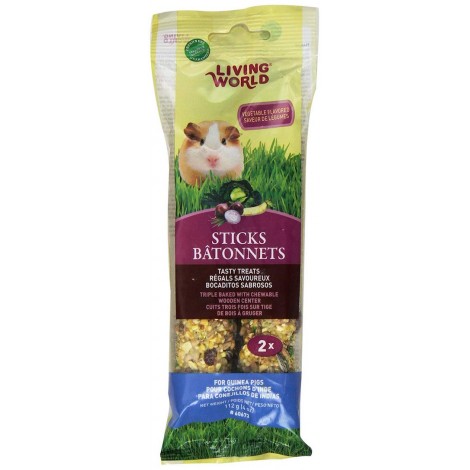 These nutritional sticks contain triple baked, high quality, grains, seeds, and veggies, which are crunchy and irresistible. They are also a way to get your cavy to clean their teeth and stimulate their gums. In addition, it comes with an accessory for your piggie's cage.
Vegetable flavored
Are you a fan of veggies and greens? Then you might love this idea. They are made with a variety of nutritious veggies, and are perfect as a vegan diet. So if you are looking for a snack that packs a lot of flavors and is palatable, then this is the best choice.
2-Sticks per Pack
Each pack contains 2 sticks, which has a natural, chewable, and, harmless wood center. In addition, each pack has a flexible clip holder, which can be attached to the cage.
Cost and Value
The snack sticks provide you with a way to keep your cuties healthy and satisfied. It also comes with a free accessory. It is also worth its price.

10

. Small Pet Select – Healthy Snacker Bundle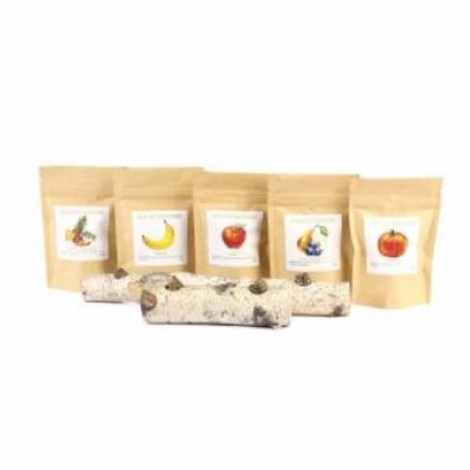 These snacks are specially made with fresh human-grade ingredients. All organic and fresh ingredients, these do not contain any preservatives or chemicals. If you are looking for the perfect snacks to train your guinea pig, then small pet select treats are the one option for you.
Human-Grade Ingredients
This brand of snacks contains only human-grade ingredients, including pumpkins, carrots, apples, bananas, pears, blueberries, and oats. These ingredients are mixed with high-quality hay, and they are nutritious and yummy.
Made in Batches
The treats are made in small batches. This promotes a continuous high quality and allows your guinea pig to enjoy a fresh treat every time.
Cost and Value
These goodies are made from purely organic ingredients. The ingredients are 100 percent fresh and can protect your pet, and you do not have to worry about health issues. There is nothing as valuable as your pet's health, so the price is worth it.

Subscribe to our Newsletter