Best Dog Leashes Reviewed & Rated for Quality
In a Hurry? Editors choice: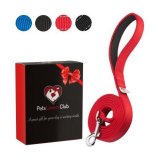 Test Winner: Pets Lovers Club Heavy Duty

Walking your pet is one of the ways to understand them on a deeper level. It's part of training it, and without a proper and high-quality leash, walking it can be a pain. If you're tired of your canine pulling, or eating and snapping a leash its time to consider making a change. Here are our best leashes that are bound to make your furry friend excited for that next walk.
Standout Picks
Criteria Used for Evaluation
Features
Would you be surprised if we told you there were 8 different types of leashes that manufacturers create? It's important that, before you purchase any leash from any company or store, to understand exactly what type of leash you are buying. Since there is a wide variety, it can be difficult to remember. To better help you out, we created this small guide to help you out during the evaluation process:
Standard Dog Leash: These are the most common leashes that owners find at the store. These products are typically made from standard nylon. However, you might find some that are made of leather. These are also the most affordable.
Retractable Dog Leash: These leashes are the second most common and provide the owner with control over the distance that the pet can walk. They may control how far or how close they may get.
Adjustable Dog Leash: The adjustable leash is typically used by owners who are seeking an in-between product of the standard leash and the retractable. Here you have control, to an extent, of the length of the leash.
Chain Leashes: These leashes are typically used by owners who have a breed that can quickly destroy a leash. These products are more controversial and it's important to do research before purchasing.
Martingale Lead Leash: While you might not know the name of the leash, it's quite common by sight. This leash is typically used by training experts to prevent the pet from pulling or tugging on a leash. When they do, the leash/collar slightly tightens.
Multiple Dog Leash: Have you ever wondered how people are walking four or five pets at the same time? Of course, they are not using five individual leashes. They are using a multiple leash.
Seat Belt Safety Leash: These products are only used to keep the pet protected and safe during a car ride.
Bike Leash: If you are an active owner and like to ride a bike, you might want to consider a bike leash. These are cool products that are catered towards bicycle riders. They are adjustable and have some unique features.
Materials
In addition to picking out the right type of leash, it's important to also pick out the right type of material. There are various materials that can be used to build a leash, each having its unique set of benefits and costs. To better help you out during the evaluation process, we are going to provide the most common leash materials that manufacturers are using.
Leather: As you might imagine, leather leashes tend to be the most expensive. If you purchase a leather leash, it's important to be aware of the maintenance and cleaning routine you will need to create. While leather is a great material, you do not want it to rip or break.
Nylon: The most common type of material that is used by leash manufacturers is nylon. While these products are typically incredibly cheap, they do come with some decent durability and toughness. You want to be careful how a company is using nylon and if they are adding any padding for you. This material can be uncomfortable to touch when the pet is tugging.
Chains: Out of all the materials on this least, the chain leash is probably the least common of the group. These products are made from metal, which can be harmful to a pet if not carefully observed.
Reflective: Reflective is a type of material that companies will incorporate in their leashes to make it easier for owners to walk safely at night. Typically, this material will be weaved into a leash, rather than making an entire leash out of it.
Weight
Before consumer purchases any leash, it's essential that they take into consideration the amount of weight or the weight capacity of a leash. In truth, while there are dozens of different products, not all of them are made for small, medium, or large breeds.
In efforts to minimize the surprise factor when opening the leash, be sure to look at what are the weight capacities for the specific leash and what previous customers are saying. They are the best indications of weight-capacity of a leash!
Advanced Features
During our extensive research of different leashes, one area that we were keen on was the different leash lengths. What we discovered was that every single leash has its designated requirements and build.
However, it's clear that the more money that an owner spends on a leash, the better the quality of material and the more flexibility there is with the leash length. It's also evident that most high-quality and premium leashes tend to stick around the 6-foot range.
Any companies that offer an absurd amount of space should raise some question marks. If you see this, which may be typically found in retractable leashes, be sure to research how this is being monitored and how the owner can control it. Additionally, as always, check out what other customers are saying. Leash length is important as you want your pet near you; however, at a distance enough where they can enjoy the walk as well.
Comfort
One of the most uncomfortable experiences is walking a large breed that consistently tugs and the traditional nylon leash causes blisters or leash burn. Blisters and burns make walking a pet frustrating or irritating.
Now, as we said above, walking your pet should be enlightening and exciting. One key characteristic to keep in mind throughout the evaluation process is the owner's comfortability. Typically, manufacturers at the higher-end of the market will create products that come with custom padded handles to make walking it easier. Additionally, some companies will even go as far as to include weather-resistant materials to minimize any damage or odor build ups.
If you are noticing that a leash has minimal protection or security for the owner, chances are it's a cheaper leash. Almost every leash comes with some degree of padding to help make walking a smoother journey.
Durability
One of the main reasons why you are probably reading this article is to find a leash that lasts finally. Perhaps you have a large breed that ripped previous leashes or a younger breed that gnaws at the nylon until it snaps.
Regardless of the reason, it's important to look into the durability of any leash before purchasing it. Typical low-grade nylon leashes are only made from simple nylon and have no major webbing to help keep the leash together. As a result, they can quickly gnaw and rip it.
In evaluating different leashes, it's important to look out for products that are considered "Double Layered" or are rope leashes. These tend to be considered the most durable on the market. Double Layered leashes are like traditional nylon leashes except they are referenced with an additional layer of material, alongside padding to hold everything together. A rope leash is a high-quality leash that can be more challenging to shred and destroy than a traditional leash.
Value
Warranties and Guarantees
When shopping for any product, it's always important to look at what the warranties and added opportunities are. Leashes can be a risky purchase as some breeds will tug and break or gnaw and destroy it.
So, during the evaluation process, it's important to sort-out what companies are providing consumers with the assurance that their product will last - and, in the event, it does not last, they will either replace or refund the costs of the leash.
Now, when it comes to warranties and guarantees, all companies have a different standard and rules. Be sure to become fluent with what the requirement is to claim a warranty. Additionally, make sure to check the time frame of the warranty double. As you will see above, there are some that offer a 1-year warranty and some that offer a lifetime warranty.
Use
The last criterion for evaluation comes down to the customizability options. When it comes to leashes, some manufacturers will provide consumers the opportunity to customize or personalize their leash. Customization may mean adding a name tag branded into the leash or choosing from a wide selection of colors.
During the process of picking out the best leash, it's important to consider the importance of customizability and if it's important to you. Please note, if you are looking for specific colored leashes, they may be difficult to find or purchase.
Typically, leashes are all made in particular sizes and colors. In other words, you will note, specific colors may only be obtained in one specific size. Additionally, seeking a color option may drive up the cost rather than selecting the standard color.
10 Best Dog Leashes
1

. Pets Lovers Club Heavy Duty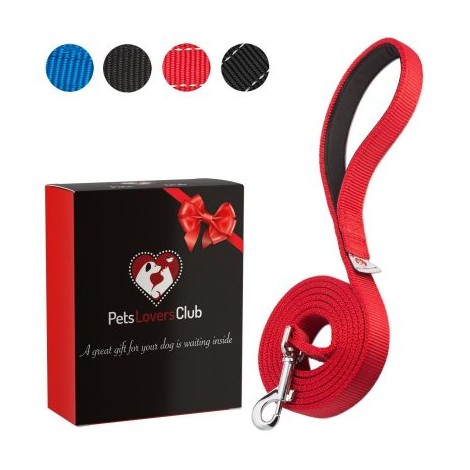 There are not too many leashes on the market today that can match the true power and durability of the Pets Lovers Club Heavy Duty Dog Leash. This product has a double layer build design, making it stronger than the typical nylon leashes that you see on the market. Additionally, the company designed this leash to come with a unique padding to make walking the pet easier and more comfortable than any other leash. If you have ever experienced rope burn from walking a day, this leash was designed for you.
Double Layer Dog Leash
If you look at many leashes on the market today, they are only constructed from simple nylon. This product took this model and amplified it. What you will find with this leash is a double layer of material, making it last longer and feel lighter for the owner. The company has even said that this leash is so strong because of it's double layer feature, you could even walk a horse!
Better Than Cash Back Guarantee
To stand aside from the competition, this company offers its consumers something better than a regular cash back guarantee, which a few manufacturers offer. Here, if you are unhappy with this leash, the company will refund 100% of the money and then you can either return the leash or donate it to a local rescue.
Cost and Value
When it comes to the cost of this leash, it's safe to say that it's competitively priced with other leashes. However, when you consider the amount of value and power built into this leash, the price does not matter. This leash is sturdier than almost every other leash on this list, comes with five different color variations, and is designed with comfortability in mind for the owners. You really can't go wrong with this leash!

2

. Primal Pet Gear Dog Leash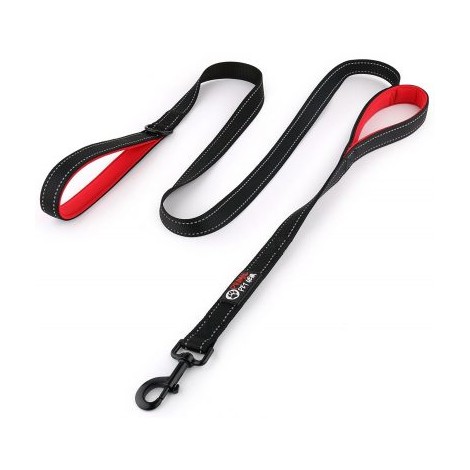 The Primal Pet Gear Leash is a great option for owners looking for customizable options, control, and comfortability. This product is built from premium quality and materials, which is why it is making the top 3 on our list. The best part about this leash is that it's multifaceted, including a short-leash and long-leash. It comes with two different handles, both of which are designed to keep walking your pet safe and easy. With six different color variations, you can choose one that matches your canine's personality.
2-in-One Dog Leash
This leash is considered a 2-in-one leash. It comes with two different variations and handles a longer leash and a shorter leash. Evidently, the longer wish is optimal for loose leash walking whereas the shorter leash is better for busy streets or sidewalks. This is a great feature for owners, and the pet, making walking easier and safer than traditional nylon leashes.
1 Year Replacement Warranty
As we said before, this is considered a premium leash due to the types of materials used to construct it. With that being said, the manufacturer included a unique 1-year replacement warranty, which is quite rare among these leashes. In other words, the owners can purchase one of these leashes risk-free and try it out. Should there be a major problem or fault with the leash, the owner can simply replace it.
Cost and Value
As far as cost is concerned, this leash is relatively fair in comparison to other leashes mentioned on this list. However, when you consider the two-in-one build features alongside six different color options, a risk-free warranty, and even premium quality materials – the price is most certainly worth it! This is one of the only leashes on the market that give owners the opportunity to decide whether they are going for a structured and controlled walk or a loose and free walk.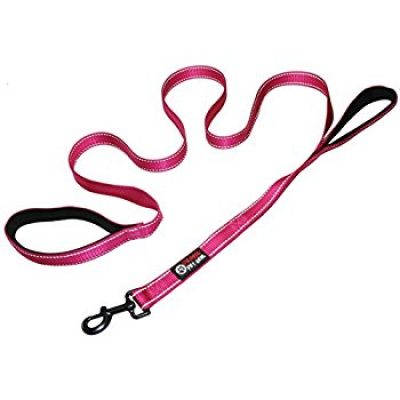 The Max and Neo Dog Gear Double Handle Traffic Dog Leash Reflective is redefining what a leash is capable of. This leash is built from high-quality materials, including a 1" wide, 2mm thick heavy-duty nylon. This type of material was intently used so that canines of any size and breed could be walked on this leash. What makes this product special is that the manufacturer contacted different rescue shelters to figure out what type of leash they needed. This leash is built to be affordable, durable, and tough enough to handle even the rowdiest one.
Soft Neoprene Handles
What is really unique about this specific leash is the way that the handles of the leash were created. The manufacturer created the handles to have two soft neoprene handles. This is to ensure that a pet owner can have control over their dog when walking, without having to get blisters or leash burn. Additionally, the owners will find comfort with the hand wrist handle, which is also padded.
Lifetime Warranty
One area that we tend to look out for with these types of products is the warranties. Out of many leashes, this is probably one of the best offers out there. This company is providing consumers with the opportunity with a lifetime warranty, which covers the pet chewing it or any other defects. In order to receive this benefit, consumers are recommended to register their product with the company the moment they receive the product. Should you ever have a problem, communicate with the manufacturer immediately.
Cost and Value
Out of the many different leashes that we have covered thus far, this product is probably on the more expensive end, but not by much. With that being said, you can rationalize the costs for this leash once you begin to consider the value of it. It's rare that you find a high-quality product on the market that is built with reflective features, offers a lifetime warranty and is manufactured from the highest quality materials.

4

. Tuff Mutt Hands Free Dog Leash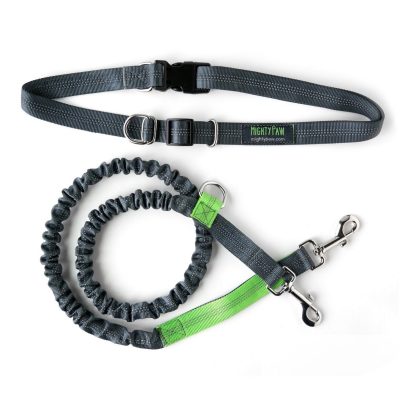 Just like bikers, joggers and runners cannot be impeded by ordinary leashes. An exercise routine is important for you and your pet. This leash is designed as a belt. It glides on a clip that provides ease of motion for the pet and you.
Leash Length
The leash portion is 48 inches. It is fairly short. Included, is a 60-inch bungee extension that gives more flexibility. The 48-inch leash keeps the pet close. Small breed owners want more freedom than the 48-inch leash provides. Leash length is a personal preference. Short leashes offer control.
Other Features
Three color combinations are available - gray and blue, coral and gray, and green and gray. Three reflective material seams add visibility for both the runner and the pet. The belt adjusts up to 42-inch waist sizes.
The bungee absorbs a lot of the shock when a dog is hyper. The characteristic makes the leash great for hiking and jogging. The durable material is weather resistant. You can maintain your natural form of running. Active moms can pay attention to children while keeping the dog under control. It helps to relieve shoulder and back strain.
Cost and Value
The mid-range priced leash serves many purposes. The unique and high-quality features of the Mutt Hands-Free dog leash includes the innovative bungee that many pet owners prefer over average pet leashes because of the high-tension character and durability.
The design focuses on allowing you and the dog to keep in stride during your time out walking or jogging. The Tuff Mutt Hands-Free dog leash is needed for pets that are hyperactive from time to time. Many find the leash especially applicable for large breeds packing a lot of muscle.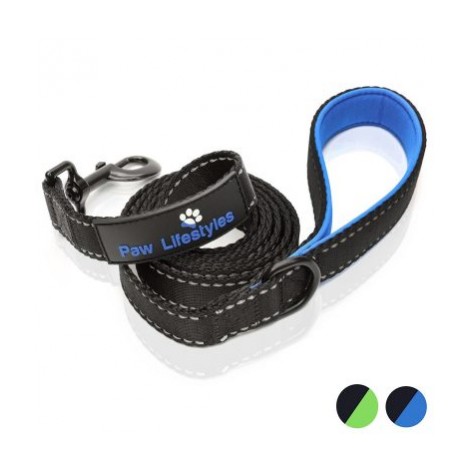 The Paw Lifestyles Extra Heavy-Duty Dog Leash is seeking to become a top-notch leash due to its tough build and durability. This product is marketed as 2x thicker than any other typical nylon leash. Additionally, the leash is made with a comfortable plush padded handle, making it easy for owners to a peaceful walk. The best part about this leash is the unique luminous reflective threads weaved throughout the entire leash. In other words, you and your pet will always be visible walking around at night.
100% Moneyback Guarantee
In an effort to secure new customers, the manufacturer is offering new owners a 100% money back guarantee. In other words, if you purchase this leash and you are not 100% happy, you can return the leash back to the company and receive 100% of your funds back. Since so many people do tend to like this product, it's a perfect risk-free gift for a friend's canine!
Padded Handle for Dog Owner
What happens with many collars is that companies tend to forget about the owner. So, the handles are not designed intently, making it uncomfortable and leading to blisters or leash burn. This manufacture included a plush, padded handle made from high-quality neoprene to help with this problem.
Cost and Value
As far as cost is concerned, this leash is probably one of the most cost-friendly options on our list today. What's great about this leash is that not only does it boast a great price, it has some impressive features, which we covered above. With two different color variations, the owners can select which one would match their canine, black and blue, or black and green. Now, since this product does have reflective features, it makes this leash the perfect all-day and all-night dog walking leash, rather than having separate ones. Is that enough value for you?

6

. Leashboss Free Range Leash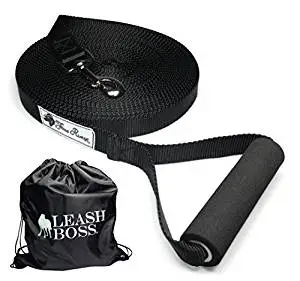 Here's to freedom when a retractable leash doesn't work for your pet and you. This option is available in 20, 30, 50, and 100 feet lengths. The Leash Boss Free Range Leash is a soft nylon mega-leash great for backyard training.
Leash and Handle Material
The leash gives the pet enough rope to move a good distance from you as you maintain control. Polypropylene leashes have sharp edges capable of cutting your hands as your reel in a long leash.
Cotton leashes break easily. A nylon leash is strong when pulling large ones and soft on the hands. High-density foam in the rubber molded handle gives comfortable control. The firm handle prevents leash-burn. It does not bend and lasts for years.
Uses
The leash is meant for medium and large breeds. The Free Range leash is a long leash great for letting the pet use the bathroom, outdoor play, swimming, and hiking. It can be used to give it a run in camping situations or during recall training. The leash allows you to find the fun side of your pet. You can play fetch or train them to 'stick around' or 'come.'
Cost and Value
Unlike most leashes that are overseas imports, the Boss Leash is crafted from the highest quality materials from U.S. vendors and assembled in California. The leash has a five-year money back guarantee.
Prices for the leash vary according to the length purchased. It sells in line with competing products. The leash has a strong clip and reinforced stitching. As a bonus, the leash comes with a drawstring backpack for carrying the leash and toys.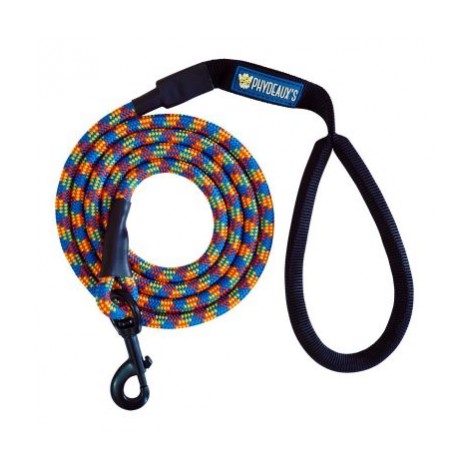 If you are looking for a leash upgrade, perhaps it's time to consider the Phydeaux's Pet Supply Mountain Climbing Rope Dog Leash. This product has built a name in the industry as one of the most durable and sturdiest leashes, built from thick rope. In fact, this single leash can handle up to 1000 lbs. In other words, regardless of its size, large or XL, this leash can handle them. Given its power, the manufacturer included a padded handle to make it easier on the owner, and to prevent any rope burn.
Can Handle Up To 1000 Pounds
This leash has set itself as one of the strongest and most durable dog leashes on the market. The company has created a product that is a ½ inch thicker than other rope leashes. Additionally, given the material used, this leash can handle and has been tested, up to 1000 pounds. In other words, whether your puppy is small, medium, or extra-large, this leash can do the job, with ease.
1-Year Money Back Guarantee
This leash comes with a unique 1-year money back guarantee, which is great for the owners. What the manufacturer offers is, if the product does not work for any reason, or if a consumer is unhappy, they can request to return for a refund or replace it. Again, we keep a lookout for these guarantees and this is a great opportunity.
Cost and Value
When you read the details and the value built into this dog leash, you might anticipate it costing a $30+, right? Well, you might be surprised to learn that this leash is one of the most cost-friendly ones on our list! In addition, this is the only leash that has been tested and can handle up to 1000 pounds. Partner this with over 11 different color variations and two different leash lengths and you have one valuable leash!

8

. PetSafe Nylon Dog Leash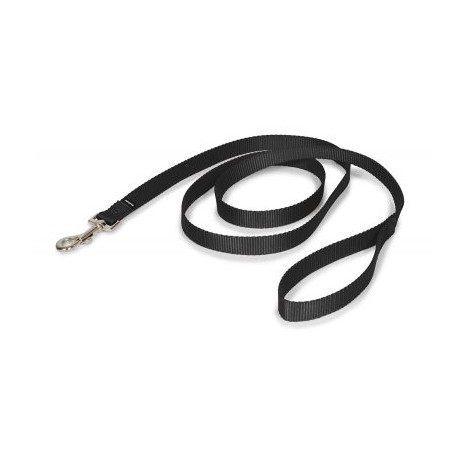 The PetSafe Nylon Dog Leash is quickly becoming one of the most popular leashes on the market today. To start off, the manufacturer offers six different vibrant color options, all of which are incredibly appealing. This is an easy-to-use leash, with not many gimmicks or whistles. Its simple nature comes with different lengths and options, depending on your personal needs. If you are looking for an addition to help train your puppy, this is one of the best leashes on the market today!
Multiple Color Options
What helps this leash stand out is the multiple color options that the manufacturer offers. You may choose from apple green, black, deep purple, raspberry pink, red, or royal blue. Each of these colors are vibrant, making it easy to see from a distance away. It's important to know that each color size may be restricted as far as the leash size. Be sure to look at the leash size FIRST before the color.
Simple and Easy
The selling factor behind this leash is the simplicity and ease of use. There are many different leashes on the market that are easy to use; however, they have different features or capabilities, which can make it confusing. This product is a simple and sturdy easy-off hook. So, for a great canine walking experience, all you would need is a perfect walking collar to pair this with!
Cost and Value
For the price that the manufacturer is charging for this simple dog leash, you can't beat it! It's one of the most cost-friendly leashes on our list, comes in multiple color variations, different leash sizes to accommodate for all sizes and needs, and it's incredibly easy to use and incorporate into a pet's life. Many consumers who have purchased this leash have said it's a great training leash. Should you be interested in training your pet to do tricks, this leash might reveal some magic!

9

. Flexi New Classic Cord Leash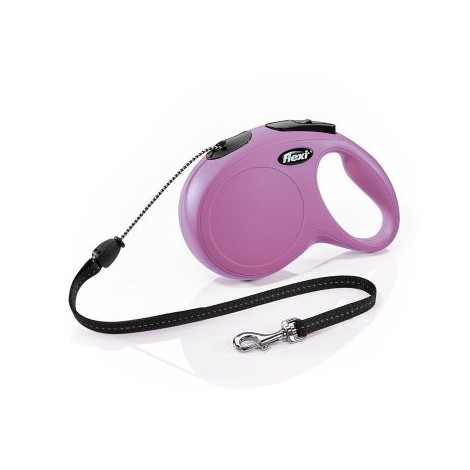 The Flexi New Classic Cord Leash is a great, affordable leash that offers some unique features to spice up the competition. In this industry, it's important that the leash manufacturers do something different to stand out. This product can handle up to 26 feet in length, which is significantly longer than many other leashes. It comes with fast and responsive buttons to help control the leash, including a stop and brake system. With an ergonomic handle, this company makes it easy to walk your pet.
Covers Over 26 Feet!
What sets this product aside from the entire leash competition is the capacity to handle over 26 feet. However, if that seems like too much for your pet, the company does have options for you to purchase a smaller size cord. Currently, the manufacturer offers 10-foot, 16 feet, and 26-foot cords. With four different color variations, consumers have some degree of customization power.
Reliable Controls
When looking at these types of leashes, it's important to always consider how reliable are the controls. This leash is known to have a great short-stroke-breaking system making it easy for the owners to control the distance between them and their pet. In light of this handy-system, the owners can also walk with this leash in one hand.
Cost and Value
When considering the cost of this product, it's evident that it's priced slightly higher than the rest of the competition. However, this has not deterred thousands of people from buying this high-quality product. It's evident that this product brings a lot of value to the table, including an extensive leash length, responsive controls, reflective features, and even some customizable options. Whether you are seeking a black, blue, pink, or red leash, Flexi has you covered!

10

. Blueberry Pet Classic


The Blueberry Pet Classic Solid Color Dog Leash is quickly taking a spot on our list due to the wide variety of color options, leash length, options, and the simple yet durable nature of this leash. With over 12 different colors, the owners can truly customize their leash to match their pet's personality. Additionally, the leash is made from nylon fabric with high-density webbing in efforts to increase the durability of the product.
12 Different Color Options
As we said above, one of the main reasons why this leash made our list is due to the wide selection of bright and vibrant colors they offer owners. You may choose from baby pink, dark orchid, emerald, Florence orange, French pink, lavender, blazing yellow, medium turquoise, mint blue, neon green, rouge red, or royal blue. All of these colors are vibrant to the eye, making it easy to see in public or in the backyard.
Easy to Clean
It's important to note that this leash is one of the easiest leashes to clean. Rather than worrying about purchasing different types of products to clean – all you need to do is put it in the washer machine. So, whether it's raining outside, snowing, or a muddy day, this leash can handle whatever is happening and all you need to do is throw it in the washer, worry-free!
Cost and Value
Before you are quick to make any purchase, it's important to consider the pricing and the value of the product. As far as price is concerned, this product is price fairly well in terms of the competition. The biggest concern for us is that this product does not boast a wealth of features or additives to charge the same price as the competition. The only difference between this leash and the competition is the color – yet some of the others have better value.

Subscribe to our Newsletter