Best Growth Charts Reviewed & Rated for Quality
In a
Hurry? Editors choice: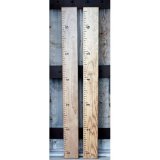 Test Winner: Little Acorns DIY Vinyl

There's a funny little family anecdote that comes to mind when thinking about growth charts. My family owned a country store during the Great Depression. Many people had no money, but still needed essentials like food. My great-great-grandfather, knowing that the economy would eventually recover, wrote people's debts on the walls and still allowed them to take items from his store. Well, one spring his daughters decided to spruce up the store and painted over every single one of those recorded debts! In a more honest time, most of those debts were recovered anyway, but the records were totally erased! The same thing happens when tracking your child's measurements on the doorway. What if you paint? What if you move? All of those measurements will be lost. That's why we made this list of portable growth charts so that your measurements can move with you.
Standout Picks
Criteria Used for Evaluation
Style
The most important factor that we considered when developing our criteria for the best growth charts was style. We know that folks are looking to shift away from the old-school method of marking their child's height on doorframes and that they're also looking to upgrade the style of their children's rooms. We did include some simpler options, but we also included some lovely decorative options as well to make sure that you get just the right look for your child's bedroom.
We loved growth charts that came in many different styles and design options so that there were lots of different aesthetics satisfied within each product. We also loved the charts that were gender neutral and not geared specifically towards boys or girls. Mostly we loved the designs that had a real ability to age well. For example, a nature-themed design ages better with time than a princess theme.
Application
Next, we looked at the ease of application for each product.
For charts that were DIY (Do It Yourself), we researched how easy they were to install and what other materials you would need for the installation. We tried to provide ample information on the stickiness and readiness of the applicators in order to give you a feel for how much experience was needed in order to get the desired outcome after application.
For charts that come fully assembled, we looked at how easy they were to hang or lean. Some products were meant to lean on the wall but did not start at 0-1 feet or come with holes for drilling. We found these to be problematic and they did not make our list. However, most of the charts on our list are incredibly easy to hang or lean against any wall in the home.
Size
We also looked at the size of each chart when compiling our list. We made sure to include the measurements of each chart so that you could be sure exactly how each product would fit in your intended space.
Some charts are smaller than others because they don't start at 0-1 feet, but start at 2 feet instead. Some charts only go up to 5 feet while some go up to 7 feet. The width of each chart varies as well.
Materials
Materials are another important factor to consider. The whole point of purchasing a growth chart instead of writing on the wall is to be able to keep those memories with you. If a product is made from materials that will fall apart, that whole purpose is defeated. That's why we loved products that were made from durable canvas and wood. We did feature a plastic product as well that had great reviews in regard to durability.
Value
We always want to make sure you get what you pay for so we always take value into consideration. Products that were handmade or made from wood but were inexpensive got the best value. Most of our wooden products are the most expensive but they still won't break the bank. We especially loved our canvas charts because they are way on the low end of cost and they still stand up to the test of time.
10 Best Growth Charts
1

. Little Acorns DIY Vinyl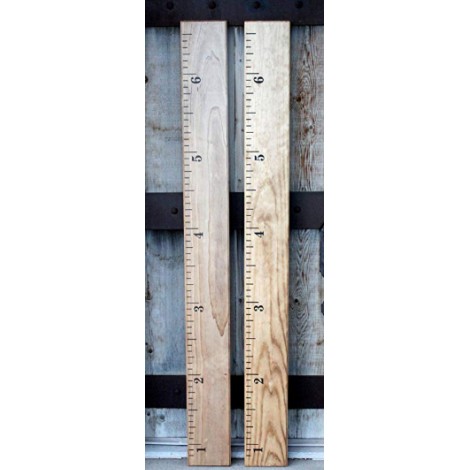 The first growth chart to make our list is the Little Acorns DIY Vinyl Growth Chart. With so many different options available, you can personalize this set so that it is just right for you and your rapidly growing little one.
16 Great Colors to Choose From
Each set of the Little Acorns Growth Chart comes with 72 inches of notched lines for measuring as well as the numbers from 1 to 6 on easy-to-apply decals. This growth chart comes with so many fun options that you can mix and match until you find just the right combination for you. These muted vinyl colors are to die for and they won't overpower your space. On top of the amazing color options, you can choose between small (numbers are 1.5 inches tall), large (numbers are 2.5 inches tall), and jumbo (numbers are 3.5 inches tall) sizes. The numbers are printed in standard ruler font.
Easy-to-Apply Decals
Unless you're a professional, some decals can be hard to apply and always seem to come out crooked or with tons of bumps underneath--but not with this set! The notched measuring lines come in 6 easy-to-apply decal strips, and the numbers are simple to align with the strips. Some users applied the decals directly to their walls or doorways while others chose to make life-size rulers on pieces of wood. Remember, no matter what surface you're applying decals to, make sure it's clean so your decals don't end up peeling. We especially like the life-size ruler idea because your growth chart will be able to move if you do.
Cost and Value
We love this product in all of its simplicity--and especially for its low price. It's easy to apply and it won't peel, and if applied on a separate piece of wood, the growth chart can move with you. Keep in mind that you will have to purchase or find a piece of wood if you want one, and that can be an added cost.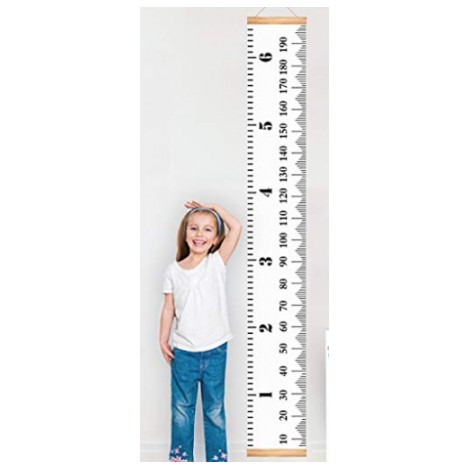 If you're a little less confident in your DIY (Do It Yourself) skills, perhaps this ready-made ruler growth chart is more your speed. This durable chart will stand the test of time and keep track of all of those big growth moments.
Inches and Centimeters on the Ruler
Let's face it, not all growth moments are huge. I know I wanted to measure my growth quite frequently--sometimes multiple times a month. That's why it's so nice that this ruler provides measurements in inches and in centimeters so you can trace the tiny growth moments as well. The ruler is white with wood strips at the top and bottom so it will literally fit the aesthetic of any room. The numbers and lines are black and printed in standard ruler font. Each ruler measures 79''x7.9''.
Made from Waterproof Canvas
The ruler is made from a waterproof cloth canvas so it can stand up to years of use. It is also equipped with a hanging string so that if you move, your growth chart can move with you. Simply take it off the wall, roll it up, and carry it along with you to your new home.
Cost and Value
This growth chart is super inexpensive, especially considering that it's waterproof and therefore can last for years and be used by multiple siblings--each with their own special marking color of course. Thus, it's a great value purchase.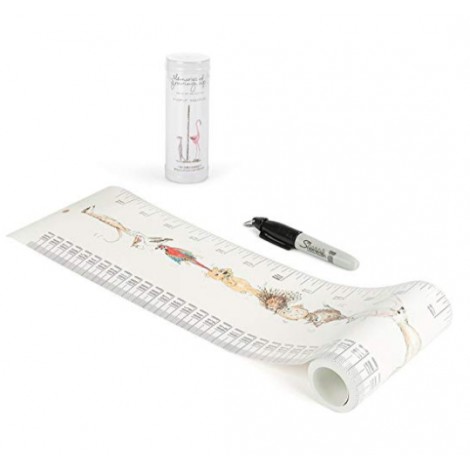 If a simple design is not what you had in mind and you are rather looking for a growth chart with a little more character, then Talltape has got you covered. With 10 delightful designs to choose from, you're bound to find one that you and your child will enjoy for years.
10 Amazing Designs to Choose From
This growth chart comes in two sizes--the large tall tape measuring 5.5 inches wide and 6 feet 6 inches tall, and the small tall tape measuring just 10 centimeters wide and 6 feet 6 inches tall. So whether you have tons of space or just a little, there's a size for you. But that's not all! This growth chart comes in 10 delightful themes: the animal alphabet, the tree of life, dinosaurs, wild animals, bees, London, fairies, and the colors blue, pink and white. When we say these prints are darling, we mean it, and we know they will make a great addition to any kid's room. Plus, the chart is made from plastic so it's easy to keep clean and durable against wear and tear.
Comes with Sharpie and Sturdy Tube for Safe Storage
Apart from the adorable designs of this growth chart, we love all the little extras that it packs in. The chart comes with a sharpie that has both a clip and a ring attached to it making it super easy to hang by your chart so you'll always have a marker at hand. It also comes in a durable tube so that you can roll the chart up and move it safely without damaging it. The chart is meant to be hung on the wall or door but can be taken out just for measurements and stored away. And it can easily be laid flat for a child to lay on top of so that you can take measurements from birth.
Cost and Value
This chart is on the higher end of our price range but you get what you pay for. The beautiful design and size options, plus the added extras and ease and security with which you can store the chart really makes the extra costs worthwhile.

4

. Growth Chart Art Ruler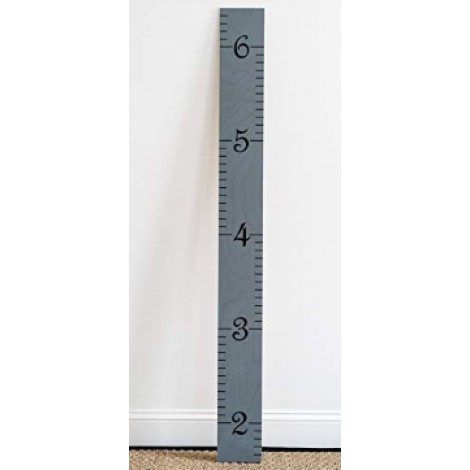 This growth chart is special because it is designed to lean against the wall while other charts are designed to hang on the wall, so this chart is meant more as a stand out piece. It's portable but will have your little one excited to track all of their progress. Plus, this company sends some proceeds from each purchase on On Belay, an organization that supports children with cancer.
Fancy Lettering
This chart comes with 7 different amazing color options to choose from. You can select gray with black lettering, birch with gray lettering, maple honey with black lettering, birch with multi-colored lettering, birch with chocolate lettering, robin's egg blue with black lettering, and truffle with black lettering. The growth chart measures in at 58" x 5.75", so it's smaller than some other growth charts because the first number on the chart starts at 2, not 1. And the font on this growth chart is a little more whimsical and fancy than the standard ruler font featured on most growth charts, so it feels a little more sophisticated. The ink used to finish this chart is also free of solvents so it won't fade with use over time.
Made from Real Wood
This chart is made from real birchwood that is sustainably farmed and treated in such a way that it won't warp or split over time. Plus, the wood comes super easy to write on so you won't go through tons of markers. The quality wood, plus the fact that the chart is moveable, means that this chart can be used not only for years but for generations to come.
Cost and Value
This chart is definitely at the top of our price range. However, the materials used to create this chart are much more durable and long-lasting than other materials used by products in the industry. Plus, you don't have to find the piece of wood and apply your own decals--everything comes ready for you. And because it will last for generations, it's a memory worth spending a few extra dollars on.

5

. Growth Chart Art Tree of Life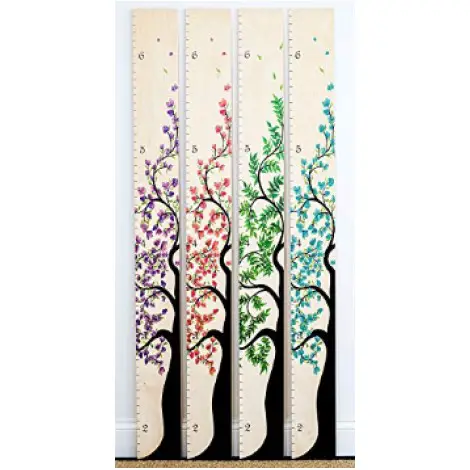 This is the second growth chart we feature by Growth Chart Art because the company features such rave reviews and customer satisfaction, high-quality products, and a commitment to support children with cancer by donating proceeds to On Belay.
Beautiful Tree of Life Designs in 4 Color Options
This growth chart features the Tree of Life in 4 amazing color options: blue flower, green leaf, pink flower, and purple flower. It measures in at 58 x 5.8 x 0.4 inches, so it won't take up a ton of space and can fit in virtually any room in your home. The number font is delicate and is printed in solvent-free UV ink that will not fade over time.
Made from Birchwood
The Tree of Life growth chart is made from sustainably grown birchwood right here in the United States. That means that this product won't split or warp over time and thus can be used for generations to come. The wood is also smooth so it is easy to write on, and is suggested that you use a permanent marker to prevent potential smearing.
Cost and Value
Again, this company features charts that rank at the top of our price range, but the product can move with you and is made from durable materials so they can last for years and even generations.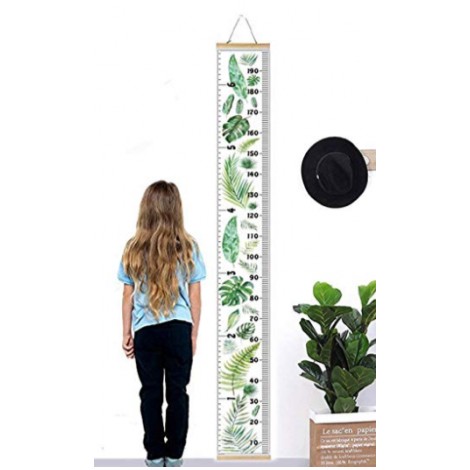 We love the whimsical designs of the Miaro Kids Growth Chart, and we especially love the simple packaging and how easy the product is to hang and move.
8 Whimsical Designs to Choose From
This chart is made from canvas and pine, so it's lightweight and easy to move around your house or to new houses. The canvas is super easy to clean as well as to write on, and the pine provides stability when measuring. The chart comes in 8 whimsical designs: flamingo, monstera deliciosa, pink and gray, pink cloud, triange, unicorn, white and black, and white cloud. Each design is fun and presents a certain mood that will add flair to any room. Keep in mind that some designs are more juvenile and may not grow up as well as other designs.
Easy to Hang Canvas and Pine
This chart is super easy to install and remove so you can take your memories with you when you move. With string attached to the top piece of pine, and with such lightweight materials, you can easily hang this chart with a pushpin for ultimate portability. It is easy to roll up and easy to get back into the box for safe storage and transportation.
Cost and Value
This chart is on the low end of our price range and we love it because it is made from canvas that won't easily rip can be moved from room to room or house to house without losing your precious memories.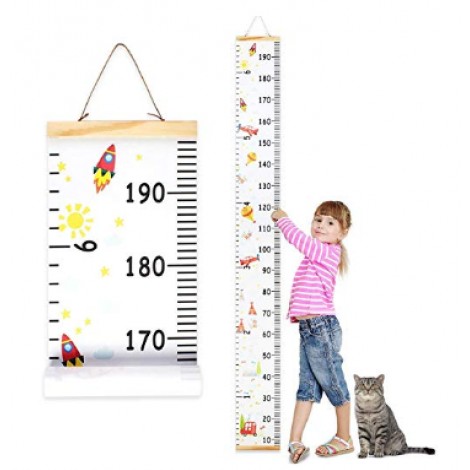 This growth chart features inspired cartoons and is great for boys and girls alike. Another product made out of canvas ensures that your memories can travel and grow with you.
Inspired Cartoon Design
This chart is made from canvas which is easy to clean and write on. With wood borders at the top and bottom for added support, your canvas will stand straight against the wall. Printed with cartoon designs in primary colors, airplanes, hot air balloons, teepees and more will inspire your child and fit nicely into any room or bathroom. Inches and centimeters are printed in black font on either side of the ruler. Plus, this design is meant to be used from birth and a newborn can easily be laid on top of it to track their growth even as a tiny babe. Thus, this product measures a little larger than other charts, coming in at 79 inches by 7.9 inches.
Canvas is Easy to Store and Move
Because this chart is meant to be used from newborns up, it is super durable and easy to move. With a rope attached to the top wooden border, you can easily hang the chart up with a thumbtack and move it when you need to measure your child if they are laying down. Plus, it's easy to roll up and place back into the original packaging for safekeeping or for moving around.
Cost and Value
This chart rings up in the middle of our price range, but it's slightly larger than other charts because it is meant to be used from birth. Being made of canvas means it won't easily rip when you are moving it around for measuring your baby or when going to a new house.

8

. Growth Chart Art Animal Tracks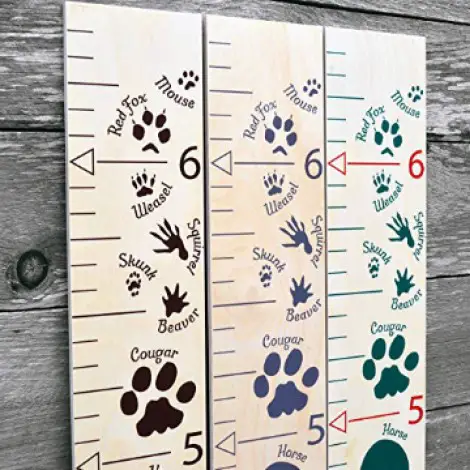 This chart is beautifully handcrafted in the United States (New Hampshire), and no detail is left unnoticed. The care and love put into each chart is palpable and will truly give your family something special to cherish for years and generations to come.
Educational and Functional Design
Each of these growth charts comes with printed animals tracks that are correctly labeled so that your child can have an educational experience while tracking their rapid growth. From foxes to cougars to horses, each track is correctly sized and fun to compare with other tracks on the board. This chart comes with 4 different color options: brown paw, deer family, gray, and green paw. Each chart measures 58 inches by 5.8 inches, so it can easily fit into almost any space.
Handcrafted and Made in the USA
Each of these charts is made from sustainably produced Baltic plywood which is the best plywood you can get on the market today. That means it's super sturdy while also being lightweight. Plus, the ink that is used in the printing process is UV-cured and free from solvents so it won't fade as you use it over time--even if the chart gets exposed to a good amount of sunlight every day. So this guy can stand up to years of use, and can even be passed through generations.
Cost and Value
This product is at the top of our price range but it is also made from premium materials and each one is handcrafted. That's a value that's hard to beat, especially considering how long-lasting this product is and how much total use you can get out of it.

9

. Decowall Little Monkeys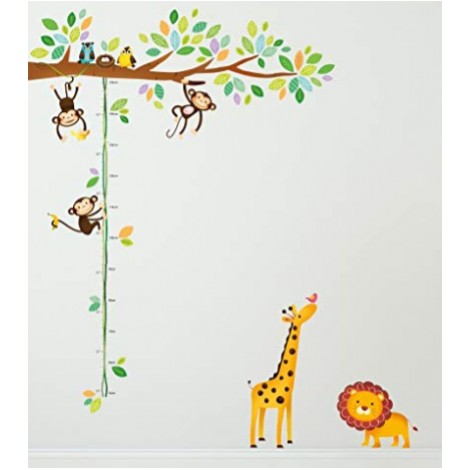 This height chart is quite different than any other on our list so far and we love it! Though it's a wall decal, it's still easy to move and will liven up any child's room.
Beautiful Design that is as Much Decorative as Functional
The Little Monkeys Tree and Animals chart is as fun to look at as it is functional in measuring. The set comes with a tree branch with perched birdies and hanging monkeys, as well as a ruler with inches and centimeters, and some more monkeys. The set also comes with additional giraffe and lion stickers to be placed anywhere in the room. Each set comes in 2 sheets that measure in at 25.6"(W)*9.8"(H) so there's just enough room for you to write in your child's measurements on the ruler tape.
Easy to Apply and Move
This chart is super easy to install and move. Simply measure with a measuring tape from the baseboard to the starting measurement (20 inches) and align the bottom of the ruler decal there. Once that portion of the decal is applied, it is easy to line up the branch portion of the decal. Then place the additional stickers anywhere you please. One may think that because you are adhering this decal to the wall, you're going to be left with sticky residue when you try to remove it and that you won't be able to use it again. Wrong! This decal is meant to move with you and won't leave a sticky mess on the wall when you move it.
Cost and Value
This chart is in the mid-low range of our price range. It is a bit of a DIY project, but you won't need to look for additional materials other than a measuring tape to hang the chart at the right height for accurate measuring. Plus, this product can still move with you despite it being adhered to the wall. And on top of all that, it is great for adding color to the room without dealing with the hassle of painting.

10

. Pearhead 'Though She Be Little She is Fierce'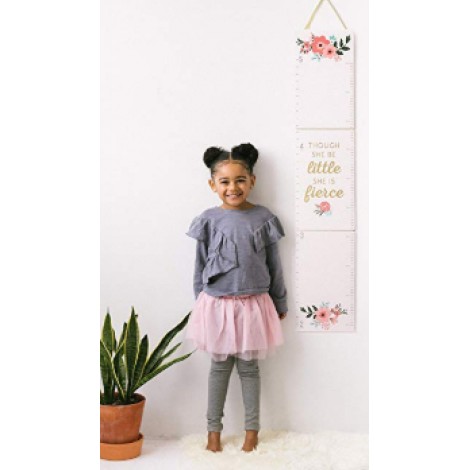 These growth charts are absolutely adorable and come from a company that really knows how to make marking your little one's milestones a beautiful and heart-warming experience.
Specially Crafted Designs Meant for the Little Princess or Prince in Your Life
The 'Though She Be Little She Is Fierce' is beautifully crafted with delightful floral designs and gold foil lettering print. The chart is finished with a gold ribbon at the top. The 'Little But Loud' chart features charming dinosaurs in light pastels with a blue ribbon at the top. Each chart is printed on durable canvas and measures from 2 feet to 5 feet.
Easy to Treasure Forever
These growth charts are made from durable canvas fabric so they will stand up to the test of time. They are easy to hang and store for a lifetime of memories. These products are easy to register for if you are an expecting parent and are gifts that will truly be appreciated by all.
Cost and Value
These growth charts are at the mid-low range of our price range. They are super cute and well designed, but will not follow the total growth of your child. The chart starts at 2 feet and only goes to 5, so it will only be able to capture the middle years of your child's growth. However, it is easy to store to keep hold of those memories for a lifetime.

Subscribe to our Newsletter