Best Gregory Backpacks Reviewed & Rated for Quality
In a
Hurry? Editors choice: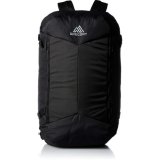 Test Winner: Compass 40 Liter

There are countless reasons to begin your search for a backpack, regardless of how varied the carrying capacity you're seeking is. If you're a traveler you may be on the hunt for a comfortable but endless bag that can hold all of your valuables, and help haul them around the globe. But if you're a student, and you need to get some tools and books from point "a" to point "b", then there will be a distinct need for something a bit more manageable. Though there are
many forms of bags
available to us these days, we chose to strictly consider those that you wear mounted on your back. Gregory makes some of the greatest camping, traveling, everyday bags on earth, so here is our list of the top ten Gregory backpacks available right now.
Standout Picks
Criteria Used for Evaluation
Features
Even though you wouldn't expect a product like a hiking backpack or travel bag to have a long list of features -- they aren't motor vehicles, afterall -- there are a ton of really great things that most of these bags are capable of.
Features that we sought after, and you should all keep in mind while you're shopping for a big hiking or outdoor bag, are things like composite compartments, easy-access and pockets. Two features you should not do without are external equipment, and weatherproofing. The addition of external equipment can be a real game-changer when considering different hiking backpacks. It can mean the difference between being able to leave your large bag at camp, and take just a removable or additional day-bag with you if you've got a base set up. The last thing anyone wants is to only have the one, a rather large bag, that they then must haul everywhere they go because it's the only portable cargo. Additional smaller packs are key if you're aiming above the 30 Liter mark.
The other key is waterproofing or weatherproofing. These are important to keep in mind as you read product descriptions. Weatherproofing usually means that both hot and cold, including moisture and water will not seep through the seems or the material. Keeping all of your belongings safe and dry. Waterproofing is something that is more common, and consists of solely water sealing. This may or may not possess the ability to keep all weather conditions away from your stuff, so be warned. The last term is water resistant, and this can be dangerously vague. If you're on a serious trip, with serious amounts of stuff, you should not settle for resistant. This will be the downfall of your things.
One of the most important features, however, is something we've all just become accustomed to dealing with, and that's a well ventilated backpad and support. Almost every single large hiking or backpackers bag will have a great support design, if you pay a premium price, but the back ventilation is key to comfort and cleanliness on those long hauls, or in that hot weather.
Durability
As all of the items on our list were made by the same company -- a brand and manufacturer that is known for their extreme attention to detail, and prowess in premium quality -- the make and materials used to create these products wasn't really something we took into consideration. We know, from past experience, and consumer testimonial, that Gregory assembles and sells extremely well-made backpacks.
However, the durability of your backpack should be a top priority as you shop (if you vear from this brand), because that's one of the most important things to consider. If you're planning on using any of these bags for their intended purpose of traveling long distances, of hiking through trails and woods, then you're going to put the material through its paces. The absolute last thing you need is faulty materials to ruin your trip or your trek.
The key of the durability of your backpack, that is kind of impossible to judge or discover prior to purchasing, and that is the seams. The first thing on a bag that fails, and the last thing you want to fail while touring the world or mother nature, is the seams. A split thread on a shoulder strap, and your backpack instantly becomes an off-center sling bag, which will lead to all sorts of soreness, tears, and undesired stress. Perhaps this is a factor that is best investigated via the product reviews. Check in on folks that have owned this product already. They will surely disclose any issues with stitching.
Take good care to find products and bags that are made with strong materials, and have more than most positive reviews regarding their worth and wear.
Value
Value is something that lands on the table of travel backpacks in droves. There isn't a single premium hiking backpack that isn't going to provide its customer with a high value for their dollar. Normally, with gear like this kind, you're going to pay more money for higher quality materials, which means that the backpack will last a lot longer.
Like a lot of product markets, the premium items will cost a bit over average (but don't pay too much over that average), while the budget stuff won't be good enough to satisfy your needs long enough.
See to it that the products you're vetting also include all of the other working criteria we've mentioned here because that will truly help define the value of the item itself. Bare bones, and high costs, equal low value.
10 Best Gregory Backpacks
Subscribe to our Newsletter