Best Gregory Backpacks Reviewed & Rated for Quality
last updated
Mar 05, 2019
There are countless reasons to begin your search for a backpack, regardless of how varied the carrying capacity you're seeking is. If you're a traveler you may be on the hunt for a comfortable but endless bag that can hold all of your valuables, and help haul them around the globe. But if you're a student, and you need to get some tools and books from point "a" to point "b", then there will be a distinct need for something a bit more manageable. Though there are many forms of bags available to us these days, we chose to strictly consider those that you wear mounted on your back. Gregory makes some of the greatest camping, traveling, everyday bags on earth, so here is our list of the top ten Gregory backpacks available right now.
In a Hurry? The test winner after 14 hrs of research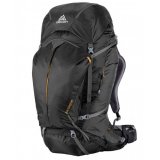 Baltoro 85 Liter
Why is it better?
85 Liter Capacity
3D Air Hipbelt and Straps
Premium quality
Internal Frame
Free Daypack Included
In a
Hurry? Editors choice: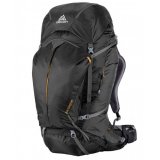 Test Winner: Baltoro 85 Liter

12
Researched Sources
31k
Total Readers
9k
Reviews Considered
14
Hours Researching
15
Products Evaluated
Features
Durability
Value
By Default
In Depth Review Top 10
Baltoro 85 Liter
Maya 16 Liter
Zulu 30 Liter
Jade 33 Liter
Targhee 18 Liter
Zulu 55 Liter
Compass 40 Liter
Swift 25 Liter
Denali 100 Liter
Pro Raincover 20-30L Covers
Table of contents
Criteria Used for Evaluation
Other Factors to Consider
Frequently Asked Questions
Sources
10 Best Gregory Backpacks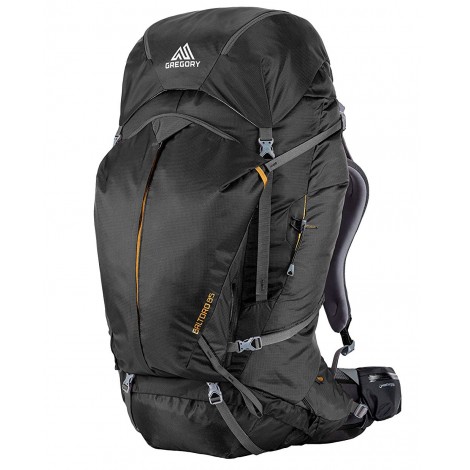 85 Liter Capacity
3D Air Hipbelt and Straps
Premium quality
Internal Frame
Free Daypack Included
All Gregory Backpacks start at the relatively ridiculously capable level and go flying sky-high from there. There is a lot of cream in the entire product line-up, so when skimming the top, you will probably run across the Mountain Baltoro 85 Liter Backpack in it's insanely large size.
Read more
3D Airbelt
The folks over at Gregory making backpacks know that support is one of the most important parts about designing the perfect bag, which is why they developed their 3D air-pocketed shoulder straps and belt, keeping all of the pressure on your frame cushy.
Wishbone Frame
Larger travel bags, such as the 85 Liter Mountain bag from Gregory, have a lot of weight to disperse, and thanks to an age-old backpack design, the loose structures can't really be counted on. Which is why most 75 Liter and above bags will include a built-in frame to ensure things sit as the design intends.
Cost and Value
You risk a lot by simply picking up any kind of bag that can hold 85 Liters worth of stuff and strapping it to your back for whatever purpose you need it for. Expensive travel and backpacking bags are pricey, but they come with a lot more thought and design to keep your back intact, and your stuff safe.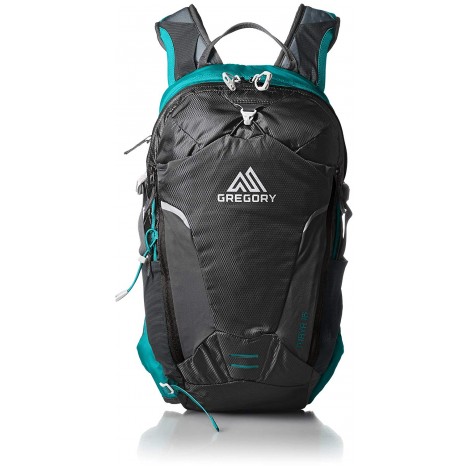 Hydration Sleeve
Waterproof
Suspended
Premium Quality
Safety Light
Premium Price
Smaller Side-pockets
Flipping things over to the more normal sized side of the coin, here we've got one of the beest common backpacks that Gregory offers in their line-up, the Maya 16 Liter Day Hiking Backpack. It's styling, sleek, and is designed for those long day trips, trail running, or just as a great addition to your loadout.
Read more
Air Flow King
There's nothing worse to deal with on a long hike or a lengthy trip as a moist back, and sweat build-up. The Maya 16 Liter bag from Gregory has some of the best air-flow and mesh back pads on the entire market.
Hail Hydration!
One thing that doesn't come up as often as one might think is the inclusion of hydration kits in hiking or traveling backpacks, but the Maya 16 Liter steps it up. There's an exclusive Hydration Pack sleeve within the bag and a mouthpiece tube hole to allow easy installation and use of almost any general hydration pack.
Cost and Value
Again, if you're coming from a market in which you've been eyeballing "normal" backpacks, you're going to be put off a bit by the price of luxury travel and outdoor backpacks. The Maya 16 Liter is the size of a normal everyday bag, and it does so much more, while being made out of so much better material.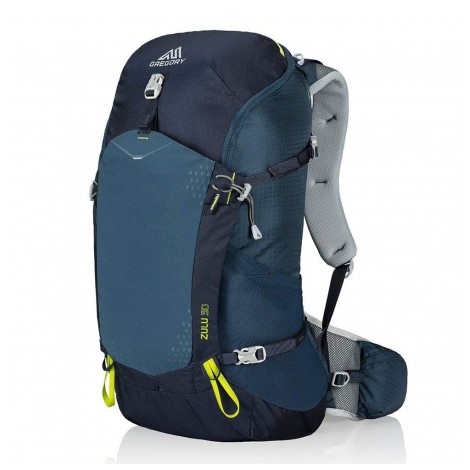 Ventilated Support
30 Liter Capacity
Interior Security Pockets
Premium Quality
Free Rain Cover
Premium Price
That green color :[
Wrapping up the podium for Gregory Backpacks is the Zulu 30 Liter Day Hiking Backpack that has just as much style as it has substance -- something sorely lacking in the world of outdoor equipment. That is, of course, assuming you don't pick the lime green color option, which may make it easier to find you in a forest, but it sure isn't fashionable.
Read more
Free Rain Cover
It sure isn't the main reason why one should consider adding the Zulu 30 Liter Hiking Backpack from Gregory to their cart, and hitting the checkout, but it doesn't hurt to have a little bit more protection from the elements. This Zulu 30 Liter Backpack comes with a free rain cover.
Ventilated Suspension
The over-designed frames, support systems, and back pads of Gregory Backpacks wouldn't be worth a single grain of salt if it wasn't also extremely well ventilated. The extremely well structured back pads, shoulder pads, and hip strap is specifically designed to not burden the wearer with warmth and sweating.
Cost and Value
Right around the middle mark of the Gregory line-up, the Zulu 30 Liter Day Hiking Backpack isn't going to scare anyone away with its price tag, and if you consider all of the amazing perks you get with this bag as a package, and alone as a product, the value is thirst quenching.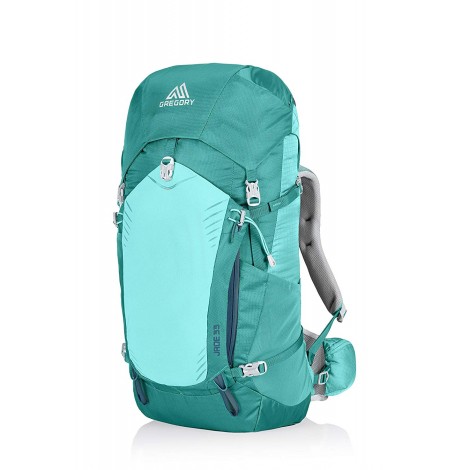 33 Liter Capacity
Free Rain Cover
Ventilated Suspension
Premium Quality
Accessory Pockets
Premium Price
Designed for Female Frame
Plenty of people are probably curious at this point as to why Gregory has a denoted gender to almost all of their products, and that's because bags like this Jade 33 Liter Women's Day Hiking Backpack have supports, frames, and all of the straps or paddings designed to fit a female frame. In general, the measurements are what matter, not the gender, but if you're a bulky guy, you may not feel like this backpack sits well.
Read more
Free Rain Cover
Keeping all of your camping gear, or paperwork, or anything you're going to put inside your backpack, dry is one of the most important things. Plenty of Gregory backpacks are designed to keep most water out, but a rain cover, for free, is a match made in heaven.
The Capacity
Obviously, the biggest purpose for a large hiking backpack of any variety is the ability to carry as much as possible. The Jade 33 Liter Hiking Backpack has a 33 Liter capacity, like the name says, with external zippered pockets, and plenty of internal separate capacity.
Cost and Value
As Gregory backpacks go, this 33 Liter Jade bag skirts just above the price range of their smaller units, but has a rather large capacity. The value arrives in droves via the included extras, the quality, and the capacity.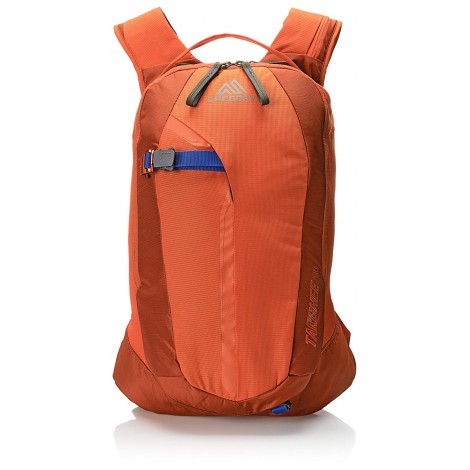 Exterior Pocket
Ventilated Backpads
18 Liter Capacity
Premium Quality
Affordable Price
Not Big Enough For Backpacking
Not Great Color Options
If you're looking for a bag that will be perfect in a situation where you are leaving camp for a few hours, heading around town a bit, or just need to carry around a normal amount of stuff, then the Targhee 18 Liter Backpack from Gregory is the one you should consider most.
Read more
Standard Fare
Sometimes you're searching through a marketplace that is so overburdened with exemplary and over-the-top products that the simplest item on offer can often be the one item that draws the most desire. The Targhee 18 Backpack from Gregory is one of those products.
Pockets and Nylon
With the ever-building structure and quality of Nylon, backpacks like this, the Targhee 18 from Gregory are strong and long-lasting. On top of that, this bag boats a simple two slip pockets on the interior, and a single exterior pocket.
Cost and Value
Being that this bag tends to draw more comparison with everyday backpacks, Gregory is smart to put a palatable price tag on it, regardless of how much better it is manufactured and designed than most backpacks you'd find on the market. It's an extreme value at an average price.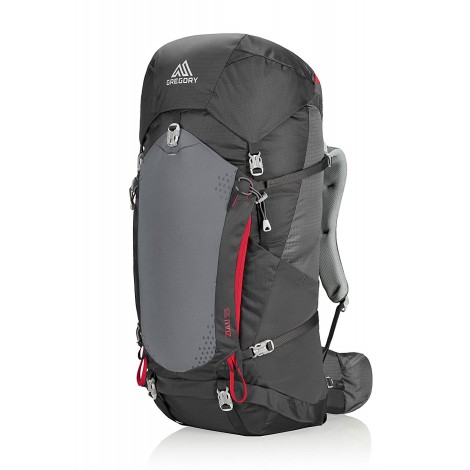 55 Liter Capacity
Premium Quality
Affordable price
Removable Top Pocket
Waistband Pockets
Above Budget Price
Made for "Male Frames"
Another Zulu bag has landed on our list. This time, in the form of this gargantuan 55 Liter Zulu Men's Multi Day Hiking Backpack from Gregory, and it comes with the exact amount of space one needs to spend more than a few days out in the bush, or on a vacation, or both!
Read more
Removable Top
Many travel bags have great pockets, some with awesome levels of easy-access pouches. The Zulu 55 Liter Backpack is no different, except that you can remove the top pocket with full zipper and key clip, for those times where you might need to sneak away from camp for a few hours but don't want to drag your whole bag.
Waist Belt Pockets
With the heavy emphasis on the structure and support of a giant backpacking bag like the Zulu 55 Liter, there comes a waist-belt to keep some of the pressure off your back. The Zulu 55 Liter backpack comes with two built-in quick-access pockets on the waist-belt, right there for you to use.
Cost and Value
A piece of gear that can hold upwards of 55 Liters worth of equipment, clothing, and possessions, with this level of attention to detail, and commitment to quality, is surprisingly affordable.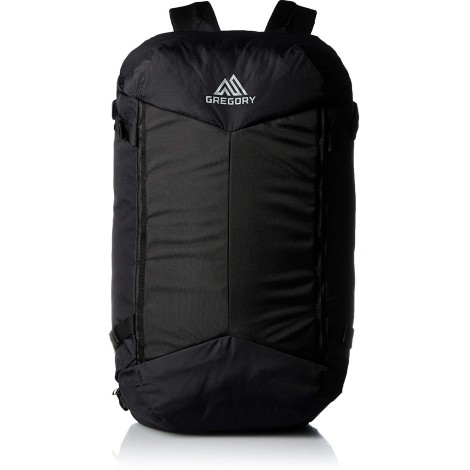 Street Camouflage
Premium Quality
Low Profile
Sits Low on Back
Laptop Sleeve
Premium Price
Minimal exterior storage
There aren't a whole lot of options in the travel backpack game between the sizes of "normal" and 50-80 Liters of capacity, which makes the 40 Liter Compass bag from Gregory a stellar option if you're seeking something in the middle.
Read more
Sits Low
Almost every single adventure or travel backpack is designed to carry a heavy load, and are structured to sit high on your back, but the Compass 40 Liter Backpack from Gregory starts at the height of a normal backpack, and continues lower, beyond your lower back. Perfect for those with good back strength and possibly weaker shoulders.
Doesn't Out You
Another often ignored downside to purchasing a backpacking bag, or a travel and camping pack, is that they are very easy to spot in the wild. This, the Gregory Compass 40 Liter bag so closely resembles a normal backpack that you could find on the streets, that it's like camouflage for hikers.
Cost and Value
There is a whole lot to love about the Gregory Compass 40 Liter Backpack, but the price isn't super one of them. At slightly above what other options around this size usually run, the Compass 40 Liter is a touch expensive, but it's still chalk full of value.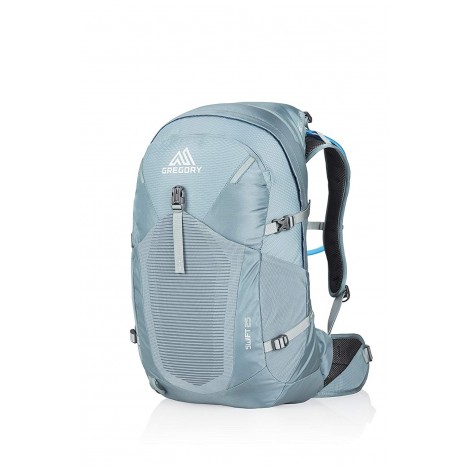 Hydration Pack Included
Ventilated Back Pad
25 Liter Capacity
Everyday Pack
Premium Quality
Premium Price
Minimal Outside Pockets
Another, more manageable, day bag that can double as anyone's everyday backpack, the Gregory Mountain Swift 25 Liter Hiking Backpack is a must vet option for all people seeking a great bag that can be worn everyday.
Read more
Hydro-matic
While some camping and hiking backpacks will come with a hydro pack pocket built-in, the Swift 25 Liter goes four steps above that and actually includes one with your purchase. To top it all off, it's a large one at that, topping up at a whopping 3 Liters of liquid capacity.
Ventilation
Once again Gregory comes to the table with an insanely capable backpack, that also includes a very well ventilated back pad to keep all of this carrying capacity from being a burden on your outfit, and your comfort.
Cost and Value
At slightly more than you'd pay for a pretty high quality version of a normal backpack, you really can't go wrong upping the anti a little bit and stepping into one of these bags instead. You get far more quality in build for your buck, and the extra perks that Gregory have built into their bag sets it apart from all the rest.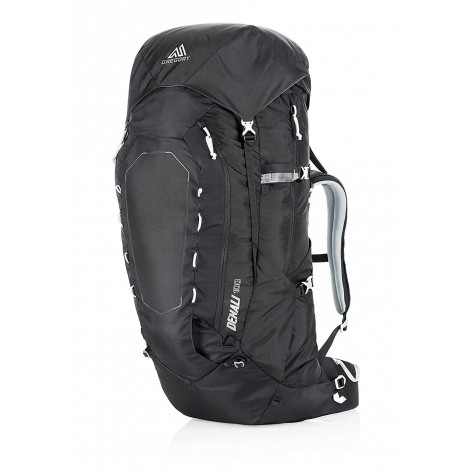 100 Liters!
Modular Components
Lightweight Design
Premium Quality
Side-mount Accessory Straps
Premium Price
No Chance of Street Camouflage
A luxury car might not be the best analogy for a traveling, hikers best choice of backpacks, but in this case, Gregory named their bag after the luxurious Denali. Surprisingly, Gregory have mad a travel outdoor backpack that lives up to the stylish, and amazingly large splendid name.
Read more
Giant!
We're not sure if it's easy to understand just how much space an 100 Liter luxury hiking backpack is, but you would easily be able to fit multiple days worth of everything in this one single bag. 100 Liter Backpacker bags are essential for the one-bag-to-rule-them-all way.
Removable Components
Components in luggage and carrying bags are a very important way to keep your things organized, safe from other items, and easily accessed. The Denali 100 Liter Mountaineering Backpack has almost all of its component as removable pieces, making it easy to take part of the bag with you, or customize the loadout.
Cost and Value
At nearly four times the cost of any standard-priced, really high-quality normal-sized backpack, the price of the Denali will be overwhelming to most. But this is one of the best made, and largest hiking backpacks on the entire planet, let alone on this list.
10

. Pro Raincover 20-30L Covers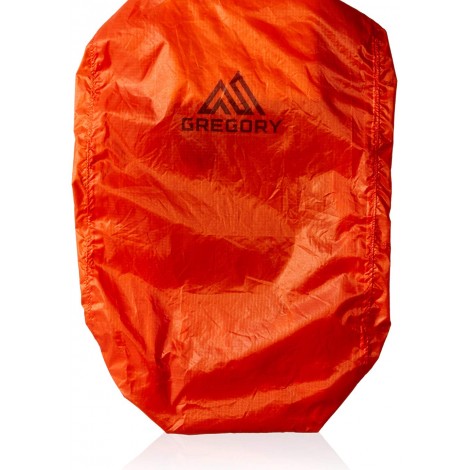 Super Easy to Attach
Compact
Works With Almost Any
Premium Quality
Waterproofing
Not An Actual Backpack
One Size
Sometimes, it's not the bag that saves the day. One of the main courses of design in trail bags, backpacking bags, and travel bags, is the need for weatherproof or weather resistance. When considering picking up a new hiking backpack, maybe just consider weatherproofing the backpack you've already got!
Read more
Travel Sack
It's not a constant, the need for a rain cover. In fact, it's something that you might find a rare need for. But thanks to it's thin design, the Gregory Pro Rain Cover can fit inside a tiny carry bag, and fit in almost any corner of your bag. Keeping this product at your fingertips, ready to be pulled out when the weather calls for it.
Fits Well
With two attachment points, the Gregory Pro Rain Cover is simple to connect, and it is large enough to cover bags up to the 30 Liter size, which is almost all common backpacks seen and worn in the 21st century.
Cost and Value
It would be unfair to judge the Gregory Pro Rain Cover against the rest of our list here, mainly because it's not a real backpack, but also because it's only a few bucks, rather than a few hundred. But there's a ton of value in getting to repurpose a backpack that you already own.
Criteria Used for Evaluation


Features
Even though you wouldn't expect a product like a hiking backpack or travel bag to have a long list of features -- they aren't motor vehicles, afterall -- there are a ton of really great things that most of these bags are capable of.
Features that we sought after, and you should all keep in mind while you're shopping for a big hiking or outdoor bag, are things like composite compartments, easy-access and pockets. Two features you should not do without are external equipment, and weatherproofing. The addition of external equipment can be a real game-changer when considering different hiking backpacks. It can mean the difference between being able to leave your large bag at camp, and take just a removable or additional day-bag with you if you've got a base set up. The last thing anyone wants is to only have the one, a rather large bag, that they then must haul everywhere they go because it's the only portable cargo. Additional smaller packs are key if you're aiming above the 30 Liter mark.
The other key is waterproofing or weatherproofing. These are important to keep in mind as you read product descriptions. Weatherproofing usually means that both hot and cold, including moisture and water will not seep through the seems or the material. Keeping all of your belongings safe and dry. Waterproofing is something that is more common, and consists of solely water sealing. This may or may not possess the ability to keep all weather conditions away from your stuff, so be warned. The last term is water resistant, and this can be dangerously vague. If you're on a serious trip, with serious amounts of stuff, you should not settle for resistant. This will be the downfall of your things.
One of the most important features, however, is something we've all just become accustomed to dealing with, and that's a well ventilated backpad and support. Almost every single large hiking or backpackers bag will have a great support design, if you pay a premium price, but the back ventilation is key to comfort and cleanliness on those long hauls, or in that hot weather.


Durability
As all of the items on our list were made by the same company -- a brand and manufacturer that is known for their extreme attention to detail, and prowess in premium quality -- the make and materials used to create these products wasn't really something we took into consideration. We know, from past experience, and consumer testimonial, that Gregory assembles and sells extremely well-made backpacks.
However, the durability of your backpack should be a top priority as you shop (if you vear from this brand), because that's one of the most important things to consider. If you're planning on using any of these bags for their intended purpose of traveling long distances, of hiking through trails and woods, then you're going to put the material through its paces. The absolute last thing you need is faulty materials to ruin your trip or your trek.
The key of the durability of your backpack, that is kind of impossible to judge or discover prior to purchasing, and that is the seams. The first thing on a bag that fails, and the last thing you want to fail while touring the world or mother nature, is the seams. A split thread on a shoulder strap, and your backpack instantly becomes an off-center sling bag, which will lead to all sorts of soreness, tears, and undesired stress. Perhaps this is a factor that is best investigated via the product reviews. Check in on folks that have owned this product already. They will surely disclose any issues with stitching.
Take good care to find products and bags that are made with strong materials, and have more than most positive reviews regarding their worth and wear.


Value
Value is something that lands on the table of travel backpacks in droves. There isn't a single premium hiking backpack that isn't going to provide its customer with a high value for their dollar. Normally, with gear like this kind, you're going to pay more money for higher quality materials, which means that the backpack will last a lot longer.
Like a lot of product markets, the premium items will cost a bit over average (but don't pay too much over that average), while the budget stuff won't be good enough to satisfy your needs long enough.
See to it that the products you're vetting also include all of the other working criteria we've mentioned here because that will truly help define the value of the item itself. Bare bones, and high costs, equal low value.
Expert Interviews & Opinions
Most Important Criteria
(According to our experts opinion)
Experts Opinion
Editors Opinion
Users Opinion
By Default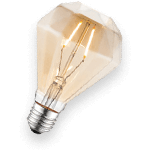 A Good Backpack
There are plenty of qualities that make up a good backpack - size, shape, closure type (roll top or zip up), capacity, storage options, straps, support, materials used in construction, and so on and so forth. The truth of the matter is, shopping for a high-quality backpack should be more about just looks. While the options on our top ten list from Gregory are great looking and in-style, they're also going to provide you with some of those important characteristics that will not only prolong the life of your investment but will give you the support you need to ensure you'll not be in any pain while toting around your items.
Gregory Mountain Products
The Gregory Mountain Products brand has been around since the late 1970's. The company is named after the founder, Wayne Gregory, and the products that they produce reflect the years of adventuring and exploring that Gregory had under his belt. The brand has become known in the outdoor gear industry as one that produces high-quality products that are not only durable but comfort and efficient as well.
Other Factors to Consider


Size
There are a few types of sizes that you should consider when trying to decide on a backpack and narrow down your search. There are bags that are designed to carry enough stuff for a day trip (no overnight stuff), bags that can carry some overnight gear, and bags that are designed to carry multiple days worth of stuff. Picking a size before diving into the market can make the difference between success and frustration.


Fit
Most expensive, large, and useful hiking backpacks are designed to fit on certain sized human beings. Normally, fitment isn't something one has to consider when shopping for a bag, but the way the frames, support, and backrests are designed on these products make for a fitment necessity. Keep your eyes peeled for measurement guides (usually specific to brand), and don't forget to pick the right size when you order.
Frequently Asked Questions
q:

What is the carrying capacity?

a:

Surprisingly, we saw this question a lot on these product pages. It's a bit shocking considering every single one of these Gregory manufactured hiking backpacks literally has the size and carrying capacity right there in the title of the product. On our list, the backpacks range from 20 Liters worth of space, all the way up to a staggering 100 Liters of carrying capacity. It makes a huge difference between carrying everything, and carrying just enough to get you through the day.
q:

Does it come with a day pack?

a:

Some of them do! Though we included a bunch of backpacks on our list that can be used as day bags, there are a lot of high-profile, and well-made hiking backpacks that also include a day pack in their product package. This helps the new owner not have to carry around everything they brought with them if, for instance, they wanted to pop out away from camp or their hotel for a few hours, letting them leave the rest of their things back in safety.
q:

What does the size mean?

a:

Size charts, in accordance to purchasing a hiking backpack, are in relation to the size of your back, and the width of your waist. It's crucial for companies to design and manufacture their backpack frames and support systems around specific sized bodies. This helps disperse the weight, and ease the load on your body.
q:

Is it waterproof?

a:

It's important to note that there is a large difference between waterproofing and weatherproofing. There is even another term dubbed water-resistant that doesn't protect from downpour, but will keep the sprinkle of rain from seeping into your bag. Now, for weatherproofing, you're going to notice that a lot of those bags will uphold well in harsh weathers like colds, and heats. It will also do its best to keep the water out. Waterproof is a sealed layer of chemicals (usually) that keeps the water clear. Most of the bags on our list are not waterproof, rather resistant. If you're seeking a bag that alone is waterproof, your options will be a short list. If waterproof is what you need, then your best bet is to buy whichever bag you wish, and then purchase a rain cover.