Best Cycling Bags Reviewed & Rated for Quality
In a Hurry? Editors choice: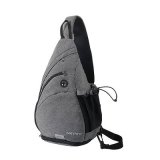 Test Winner: WATERFLY

Getting to work from home and getting home from work on a daily basis can be quite hectic. However, once we perceive walks to be positive and beneficial to our fitness, it becomes easy to embrace activities such as
cycling
, walking, or jogging as a proficient way to stay healthy. During most outdoor activities, we would be required to carry along supplies like a
lunch box
, laptop or clothes to be well prepared for the journey ahead and for convenience
in case of an emergency
. It is in such situations that a
backpack
comes in handy. The items on this list were designed for a cyclist, but are great for any outdoor adventure. Check out our top ten and find your favorite today!
Standout Picks
Criteria Used for Evaluation
Materials
Different cycling backpacks would differ in terms of how well the material used in constructing the bag keeps off water from leaking into the bag. Cycling bags with a roll top and are made of a seam welded waterproof material would keep out almost everything from interfering with the contents of the bag. While some backpacks have built-in waterproof rain covers, other backpacks would require reinforcement with waterproof material on the linings to keep away water from leaking into the bag.
Comfort
Padding on the shoulder points of the bag and the back point is determined by the quantity of luggage that you expect to carry. The more luggage you intend to carry, the thicker the padding should be. However, the demerit in having thicker padding lies in the fact that users tend to seat more in hot weather. Subsequently, before making a purchase in such a case it is important that individuals consider vents and cooling structures incorporated as part of the bag's design since such a feature would help keep sweating under control in a hot climate situation.
Capacity
Before making a purchase for a cycling bag, it is important that individuals consider the quantity of the things that they intend to carry in the bag. This is because it would be unreasonable for an individual to purchase a bigger backpack in a situation whereby he or she would only need to pack a few things for travel. As such, the choices that individuals make concerning the best backpack would highly depend on a person's needs as well as the type of activity that a person intends to become a part of.
Most people prefer backpacks because of the ease with which they could carry essential items on the bike and off the bike. Backpacks come in different shapes and sizes with most backpacks ranging from 10 to 20 liters. Carrying a bigger backpack can be very uncomfortable for any person that is why most people prefer using lighter backpacks with numerous compartments that allow for more storage. Numerous compartments in a bag also enable individuals to easily organize the stuff they carry from one place to another. Other backpacks are lightweight, simple and comprised of only a few compartments.
Features
Most cycling backpacks available in the market today would most probably cover a larger part of our reflective jackets. Hence, having a backpack with a reflective surface would help compensate for the hidden parts of the reflective jacket when cycling during the night. However, there are reflective covers for the backpacks that individuals could purchase to enhance visibility during the night.
While backpacks such as the Hyperlite Mountain Gear Metro have only a single compartment with no additional feature that distinguishes it from other backpacks, cycling bags such as the Waterfly backpack are comprised of numerous compartments with pockets to store things like pens, iPod and many more other essential travel items. Some people prefer having bags with compartments that would allow them to keep everything in its right place for easy access while others prefer rummaging everything together in a single compartment. For those who prefer keeping all their items in a single compartment, it is important they consider acquiring a bag with a light colored interior.
Value
You should be able to cycle comfortably from one location to another with the right cycling backpack. A wide variety of cycling backpacks exist today that individuals could choose from given the wide range of manufacturers of the product. Therefore, manufacturers often strive to ensure that they improve their products with every moment that goes by so that they could improve the consumer experience and surpass their competitors. You would come across much lighter backpacks as well as cycling backpacks with countless compartments that help suit the divergent needs of consumers. If you do not want to carry excessive weight on your back then it is advisable that you go for a backpack that is not more than 20 liters in capacity. However, there are optional cycling backpacks available for individuals who intend to carry more than required including kitchen utensils. The other factors to consider when making a purchase are as follows:
BEST CYCLING BAGS REVIEWED & RATED FOR QUALITY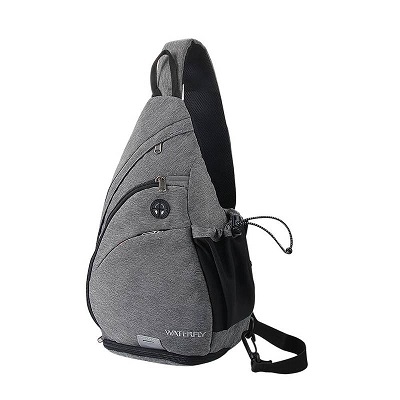 This bag is suitable for hiking, walking, and cycling and both men and women can use it. Any person in need of a comfortable and a well-sized bag with convenient storage compartments, the Waterfly sling chest backpack would be of great value for individuals going on a walk, hike or traveling and are in need of a light and convenient backpack.
Design
The Waterfly sling chest backpack is made of exceptional nylon material. The bag is also designed with a mesh fabric material that makes it washable, soft, durable and resistant to water and tear. The features outlined above provide users with exceptional experience in using the product. The bag has an upgraded design with perfect strap zippers as well as a well-reinforced strap making it a considerable choice for any person who needs a product that would enable them to have value for his or her money.
Waterproof
The nylon material used in making the bag is waterproof. This is such that even when it rains the items individuals keep in these bags would remain dry and fresh.
Cost and Value
Either you can expand the bag into a larger backpack or fold it into the interior zipper pouch if need be. It is portable given its lightweight thus considered a great choice for travel and going to the gym occasionally. The breathable mesh straps incorporated as part of the bag design provides a fresh and comfortable experience for the shoulder. The strap can also be easily adjusted based on an individual's needs thus making this product very convenient and worth buying.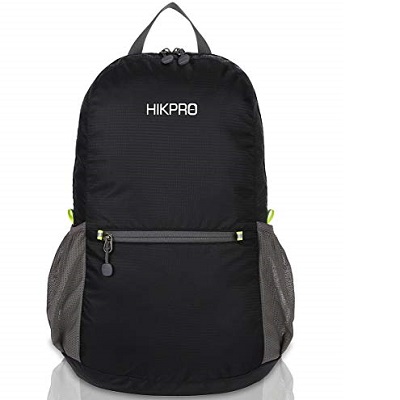 Anyone looking for one of the most effective cycling bags then Hikpro 20L bag should be a proper choice. This bag is lightweight, highly durable and water-resistant, which makes it a more suitable accompaniment for any person going on a hike or traveling on a bike. Hikpro 20L bag serves the needs of both men and women who opt to go on a bicycle ride during the day.
Durable
This product is made using nylon material, which makes it water resistant, and at the same time highly resistant to tear and wear. The zippers are constructed with a metal that is abrasion resistant. The bag is toughened at several points (more than 14 places) using Bartack that enables it to last for several years while in use.
Design and Organization
The bag is designed with three zipped compartments that enable users to pack their things in an organized fashion. The main compartment of the bag is large enough to carry most of the things individuals may require when traveling. The outer small compartments provide room for keeping things that we would occasionally need to access quickly while on the move such as cameras, guidebooks. The bag is also designed with an internal zippered compartment that enables users to keep valuables such as money, credit cards, and passports. There are side mesh pockets that can be used as storage for water bottles and in certain cases as storage for an umbrella.
Cost and Value
This bag is very convenient given its reduced weight of roughly 7.5 oz. In addition, the bag provides more room for storage. Such a feature makes it a perfect tool that can be used for camping, shopping, day hikes, school, vacation or trips that require lightweight luggage.
The bag can be easily folded into a small sandwich size thus allowing individuals to carry it along in their purse, or suitcases. In this way, individuals would have an extra bag without having to pay an additional cost for overweight baggage during travel. The bag straps are wide, easily adjustable along the length and most of the bag provides a mechanism that can enable a user to lock the bag firmly when on the move. It has quality smooth zippers thus improving the level of comfort that comes with using the bag. The features outlined above are some of the factors that make individuals be willing to acquire the bag regardless of its price. Furthermore, some of the features of the bag give consumers' value for their money as illustrated above.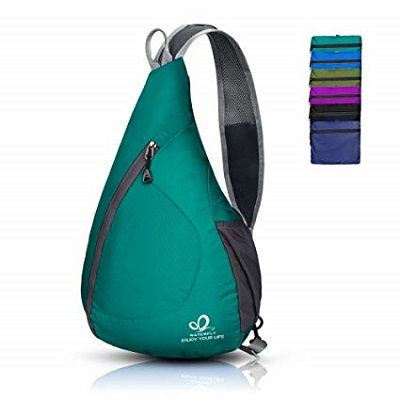 WATERFLY Packable may seem small from a distance; however, it is only after using the product that you would realize that the bag compartments provide sufficient room for storing numerous items required for short distance travel. You would realize that this product is an invaluable travel companion the moment you use it and realize some of the benefits that accrue with using the backpack.
Design
The backpack mentioned above is made of nylon material. The nylon material provides for a waterproof surface thus making this bag a suitable choice to be used on different occasions such as camping, running, hiking and when going for short trips. The bag is fitted with a detachable waist strap that individuals can use in fastening the bag on the body to improve flexibility more so when the user is running or jogging. The user can adjust the strap in the way that he or she sees fit.
Capacity
The bag has a 10L capacity and a weight of roughly 0.48 Pounds. It is fitted with four small pockets and one main pouch that improve the level of organization when packing items ready for travel.
Cost and Value
The backpack can be folded into a tiny pouch when necessary and expanded into a large backpack when there is need to carry items from one location to another. The bag's lightweight enables easy movement from one location to another thus creating great convenience for the user.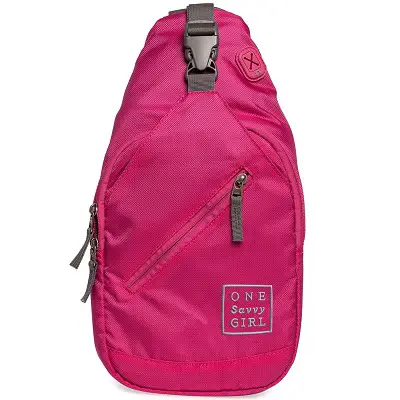 Women prefer this type of backpack because it is stylish, it has multiple compartments, it is much more comfortable to carry around and is fitted with a headphone cord access that keeps one entertained during movement. It is a perfect backpack to use when biking, hiking, walking or traveling from one location to another.
Versatility
The women's sling backpack has several unique features that make it the ultimate choice for the majority of women. This type of bag provides women with some of the valuable elements that one would wish to enjoy by purchasing a backpack such as comfort, fashion, durability, and space. It is considered the perfect size with plenty of storage room with multiple storage compartments. Consequentially, most women prefer using this bag for weekend trips, short hikes. The bag is sold at a much more affordable price.
Super Durable
Whenever we develop the need to travel instantaneously from one location to another, a lightweight travel bag that could withstand adverse climate conditions is a suitable choice. This sling backpack made for women provides for such an option. The sling backpack is durable, water resistant and made using quality materials. The bag is made of nylon material making it much more resistant to tear and wear.
Cost and Value
The straps are well padded and readily adjustable thus increasing the level of comfort enjoyed by the user. Regardless of the manner in which individuals wear sling bags, the bags fit perfectly and comfortably. It has numerous compartments that enable users to stay organized with the items they carry while moving. This cycling backpack comes in a wide range of colors including blue, yellow, green, and citron among several other color varieties. This gives consumers a wide array of options they could choose from based on their tastes and preferences. If in any case, the backpacks do not meet the expectations of a consumer, individuals could inform the manufacturers so that the product can be replaced for the client or the client could be refunded his or her money depending on what the consumer desires. Therefore, I do not see the reason why women should go for other backpacks if such an exceptional cycling bag exists.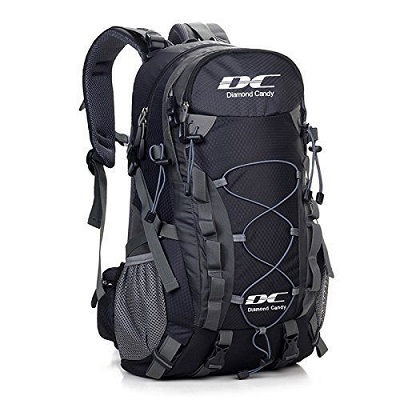 The diamond candy hiking backpack has a capacity of 40L. It has a lightweight and it is made of waterproof material. In addition, the backpack comes with an extra rain cover that can be used in protecting the contents of the bag during a heavy downpour. It is best suited for camping in the mountains and climbing activities. Other activities in which this type of bag may be useful include fishing and cycling.
Design
It is well-designed and light in weight. It comes in a wide range of colors thus making it a suitable choice for both men and women alike. Moreover, this type of backpack can be used in a variety of activities. For instance, the backpack can be used for camping, traveling, hiking, fishing, school or college, mountain climbing, and cycling.
It has numerous pockets and bands
The backpack has four zipped compartments, two side pockets, a laptop compartment, and two hip pockets. The countless storage pockets make it a suitable backpack that can be preferred for hiking or as a school backpack. With this bag, you can easily carry your books or hiking gear depending on the purpose for which you intend to use the backpack. Other items that may be carried in the bag include water bottles, a notebook, a camera, keys, and a small sleeping bag.
Cost and Value
Other than having a 40L capacity that allows for more storage space, the bag is made up of a hydration system, effective compression straps, and a whistle. Such features make it a suitable backpack for individuals who are into hiking activities or those who love going on long walks for adventure or as a form of exercise. The single rain cover acquired with the waterproof backpack can help keep a person's items dry during light and heavy rains. The back part of the bag is made of a soft padded mesh-like material that enables the backpack users to sweat less on the back more so during a hot climate.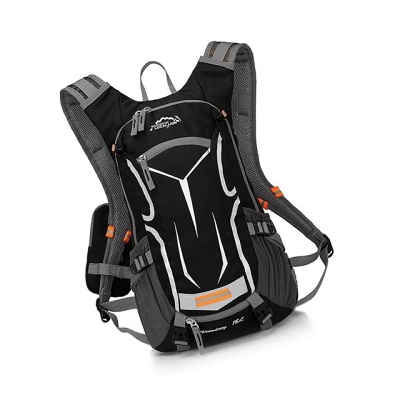 This cycling rucksack is most suitable for conducting outdoor sporting activities such as mountain climbing, traveling and running. It is extremely light in weight with a breathable strap surface and back surface. It has a capacity of 18L.
Design
The back surface of the bag is designed with a poriferous mesh surface that allows for improved air circulation due to the dissipation of heat generated from the body when the backpack is strapped on the back. The bag is constructed of nylon material, which makes it light in weight and resistant to water. The bag is fitted with an adjustable waist and chest straps that enable cyclists to fasten the bag to prevent it from bouncing while cycling.
Mesh cover
The bag is fitted with a mesh cover at the bottom area that is often used as a storage compartment for a helmet. The bag also has a removable pouch that can be used in storing valuables such as wallets, keys and cell phones.
Cost and Value
The shoulder straps of the bag have built-in water pipe channels that allow individuals to easily drink water while cycling. The reflective strips found on the back part of the bag and the ones located on the strips of the backpack improve visibility when cycling during the night. The bag is also fitted with a whistle that individuals can use during an emergency. What more can consumers ask for other than products that give them value for their money?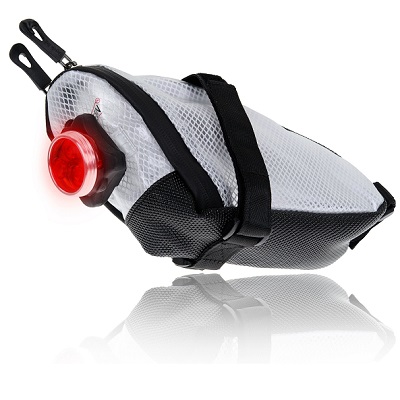 This type of backpack is best suited for mountain bikes and road bikes. It has a unique taillight incorporated as part of its structure, which helps in improving visibility for the rider more so when traveling during the night. Most people prefer this type of backpack as it enables them to store some of their biking accessories. It provides convenience, safety, and high visibility during the night and it is made of a material that is water resistant.
Easy Installation
The installation process for the backpack takes an estimated 10 seconds or less depending on how accustomed someone may be to the way the bag components are handled. Regardless of the bike in use, mounting this bag is never a hectic process. The straps are well reinforced thus enabling the bag to remain firmly fit on the bike even when cycling through uneven terrain.
A lifetime warranty
Even if you may acquire such a cycling bag at a high price, the fact remains that you would not have to worry about having to purchase another cycling bag someday after the one you purchase wears out for one reason or another. These products can last a lifetime given the high-quality material they are constructed with.
Cost and Value
Most cycling bags do not have a reflective surface. Therefore, these bags make it difficult for other road users to spot the cyclists from a distance thus exposing the cyclist to the danger of being run over. The saddlebag with the LED backlight was developed for the primary purpose of increasing the visibility of the cyclists while on the road commuting from one place to another. The rechargeable LED light keeps cyclists visible at any time of the day more so when using busy streets. You can either fit the LED light into a transparent pouch at the back of the bag or loop the light onto the exterior part of the bag to acquire the safety benefits of remaining visible to other road users while cycling.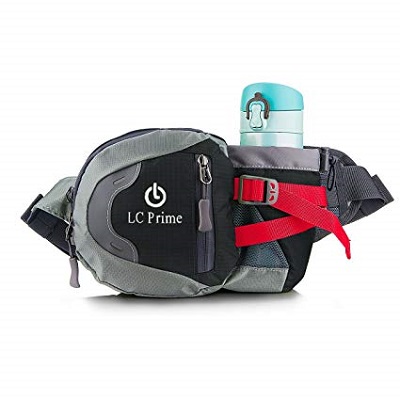 This type of cycling bag is perfect for hiking, climbing or running as it allows users to carry their water bottle, keys, cell phones, iPod among other travel items. It is a perfect tool for most outdoor sporting activities. Individuals of either gender can use this product. The bag has a strap that individuals can use to fasten the bag to prevent it from falling off during activity.
Design
This product is made of nylon material that makes it water resistant thus a suitable sporting bag that can be used even in the rain without worrying about water leaking into the bag. The bag is also designed in such a manner that it is comfortable to wear and it can be used for numerous functions such as carrying credit cards, passports, water bottle or even a face towel. The bag is also made of nylon, which makes it highly resistant to abrasion.
Size and weight
The backpack has a length of approximately 7.87 inches, a width of 2.36 inches and a height of close to 6.3 inches. The bag weighs roughly 0.19 kilograms.
Cost and Value
It is made of high-quality material that enhances the product's durability. The bag also has numerous compartments that allow for more storage space. Consumers do not have to spend additional money to replace worn out products or buy an optional bag for space given this product's durability and numerous compartments.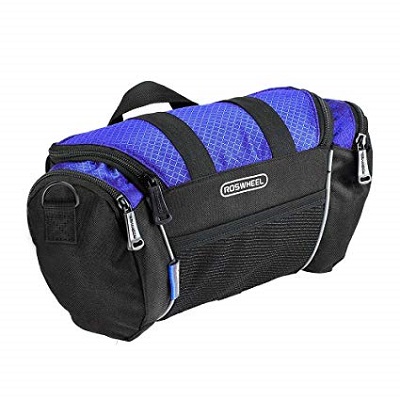 This bag has two adjustable bands at the top surface that provides great storage space for maps. The product comes with a length of 32 cm, a width of close to 17 cm and a height of roughly 11 cm. With the price at which the bag is being sold, it can be considered a great choice for any person who wishes to go on a short trip or engage in hiking or biking.
Design
The bag has a '3-Point Velcro design' that makes it easy to install on a bike using the firm straps. Can be used on road bikes, mountain bikes as well as the folding bikes. It is designed in such a way that it can be used either as a shoulder bag or as a bicycle handlebar bag based on an individual's taste and preference. It is fitted with zipper pockets on both sides to allow for more storage space. The bag is easy to install to the handlebar when in use.
Convenience
It is a suitable bag for carrying things such as personal goods, camera, cell phones and the storage of other gadgets required when traveling.
Cost and Value
The bag is built with water-resistant polyester material. It has a weight of close to 320 grams. The lightweight and water-resistant qualities are highly convenient for users thus making consumers to prefer this product to several other products when making a purchase.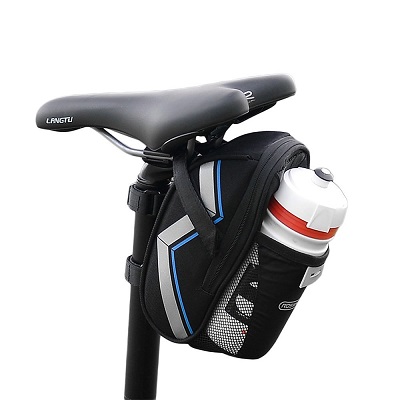 This is a 1.6L cycling bag that is mostly fitted on mountain bicycles. The bag is made of polyester material and it has a compartment for storing a water bottle and an additional compartment for storing bicycle tools and supplies
Easy Installation
The straps and buckles allow for quick and easy installation on the bike and the dismounting of the bicycle bag when necessary. You would not require any tools to mount the bag on the bicycle.
Easy Usability
It has an open design compartment and one with a zip closure that secures items from falling off. Moreover, it has reflective stripes on the surface, which makes movement during the night easier and safer.
Cost and Value
It has sufficient space for storing phones, wallets, towels and small tools. The material used in making the bag is high-quality polyester that makes it durable and easy to clean. The outside pocket can easily stretch making it a good place to store asmart water bottle of less than or equal to 7.5 cm in diameter.

Subscribe to our Newsletter