Best Freestanding Pantries Reviewed and Rated for Quality
In a Hurry? Editors choice: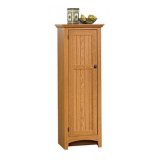 Test Winner: Sauder Summer Home

Let's be real--it doesn't matter how cozy and inviting your living room is, folks always end up hanging out in the kitchen. And why not? That's where all the food, love, and memories are truly made.
But we often have more clutter and less
storage in our kitchen
than in any other room in the house--think of all the cooking gadgets and all the groceries! So how can you declutter and make your kitchen a haven for good times? Check out our list of freestanding pantries below.
Now, we know we all have different space availability and different storage needs so we worked to bring you a good mix of large, medium, and small products that still pack in tons of storage. Whether you're looking for an ornate piece of furniture, or you're in search of a budget item, there's a product on this list for you.
Standout Picks
Criteria Used for Evaluation
Size
When thinking of adding a new piece of furniture to your home, size matters. That's why we spent a lot of time considering the size of each of the products on our list.
As an industry standard, most of the products on our list are 6 feet tall or just about (between 70 and 72 inches tall), though we do feature a few more compact items for those with less generous ceilings.
Additionally, most of the products on our list about 2 feet wide. We describe a product as "oversized" if it is more than 2 feet wide. And all of our products are at least a foot deep to accommodate a large range of storage needs. Again, we describe products as "oversized" if they are more than 14 inches deep.
While our products vary in size, they do have one thing in common--they optimize internal storage. Many options on the market feature large bodies with smaller storage space inside. We worked to bring you options that are as big on the inside as they are on the outside (insofar as that was possible).
And to that end, we worked to mainly feature products that allow you to select your own shelf positioning. With the exception of 1 or 2 products, you are able to adjust shelf spacing to suit your changing needs. This allows more storage configurations and more available storage for tricky sized items.
And because we know that we all have different space availabilities, we worked to provide a good mix of larger and compact items.
Materials
This was another consideration ours that we weighed heavily.
A few of the products on our list are made from genuine wood. We value these products highly and rate them accordingly. But as with most assemble-at-home furniture, a lot of the products on our list are made of engineered wood. What does that mean?
Engineered wood is called by several names. You can also hear it referred to as composite wood or manufactured wood. It is made by combining layers of fibers, particles, or veneers of wood together in a binding process with adhesives or other fixing methods.
There are national and international standard about how engineered wood is, in fact, engineered. These requirements are in place to ensure that the products you receive (since they are man-man) are up to building standards. This means you can feel good about purchasing products even if they aren't made of real wood.
Apart from wood materials, we also value highly true metal fixings. Cabinets that are finished with plastic score lower than products that have metal hardware.
Style
As always, when considering adding a new item to your home, you must consider how it fits in with the rest of your home decor and general vibe.
The items on our list that score the highest in this category feature multiple different style options. Whether this is in color, finish, or product design, we love sturdy pieces with various aesthetics to give the widest range of options.
Many of the products on our list feature basic, simple lines that can slip into any home decor virtually unnoticed. However, some are more stand-out pieces that are meant to get your attention. We especially love those that feature the option of removing the doors to create an open display case.
Color
To play more off style, we love products that come in multiple color options so that you can find that just-right one for your home's decor. While most of our products come in standard pine, white, and brown, a few come in some pretty amazing finishes that we're in love with.
Value
As always, we take value into major consideration when compiling our lists. While some of the products here are premium quality (and premium cost), none of them are out-of-this-world expensive. A huge reason for that is because more of them are made from engineered wood (see Materials and FAQ).
While we know some of you will be sticklers for a genuine wood product, we also know that many of you are looking for design on a budget. That's why we've compiled this list to give you the best of both worlds.
10 Best Freestanding Pantries
1

. Home Styles Model Barnside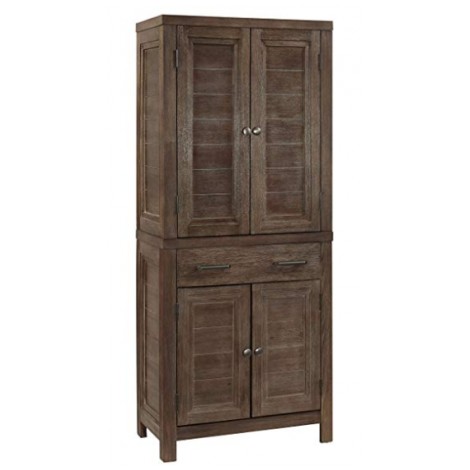 The Home Styles Barnside is our favorite option on this list. Not only is it made of real wood with a beautiful aesthetic, but it is designed to accommodate oversized items that simply won't fit in stationary, built-in cabinets. With different configuration options, this product can be customized to fit your changing needs.
4 Shelves that are Adjustable
Let's face it--our at home and kitchen needs are always changing. That's why we absolutely love this product.
It comes with 4 shelves that are adjustable and that fit it both the top and bottom interchangeably. This gives you the freedom to load the bottom or top with shelves while leaving one section totally open which is great if you have larger items like kitchen appliances that won't fit in your regular cabinets.
It also comes with 1 storage drawer dividing the top and bottom sections of the cabinet. You can store your finest silverware or napkins here, and even insert drawer dividers for more organization.
The unit is made using pine veneers and poplar solids so it's a heavy-duty product that can withstand the wear and tear of daily use. It weighs about 80 pounds. When fully assembled, it measures 6 feet tall, 2.5 feet wide, and 16 inches deep.
Rustic Brushed-Wire Finish
This product is finished with a rustic, brushed-wire treatment that makes it look weathered and worn-in. Designed to mimic the side of a barn with custom finishing, this product gives off a cozy feel. The drawer handles and door knobs are pewter and have been treated with an antique finish to top off the product's weathered effect.
And if you like the features of this product but the color doesn't quite fit your home's aesthetic, Home Styles offers 14 other stand-alone pantries that vary is design, color, and configuration so you're bound to find the just-right product for your home.
Cost and Value
The Home Styles Barnside rings up at the very top of our price range but we love its value because it is the sturdiest, most durable product on our list, and because it offers tons of configuration options to accommodate your changing needs.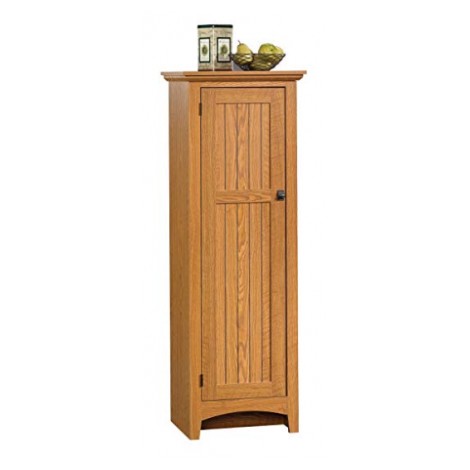 The Sauder Summer Home is an amazing choice for anyone looking for extra storage but with not so much room to spare. This is a compact option that still offers stability and customization to fit your changing home requirements.
3 Adjustable Shelves
As we mentioned, this is a more compact option than the last item on our list. That being said, it is still heavy and solid and weighs 78 pounds. It is comprised of composite board, but reviewers still rave about its durability and stability under use. When fully assembled, it stands 5 feet tall, almost 2 feet wide, and a little over 1 foot deep.
The Sauder Summer Home also features 3 shelves that can be moved to accommodate several different sized items from yogurt makers to large cereal boxes. And we love that you can adjust the distance between the shelves whenever you want to suit your changing needs.
It is made in the United States.
Carolina Oak Finish
The Sauder Summer Home features composite wood that has been laminated and finished with a Carolina Oak tint. This gives the product a classy yet rustic feel. The beadboard on the front adds another touch of design flair that elevates the product as a whole.
The black-metal knob is designed to be installed on the right and the cabinet opens to the left (though if you're handy, you could easily reverse the configurations). The knob twists to lock the door in place for your convenience. Hinges match the finish of the knob.
Cost and Value
The Sauder Summer Home rings up at the bottom of our price range and we love its value because despite not being made of real wood, the composite board is extremely solid and durable.

3

. HOMCOM Traditional Colonial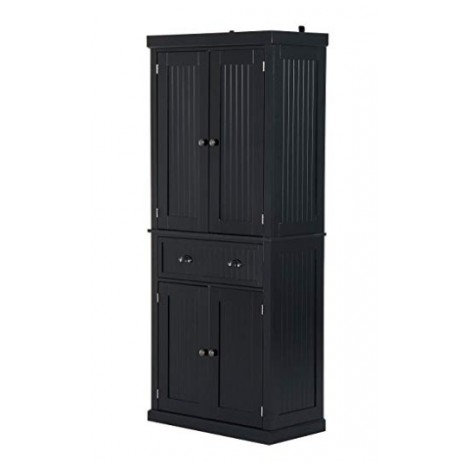 The HOMCOM Colonial is a beautiful choice that will add tons--literally tons--of storage space to your kitchen. With rearrangeable shelves and an oversized drawer, all of the loose items in your kitchen will finally have a home. Plus, it comes with safety features to ensure that this massive storage unit won't topple over.
Tons of Storage
This product comes with more storage than almost any other item on our list. It measures a full 6 feet tall, 2 and a half feet wide, and 16 inches deep. And weighing in at 112 pounds, it is one heavy-duty unit. All things told, it can hold up to 150 pounds of your kitchen's goodies from pressure cookers to spices.
It features 4 shelves that can be moved at your will to fit your ever-changing needs. Some users loaded the bottom with shelves to turn the top into a display case, removing the top doors and leaving it open. And the drawer is oversized to fit all of your many storage needs.
This Colonial is made from manufactured wood. It is sturdy and durable and can handle a daily beating. The backing is made from reinforced particle board. This unit also comes with 2 wall attachments at the back to secure it to the wall so it doesn't topple over.
Black and White Finish Options
Designed in the colonial style, this unit has a simple yet robust style. With solid lines and precise finishes, it will fit the decor of most homes. Brushed metal knobs adorn the doors while black, finger-hood hardware can be found on the drawer. And you can pick this beauty up in black or white, depending on your home's aesthetic.
Cost and Value
The HOMCOM Colonial rings up in the middle of our price range and we love its value because it is one, big, solid piece of furniture that add tons of storage and offers up customizable configurations.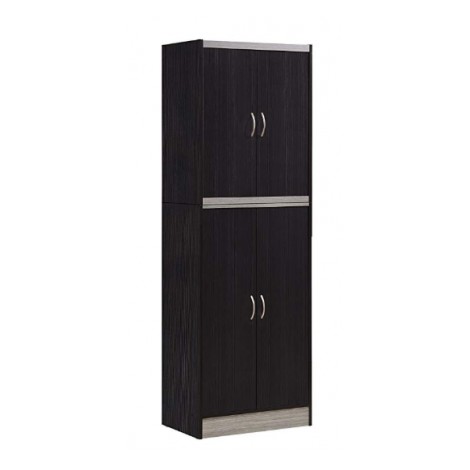 The Hodedah is a wonderful little compact storage unit that is a great addition for the home or office. While it won't take up a ton of space and offers up a small footprint, it will still provide ample storage that you can adjust to fit your needs.
Great for Smaller Spaces
The Hodedah features 4 total shelves (2 on the top and 2 on the bottom). You have the flexibility to move 3 of these shelves to accommodate different sized items that you may have. While you can place 3 shelves on the bottom or top, we suggest keeping the top and bottom balanced and only placing 2 shelves in each.
The unit has 4 doors. It measures almost 6 feet tall, almost 2 feet wide, and 15.5 inches deep. As we said, it still provides ample storage without a large footprint. This product is made from compressed wood of the highest quality to ensure its durability.
4 Colors to Choose From
You can pick this item up in beech, cherry, chocolate, and white. Our favorite is chocolate as it is accented with brushed metal finishes. The doors feature silver finished ring pulls so they are easy to open and close. While this isn't the flashiest product on our list, it is simple and streamlined to fit easily into any atmosphere.
Cost and Value
The Hodedah rings up at the bottom of our price range and we love its value because it's a nice slim option with a small footprint that's easy to put together and easy to adjust.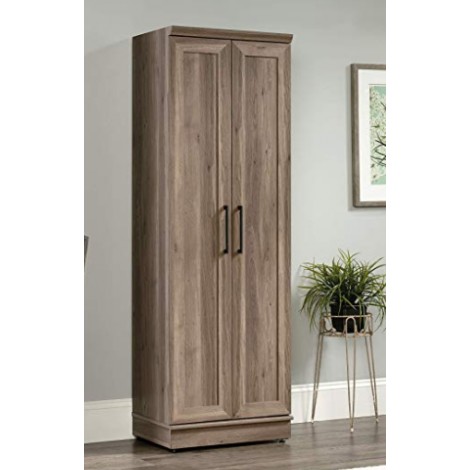 This is the second Sauder option to make our list and it is similarly beautiful and affordable as it's sister above. With slightly more space than the previous Sauder and 3 great finishes to choose from, this product provides tons of options to fit your fancy.
Made with Green Methods
Sauder works to make most of its products in the United States using state of the art, environmentally conscious methods. This unit is made of engineered wood that recycles shavings and discarded pieces into reliable, sturdy furniture. Plus, they convert sawdust to energy. How cool is that?
This unit features 2 unit-long doors that open with ease. Inside, you'll find 4 adjustable shelves that you can change along the way depending on your needs. This totals up to a total of 5 storage levels. And what's more, the back panel of the unit offers a hole for easy cord access if you decide to store active electronics like a microwave inside.
The product itself is about 6 feet tall, 2 feet wide, and 17 inches deep. It weighs 108 pounds.
3 Great Finishes to Choose From
With panel doors that are classily framed and metal hardware that mimics these sharp lines, you'll get a classy upgrade to your kitchen with this storage cabinet. Choose between 3 amazing finishes: Dakota Oak Finish, Salt Oak Finish, and Sienna Oak Finish.
Cost and Value
The Sauder Home Plus rings up towards the bottom of our price range and we love its value because it is environmentally produced with great customer service and a few unique features that you can't find on other units.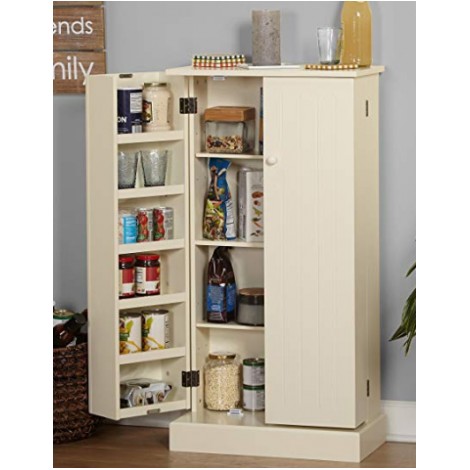 This option from TMS is another compact storage unit with a few extra-lovely features that increase storage space and possibilities without taking up tons of room in your kitchen. If you're tight on room and overloaded with things to store, this is definitely the cabinet for you.
Storage Built Into the Doors
This unit was designed with space-saving in mind. Measuring 3 and a half feet tall, 21 and a half inches long, and almost 1 foot deep, this little storage buddy can fit practically anywhere. And weighing in at 42 pounds, you can feel confident about how stable it will be.
This unit features some amazing bonus storage that will make organizing your kitchen a breeze. With 4 shelves in the base of the unit (3 of which you can move to suit your storage specifications), you will have plenty of room to store kitchen items. But they didn't stop there! Both doors feature 6 shelves each that are great for holding spices like salt and pepper shakers, canned goods, and other smaller kitchen wares like food storage gear.
Made from Solid Pine
This product is made from real pine wood, which is quality, stability, and durability that you can rely on. It has a pine wood finish and the doors feature beadboard which makes it a great companion for farm-style or traditional decor. Even the knobs on this product are made from pine wood, so consistency reigns throughout.
Cost and Value
This option from TMS rings up at the bottom of our price range and we love its value because it is simple and small, yet features tons of organizational space in the bonus storage shelves in the doors.

7

. South Shore Smart Basics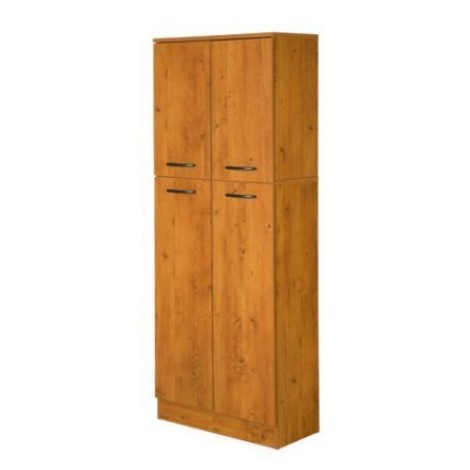 The South Shore Smart Basic is a country-pine dream that suits tradition as well as modern aesthetic. With a slim footprint, you might question the storage capacity, but each shelf can hold its own.
Shelves Hold 25 Pounds Each
While this unit isn't the largest on our list, it can still hold some weight. The cabinet 6 feet tall, 2 feet wide, and 11 inches deep. It features 4 doors (2 sets) for easier access in the moment.
This product is made from particle board that is tested and certified to be non-toxic and is made in North America. The smaller top portion of the cabinet has 1 adjustable shelf that creates two separate storage spaces. The larger bottom portion has 2 adjustable shelves that create a total of 3 separate storage spaces. Each shelf can hold up to 25 pounds of your kitchen--that's a lot of weight!
Timeless and Modern Design
This product is incredibly versatile and finds itself at home among many different aesthetics. With its country-pine finish, it fits in with farmhouse and traditional decor. But its streamline design and black metal finishes also make it a great fit for the more modern household.
Cost and Value
The South Shore Smart Basic rings up at the bottom of our price range and we love its value because it's versatile in its decor and shelving. The unit does not come with tools for assembly and two adults are required to put it together.

8

. Crosley Furniture Seaside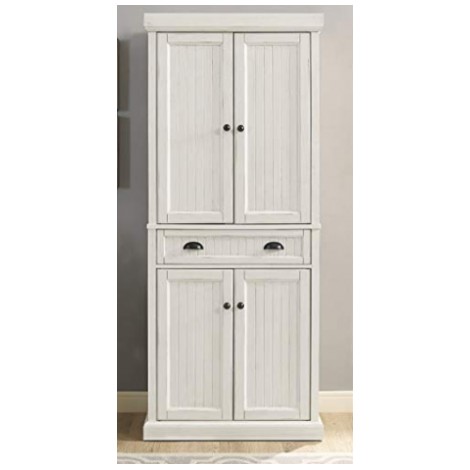 The Crosley Seaside is another great option if you are looking for storage that's a little more premium in design and aesthetic, if a little pricier. This unit is oversized and can double as a display case if desired.
Easy-Glide Deep Storage Drawer
The Crosley Seaside is a wonderfully oversized option for those with a little extra space and major storage needs. It measures 6 feet tall, 2 and a half feet wide, and 16 inches deep. And as it weighs about 115 pounds, you can rest assured that this is the heavy-duty storage companion that you've been looking for.
With 2 large cabinet sets, your storage possibilities are endless. Each cabinet features 2 adjustable shelves that will accommodate your needs--even if they change. You can also choose to remove the doors and use this piece as a display center, rather than concealed storage. Plus, to top it off, the oversized storage drawer features easy-glide hardware so you won't have to wrestle with it as it opens and closes.
Beadboard Finish
This option isn't just ideal for summer homes! It will make itself right at home anywhere. With black and white options, both finished in bead board, this piece has a classic and timeless appeal. The black option is finished with silver knobs while the white option is finished with black knobs.
The Crosley Seaside is made of solid hardwoods and is finished with wood veneers. Not only does this elevate the look, but it also serves to make this product more sturdy and durable.
Cost and Value
The Crosley Seaside rings up in the middle of our price range and we love its value because it offers tons of storage and or display space in a timeless looking package.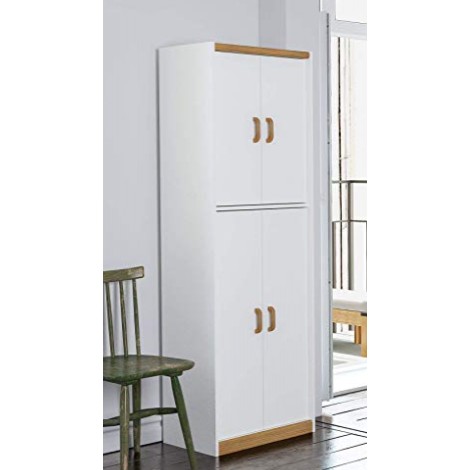 The Ameriwood Home Deluxe is a great budget-friendly option that won't take up a ton of space but that will pack in tons of spare storage. She's not the most stylish unit on our list, but she's as practical as she can be and she'll hold up under use as well.
5 Total Shelves
The Ameriwood Home Deluxe has a small footprint that won't overtake your space. It measures 6 feet tall, 2 feet wide, and just under 15 inches deep. You may not be able to store your largest kitchen items, but this baby offers up tons of storage for average sized goods.
The cabinet features 5 total shelves for storage. The small upper cabinet offers 1 adjustable shelf while the larger bottom cabinet offers 2 adjustable shelves. For balance, maintain this configuration.
Light Brown Molding on White Finish
The Ameriwood Home Deluxe has a white finish on the main body of the cabinet. It features a light brown trim molding at the top and bottom of the cabinet. This product is made from MDF that's been laminated, as well as from particleboard. Enjoy 2 sets of solid wood handles that match the light brown trim molding.
Cost and Value
The Ameriwood Home Deluxe rings up at the very bottom of our price range and we love its value because of its practical design and because it comes with a 1-year warranty.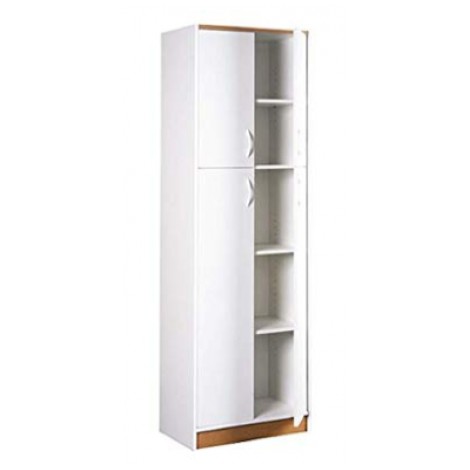 The Orion 4-Door option is another budget-friendly choice that will help declutter your kitchen space and provide some well-needed storage. This unit is functional and won't take up tons of your free space, so if you're working with limited room, this is a good choice.
Easy-to-Reach Shelves
The Orion 4-Door is a compact option that still offers up tons of storage. It stands almost 6 feet tall, 2 feet wide, and 14 inches deep. This is more shallow than other units on our list. It weighs in at 123 pounds, so she's not so flimsy and lightweight.
The unit features 5 shelves in total. Unfortunately, these shelves cannot be adjusted to suit your needs. But because of the configuration of this unit, all of the shelves are easy to reach and organize your items on.
Protection Kickplate
The Orion 4-Door is all white so it will seamlessly fit into any room. Even the handles are made of white plastic for continuity. This product also features a protection kickplate that is finished in wood laminate to protect from scuff marks which can easily mar white.
This option is made from pressed-board with particleboard backing.
Cost and Value
This Orion 4-Door option rings up at the very bottom of our price range and we love its value because it's simple and slimmer than other options on our list while still providing a great deal of storage.

Subscribe to our Newsletter