Best Leatherman Tools Reviewed & Rated for Quality
In a
Hurry? Editors choice: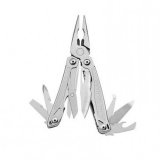 Test Winner: Wingman Multitool

Gone are the days of desperately searching for a simple tool to complete a basic household task. Leatherman offers convenience, simplicity and intelligent design, all in the palm of your hand. Ten of the most popular Leatherman brand tools are reviewed here for your consideration. The pros and cons of each are listed and the overall value is outlined. Hopefully, you will find the ideal multitool for you with the aid of this article, and enjoy the convenience, ease of use and versatility of a well-built multitool.
Standout Picks
Criteria Used for Evaluation
Advanced Features
When it comes to a multitool, typically, the more features, the better. Some models are comprised of five or six basic tools. Others include knives, blades, scissors, files, pliers, tweezers, rulers, wirecutters, clamps, screwdrivers, bottle and can openers and more. Many come with sheaths and clips so that they can be carried on a belt for hands-free transport. While some customers may opt for a basic, bare-bones multitool, other hardware aficionados might seek out the multitools that have the most to offer.
Portability
Portability is of the utmost importance when it comes to a multitool. Ultimately, multitools are all about convenience. It's about not having to lug around a heavy toolbox with you whenever you need to make a repair, or not having your jeans weighed down by a heavy toolbelt. Rather, a small, compact multitool that can easily fit on your pocket or clip onto your jeans is ideal. Portability makes everything easier and puts less strain on your body, while freeing up your hands to get the job done.
Effectiveness
The effectiveness of a multitool is paramount, and certainly, not all multitools are created equal. For this reason, it is important to purchase a multitool from a reputable manufacturer you can trust. A multitool with dull blades, stiff scissors or poorly functioning screwdrivers is virtually useless. The whole purpose of investing in a multitool is making work easier. Ineffective tools are worthless and cause more aggravation than anything else. You need top of the line tools that are reliable, well-constructed, tough and long-lasting.
Use
As with any item, before purchasing a multitool, you must consider how much use you will get out of it. Lots of products seem like a good idea to buy, but wind up sitting in the garage, barely used if at all. With a multitool, you will find a multitude of occasions to use it. Even if you rarely need to do repairs around the house, you undoubtedly have rifled through your drawers searching for a bottle opener. Or, how about opening up a package that's been overzealously taped shut? It's times like this when a multitool is exactly what you need. Without a doubt, a multitool will get a lot of use.
Versatility
Because of the nature of multitools, they are quite versatile in their construction. With a wide array of tools that serve various purposes, you will not use a multitool just as a knife, just as a screwdriver or just as a bottle opener. Rather, you will most likely utilize all of the multitool's functions at one point or another. Like a Swiss Army knife, a multitool is a portable toolbox. Maybe you won't need pliers anytime soon; but if you do, you will have them, ready and available.
Subscribe to our Newsletter