Best Exercise Videos for Kids Reviewed and Rated for Quality
In a Hurry? Editors choice: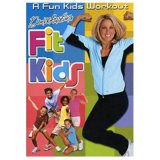 Test Winner: Denise Austin's Fit Kids

As a former public elementary school teacher in New York City, I can tell you that kids need to move. Children require at least an hour of physical activity each day and as screens are now reigning king, fewer kids are getting in that much time.

I know at my school of over 2,000 students, my class of 32 only got recess and Physical Education once a week. That meant that I had to supplement the physical activity time that my kids were getting. So I began implementing a daily exercise practice in my room. Not only did this engage my students and give them the space to move, but it also allowed them to return to work more focused and calm.

Healthy habits start early, so invest in one of the fun videos on this list and watch your child's physical and mental transformation unfold before you.
Standout Picks
Criteria Used for Evaluation
Ease of Use
Because these videos are designed for kids, we wanted to make sure they were easy to use. When considering ease of use, we look at the space required to complete the exercises as well as any extra equipment you might need. While a few of the DVDs on our list require a bit of extra space, most of them require no more room than a standard yoga mat and no extra gear.
We also like to feature videos that won't leave your child in the dust. Some adult dance videos are more frustrating than effective because they bang out dance move after dance move without slowly breaking them down first. Not only can this lead to dangerous form, but it also takes the joy out of working out when you're constantly trying to catch up. That's why we include videos designed with a child's pace in mind and with multiple different skill levels considered.
Speed
In terms of speed, we considered a couple of different criteria. We looked at how long each workout lasted and how they could be mixed and matched. We also considered the speed of the instructor and how sensibly each workout and movement series was broken down. Videos that break down movements to accommodate different coordination levels, as well as series that feature necessary breathers during the practice rank highly on our list.
Style
I don't know about you, but I am very particular when it comes to working out and nothing kills my motivation like someone yelling at me or someone babying me too much. I know, I know--I'm hard to please. But we all have preferences when it comes to working out. That's why we worked to include a variety of different coaching styles and energies as well as a variety of different workouts pulled from multiple physical disciplines. No matter what your child's preference or style is, there's a video for them. And as most of these programs are designed for kids, they are crafted to maintain your child's interest and keep them engaged.
Versatility
Nothing ramps up a products value like versatility. That's why we love to feature DVDs on this list that are exactly that--versatile. When ranking products on their versatility we consider how broad an age group can use them, how diverse the movements in each program are, and how easy it is to use each video in different settings. That's why videos that are great for the whole family rank highly on our list--and we don't just mean parents and caregivers providing sympathy participation. We mean getting the whole family moving and actually sweating. We also love DVDs that include multiple different programs and routine options. Whether you have a super young yogi and are looking for a DVD featuring 3-5 minutes long programs giving you the option to mix and match exercises to your child's liking, or if your kiddo is older and needs to alternate between aerobic activity and deep yoga stretching, we have a DVD for you on our list. And on top of that all, we give an extra nod to those products that can be used at home, in the classroom, or on the road to ensure that the little bodies you love so much can keep moving, moving, moving.
Value
Of course, value is always a major consideration when we compile our lists. We love the products on this Ten Best because they are super affordable and they are adaptable. Not only do they get your child moving but they also encourage healthy lifestyle habits that will follow your child into their young adult and adult lives. As we've mentioned, healthy habits start early, and if you place an emphasis on physical activity early, your kids will get the message. Plus, these programs generate a space for you and your kids to get active together, and who can put a price tag on quality time?
10 Best Exercise Videos for Kids
1

. Storyland Yoga: Yoga for Kids and Families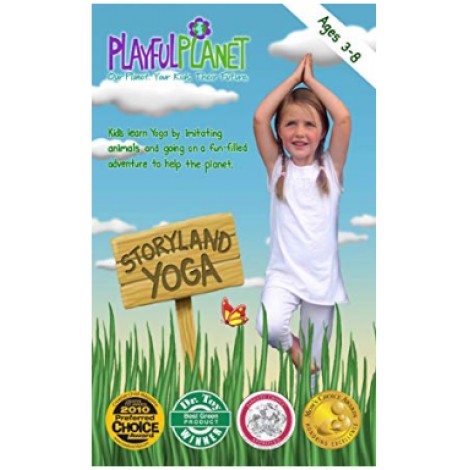 Storyland Yoga presents Yoga for Kids and Families, hosted by Ahmed Fahmy, a certified yoga instructor for children. This DVD was produced in 2010 and is intended for use with kids who are between 3 and 8 years of age.
Yoga Stories to Integrate Poses
This video features 2 different environmentally conscious stories that incorporate yoga poses to get kids familiar with the shapes of poses and to get kids moving. "Condor Trek" and "Save the Whale" will engage your child physically and mentally, all the while delivering an eco-conscious message that will inspire little warriors for the environment. As they take new yoga shapes by pretending to be different animals in the story, your child will begin to develop an understanding of the basic foundations of yoga. Each story progresses at a reasonable pace for children to follow along to, and each story is about 20 minutes long.
Grab a Yoga Mat and Go
To use this video you won't need a ton of space. If it's just you and your child practicing, you may enjoy moving around freely without using mats. However, if you're planning on practicing with multiple children, using mats is a good idea as it gives children (especially at this age) a physical boundary for where they should stay. This is great for controlling the body's motions and maintaining awareness of physical space, as well as for safety purposes so that children aren't running into each other. This video is straightforward enough for older children to use on their own, but it also a great opportunity for families to get moving together.
Cost and Value
The Storyland Yoga DVD for Kids and Families rings up at the bottom of our price range and we love its value because it features 2 different stories for variety and because it is hosted by a certified yoga instructor for children. Plus, we love the eco-conscious message and that the DVD packaging itself is made from recycled materials.

2

. Denise Austin's Fit Kids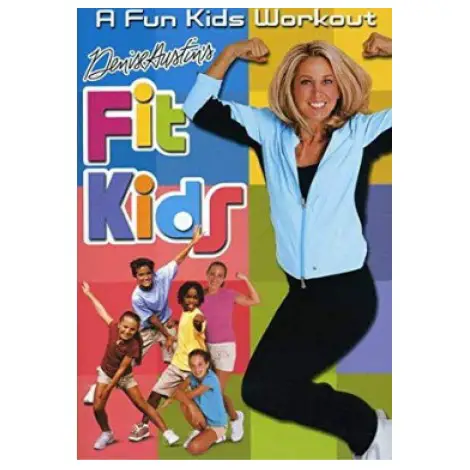 Denise Austin is a leader in workout videos for people of all ages and all fitness levels. She has made this video for kids to get them moving and keep them in shape, and to help them begin to start making healthy habits early. This DVD was made in 2004 and is meant for kids who are 8 years of age and older.
Combines Hip Hop, Yoga, and Sports Exercises
This 20-minute exercise DVD delivers a whole body workout that borrows from several different physical disciplines to keep your child on their toes and having a good time. By incorporating hip hop and dance moves, as well as drills from different sports practices and yoga stretching, Austin encourages dynamic movements. The DVD starts with a 6 minute warmup session featuring lunges and other full body stretches. Next, a sweat-inducing 7 minutes of cardio aerobics interspersed with kickboxing and dance moves will make your child feel the burn. And finally, the DVD is rounded out with some yoga, ab work, and push-ups. We like that there are kids following along in the video and that the program is quickly paced. If your child is new to exercise, this video may be a little intense for them at first, so they are advised to take it slow.
Bonus Video to Do With the Whole Family
Don't worry if you only have a limited amount of space available to you as this workout program doesn't require a ton of space to complete. You won't need any additional equipment either other than a sweat towel and water bottle. Plus, the DVD comes with a bonus workout video meant to be done with the whole family as some of the exercises are done in partnerships.
Cost and Value
The Denise Austin's Fit Kids DVD rings up at the bottom of our price range and we love it because it is a serious workout that is short enough to squeeze into any busy day. And with a bonus video, the whole family can get involved and keep moving.

3

. Shaun T's Fit Kids Club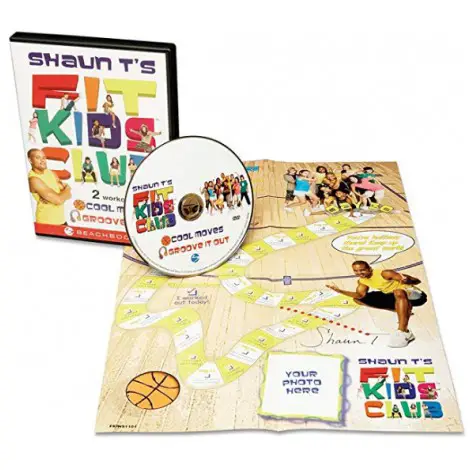 Shaun T is the super energetic and positive host of the adult workout program Insanity, and he has specially designed this workout DVD for kids with the same intensity and focus on health, but modified for the abilities of kids. Designed specifically to combat the rising rate of childhood obesity, this hip hop program is meant to be used by children ages 7 and up.
Dance Centric with a Focus of Fun
The two 25 minute programs on this DVD are fast-paced and so fun that your child might just forget they're working out. Shaun works to break down different dance moves and then picks up the pace make sure your kid breaks a sweat, all while getting down to hip hop beats. So it doesn't matter if your child is an experienced dancer or if they are just starting out, Shaun's program will help them gain confidence, strength, and coordination.
Bonus Nutrition Guides
You need a little more space to complete this program than others on our list because there's a big emphasis on dancing. You certainly don't need a studio, but you will require more room than a yoga mat's worth of space.
We love that this video not only focuses on toning the physical body with exercise but also on nourishing the body with nutrition. The program comes with a healthy snack guide as well as a tutorial on teaching kids how to read the nutrition information on food labels and how to make healthy choices based on this information.
Cost and Value
This workout program is the most expensive on our list, but it is also the most complete workout program for kids that we feature. Not only does it comes with two 25 minute videos, but the bonus nutrition information serves to help your child totally rethink the way they take care of their health.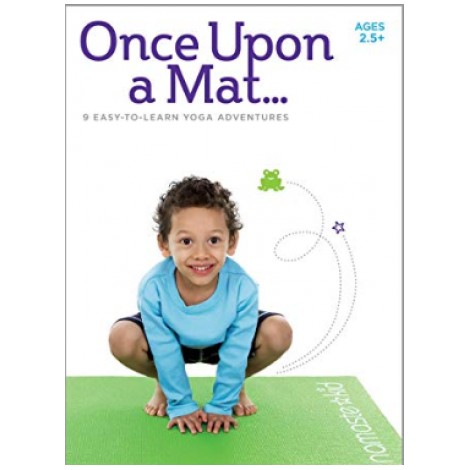 Once Upon a Mat delivers a simple and straightforward introductory yoga program for even the youngest yogis. Made in 2012, this DVD is meant for children ages 2.5 years through 8 years old.
9 Short Yoga Chapters for You and Your Child to Explore
This DVD is hosted by Jessie, a certified instructor of yoga for kids. The program contains 9 different chapters featuring different yoga stories that range from 3 to 5 minutes long. You can play the DVD from end to end in about 35 minutes or you can mix around the order of the chapters based on your child's preferences. Jessie focuses on breathing, simple yoga poses, and storytelling to encourage the imagination to run wild. Some of the adventures she offers are an African Safari, a great space expedition, and getting stuck outside in a thunderstorm.
Simple Set and Easy for Little Ones to Follow
Children can be easily overwhelmed and distracted with busy backgrounds and too many people on screen. That's why this DVD simply features Jessie and her mat on a bare background without other kids in the shot. Jessie talks to your child throughout the video and engages their one-on-one focus and imagination. And just like Jessie, your child will only need their yoga mat as well.
Cost and Value
This DVD rings up in the middle of our price range. We love that there are so many different adventures to go on and that each chapter is short enough to maintain engagement even among the youngest of yogis. Plus, we like the simple background so that kids are less likely to get distracted and overwhelmed.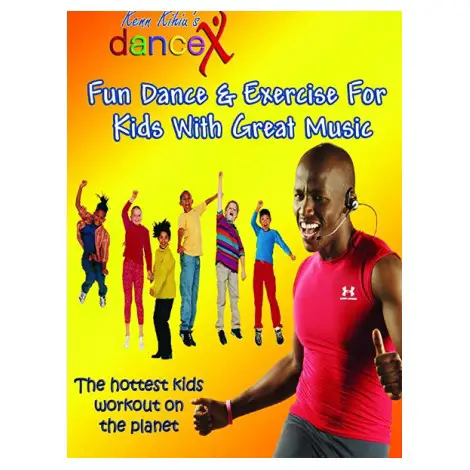 Led by Kenn Kihiu, a freestyle dancer, this DVD targets all abilities and coordination levels as well as a wide range of music from around the world to get your kid moving while they have tons of fun. This program does not come with a suggested age demographic, but we believe it can work for kids ages 5 and up.
Tons of Different Dance Moves and Styles
This 25-minute cardio video is great for use at school or at home and features movements that target gross motor skills and large muscle groups that are also developmentally suited for children. The program even comes with short breaks in between to give kids an opportunity to catch their breath if they need it. Kenn directly teaches each movement and then combines them together to make sure everyone participating breaks a sweat.
Features Kids with Varying Abilities
While some fitness videos only feature folks in peak physical condition, this video has a refreshing array of body types and ability levels to make sure everyone who watches feels comfortable and included. The dances in this program don't require tons of movement or space so you can literally pop this DVD in anywhere and get your kids moving. Plus, no extra equipment is required.
Cost and Value
This DVD rings up in the middle of our price range. We love that it features different body styles and abilities to encourage all kids to get moving and start sweating. We also like that it's designed as cardio without feeling like a cardio grind.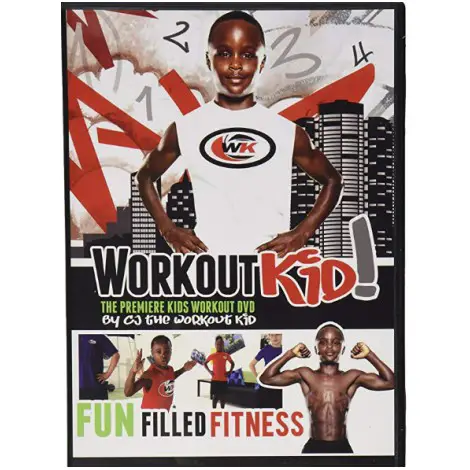 CJ Senter--AKA the Workout Kid--is a 10-year-old fitness buff who loves taking care of his body by working out and eating the right foods. This is the only video on our list that is made by a kid for kids and teens specifically, so it really offers up something special.
Made By a Kid for Kids and Teens
CJ may be a kid, but he is in incredible shape and he's also an amazing motivator and positive energy force. He believes that the key to true fitness is feeding your body with healthy foods to power your workouts. This DVD includes two workout programs that are 40 minutes long each. CJ always makes sure to include the proper stretches and breaks so that the body gets all of the care that it needs while getting a good burn too.
Uses Just Body Weight
You will need a little bit more space to workout with this DVD, but that's all you'll need other than a sweat rag and a cold bottle of water. These exercises are designed for kids to work out using their own body weight as resistance to get your shred on.
Cost and Value
This program rings up in the middle of our price range and we love it because it was made by a kid for kids and because it is one of the longer programs on our list, featuring not one but two 40-minute workouts.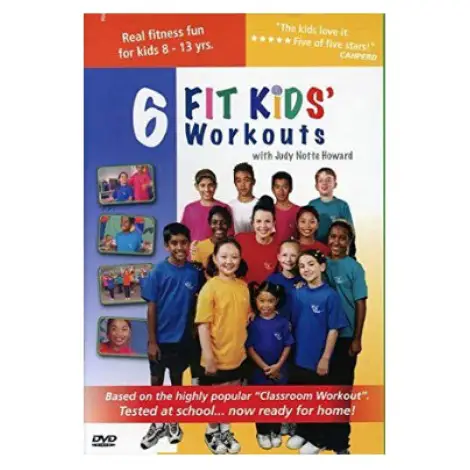 This Fit Kids' Fitness DVD is a great workout program to use in classrooms and teachers love it because it reenergizes students and refocuses them for more learning throughout the day. It was made in 2008 and is meant for kids ages 8 through 13.
6 Different Workouts to Choose From
We love that there are 6 different short workouts to choose from in this video. 4 of the workouts on the DVD are super short--just 5 minutes a piece--while the other 2 workouts are 10 minutes long each. Each video has a different cultural theme from African to Latin to funk and aerobics. We know these videos are short, but that's what makes them great for the classroom when kids need a kick of energy to get through the day.
Can Be Done Right in the Classroom
Because these videos were designed to be done in the classroom, they don't take up a lot of space and can be done even in the most crowded spaces. Of course, it's important to set ground rules about personal space and expectations to ensure safety for all participants.
Cost and Value
This video rings up at the top of our price range, but teachers love it and that's hard to beat. Plus, anything that can get kids moving, even in short bursts, is welcome.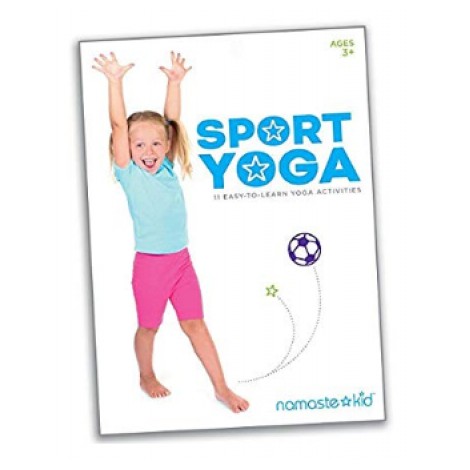 The Sport Yoga DVD is a companion yoga program that pairs nicely with the Once Upon a Mat video on our list above. It is simple and straightforward, making it great for the younger yogis (3 years and up) who are just getting into their yoga game.
Sporty Yoga Moves Directed by a Certified Yoga Instructor
This video features Sarah, a certified yoga instructor for children. There's no busy background or children in this video, but Sarah is engaging and your child gets to enjoy the one-on-one attention she gives along with her positive energy. Kids will learn yoga moves inspired by their favorite sports from basketball to bike riding.
11 Sport Yoga Chapters
All your child needs is her or his yoga mat to follow along with Sarah in this video. There are 11 Sport Yoga videos to choose from, each one ranging from 3 to 5 minutes in length. You and your child can mix and match these videos based on your preferences, or you can watch the video from start to finish in about 45 minutes.
Cost and Value
This DVD rings up in the middle of our price range and we love it because it has tons of options for mixing and matching and because it was created specifically for the youngest yogis.

9

. Shazzy Fitness: A Time to Dance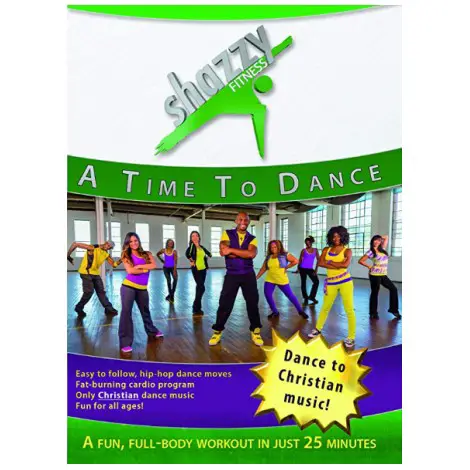 The Shazzy Fitness Workout DVD is not designed specifically for kids, but it is great for the whole family. This DVD features a hip hop dance workout to Christian music for a wonderful bonding experience that you and your children can enjoy together.
Burn up to 450 Calories in 30 Minutes
This video is for intermediate workout enthusiasts who love the Lord and love to boogie. While some videos feature revealing clothing and inappropriate moves and lyrics, this video is approved by the Dove Foundation and can be enjoyed with the whole family. Work up a real lather with this 30-minute workout, and have so much fun doing it.
Family Friendly Fun
Not only is this video appropriate for all members of the family, but it's designed to meet all levels of experience too. Each segment is broken down and explained so that everyone can get a hang of the routine.
Cost and Value
This DVD rings up at the bottom of our price range and it's a great value because it offers G rated fun and fitness for the whole family to enjoy together. Plus, you can burn some major calories all while getting your groove on.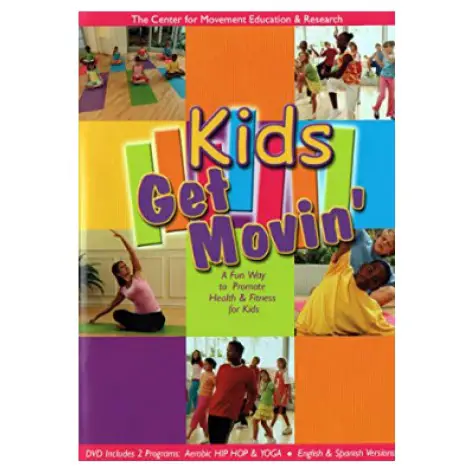 To round out our list, we feature the Kids Get Movin' DVD. It is researched based and backed by a mission to get all kids moving, no matter their socio-economic level and no matter their zip code. Filmed in 2006, this video is great for kids ages 5 through 13.
Features 2 Different Workouts
The programs in this DVD were developed by Judy Gantz, a UCLA dance kinesiologist and educator. She was also the fitness editor of Shape Magazine. This program offers up 2 different workouts for kids to enjoy: Yoga and Aerobic Hip Hop. The workouts will bolster flexibility, strength, coordination, and balance.
Offered in Spanish and English
These workouts can be done in the classroom, and what's even better is that they are offered in both English and Spanish. All profits made from folks purchasing this DVD go directly to CMER--The Center for Movement Education and Research. This organization works specifically to bring fitness into public city schools, and we love that mission.
Cost and Value
This DVD rings up at the bottom of our price range and we love its value because it offers 2 different programs in 2 different languages and because all of the proceeds go to support physical education in public schools here in the US.

Subscribe to our Newsletter