Best Video Projectors Reviewed & Rated for Quality
In a Hurry? Editors choice: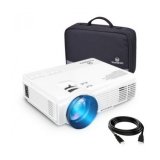 Test Winner: Vankyo LEISURE 3

There's nothing like
watching your favorite movie at home
; especially a home movie made by you of your family and friends. Uses for video projectors is a wide area and you can
find them in many everyday settings
such as work-related presentations, in schools, colleges, and universities. The versatility they offer is virtually unlimited because of the ingenious set up they require for use, as long as you have electricity and a suitable back screen you can watch to your heart's content. This review and guide are written with outlining a few basics when you're thinking of spending your hard-earnt cash on a good video projector. There are always different angles to look at things and sometimes it serves well to check off a few considerations before you commit yourself.
Standout Picks
Criteria Used for Evaluation
Portability
You may want to consider what and where you want to use your video projector because this may have a significant bearing on what you choose. If your use will be primarily within the home; or located in a specific place at work or in educational use – then a static more robust style may be better for you. This will enable you to set a semi-permanent screening area with a suitable screen for longer-term use and reduce set up and downtime.
If you're unsure of where is best for your video projector or you know already that it will be used in different areas frequently, then the convenience of a portable will shine through. They allow you to set up practically anywhere where you set up a screen – anywhere, and at any time; the only limit will be the weather and your own imagination.
Power Source
The type of light source can make a difference to the end visuals the projector can emulate, a lamp as standard is prone to becoming hot and may need a fan to cool it during use, and because it uses the whole color spectrum – they tend to use more energy as well. They aren't notoriously long lasting either, but if you only intend to use your new video projector for occasional viewing it may be the ideal light source for you.
Contemporarily we find more regular use of the LED lighting source, they are more compact than standard lamps and can be set to use only one color – which is more efficient in its overall energy use. Note that it is recognized two minor points that may sway you against the LED, the first is they aren't as bright as lamps, and the second is that they may scatter light which can result in a slightly inconsistent flow which can affect the viewing experience.
Laser light is becoming more technologically advanced and has some great notable features. They use less power and generate less heat, they produce better light
Size
You have chosen your ideal home theatre space, you have your video projector – now you should be thinking along the lines of a decent screen to push your enjoyment further. If you do have space for a permanent set up, then a fixed screen will be the ideal way for you to go on this one. There are all manner of sizes and styles to choose from and depending on your budget and available space will help to determine what you decide on.
Aside from the temporary bed sheet taped to a wall, another and probably superior idea is the retractable screen; we've all seen them in boardrooms and classrooms. This is an ideal solution especially if you are planning to use it in different areas around your own home, they are easy to use and relatively effective. They vary in price and you can often find a simple manually retractable screen and even motorized versions for instant viewing and convenience.
Advanced Features
You may think of it as of little relevance, but the pixel size the video projector is produced with can affect the images in a detrimental way. The density of the pixels should be clearly defined in the products individual specification; so you can make sure you are getting it about right. Most HDTV have high levels of pixel ratings, but as a general tip – the 720p signal will suit a count of 1280 x 720, and a 1080i input signal will best benefit from a count of 1920 x 1080.
10 Best Video Projectors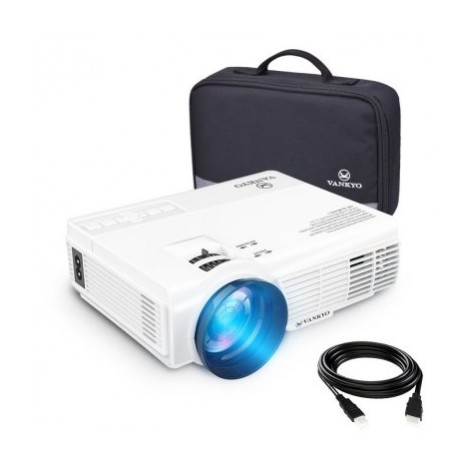 This video projector is offered as the newest and latest version and benefits from full portability and is sporting an upgraded LED light with up to forty percent added brightness. The resolution boasts a count of 1920 x 1080 and a superior 2000:1 contrast ratio that enables it to be versatile but very effective to use in and around the home in a variety of settings. For an enhanced experience, the projector is suitable for screen sizes between thirty-two inches and one hundred seventy-six inches; and the ideal projection range is good for between four-point nine feet and sixteen-point four feet.
Versatile Connectivity
The vankyo LEISURE 3 is versatile enough to enable connectivity to a good range of media devices; including smartphones, Wii, PlayStation 3 & 4 and the Xbox One. This improves its overall suitability especially if there are several different platforms used in one household.
Quiet Cooling
Unlike lamp projectors, the LED light in this projector allows the use of a technically superior cooling system to help reduce heat build-up, and the fan itself benefits from noise suppression so won't be loud enough to interfere with the viewing experience.
Cost and Value
The relative balance between both cost and value is well reflected with the features that include a handy carry bag for ease of use during traveling and moving, and a full three-year one-hundred percent money back guarantees – overall this is a very good value for money.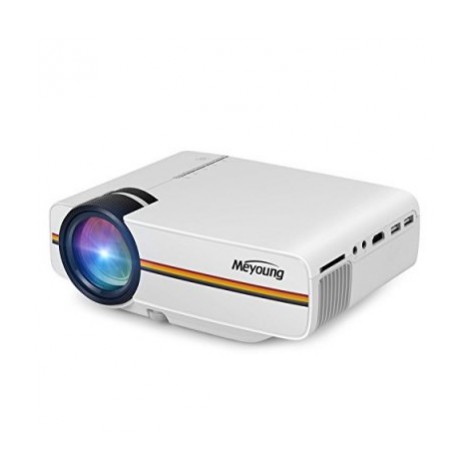 This LED mini home video projector is versatile enough to be used almost anywhere either inside or outside the home. It has the capability to allow full connectivity with modern tech devices including smartphones, DVD players and even games consoles, PCs and laptops. It boasts being suitable for use with screen sizes between fifty inches to one-hundred thirty inches for an even bigger viewing experience. The compact video projector is a mere one-point-eight pounds in weight and only measures 7.80 x 5.75 x 2.68 inches.
Practical Inclusions
The Meyoung TC80 comes complete and ready to go, included in the purchase is an AC power cable, an AV cable, remote control, and a useful instruction manual. It boasts a USB compatible flash drive and has a built-in speaker.
Functional Features
The projector has a functional 800 x 480 resolution that makes it ideal for intimate viewing groups, the LED lumens are rated at 1200 for a bright and clear experience. And as a bonus; it also has HDMI enabling support for increased versatility.
Cost and Value
The versatile functionality offered with the Meyoung TC80 combined with the excellent features including the built-in speaker and amplifier – ensure that it is well balanced when considering the equality between cost and value.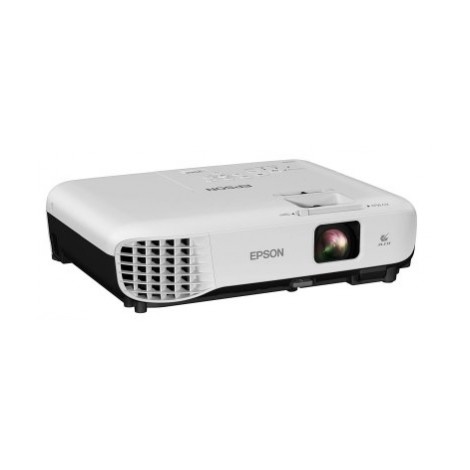 This tidy video projector boasts a bright 3,200 lumens for better color balance and white clarity. It is versatile enough to be used with a multitude of tech devices including laptops and media players using an HDMI supported capability for connectivity. It benefits from being the ideal solution for home movie viewing and smaller, intimate presentations. The quality materials and technological production gives an improved experience and also allows image adjustment and superior control.
Ideal Resolution
The adequate resolution offered by this video projector is eight-hundred by six-hundred and produces a vivid, clear screening with easy and fast set-up and only requires one cable for both video and audio which increases its overall usability.
Compact Technology
This video projector boasts a 3LCD display for a higher quality transmission of images and is crisp enough to be used in presentations. The compact projector is only eleven-point nine inches by three-point two inches by nine-point two inches so is practical enough to be used almost anywhere.
Cost and Value
The cost of the Epsom VS250 is in the higher bracket of the market, but the excellent features and performance it offers ensures that it is high quality, is built to last, is easy to set up and use and is very good overall value for the price.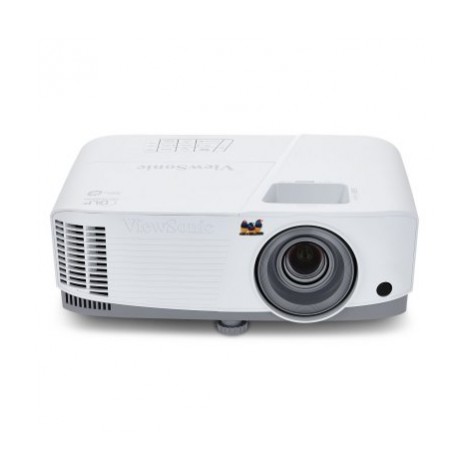 This video projector benefits from a choice of resolution options; SVGA and 3,600 lumens, WXGA and 3,600 lumens and an XGA with 3,600 lumens, giving versatility and added choices. It boasts a screen projection of up one-hundred and twenty inches from a distance of thirteen feet two inches; which means it is usable in a wide variety of settings either at home or in a small gathering at the office. It is easy, simple and quick to set up and offers a functional plug and play practicality for greater convenience.
Practical Lamp
View Sonic offer this PA 503X projector with a longer life lamp that has a practical super eco mode that prolongs the lamp life for up to fifteen thousand hours. The lamp also benefits from a very useful twelve-month insurance warranty cover.
Functional Versatility
The projector offers versatility to connect with a variety of devices with supported cables, including PC's, Mac's, smartphones and tablets and has input sockets for HDMI and VGA for improved functionality and economy.
Cost and Value
The balance between both cost and value are relative and equally reflected, the quality of the overall projector and its performance with the versatility and optional extra connectivity means this is a really good buy for the price.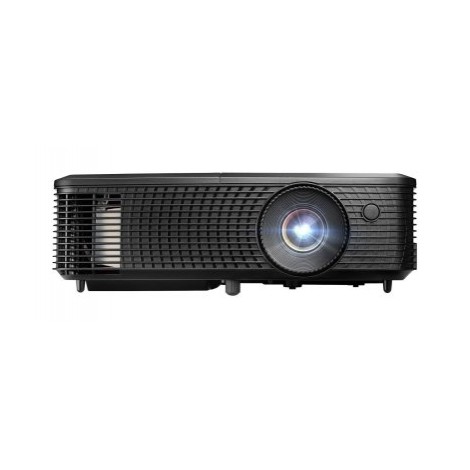 This Optoma video projector has an LED light source and an impressive LCD display for an effective and practical viewing experience that also has 1080p graphics and offers crisp clear imagery. The LED boasts a three thousand lumen output with up to eight thousand plus hours of life; the accompanying 23;000:1 ratio boosts the overall presentation for use either at home or in intimate groups at the workplace. The higher rated resolution set at 1920 x 1080 gives optimum projection and is offered with the benefit of full HD so won't reduce enjoyment on many viewing inputs.
Functional Versatility
The projector is compatible with a good range of devices including Xbox One, PS4 and PC'S and Mac's. It offers support for MHL v1.2-enabled HDMI ports for a smarter digital media interface; and also has connectivity with USB and wireless options.
Compact and Practical
Weighing in at a mere five-point five pounds, and measuring nine by eleven-point seventy-three by three-point seven inches so is easy enough to be moved from room to room or even from home to the workplace.
Cost and Value
Considering the practical features offered with the Optoma video projector, including the functional connectivity options and the longer life lamp, this relative balance is easily justified; and this is a quality projector for the money.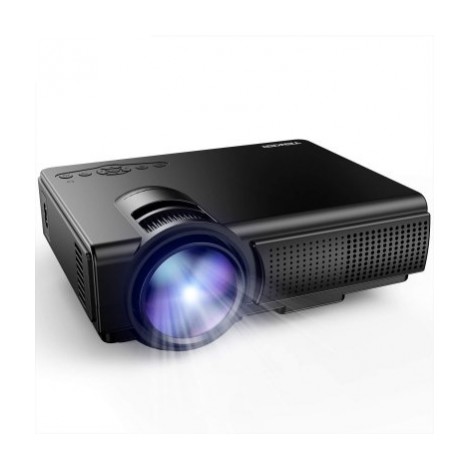 This mini video projector is ideal for us3 at home to showcase favorite movies, the compact design is light enough to be used almost anywhere and has a projection display size of between thirty-five inches to one-hundred inches; combined with a projection distance of between one-point fifteen to three meters ensuring it is practical for home use. The LED is an adequate one thousand five-hundred lumens and it boasts an optimum LCD display for a great viewing experience.
Functional Features
The resolution is set to eight hundred by four hundred and eighty pixels and it offers a supported resolution of 1080p, 720p, 480p. The contrast is a notable one thousand to one and these features combined provide a clear, crisp and vivid picture projection.
Supported Connectivity
The projector benefits from supported connectivity with devices including PC's and laptops, USB, iPhones, smartphones and tablets. It has input allowances for VGA, USB, HDMI, TF, AV, and 3.5 audio, more can be connected with the purchase of a wi-fi dongle.
Cost and Value
Considering the great features offered with the TENKER Q5 video projector, including the multi-use connectivity and practical compact design, it is clear that the balance between cost and value is well represented and this is a good purchase for the price.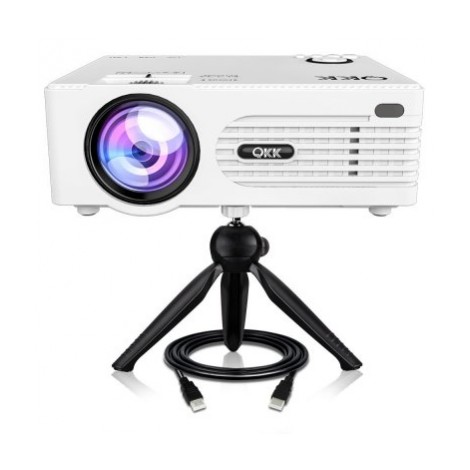 This mini and neat video projector is offered as an ideal solution for watching home movies, it has been upgraded to benefit from the latest HD technology and is 1080p supported. The versatile production enables it to be practical for use both inside and outside the home; the lamp life is proffered to be in excess of fifty thousand hours. The two thousand to one contrast ratio and sixteen-point nine aspect ratio give a clear, crisp and vivid picture that will provide many hours of home entertainment.
Great Connectivity
The QKK Mini projector has a double USB port for ultimate connectivity, and also offers supported ports for HDMI, VGA, AV, and an SD card. This allows greater functionality to enable use with many devices including laptops, PC's, smartphones and more.
Brighter Viewing
The projector has a twenty-two thousand lumen that gives a brighter and clearer picture and boasts a being capable of a full twenty-four-hour session in one go. It proffers to be low wattage and low noise as well.
Cost and Value
The relative equality and justification between both cost and value are represented well by the quality of the picture provided and the features including the versatile connectivity and brightness, this is a practical and functional purchase.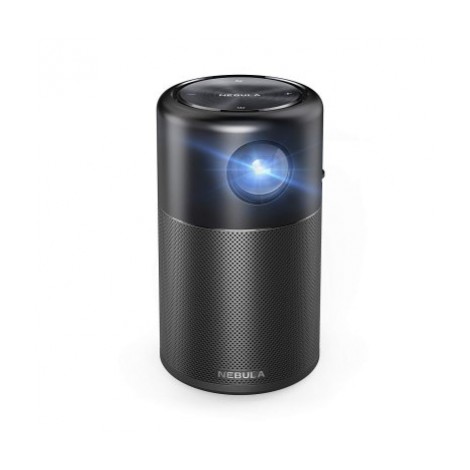 This smart looking video projector is available in black and pink, it is light, compact and fully portable at only fifteen ounces in weight and is user-friendly in design and set up. It offers a projection size of up to one hundred inches that is bright, vivid and clear. It benefits from an internal three-hundred and sixty-degree speaker that works no matter what direction it is placed in – ideal for the accompanying sound transference with any home movie.
Smart Design
The unique design of the Nebula Capsule is like no other on the market and is made to use Android 7.1 for maximum enjoyment. It provides up to four hours continuous run time so won't cut at the vital point in the movie, and if the charge does fall – it is enabled to continue working at the same time as it is being charged for ultra convenience. The neat soda-can design can offer up to thirty hours of music play; and is simple and easy to set up and use.
Versatile Technology
The video projector allows connectivity with devices including smartphones, laptops and tablets for ultra usability and convenience when more than one platform is available for use; and is also wi-fi enabled for even more options.
Cost and Value
The overall measurements of the capsule are two-point six seven by two-point six seven by four-point seventy-two inches, it is compact enough to be fully portable and can be used almost anywhere where there is a suitable backdrop for the display.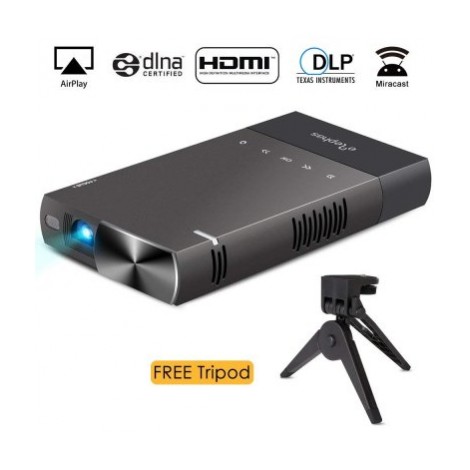 This mini video projector offers the latest in multi-screen technology and boasts being supportive of AirPlay, DLNA, and Miracsat; therefore, increasing not only its overall appeal but its full functionality and practicality. The added bonus of being able to project from smartphones onto a screen up to one-hundred and thirty inches big with a lighting cable or Type-c cable. The versatility offered by this projector means it can be used almost anywhere from within the home or for smaller groups and presentations.
Compact Convenience
The overall size is a tidy five-point seven inches by three-point two inches by point nine inches and it only weighs a mere point six pounds which makes it really easy to take on any journey to allow its use anywhere without the extra weight or bulk of a standard projector.
Versatile Usability
The projector has a 5200mAh battery that provides enough power for a runtime of up to two hours, and as a bonus – it proffers to be connectable to a smart TV which improves its full functionality and versatility.
Cost and Value
The balance between both cost and value is reflected well and the great features including the free tripod and the full refund guarantee ensure the price matches the overall value and the tidy design is a real bonus.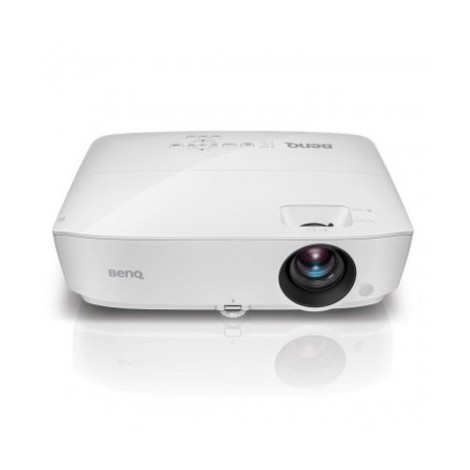 This video projector is offered in a variety of different formats and levels of lumens giving a greater versatility in the initial choice for purchasing. The brightness is second to none and benefits a range from thirty-three hundred to four thousand depending on preference. It has a high fifteen thousand to one contrast ratio to improve the clarity and crispness of the pictures and text. It benefits from dual HDMI input that increases connectivity further and allows the use of multi-platforms for convenience when there are different variants of devices within the household.
Easy to Use
The BenQ WXGA boasts an easy and quick set up with ease of use as well, it has a practical power supply of a light AC 100 to 240 V, 50/60 Hz which reduces usage and helps to keep it in line with other eco-friendly models.
Practical Function
The projector gives a clear and crisp presentation display that is enhanced by the WXGA 1280 x 800 resolution. The color projection is deep and bright and text is readable without comparison, making it an ideal tool for either home use or to use at the office.
Cost and Value
The quality of the projected images and the functionality offered with this projector, and with the eco-friendly production and power use – ensures this really is a good purchase and represents excellent value for money.

Subscribe to our Newsletter