Best Dog Waste Bags Reviewed & Rated for Quality
last updated:
Feb 25, 2019
Part of being a responsible dog owner involves running after when it is outdoors collecting its poop every time it relieves itself. It's not the most pleasant job but having the right equipment definitely makes it much easier. You've probably learned that one of the most valuable tools you should have when taking your dog for a walk or at the park is a waste bag. You've also figured that not all dog waste bags are made the same. There are so many different types on the market. Each of them uses catchy marketing phrases that can be confusing. That's why we took it upon ourselves to sort through a pile and present you with the top ten dog waste bags.
In a Hurry? The test winner after 19 hrs of research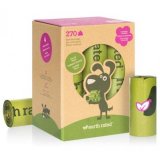 Earth Rated
Why is it better?
Easy to separate and open
Bags are made from degradable EPI technology
The cores and packaging are made from recycled materials
Affordable value pack
In a
Hurry? Editors choice: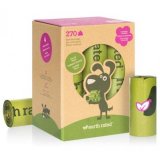 Test Winner: Earth Rated

18
Researched Sources
12k
Reviews Considered
19
Hours Researching
13
Products Evaluated
Brand
Size
Capacity
Materials
Durability
By Default
10 Best Dog Waste Bags Reviewed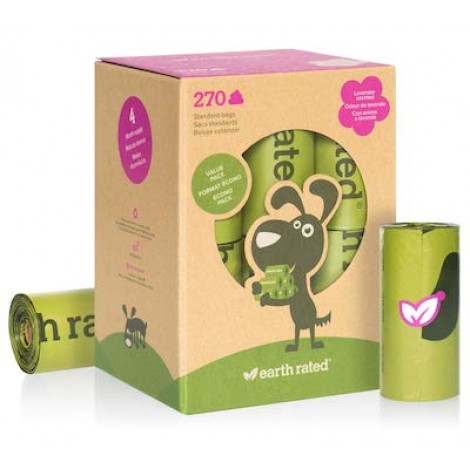 Easy to separate and open
Bags are made from degradable EPI technology
The cores and packaging are made from recycled materials
Affordable value pack
The bags don't come with a dispenser
The price though reasonable is a little steep
They're quite a few reasons why these are one of the top-rated dog waste bags. With an odor blocking lavender scent, dog poop collection with scented bags. They are 100% leak-proof so you don't have to worry about soiling your hands in the process and they come in a budget-friendly pack of up to 270 bags. Because you have to contend with your dog and its by-products, the bags are quite easy to use. It is simple to open and tie them securely giving you more time to enjoy the walk. Not only are these bags great for you, but they are also great for the environment. The roll cores and packaging is made from recycled materials.
Recycled Materials
Going green is the biggest agenda in saving the planet. While bio-degradable bags might be a little costly, you could also settle for this variety with packaging and roll cores made from recycled materials. It reduces landfill without affecting price and performance. It is a win-win.
Made from EPI Technology
Most of Earth Rated dog poop bags are made from EPI technology. It helps to break down the bags. But, this does not mean the bags are compost safe. It only guarantees that the bags can be broken down in time which is a plus.
Cost and Value
For 270 bags in 18 rolls, and considering the quality and features of the bags, the price couldn't be better. It is budget friendly and one that most dog lovers will find affordable. The EPI technology reduces the burden of proper disposal because the bags are degradable.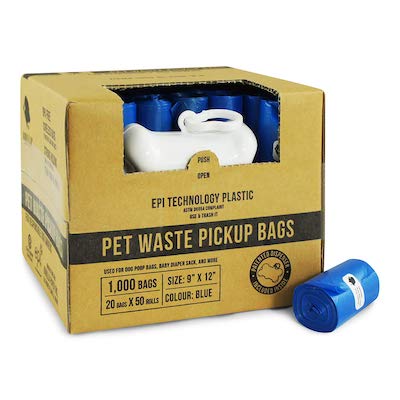 Value pack of up to 1000 dog poop bags
Comes with a free bag dispenser
The bags are made from EPI plastic
Coreless design for easier collection of dog waste
The bags are smaller handling substantial waste might pose a challenge
The bags are not scented
When picking up dog poop, there's always the fear of leaving smears behind. It is common with bags that have cores. To make doodie collection easier with no smears, these bags have no cores. They are also made from the famous EPI technology which makes them biodegradable and friendly to the environment. Keeping a dog is expensive the last thing you need is to have to constantly buy poop bags. This package of up to 1000 bags ensures you have plenty of supply to collect waste. It even comes with a patented dispenser to make carrying and using the bags easier.
Coreless Bags
Worried about having to follow up the poop collection with tissue wipes? Not anymore! These coreless bags makes waste collection easy and flawless. No smears or missed spots. Everything's picked up in one swift swoop.
Free Dispenser
If you're buying poop bags for the first time, the free dispenser saves you from added costs. The patented design is easy to use and handy. It easily attaches to the dog's leash to keep your hands free when you're not collecting droppings.
Cost and Value
Even though this package costs more than the top rated Earth Rated dog poop bags, you get four times the number of bags and an additional dispenser. It is the perfect choice for dog lovers that don't mind spending a little more for quality.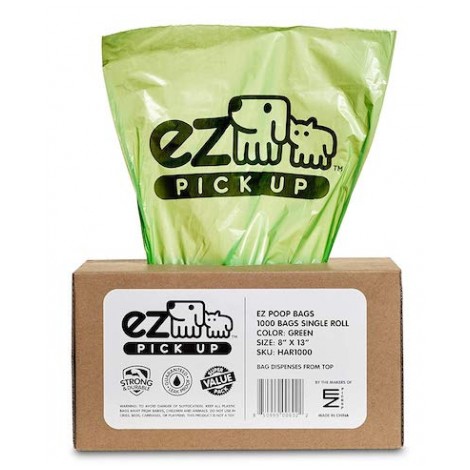 Over 1000 bags in one dispenser
Large sized bags for easier use
The single roll comes with a dispensing box
No risk of messing your hands when collecting dog poop
The bags are not scented
The bags are too big to fit into outdoor waste stations
If the thought of getting dog poop on your hands makes your stomach turn, the extra-long bags from EZ Pickup will come in handy. Though they are not scented and you have to deal with the stench of the poop, they do have plenty of other impressive benefits. The bags are extra thick. You don't have to worry about perforations and they are leak proof. They can also be used for cat litter. So, if you have both pets, they are worth considering. The pack consists of a single roll of 1000 bags and a dispensing box.
Extra Large Size
Most dog lovers like to have small bags in a small dispenser that they can attach to the leash. But, you have large dogs or happen to walk several dogs at the same time, the larger the size of the bag the better. Not only does picking up the dropping become easier, but it's also more hygienic with fewer chances of a mess.
Thick Material
When dealing with the poop of any kind, the last thing you want is the barrier between you and the poop being compromised. You want your hands to be as safe as possible. Having a thick material keeps the bag sturdy and also keeps the odor of the poop locked in longer.
Cost and Value
The EZ Pick Up bags are reasonably price. You get 1000 large bags to collect as much poop as you pawed friend can drop. The bags are easy to use and the size means you can pick a few droppings in the same bag.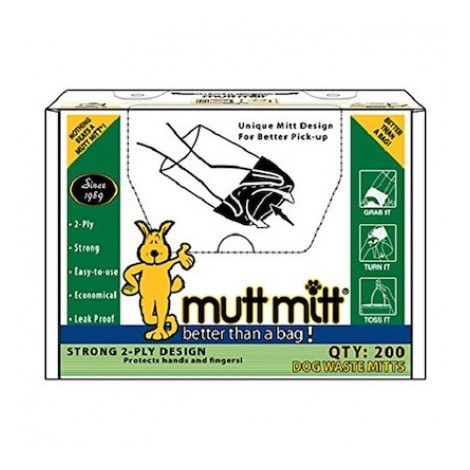 Unique design for easy use and collection
2-ply design that is strong and leak-proof
Comes with a dispenser and optional hang tabs
Made from degradable materials
The price is quite steep
The bags are not scented
At first sight, the Mutt Mitt dog waste pick up bag is just like any other on this list. But, it's not. Its first unique feature is a special gusseted bottom. It acts like a pouch which is where it gets the "mitt" name from. The purpose of the "pouch" is to limit the space the dog waste can take up for a clean and leak-proof turn. For extra caution, the bag has a double ply material for strength and durability. This also reduces chances of a puncture.
2 Ply Design
When dealing with any kind of poop, you can never be too careful. Additional protection is always welcome. The 2-ply design offers that and prevents the poop from leaking out once you have collected it.
Degradable Materials
Even though the bags are strong and durable, they are made from degradable materials. It would have been awesome if the packaging or other parts were made from recycled materials as well. Nonetheless, having degradable bags is a commendable effort as well.
Cost and Value
Mutt Mitt bags are not the most affordable on the list. You don't get as many bags as other options offer and the price is a little higher. What you get is high-quality bags that are extremely easy and safe to use.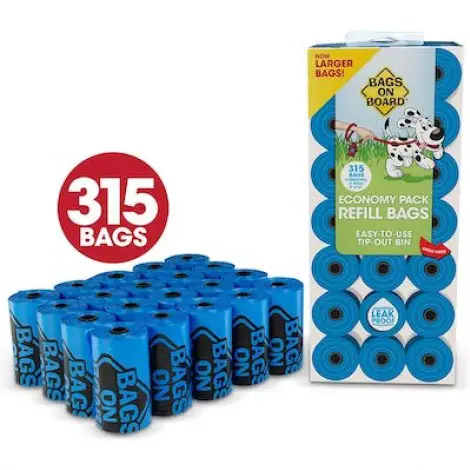 Sizeable bags with plenty of room to tie a knot
You get a dispenser with your purchase
Affordable
The bags are thick and leak proof
The bags are not degradable
They are scent free
Overall, Bags on Board pet poop bags are an inch longer compared to other similar products. It might not look like much but, if you want to make a tight knot or happen to have stubby fingers, the extra inch makes a lot of difference. The bags come with a double seal to keep the contents of the bag inside. But, that is as close as they get to being environmentally friendly. They are not degradable or biodegradable. On the flip side, you can get them in various colors and the package has quite a number of bags which is budget friendly.
Size
Every inch gets your hands safer away from the poop. Even one inch could make the difference. The fact that these bags are bigger is highly welcome especially because it doesn't reflect on the price.
Comes with a Dispenser
Animals are unpredictable. Sometimes they poop once a day and other times, they can poop twice in a span of a few hours. With a dispenser, you have enough bags to cover any situation that arises.
Cost and Value
Bags on Board poop bags are quite affordable. Considering they are not degradable, it would have been unfair to have a higher price for them. For the price, you get a handy amount of good quality and sizeable bags. You also get a dispenser.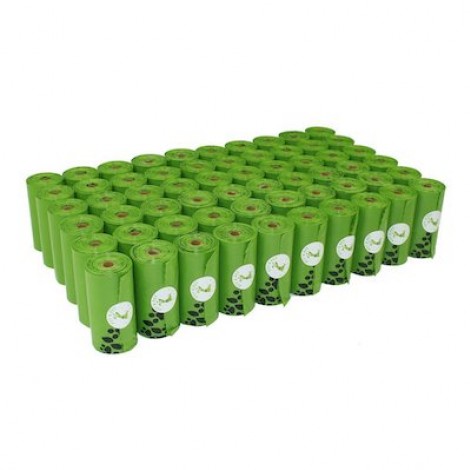 Extra thick bags for easier use and better durability
Pocket friendly prices
Anti-microbial film for odor restriction
Sizeable bags for easy collection
The bags are not scented
It does not come with a dispenser. You have to buy it separately
Pet N Pet dog waste bags are the ultimate tool in handling pet refuse. They are 13 microns thicker than other similar products for a strong and leak-proof bag. They are particularly handy when dealing with large turds if you own the giant dog breeds. The stand out feature for this bag, however, has to be the anti-microbial film. Even though the bags are not scented, this film saves restricts the odor-causing bacteria from causing as much havoc making picking up doodie easier.
EPI Plastic Technology
It's always a good idea to go for bags that are environmentally friendly. The Pet N Pet bags are made from EPI plastic technology which makes them degradable. No matter how many bags you use, you know they won't harm the surrounding environment.
Thick Build
The thought of having a tear in your dog poop bag is a big turn off. It is the kind of thing that results into a mad dash for your hand wash. The thick build that these bags have ensures you don't have to worry about the tears and failed poop pick up missions.
Cost and Value
Despite the impressive set of features, this is the most pocket-friendly type of dog poop bag you will find. They are high quality and you get up to 1080 bags with each purchase. It's perfect for dog owners with a budget on a tight leash.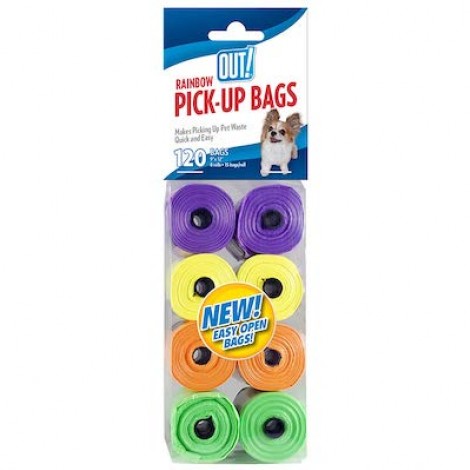 Bags come with a 100% money back guarantee
Variety of bold and vibrant colors
Affordable price
High quality tough bugs that will not tear easily
The bags are not scented
You don't get as many rolls as some of the other brands have to offer
Picking up dog waste is never fun. But, with some fun colors and quality bags, it can be easier. OUT! Dog Waste Pickup Bags are designed to be vibrant and come in a variety of colors. If you have a cat, you can use these bags for the cat's litter box too. The bags are not only good looking, they're also great performers. They come with a no-tear guarantee and are highly dependable. The bags have a double seal with a capacity to hold any mess without it leaking out. Despite the vibrant and colorful finish, they are relatively easy to use.
Vibrant and Stand-out Colors
Becoming your dog's poop valet is dreadful as it is. You don't need dull colored bags to add to it. With the unique finish and bold colors, doodie duty is fun and less dreadful. The colors don't add much functionality to the bags but they make an otherwise despicable job fun.
No-tear Guarantee
No more cringing as the bag gets in contact with the ground. With the no-tear guarantee you can comfortable pick up after your dog without any concerns of soiling your hands in the process. It makes an otherwise murky job more comfortable to complete.
Cost and Value
At first sight, the price seems very pocket friendly. And it is for dog owners that don't go through many bags. However, compared to options that offer you up to 50 rolls, buck for buck, the price is somewhat steep for eight rolls but still reasonable.
8

. UNNI 100% Compostable Pet Poop Bags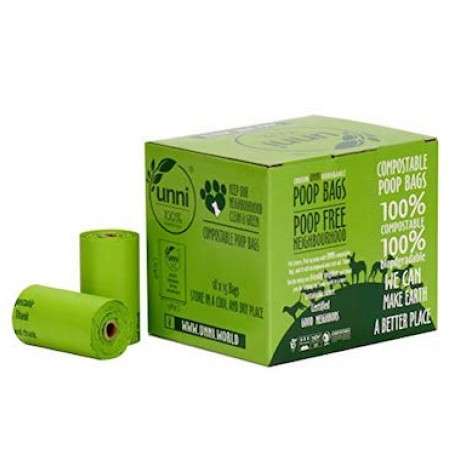 Compostable dog poop bags
Made from plant starch. Doesn't contain any polythene
Extra thick build for durability and ease of use
Great for the environment
The bags need to be stored in the right conditions and used within the set time
The bags are more costly because of the materials used.
Dog lovers frequent parks which are one of the best places to see how beautiful the world is if preserved. Picking up after your dog is one of the ways you can protect the environment. You can also use compostable bags which makes quite the difference. If you'd like to consider going down this path, these UNNI dog poop bags will come in handy. They have a high bio-based content. Even though they don't contain any polythene and are made from starches of plants, the bags are extremely durable and reliable. However, it is advisable to keep them away from direct heat and should be used within a year after purchase.
Compostable Bags
Even though most of the bags reviewed are degradable, they are not compostable. Compostable bags are more environment friendly. The bags do not contain polythene which goes to show just how dedicate the company is to keeping the environment safe.
Extra Thick
Even when taking care of the environment, you want your hands as far away from the dog's refuse as possible. With this bag, you will have an entire 0.8mils away from the poop. It doesn't sound like much but it is more than you need to keep your hands safe and doodie in the bag.
Cost and Value
Getting these bags is going to set you back a handsome buck. The use of plant starch to make the bags makes them slightly more expensive. Luckily, if stored and used right, you don't have to worry about any loss in quality or functionality. The slight increase in price is a worthy price to pay to keep the parks and environment safe and vibrant.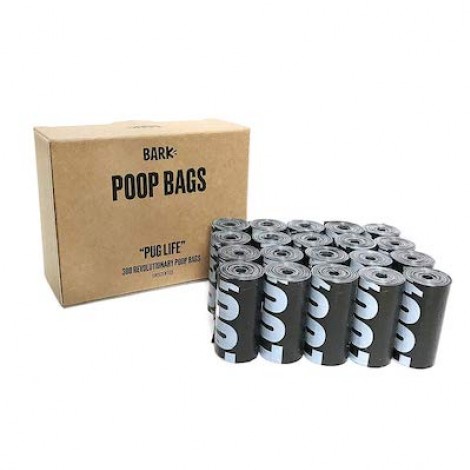 Good quality affordable bags
Ideal for dog owners with nasal allergies
Come with a leak-proof guarantee
Have funny poo puns to keep you smiling
The bags don't come with a dispenser
The bags are unscented
Having served over 2 million dog homes so far, you can't go wrong with BarkBok dog waste poop bags. The brand is reliable and dependable and offers up to 4 months of refuse bag supply or an equivalent of 300 bags. It is the most affordable yet on this list of reviews and offers a fine blend of quality and affordability. The papers are unscented and even though this might seem like a downside, it is a benefit to dog owners with a sensitive nose. The bags are well built with enough thickness and quality to withstand their use and are leak proof.
Unique Poo Puns on Bags
Poo duty is never fun. Any effort made to put a smile on your face right before you go down to pick up the doodie should be highly appreciated. The BarkBox poop bags have a unique way of doing this. Each of the bags in the 15 different rolls have a poo pun and you also get a chance to submit your own pun and have it featured when you buy their products.
Money-back Guarantee
Anytime you spend money, you want to spend it on the best product possible. Marketing gimmicks make all products look great but only serious sellers stand behind their products. With this particular one, the manufacturer promises to give your money back if you're not happy with the product. It is great comfort for a buyer to know the seller has that much faith in their product.
Cost and Value
Of the products in this list, this one offers the best value for money. For the price, you get a decent supply of bags that are of good quality. The bags are extremely affordable, easy to use and great for dog owners on a stringent budget.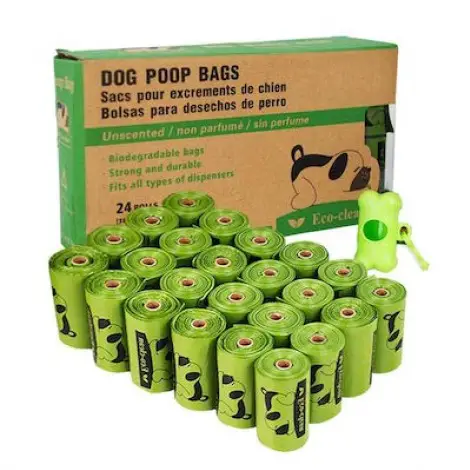 Strong, durable construction
Simple to tear off
Biodegradable
Cover the whole hand during pick-up
Odorless bags mean you have to deal with the reeking poo
The smell of the poop might be noticeable if you keep the bag hanging around long
We saved one of the best product for last. For most dog lovers, nature comes a second close. That's why finding biodegradable poop bags is a must. If you're a lover of nature and won't settle for anything other than biodegradable bags, these ones will serve you just right. The bags comply with the ASTM D695-04 policies and are completely biodegradable. What's more, you don't have to worry about paying extra for them. They are affordable and each purchase offers 360 bags and a leash dispenser. The bags still offer durability and a leak-proof build to make picking up after your dog easier and hygienic.
Biodegradable Poop Bags
Most of the bags we have reviewed in this list are degradable. Even though this is also a good benefit to have, it doesn't hold a candle to having biodegradable bags with regards to the environment. The bags can be completely broken down to avoid pollution ensuring you and your dog continue enjoying the breathtaking sceneries on your walk trail.
Easy to TSear-off
With bags that come on a roll, separating the bag when duty calls can be a challenge. You have to contend with the leash the bag and also the poo. Having a bag that is easy to tear from the roll is key in quickly and swiftly handling the 'business' and being on your way.
Cost and Value
For bags that are biodegradable and considering the number of bags you get, it's safe to say this option falls flat in the region of pocket-friendliness. You get good quality bags that are gentle to you and to the environment and you don't have to bend over backward to afford them.
Criteria Used for Evaluation

Brand
Pet lovers are notorious brand lovers. The love for brands can be because of the dedication of the brand to providing quality pet products or even because they have a cute mascot. Some brands have been around for ages and have built trust and dependability among their buyers.
Going with a trusted brand is the surest way of buying pet products. Brands with big names are careful to protect their name and some brands are known for their dedication to environmentally friendly products. Depending on your preference, you will rarely go wrong when you consider a brand in your purchase criteria.

Size
Second on your list should be the size of the bags. While the bigger the bag the better, sometimes size can be a limiting factor. If the bag is too big, you might have to buy a new dispenser which is an additional cost.
If the bag is too small, picking up after your dog becomes a dreaded experience out of fear of touching the poop. It's important to carefully consider the size of the bags before you settling on any one option.

Capacity
The right capacity of the bag is determined by the size of your dog. Small dog breeds don't need as big a bag as the giant dog breeds. You want a bag that will comfortably handle all of the business in one go.
In addition to the bag being able to handle the intensity of your dog's doodie, the bag should leave enough room to tie the knot. It's important that you don't go for too small a bag for this reason.

Materials
Dog poop bags are made from all kinds of materials. From polythene, EPI plastic and plant starch, there's a lot to choose from. The choice of material largely depends on your preference.
Regardless of the materials, most bags are durable, thick and hard to tear. However, different materials impact the environment differently. In this case, the choice on material is for the environment and not for you or the dog. But, you still have to make it nonetheless.

Durability
You won't need to reuse the bags. But, you need to be sure they can handle the challenges in their line of work. The bag needs to be hardy enough to pick up refuse on different surfaces without scratching or tearing.
In your part, you need to ensure you use the bag the right way. Even the thickest of bags will tear if you keep rubbing it against a hard surface. While getting a durable and thick bag is paramount, it is your duty to use it the right way and avoid mishaps.
Expert Interviews & Opinions
Most Important Criteria
(According to our experts opinion)
Experts Opinion
Editors Opinion
Users Opinion
By Default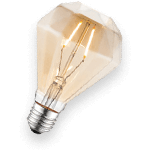 Bargain Shopping Tips
As any other shopper, you should aim to get as much as possible for your money. It's important to identify a balance between quality and quantity. The best way to do this is calculating the price down to each roll. If you know how much you're paying for each roll, it's easier to pick the most budget-friendly. However, you should always compare like products or those that are close enough. For instance, you can't compare bags made out of polythene and bio-degradable options. To get the pricing right, both options have to be in the same level or class. If you can get an extra add-on like a dispenser, that could also be a deal breaker. Look out for such incentives. They save you from extra expenses.
Degradable VS Compostible VS Biodegradable
Most degradable poop bags are OXO-degradable meaning they simply become brittle and break down to smaller parts when oxidized. Bio-degradable plastic is broken down by naturally occurring micro-organisms and fungi with no harmful residue or by-products produced. Lastly, compostable bags are biodegradable. They break down quickly under certain conditions and they can be used for plan growth once they've broken down.
Other Factors to Consider

Advanced Features
You might not need all the bells and whistles on your poop bag. But, let's face it. Picking up after your dog is not a fun experience. If you can get an option that offers a better experience and makes your responsibility easier, why not go for it?
Some of the advanced features you can come across include scented bags or having pouches inside the bag that keep the poop in place for easier rolling and tying. Some bags also go as far as having a dispenser that attaches to the leash for easier access and a constant supply of bags.

Ease of Use
You might not need all the bells and whistles on your poop bag. But, let's face it. Picking up after your dog is not a fun experience. If you can get an option that offers a better experience and makes your responsibility easier, why not go for it?
Some of the advanced features you can come across include scented bags or having pouches inside the bag that keep the poop in place for easier rolling and tying. Some bags also go as far as having a dispenser that attaches to the leash for easier access and a constant supply of bags.

Weight
There're a few factors that affect the weight of the bags. First is the size of the bag and the number of bags in each roll. Most options that come with dispensers are attached to the leash. If the dispenser is too heavy, it can weigh down the leash and tire the dog. It is also difficult for you to tag around the dead weight as you walk around.
The rolls should be decently sized and lightweight. To make it easier to carry, you should opt for those that have a dispenser and preferably one that's attached to the leash. Even if the roll is lightweight, carrying it by hand can be inconveniencing for you.

Style
Don't make an already boring task worse by going for dull bags. If style doesn't matter or you've grown numb to the stench of your dog's poop, you don't have much to worry about.
Style doesn't make it any easier but, it makes you look cool and stand out. Some bags even pack a joke on the side that you can laugh to as you deal with the real problem.
Frequently Asked Questions
q:

Do I really need to buy a dog poop bag? I can use the normal paper bags right?

a:

Yes you can! But not without risking getting your hands poopy. Plus, you have to stuff your hand bag full of paper bags every time you step out with your dog. Dog poop bags are a necessity. They are designed to be easy to carry around, they are affordable and they are thicker than normal bags so you don't run risks of getting your hands all up in the business. So, yes, you really need to buy one if you have a dog.
q:

What is the right size I should look for when buying a bag?

a:

Picking the perfect size is not straightforward. There are a few factors you need to consider. The first and most important is the size of your dog. Giant breeds need bigger sizes compared to other breeds. You might also want to consider the size of your hands. If you have big hands, go for larger bags. They will be easier for you to use and tie without soiling your hands.
q:

Is there a set time within which I should use the bags?

a:

If the bags are not degradable or bio-degradable, they don't have a life line. You can keep them around as long as possible. Same case applies to degradable bags if they are stored in the right conditions. Most bio-degradable bags should be used within a specific period and stored under certain conditions. Be sure to check the manufacturer's instructions when making the purchase.
Subscribe to our Newsletter