Best Dog Gates Reviewed & Rated for Quality
In a Hurry? Editors choice: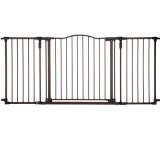 Test Winner: North States Supergate Deluxe

Many consider their dog to be a big part of the family. Treating them like one of their children and spoiling them whenever possible. Mountains of toys,
boxes of treats,
a nice bed are just a few of the things that come to mind that a dog can be spoiled with. You have different types of
leashes
or chains to assure your dog is safe while you're out for a walk. But have you put any thought into how safe your dog is at home alone? This is where a dog gate can come in handy, keeping your four-legged friend in or out of certain areas. Dog gates can play an important role in the safety of your dog. In this review, we look at some of the best in the market that will work for different sized dogs in a variety of different living spaces!
Standout Picks
Criteria Used for Evaluation
Materials
The material of your gate is very important as it plays a vital role in the durability and quality of the product. Depending on your needs, you may need something lightweight and portable, or something more stable and durable. Along with materials, here are some other factors you should take into consideration:
Consider the size of your dog before choosing a gate. If you're purchasing the gate for a puppy, choose a gate that will accommodate the pup into adulthood.
Some dogs are notorious for their chewing habits, no matter how hard we try this sometimes can't be resolved. If this fits your dog, be sure to choose a gate material that can withstand the damage from chewing.
Freestanding gates are not good for dogs that will escape by any means necessary. You also want to steer away from the freestanding gate for your deck or for stairs. Although if you intend to block the bottom of your stairs, then a freestanding gate would be fine.
Finding one that is simple to use can be an important aspect for you. A gate that has a door should have a latch that is easy to access and use. Stepping over a gate can be a hassle, so if you need to access the area that is blocked, choose a gate with a door.
When shopping for a gate to be used outdoors, look for one that will withstand the sun and rain. You don't want one that will become tattered after being exposed to the elements. Replacing them can get to be a costly expense, so take the time to choose wisely.
Appearance for some means everything, if that fits the bill for you, choose a more ornate gate design. With a plethora of options on the market, you can surely find one that will suit your taste.
Safety Hazards
Depending on where you want to block your staircase, you have a couple of options for gates. To block the bottom of the stairs, you can use a freestanding gate. That way it can be easily moved when someone needs to get through. As for blocking the top of the stairs or even at the landing, you need a gate that can be secured. This is for both the safety of yourself and your pet. You will also want a gate that can swing open, this will be less hassle to those going up and down the stairs. It will allow them through while keeping your pet out.
To enclose the space of your deck, you will need a gate that can attach to the opening of the deck stairs. Make sure that the gate can swing open, but latches securely when closed. That way your dog can't open the gate when a squirrel catches the dog's attention. Be sure the gate is tall enough, this will deter the dog from wanting to leap over the gate. Mounting the gate at the top of the deck is the best choice. When placed at the bottom of the deck, your dog may attempt to jump the gate form the center of the stairs.
Size
A larger breed of dog may require finding a gate that is larger in size. This will keep the dog from jumping over the gate, which defeats the purpose of the gate. You can find larger gates that will secure to the wall or stand on their own. Some of the gates that you secure to the wall will come with a door. This allows you to move through the gate rather than always climbing over the gate. The door for the gate should have a good lock on it, preventing the dog from opening the door.
Gates can be found with multiple panels, these are a perfect match for double-door frames. A gate with multiple panels will allow you to contain your dog to a certain portion of your living room as well. You can arrange the panels to suit the space you are using the gate in.
There are gates available that allow you to keep your larger pet out, while letting your smaller animal come and go. Look for a gate that has a smaller door at the bottom, you can leave this door open to allow your smaller pet access. Now you will want a gate that can be secured in this instance. Jealousy may get the better of your dog in this case, causing the dog to attempt to knock the gate down. If you choose a freestanding gate, the dog would be successful, therefore defeating the purpose of the gate.
Value
You might be thinking, what on earth do I need to buy a dog gate for? Even though you allow your dog to roam the house as they please, you may not realize the value a dog gate can have. Here we have thought of a few scenarios that a dog gate would come in handy for:
When your friends stop in for visits, not all of them are going to be dog lovers. Some people think that a curious dog can be a nuisance. You can't blame the dog, your friends are in the dog's space. What you can do is put up a gate to hold the dog at bay while you chat with your friends.
If you're having work done in your home, some workers will refuse to come in when a dog is present. You can't always blame them, I'm sure they run into some unfriendly pets in their profession. Instead of putting the dog outside for the day, you can use a gate to keep the dog quarantined for the day.
Separation can be a beautiful thing, whether it be two dogs or a frisky toddler paired with a young pup. Putting up a dog gate can give you some peace and quiet for a little while.
Maybe you sometimes work long days but hate the thought of leaving your dog in a kennel all day. Using a gate to keep the dog contained in a larger space works great. Doing so in a room with hard flooring is advised, that way any accidents that may happen can be easily cleaned.
As our dogs get older they begin to have health issues, as do we. Some will have issues with joints, while others may begin to lose sight. A gate can be handy for blocking off stairs for our older friends, it keeps them from taking an unwanted tumble.
You can use a gate to keep your dog on the tile floor after coming in full of mud. This buys you time to give the dog a bath, saving your carpet and furniture from becoming a mess.
Style
Gates for the outdoors
Using a gate outside can keep a dog confined to the patio or simply prevent them from leaving the safety of your yard. Choosing the right type of gate for outdoor use will require you to consider a couple of important factors. The number one concern for using the gate is whether or not the material you have chosen will hold up to mother nature. You will want one that won't become a huge eyesore or rot after being left out in the rain.
You can use a freestanding style gate, but be sure you place it against something. We all know dogs are very smart, it will only be a matter of time before the dog figures out that the gate can be tipped. A great addition to your yard can also be a gate that allows you to create a playpen for smaller dogs. It will keep a wondering puppy at bay while providing them with space to be curious.
Gates for indoor living
To eliminate leaving holes or marks in the doorways of your home, you will need to use a freestanding style gate. You will need to find one that measures up to the specifications of the doorway you need to block off. When looking to use the gate for multiple doorways, look for one that offers adjustments for width. You will, however, need more than one gate if you plan to block more than one doorway at a time. Freestanding gates are available in many designs and materials. You can choose one that best suits your decorative style.
BEST DOG GATES REVIEWED & RATED FOR QUALITY
1

. North States Supergate Deluxe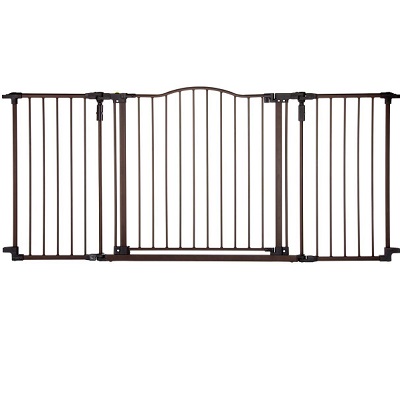 The next dog gate we come to offers you a door with an unusual amount of potential. A style that won't drag the look of your home down. When not in use this gate can be moved out of the way.
The Door
One of the biggest struggles dog gate users have is with the door of the gate. Most are too narrow, and won't stay open unless you prop them. That isn't the case with this gate. The door is wider than most, and a function that will hold the door open when needed.
Storage
While most other gates will need to be removed, hardware and all, when not in use. This gate can be swung open, then detached from the hardware to remove the gate for storage. Feel free to put it away when you're not using the gate.
Cost and Value
This dog gate can be a valuable purchase for those who choose it. Ridding gate users of the narrow door problems, even adding a way to keep the door open when needed. This one packs a ton of bang for your buck.

2

. Internet's Best Traditional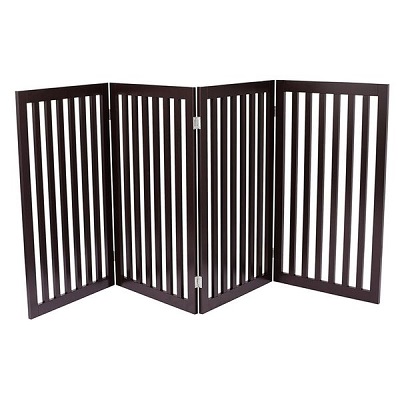 The next gate we come to is one that will stand alone, and when stored won't be in the way. The finish on the gate comes in two options, so you can match the best color for your style.
Storage
For your convenience, this gate folds to slim, space-saving design. This allows you to store the gate when it isn't needed, without having to clear the closet. You could even slide the gate under a piece of furniture, keeping it out of sight, yet handy.
Wood Finish
This gate is made from wood but comes available in two color finishes. You can with the espresso option, to match your darker colors in your home. Choose white, to be sure the gate matches everything in your home.
Cost and Value
The space-saving this gate can offer while in storage is a valuable quality on its own. Having two choices for color, you can match this gate to the interior design of your home.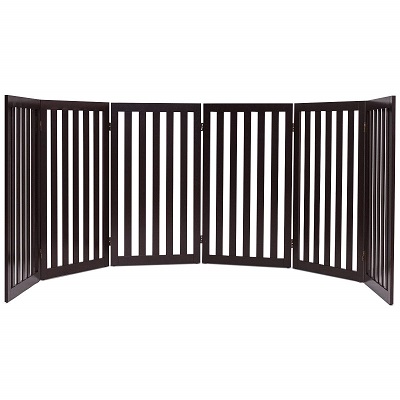 This beautiful dog gate is made from real pine and can be used in a variety of different situations. Its versatile design allows you to place it at staircases, doorways, and even make a 360-degree gate. It's built so that you can easily fold the gate and store it when not in use or take it on family trips with your pet. At 30 inches tall, it's ideal for smaller and medium sized dogs.
Floor Protection
Just because you now have a pet doesn't mean that your home needs to be damaged. This dog gate will not only keep your furry friend out of trouble, but the rubber pads will keep your floors safe as well.
Pine Wood
Some dogs may try to get through the gates, and that's why you need to make sure that it is stable and durable. These are made from pine, which ensures a strong gate that will last.
Cost and Value
This comes in the higher price range but is also made with high-quality material. It comes with spare screws and can be customized for a number of different configurations.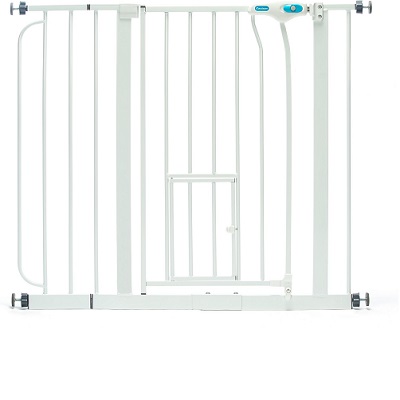 Next comes a gate that will accommodate the big and small animals in your home. This gate allows you the opportunity to customize the fit of the gate to satisfy your needs.
All Your Pets
A gate like this allows you to keep your larger pets quarantined, while letting your smaller animals come and go as needed. This is done by opening the smaller door at the bottom of the gate, which is small enough for your cat to go through.
Customize the Fit
With this gate comes two extension pieces, that will allow you to customize the size of your gate. So you can be sure that the gate will fit into your doorway as long as it is 29-44 inches in width.
Cost and Value
This one won't leave you with the feeling that you spent way too much. At an average cost, for a gate that is, you can keep your dog away from the litter box. The small door at the bottom allows the cat to come and go as it pleases.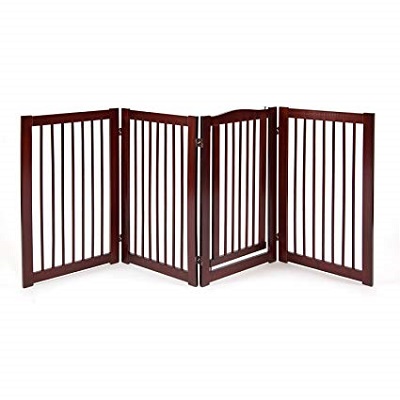 Not only does this gate look great, but you can also contort the gate into many shapes to suit your needs. With this gate you have options for size, making it a perfect match for all types of dogs.
The Hinges
A highly sought after aspect with this gate is the fact that you can shape it to suit your space. The hinges allow you to turn the panels 360 degrees. There are not many gates on the market that can say they do this.
Size Options
This gate is available in three different size options for both the height and length. Making even the largest openings no problem at all for this gate. For the height, you can choose as short as 24 inches or as tall as inches. Depending on the size of your dog, you could even split the middle at 30 inches.
Cost and Value
Have a funny shaped door you nee a gate for? Look no further this gate has what you need. Twist the panels a full 360 degrees, to get the shape you need. Great for those larger openings that need to be blocked off, this gate can span up to 80 inches long. For that much potential, you won't even bat an eye at the price tag.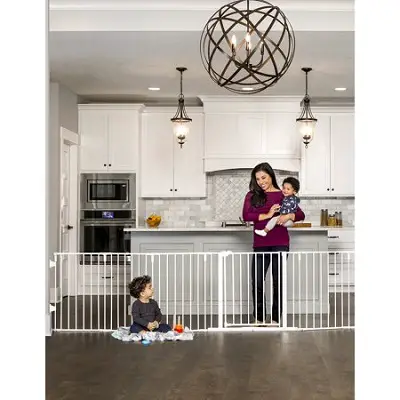 This gate holds the torch for potential so far on this list. Contrary to the size of the gate this one can go where you do. Allowing you to set up shop wherever you go.
The Setup
This gate comes with eight panels, you can choose to use them all to create more of a playpen area. Use just a few, to block the doorway you need to. The choice is up to you, this type of gate is great for those who need a gate that can cover those odd shapes.
Portable
Don't let the size of this gate intimidate you, it is lightweight and can be broken down. This makes it easy to pack and take on your next trip. Allowing you to secure your dog when it is needed.
Cost and Value
This gate comes at a higher cost to the consumer, but holds a great deal of potential to those who purchase it. Eight panels to choose your size and design, lets you place this gate where others can't go.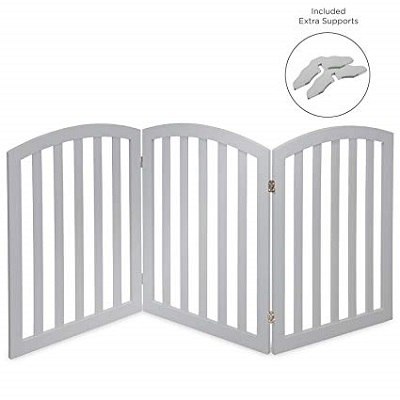 The next option on the list is another great match for small dog owners. You can create a space for the dog to play, while still being able to maneuver over the gate without hassle.
Small Dogs
Since this gate is shorter than some of the other gates we have looked at, it makes it great for people who have smaller dogs. You definitely won't need a gate that stands tall, so why not choose one that suits your needs as well as the dogs.
Movable
This is a freestanding gate, which has three panels placed on hinges. You can block a door when needed or maneuver the panels to create a new play space for a puppy.
Cost and Value
This gate has plenty to offer both you and your dog, keeping them in the space you have provided. While allowing you to navigate over the gate without any hassle.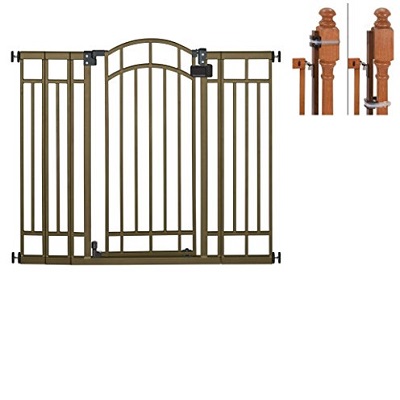 A dog gate that can be used in several places within your home. A durable gate that will hold up to some of the most aggressive chewing.
Places the Gate Can Go
This gate can be placed into the doorway of any room within your home. As it can be installed using hardware or the pressure mount system. You can also use this gate at the top of the staircase as well. It does come with the extra hardware for stair mounting as well.
Durable
A gate made of metal will withstand a good amount of punishment. Making it the most durable choice on the market both for inside and out. This gate offers just that, durability and dependability.
Cost and Value
The value this gate offers just by being versatile for mounting will offset the cost of the gate. Durable enough to withstand the chewing of any size dog. You can be sure you will make this gate purchase once.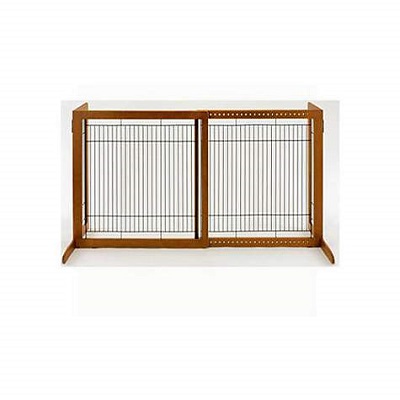 Some dog owners want a dog gate, but only have a small breed of dog. So they refrain from purchasing a gate as they all seem so tall. That isn't the case with this gate, so small breed owners look no further.
Shorter
When in the market for a dog gate, the size of your dog will play a big factor in the gate that you choose. This gate is great for smaller sized dogs, it is shorter than most gate options. Making it easy for you to maneuver over, but tall enough to keep your dog on the other side.
Freestanding
Freestanding gates give you the freedom to move the gate from room to room. When living in an apartment, these are perfect, as they require no hardware to install into the door frame.
Cost and Value
This gate can be a valuable asset to those with small dogs or to those living in an apartment. Freestanding gates allow you to block off space, without the worry of leaving behind damage.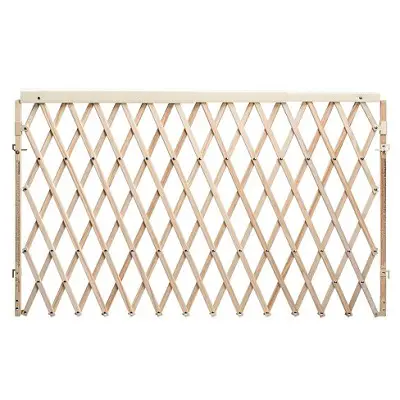 This gate is a quick and easy solution for blocking a doorway when you need it the most. Great for toddlers and pets, you can keep your child away from the dog to get a much-needed break.
Quick and Easy Setup
There are no complicated directions for this type of gate. This gate uses a hook and eye system for mounting the gate. Simply screw the eye portion into the door jam, the hook part is attached to the gate. Slide the hook into the eye, and you are all set to go.
Pet and Child-Friendly
For those looking to separate their child from their overzealous puppy, look no further, this gate will be perfect. You can settle the atmosphere by closing the gate, keeping your child and the dog in separate rooms.
Cost and Value
A gate this easy to install will have you up and running in no time at all. For a relatively low cost, you can create a quiet space to enjoy in your home.

Subscribe to our Newsletter