Best Litter Boxes Reviewed & Rated for Quality
Good news! You just brought home the most adorable little kitten. You love it, your kids love it and you just want to snuggle and hear it purr all day. But, first, there are some matters of business that need to be taken care of. That adorable little kitty has basic biological needs – eating, drinking, sleeping, and also going to the bathroom. As a responsible new pet owner, you want to do everything you can to make sure your cat has the best products for both you and him (or her).
Featured Recommendations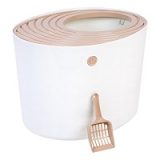 IRIS Top Entry Cat

Our rating
Grooved Lid
Price:

See Here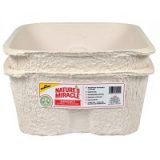 Nature's Miracle Disposable

Our rating
Odor Control
Price:

See Here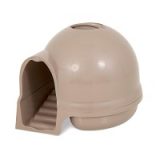 Petmate Clean Step Dome

Our rating
Enclosed Dome
Price:

See Here

One of the first things that you will need to purchase before or when you bring your cat home is a litter box. Cats are very smart and can catch onto using a litter box very quickly. The key is to have the right litter box and make sure that they know where it is. Cats instinctively want to cover their waste and a litter box is a very easy way for them to do so – that appeals to both you and your cat.
Look no further, this list will help you narrow things right down. We've included only the best litter boxes out there, in several different categories so that you have a wide variety of options, but can also know that they are good, reliable products that won't let you down.
10 Best Litter Boxes
1. IRIS Top Entry Cat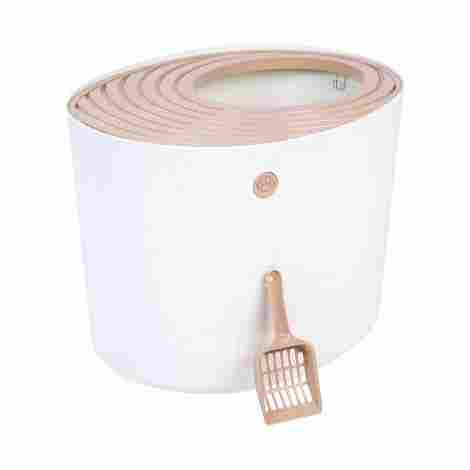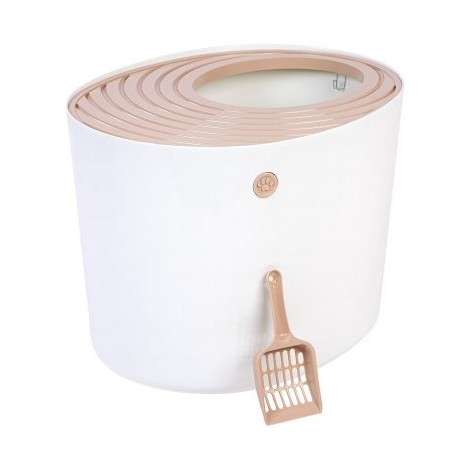 This Iris Litter Box is a tad untraditional, but only in the best ways. It is a large litter box with an opening on top that looks much more like a high-end trash can than it does litter box. While large, it is also able to fit in a surprising amount of spaces and won't take up any more space than your hooded variety did.

Expand to see more
Grooved Lid

The top of this litter box features a grooved lid. This greatly helps to reduce the amount of litter strewn about the floor when your cat is done with its business. They have to get out of the box and doing so requires walking across the lid at least a little bit. This will remove the litter from their paws before they have a chance to get it anywhere else in your house.

Easy Clean-Up

Because of its large size, it is easy for you to get in and clean up hard waste. It comes with a scooper that can hang on the side when not in use and quickly be picked up when needed - quick and easy. Not only is it easy to clean up your pet's waste, it has rounded corners making the unit itself a breeze to clean which is something you'll appreciate for a long time.

Cost and Value

Because this litter box is meant to look more like a trash can or other similar decoration, it does cost a tiny bit more than your standard box does. That being said it is still very reasonably priced and for the benefit of disguising your litter box, you will be happy that you opted to spend those few extra dollars - and so will your cat.
Provides privacy for your cat

Easy to Clean

Minimizes litter scatter

Large entryway
Unnecessarily deep

Not meant for small spaces
2. Nature's Miracle Disposable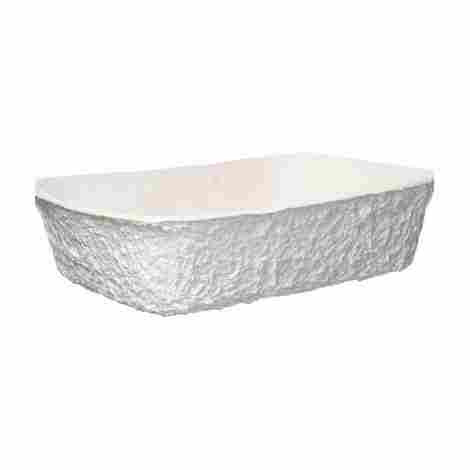 Maybe cleaning a litter box just isn't your jam. We get it - not everyone can handle poop and the smells associated with a litter box or has any desire to do so. That is where this Nature's Miracle Disposable Litter Box comes into play. It is the perfect solution for those who want a cat but don't want the mess of a litter box. Simply throw it away and replace it every 4 weeks or so and you are good to go. And so is your cat.

Expand to see more
Fully Compostable

Are you concerned about the environment and trying to talk yourself into being able to clean the litter box? Well, good news, this disposable one is fully compostable. That means it is both safe for the environment and will save you a lot of time and effort in the long run.

Odor Control

This disposable litter box offers supreme odor control. It is designed to absorb the pee and in doing so neutralizes the smell. They included baking soda in the design, which really goes a long way in being able to reduce the amount of odor that typically comes from a litter box. In addition to that, once it does start to stink - usually when you would be changing out and replacing all the litter anyway - then you just throw it away and start fresh.

Cost and Value

These litter boxes are quite cheap. They are designed to be as they are also designed to be thrown away and replaced regularly. That being said, they are cheap enough that you can make it 6 months to a year replacing these throughout before you hit the price of most others on this list. Plus, you have the added benefit of no clean-up. This is a great cost to value ratio to you if you have no interest in cleaning and the cost will be easily absorbed - even if it does become a bi-monthly expense.
No clean up - just throw it away

Strong material won't collapse

Absorbs moisture and smells

Lasts a month, even with multiple cats
Rugged walls make it difficult to scoop

Smaller than others
3. Petmate Clean Step Dome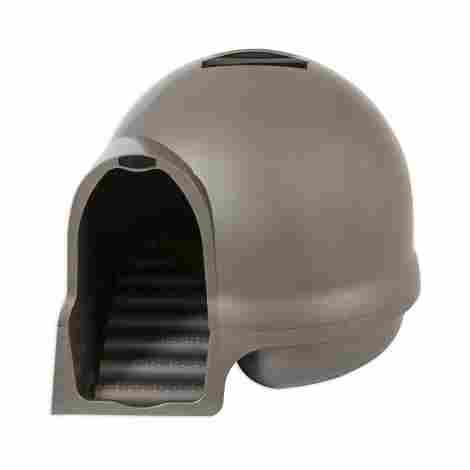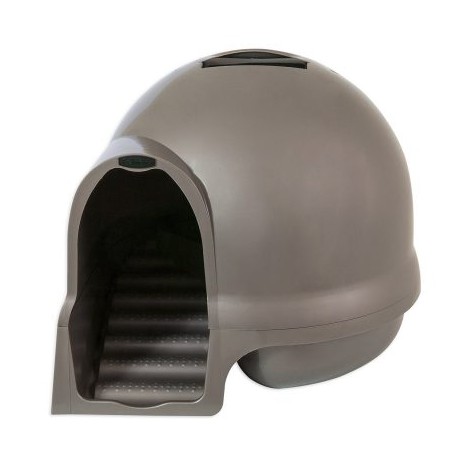 This litter dome looks and feels like your cat has its own little water closet. It is dome-shaped with a "stairway" leading into the litter. It is large and will accommodate nearly all cats with ease. It is made of easy to clean plastic so you can easily keep it fresh and the included carbon filters help to ensure that it never gets stinky.

Expand to see more
Enclosed Dome
This litter box is an enclosed dome. It might seem a little crazy at first, but there really is a lot of use to having a full dome-shaped litter box and it goes a long way in helping keep your house clean. You cat won't be able to spray urine outside of the litter box and the litter will stay inside as well.
Walk Up Ramp
To enter the dome, your cat will be required to walk on a little
ramp
that leads to the litter. This is great for a number of reasons. It offers increased privacy for your cat, which some cats absolutely love and even require. But, it also helps to greatly minimize the amount of litter that is tracked out of the box. Overall, this litter box is an excellent choice for someone who really needs a litter box that ensures their house will stay clean.
Cost and Value
This litter box dome is very reasonably priced. As is the case whenever you buy something, you do have to pay for the price of the materials. Here, because it is domed, there is a lot of material that you need to pay for. However; it is not expensive by any means and falls about mid range on this list. The cleanliness options that it features make the cost more than worth it.
Controls odors

Easy to clean

Accommodates all sizes of cats

Prevents dogs from getting into the litter
Difficult to clean

Top may come loose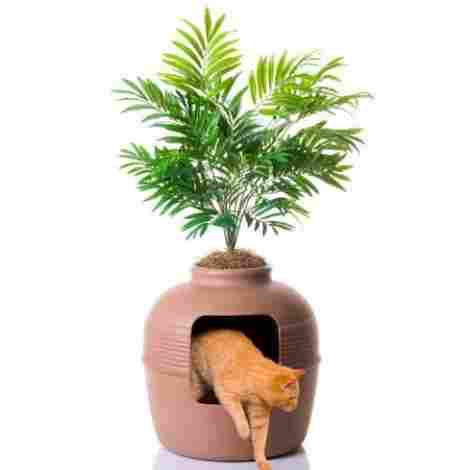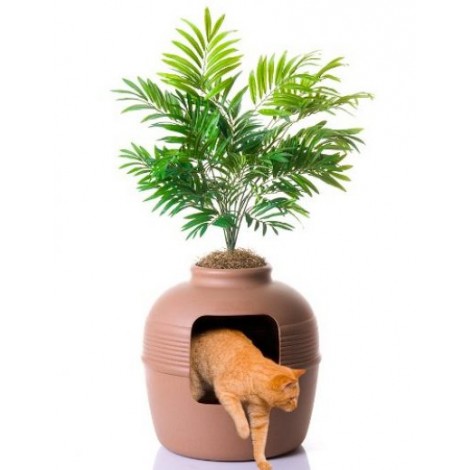 Do you hate the look of a litter box? Can't stand to bear the thought of friends or family coming over and have to look at your cat's bathroom? Stress no more, this litter box is almost completely hidden and your guests will be none the wiser when they see it. It is large and capable of functioning for multi-cat families. It can be taken apart for easier cleaning.
Expand to see more
Camouflage

This litter box looks just like a houseplant, in fact, it is one! It looks like a very large clay pot with a plant inside. When turned with the opening to the back, no one will be able to tell that it's actually your cat's litter box. It also allows your cat the privacy it craves and may need to do its business.

Vented

But wait, you're telling me I can put my litter box right out in my front room? What about the smell? This litter box has thought of all of that and accommodated for it. It has a filtered vent system that will control for both dust and odor. It even comes with the first filter for you to put to use right away. The fact that you won't have any smells drifting off of it furthers your ability to camouflage your litter box.

Cost and Value

This litter box is a little pricier than others we've talked about so far. However; it is completely designed to look like a plant not a litter box so the price tag is logical. You would be hard pressed to get a pot and plant for cheaper than you are getting this litter box so it all balances out and serves as a multipurpose purchase.
Allows you to easily disguise your litter box

Well vented

Functions well for large cats and multiple cats

Comes apart
Included plant isn't the best quality

Difficult to clean
5. Purina Tidy Cats BREEZE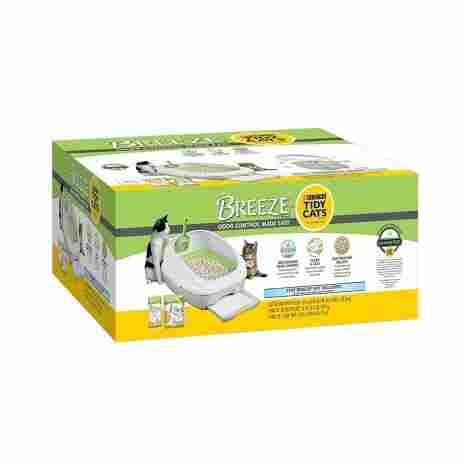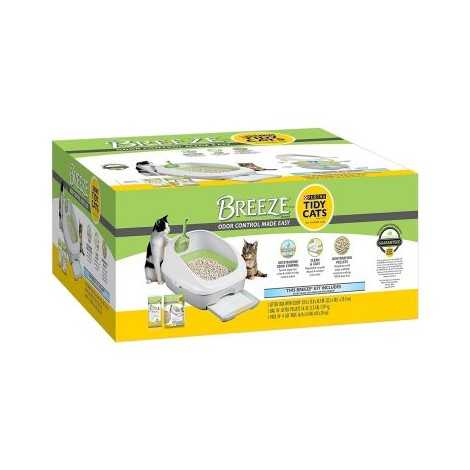 Unlike other litter boxes on this list, this Purina Litter Box actually comes as a whole system. That means that it includes a litter box, scoop, litter pads, and filtering
pellets
. This is the only thing you will need to purchase (initially) to get up and running for your new cat as it is all-inclusive. It is meant to make caring and cleaning up after your cat easier for you and less frequent and does so well.
Expand to see more
Filtering Pellets

This system comes with filtering pellets rather than standard litter. This help makes your life easier on a couple fronts. First, it dehydrates solid waste which makes it easier to scoop. Secondly, it is designed to last longer, which will maximize the amount of time before full litter box changes whether you have one cat or multiple.

Absorbent Pads

This litter box system is lined on the bottom by an absorbent pad. Its function is to absorb liquid and by doing so goes a long way in helping to control odors. Less odors equals less frequent changing. However, this pad is easily changed out once a week or so to keep things extra fresh for you and your feline friend.

Cost and Value

All things considered, this litter box system comes at a great price. As you are getting everything you need - box, scoop, pads, and pellets, it should probably cost more than it does. However; it is right near the middle to bottom of the pack cost wise. You'll appreciate the ease and odor-free experience you get from it and your wallet will appreciate the small price tag.
Absorbs odor well

All in one system

Makes clean up a breeze

Good for multiple cats
Pellets are loud when kicked around

Pellets will come out of the box when cats exit
6. Petphabet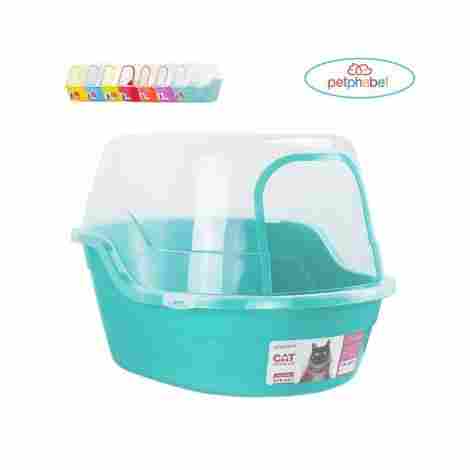 This is a large litter box that comes in a variety of colors so you can choose which one suits you, your cat, and your home best. It is large enough to hold two small cats at once, or one larger one. The lid is removable so it is easy to clean but also allows for better protection from spray and litter. There is a door, no gate, that your cat can enter into and feel private but not enclosed.

Expand to see more
Removable Lid
The lid on this litter box is removable. That gives you the option to use it with or without a lid but also does much more than that. When the lid is in use, it will further
protect
your home from anything you cat might knock or spray out of the litter box - this includes things like litter or pee. But, you can take the lid off for easier cleaning or leave it that way if you have a claustrophobic cat.
Advanced Plastic Technology
This litter box is built with advanced plastic technology. It allows it to be more odor blocking, which is further improved when the lid is also in use. The plastic is also antimicrobial because you don't need any more germs in there than you cat provides and has a non-stick surface for easy cleaning.
Cost and Value
Comparatively, this litter box is a little more expensive than others. To be clear, it's not incredibly expensive but is closer to the middle of the pack compared to others here. It is large, easy to clean, contains odors well, and will please both you and your cat. If you want a litter box that comes in whatever color you need and serves its purpose well then your money is well spent here.
Different color options

Provides privacy for your cat

Deep pan controls odor and urine spray

Built with strong, long lasting material
Not great for high spraying cats

Poorly packaged
7. Petmate Top Entry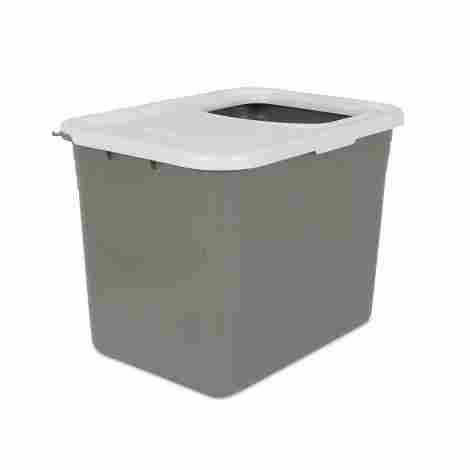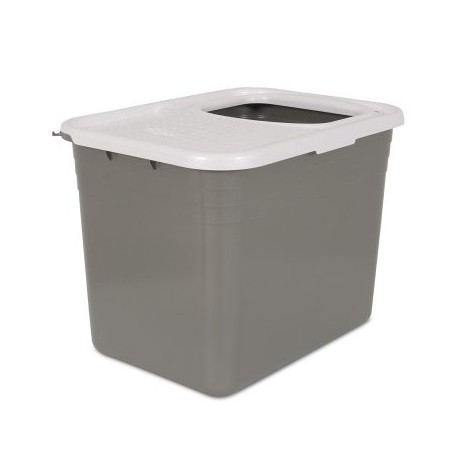 This litter box is very good at keeping litter where it belongs - inside of it! There is an opening in the lid that your cat will need to jump through in order to get in and out. It's tall enough and deep enough that your
dog
won't be able to dig around in it. It is easy to clean and contains messes well.
Expand to see more
Top Entry

The top entry on this litter box serves many purposes. It lets your cat in but keeps your dog out! This is of critical importance if you have a curious dog and a smelly cat. It also helps to contain odors and because there are no seams on the sides or parts, there is also no leakage. However; the lid comes off which allows it to still be easy to clean.

Non-Slip Lid

The lid on the top of this litter box is largely what makes it as functional as it is. As mentioned, it is where your cat enters the litter box. That means it is also where it exits. The lid is non-slip so your cat won't fall off and also is designed to get the litter off their feet and put it back into the box. This will help a lot as far as litter being tracked around the house goes.

Cost and Value

This litter box is quite inexpensive - definitely toward the lower end of our list. It is utilitarian and serves it's purpose well. There are no frills here, bed any. This is a straight-forward litter box that holds litter and all that is associated with it very well and does so without breaking the bank. Overall, you will be satisfied with this purchase.
Non slip lid

Has hook for scooper

Comfortably accommodates larger cats

Allows privacy for your cat
Cleans better when lined

Raised section with divot on the bottom of box
8. Catit Jumbo Hooded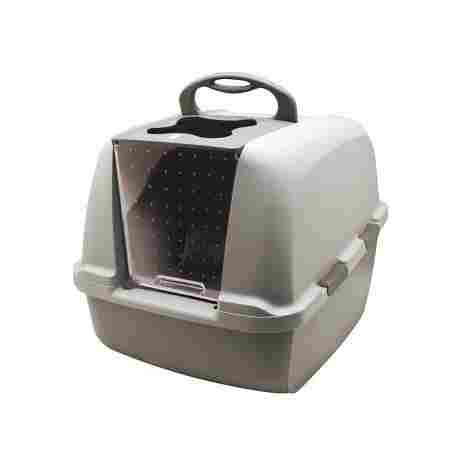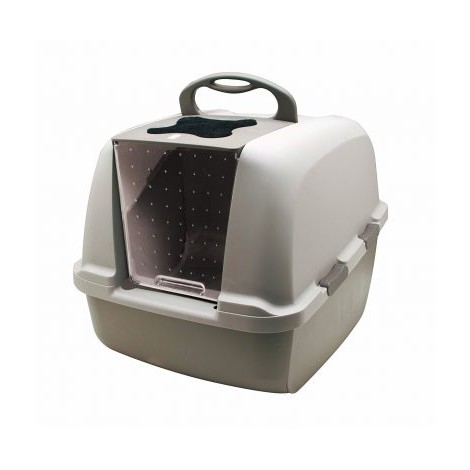 This is a large litter box that is perfect for multiple cat families or those with large cats. It is big and roomy and provides plenty of privacy. It is easily taken apart and reassembled so that you can clean it, or customize it just a little bit. It is a filtered litter box which means that its odor control is supreme and will keep your house nice and fresh.
Expand to see more
Removable Top
The top of this litter box snaps and locks in very easily. This is great for when you need to clean it or change out the litter. No need to dig around inside or stress out there. It also provides protection for spray or kicked up litter. You could also use it without the lid or without the door if you have a cat that shies away from either of those two things.
Carbon Impregnated Filter
This litter box is equipped with a
filter
that is carbon impregnated. That gives it the ability to effectively trap and remove odor from your litter box. It will need replacing from time to time, but the vastly supreme odor removal will have you happy to do so. Your house will always be fresh and free from kitty litter smells with this litter box.
Cost and Value
This litter box is a little pricier than some of the others on this list. It's not too expensive, but it is mid to high range compared to others. However; it is a great litter box. It will keep your cat happy and provide privacy and your home clean and smelling good. This is money well spent.
Equipped with carbon filter

Works well for multiple cats

Easy to clean

Large and spacious
Swinging door doesn't fit well

Hard to lock lid into place
9. Nature's Miracle Oval Hooded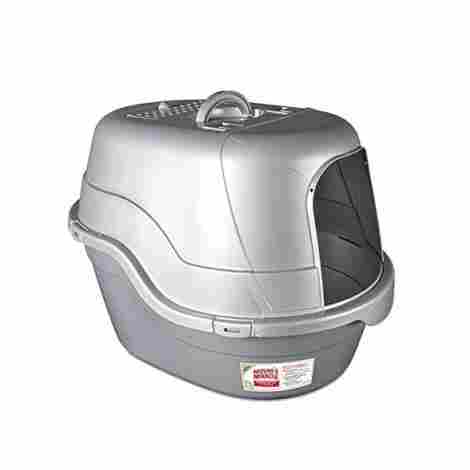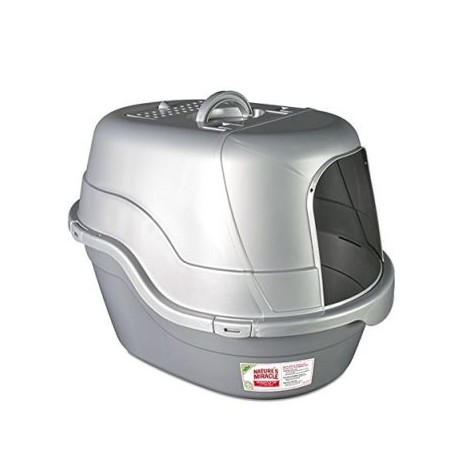 This is a large litter box that will serve both you and your cat well. It has a hood which helps to minimize spray and the back end of the of the box is higher, which further helps to prevent leakage issues. The door is low enough for even elderly cats to enter with no problems.

Expand to see more
Non-Stick Surface
This litter box is made with advanced plastic technology. It has a non-stick surface so that clumps won't get stuck to the side as much and if they do happen so they are easy to clean off. This not only makes your life easier, but it also prevents the litter box from harboring the stench, thus extending the life of your litter box.
Built-in Odor Neutralizers
Not only does the plastic repel stench, this litter box is also built with odor neutralizers. They continuously fight tough litter box odors for up to three months. Anything that helps reduce pet odors in your house is a big win.
Cost and Value
This litter box is very reasonably priced. Considering its size and the fact that it has a
cover
, it is actually very cheap compared to others in the same class. The plastic is a bit flimsy, so that may account for the smaller price, but it is still a great litter box that will serve you and your cat well.
Inexpensive

Large and spacious

Built in odor neutralizers

Non stick surface
A bit flimsy

Would be better served with a handle
10. Omega Paw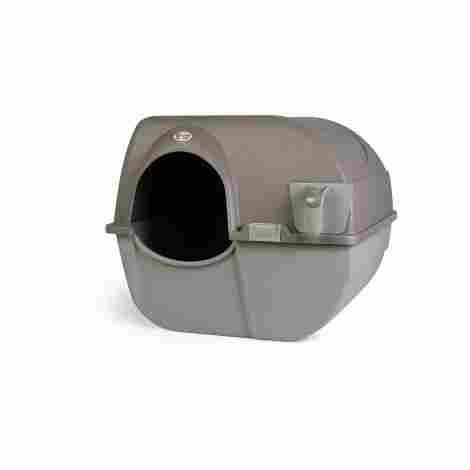 There are not many people who like to clean a litter box and so having the option to automate that is a genius idea that will surely be loved by many. However; it is a hard thing to do as many just don't work well. When technology is thrown into the picture it can complicate things. That is not an issue here as it is only semi-automated. This litter box is hooded, large, and easily accommodates big or multiple cats.
Expand to see more
Semi-Automated

But wait, what does semi-automated mean? Semi-automated means that there is no scooping involved for you. It means that when it's time to clean clumps out of the litter box you simply roll the litter box and all of the clumps are separated and easily disposed of. You are the power supply so it will also work as long as you are willing to make it do so.

Uses Less Litter

Another benefit of this litter box is that it uses less litter than a standard litter box of its size. Because you are rolling it around, you don't want to have too much or else it will spill out. However; it still does its job very well with less and you won't be able to tell the difference - except when you start buying litter less frequently.

Cost and Value

An initial impression might be that an automated cleaning litter box would be more expensive, but all things considered, it really isn't any more expensive than others on this list and falls about the middle of the pack. It is large and functional and will minimize your need to squat or bend over to clean out your litter. If that appeals to you then this is the box for you.
Provides privacy

Covered

Semi-automated self cleaning

Simple to use
Does create dust

Only works with clumping litter
Criteria Used to Evaluate Litter Boxes
Did you just get your very first kitty? One of the first purchases you will make is a litter box. And, the odds are good that you'll be buying several throughout your cats lifetime – especially if you add more cats into the mix as you go. Deciding which litter box to buy is a big decision. One that will ultimately affect every day of your life for as long as that litter box is in use. It is something you cat will use every day for matters most private and you don't want to get them a bathroom that makes them uncomfortable.
Their feelings need to be considered as well when making this decision. Do you have a private cat? There is a litter box for that. Do you have a cat who sprays? There is a litter box for that. Ultimately, you need to consider your cat's specific needs and make a decision based on that.
What Size Do You Need?
The first and most important thing to consider is what size you will need. Do you have a big cat? As in 18-20 pounds? They won't comfortably fit into all litter boxes and you will absolutely want to get a bigger litter box to accommodate their needs. The good news is that there are many roomy and spacious options out there that are perfect for good cats – even hooded ones.
Or, perhaps do you have a little cat? You have the option to get smaller ones if you so choose. The great thing about smaller cats is that they will likely be perfectly happy with larger litter boxes as well so the sky is really the limit here.
The next thing to consider is if you have multiple cats or not. If you have multiple cats then you are well served to get a bigger litter box as well. That way a couple cats can fit in easily if nature calls them at the same time, but also there will be more litter which means better absorbent capabilities.
The general rule to follow is to get a box that is one and a half times the length of your cat (not including the tail). You also want it to be as wide as your cat is long. As long as those general rules are met, you are good to get any bigger size or shape you want – depending on your cat's preferences of course.
Style
Somewhat surprisingly, litter boxes come in all shapes and sizes. You have the option to get anything from disposable litter boxes, to standard square boxes you fill with litter, all the way up to cabinets or end tables that are litter boxes in disguise. There are obviously price differences here, so keep that in mind while you are searching, but go into your search for the perfect litter box knowing that you have many options.
Are you someone who is all about disposable? Is there no time or patience for deep cleaning a litter box? Perhaps a disposable option is best for you. They are inexpensive and replaced nearly as cost-effectively as a liner would be. Or maybe you like to keep it simple? There are very inexpensive litter boxes that are simply that – a box. They do the job with no frills or attachments – but also have less opportunity for things to go wrong. The simple life is a good life.
However; there are also many options to get something a little fancier. If you live in a small apartment or need to make the most of your space there are options that are a little more disguised and can be multipurpose. There are ones that look like trash cans, litter boxes that look like plant pots, and even others that look like end tables.
Another option is some sort of automated version. These range from the spectrum, some more effective than others. The particular one included on this list is a semi-automated one that makes cleanup much more of a breeze. It is powered by you so will work whenever you want it to.
You certainly fall somewhere on that spectrum and there will be a look that provides the function and fulfills the needs of both you and your cat or cats.
To Line or Not to Line
Do you want to line your litter box? That is a big question. Lining certainly has its pros and cons. Pros include things like the ability to grab the liner and throw it away no questions asked easy cleanup and longer lasting life of your litter box. Cons include things like extra cost, more hassle when most boxes are relatively easily cleaned when not lined, and always making sure you have another one.
Do beware that not all litter boxes can be lined. Some require special liners made only by their manufacturer that can be complicated to get – but well worth it if that is something you feel you need. If you plan on lining your litter box, make sure you buy one that is compatible with liners.
FAQ
Frequently Asked Questions
Q: Does it help with keeping litter off the floor?
A: Some will, others won't. Generally speaking, if there is a special type of entrance – stairs, lid, etc, then it is designed to minimize litter scatter; though none are foolproof. Litter mats are also an option here.
Q: Does your cat know that this is a litter box?
A: Cats are smart creatures. If properly introduced and given time to acclimate, they will recognize that it is their litter box and use it appropriately.
Q: Can you use this litter box with (or without) liners?
A: Some can be used with liners, others don't fit liners well or require manufacturer-specific liners. Make sure you read the fine print before choosing if the ability to line your litter box is important.
Q: How well does this litter box control odor?
A: The more enclosed a litter box it, typically the better it controls smell. Also, litter boxes that include a filter feature control odor very well.
Q: How often do you have to change the litter?
A: This depends on a variety of factors – how many cats you have, the type of litter you use, how much litter you use, etc.
Q: Is it easy to scoop the litter in this litter box?
A: Most litter boxes are designed for the litter to be easily scooped. However; the more enclosed the litter box is the harder it will be to get to the litter so keep that in mind.
Q: How tall is the box?
A: That varies between styles. Obviously hooded or box varieties will be taller than simple trays would be. All litter box descriptions will include dimensions. If you are unsure of how big that translates to, take a tape measure and ensure that it fits in the space you want it.
Sources