Best Litter Boxes Reviewed & Rated for Quality
In a Hurry? Editors choice: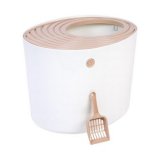 Test Winner: IRIS Top Entry Cat

We love cat people. Heck, we're cat people. You know what we hate? Cat litter. We hate cleaning the litter box, we hate the smell. But that's part of the deal. Your cat gives you their love and trust and you keep them entertained, fed and clean up after them. But still, litter boxes can be dirty, smelly messy, and downright unhygienic. So, we went searching for ways to make this element of your life with your cat just a bit simpler. Here's what we came up with.
Standout Picks
Criteria Used for Evaluation
Size
The first and most important thing to consider is what size you will need. Do you have a big cat? As in 18-20 pounds? They won't comfortably fit into all litter boxes and you will absolutely want to get a bigger litter box to accommodate their needs. The good news is that there are many roomy and spacious options out there that are perfect for good cats - even hooded ones.
Or, perhaps do you have a little cat? You have the option to get smaller ones if you so choose. The great thing about smaller cats is that they will likely be perfectly happy with larger litter boxes as well so the sky is really the limit here.
The next thing to consider is if you have multiple cats or not. If you have multiple cats then you are well served to get a bigger litter box as well. That way a couple cats can fit in easily if nature calls them at the same time, but also there will be more litter which means better absorbent capabilities.
The general rule to follow is to get a box that is one and a half times the length of your cat (not including the tail). You also want it to be as wide as your cat is long. As long as those general rules are met, you are good to get any bigger size or shape you want - depending on your cat's preferences of course.
Style
Somewhat surprisingly, litter boxes come in all shapes and sizes. You have the option to get anything from disposable litter boxes, to standard square boxes you fill with litter, all the way up to cabinets or end tables that are litter boxes in disguise. There are obviously price differences here, so keep that in mind while you are searching, but go into your search for the perfect litter box knowing that you have many options.
Are you someone who is all about disposable? Is there no time or patience for deep cleaning a litter box? Perhaps a disposable option is best for you. They are inexpensive and replaced nearly as cost-effectively as a liner would be. Or maybe you like to keep it simple? There are very inexpensive litter boxes that are simply that - a box. They do the job with no frills or attachments - but also have less opportunity for things to go wrong. The simple life is a good life.
However; there are also many options to get something a little fancier. If you live in a small apartment or need to make the most of your space there are options that are a little more disguised and can be multipurpose. There are ones that look like trash cans, litter boxes that look like plant pots, and even others that look like end tables.
Another option is some sort of automated version. These range from the spectrum, some more effective than others. The particular one included on this list is a semi-automated one that makes cleanup much more of a breeze. It is powered by you so will work whenever you want it to.
You certainly fall somewhere on that spectrum and there will be a look that provides the function and fulfills the needs of both you and your cat or cats.
Bottom Line
Do you want to line your litter box? That is a big question. Lining certainly has its pros and cons. Pros include things like the ability to grab the liner and throw it away no questions asked easy cleanup and longer lasting life of your litter box. Cons include things like extra cost, more hassle when most boxes are relatively easily cleaned when not lined, and always making sure you have another one.
Do beware that not all litter boxes can be lined. Some require special liners made only by their manufacturer that can be complicated to get - but well worth it if that is something you feel you need. If you plan on lining your litter box, make sure you buy one that is compatible with liners.
Bets Cat Litter Boxes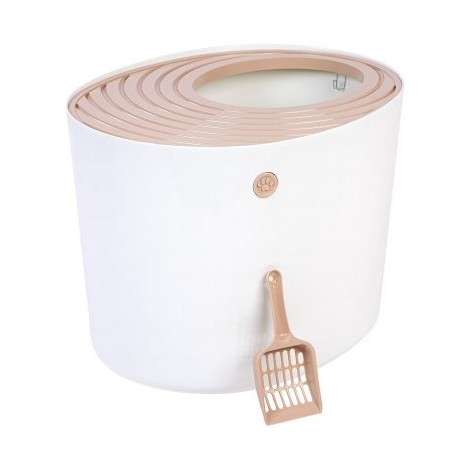 This Iris Litter Box is a tad untraditional, but only in the best ways. It is a large litter box with an opening on top that looks much more like a high-end trash can than it does litter box. While large, it is also able to fit in a surprising amount of spaces and won't take up any more space than your hooded variety did.
Grooved Lid
The top of this litter box features a grooved lid. This greatly helps to reduce the amount of litter strewn about the floor when your cat is done with its business. They have to get out of the box and doing so requires walking across the lid at least a little bit. This will remove the litter from their paws before they have a chance to get it anywhere else in your house.
Easy Clean-Up
Because of its large size, it is easy for you to get in and clean up hard waste. It comes with a scooper that can hang on the side when not in use and quickly be picked up when needed - quick and easy. Not only is it easy to clean up your pet's waste, but it also has rounded corners making the unit itself a breeze to clean which is something you'll appreciate for a long time.
Cost and Value
Because this litter box is meant to look more like a trash can or other similar decoration, it does cost a tiny bit more than your standard box does. That being said it is still very reasonably priced and for the benefit of disguising your litter box, you will be happy that you opted to spend those few extra dollars - and so will your cat.

2

. Kitty's Wonderbox Disposable Litter Box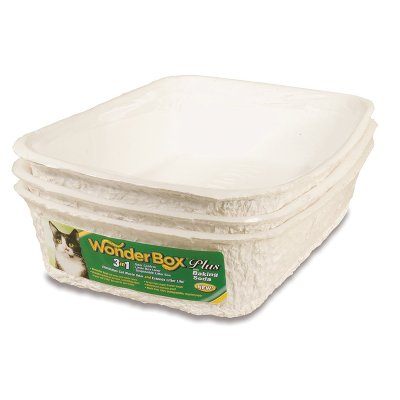 If you're going to go disposable this is the way to go. This is a nice collection of three boxes at a super cheap price. No frills, no muss, no fuss, use them and toss them and stay footprint neutral. There's not a bit of plastic here, plus these boxes are made of recycled material. So if trying to do as little damage as possible is your thing this is a great choice.
100 Percent Biodegradable
Simply put these boxes come from used material so you can just dump the litter and send them right back to the recycling plant when you're done. It's a nice little cycle so you can break out of that loop of never-ending buying and throwing away.
Odor controlling PH construction
These boxes are built with a special paper that has an odor neutralizing PH. That helps keep these boxes from becoming that smelly mess that we've all come across on entering our home from time to time. And the best thing, if the litter just gets too much you can just toss the box and put down the next one.
Cost and Value
These boxes are the cheapest we've found. We didn't make them our Best Value because we found a few others that last longer but really give you a lot of great usage for not much money. But truth be told for next to nothing you get three litter boxes that will easily last you over a month. That strikes us as a great deal.

3

. Petmate Clean Step Dome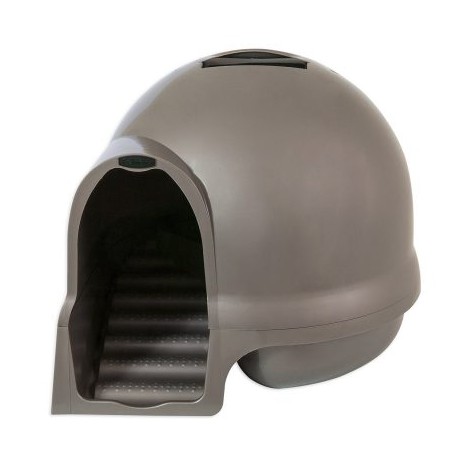 This litter dome looks and feels like your cat has its own little water closet. It is dome-shaped with a "stairway" leading into the litter. It is large and will accommodate nearly all cats with ease. It is made of easy to clean plastic so you can easily keep it fresh and the included carbon filters help to ensure that it never gets stinky.
Enclosed Dome
This litter box is an enclosed dome. It might seem a little crazy at first, but there really is a lot of use to having a full dome-shaped litter box and it goes a long way in helping keep your house clean. You cat won't be able to spray urine outside of the litter box and the litter will stay inside as well.
Walk Up Ramp
To enter the dome, your cat will be required to walk on a little ramp that leads to the litter. This is great for a number of reasons. It offers increased privacy for your cat, which some cats absolutely love and even require. But, it also helps to greatly minimize the amount of litter that is tracked out of the box. Overall, this litter box is an excellent choice for someone who really needs a litter box that ensures their house will stay clean.
Cost and Value
This litter box dome is very reasonably priced. As is the case whenever you buy something, you do have to pay for the price of the materials. Here, because it is domed, there is a lot of material that you need to pay for. However; it is not expensive by any means and falls about mid-range on this list. The cleanliness options that it features make the cost more than worth it.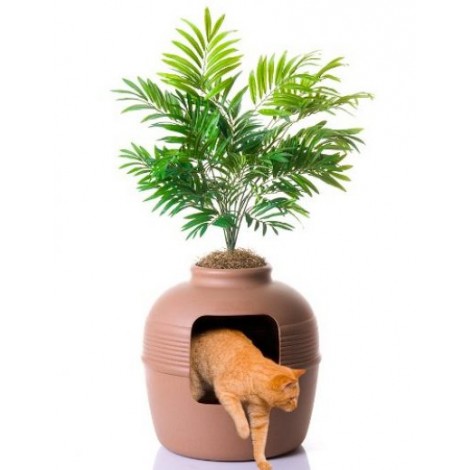 Do you hate the look of a litter box? Can't stand to bear the thought of friends or family coming over and have to look at your cat's bathroom? Stress no more, this litter box is almost completely hidden and your guests will be none the wiser when they see it. It is large and capable of functioning for multi-cat families. It can be taken apart for easier cleaning.
Camouflage
This litter box looks just like a houseplant, in fact, it is one! It looks like a very large clay pot with a plant inside. When turned with the opening to the back, no one will be able to tell that it's actually your cat's litter box. It also allows your cat the privacy it craves and may need to do its business.
Vented
But wait, you're telling me I can put my litter box right out in my front room? What about the smell? This litter box has thought of all of that and accommodated for it. It has a filtered vent system that will control for both dust and odor. It even comes with the first filter for you to put to use right away. The fact that you won't have any smells drifting off of it furthers your ability to camouflage your litter box.
Cost and Value
This litter box is a little pricier than others we've talked about so far. However, it is completely designed to look like a plant and not a litter box so the price tag is logical. You would be hard pressed to get a pot and plant for cheaper than you are getting this litter box so it all balances out and serves as a multi-purpose purchase.

5

. Purina Tidy Cats BREEZE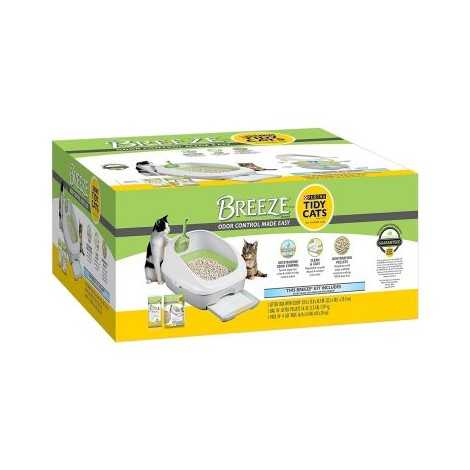 Unlike other litter boxes on this list, this Purina Litter Box actually comes as a whole system. That means that it includes a litter box, scoop, litter pads, and filtering pellets. This is the only thing you will need to purchase (initially) to get up and running for your new cat as it is all-inclusive. It is meant to make caring and cleaning up after your cat easier for you and less frequent and does so well.
Filtering Pellets
This system comes with filtering pellets rather than standard litter. This help makes your life easier on a couple fronts. First, it dehydrates solid waste which makes it easier to scoop. Secondly, it is designed to last longer, which will maximize the amount of time before full litter box changes whether you have one cat or multiple.
Absorbent Pads
This litter box system is lined on the bottom by an absorbent pad. Its function is to absorb liquid and by doing so goes a long way in helping to control odors. Less odors equals less frequent changing. However, this pad is easily changed out once a week or so to keep things extra fresh for you and your feline friend.
Cost and Value
All things considered, this litter box system comes at a great price. As you are getting everything you need - box, scoop, pads, and pellets, it should probably cost more than it does. However; it is right near the middle to bottom of the pack cost wise. You'll appreciate the ease and odor-free experience you get from it and your wallet will appreciate the small price tag.

6

. IRIS Open Top Cat Litter Box with Litter Scoop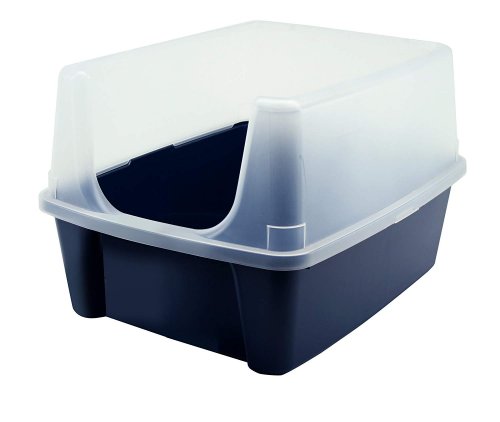 We like this one because it's cheap and it does exactly what it's supposed to do nothing more. It's a high topped huge litter box that's going to keep litter off the floor and provide plenty of space for your feline friend to do their business.
High Top
There's nothing good about having to clean the cat litter but honestly, it gets just that much worse when there is cat litter plastered all over the floor when you start doing the daily clean. The high top construction of this box should keep the litter where it belongs: IN THE BOX, not spread all over the floor by Fluffy who got a bit too enthusiastic in her bury mode.
Free Scoop
Hey, what can we say, free scoop! We're big fans of free and depending on how many cats you have a scoop is one of those things that's usually flimsy and might just give out at the worst of times, so having a replacement handy is never a bad idea. Plus did we mention it's free?
Cost and Value
Simple cost effective, and useful. We put this one on the list because we've got a lot of other boxes that have accoutrements, and self-clean and do all kinds of other things. But we don't have that many that do nothing more than just provide your cat a place to use the John.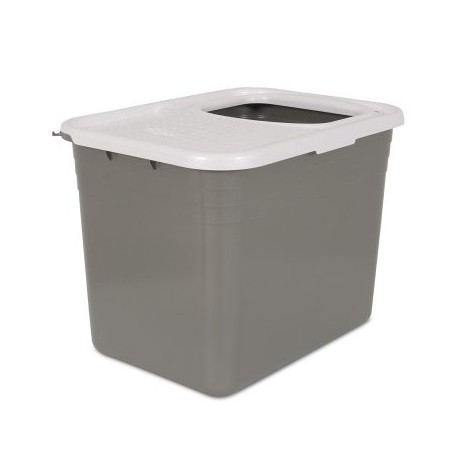 This litter box is very good at keeping litter where it belongs - inside of it! There is an opening in the lid that your cat will need to jump through in order to get in and out. It's tall enough and deep enough that your dog won't be able to dig around in it. It is easy to clean and contains messes well.
Top Entry
The top entry on this litter box serves many purposes. It lets your cat in but keeps your dog out! This is of critical importance if you have a curious dog and a smelly cat. It also helps to contain odors and because there are no seams on the sides or parts, there is also no leakage. However; the lid comes off which allows it to still be easy to clean.
Non-Slip Lid
The lid on the top of this litter box is largely what makes it as functional as it is. As mentioned, it is where your cat enters the litter box. The lid is non-slip so your cat won't fall off and also is designed to get the litter off their feet and put it back into the box. This will help a lot as far as litter being tracked around the house goes.
Cost and Value
This litter box is quite inexpensive - definitely toward the lower end of our list. It is utilitarian and serves it's purpose well. There are no frills here, bed any. This is a straight-forward litter box that holds litter and all that is associated with it very well and does so without breaking the bank. Overall, you will be satisfied with this purchase.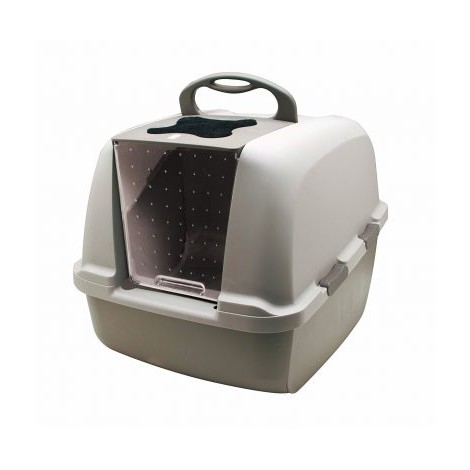 This is a large litter box that is perfect for multiple cat families or those with large cats. It is big and roomy and provides plenty of privacy. It is easily taken apart and reassembled so that you can clean it, or customize it just a little bit. It is a filtered litter box which means that its odor control is supreme and will keep your house nice and fresh.
Removable Top
The top of this litter box snaps and locks in very easily. This is great for when you need to clean it or change out the litter. No need to dig around inside or stress out there. It also provides protection for spray or kicked up litter. You could also use it without the lid or without the door if you have a cat that shies away from either of those two things.
Carbon Impregnated Filter
This litter box is equipped with a filter that is carbon impregnated. That gives it the ability to effectively trap and remove odor from your litter box. It will need replacing from time to time, but the vastly supreme odor removal will have you happy to do so. Your house will always be fresh and free from kitty litter smells with this litter box.
Cost and Value
This litter box is a little pricier than some of the others on this list. It's not too expensive, but it is mid to high range compared to others. However; it is a great litter box. It will keep your cat happy and provide privacy and your home clean and smelling good. This is money well spent.

9

. Nature's Miracle Oval Hooded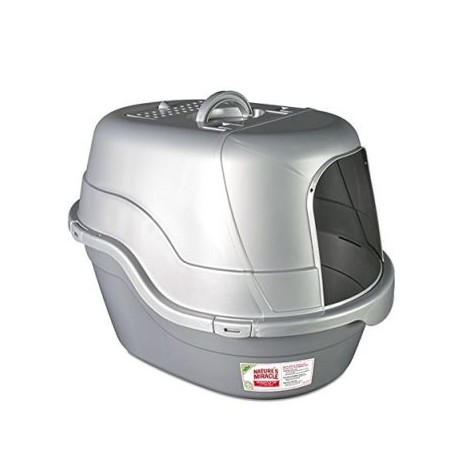 This is a large litter box that will serve both you and your cat well. It has a hood which helps to minimize spray and the back end of the of the box is higher, which further helps to prevent leakage issues. The door is low enough for even elderly cats to enter with no problems.
Non-Stick Surface
This litter box is made with advanced plastic technology. It has a non-stick surface so that clumps won't get stuck to the side as much and if they do happen so they are easy to clean off. This not only makes your life easier, but it also prevents the litter box from harboring the stench, thus extending the life of your litter box.
Built-in Odor Neutralizers
Not only does the plastic repel stench, but this litter box is also built with odor neutralizers. They continuously fight tough litter box odors for up to three months. Anything that helps reduce pet odors in your house is a big win.
Cost and Value
This litter box is very reasonably priced. Considering its size and the fact that it has a cover, it is actually very cheap compared to others in the same class. The plastic is a bit flimsy, so that may account for the smaller price, but it is still a great litter box that will serve you and your cat well.

10

. Omega Paw Elite Self Cleaning Litter Box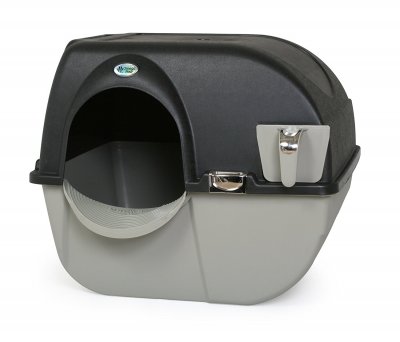 This is a pretty cool idea. The self-cleaning mechanism is easy to work and it's just a matter of rolling the litter box on its side and the litter rolls into one area and the messes roll into another and then just bag and go. It also has a pretty cool litter step to clean off kitty's paws when they're done with their business. This is a really nice addition to our list.
Self Cleaning
As we noted this is a user-friendly cleaning system that seems to work as advertised. We're generally pretty skeptical of self-cleaning systems but this one seems to work as advertised and goes a long way towards making clean up a bit less of a hassle.
Litter Step
We've always liked litter steps. Fact is, we like anything that keeps litter in the box and not on the floor around the box, so count us in. It's not a profound a step as some of the others on our list but it seems to do the trick so we're generally for this product.
Cost and Value
A bit on the high side but again when all else fails you get what you pay for. This isn't a mechanical self-cleaner, it's gravity controlled so there's less to go wrong. Also, the top keeps the smells in where they belong and the clip design keeps the box from coming undone without a human touch.

Subscribe to our Newsletter