Best Electric Bikes Reviewed and Rated for Quality
In a Hurry? Editors choice: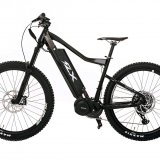 Test Winner: FLX Blade

As one of the oldest forms of transportation, it remained a hassle-free and cost-effective way of getting from point A to point B. In the late 90s and early 20s, several major
bicycle manufacturers
upped the ante with the release of electric bicycles. This invention featured all the convenience and comfort of the traditional bicycle that we know and love but combined with an electric motor. The addition of the motor allows its user to get from point A to point B faster than ever before while still being cost-efficient. Since its inception, these models have taken the world by storm. The user can choose between three different class of electric
bikes
, or e-bikes, as they've come to be known. You get e-bikes that rely purely on motor power and don't require pedaling, bikes with a pedal-assist function that depend on manual pedaling for the motor to function, and
hybrid models
.
Standout Picks
Criteria Used for Evaluation
Model
Just as with traditional bicycles, there is a wide variety of e-bikes out there to suit every need, purpose, and budget. Since there are thousands of products to choose from, a good starting point will be to think about where and when you'll use your e-bike most often. This will guide your decision-making process to select the best frame for you.
In the world of e-bikes, there is a wide variety of frames available that are each optimized to suit a certain terrain or purpose.
Foldable Frame: Just as the name suggests, this type of frame literally allows you to fold it in half. This is a wildly popular choice for commuters and city-dwellers since you can easily fold up your bike and put it in your office, apartment, or even take with you on the subway.
Traditionally, these bikes feature an ultra-lightweight frame that makes it easy to manipulate and carry around.
Mountain or Off-Road Biking Frame: One of the toughest frames around is that of the mountain bicycle. The frame is somewhat heavier but has been optimized to be weatherproof and withstand whatever the elements throw at it.
The frame itself is often accompanied by heavy and durable tires to easily tackle any terrain. Obviously, this is the preferred choice for adventure and outdoors enthusiasts.
Road Bicycle Frames: Perhaps one of the most traditional kinds of frame, the road bicycle frame combines a practical frame design with comfort and agility.
These frames are ideal for long distances or any intensive cycling. However, they also serve as a durable solution that can be used on a variety of terrains.
Cargo Bicycles: Cargo E-bikes have become popular among businesses as they are a cost-effective and environmentally friendly option to deliver goods to customers. These frames have a lightweight frame with extra reinforcement for added stability and to endure heavy loads.
This is also ideal for anyone who frequently needs to transport heavier items such as young children or pets.
Connectivity
Your motor should be a prime consideration in terms of its technology, power, and placement on your e-bike. There is a huge variety of motor power when it comes to e-bikes. Generally speaking, a city e-bike usually only generates anything between 250-500 watts while a mountain bike generates 750 watts and more.
Your power will translate into how fast you are able to go. However, the power of your engine will also dictate how well your model can handle challenges such as inclines and slopes. The higher the power, the better it will perform.
The majority of e-bike motors are located at the rear of the model. This is preferable as it will never interfere with the operation of your product and are generally more unobtrusive than their counterparts.
Battery Life
Another major part of purchasing an e-bike is the battery. Any e-bike is dependant on a battery and this will determine how far you can go before you need to recharge it.
For the most part, an e-bike battery pack ranges between 36V and 48V. It's difficult to give an estimate of how long you can expect your battery to last on a single charge since this is a highly variable figure that is dependent on factors such as cycle mode, terrain, and load.
However, if you know that you will be cycling long distances every day, it will be well worth it to search for a product that specifically features a long-lasting battery.
10 Best Electric Bikes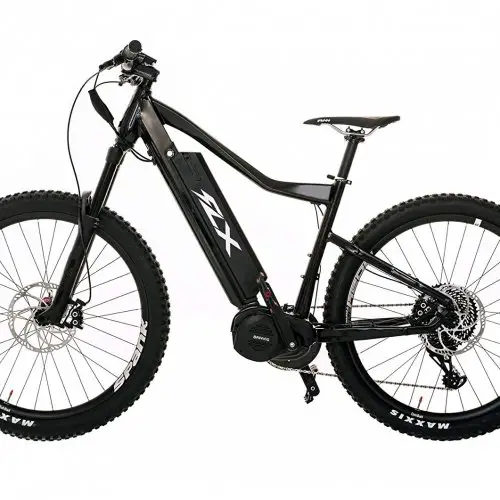 This top of the range model from FLX offers its user high-powered performance with an incredibly long battery life. The motor incapable of generating up to 1350 watts of power that allows you to travel at speeds of up to 30 Mph depending on cycling mode and terrain. The battery life lasts for up two 90 miles and recharging is quick and easy. This model also includes a full-color LCD display that allows you to choose cycling mode.
Fast
The FLX Blade was designed with the speed junkie in mind. With this powerful motor, you can easily reach speeds of 20 Mph using the pedal assist mode or speeds of 30 Mph using the fully electronic mode. You can also adjust your speed using the LCD display.
Long-Lasting
The Blade features one of the most long-lasting batteries on any e-bike in any price range. The included 48V battery is capable of lasting up to 90 miles of cycling depending on your selected mode and terrain.
Cost and Value
Admittedly, the FLX Blade is one of the most expensive top rated products. However, its sheer performance makes the price tag well worth it. This is a specialized product that offers top speeds, high power, and long battery life. However, it is still easy enough to use and master for entry-level cyclists.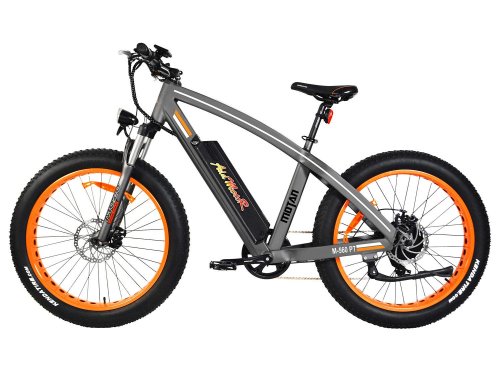 The Addmotor MOTAN Electric Bicycles Mountain is an excellent all-rounder that provides plenty of power together with a long-lasting battery and versatile frame. The motor is capable of generating up to 750W of power that translates to speeds of up to 23 Mph. The included 48V quiet battery pack has been optimized to be lightweight and hidden. This is the ideal product for the cyclist who wants to take on a wide variety of terrain types including mountains.
Long Lasting Battery
One exceptional highlight from the Addmotor MOTAN is its incredibly long-lasting battery life. A single fully charged battery can last for up to 100 miles depending on usage and terrain. In addition, the battery pack has been optimized to be lightweight and easy to recharge.
Versatile
The Addmotor MOTAN has been made for the cyclist who wants to take on every kind of terrain including mountainous areas. This model features a lightweight frame with a beautiful retro design that is ideal for city cruising. However, the durability of the frame, as well as the rugged tires, can be comfortably used on off-road terrains.
Cost and Value
When it comes to e-bikes, this one is modestly priced. It's one of the most powerful products available in this price class and definitely offers immense value for money. It has been constructed using only premium parts and accessories and offers a powerful and versatile cycling experience.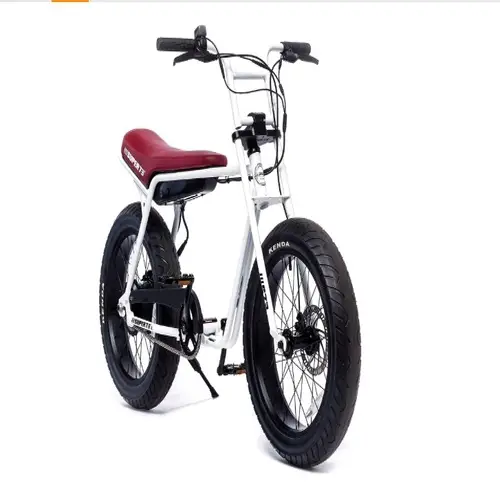 With its stylish, sleek design the Super 73 Z1 electric bike is a beginner's dream. Featuring a powerful 500-watt rear hub motor, and speed that reaches up to 20 mph. This bike is perfect for those that want an additional toy to have in their garage for fun summer nights. The design itself is compact and versatile so you are not left with a bulky bike that takes up too much room.
Battery Range
What might make the Super 73 Z1 bike even more attractive is its battery range? Ranging between 15-25 miles of battery life depending on the biker's weight, terrain and incline this bike allows you to be exactly where you need to be while being confident that you will get there while being fully charged.
Easy to Assemble
Unlike other bikes, or riding gadgets this bike comes almost fully put together, allowing you to be ready for a new adventure as soon as it arrives. Not only will you be able to put it together quickly but once it's charged you do not have to charge it for quite some time as the battery is long lasting. Furthermore, with this bike you are not required to have a license or registration to ride, making it truly easy to use on a daily basis.
Cost and Value
While you're receiving a high-quality bike with all the needed bells and whistles this bike is a bit on the pricey side. However, the price is well justified when you take into consideration how much use you will be getting out of it and how energy efficient it truly is. In addition, this bike offers you the confidence you need to ride onto new adventures often and with ease.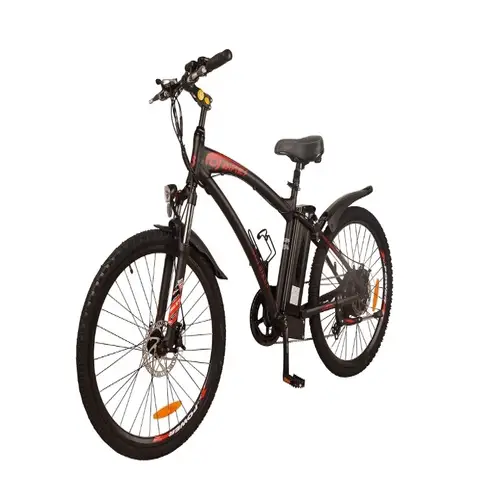 Built to last this powerful electric bike by DJ Bikes, brings forth a new model that works for a multitude of occasions. Designed with safety in mind, this bike has a UL certification making it one of the safest designs on the market, acknowledged by industries and consumers in both the US and Canada. If you're looking for quality and safety look no further this bike provides both while being energy efficient and aesthetically sound.
Quality & Warranty
When purchasing any electrical product, you want to ensure you are getting the best quality and an excellent warranty due to how pricey these items can be. This brand has made it its mission to provide just that with this item. Presenting a stainless aluminum frame, paired with a powerful 48V LG battery that can be dismounted and charged whenever you need to do so. Furthermore, the powerful battery comes with a safety charger designed to prevent-overcharging. As for the warranty, you will be receiving a quality endorsed product with a full 1-year warranty.
Fitness
Not only can you take this bike on the road, but you have the ability to use it for mountain climbing as well. Its versatility gives you an exceptional product. Take the bike on the road or on trails, either way, it will perform to its maximum capacity.
Cost and Value
As for the cost of this bike you're truly getting a bargain. This item is priced exceptionally well, particularly due to all the perks and quality you are receiving from one single item.

5

. E-JOE EPIK SE Sport Edition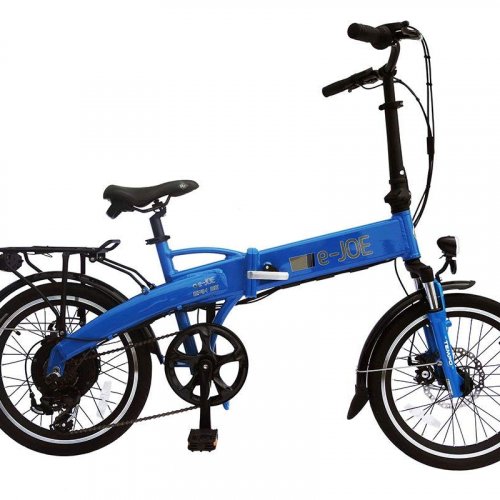 This cycle was absolutely designed with the sports enthusiast in mind as it combines extreme power with an ultra-light frame. This model features a unique brushless geared hub motor hub battery that can generate anything between 500 and 700 Watt of power. It features a very light and durable aluminum frame that is foldable for easy storage and transportation. In addition, it has a handy display that conveys important information to the user such as speed, battery level, etc.
LCD Display
A handy display located on the handlebar functions as a trip meter, speedometer, battery indicator, and allows you to choose between the various pedal assist modes. This display gives you a comprehensive overview of your cycle as well as your various trips.
Powerful Motor
The average e-bike will likely have a motor that can generate a maximum of 500 watts. The EPIK SE contains a brushless motor battery that is capable of generating up to 700 watts. This uniquely powerful motor and battery are all housed on a conveniently light frame and only takes four hours to charge.
Cost and Value
The E-JOE EPIK SE is perhaps one of the more expensive models featured on our list. However, this sporty little model offers unbeatable value for money. With its unique LCD display, incredibly powerful motor, and durable build, this SE is definitely worth the investment for anyone who is serious about sports biking.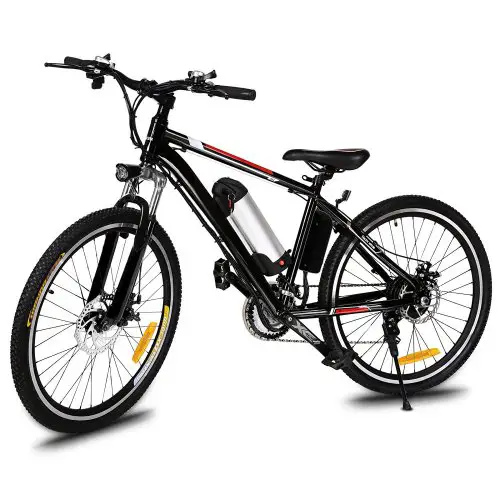 The power electric bike from Tomasar features everything you need and expect from a product of this kind. It offers reliable performance with its 36V 8AH lithium-ion battery that lasts for up to 30km. The frame has been constructed using lightweight aluminum and is completely foldable for easy storage. The brushless motor generates up to 250 watts and can allow you to propel forwards at speeds of 15 Mph.
Foldable Frame
One of the Tomasar's major selling points is its utter convenience. The frame of this cycle has been constructed using lightweight aluminum that is collapsible. This product is incredibly easy to assemble and disassemble for transportation or storage purposes.
Two Working Modes
The Tomasar offers its user to select between one of two different peddling modes via the setting display located on the handlebar. The two modes include pedal assist or full e-bike mode that allows you to properly forward without having to pedal.
Cost and Value
Despite its sturdy build and reliable performance, the Tomasar is one of the cheapest top rated products currently available. This product has been constructed using premium materials to ensure durability as well as your own personal safety. This is a great entry-level product for beginner cycling enthusiasts.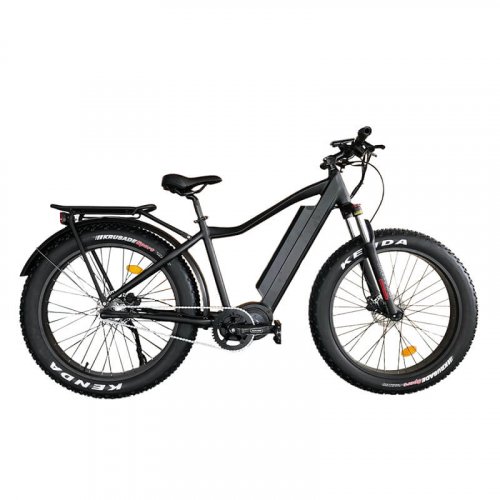 This eye-catching model from Bpmimports is noteworthy both for its sleek design and incredible power. With its brushless hub motor and 48V 10.4AH lithium-ion battery, this e-bike can easily reach speeds of up to 35km/h. The frame has been constructed using lightweight aluminum alloy and it features rugged puncture-resistant tires. This product is ideal for sports junkies out mountain bike enthusiasts.
High Performance
This model is an excellent all-rounder that offers high-power and reliable performance. The unique rear brushless motor hub together with the 48V 10.4AH battery pack is capable of generating up to 750 watts of power. This e-bike reaches speeds of up to 35km/h effortlessly.
Sturdy
With its impressive matt black frame and durable tires, this e-bike can handle any rough terrain. The model comes equipped with specialized tires that are puncture-resistant and offers the user more traction and stability on any surface.
Cost and Value
This product from Bpmimports is significantly more expensive than several other top-rated products. However, this e-bike offers power, and a sturdy design constructed from premium materials that put it well beyond any other product in its price range. This is a product that offers incredible value for money and will last for years to come.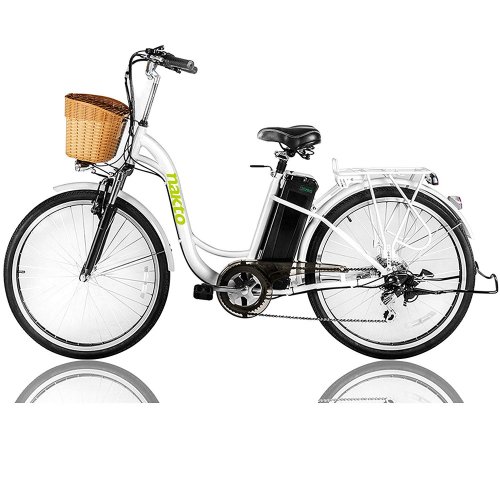 With its fun and retro design, it's hard not to immediately fall in love with Nakto's e-bike. This model features a highly durable carbon steel frame and premium parts such as the disc brakes, handlebars, and Shimano gear system. Nakto utilizes a removable 36V 10 AH lithium-ion battery and a brushless motor that generates speeds of up to 30 Mph depending on terrain and load weight.
Premium Quality
The Nakot E-bike stands out simply because of its outstanding attention to detail. Every single part of this product has been selected for its outstanding quality and performance. From the carbon steel frame to Shimano 6-gear system, disc brakes, and saddles, every piece of this model performs beautifully.
Multi-Functional
This model combines beauty with functionality. You have plenty of storage and packing place available on the Nakto. The front basket, as well as the rack on the back of the cycle, affords you plenty of packing space to run errands and do grocery shopping.
Cost and Value
Despite its beautiful design and multi-functional approach to biking, the Nakto is remarkably competitively priced. It is definitely one of the more cost-effective top-rated products and is covered by a 1-year quality warranty.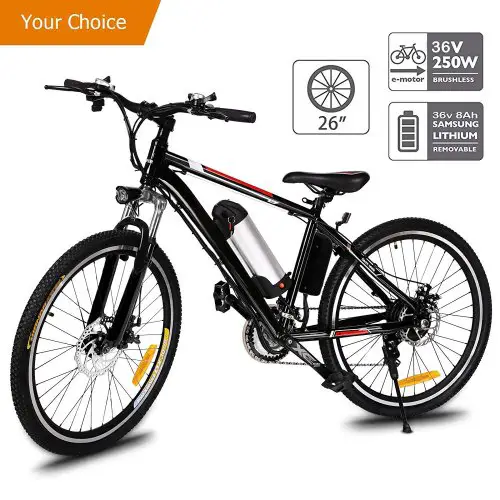 Aceshin's 26-inch model is the ideal option for entry-level cyclists thanks to its sturdy frame, rugged wheels, and moderate speeds. The frame and handlebar have been constructed using aluminum alloy and carbon steel. The included 36V battery pack is removable for easy charging and is fully charged within 4-6 hours. This model also includes unique accessories such as a LED headlamp and horn to ensure your safety.
Lightweight
This model's unique lightweight frame makes it ideal for entry-level cyclists. The frame itself has been constructed using aluminum alloy while the fork and handlebar have been constructed using carbon steel. The Aceshin 26-inch also boasts premium shock absorption for a smooth and comfortable ride.
Safe
The Aceshin 26-inch's dedication to rider safety is another undeniable stand out feature. The tires feature anti-slip properties and are resistant to everyday wear and tear. This model also features an LED headlamp and horn for riding in poor visibility conditions.
Cost and Value
Perhaps one of the most attractive features of the Aceshin 26-inch is its low price. Despite this low price, the frame is sturdy, lightweight, and well-balanced and constructed using only premium parts and accessories. While it may not be powerful enough for experienced cyclists, beginners cannot go wrong with this product.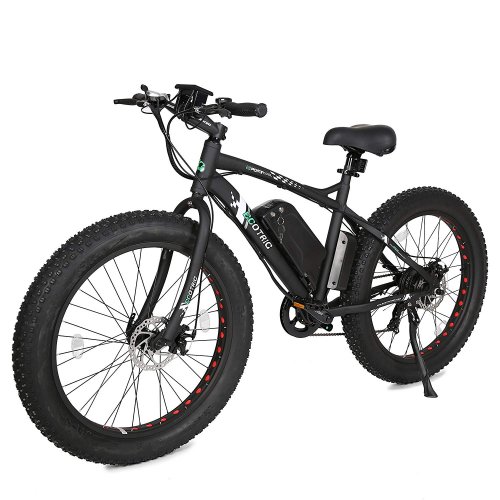 Master any terrain with this sturdy model from Ecotric. With its impressive black frame and durable tires, this is the perfect machine to guide you through any terrain from mountain paths to snowy fields. This model features a powerful 500-watt motor that operates using a 36V Lithium battery. It features an easily adjustable speed control that delivers speeds of up to 23 Mph.
Multi-Functional
The Ecotric Fat Tire is perhaps one of the few e-bikes that will allow you to go wherever, whenever. With its heavy-set aluminum frame as well as its impressive tires, you can take this model on absolutely any terrain with ease.
Speed Control
This model features a throttle on the handlebar that allows you to adjust either your speed or gears. There is a total of 7 gears and the bike's 500 Watt motor allows you to reach speeds of up to 23 Mph.
Cost and Value
This Ecotric Fat Tire is very competitively priced especially considering how sturdy the frame and tires are. The aluminum frame is durable and the ultra-thick tires can handle a variety of terrains and won't need frequent replacement.

Subscribe to our Newsletter