Best Dog Life Jackets Reviewed & Rated for Quality
In a Hurry? Editors choice: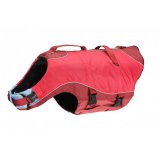 Test Winner: Kurgo Surf n Turf

If there's anyone that loves a good swim, it's dogs. Dogs will gladly splash around in the water, whether that's a pool or honestly, a bath or shower (depending on the dog). But what if
you want to bring your precious pup
on a more deep-water adventure like on fishing trips? You want to feel confident that they won't just jump into the water and start swimming because the water is dangerous for even the strongest swimmer. Even if they can swim, there's a big difference between splashing around in a pool and swimming in a big lake with a long way to the bottom. Well, for this purpose, there is a solution: dog life jackets. If you need a good life jacket to keep your best friend safe during that big fishing trip that's coming up, try one of these amazing life preservers.
Standout Picks
Criteria Used for Evaluation
Size
You wouldn't put a life jacket meant for a Poodle on a Rottweiler, would you? You wouldn't even get it around his snout. And while yes, that would be hilarious, it would be rather counterproductive to what these life jackets are trying to do. Every company sizes their stuff differently than every other company, so you need to be extra scrutinous when choosing a life jacket for your puppy. Because the wrong size will likely end up with the opposite result from what you want these life jackets to do.
Adjustability
Just as correct size is important to a good life jacket, so too is adjustability. Just because it "fits" it does not necessarily mean there isn't a problem. No life jacket is going to fit on it perfectly that first time, so you need to make sure that the life jacket you're buying for your pet has the appropriate number of straps in order for the jacket to be properly adjusted as needed. In general, there should be a few on the back end, a few more on the front, and at least one on the bottom. As long as you make sure that the gadget comes with fully adjustable straps and mechanisms, you can even get a life jacket that's a whole size bigger than your pet.
Materials
This is very important, as what material makes up the life jacket worn by your pet may end up deciding whether or not your pet actually likes wearing it, or whether they'll just gnaw at it once in the water until the thing pops off. You need to thoroughly look over the materials that make up the life jacket in question. If it doesn't say either neoprene, nylon, Oxford, or anything similar, give it a pass. Not to say that some life jackets are actively harmful to them, far from it, but those materials are the ones that balance quality with comfort.
Comfort
How does your canine look and act when they wear the jacket? Are they trotting along like everything is normal? Or are they pacing around, whining, and gnashing at the jacket like it's actually hurting them. If they're doing that last one, it's probably because, to some extent, it is. This is why comfort is such a big deal with life jackets. Because if the pet is uncomfortable, they're going to do everything in their power to get the thing causing said discomfort off of them. And if they're in the water, that is something you definitely do not want to happen. In short, a life jacket has to not only be functional, but comfortable enough for the pet to want to wear.
Effectiveness
This should be obvious, but you want the life jacket to fulfill its basic function and actually keep it above water. Does it have to be perfect? No, if it isn't built to be for emergencies. But if it isn't, and instead meant for play during pool parties, it will say as much on the box. This is another reason why reading the box as thoroughly as possible when it comes to a life jacket is imperative. The buoyancy, in an emergency situation, may just be what saves your pet's life, so you need to make sure that the buoyancy is above average.
Top 10 Dog Life Jackets
1

. Ruffwear K-9 Float Coat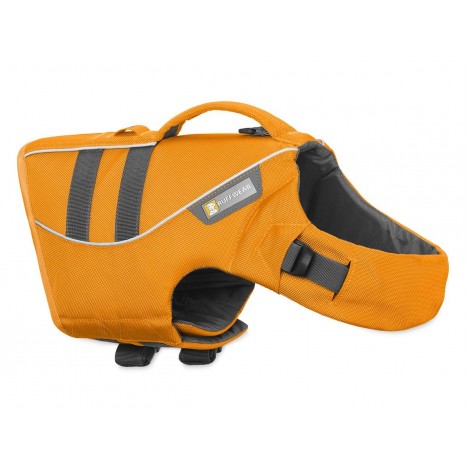 Starting off our list, there's the Ruffwear K-9 Float Coat. This strategically designed, well-crafted coat allows for maximum efficiency while looking adorable on your pet to boot. Coming in sizes ranging from xx-small to x-large, you're sure to find a size for all of your canines.
Additional flotation
It always helps to have extra flotation for it, and thankfully this life jacket has you covered. Utilizing an additional flotation device on the underside of the coat, this life jacket adds an extra flotation to your pet, keeping them better balanced in the water on top of keeping them afloat.
Extremely durable
One risk it can face in the water is that their life jacket can become damaged by an outside force like a branch or rock. But not the K-9 float coat, as its outer layer is made from highly durable fabrics guaranteed not to tear even under the worst conditions.
Coat and Value
The main downside to the Float Coat is the cost. This life jacket is nowhere near cheap. However, given the quality of the coat itself, it's safe to call it worth the money.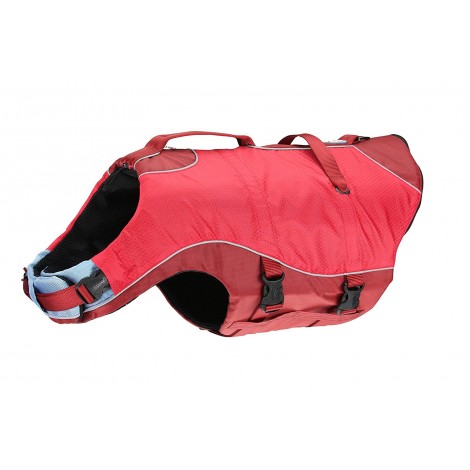 Some people love the swiss army approach, cramming as many things, no matter how unrelated they are to each other, into one big thing. And this is the design mindset behind the Kurgo Surf n Turf Dog Life Jacket. With multiple designs and functions rolled into one, this isn't just a life jacket, it's a life jacket with backup plans.
Coat function
Want to get some use out of your life jacket outside of the water? No problem just undo the flotation layer from the jacket to turn it into a fully functioning raincoat for your pet. Perfect for when you want to keep it high and dry during those rainy walks.
Highly visible
While other jackets prefer reflective surfaces, this jacket just makes sure to only come in the colors that are the most visible to the human eye. Bright colors that stand out against almost any background, so as to never be missed.
Cost and value
The biggest downside to this jacket is the cost. Obviously, a jacket with all these things going for it wouldn't be cheap, but it may be more than most people are willing to pay.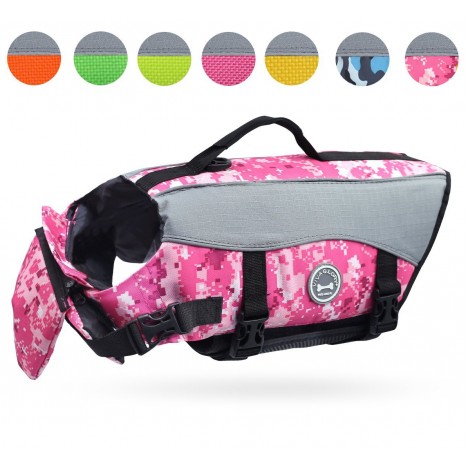 If affordability is one of your main concerns as it pertains to your canine life jackets, Vivaglory has you covered. Vivaglory, in their relatively short time in the business of making life jackets, has become specialists in making quality products for relatively low prices.
Additional padding
A bit of extra buoyancy never hurt anyone, especially when your pet is a bit on the hefty side. This life jacket comes equipped with an extra buoyant layer of padding that adds to the flotation.
Reflective bands
When you let your pet swim off to have their fun in the water, you want some way to know where they are, especially if you're playing at night. Luckily, for this reason, this jacket comes with a set of reflective bands that are easy to spot on the water.
Cost and value
This jacket more than lives up to the Vivaglory brand of quality life jackets for low prices.

4

. EzyDog Doggy Flotation Device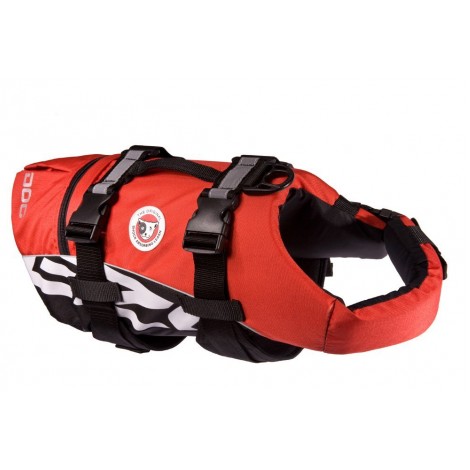 Taking your canine with you on a boat? Bringing your precious pup to the beach? Well then make sure to pack the EzyDog Doggy Flotation Device. This DFD is designed to not get in the way of its precious puppy playtime, while still fulfilling its duty of keeping them afloat.
Ergonomic fit
The biggest obstacle in the way of convincing your pet to put one of these jackets on is that a lot of them just don't fit quite right, or even if they do fit, they don't fit comfortably. Fortunately, the ergonomic, adjustable neoprene belly straps make for not only a secure fit, but a comfortable one as well.
Reflective detailing
Unlike other jackets, this doesn't have easily broken strap to reflect off of, but instead, a series of reflective details across the jacket ensures that this jacket can be spotted from all angles.
Cost and value
This jacket is in the grey area between reasonably priced and expensive. If you can afford it, it won't let you down, but if you can't then, there's no need to worry because there are better, cheaper jackets out there.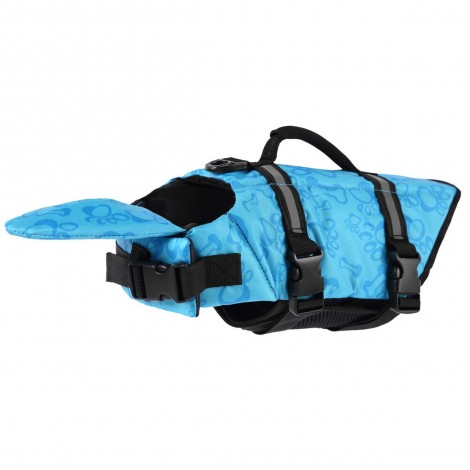 From PetCee comes the quick release Life Jacket. This life jacket is not only cute and affordable, but it's also very functional, with multiple different uses in the water that it can take advantage of.
Chin float
If it is a poor swimmer, it helps to have that extra bit of help. Luckily, PetCee addresses this with a special chin float that goes right under your pet's chin as they swim, meaning that their head will stay above water better than if they were going without it.
Bright Colors and reflective trim
Some manufacturers go for either bright, easy to spot colors, and others go for reflective trimming or full surfaces. This life jacket goes for both, resulting in a very easy to spot life jacket in low visibility.
Cost and value
This life jacket is not only cute and functional but very affordable as well. Its value may not be of anything all that special, but considering the low price for it, it all evens out.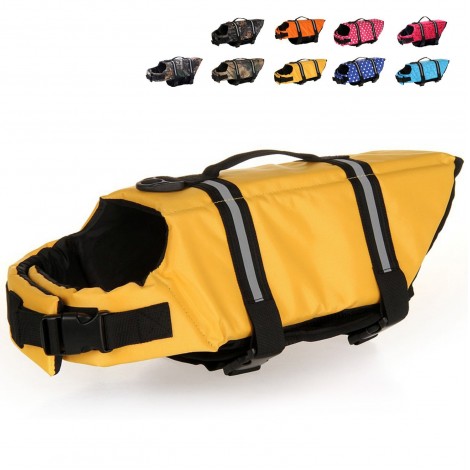 Coming up, we have the fun and quirky jackets of Haocoo. This life jacket company always finds a way to make fun, cute designs for their jackets, while still managing to balance out the quality and structure of the jacket.
Fun and varied designs
The designs are the best reason to pursue these life jackets. While they are quality life jackets in their own right, working well enough in their own right, but the incredibly varied designs are the main selling point, coming in a wide variety of designs without sacrificing any of the quality in the process.
Varied sizes
These jackets cover all the bases in terms of sizes. From XXS to XXL, there isn't a pet out there that isn't covered by these jackets. Well, maybe the Russian Bear Dog, but those are plenty buoyant on their own.
Cost and value
These jackets are not only fun and fashionable for your pet, but they're also pretty cheap on top of that.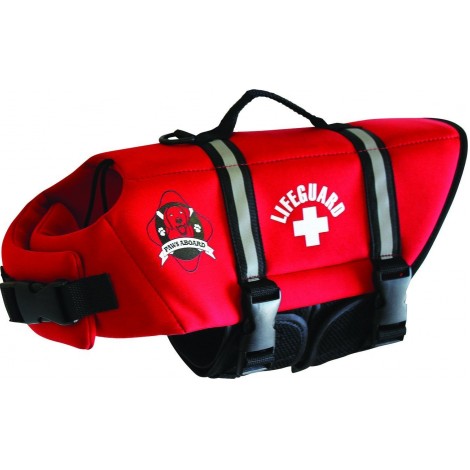 But sometimes it's not about innovation, but rather about polishing what it does right to a perfect shine. After all, these are life jackets, only meant to do one thing, so it's best if the manufacturer gets that one thing as right as possible. This is where Paws Abroad comes in, with their R1400 line of dog life jackets.
Lightweight
Sure, life jackets keep your pet afloat, but the cumbersome nature of the jackets usually end up getting in the way of the pup's playtime, and no one wants that. Thankfully, Paws Abroad's model of life jackets is lightweight and non-intrusive enough to make sure that every pet who wears them has a fun time in the water.
Easy to clean
With all the fabric that these jackets are made out of, they can be hard to clean. However, the material that this jacket is made of is remarkably easy to clean up.
Cost and value
This life jacket is not only well made but very affordable as well. While not the cheapest on this list, it's still far more affordable than most of its peers.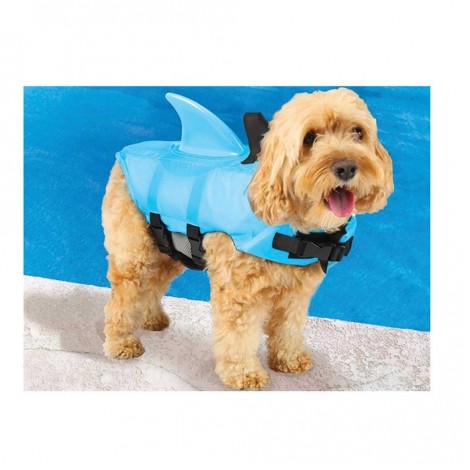 Not all dog life jackets are for those big fishing trips; maybe you instead want to keep your pup afloat during a big pool or lake party. For that purpose, there's no better choice than SwimWays Sea Squirts Dog Life Vests. This is one of the highest rated life vests out there, and it's hard not to see why, as it's one of the most functional life vests on the market. Or maybe everyone just likes the little fin on the back. It's probably the fin.
Leash ring
One fear that's not addressed often enough with these life vests is keeping your dog nice and close, so they don't swim off and potentially get hurt. A fear that this jacket addresses by adding in a leash ring. Sure, other companies do this, but what sets this leash ring apart is that it lays perpendicular to the pet's body, rather than aligning with its back.
Absolutely adorable
Let's not mince words and just get to the brass tacks: this jacket is adorable. Yes, it's functional, but be honest, do you care? No, you're just looking at the little fin this puts on the back of your puppy, and your wallet has already gotten lighter. The aesthetics of this jacket outweigh almost everything else.
Cost and Value
And on top of that, it's pretty affordable to boot. This life jacket is not only adorable and practical but reasonably priced too.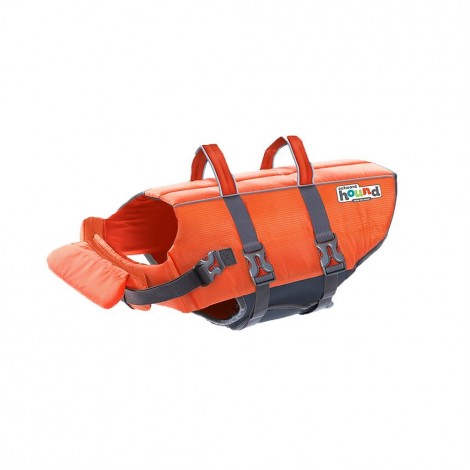 Outward Hound has crafted many great life jackets in the past and since, but the Granby is their masterwork in convenience and functionality.
Front floater
One problem often faced when dealing with dog life jackets is the fact that they can't lift their heads as far as humans can, so swimming can sometimes be a problem. However, this life jacket comes equipped with a front float which can hold up the heads of them as they swim.
Fully adjustable
As long as the puppy who's wearing it is the right size, the jacket can be adjusted freely to suit their comfort as much as possible. This is possible through the jacket's fully adjustable chest and neck flaps, that helps make sure it is as comfy in their jacket as can be.
Cost and value
For such a high-quality jacket, the Granby is shockingly affordable. Meaning that you can have one of the best life jackets on the market for the same amount of money as your average cheeseburger.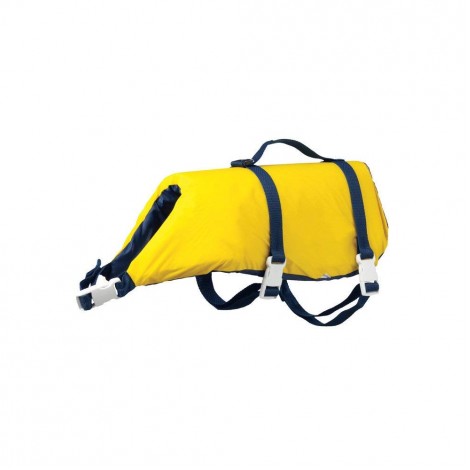 Finishing up the list, we have the Yoyoung Camo Pet Life Preserver. This life preserver may have come in the last place, but when you consider how many other jackets this one beat out, it stops being a failure in that regard. And regardless, this is still a worthy entry in this list.
Adjustable design
Any good life jacket needs to have some kind of adjustability to it, just to compensate for the many breeds it's bound to be worn by. However, the straps that make up this jacket are made from an ultra-durable Velcro, that's more likely to hold up to the physical scrutiny of, well, being worn by a canine.
Breathable
You would think that with such a big bulky thing like a life jacket that it would be hard to get any breathing out of it. But luckily this life jacket is made from lightweight mesh fiber that not only breathes but is also very easy to clean and wicks away moisture.
Cost and value
This life jacket is not only comfortable for your pup and functional to boot, but it's also very affordable.

Subscribe to our Newsletter