Best Nike Running Jackets Reviewed & Rated for Performance
In a Hurry? Editors choice:
Test Winner: Flex

Filling the gap between no jacket and a heavier winter jacket, running jackets are the perfect middle ground for mobility and functionality that will keep you
warm through that long run
. With a company whose name originates from Greek mythology as the personification of victory,
Nike
running jackets do not disappoint. With the production of Nike jackets and other clothing starting in 1979 these jackets are time-tested as Nike has been delivering a high-quality jacket going on 40 years. This list is going to go over their top ten models on the market today in an effort to help you find one that best suits your needs!
Standout Picks
Criteria Used for Evaluation
Materials
The type of fabric used in the production of these jackets is a critical aspect that I couldn't overlook when selecting these jackets. Nike uses almost exclusively 100% polyester fabric in the production of these jackets and for good reason. Polyester is quite resilient, resistant to wear, and slides against itself with ease. Only a single jacket on this list used a different fabric and the only change was the addition of cotton. The addition of cotton provides breathability that polyester can't achieve making a more comfortable fabric.
Weather Resistance
As one of the most unforgiving but critically necessary elements on the planet the ability to be used regardless of the presence of water is a staple trait of the most solid of options. Without this ability, your jacket will absorb and retain any water during your run making it more difficult due to the added weight. Many of the jackets I selected are waterproof and if they had that capability I gave those jackets a higher value.
As somewhat of a confusing design trait a jacket that is waterproof is inherently windproof due to the design. However, a windproof jacket is not inherently waterproof. The reason for this confusing but ultimately important bit of information is that waterproof jackets have a porous inner lining that will prevent the flow of water. Windproof jackets however just use a layering system that will stop wind in its tracks. With this in mind when evaluating these jackets I gave waterproof and windproof jackets a higher value than others and those that were only windproof a slight increase in value.
Being that you can find a runner in nearly every climate across the globe I worked to select a diverse array of jackets. I included jackets that would work well in either cool, cold, warm, or hot climates and provide either refreshing breathability or retain heat and could maintain your body warmth.
Durability
More often than not the first tear is a breaking point for a good jacket and it's all downhill from there. The best step at remedying this is to use fabric that won't tear easily and will remain structurally intact through its use. Nike uses most polyester jackets and they are very resistant to tearing or fraying. In addition when combined with cotton as we saw in one of these jackets that durability is amplified.
After a long and tiresome run that last thing you will want to do is maintain a running jacket. Whether you need to wash it, dry it, or add a layer of DWR coating the maintenance of a poorly designed running jacket can be bothersome. Each of these jackets is maintenance free and has little to no associated upkeep cost.
It's very uncommon to find anyone in your life that doesn't use a washer and dryer to clean their clothes and being a modern era it is nearly unreasonable for a manufacturer to require hand washing or otherwise troublesome cleaning approach. Nike understanding that you need this jacket to be as simple to maintain as possible made many of these jackets machine washable.
Features
Aside from the potential for injury from falling and the running itself vehicles passing you by, particularly at night, are a source of great risk. The low visibility combined with you having no control over the vehicle make this a serious threat to you while running and doing anything in your power to prevent an accident will go a long way. To make your run as safe as possible many of these Nike jackets use reflective liners or half portions of their jackets that will reflect light directly back to its point of origin.
Nike is a company that stands behind all of their products, running jackets included, and should you ever believe there to be workmanship flaws you are likely able to use their warranty. Many of their products do have specific warranties so it's important to always read the labels and assurances before you make a purchase. Any products that featured lifetime warranties were given an increased value during placement.
The ability to carry and store a running jacket with ease is an amazing feature and one manufacturer tend to let slip through the cracks when producing their jackets. Personally, I keep a running jacket in the trunk of my car as I only wear it while running. Having a small carrying case can allow you to add or remove this jacket during a run with ease and it won't take up much space or be difficult to carry. Many of the jackets on this list use a carrying case to help store your running jacket more effectively.
The presence of music, while you run, can turn a grueling run into a blissful and enjoyable experience. The ambiance and repetitive beats give you that extra motivation and a drive you can't get from any vitamin or protein shake. Some of the jackets I featured used a media pouch that could hold your phone or other music relying upon device safely. Additionally one of the jackets went as far as to add an eyelet to funnel your headphones through. This small addition added value to many of these jackets.
Value
One of the most important aspects of conformance is a price comparison between other items on this list and other products with the same purpose as these jackets. When evaluating these jackets I looked at all the features they embody and the materials and type of construction used to produce these jackets. Any jacket that had all the bells and whistles and had a lower price comparatively was placed higher and those with fewer features and a higher price were placed toward the bottom of the list.
As one of the more competitive industries, these running jackets need to live up to pre-existing industry standards. While there are no running jackets of America standard guideline to running jackets this is an industry that through competition and out doing the other manufacturers a certain set of minimum features self-regulates the industry. Should a jacket be sub-par it will quickly fall by the wayside and become a forgotten product. With this in mind these jackets needed to be lightweight, form-fitting, provide mobility, and optionally waterproof or wind resistant based upon what is currently offered by other trendsetting products.
10 Best Nike Running Jackets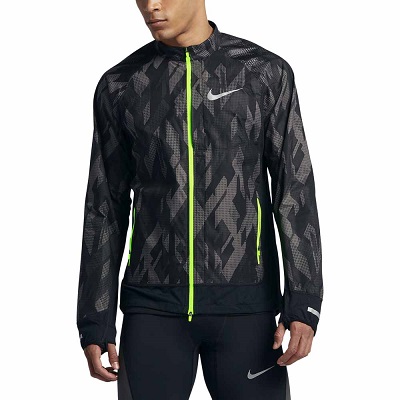 With this jacket singing in the rain is going to take the back seat and running in the rain will be taking over. The flex jacket uses a four-way stretch that allows it to bend, stretch, and contort in any direction you need. Nike added a durable water repellent coating to keep you dry should it start to rain during your run.
Two NSW Zipped Pockets
Using a partial zippered design gives you the ability to quickly and easily air out your jacket. To keep this half zippered jacket from dancing in the wind Nike added a perforated gusset that allows ample air flow.
Water Repellent
Rain, sleet, hail, or snow will work to slow you down and even stop your run altogether. Combined with the perspiration you produce these jackets will inevitably come in contact with water rather frequently, Using a DWR coating this jacket will keep you dry while you're running.
Cost and Value
This jacket has all the features associated with the top tier running jackets and more. The carrying case and DWR coating make this an excellent choice to use as a trunk jacket you can throw on should a downpour ensue. As one of the more expensive jackets on this list, the price was my only concern.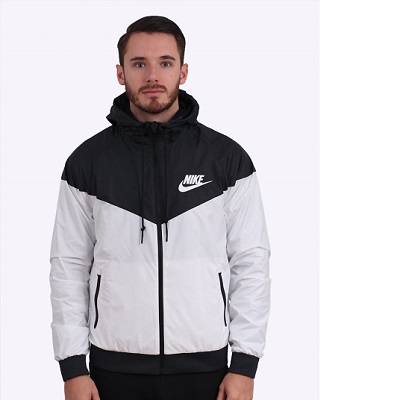 This jacket has it all and with the aesthetically pleasing clash between modern design and vintage style, it's sure to draw attention. Nike uses the lightweight polyester material to produce these works of art which is renowned for its ability to wick moisture and dry quickly. The implementation of tapered sleeves and zippers give this jacket a defined running appearance and added functionality.
Elastic Cuffs
Your sleeves can be a primary source of heat loss and with that being contradictory to the purpose of the jacket this needed to be addressed. Nike designed this contemporary v.s. Retro jacket to use elastic cuffs that will gently grasp your wrists as you run.
Rear Ventilation
Often times you will start running and need a jacket only to have the sun come bursting through whatever impediment was preventing those blinding rays from reaching you and turning the temperature up. On your back near the mid-region, Nike added a zippered opening that when opened will allow excess heat to escape and cool you off.
Cost and Value
The Windrunner jacket combines the basic functionality of keeping you safe from the elements and being one of the most comforting running jackets you can find today. The unique style and incredible amenities make this jacket well worth the slightly higher than the average price tag.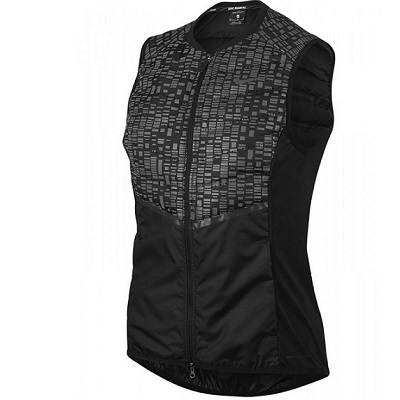 This ever so stylish running jacket focuses on keeping your core warm and as a sleeveless option allows your arms full mobility while running. With the use of goose down insulation, you won't have any issues with a cold core which should help to keep your circulatory system happy.
Targeted Ventilation
With how well the goose down insulation can retain heat it can get quite warm inside this jacket. By targeting specific hot spots on critical points on this jacket Nike keeps the air flowing through your jacket.
Side Pockets
Located on the sides of this jacket are two front zip pockets capable of holding small running necessities. Furthermore, these pockets double down as media pockets with the use of a cord port in each pocket that your headphones can be fed through before a run.
Cost and Value
The most important and only unique aspect this jacket possesses is the cord port that can be found in either pocket. The sleeveless design uses less fabric in turn logically reduces the production cost but coming in at an average price point it's apparent that the savings aren't passed on to the consumers.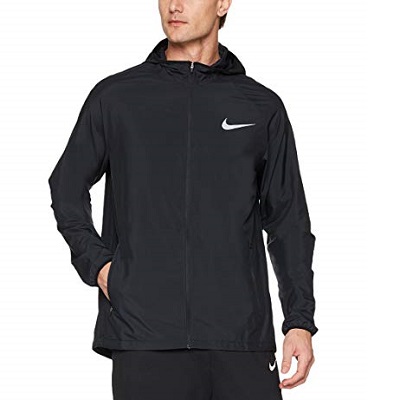 Better suited for colder weather, the Nike Essential running jacket does a remarkable job of keeping you warm and comfortable during those harsh winter runs. With a waterproof DWR coating and sealed stitching design snow and water will stay out and keeps you dry.
High Neckline
We've all been there, breathing into our hands trying to combat arctic-like conditions with nothing more than warm breath and willpower. The higher neckline on this jacket will work to keep cold air at bay.
Baffle Box Construction
The almost accordion-like baffle box construction used on this jacket is another way Nike went about fighting the frigid weather. These insulation filled boxes have an uncanny ability to retain heat keeping you warm on even the coldest of days.
Cost and Value
Being more of a winter protection choice this jacket is limited to use in only colder climates or during winter seasons. As far as running jackets go many winter jackets in comparison are bulky. The baffle box construction and insulated filling go a long way in keeping this jacket compact and flexible. With an average price tag, this jacket would please any runner that needs a cold weather option.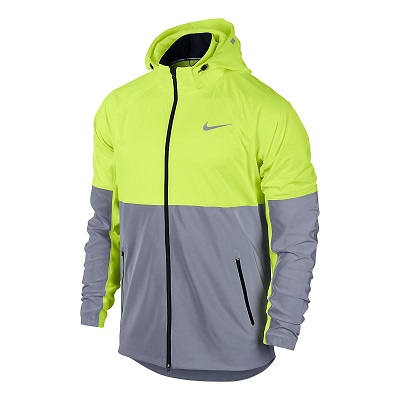 With a lightweight and simple design, Nike provided a minimalist construction with one purpose, effortless addition to your run. This jacket can be used during just about any run, with any outfit, and at any time with its reflective print and its elastic trim. Like other Nike running jackets, the Flash uses a rear vent to release trapped body heat.
Runner-Specific Hood
When you're running not only is the area around you changing but you're changing areas. People, street signs, cars, all of these things you encounter on a daily basis can equate to adverse risk should you run into one due to lack of visibility. The Shield Flash jacket has a runner-specific hood that won't impair your vision.
Media Pocket
Likely more common than an identification card nearly everyone carries a cell phone. This waterproof coat has a larger media pocket designed specifically to safely store valuable electronics.
Cost and Value
With a brand synonymous with the performance the Shield Flash running jacket lives up to its name. This extremely simple but well-constructed jacket's media pouch is a unique addition that provides easy access to your music. This jacket is priced about averagely compared to others on this list but superior construction gives it a superior value.

6

. Nike Plus Size Sportswear Windrunner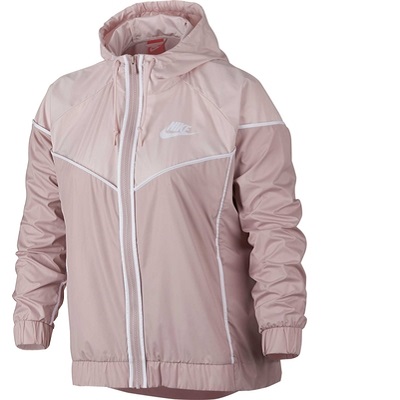 Out of the box thinking, was definitely used when Nike designed this running jacket. It's made with a sheer waterproof and windproof fabric that keeps you dry and harsh winds at bay while you run. For extra breathability, Nike combines vapor tech and strategic eye holes to keep the air inside your jacket circulating.
Windproof
Not very uncommon but a very welcome feature is this jackets windproof construction. With normal winds reaching up to 15 mph let alone adding your running wind many jackets would struggle to keep the wind from penetrating but the vapor cyclone holds its own.
Strategic Eyelets
Waterproof and windproof jackets come with their own specific challenges and drawbacks. The most prevalent issue is generally built up heat and moisture inside the jacket. For your comfort, Nike Added small eyelet openings that work in conjunction with the porous waterproof membrane that will allow heat and moisture to escape.
Cost and Value
The majority of the value of this jacket seems to come from the strategically placed eyelets. With a higher than average cost this jacket does seem the same task as others on this list but for a higher price.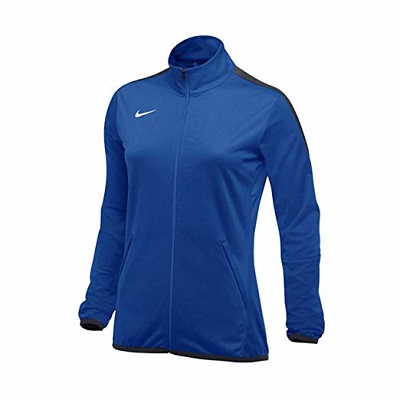 As a more form-fitting and go with the flow training styled jacket this Epic Training jacket is a solid contender in the Nike line-up. Like almost all other Nike jackets the Epic Training jacket is made of 100% polyester. This jacket has zippered pockets which add that desired extra bit of runners bounce protection.
Mock Neck
Your neck accounts for about five percent of body heat loss based on the skin surface. It also helps your brain to determine its reaction, keeping your neck warm while running on cooler days is critical. This jacket uses a mock neck that will help to insulate your neck and keep you feeling warm.
Mesh Side Panels
With the mock neck and thicker polyester fabric, you can quickly start to feel as though you were wearing a fabric oven. Instead of using their traditional rear vent Nike opted to use mesh side panels and they work well with this jacket.
Cost and Value
The most redeeming trait of this jacket is the very low cost. With the features, this jacket includes you wouldn't expect this kind of performance from a cheaper jacket giving it a higher than usual value. As one of the cheapest jackets on this list at the very least, it's well worth its lower price.



With the Impossibly light jacket, it's as though Nike was intending to make one of the best night time running jackets you could find. It would be better suited for a warmer climate as the materials are very thin and wind flows through it with ease. This breathability is extremely refreshing and will keep you quite cool through your run.
Reflective Materials
Running at night isn't generally fraught with peril, however low visibility is a risk of most environments. With the use of reflective linings on the sleeves, collar, and symbolic Nike swoosh you will be clearly outlined for passing drivers which could prove to be invaluable.
Compact Carrying Pouch
Almost unique amongst every other Nike jacket I reviewed was the addition of a carrying pouch. This pouch is extremely compact and has a convenient easy hold handle that will work wonders should you get a bit too toasty and need a reprieve.
Cost and Value
Considering all the tremendous benefits when choosing this jacket I was hard pressed to find any negative traits. While I did find two qualities I thought were less than ideal, as one of the lower priced jackets they are easily overlooked.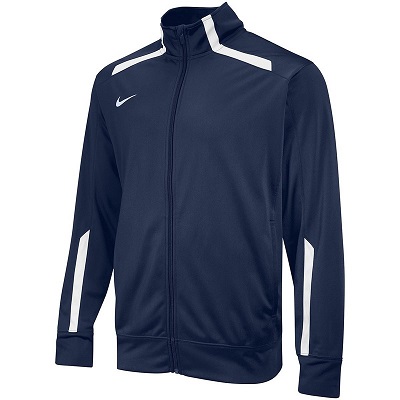 The Overtime Warm Up jacket that Nike produced has a more traditional feel and design. Reminiscent of those older track suits this jacket the use of modern materials and safety features make this jacket anything but.
Contrast Inserts
For your safety, Nike used contrast insets that will reflect light directly back to its origin and become glaringly visible. These insets are located on the collar, sleeves both front and back, as well as on the shoulders fully encompassing the outline of your torso.
Zipper Protective Guard
While it can generally be overlooked by many manufacturers any avid runner may have experienced the neck bite that is generally associated with turtle neck type running jackets. Nike implements a zipper guard that will prevent this bothersome pinching from occurring.
Cost and Value
As a more safety conscience jacket, the most valuable trait is the contrast insets. This small safety feature works like a charm and could save you from a terrible injury. The value is further amplified by the lower cost making this a well-rounded jacket.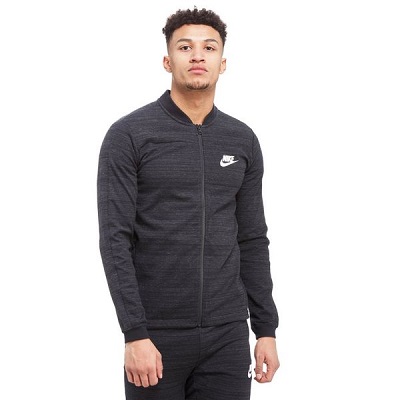 This interesting jacket took a left turn in development when it hit the materials section of Nike's production line. Unlike nearly every other Nike jacket I reviewed this jacket uses a polyester and cotton mixed fabric. The addition of cotton provides more breathability and a comforting fit.
Raglan Sleeves
A raglan sleeve is created when the fabric is extended diagonally in one piece from the underarm to the collarbone. This diagonal seam increases the mobility of your arms and is more anatomically correct than many other designs.
Breathable Fabric
The addition of cotton makes a generally low air permeable fabric like polyester more breathable. This makes a jacket with that fabric composition a great choice for any runner.
Cost and Value
The comfort provided compared to nearly every other running jacket on this list is far superior. This jacket is form fitting and provides a good amount of airflow. You would expect this kind of performance to be reflected in the price but as one of the cheapest jackets featured that isn't the case.

Subscribe to our Newsletter