Best Dog Agility Equipment Reviewed & Rated for Quality
last updated:
Mar 05, 2019
An agility kit gives the dog and their owner an introduction to the world of agility training. They have within them several basic obstacle courses one would find in a typical agility test or competition. They are easy to assemble and install. Items inside are usually made out of nylon or PVC and prices and range from very affordable, to somewhat expensive. A kit for your dog should normally include weave tunnels, poles, jumps, and tunnels, also including a pause box which enables him to get accustomed to the agility basics and improve.
In a Hurry? The test winner after 6 hrs of research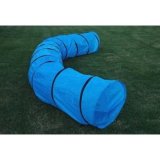 HDP 18-Ft. Open Tunnel
Why is it better?
AKC compliant
18 feet long with a 24 inch opening
Short stakes to prevent injury or scratches
Storage/carrying case is included
Easy assembly
In a
Hurry? Editors choice: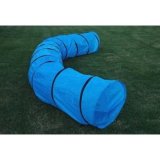 Test Winner: HDP 18-Ft. Open Tunnel

12
Researched Sources
33k
Total Readers
8k
Reviews Considered
6
Hours Researching
14
Products Evaluated
Value
Durability
Portability
Capacity
Water Resistance
By Default
10 Best Dog Agility Equipment
1

. HDP 18-Ft. Open Tunnel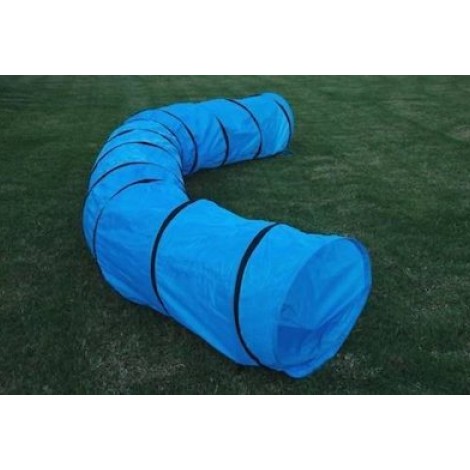 AKC compliant
18 feet long with a 24 inch opening
Short stakes to prevent injury or scratches
Storage/carrying case is included
Easy assembly
Fabric tears where the metal loops are
Stakes do not really keep tunnel in place
The first agility kit for dogs on the list is a product created by HDP. The HDP 18-ft, Dog Agility Training Open Tunnel; HDP is a fairly new producer of dog training equipment. This kit comes as a single tunnel with stakes (the stakes are short and on the outside of the tunnel, therefore, there is no danger of the stakes scratching or injuring your dog). It is the perfect fit for newcomers in the agility training practice due to its ease and little to no complications.
Pet Protection
This agility kit comes with a short stake design that prevents any scratches to your dog. This is an outstanding feature for inexperienced dogs as well as dog owners; because pet owners can be less concerned about potential injuries, and more in tune to the training their dog is receiving, as they become more accustomed to using this training equipment.
Build Quality
This agility kit is an 18-foot tunnel with openings at both ends. there are 7-inch stakes which serve as a support for the tunnel, these stakes are outside the tunnel and not visible or in any way impeding how your dog enters or exits the tunnel. This piece of agility training equipment can be collapsed easily; therefore, making it for excellent space management, and with the available carrying case that is included with the purchase of this agility kit, you can easily take this HDR 18-ft. Dog Agility Training Open Tunnel anywhere.
Cost and Value
This agility kit is number one in this buyer's guide for good reason. It is simple, made of quality materials, is AKC compliant, and stores easily in the handy carrying case that comes with it. The value of this agility kit far outweighs any monetary value; as you will soon discover when you see just how much enjoyment your dog is going to get out of this durable training tool.
2

. Cool Runners Weave Poles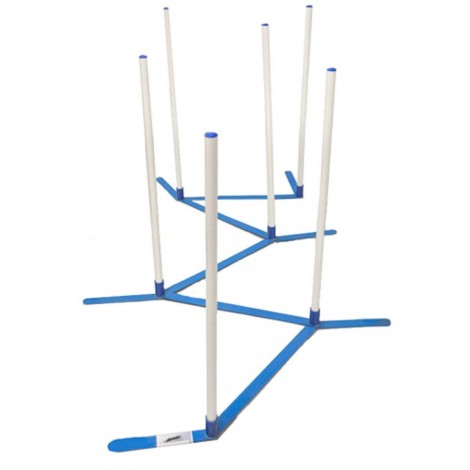 Completely adjustable
Easy assembly
Has multiple training motivations
All dog sizes can function within it
Lightweight/easy storage
Poles can be easily knocked down
Not recommended for larger dogs
These Agility Weave Poles by Cool Runners are adjustable and come in a set of six poles along with a carrying case. An excellent choice for beginners in agility training. The poles are adjustable, and can be adjusted according to how simple or complex you want the course to be for your dog.
Build Quality
The Cool Runners Agility Weave Poles agility is up to standard competition guidelines by having two foot centers. This kit is a great choice for beginners with thoughts of partaking in agility competitions. This agility kit can be set up in a matter of minutes and is very convenient to use.
Adjustability
The equipment comes with 6 poles, which are all fully adjustable. This especially helpful as you can make the course more complex as your pet gets more accustomed to it.
Paw-eye coordination is an important factor to consider and this equipment can have a straight or offset configuration, contributing to this in training.
Cost and Value
The Cool Runners - Agility Weave Poles, although rather easy to set up, might not be a great option for larger dogs. This is due to the poles being easy to fall upon contact. This prouct still is a perfect option for beginners. The value of this agility kit far outweighs any monetary value as you will soon discover from the very first time you set it up and allow your dog to use it.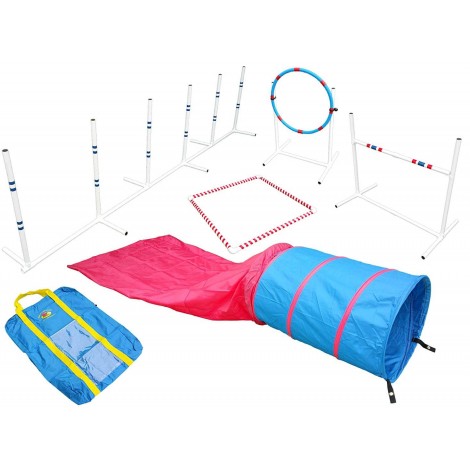 Has great build quality.
Great cost-to-value ratio
Quality Velcro attachments that do not easily wear down
Durable structure of equipments upon set-up
Options available due to multiple equipment
Maintenance can be quite stressful
Set up is quite stressing
This product is a dog training kit that has the reputation of Agility Inc. and its quality built products to back it. This affordable option is no exception with a clear projection of the high standards that Agility Inc. carries with the number of items present in the package.
Content
It comes with a number of equipment such as, free-standing bases, a weave-pole set, a tunnel, a chute, a tire jump, and hurdle jump, making 5 in total which make a somewhat professional stage when all put together. This is especially helpful for trainers with competition mindsets as they can get accustomed to what they would be expecting.
Adjustability
The kit contains multiple types of equipment making you able to drive your creativity to the extreme with composing various types of obstacle courses for your pet. This feature however great comes with mini issues as it can be quite stressful to fully set up all components of the kit. The kit however comes with a bag making it easy to store the pieces whenever you are done with training. This is especially helpful as it helps prevent misplacement of items.
Cost and Value
This kit is a must-have for professionals and neutral dog trainers as it guarantees the best possible results with the number of items made available. The various equipment presented in the kit can also be modified depending on preference and training regimes making for much needed multifunctional capabilities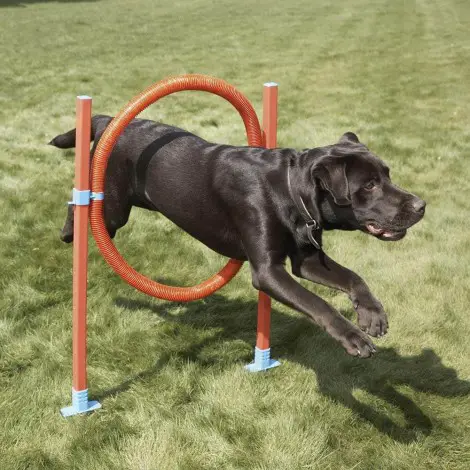 Simple to purchase
Ease of adjusting to preference
Effective for most dog sizes
Can be easily transported from place to place
The build can be underperforming
Various tasks are unusable
This product is targeted at the beginners market. The jump Hoop Dog Agility Equipment ranks this high as a result of a number of factors. The product is great for medium-sized dogs with the hoops stretching at substantial lengths and consisting of 6 pillars for support.
Adjustable Hoops
The dog training kit comprises of durable adjustable hoops and sturdy pillars crafted from sturdy materials to serve as support. The pillars are very efficient in terms of support as they prevent against knockdowns during training sessions. Transporting is also made easy due to the provision of a bag.
Adjustability
The ability to adjust your dog training equipment is often overlooked in terms of benefits you derive from products which offer this feature. This training kit offers this important feature and as result makes provision for dogs of all sizes.
Cost and Value
As a starter kit, the Lixit Jump Hoop Dog Agility Starter Equipment is a great buy due to its easy adjustments, storage, and mobility. However, when looked at in the angle of depth, it falls short due to less equipment present, but at its pr,ice in the market it is a steal.
5

. Affordable agility Jump Set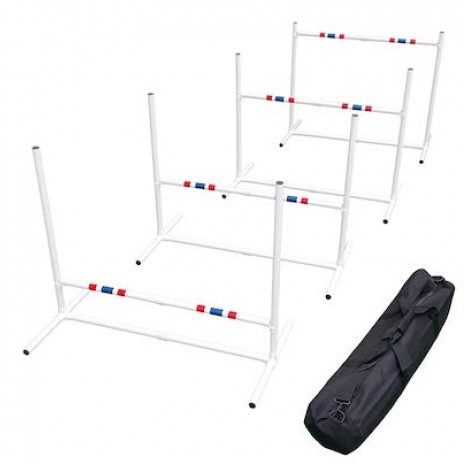 Can be used for most dog sizes
Lightweight structure for convenience
Can be moved about easily
Premium constructions for lasting durability
Affordably priced
Only effective at jump training
Dogs can easily brush it over
As the name implies this dog agility training kit is centered on improving the jump power of your dog. These training kits consist of four portable adjustable jumps weighing in at about fourteen pounds all together. This kit is multifunctional in that it can be used for indoor and outdoor training making it the best companion to have around with you along with your pet dog.
Portable
With this set of adjustable jumps, you can get your dog training wherever you go. The set of four only weighs 14 pounds making it easy to carry with you to the park or any other place you go with your dog.
Additional Features
The kit comes with some noteworthy. These are not only great additions for the dog but also for you. The first is the fact that the kit comes with a strong bag that makes it easy for you to transport and store the jump set. Also included is a vinyl tape that you can use to make the sticks more attractive and easily noticeable by the pet as you train.
Cost and Value
The Travel jump kit is a bargain at its price with the great build quality and ability to be easily transported as it comes with a bag storage. The product is highly beneficial to both new and experienced trainers and has a storage bag included.
6

. Blue-9 Pet Products - The Klimb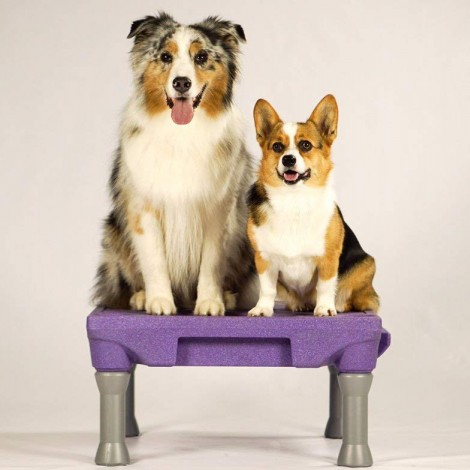 Very easy to operate due to structure
Easy to re-position because it is lightweight
Lasting durability due to its premium structure
Training regimen can be easily adjusted
Asking price makes this an easily accessible product
Legs of this product can become rusty with time
Directed at less common training practices
The Klimb from Blue-nine pet products falls a little down the pecking order to six on our ranking of the top Dog agility training equipment and this is mainly due to it serving a singular as stated about the fifth on the ranking as well.
Notwithstanding setting your eyes on the Klimb would definitely have you understanding Blue-9 pet products attention to detail when crafting this climb training equipment.
Comfortable for Your Dog
This training platform has a few advanced features that set it above the rest. The QuickKonnect features makes setting up the platform easy and quick so your pet can start having fun sooner. The top surface has a soft touch coating that is comfortable and pleasant for your dog. It makes the table the perfect place for your pet to be.
Durable
You have to be concerned about how long the platform will last. After all, you don't want to be spending the same amount every few weeks for a new platform. Lucky for you, you won't have to. The agility table is made from highly durable and weather resistant materials and is UV protected. The table is also completed washable and made from molding for a tough and strong finish.
Cost and Value
Our conclusion is quite direct. Are you in need of a kit that great at dog climbing training and that can easily be transported? Then the Klimb is a great choice due to its sturdy build quality and lightweight and also great for beginners.
7

. Dog Agility Shop Complete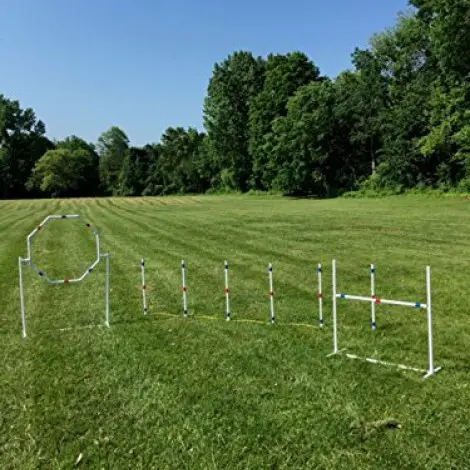 Very easy to set up and disassemble
Instructional manual is present
Premium constructions makes it built to last
Meets up to multifunctional needs
Three obstacles are available at same low price
Does not always suit the needs of a professional dog trainer
Durability does not meet expectations
The Dog Agility Equipment Complete Package comes with a single bar jump, Octagon Hoop Jump, weave poles with a spacer included. That amounts to about four equipment in various numbers which you can work on your dog with and yield positive fitness results on major sections. This product is especially helpful when stuck between getting an all-around agility training kit while looking to spend much as you would originally be required to.
Versatile
Unlike most dog agility equipment kits that come with one option, this one comes with three. You get one bar jump, an octagon hoop and six weave poles with a spacer. It is the perfect kit for more advanced dogs that would enjoy a more complex series of agility training.
Fully Adjustable
The kit grows with your dog. It is adjustable from 4" to 32" ensuring that your pet always has a new challenge that they can take on as they grow and improve on their agility. It is also worth noting that the setup is easily collapsible and just as easy to set it up again.
Cost and Value
The Dog Agility Equipment Complete Package is great for fun as is a great choice when looking to spend ample time with family and your best friend altogether. It's still worth taking a look at if you are in need of a great package that consists of numerous agility training equipment even though it doesn't meet competition standards.
8

. Pacific Play Tent Chute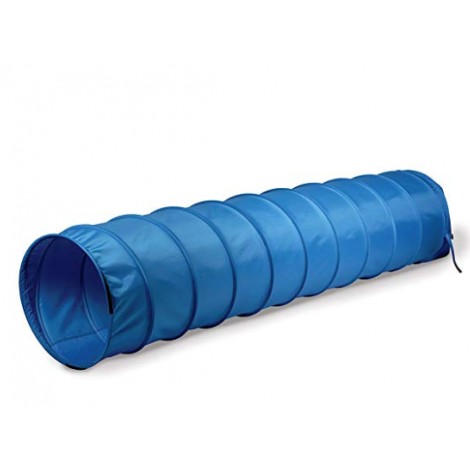 Structure makes for simple operation
Materials are weather resistant
Easy to set up the structure
Appears very sturdy and durable
Appears very sturdy and durable
Side to side movement frightens dogs
Ideal for horizontal movement only
A great agility kit for your dog does not always have to include weave sticks and jumping set ups. This is especially the case of smaller dogs that are not fond of jumping. This chute is a great choice for pet owners with small dogs and lack enough storage. The tunnel is collapsible and easy to store and comes with a hardened heavy duty spring steel wire that keeps the structure in place as you and your dog are having fun. It is a great tool to build muscle and motor skills in your pet.
Materials
The agility tunnel is made from high-quality materials. The canvas is made from polyester Dacron making it ideal for outdoor and indoor use. The material also makes the chute easy to clean only requiring a damp cloth and mild soap to keep in clean and remove any build-up of dirt. The ribs are made from high quality and heavy-duty spring steel wire for longevity and also to keep the structure from collapsing during playtime guaranteeing comfort and safety for your pet.
Size
The size of the chute is quite commendable. During playtime, the extended chute measures up to nine feet providing plenty of playing space for your dog to run around and have some fun. It is 22 inches wide so it is not too narrow that it poses problems for your pet and too wide that it is no challenge for your pet. When you want to put it away, you can easily fold the chute together and use the Velcro straps to hold it in place. It is a quick and simple process.
Cost and Value
The Pacific Play Tent Institutional Agility Dog Training chute is a great addition to every pet owner that doesn't want to spend a fortune one their dog but at the same time, you want quality and effective kits that will improve the conditioning of you dog. It is affordable, reasonable priced and well worth the cost.
9

. Lord Anson Hurdle Cone Set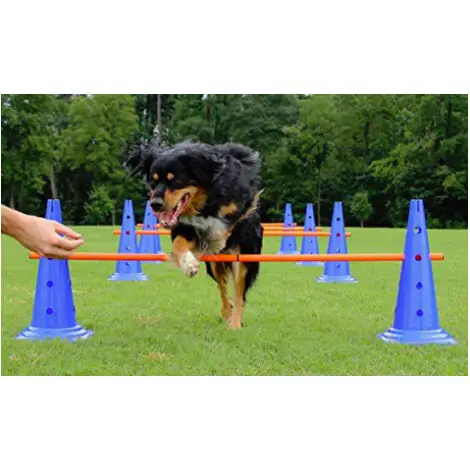 Multiple height variations
Usable for long training periods
Excellent quality, built to last
Lightweight and can be easily re-positioned
The price is not budget-friendly
No available modifications
Having an adjustable and high-quality dog agility training kit is one of the best decisions you can make. Made and tested by a team of experienced dog lovers, this agility kit puts into context everything your dog needs for a healthy and long life. The cones are made from heavy-duty plastic and the agility rods are long for more diverse training. The kit is highly adjustable to meet the different levels of training required for your dog and the cones come with four different holes for placement for different jumping heights. The height of the jumping pole can be adjusted from 5" to 17".
Diverse
There is a lot you can achieve by using this agility kit to train your dog. It can help to rehabilitate an injury improving communication between you and your dog or even just having fun, this kit will come in handy in helping you achieve all these. The easy and quick set up will save you time and allow you to have more training time with your pet.
Adjustable
Just like human beings, training a dog requires different levels of difficulty. If the kit you choose to buy does not offer enough challenge, the agility of your dog will be limited and the routine might become boring very quickly. The LORD ANSON kit is highly adjustable and offers a variety of increasingly difficult challenges that will keep your dog busy for a long period of time.
Cost and Value
The kit does not come cheap. However, comparing the price, the equipment and the quality of the kit, it is fair to say the price is reasonable. It is also worth noting that it is a kit that you can easily use for some time which will save you money since you don't have to make upgrades any times soon.
10

. Weave Poles Beginners Bundle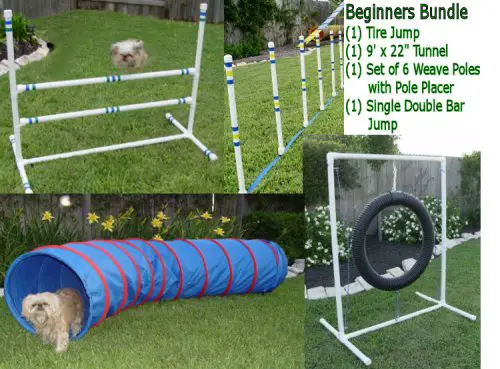 Can be set up virtually anywhere
Multifunctional
Excellent quality of construction for lasting durability
Very sturdy equipment
Storage bag available
Relatively bulky
Not professional standard for the price you pay
This agility training kit provides you with a number of items for you to choose from. The kit comprises of a tire jump, Single jump, a set six weave poles with a pole lacer and agility tunnel but this all comes with a hefty fee. The weave poles Dog Agility Training Kit can be set up just about anywhere with sufficient space and with it being constructed from durable materials, it is very long lasting. This kit falls down the pecking order due to availability and its relatively high price tag but if those aren't an issue and you are in need of an intermediate kit that can do just about a little bit of anything? Then we strongly recommend this to you.
Adjustable
Depending on the strength of your dog and the level of training, the jump can be adjusted from 4" to full AKC regulation height. This makes this kit a great addition to your backyard especially if you're taking the agility training of your pet seriously. The Weave pole and pole placer are also AKC regulation size.
Lightweight and Durable
the tunnel, jumper and weave poles are lightweight which makes them easy to set up and move from one place to the next. Despite the different sets being lightweight, they are incredibly durable and will easily stand up to the harsh weather. Other than the jump tire, all the other sets are made from high-grade PVC to give the set a nice finish and durability to last over a long period.
Cost and Value
The weave poles training kit offers a lot to be appreciated for, but all with a very prices tag and with the addition of the freight duties due to its bulky nature gives us second thoughts as we believe it should offer more for its price.
Criteria Used for Evaluation

Value
Value is a major factor to be considered when purchasing any product and dog agility training kits are no exemption. It is essential to take into account the relevance the kit would have, as well as what you would be getting for any price in relation to other competitive products.
We took into account that brands often have various prices of their products as a result of prestige or quality and after a very thorough selection process we carefully picked what agility training equipment are worth what they are being priced at in the market.

Portability
Another factor we took into account is how easily it is to disassemble if applicable and easily store the training equipment.
Dog agility training kits often consist of one or a number of equipment depending on what the package entails. The ease of disassembling might seem unnecessary but would definitely be appreciated most when you are in a hurry due to rain or a number of other personal factors.
Some kits come with multiple pieces of equipment while others with other with singular components. Its best to maximize as much available to you as possible and we took into account how the various equipment better facilitate that process.

Capacity
It's also important to take account what the package you are going for contains in purchasing any dog agility training equipment. We also took this factor into consideration when ranking as a result of some packages containing more equipments than others even though they fall within the same price range.
Depending on what you are looking its best to go for the best offer at your disposal and with our list we hope to aid you as best as we can.

Water Resistance
We also took into account how the products react to water exposure. This was viewed due to the understanding that most agility training equipment are often used outdoors and need recoupling after use.
In the advent of any rainfall, it would be great knowing you can simply take cover and leave the agility kits in the rain with a calm mind.

Durability
Any time you buy anything for your dog, you want to ensure that it is build stable and durable. Dog's like to play rough, particularly the medium to larger-sized dogs. If their play equipment is not strong, it can be destroyed rather quickly. Therefore, when you purchase an agility kit for your dog, you want to ensure that it is made of quality material, double check the quality of material that is used to make the kit. How well are the seams of any material sewn together? What kind of metal is used to make the poles? Also, if there are any stakes used to hold down the kit, you want to assure these stakes are not sticking out of the ground, posing a threat for injury to your pet.
Expert Interviews & Opinions
Most Important Criteria
(According to our experts opinion)
Experts Opinion
Editors Opinion
Users Opinion
By Default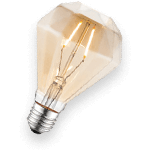 Benefits of Agility Training
When most of us think about the term 'dog agility training', we're flooded with images of floofy and primped up show dogs on television making their way through obstacles while their owners cheer them on. While these pooches are definitely no stranger to the sport of agility, all dogs can actually benefit from incorporating some of these exercises into their regimen. Training in this way will encourage your dog's natural instincts and will help fulfill some of those hunting and chasing desires your dog daydreams about (without the actual hunting part). Agility training is great exercise not only for your dog but for you as an owner as well. Training with your dog in this way will not only strengthen both of your bones and muscles, it will help to strength your relationship as well. Your dog will look to you for instructions and learn to trust you even more than they already do.
When To Start
It is advisable you start as soon as possible with basic obedience such as sit, stay, come, and lay down and once your dog is older like say 2 years old then you can begin agility training by simply attending training classes in your area.
Other Factors to Consider

Ease of Use
Ease of use is a factor you must consider when purchasing any products and Dog Training Agility Kits are no exception. It best advisable you read up and get a kit you would have no
issue coupling together as a number of them provides little to no instructions on how to go about setting them up.
It is essential you get a kit you'll have no issue putting together as any stressful kit can cause of a loss of interest in the long run and may do more harm than good.

Weight
Weight is another factor to consider a number of aspects. The weight of the kits determines the level of strain you would require when looking to transport it. Most individuals have this as a paramount mind-set as no one wants any discomfort.
You also have to consider the weight of the kit in terms of how shipping fees as a more bulky
kit would result in more charges than a smaller one, another factor to really
consider.

Brand
The brand is also another factor to take into consideration as products from reputable brands
often yield the best results. This intuition is no new one as a reputable brand would have undergone a series of R&D and have experience of maximizing production efficiency as much as possible then a newcomer in the operation.
This is the scenario in most cases with only little exceptions, but regardless the safest way of going about product selection is looking into the various brands.

Flexibility
The ability of your kit to meet multiple needs is another factor that all prospective customers look into. How many purposes can it serve? Is the factor to be considered here as a multifunctional product would offer you more flexibility option as opposed to a single function equipment?
This, in turn, corrects the issue of having to purchase another product in the near future which can be really discomforting to people. For this reason, it is essential to have it at the back of your mind to consider flexibility no matter the product.
Dog agility training kits should not only effectively train your dog but also not inconvenience owners in the process and we took all into account to provide you our list of what we perceive to be the top of the line kit's you should consider going for.
Frequently Asked Questions
q:

Is agility equipment a must have for all canine owners?

a:

Dog agility equipment is kits built to help improve a lot of aspects of your pet's life. They improve physical fitness, health, and various countless others. A must have? No. but a great means to bond and train your pet? Definitely.
q:

Is this equipment also usable for other pets?

a:

Dog agility equipment is built in relation to dog abilities and body build. You can use the kit for other animals such as a pet cat and so on but dogs with their agile and responsive nature yield the best possible results from using Dog agility kits.
q:

How often do I have to clean my equipment?

a:

It is essential to clean your kit as regular as possible due to stains which may originate from usage. A clean equipment would last longer and remain in great shape as opposed to one rarely taken care of. The kit often comprises of steel which can easily rust if no attention is paid to it.
q:

What exactly are these kits?

a:

Most dog owners look for a number of means to ensure that their dogs are as fit as possible. This process often results in road walks and morning jug practices. There are also a number of other kits in the market presently that assist in achieving Dog fitness but none other than Dog agility kits. These kits comprise of jump overs, tunnels cones and so of which can be molded into an obstacle course for your dogs to complete.
q:

How do I select the best among all of these products?

a:

This all balls down to individual preference and what you believe your dog needs improvement on. The training kits are broken down into sections of beginner, intermediate and professional. You can choose according to your perception and if you have a particular training you would like to undergo with your dog, you can simply purchase the more direct kits.
Subscribe to our Newsletter