Best Curry Combs Reviewed & Rated for Quality
In a Hurry? Editors choice: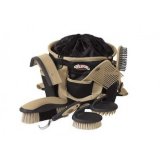 Test Winner: Weaver Leather Grooming Kit

Grooming is a critical part of your horse's health and wellbeing.
When you groom them
, you can check for any underlying issues that the horse might be having. The more often you groom, the quicker you will spot things if they are not okay. Grooming is also a great excuse for you to massage your horse, which
helps to promote blood flow
. Your horse deserves the best that you can give them. So, we have compiled a list of the ten best curry combs currently in the market.
Standout Picks
Criteria Used for Evaluation
Materials
Curry combs come in a variety of different materials. The main ones at metal, rubber, curry mitts, jelly mitts, synthetic, and specialty curry combs. All of these have different advantages and disadvantages.
Metal
The metal curry comb does not have any flexibility, nor is it very forgiving, which results in being quite painful for sensitive horses. So, even if your horse is one of the few that do like it, it would be best to avoid using metal curry combs over bony areas. These areas include stifle joints, below the elbow, hips and shoulder areas.
Metal curry combs are best used to scrape dried sweat and hair from western saddle pads. They are also great for scaping your bushes to get rid of dirt and hair. They can mostly be seen in two styles, which are the shedding tool style and the traditional curry style. Both of these are fairly interchangeable combs.
Rubber
The rubber curry combs are a great general workhorse. They can be found in all different depths, sizes, and colors. They can also vary greatly in flexibility - only your horse can tell you which one they prefer.
The stiff and deep ones are great for finding that 'spot'. Those that have an extra deep design allow you to get more dirt collected. However, these types of styles are not recommended for legs, ears, and faces.
Curry Mitts
If you have a sensitive horse, then curry mitts will be the way to go. They are also great for sensitive areas, like the lower legs, belly, and face. They are also foldable, so you can really get in the tighter spots.
Jelly Mitts
These, similar to the curry mitts, are also quite versatile. They have different pimples on each side, therefore they can be folded up. The nubs are already great for loosening the hair on the saddle pads.
Speciality
These can range in design, texture, shape, and color. Though they are still curry combs, there more designed to bring up the dirt and dander.
Comfort
As horses are larger animals, it is inevitable that you will spend quite some time grooming each horse. Of course, this depends on the length of the mane and tail as well as the thickness of the coat too. Many individuals need at least an hour to properly groom just one of their horses, which means that you will end up spending a fair bit of time holding the brush. If your brush does not have a comfortable handle, then you are not going want to hold it for any length of time. With that, then you are likely to rush through the grooming sessions, which will disadvantage your horse. This could lead to some discomfort and irritability for the horse.
For this reason, you'll need to and want to make sure that you have a horse brush that's comfortable for you to hold on to when you're grooming your horse. There are many inexpensive those brushes that have handles made of plastic or wood. Both materials are quite hard, therefore don't have a lot of squeeze in them.
If you're wanting high-quality horse brushes, then you should keep an eye out for brushes that have padded handles. For example, many brands have brushes that have a rubber coating or even massage bumps built directly onto the handle. This will ensure your comfortability while you groom your horse.
Ease of Use
You will discover that each curry comb is not made equal. There are certain parts that some combs have that others do not. Some of these features are what make the curry comb easy to use, including the handles. Most curry combs have handles. Some can have actual handles while others choose to have straps for you to place your hand into.
Handles allow you to easily hold the comb while you gently massage it onto your horse. Without them, it would mean an awkward angle at which you would have to hold the curry comb. In addition to that, if you are uncomfortable, it is possible that your horse is also uncomfortable. Therefore, it is important to look at handles that have some sort of padding or cushion in there for you to be able to comb your horse with ease.
Flexibility
The type of bristles and the materials used to make the curry comb will determine its flexibility. In terms of the bristles, you will generally have a choice between metal, synthetic, and natural bristles. Each of those has a different feel. Curry combs mostly either come in synthetic, plastic, or metal bristles.
Plastic bristles tend to be stiffer than natural fiber ones. If your horse loves to feel scratched, then it is recommended for you to use plastic bristles. Metal bristles often come with little balls on each bristle so that they protect the skin from the metal ends. These types of bristles are great for removing tangles and knots.
Size
There are times when you need a smaller comb and other times when you need a larger curry comb. Where you are grooming your horse, will help to determine how big of a brush you need for that area. For example, when you are combing out the body of the horse, you can easily use a larger sized option to make the process a bit quicker for you.
But, on the smaller parts and the tighter parts, you will want to use a small-sized product to fully be able to get out all the tangles and knots. Small combs will also allow a more detailed groom, while the bigger curry combs offer more surface area for a faster grooming session.
10 Best Curry Combs
1

. Weaver Leather Grooming Kit


If you're a beginner, then this 7-Piece Weaver Leather Grooming Kit is the ideal option for you. It features all the seven essential pieces enclosed in a durable nylon tote bag. The bag makes it easy for you to organize and carry your tools around with you.
All Rounder Kit
The kit includes a number of great tools that you will find handy when it comes time to groom your horse. An example of a few of these tools include a curry comb (obviously), a face brush that has super soft bristles and a mane and tail brush.
Handy Tote
The included nylon bag features a padded adjustable shoulder strap, comfortable webbing handles, flexible retaining strap, plastic feet, top drawstring closure, wire-reinforced top, and six exterior pockets.
Cost and Value
The Weaver Leather Grooming Kit is the second most expensive item on our list. However, as it comes with seven pieces of equipment, it makes it the best value starter kit to cover all your horse care needs.

2

. Oster ECS Mane and Tail Brush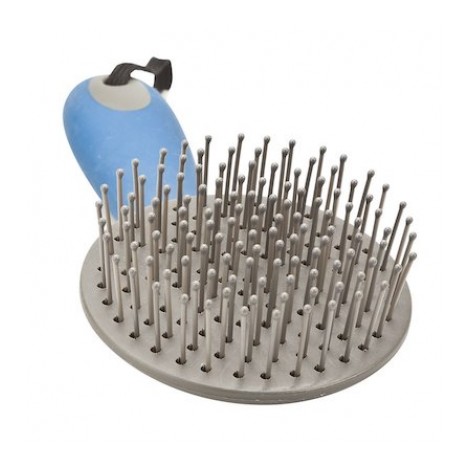 The Oster ECS Mane and Tail Brush is great for removing tangles and knots without breaking your horse's hair. It's designed to be small enough to handle easily, but big enough to get the job done properly.
Ergonomic Handle
The brush features a comfortable, ergonomic handles with an improved grip. The design helps with multi-directional brushing. You can easily remove tangles and knots without breaking any hairs.
Ball-Tipped Pins
Though the bristles are metal, they are ball-tipped to ensure gentle brushing. It also has a rubber control-touch handle that adds comfort and grip. The multi-directional brushing ensures easy brushing.
Cost and Value
The Oster ECS Mane and Tail Brush has the sixth lowest price (fourth highest price) on our list. It is available in two colors, pink and blue and helps to remove your horses' knots and tangles easily.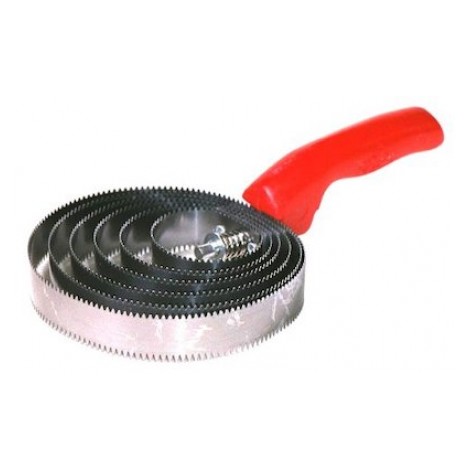 If you're looking for a large curry comb, then the Decker Jumbo Spring Currey Com 31-J is the best option for you. In fact, it can compare 40% more surface area than other, normal sized models. It's made of flexible, strong, corrosion resistant stainless steel. The curry comb is great for eliminating tangles. It can even double as a de-shedding tool.
Solid Construction
The jumbo combo is made of high-quality stainless steel, that is strong, flexible, and corrosion resistant. It won't break or bend as the single spiral enhances the structure and ensures its longevity.
Versatile Use
The jumbo spring curry is suitable for larger and smaller breeds. It's great for removing all tangles and knots that might be present on your horse.
Cost and Value
The Decker Jumbo Spring Curry Comb is the midrange product on our list at being the fifth cheapest/expensive product. It does offer you more bang for your buck with the increase surface area so it doesn't make up its price with its value.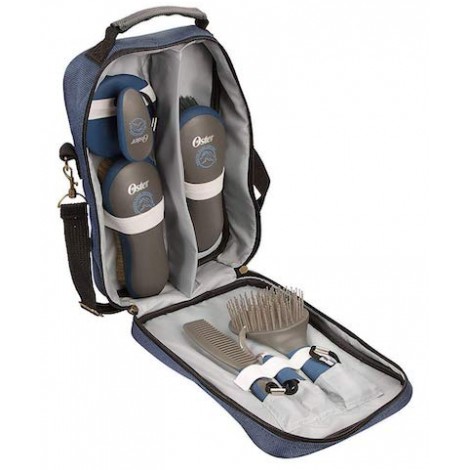 For a handy storage bag filled with all the necessary equipment for grooming your horse, the Oster Equine Car Series 7-Piece Grooming Kit has it all. It includes a hoof pick, mane and tail brush, mane and tail comb, coarse curry comb, soft finishing brush, and stiff grooming brush. All of those come neatly packed in a durable storage case.
Durable Storage Case
The included storage case of the Oster Equine Care Grooming Kit has separate slots for all the grooming pieces for your convenience. It helps to keep the kit organized and accessible. It's also great at allowing you to travel with your grooming tools easily, without having to remember to pack all the individual items.
Rubber Comfort Handles
All the pieces of this kit have rubber control-touch handles that ensure you have the maximum amount of comfort possible while you groom your horse. The handle also ensures that you have a better grip regardless of the size of your hand.
Cost and Value
The Oster Equine Care Series 7-Piece Grooming Kit is the most expensive item on our list. However, it is built with superior quality and includes 7 tools for all your grooming needs, to ensure that it still makes up for the high price of this item.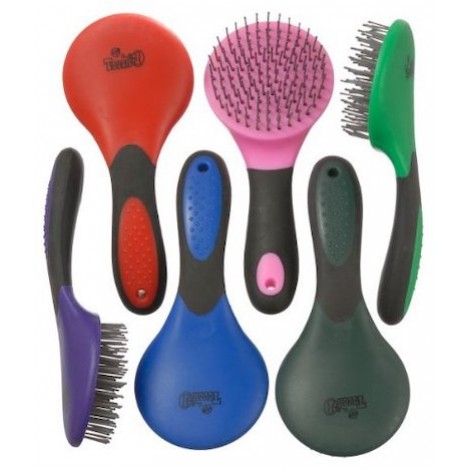 Tough 1's Great Grip Mane and Tail Brush is a great ergonomic massaging brush that easily takes the tangles out of your horse's hair. You simply need to start from the bottom and work your way upwards - pulling out any pieces of hay, grass, or other matters.
Ergonomically Correct
This Tough 1 brush is designed to be ergonomically correct to make it easier for you and your horse as you gently massage your horse. It gently works its way in to remove all the tangles from their hair.
Wide Comb Teeth
This brush is specially designed to ensure that it is a perfect fit in your hands. It also features wide comb teeth that help to avoid any excessive tugging or pulling.
Cost and Value
The Tough 1 Great Grip Mane and Tail Brush is the third cheapest item on our list of the top ten curry combs. It's a great choice for getting through the horse fast but still managing to be gentle.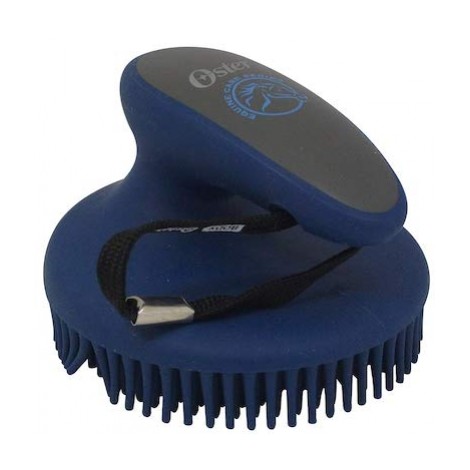 The Oster ECS Fine Curry Comb is a densely packed rubber comb that gives your horse a gentle massage while also loosening the dirt. It's specially designed for sensitive areas, like the legs and face of the horse. It comes in two color choices, which are blue and pink.
Designed For Sensitive Areas
Oster's Fine Curry Comb is great on all parts of the horse, even the more sensitive sections, like the face and legs. It'll make the grooming of your horse enjoyable to the handler and the horse.
Easy Grip Handle
This product has a rubber control-touch handle that ensures a better grip and added comfort. The innovative design of the handle ensures that it'll fit all hand sizes.
Cost and Value
The Oster ECS Fine Curry Comb is the third most expensive product on our list. This doesn't mean that it's overly expensive - but, just that it is one of the higher priced products on our list. It does have fine bristles that allow it to work faster.

7

. Tough 1 Great Grip Spring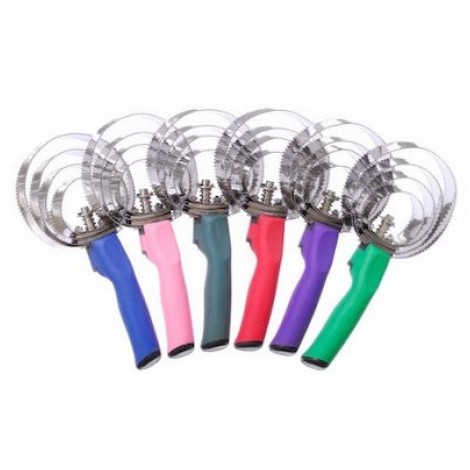 The Tough 1 Great Grip Spring Curry is an ergonomically designed, soft handled curry comb. It features a reversible spring curry with a smoother side and a sharper side. It even comes in five different color options, including royal blue, purple, red, pink, and neon green.
Reversible Spring Curry
This option is designed to be reversible. One of its sides is smooth, that's intended for everyday use. The other side is sharper, which is intended for really tough hair and mud.
Ideal For Shedding Season
This is a great tool to have during shedding season and it even works great on muddy horses. If you're looking for a go-to tool when seasons change, then the Tough 1 Great Grip Spring Curry is the ideal choice.
Cost and Value
The Tough 1 Great Grip Spring Curry is the fourth cheapest product on our list. As it comes in five different colors, you can pick and choose whichever one you like better - rather than just having a traditional black or silver one.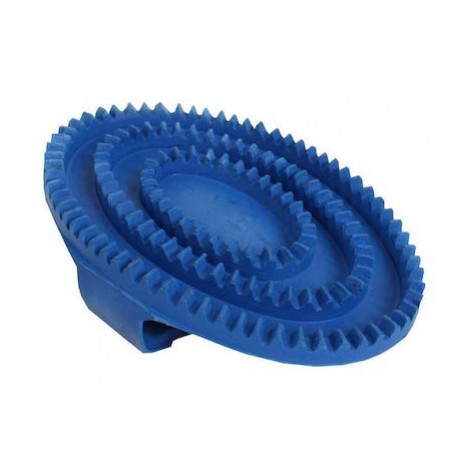 The Roma Glitter Curry Comb is made of high-quality and durable materials. They work great at getting the mud off horses, but they are also great for your short-haired dogs. They are smaller than other models, but the glitter does make them look a bit prettier than other traditional options.
Flexible Construction
This product is made out of a soft plastic, which means that it's more moldable and bendable, allowing you to get into all the nooks and crannies of your horse.
Compact Size
This option is sized smaller than a lot of other models in the market, but it's compact enough to allow it to be used on horses, donkeys, and dogs alike. Therefore, allowing you a multi-animal use product.
Cost and Value
The Roma Glitter Curry Comb is the second cheapest item on our list. It offers users with use on various animals, while still being flexible and sturdy enough to get stubborn dirt out.

9

. Intrepid International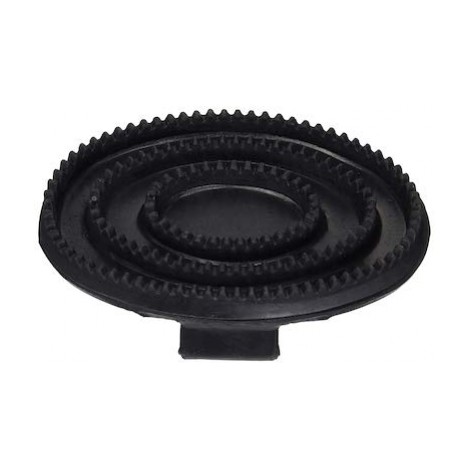 The Intrepid International Large Rubber Curry is a practical option. It's great for scrubbing off loose hair and mud, while also being great for cleaning brush bristles. It comes in five colors, which are green, blue, red, purple, and black. If your horse doesn't quite like hard bristle brushes, then this Intrepid International one is a great option.
Decently Sized
This large rubber curry is actually larger than it's advertised at 4 inches x 6 inches. For larger animals, like horses, this allows you to cover more surface area quicker.
Versatile Use
This product can be used with various different animals, from dogs to donkeys to horses. It can suit them all.
Cost and Value
The Intrepid International Large Rubber Curry is the cheapest item on our list. With its size and quality/firmness of bristles - it can support a large variety of animals, making it worth the price it's set at.

10

. Derby Premium Comfort Kit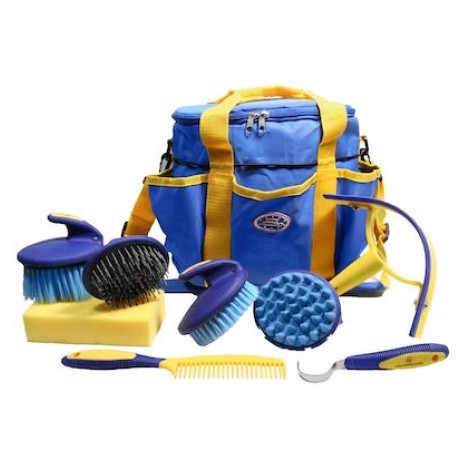 The Derby Premium Comfort 9 Item Grooming Kit contains all the items that you need to groom your horse. The kit includes a bathing sponge, contoured sweat scraper, round-back, soft brush, round-backed hard brush, round back massage curry, super grip mane, and tail comb, and super grip hoof pick.
Beginner Friendly
The Derby Premium kit is great whether it's your first set of horse grooming tools or you're just looking to add to your existing collection.
Sizeable Bag
The bag included features zips to allow you to fully enclose all your tools inside. That way you won't have to worry about any tools fall out and getting lost.
Cost and Value
This kit is the second most expensive product on our list. However, as it is the biggest kit on our list, it does make up for the price that it's set at.

Subscribe to our Newsletter