Best Cat Scratching Posts Reviewed & Rated for Quality
In a Hurry? Editors choice: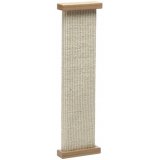 Test Winner: SmartCat

Cats make a great pet. They have multiple therapeutic benefits, but you definitely want to make sure you help your cat as much as it is helping you. Sometimes, your cat might not require so much maintenance to stay happy and healthy. However, other times, keeping your cats happy may not always be such an easy task for you. Different cats tend to like different types of toys and activities. Some cats love to climb, some cats love to hide and most cats like scratching up all your couches and chairs. Check out our top ten list of cat scratching posts to save your furniture and keep your cat both healthy and happy.
Standout Picks
Criteria Used for Evaluation
Effectiveness
The whole point of a cat scratching post is to keep your cat happy. However, if your cat still prefers your scratches to the post, then the post was probably a waste of your money. Therefore, you want to make sure that you have a cat scratching post that keeps your cats happy. Different materials will suit the preferences of your cat. Many cats like sisal fibers because they are designed to be attractive to your cat. They are also generally very good for the cat's claws. The rough material is good for shedding the outer dead layer on the claws, so many cats tend to love the feel of it. Some cats, however, may prefer different materials. They may tend to get their paws stuck in certain designs; you want to find a material that is good for your cat's paws. If your cat likes something softer than sisal, then you may want to go for a carpeted cat scratcher.
A carpet usually does not last as long as sisal fibers, but it is great for cats who do not necessarily like the rough feeling of the sisal. The right material alone is obviously not always going to be enough to keep your cat happy. The best cat scratching posts also need to be sturdy. Otherwise, your rambunctious kitty might accidentally knock it over and get too scared to go back to it. It also helps if they fit in a location around where your cat likes to hang out. Good cat scratchers will be a practical size. They will be the right weight to prevent tipping, but also light enough that you can move them from room to room, depending on your cat's needs. Eventually, you will probably find a good location that suits your cat. However, when you first get your cat scratching post, it will be a learning experience for both you and your cat.
Size
Cat scratching posts come in all different sizes. If your cat likes to stretch out and climb as it scratches, then you want a relatively tall post. The taller the post, the easier it will be to knock over unless the base is sufficiently sturdy and heavy. All the best cat scratching posts will not fall over that easily. Therefore, if you want a good lightweight post, then you will have to consider getting a post that is a little too small for your big cat. Smaller cats probably will not need such a big cat scratching post, but larger posts still might be convenient if they like to climb around. If you think a bigger post is good for you, then remember that bigger ones can be slightly more expensive. If you do not have space for even a small post, then there are some models that will save you a little bit of space.
You can get a wall-mounted cat scratching post, which just goes up against your wall. It is usually sturdy because it uses your wall for extra support if the shape and the design work well with your wall. A wall-mounted post might even be big enough for larger cats that like to stretch. You can also try out a couch corner post, which attaches to the corner of your couch. It can hide already existing scratch marks on your furniture, and it is great if your cat really will not leave your couch alone. Additionally, it will save a lot of space, but it is only really going to be as big as your couch, so it may not be perfect if your big cat likes to stretch while scratching.
Features
Plenty of cat scratching posts come with features besides simply possessing a pole that your cat likes to scratch. Some have both carpeted and sisal regions if your cat likes both the soft carpet the resembles your furniture and the rough sisal that is healthy for its nails. The carpet material and sisal fiber combination are also great if you are not yet sure what your cat's preferences are. A combination post is a great way to figure out what exactly your cat is going to like. Another important additional feature is a bed. Lots of cats like resting on top of their scratching post.
Therefore, lots of great posts come with a bed on top that your cat will love. It is an added bonus if you can sometimes remove this bed for when your cat is not in the mood to climb. Removal bed is also beneficial because they are easier to clean. If your cat is more of the playful type, then you can find a post with a toy on top instead. Most of the good toys will be a plush ball attached to a string or spring, but other shapes are also available if you think your cat may have other preferences. Since toys are relatively easy to break, some of the better cat scratching posts will come with more than one toy on top so that your cat can stay entertained for as long as possible. Some of the good cat scratching posts will also come with a toy near the base as well if your small cat is not so into climbing to the top of the post.
Durability
Cat scratching posts are designed not to be torn apart the second your cat tries out its paws. However, nothing that is taking so much rough scratching is going to last forever. Still, you definitely want it to last a long time because you do not want your cat to eventually go back to scratching your sofa. Therefore, durability is definitely important. You do not want your post to break if it ever falls over, which is why the best cat scratching posts are going to be specifically designed with a sturdy base that can withstand climbing and rough scratching, even from the biggest cats. The material of the actual post is also going to make a difference because some materials are going to more durable than others. Sisal fibers, for example, tend to last a relatively long time.
Carpet, on the other hand, gets torn apart quickly. You also will have to vacuum up all the carpet fibers that your cat leaves behind on the floor near the post. The carpets on the best cat scratching posts are going to be of high quality, so they will still last you a decent amount of time. However, in terms of durability, sisal is definitely going to be your best bet. Sisal is tough, and it can take a lot of scratching before your cat's claws make all that much of a dent in it. You also do not need to vacuum it up ever, which is an advantage if you do not have enough time for all that much cleaning.
Value
The cost of your cat scratching post can vary, so you can find a good cat scratching post that fits within your price range. If a cat scratcher is expensive, it must be worth the money that you spend on it. It must last you a long time, and it has to be something that both you are your cat are going to be happy with. The better ones will be slightly more expensive, but you will definitely get a lot of good use out of it. The cheaper ones will be smaller, which means they may not last as long and they may not be ideal if you have a bigger cat that likes to stretch and climb.
However, if a cat scratcher is highly evaluated, it will still do its job, even if it is on the cheaper side. Cheaper scratching posts should still be a product that your cat will enjoy more than it enjoys your couches and other furniture. It should also be able to last you a long enough time so that you do not have to replace it constantly. It may not last as long as some of the more expensive options, but it should definitely not fall apart quickly.
10 Best Cat Scratching Posts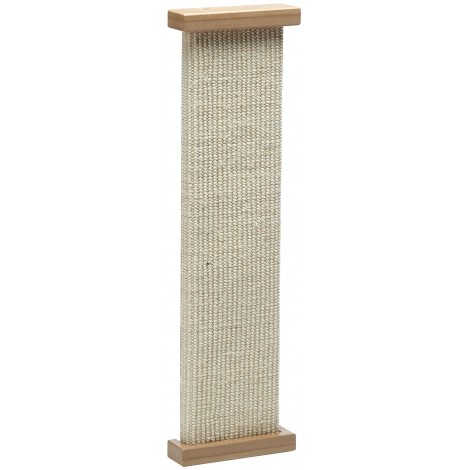 The SmartCat Pioneer is a strong 32-inch tall post that is made from durable sisal fibers. It is a more traditional post that works for cats of all sizes.
It is nice and tall
This cat scratching post was designed so that cats could stretch themselves out as much as they want as they scratched. Therefore, it is 32 inches tall.
It is not going to tip over
If you know that your cat is going to be putting their weight into the scratching post, this will be the one you want to get for them. The base is sturdy, and the sisal fibers are strong, so this post is bound to last you a long time.
Cost & Value
This definitely isn't the cheapest product on our top ten list, but its strong fibers will ensure your kitty will be able to use it for a long time before it needs to be replaced.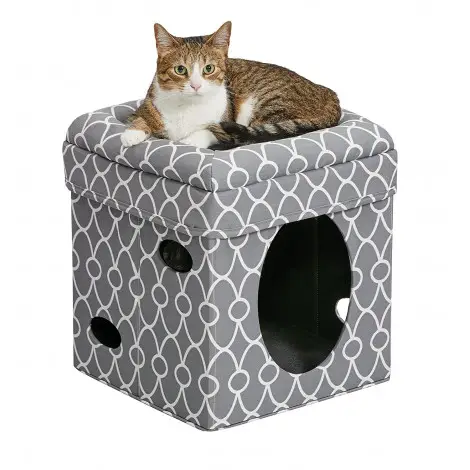 MidWest Homes For Pets Feline Nuvo Cat Furniture is a 41-inch cat scratching post made from tough natural sisal. The base of this post is 19 x 19 inches.
It is very tall
With such a tall post, your cat will be able to climb, scratch, stretch and play. It is definitely designed for larger cats who would not be able to fully stretch on a smaller post.
The fibers are great for sharp claws
The durable sisal-wrapped fibers on this cat scratching post are going to be able to withstand a lot of rough scratching, even from the strongest cats with the sharpest claws.
Cost and Value
For $50, you can buy this cat scratching post, which is a good price for such a large piece.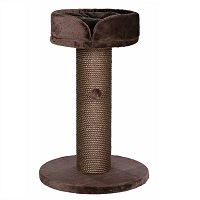 The Trixie Pet Products Pepino Scratching Post is 35 inches tall with a 22 x 22 base. It comes with a cushion on top of your cat wants to sit.
It comes with a toy
This cat scratching post can keep your cat busy in more ways than one because it comes with a dangling plush pom-pom toy and rope if your cat wants to play.
It looks attractive
Everything from the sisal to the cushion on the top to the round base is a deep brown color, which gives this catch scratching post and unique and stylish look.
Cost and Value
The estimated price of this catch scratching post is between $50 and $60. While you can definitely find cheaper options, you will be hard pressed to find a cat scratching post that looks this attractive in your home.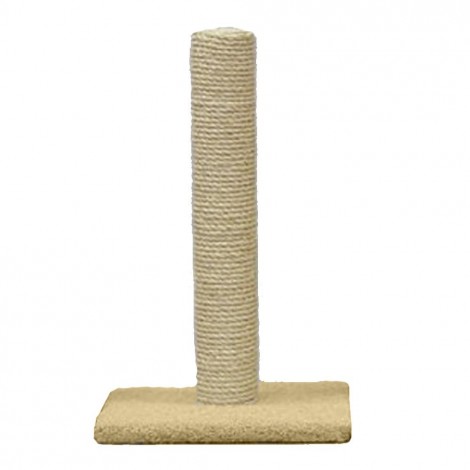 The North American Pet Class Kitty is a carpet scratching post that comes in the three sizes (20 inches, 26 inches, and 32 inches) and three different colors (beige, white, and brown).
It is good for the environment
If you like animals besides your own cat and are concerned about other aspects of the environment, then you will be happy to know that this United States manufacturer only uses environmentally sustainable materials.
It comes with carpeted sections
This scratching post is made from a carpeted material, which is different from the sisal fibers that are used it many other brands. It is definitely very soft, and some cats prefer it.
Cost and Value
Each size will be a different price, but you will be paying within a reasonable price range, especially for United States manufacturers.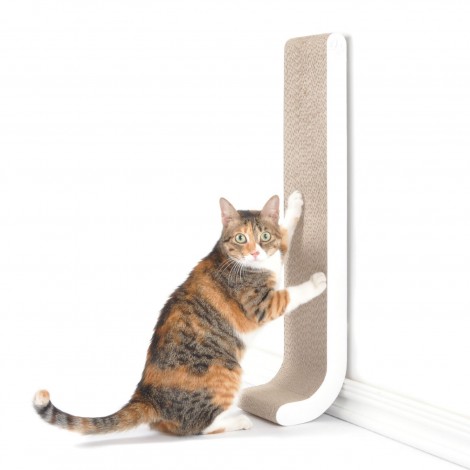 The 4Claws Scratching Post is a 26 x 5.7 x 5.5 wall mounted catch scratching post. It comes with hooks to help you mount it to your wall.
It goes on the wall
This catch scratching post relies on your wall for support. When it is mounted properly, it is most likely going to be sturdier than a free-standing cat scratching post.
It is made of cardboard
If your cat does not like sisal fibers, then you might find that the dense and durable cardboard on this catch scratching post is a good alternative to the traditional sisal.
Cost and Value
Since wall mounted cat scratching posts are usually on the smaller side, you do not want to pay too much for them. You can buy this cat scratching post for $30, which is definitely very reasonably.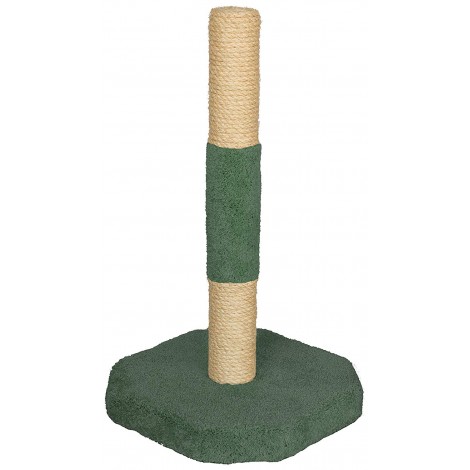 Coming in three different colors, the Molly and Friends Sisal Wrapped Scratching Post is a 35-inch tall cat scratching post with a base that is 18 x 18 inches.
There is a bed on the top
On top of this cat scratching post, is a large bed that is going to fit cats of all different sizes. Once your cat is done climbing and scratching the post, it can rest on top.
The base and the bed are carpeted
The actual post is made from sisal, which is definitely a very durable fiber specifically designed for scratching. However, if your cat prefers softer materials, then the top and bottom are made from carpet.
Cost and Value
The price of this post is going to depend on the color that you choose, but each model is going to cost a little bit over $90, which is not cheap, but it will be worth the money if you are looking for a good sisal rope and carpet combination.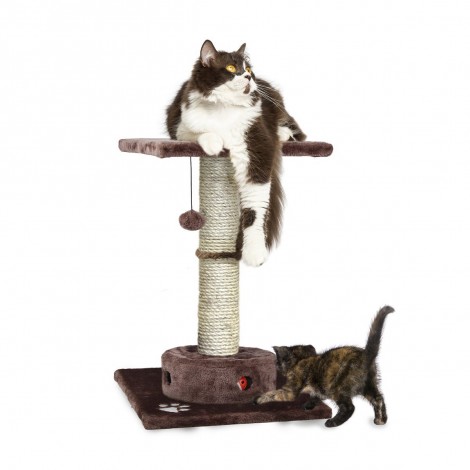 The Furhaven Pet Scratching post is a smaller catch scratcher with dimensions of 16 x 16 x 22.5 inches. It is available in different colors, and it comes with toys.
It comes with a toy
There are four colorful pom poms plush balls attached to the top of this cat scratching post to keep your cat entertained. A springy wand holds these plush balls up for added fun.
The base is carpeted
While the scratching post is made from sisal fibers, the base is made from soft carpet. If you know that your cat prefers the carpet, then the base may also be fun to scratch.
Cost and Value
You can get this cat scratching post for just over $28. It is cheap, but it still comes with lots of great features to keep both you and your cat happy.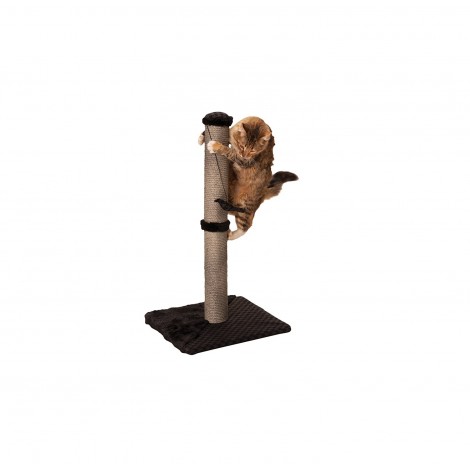 This 26-inch sisal fiber scratch post is great for smaller cats to climb on, play with, and scratch. The simple brown and black coloring will also look good in your home.
There is a bird toy attached
This post is great for both scratching and playing. On top of the Max & Marlow Scratch Post, you will find a bird-shaped toy on a string that your cat can play with.
The base will prevent tipping
The sturdy base on the bottom of this cat scratching post will ensure that the post will never tip over when your little cat tries to climb it or scratch it.
Cost and Value
For a little over $23, you can purchase this cat scratching post. It is definitely a good price because of its smaller size, but it still comes with some nice features like the toy.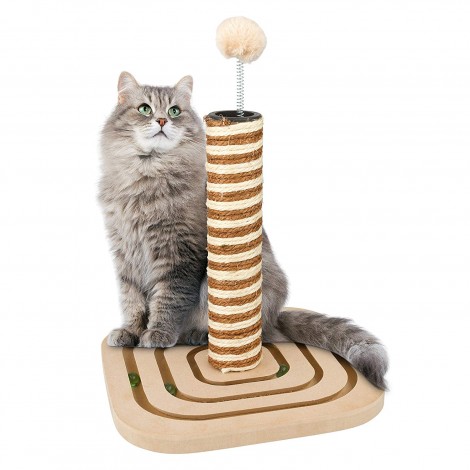 The Proffcenter Cat Scratching Post is only 15 inches tall, so it works very well for smaller cats. Your cat can also play and climb all over the post and the base.
It is multicolored
There are too sisal ropes on this post that each a different color. One is white, and one is brown, which means this post has a very exciting look to it.
There is a toy and a spring on top
There is a toy at the top of this cat scratching post in order to keep your cat entertained. It is a white plush ball attached to a fun spring.
Cost and Value
You can get this cat scratching post for a bargain. If you have a smaller cat that does not need to climb to great heights in order to be happy, this cat scratcher is going to work well for you at a great price.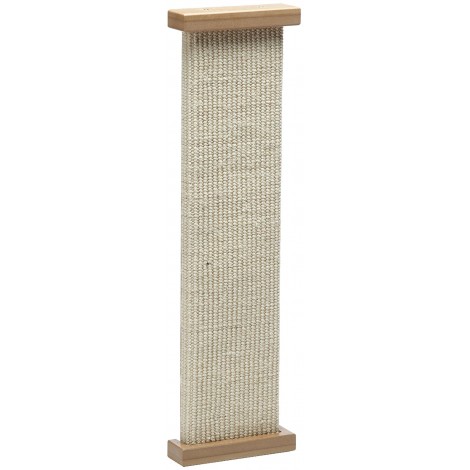 The Sofa-Scratcher Cat Scratching Post goes on the corner of your couch to ensure that your cats do not tear your furniture. It works well for wide rounded furniture, but there are models that work well for square chairs and couches as well.
It goes on your couch
This cat scratcher is designed to go on the corner of your coaches if you cannot find a way to get your cat to start scratching sisal fibers instead of ripping apart your couches.
The fibers are very healthy
The premium sisal fibers used for this cat scratching post are made in the United States are widely approved by vets. They are durable and very healthy for your cat's claws.
Cost and Value
At about $50, this post is not the cheapest model out there, but it is definitely reasonable. It is also the best couch corner scratcher, which is a great way to encourage your cat to stop scratching your furniture.

Subscribe to our Newsletter