Best Dog Clippers Reviewed & Rated for Quality
In a
Hurry? Editors choice: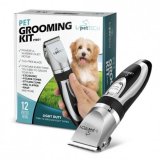 Test Winner: PetTech Professional Dog Grooming Kit

We all want our precious pups to be as adorable as possible, and one surefire way to go about accomplishing this is by
keeping our dog's coats nice and clean
. And of course, the only way to do that is to make sure that they don't grow out too far. But dogs don't have hair, they have fur, which is definitely not the same thing. So, what do you do? Simple, you have to get the right tools for the job. Dog clippers are like normal hair clippers but meant more for dog's fur than for human hair. So here's our list of the best haircutters
for your pooch
.
Standout Picks
Criteria Used for Evaluation
Power Source
If there is anything you need to pursue when you buy a dog clipper, it is a smooth, clean-cut as you drag it against your dog's coat. You want to minimize as much as possible, any kind of catching, shredding, or uncomfortably on your dog's part when grooming them. Grooming needs to be as comfy for your dog as possible, because if they're agitated, then your job just got harder.
This smooth grooming is caused by the motor powering the clipper. The more powerful that motor is, the faster the clippers move, and the cleaner the cut. Now, of course, this also relies heavily on the blades of the clippers being nice and sharp, but the motor is what makes the clippers actually move and function, so it all evens out. However, there is a balance you need to seek when looking for a powerful motor.
Safety Hazards
If your dog hasn't been groomed before today, then we promise you, it is already agitated enough as it is. Their human, their most favorite human in the whole wide world, mind you, has started putting this vibrating, noisy razor blade that is super-hot to their skin, and is using it to slice off their fur. Why human? Why would you betray them like this?
You see the problem. So, what can we do? Well, for one, we can remove the worst parts of that equation, i.e., the vibration, the noise, and the heat of the blades. This is the problem with obsessively chasing after the best and most powerful motors. Because a more powerful motor will make a ton of noise, heat up the blade while vibrating it at the same time. Thus, agitating your dog until it can't take it anymore. You need to find a clipper that keeps all of that to a minimum.
Comfort
When you hold your dog clippers to groom your best friend, you need to be careful, precise and focused. You have to have no other distractions getting in your way, and you need to be calm, much like your hair stylist at your favorite barbershop. Remember, though by all means safe, you are still holding a sharp object up against the body of a very anxious dog. You cannot afford to let the very act of holding the Clippers get in the way. Which is why most people who manufacture dog clippers will go out of their way to make the grip of the dog clipper as comfortable as possible.
Weight
But being comfortable holding and using a dog clipper means more than just the grip being somewhat comfy, it's also about being able to actually hold it up. These are motorized devices, so of course, they may be a little bit hefty. However, they shouldn't be impossible to lift or keep lifted as you groom your pet. We checked the customer reviews of each one of these entries to see if there was any complaint of the clipper being too heavy. Fortunately, we didn't find any at all for the ten we listed, which is one of the reasons that the ones that got on the list did so at all.
Battery Life
When you talk about anything power wirelessly via a rechargeable battery, one criterion that becomes mandatory as evaluation for a ranked list is how long that battery actually lasts once you turn it on and use it. The average amount of time that a dog clipper lasts wirelessly is about 60-90 minutes. Which, for most people, is most than enough time to completely groom your dog, especially if you have a smaller dog. However, some prefer to cut out the middleman and just keep it on its cord. While this is by no means a terrible idea (it's still around, after all) it's less recommended for reasons we'll get into later.
Bets Dog Clippers Rated and Reviewed for Quality
1

. PetTech Professional Dog Grooming Kit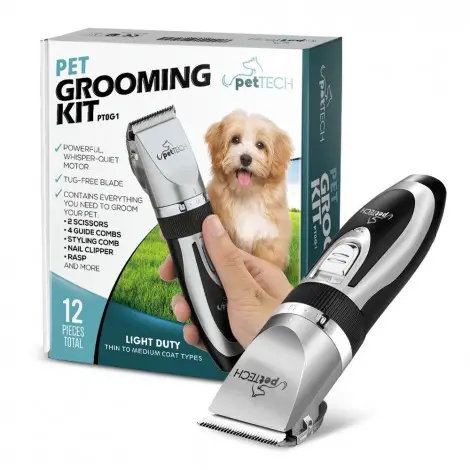 Kicking off our list, we have the PetTech Professional Dog Grooming Kit. PetTech isn't the ones you immediately think of when you hear the words "dog grooming," but nonetheless, this is one of their better products that they've released. So, what makes it so good? Let's take a look and find out.
Whisper quiet operation
One of the main things that will set this clipper apart is that it barely makes any noise at all, through its patented whisper quiet operation technology. Not only giving off low noise but also low vibration, this clipper is perfect if your pet is a bit on the anxious side when it comes to their grooming.
Cordless design
If there's one thing that will usually get in your way while grooming your dog, it's definitely trying to work with the big bulky cord. Which is why this clipper opts instead to go with a cordless design with a rechargeable battery. Now there's nothing getting in your way when you go for those hard to reach areas.
Cost and Value
One thing you'll have to get used to with these clippers is that, if you want a really good one, you'll have to pay the price. But if nothing else, this one isn't that expensive, all things considered. It's a bit pricey, but for what it's giving you, you won't be paying all that much.

2

. OneisAll Pet Grooming Kit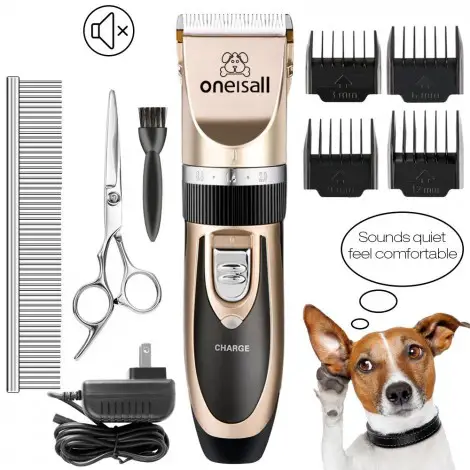 Coming in 2nd place, we have the OneisAll Pet Grooming Kit. This is what you get when you want a high quality, extremely versatile, grooming kit that gives you the complete package. So, what sets this grooming kit apart from the rest? Well, for starters:
The complete package
This kit gives you everything you could possibly need in terms of tools for the perfect grooming. If you own a pet grooming business, then this is almost required. It comes with an electronic clipper, a comb, manual clippers, four different bristles for the electronic clipper, and even a smaller brush. Everything you need to get the perfect groom job done right.
Safe, sharp blade
The blade of these clippers is made from solid stainless steel, that makes quick work of any kind of fur it comes across. With absolutely no risk of getting caught in fur and hurting the dog. If you want the perfect, clean grooming for your dog, these are the clippers for you.
Cost and Value
Sometimes you'll find this kit cost around the same as the previous grooming kit, but sometimes you'll actually find it for less than half that price. Make sure to look around when searching for this grooming kit so that you can get the best deal possible.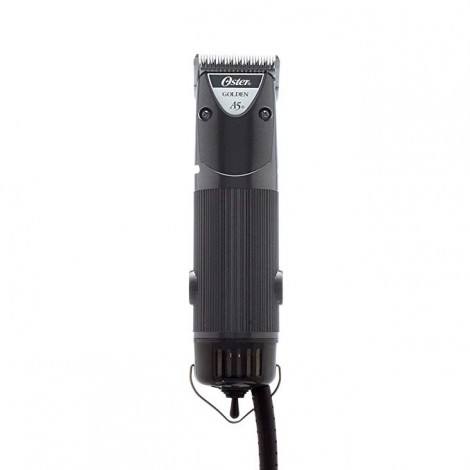 Finishing up our top 3 segment, we have the Oster A5 Two Speed Animal Grooming Clippers. When it comes to fast, easy grooming, few people do it as well as Oster. They're practically the poster child for great dog clippers. Now, let's see how they measure up under scrutiny.
Excellent blade
This clipper delivers more strokes per minute with an even wider blade sweep than most other clippers on the market. And a lot of this comes from the top of the line CryogenX blade that sits at the top of these clippers, giving you excellent coverage.
Versatile
But sometimes it's more than your dog that needs nice grooming; sometimes you need a grooming clipper for a cat or some other kind of animal you have living with you. In this case, the A5 is perfect for grooming not only dogs, but also cats, horses, and even livestock. So, if you live on a farm with a ton of animals, all of whom are in need of grooming, look no further.
Cost and Value
The big problem with these clippers is the price. On average, these clippers sit very firmly within the triple-digit price range, with not a lot you can do to get a better deal. However, we can safely say that you get what you pay for.

4

. Andis UltraEdge Super Blade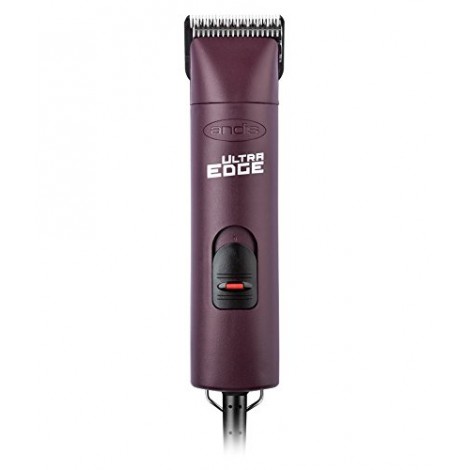 Coming in at #4, we have the Andis UltraEdge Super Blade Clipper. We said in the previous entry that it was better for the occasional groomer than one who grooms for a living. That is where this clipper differs from the previous one, as it is most definitely one for the pros. Now, let's see what gives it that pedigree.
Included blade brush
The reason that most dog clippers, in fact, most shaving clippers, either man or beast, tend to get caught is that the hair is all tangled up and getting in the way. However, this clipper has a solution, as included in the box is a heavy-duty blade brush, that will neatly and comfortably comb your dog's fur nice and straight for the grooming to proceed.
Two speed rotary motor
When you're looking for speed in your clipper, then you need to look at what kind of motor it's equipped with. And in this case, the UltraEdge is equipped with the kind of motor that pros demand; a two-speed rotary motor. It provides not only speed but near unprecedented control.
Cost and Value
Obviously, such a high-quality clipper isn't going to be cheap. Even when you remove the blade brush from the deal, you'll still be paying out the nose for this clipper.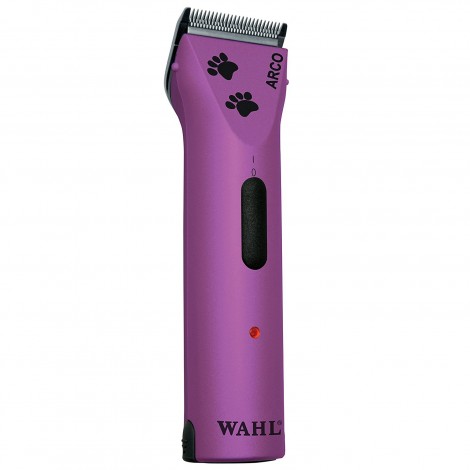 In the centerpiece of our list, we have our #5 pick, the Wahl ARCO Cordless Clipper. When it comes to grooming companies, your choices are either Oster, Andis, or Wahl. And while Wahl will demand similar prices, they're usually cheaper, while still giving the same amount of quality.
Excellent anywhere
With other clippers, you may notice some problems when you try to go to some parts of the dog compared to others. There are a number of reasons for this, all of which are circumvented by this clipper's blades, which glide perfectly through any part of your dog's coat. Now you don't have to worry about the grooming taking longer than you initially thought due to the difficulty of the grooming itself.
Cool running
If there's anything that is almost guaranteed to agitate your dog during grooming besides the noise of the machine, it's the heat coming off of the clipper. Of course, anything that produces the kind of friction that this thing does is going to be rather hot at the moment. But thankfully this clipper has countermeasures in place to keep the blade nice and cool throughout the grooming process.
Cost and Value
Like we said, while still somewhat pricey, Wahl products are often nowhere near as pricey as, say, an Andis clipper. So, while you still might have to save up for this clipper, it won't be nearly as much.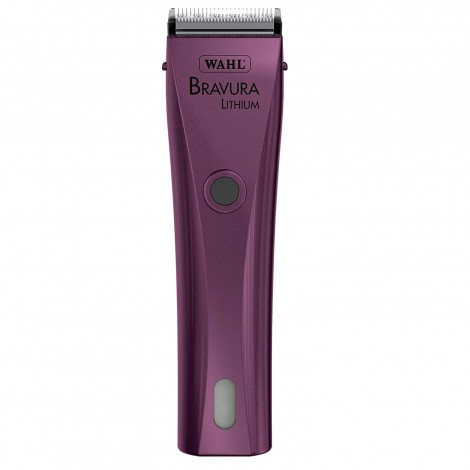 For our #6 spot, we have the Wahl Bravura Lithium Clippers. Once again, we have a very high-quality clipper from Wahl, giving us professional quality in the comfort of our own home. So, what makes this clipper so special? Let's take a look and find out.
90 minute run time
Most of the time, grooming won't take you very long, especially if you're a small dog owner. Which is why this clipper gives you more than enough time to get it just right, by having a lithium ion battery that gives you 90 minutes of cordless run time. Which is especially good when you need to be extra careful when grooming your dog, whether it's because they have sensitive areas that you need to navigate carefully, or if you're just a perfectionist who needs to get it exactly right.
Perfectly quiet operation
It should come as no surprise that a dog clipper can spook your furry friend. You are, after all, putting a vibrating blade to their sensitive skin and slicing off their fur. So, you need to keep the spooks down to as much of a minimum as you can, which is why this clipper runs a cool, quiet operation, with nary a single sound or vibration coming out of it when you turn it on.
Cost and Value
We know we said that, on average, Wahl is the cheaper alternative to the other big three dog clipper companies, but the thing about an average is that it's wrong at least once. And sure enough, you'll be paying quite the pretty penny for this high-quality dog clipper.

7

. Wahl Lithium Ion Cordless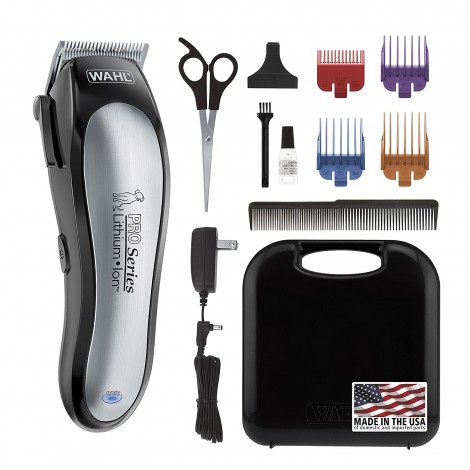 Coming in at #7, we have the Wahl Lithium Ion Cordless Clipper. Like other Wahl clippers, this is the ideal clipper for not only dogs, but cats, horses, and livestock. And while it may cost you a pretty penny, as we will soon show, you will get more than what you pay for.
Constant speed control
The reason that professional groomers are so constantly worried about the speed and how much they can control it when it comes to their clippers is that a higher or lower speed is the secret behind getting through those really tough spots in a dog's fur. Which is also why it's such a big deal that clipper has the best speed control out of any other clipper on this list.
LED battery indicator
It really does suck when you're in the middle of grooming your dog, only for the thing to randomly give out on your because you had no way of knowing how much battery life you actually had. A problem that this clipper soundly corrects via an LED battery indicator, telling you how much life you have left in your dog clipper.
Cost and Value
The biggest issue with this clipper is the price. This is one of the most expensive entries on this list, which is what cost this clipper a higher spot. Which is a shame, because, in all other respects, this clipper runs circles around pretty much everyone else.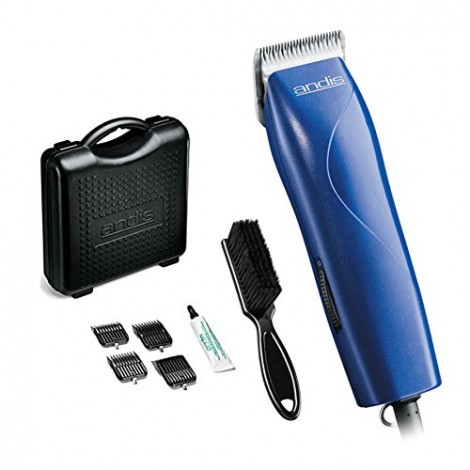 Kicking off our final 3 entries, we return to Andis for the Andis EasyClip Clipper Kit. It's our final clipper kit on this list, and there's no better one to go out on than this professional grade clipper kit from Andis.
Great for heavy coats
There's one thing that's going to determine whether or not a clipper can handle the big heavy coats: the motor. The motor of the clipper determines how powerful the blade moves, and thus how much it can cut through when applied to fur. And this clipper is equipped with an incredibly powerful rotary motor that can tackle even the thickest coats.
Built to last
The last thing you want is for this thing to break while you're using it. For one, they're electric, so someone's getting shocked. Secondly, a broken lithium battery is usually followed by a burned down house. Finally, we're not sure if you noticed, but these things are kind of expensive. Thankfully, you won't have to worry about that with this clipper, as it is built to last you years of use.
Cost and Value
After so many clippers sitting in the triple-digit price range, we finally have a clipper that's actually rather reasonably priced. While not quite as cheap as some would prefer, it's a far cry from the previous entries' prices.

9

. Andis Excel Pro Animal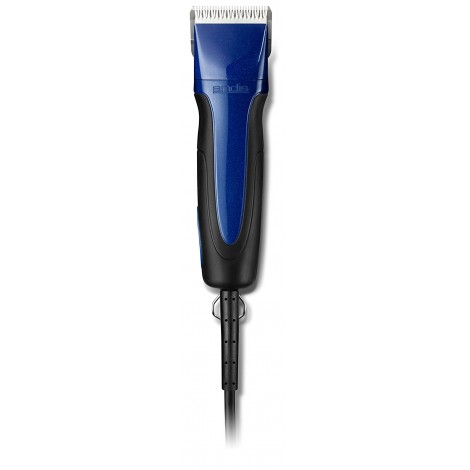 For our second to final entry, we have our #9 pick, the Andis Excel Pro-Animal Blade Clipper. While by no means the cheapest thing in the world, but we'll get to that in a bit, this is still one of the best dog clippers you can possibly find on the commercial market. So, if you need high-quality dog grooming, Andis, as always, has you covered.
Soft grip
When you're grooming your dog, your grip needs to be steady and comfortable, never shifting around too much out of risk of hurting the dog. So, the grip of a dog clipper needs to be soft and comfortable, easy to hold onto for long periods of time. Which is what this dog clipper more than provides.
5 speed clipping
So far on this list, the most speeds we've seen have been 2 speeds, which for most casual groomers, is all that they need. But if you're more professionally minded and have more of a knack towards finesse, then this clipper with its 5-speed clipping will be right up your alley. Go for the smaller speeds for cooler, easygoing clipping, or go higher if you want the job done fast.
Cost and Value
As we said, this clipper is not cheap. It is in fact right behind the 7th place entry for the most expensive on this list. This clipper will give you that professional grade control and finesse, but you will have to pay quite the pretty penny in order to get it.

10

. Andis AGRV Power Groom+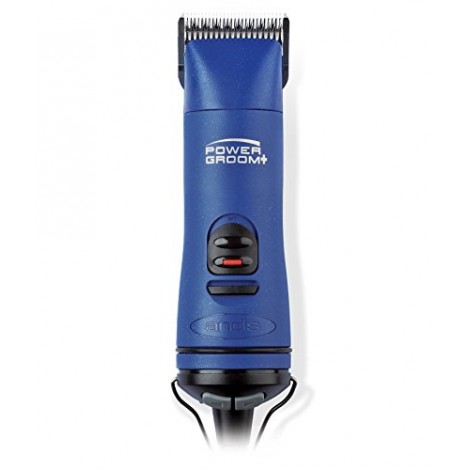 For our final entry for this list, we have our #10 spot, the Andis AGRV power Groom+. Although it may be sitting at the bottom of this list, this clipper had to beat out quite a lot of competition in order to get here, so don't discount it just yet. Because this heavy-duty clipper may be just what you've been looking for.
Sensitive speed control
Okay so the higher quality clippers may have the ability to control the speed of the clippers themselves, but that doesn't mean it's easy since you still have to know when to make the switch and then have to push the button to do so. Fortunately, the switch to make that switch on this clipper is incredibly touch sensitive, meaning that it's basically no problem at all to make the switch on the fly.
Super tough
Never have to worry again about the quality of the motor and blade against the fur you're grooming. With this clipper, you'll slice and dice your way through even the toughest coats.
Cost and Value
While this isn't nearly as expensive as the previous entry, make no mistake, this clipper will still drain your wallet something fierce. So just be aware of that, if you want the best quality, you'd best have the money to back yourself up.

Subscribe to our Newsletter