Best Headboards Reviewed & Rated for Quality
In a Hurry? Editors choice: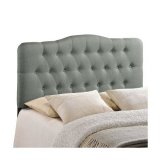 Test Winner: Modway Annabel Upholstered

Decorating your own bedroom can be one of the most satisfying things you'll ever do. Whether your room is big enough for an entire
bedroom set
with room for a
reading corner
and a couple of chairs, or just small enough to comfortably walk around each side of your bed, it is so fun to set it up just exactly to your liking and design. Your bed will take up most of the space in your bedroom, so you really want to make it an eye-catcher. One of the ways to do this is to spice it up with a headboard of your liking, then coordinated the rest of your room to match. Here are ten great choices for you.
Standout Picks
Criteria Used for Evaluation
Size
This aspect includes several different things. First, you need to think about who will be using the bed. Children will need a smaller headboard, in both width and height, than an individual adult or couple will need.
Second, you should think about the size of the room you plan to place the headboard. If you have a small bedroom, you likely won't want something that is very large and will be unbecoming in your small room. But if you have a large bedroom, you may want something a little larger to enhance its presence. And third, you will want to choose the specific style of your headboard. Based on the size of your bedroom, you may wish to have a bookshelf, or storage capacity, headboard. You get to choose, and that's just part of the fun!
Style
There are so many different design options when looking at a headboard. Visualize what you want your bedroom to look like, then get started! Metal headboards provide a more modern and urban-type feel. They look beautiful and can create a dramatic background for any decor.
If you want to go with a more country-type style, you may be interested in a classic wooden headboard. You can even paint or weather your wooden headboard to create more of a personalized feel. Leather and upholstered padded headboards will give you more of a sleek and modern look. If you spend a lot of time sitting on your bed, reading or watching TV, you may want to consider one of these headboards because they are more comfortable and angled for your back and comfort while relaxing.
Overall Fit
Most headboards that you'll order online come with the option to attach them to your bed frame. This can be a very convenient option and help hold your frame and mattress where they are supposed to be in conjunction with your headboard. Since most bed frames and headboards are of standard height, you can typically select any headboard and have it match your frame. Check it out first, though!
Take a few minutes and do the measurements before ordering your headboard so you won't be disappointed when it arrives. You always have the option of requesting an individual, detached headboard as well. You would place this at the head of your bed (sandwiched between your bed and the wall). You won't want it to be against any glass or open space because that will compromise its stability.
Materials
Headboard materials matter. And they matter more than the look of the headboard. A headboard that is made well is made from materials that will not easily scratch, tear, or even stain. Yes, if you get a headboard that has a fabric cover, there is always the possibility that over time it could snag, tear or stain, but a well-made headboard should last a long time. The same goes for wood or metal. They should be durable materials that last years.
Durability
Similar to materials, durability is essential too. Not only is a durable headboard essential for keeping it beautiful and not damaged, but also because this means that it will stay in place and not fall and hurt you or someone else. A durable headboard will connect to the bed frame appropriately, stay in place without wobbling, and make you feel safe in your bed.
Top 10 Picks
1

. Modway Annabel Upholstered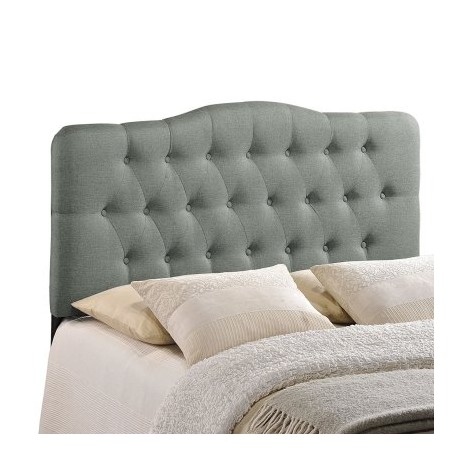 This classic headboard has deep, inset buttons that offer a sleek and high-end texture and a slightly raised center, giving a stylish feel. It has adjustable mounting holes so you can lift or lower the headboard to match whichever mattress and frame you use. It is constructed with solid fiberboard and plywood and is upholstered in a beautiful polyester fabric. The flowing shape will complement the other features in your bedroom and provide a relaxing, tranquil feel.
Variety of Mounting Positions
While headboards are a great addition to any bedroom, you do need to keep in mind the height of your bed frame and mattresses. If you purchase a headboard that is only 3 feet tall and your box spring and mattress combine to be 2 ½ feet tall, your headboard purchase is likely a waste. You need to make sure that the headboard is adjustable and can lift and lower to your liking, in conjunction with the other accessories in your bedroom.
Sturdy Construction Statement Headboard
This is a beautifully crafted headboard that has stylish details, a flowing shape design in the center, beautiful polyester fabric that is soft to the touch and provides a tranquil feel that complements any of the comforters or pillows and shams you choose. It is also built to last! It is constructed of a quality blend of plywood and solid fiberboard, providing a sturdy and lightweight frame. You will be delighted with the look and feel of this headboard.
Cost and Value
A well known and the quality company has made yet another high quality and affordable headboard. This one has a luxury design with a flowing shape and chic, textured details that will set it apart from the others. It is sturdy and reliable, classy and elegant, soft to the touch and tranquil. You will enjoy the comfort of this headboard for many years and will not break the bank while doing so. This is a high headboard to own for the exceptional cost.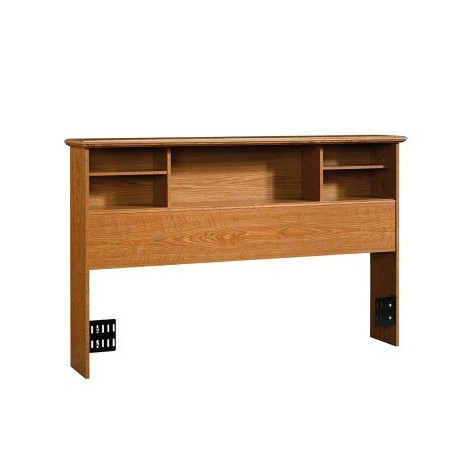 Sauder is a small, family-owned business based in Ohio. They pride themselves on being the leading producer of ready-to-assemble furniture. I always enjoy supporting small business who supply quality products so that this company will grab my attention. They are also environmentally conscious and use a composite of high-quality trimmings and post-milling leftovers in their engineered wood products. It is an easy thing to do, putting your trust in a hard working company based on old-fashioned family values.
Bookcase Headboard
This headboard will be a great addition to any bedroom, and especially in a smaller space that needs a little more storage. It has two adjustable shelves so you can customize what you need for your situation. There is also an enclosed back panel so you can easily access any of your charging cords or electrical outlets. It is beautiful and classic in its double-duty display!
Great Customer Service
Most of the products you buy from this company, including the Orchard Hills Headboard, will require some assembly. You will be able to put everything together with a necessary screwdriver and hammer. Their easy to follow instructions will take you step-by-step through the entire process, but if you may need customer service, this company comes with an award-winning team. They are exceptional at talking you through the directions and helping you through the process. Three generations of a family-owned business provide excellent customer care!
Cost and Value
This headboard provides stability and style to your bed frame while adding in a touch of class and a lot more storage space! The cost is remarkable, and the small, family-owned business is top-notch. If you're looking for a little more space in your bedroom, this headboard will give you just what you need at a very reasonable price.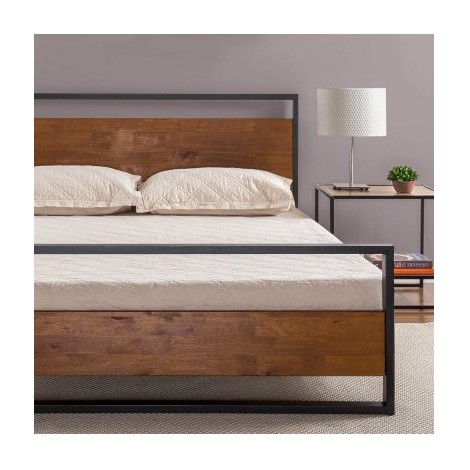 We like the look of this bed and headboard. The cherry finished pine headboard is outlined with sleek metal slats and makes it look rustic, simplistic, and sophisticated all at the same time. This is the entire bed frame which includes a headboard and endboard, so you'll need to provide the mattress. This is a beautiful addition to any bedroom that will instantly steal the focus and update your style. This one is a keeper!
5-Year Limited Warranty
Put your concerns on the shelf because purchasing this bed will be one of the best choices you've made. You will receive an excellent product and be able to take advantage of the 5-year limited warranty if you are unsatisfied for any reason. I love seeing a company provide the confidence of a guarantee and always appreciate the longevity of the warranty in a purchase as necessary as a bed frame and headboard set. This is beautiful, and you won't be disappointed.
Exceptional Quality
This bed frame and headboard are made of a durable steel frame structure and has wooden slat supports that will increase the life of your mattress. The wooden slats are close to 3 inches apart so will hold the weight accordingly. The bed is easy to assemble and has foam padded tape on the steel frame so that it will be noise-free. It also has non-slip tape on the wooden slats that helps keep your mattress in place and prevents sliding.
Cost and Value
Since this headboard also includes the bed frame and footboard, it is a little more pricey than an individual headboard. However, with all of those things covered, this is an unbelievable excellent value. It is easily assembled and has a good warranty. It consists of all you'll need except the mattress and will serve its purpose in style for years to come.



This gorgeous headboard and platform bed will make a lasting impression in any bedroom decor. It comes in neutral colors which will match and enhance any bedspread and pillow shams you choose to throw on it. It is upholstered with premium polyester linen, and the two pieces join together nicely, adding much comfort and stability. There is no box spring required with the wood construction and slats of the platform bed, so assembly is quick and straightforward!
Modern and Elegant Design
The elegant design slightly curves around the edges at the top of your mattress, ensuring that it will stay in place and not slip. It is accentuated with tufted button accents with metal studs that will match almost any bedroom design. The headboard itself is made of premium polyester linen that is soft to the touch and easy to clean. The platform bed comes with wooden slats that fit nicely into the precut grooves, making assembly and design a breeze!
5-Year Limited Warranty
This headboard and platform bed is quite large and does ship in two different boxes. Make sure you open and inspect both packages before starting assembly. Everything you need should be included in one of the tables and instructions are easy to follow. If, for any reason, you are dissatisfied the customer service of LIFE Home is top-notch and will see that they help you through the process. If you need an exchange or a refund, there is a 5-year limited warranty that will put your mind at ease and help you purchase this set in confidence.
Cost and Value
Seeing that you are getting everything besides the mattress, this elegant headboard and matching platform bed set is an exceptional value. It comes in several different sizes and color options, so there will be something to suit your preference. The 5-year warranty puts my mind at ease and enables me to give this set rave reviews!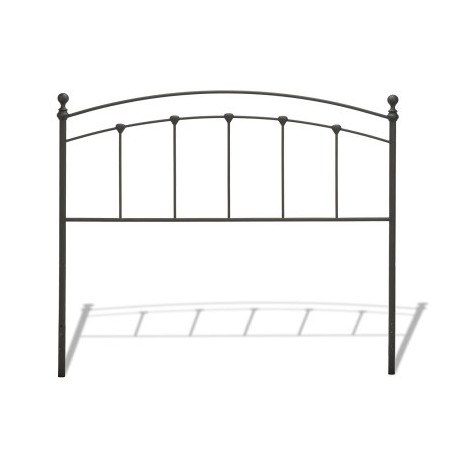 This metal headboard will add a rustic and classic feel to your bedroom. It will efficiently serve as a focal point for any bedroom or can blend in as your background decor. It is made of carbon steel and will provide years of stability and everyday use. It is 4 ½ feet tall, has detailed castings and rounded finial posts. The black powder coat application finish provides an exclusive texture to the surface, which will mute and play with the lighting. Everything you need for assembly will be included upon delivery. This headboard also comes with a 10-year limited warranty.
10-Year Limited Warranty
Whenever a product comes with any warranty, and especially something that lasts for TEN years, I am more comfortable making that purchase. This is a great company that comes with active reviews and provides a high-quality product. You will be pleased with this purchase, or you can exchange it, or return it for a refund. Sold.
Attention to Detail
Upon closer inspection of this carbon steel headboard, you will continually be impressed with the detail of the castings and the rounded finial posts. The craftsmanship and design and superb and the matte black powder coat allow such a play with the lighting in your room, you'll never want to stop looking at it! It is beautifully crafted and easy to assemble, with all hardware and necessary tools for assembly complete upon delivery.
Cost and Value
The simplicity and superior craftsmanship make this headboard an exceptional value, especially when you see the price you'll pay for it. The remarkable amount and will blend in easily with your bedroom decor or will stand out and be like a masterpiece in your bedroom. Versatile, excellent height and the matte black powder coat accents this headboard and makes it a piece of excellence. You will enjoy this beautiful showpiece for years, or use the incredible warranty!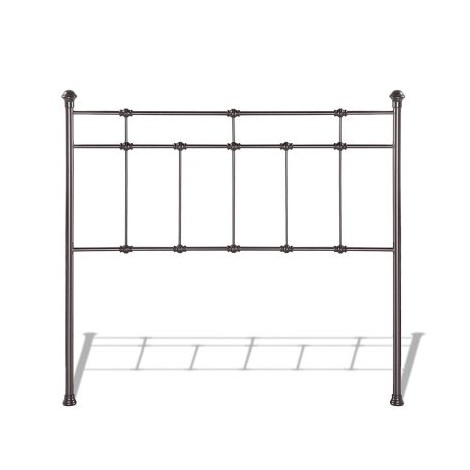 We like the look of this metal headboard mainly because of the simplistic design. It gives a historic look and will add some comfort and love to any bedroom decor. It is quite tall, standing at 56 inches tall, and made of carbon steel with a hammered brown finish, all adding to the reminiscent feel. The headboard features five spindles on each panel and has eight total castings. Everything you need will be included in the packaging. It also comes with a 10-year warranty.
Historically Simple Design
This Dexter metal headboard has a uniquely historic look made of carbon steel. It is perfect for everyday use and will set a classic tone in your bedroom. It portrays right angles at every glance and draws the eye with the vertical and horizontal elements that set the profile. It stands quite tall, at 56 inches. So it will rise above all of your shams and decorations to be a prominent piece in your room. The hammered brown coloring also provides a rustic feel and will only enhance the comfort you feel every time you look at it.
10-Year Limited Warranty
This fashionable headboard comes with a 10-year limited warranty against any manufacturing defects. The Fashion Bed Group is a well-established name and industry leader in bedding and textiles. You can rest assured in the brand name and confidence this company provides. Everything you need will be included in shipping. If you have any problems at all, their customer service is at the ready and will provide quality assistance.
Cost and Value
This classic headboard is available in several different sizes and can match any style or age of the bedroom you are choosing to decorate. Prices vary depending on the size of the headboard and for the quality design and craftsmanship, you are getting a great deal! This headboard accentuates and enhances any decor and comes with a tremendous money-back warranty.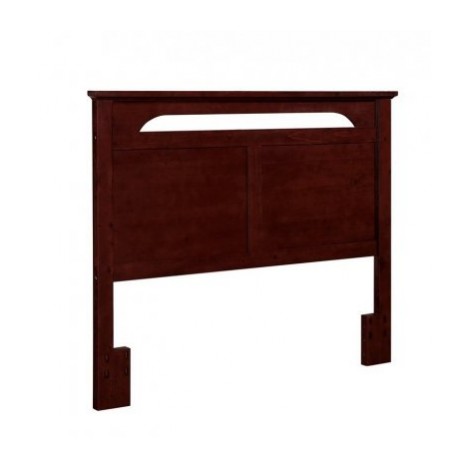 This beautiful headboard can accommodate either a full or queen size bed. It comes with everything you will need for assembly. The appeal of this headboard is in the recessed panels of the cherry finish. It is stylish and elegant as well as comfortable whether you're relaxing in bed or catching up on your rest. It is reliable and sturdy and will last for generations. This will be an excellent addition to your bedroom.
Sturdy Construction
This solid cherry wood headboard is sturdy and well constructed. It is made to fit a full or a queen-size bed, which makes it quite convenient to switch around when the need arises. You can order free replacement parts through the limited warranty and continue to use this headboard for years to come. The bed frame and mattress are sold separately, which makes this headboard even more versatile.
Lightly Padded and Comfortable
One of the most appealing aspects of this cherry wood headboard is that it is lightly padded, so when you lean against it and relax, you can relish in comfort. It is so noticeably soft to the touch and relaxing yet hardly visible that it is padded. You have all the elegance of a solid wood headboard with all the comfort of a nicely padded one. A win-win!
Cost and Value
The cost of this recess paneled solid cherry wood headboard, compared to the value of what you will be receiving is unbelievable! Excellent quality, great company, exceptional look, and feel. There is no risk in purchasing this beauty! You'll be happy with the headboard and all the comfort it provides and even more pleased with the reasonable price you'll pay.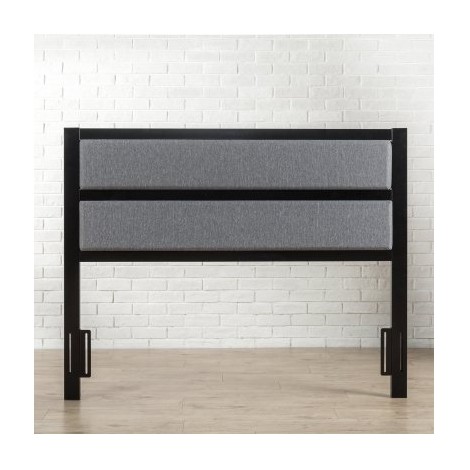 Zinus is a company that prides itself on high-quality products that snap together seamlessly and efficiently for maximum support with minimum effort. They boast a product line and shipping that will surpass your expectations. This particular headboard is a classic style with foam-padded upholstery that will match any decor. They do offer a "worry-free" 5-year limited warranty which includes the shipping, which is always a boost to your confidence when buying online.
Variety of Color Options
It is always convenient when you find a headboard you like that you can get in a variety of sizes as well as colors. This comes in Twin, Full/Queen, and Standard Queen sizes. You can also choose from standard black, dark brown, espresso, and taupe to match any style you prefer. Visualize what your dream bedroom will look like and order any headboard to match! Your comforter and pillow shams will pop with color against any one of the color choices.
Easy to Assemble
This headboard is straightforward to put together. Instructions are well written and easy to follow, the holes all align with the proper brackets, and they snap into place quickly and easily. The packaging and shipping is well put together, and the padding provides a nice cushion. You can order a Zinus smart frame to go with this headboard, and all the brackets will align and snap together beautifully. It is a lovely, sturdy headboard that you will enjoy.
Cost and Value
You will get a reliable, beautiful, custom-made headboard for a very reasonable price with this purchase. It is simple enough to please the most frugal of customers, yet elegant enough to dress it up and make it look very fancy. No matter your eye for design, you'll love this headboard. And when you see the price that goes along with it, you will certainly be pleased!

9

. Modway Lily Upholstered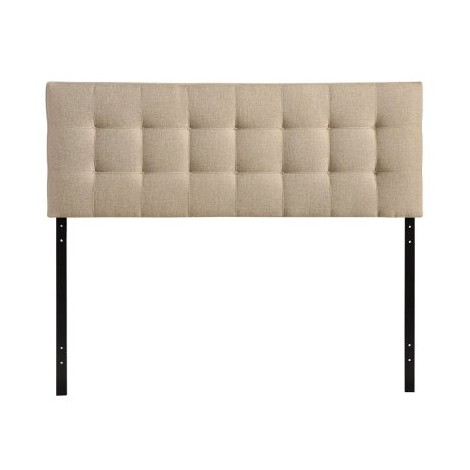 This Lily style tufted headboard is an elegant addition to any bedroom. This particular style comes in a variety of colors and fabric options so you can personalize the same manner to your liking. It is made from a robust and dense fiberboard, plywood, and beautiful polyester upholstery. Its construction is lightweight and will last for a very long time. It offers an impressive backdrop style and gives you a sense of peace and tranquility, providing the comfort you hope for in your bedroom. A very classic look and feel that you'll enjoy for years.
Sturdy and Durable Construction
The sturdy and durable fiberboard combined with the plywood structure and polyester upholstery offers a superior construction that is intended to last for years and years of nightly use. It is classically elegant and is an excellent backdrop for any comforter and pillow shams you choose. Whether you are sleeping, relaxing, reading, or working from your bed, this headboard will provide comfort and elegance in one sturdy piece.
Fine Quality Polyester Upholstery
This particular headboard comes in a variety of excellent quality upholstery. You can choose white, beige, gray, or ivory in the linen fabric, or opt for a faux leather background in brown, navy blue, or black. Any of these options will instantly improve and update the look and feel of your bedroom. The tufted, checkered design gives a sophisticated and stylish design and creates the ideal backdrop to draw the eye. Each of the color options is soft to the touch and will never go out of style. You will enjoy snuggling up to this headboard for years to come.
Cost and Value
Modway is a well-known company in headboard construction and prides themselves on providing high-quality products at a fair and reasonable price. This headboard comes in all sizes. Depending on which size you need te seller has a variety of color options from which to choose. Each headboard is reasonably priced, and the quality surpasses the cost each time.

10

. Modway Curl Upholstered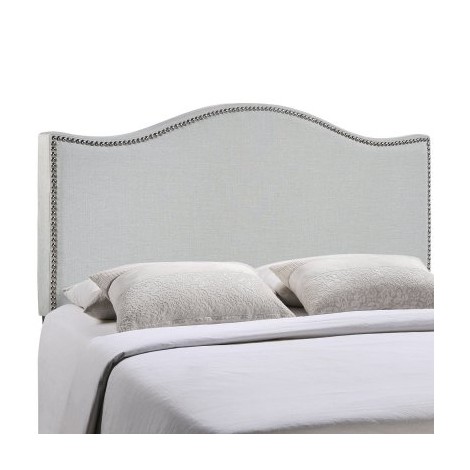 This is a lovely addition to your collection! It is durable and robust, built with superior construction. Modway is a dependable name in the headboard industry and provides this delicately framed headboard with nailhead trim that makes a very fashionable and eye-catching update to your bedroom. The sweeping curve at the top draws you in and is relaxing to sit back.
Various Mounting Positions
With the multitude of options in bed frames and mattresses these days, it is highly essential to make sure that your headboard can be seen. Having a variety of different height options allows you to throw on those pillows and still enjoy the comfort of your stylish new headboard.
Fine Linen Quality Upholstery
When you want to relax in your bed to read, or watch TV, you want to be able to sit back and relax against your headboard. This headboard provides a soft, beautiful linen fabric with a lovely texture which allows just that. The curling design at the top draws the eye and adds a calming effect in your home. You will love the trademark look and the comfort of this upholstery.
Cost and Value
Very reasonably priced from a well known and established headboard company, this headboard will not disappoint. It provides comfort, appeal, and a splash of class to your bedroom. The sturdiness of the solid wood frame and metal legs will allow you some of the best rest you'll ever get. The price will enable you to take some extra time to enjoy its comfort.

Subscribe to our Newsletter